[ENG-ESP] Our little "Cabbage Octopus" (Graptopetalum macdougallii) - Nuestro pequeño " Pulpo Repollo" (Graptopetalum macdougallii) 🌵🌱
Good morning #Cactuslovers
In this post I want to show you our little cabbage octopus (Graptopetalum macdougallii) This is one of the most prolific succulents we have at home and is a beauty. We previously had a pot completely covered by this species, it was lovely, had lots of branching and looked great.
Buenos días #Cactuslovers
En esta entrada quiero mostrarle a nuestro pequeño pulpo repollo (Graptopetalum macdougallii) Este es una de las suculentas más prolíferas que tenemos en casa y es una belleza. Anteriormente teníamos una maceta completamente cubierta por esta especie, era encantadora, tenía muchas ramificaciones y lucía muy bien.
---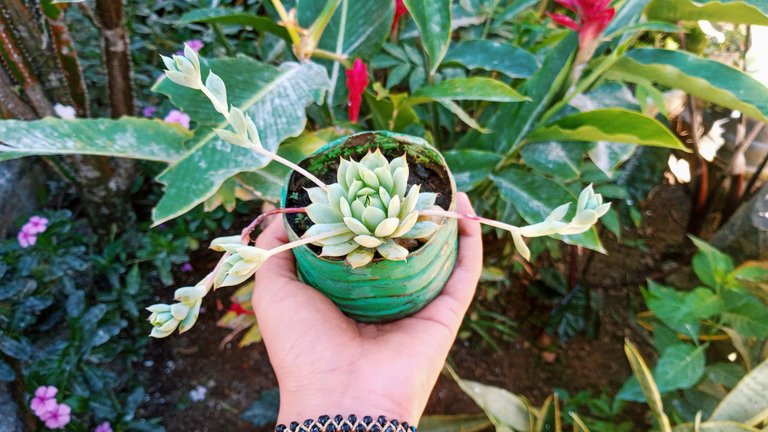 ---
We recycle any container so, our pots are usually not the most "aesthetically pleasing" but useful hahaha!
Nosotros reciclamos cualquier envase así que, nuestras macetas no son por lo general las mas "estéticas" pero si útiles jajaja!
---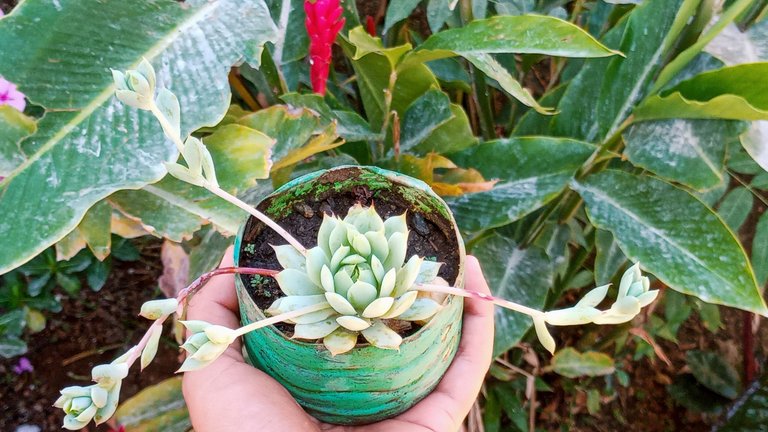 ---
On one sick occasion and since there was a very strong drought in my country at that time we could not save it because although they do not need much watering, at least in dry seasons they should receive water at least once a week, something we could not do due to the large number of plants we have in the garden. I know, we abandoned it.
En una ocasión enfermo y ya que en esa época hubo una sequía muy fuerte en mi país no pudimos salvarla pues a pesar de que no necesitan mucho riego, al menos en temporadas de sequía debían recibir agua al menos una vez por semana, algo que no podíamos hacer debido a la gran cantidad de plantas que tenemos en el jardín. Lo se, la abandonamos.
---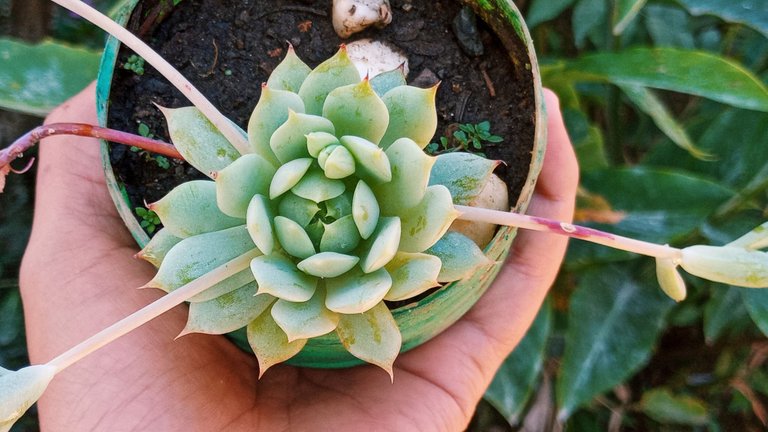 ---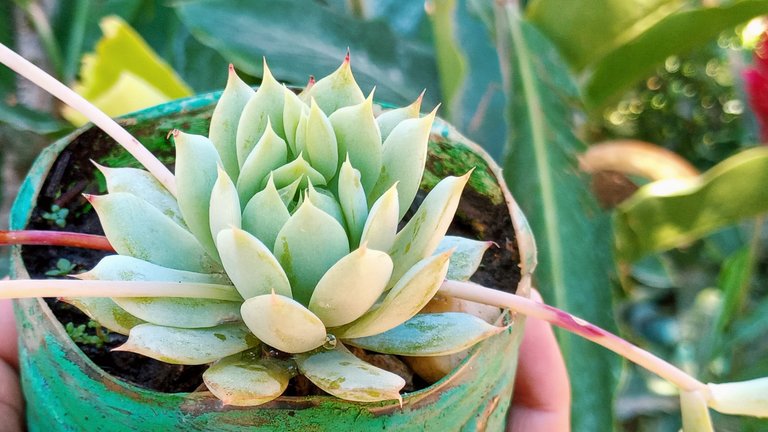 ---
However, a close relative of the family had it and as we know of its easy multiplication, they gave us a stalk, which we planted in a small pot and from there we have taken many offspring, which we have given away and just now we have this one, and some others, of course this time we were able to give it better treatment.
Sin embargo un allegado a la familia la tenía y como sabemos de su fácil multiplicación, nos regalaron un tallo, el cual sembramos en una pequeña macetita y de allí hemos sacado muchísimos hijitos, los cuales hemos regalado u justamente ahora tenemos esta asi, y algunas otras, por supuesto que en esta ocasión pudimos darle mejor trato.
---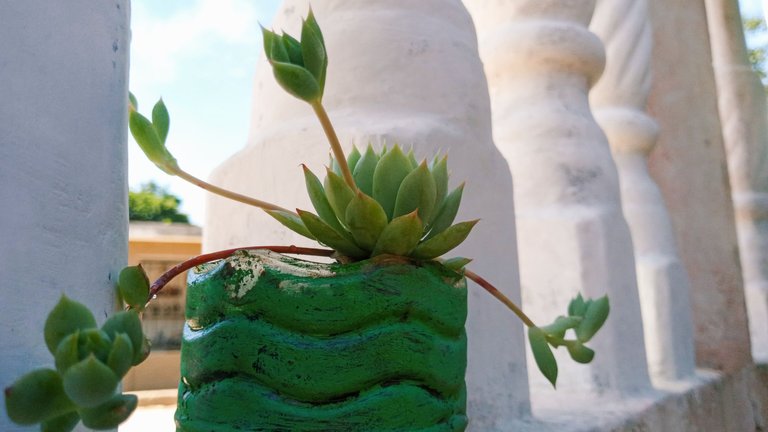 ---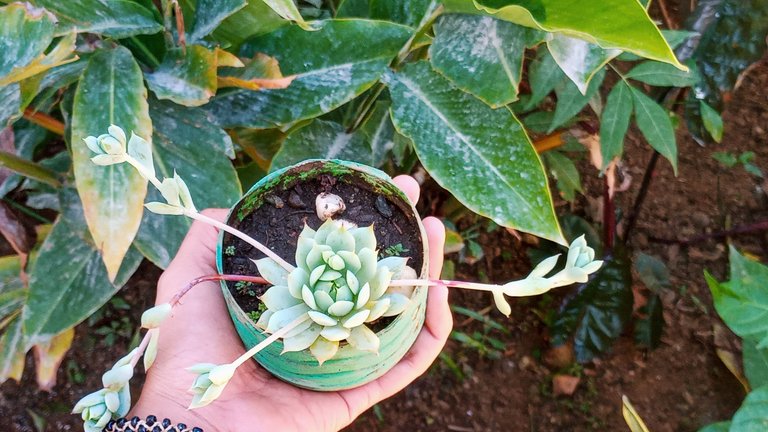 ---
Now I want to tell you a little about this beautiful succulent, in case you want to have one in your collection. As I told you before this plant grows and spreads very quickly, in a few months you can have your pots full of this beauty unlike many other succulents that take longer in their growth process.
Ahora les quiero conversar un poco sobre esta hermosa suculenta, por si deseas tener una en tu colección. Como les dije anteriormente esta planta crece y se extiende muy rápidamente, en unos pocos meses puedes tener tus macetas llenas de estas preciosidad a diferencia de muchas otras suculentas que tardan más en su proceso de crecimiento.
---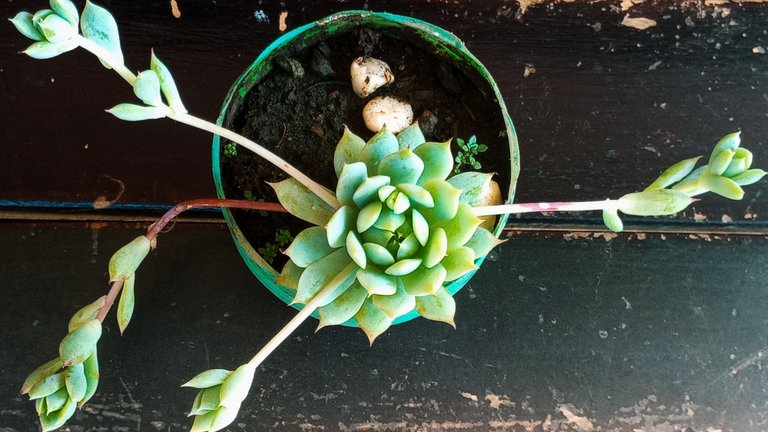 ---
It is formed by small and compact leaves in the form of light green rosettes. It is characterized by the stems that grow laterally that give rise to other plants or flowers. These stems eventually separate from the mother plant originating other plants, this is beautiful. We have not seen flowers on ours.
Está formada por hojas pequeñas y compactas en forma de rosetas de color verde claro. Se caracteriza por los tallos que le crecen de forma lateral que dan origen a otras plantas o a las flores. Estos tallos con el tiempo se separan de la planta madre originando otras plantas, esto es hermoso. A las nuestras no les hemos visto flores.
---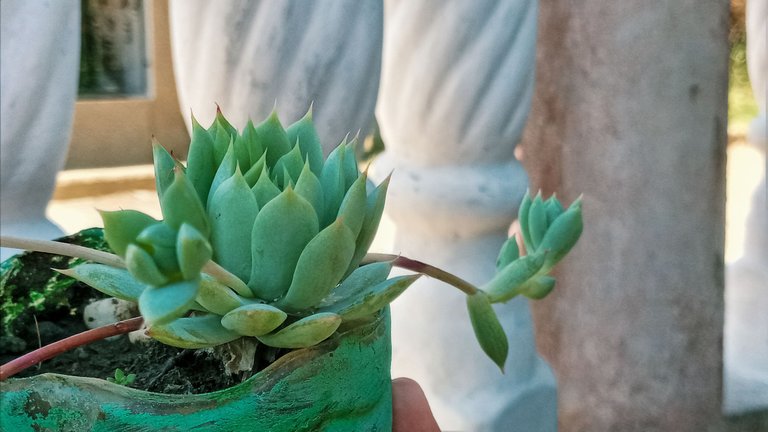 ---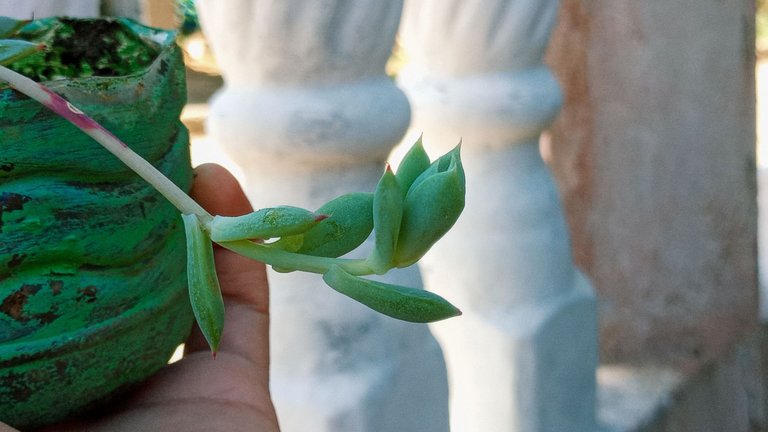 ---
We have this species next to the other cacti and succulents, where they get direct sunlight, however I have observed that they tolerate semi shade, as we had some hanging on the porch of the house and they remained beautiful.
A esta especie la tenemos junto a los otros cactus y suculentas, donde les llega luz solar directamente, sin embargo he observado que toleran tranquilamente la semi sombra, pues tuvimos unas colgadas en el porche de la casa y se mantuvieron hermosas.
---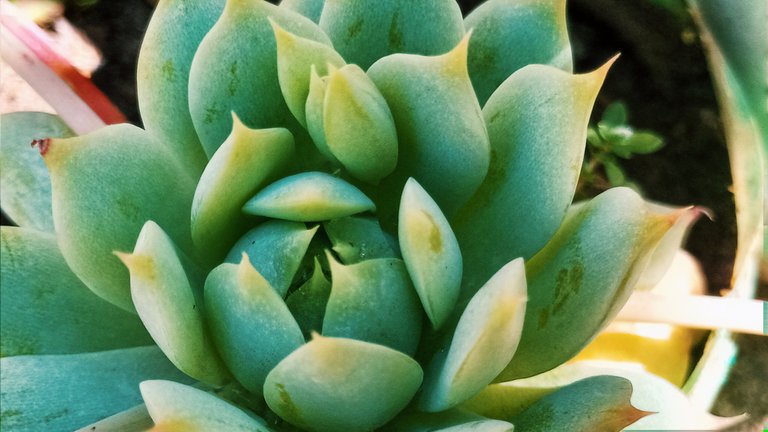 ---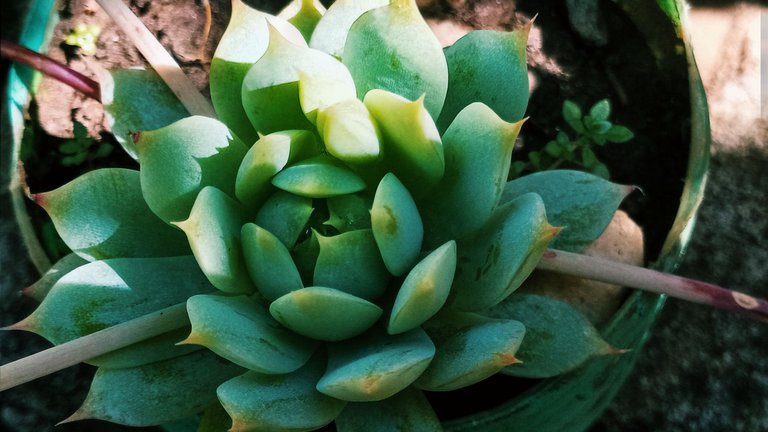 ---
We only apply a weekly watering, it also depends on the temperature, we usually see how their leaves and soil are to know if they need water or not. Of course this care is given to the conditions of my country and the region where I live.
It is a succulent of very easy reproduction and fast growth that decorates very beautifully wherever it is placed.
Solo aplicamos un riego semanal, también depende de cómo esté la temperatura, solemos ver cómo están sus hojas y la tierra para saber si necesitan o no agua. Por supuesto que este cuidado está dado a las condiciones de mi país y la región donde vivo.
Es una suculenta de muy fácil reproducción y rápido crecimiento que adorna muy bonito donde se ubique.
---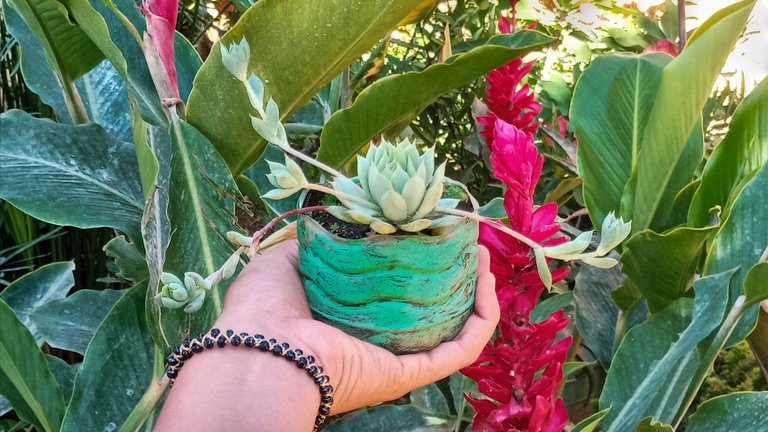 ---
I would like to know if you have this species in your collection, if so, let me know, thanks for reading!
Me gustaría saber si tienes esta especie en tu colección, de ser así, ¡Coméntamelo! ¡Gracias por leerme!
I rely on translators to make this publication.
All photos are taken by me with my Samsung A10 phone.

---
---