Playa Medina, Sucre – Venezuela / My route through the Paria Peninsula, Part III [ENG-ESP]
If there is a beach that everyone mentions when they talk about the beauties of Sucre state, to the east of Venezuela, that is Medina Beach, that is why when visiting the Paria peninsula, I couldn't miss this incredible place.
Si hay una playa que todos mencionan cuando hablan de las bellezas del estado Sucre, al oriente de Venezuela, esa es Playa Medina, por eso al visitar la península de Paria, no podía perderme este increíble lugar.
From Río Caribe, where I stayed with my mother while we were in Paria, it is about 26 km to Medina Beach. We didn't have a car, so we asked how to get there and we left early in the morning with public transport to the entrance of the road that leads to Medina Beach.
Desde Río Caribe, donde me hospedé con mi mamá mientras estuvimos por Paria, son unos 26 km hasta Playa Medina. Nosotras no teníamos carro, así que preguntamos cómo ir y nos fuimos temprano en la mañana con transporte público hasta la entrada de la vía que lleva a Playa Medina.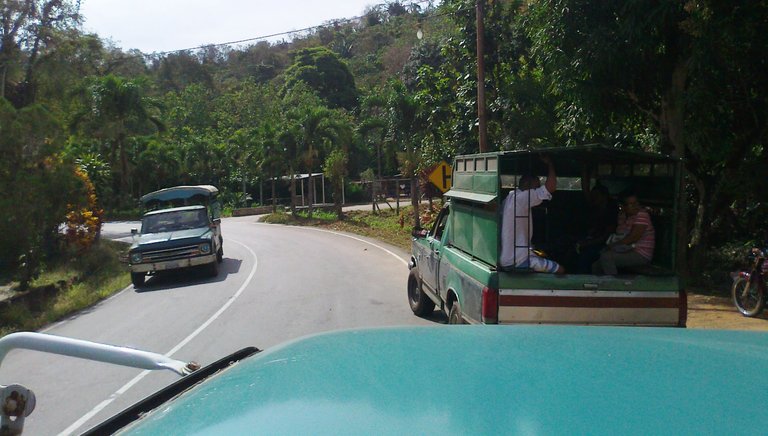 This type of vehicle is used here as public transport / Este tipo de vehículos son utilizados acá como transporte público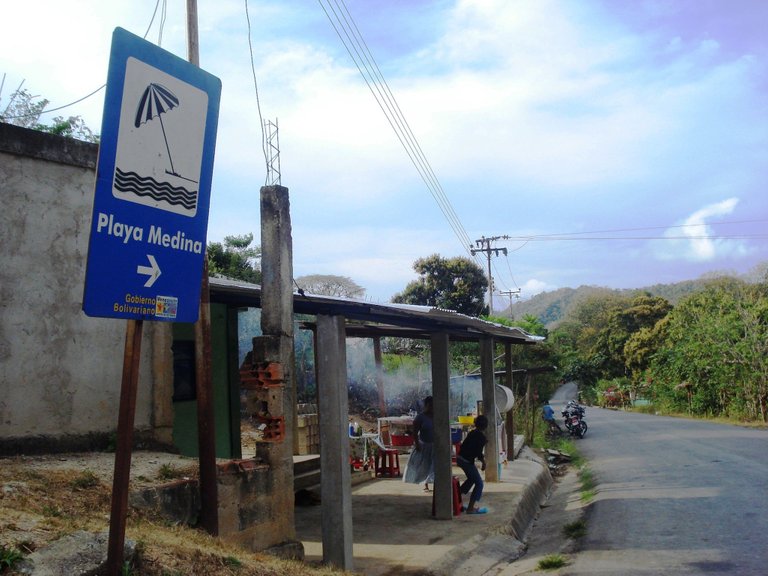 There was no direct bus to the beach, so we got off there and asked at a kiosk if it was too far to walk, and it turns out that it was, about 9 km or on foot at least an hour ... my mother wasn't enthusiastic about this hahaha, but they told us that there were some motorcycle taxis that could take us, she didn't like this idea either but I told her: "get on, we're going, or you'll stay here." She had no other option, she was afraid of riding a motorcycle, she hadn't done it since she was a youth, she told me, but the motorcycle taxi driver reassured her by assuring her that he was going to go at low speed. I immortalized the moment from the other bike with this pair of photos:
No había autobús directo hasta la playa, así que nos bajamos allí y preguntamos en un kiosko si era muy lejos para ir caminando, y resulta que sí, unos 9 km o sea a pie al menos una hora… mi mamá no se veía entusiasmada con esto jajaja, pero nos dijeron que había unos mototaxis que podían llevarnos, a ella tampoco le gustó esta idea pero yo le dije: "móntate que nos vamos, o te quedas aquí". No le quedó otra opción, le daba miedo ir en moto, desde su juventud no lo hacía me dijo, pero el mototaxista la tranquilizó asegurándole que iba a ir a baja velocidad. Yo desde la otra moto inmortalicé el momento con este par de fotos: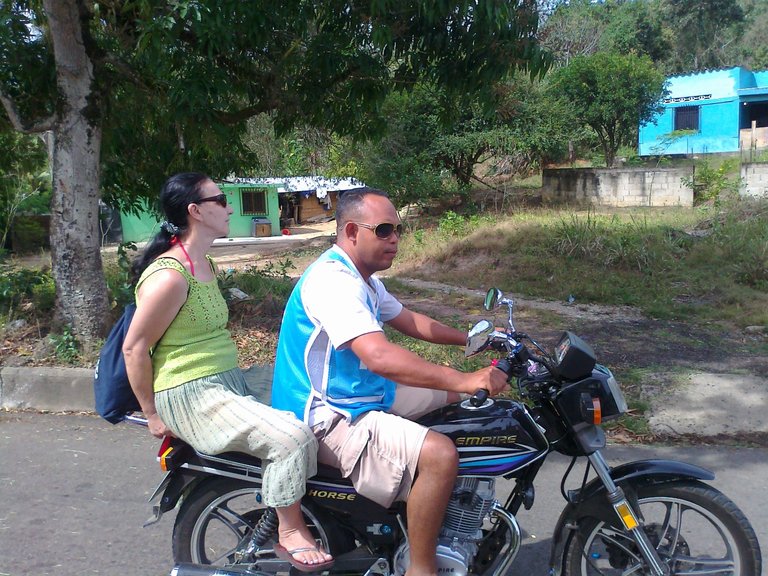 My mom in the motorcycle taxi / Mi mamá en el mototaxi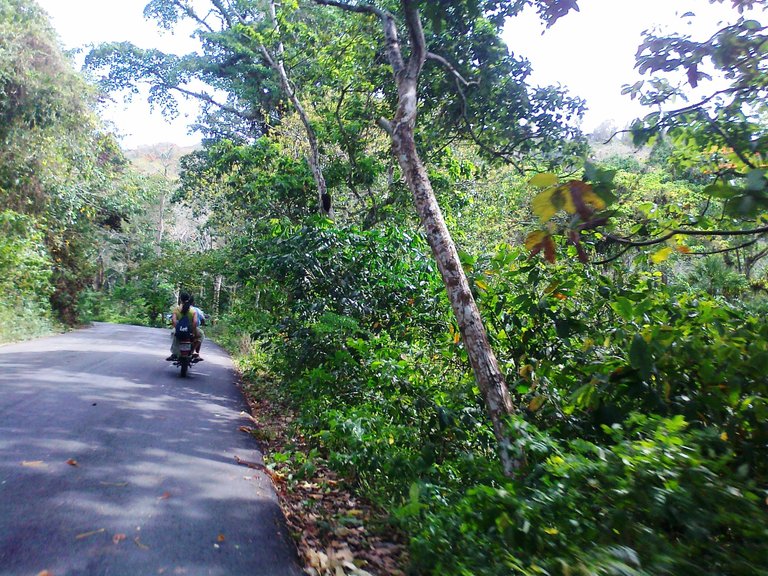 The road is a beauty, full of lush greenery, it descends and at certain points you can see the sea from above. In less than half an hour we reached Medina Beach and its beautiful entrance: a large space with grass that looked like a carpet and hundreds of palm trees all over the place.
La vía es una belleza, llena de exuberante verdor, va descendiendo y en ciertos puntos se ve el mar desde lo alto. En menos de media hora llegamos a Playa Medina y su preciosa entrada: un amplio espacio con grama que parecía una alfombra y cientos de palmeras por todo el lugar.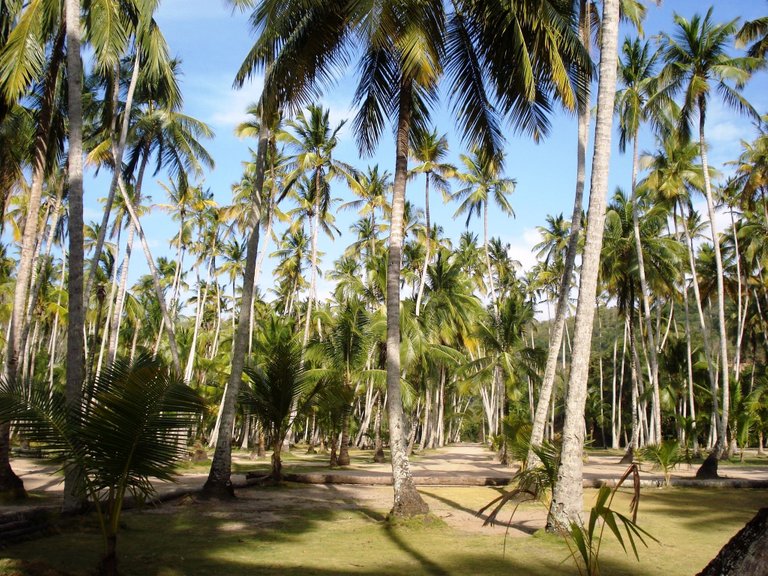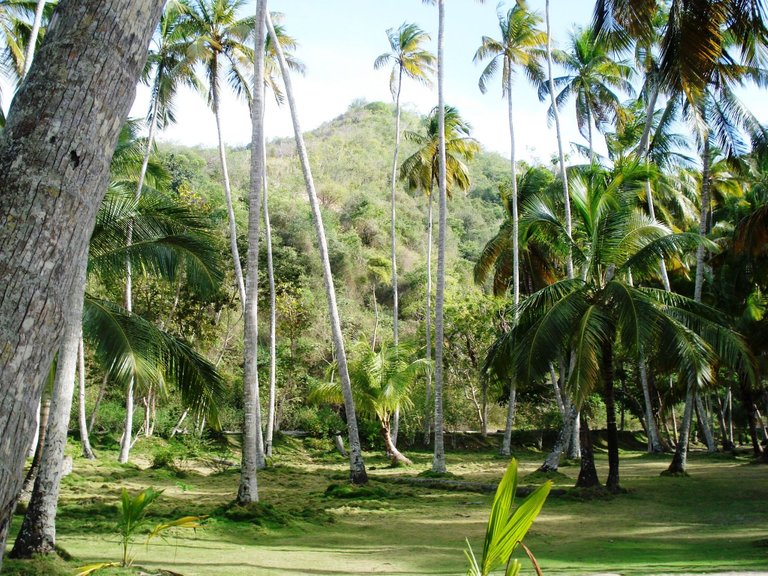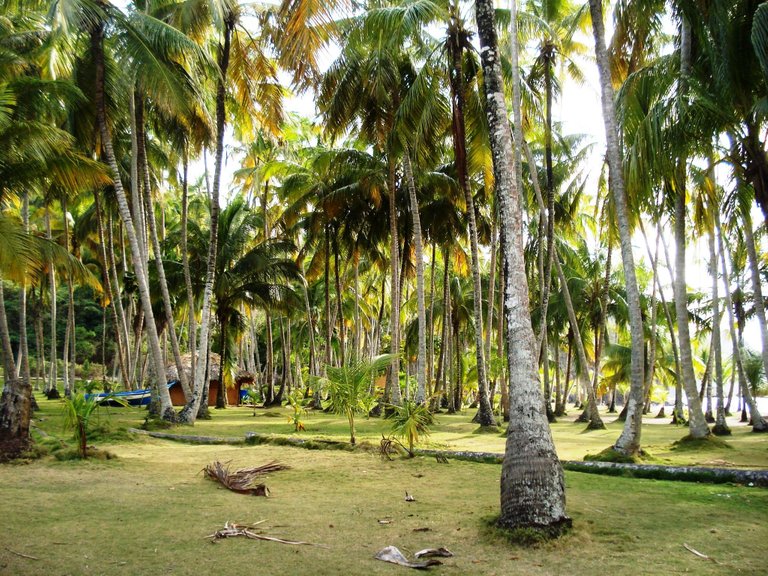 I got off the bike and when my mom got off hers she wasn't careful and her leg brushed the exhaust pipe and auch! This resulted in a small round burn that burned all day, but despite this unfortunate incident she decided to enjoy the beach. We agreed with the motorcycle taxi drivers that they would return to pick us up at 4:30 in the afternoon.
Me bajé de la moto y cuando mi mamá se bajó de la suya no tuvo cuidado y su pierna rozó el tubo de escape y ¡auch! eso resultó en una pequeña quemadura redonda que le ardió todo el día, pero a pesar de este desafortunado incidente ella decidió disfrutar de la playa. Acordamos con los mototaxistas que regresaran a buscarnos a las 4:30 de la tarde.
We advanced between the palm trees and little by little the beach appeared before us in its entirety.
Avanzamos entre las palmeras y poco a poco la playa apareció ante nosotras en toda su extensión.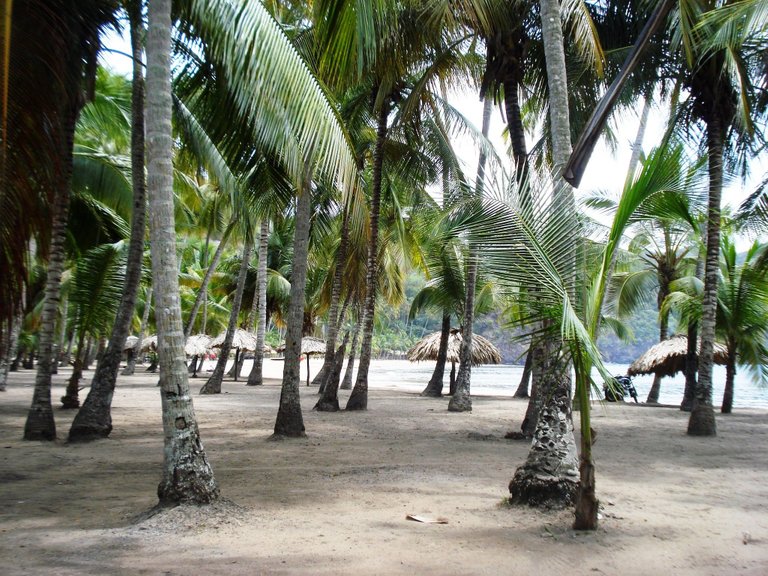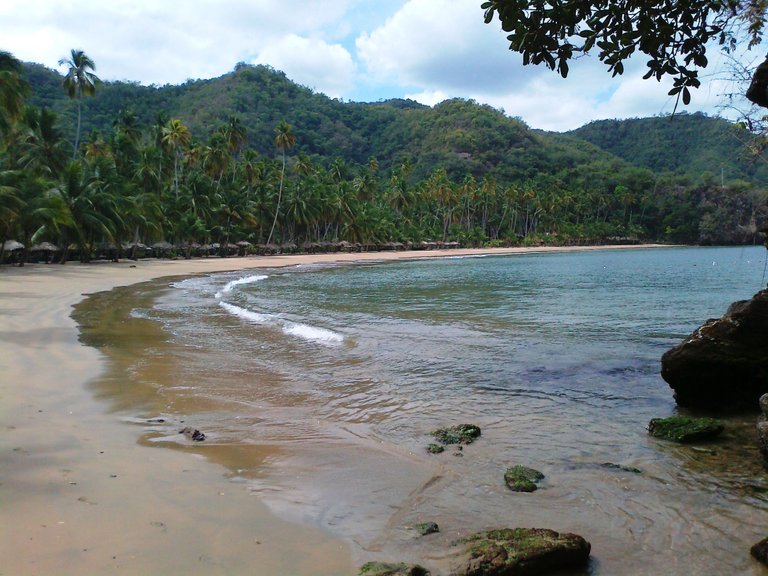 There is a lot of shade to sit on and also many umbrellas made with dried palm leaves. It was low season and apart from my mother and I, there were like five more people out there, but as the morning passed, more people arrived.
Hay bastante sombra donde ubicarse y también muchas sombrillas hechas con hojas secas de palmeras. Era temporada baja y aparte de mi mamá y yo, había como cinco personas más por ahí pero en el transcurrir de la mañana fue llegando más gente.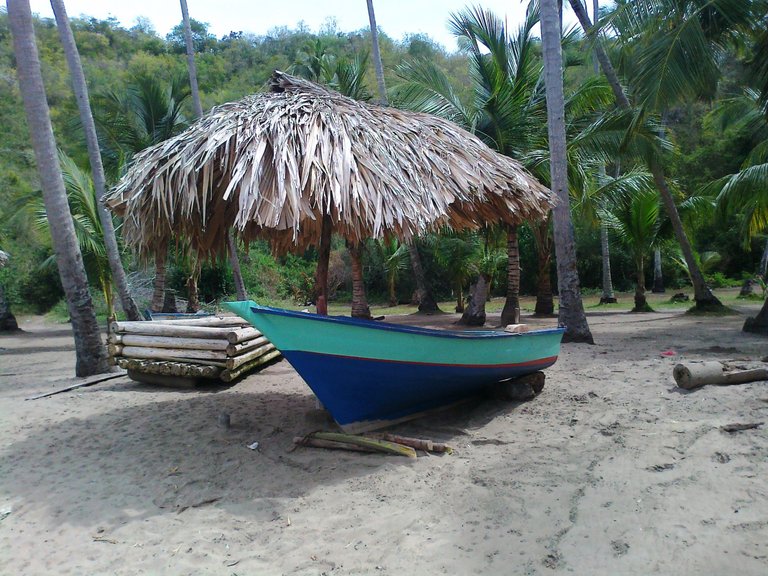 We had brought some things to eat but there were several food stalls there, so we could buy something extra if we wanted.
Nosotras habíamos llevado algunas cosas para comer pero allá había varios puestos de comida, así que podríamos comprar algo adicional si queríamos.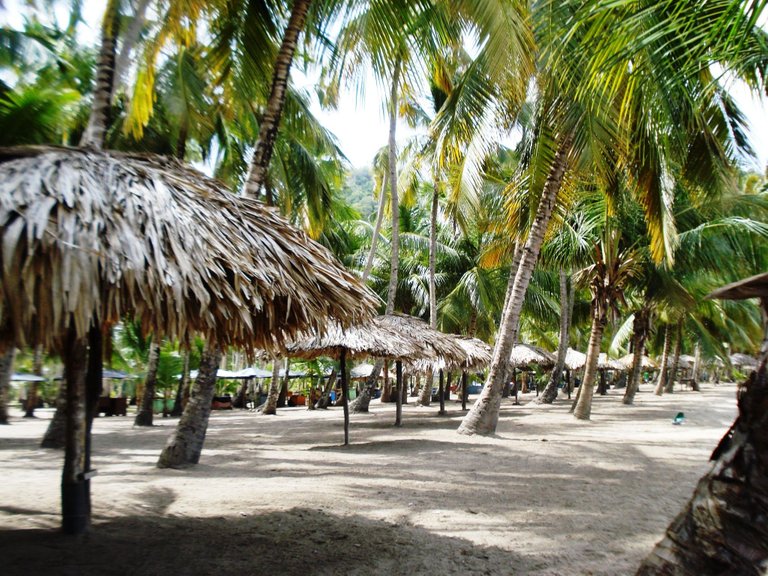 I went to shore to test the water temperature and it was freezing! So I submerged myself little by little. As it is a small, curved bay, there is no strong surf here, so you can swim calmly.
Me fui a la orilla para probar la temperatura del agua y ¡estaba helada! Así que me sumergí poco a poco. Como es una bahía pequeña y de forma curva, no se produce oleaje fuerte aquí, así que se puede nadar con tranquilidad.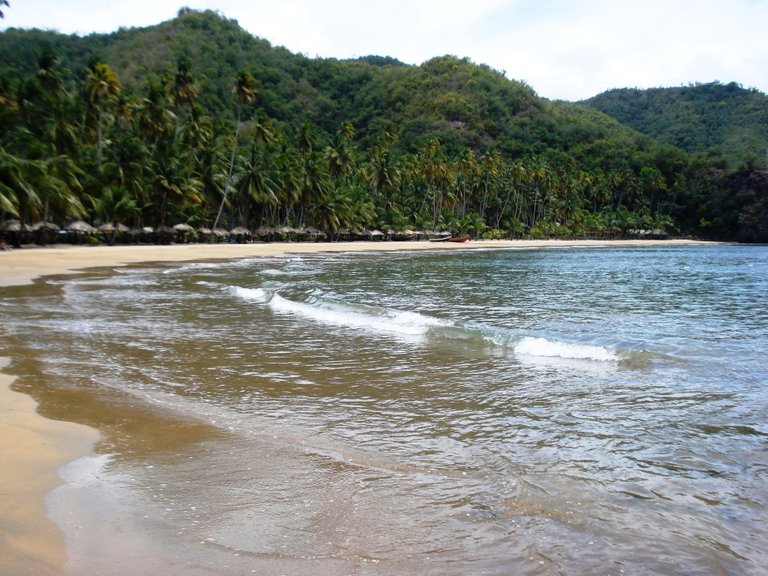 My mother also went into the water a little and then we went for a walk along the shore to the other end, where the only accommodation available here is found, some beautiful cabins.
Mi mamá también entró un poco al agua y luego nos fuimos a caminar por la orilla hasta el otro extremo, donde se encuentra el único alojamiento disponible aquí, unas bellas cabañas.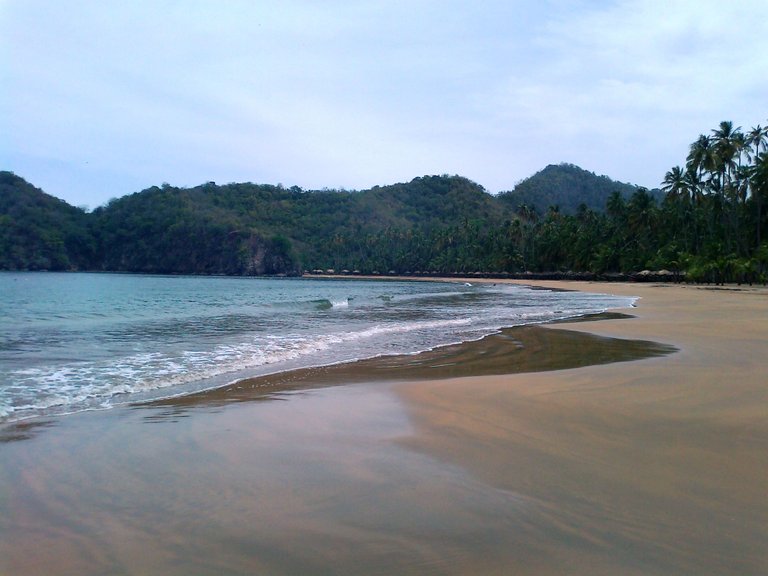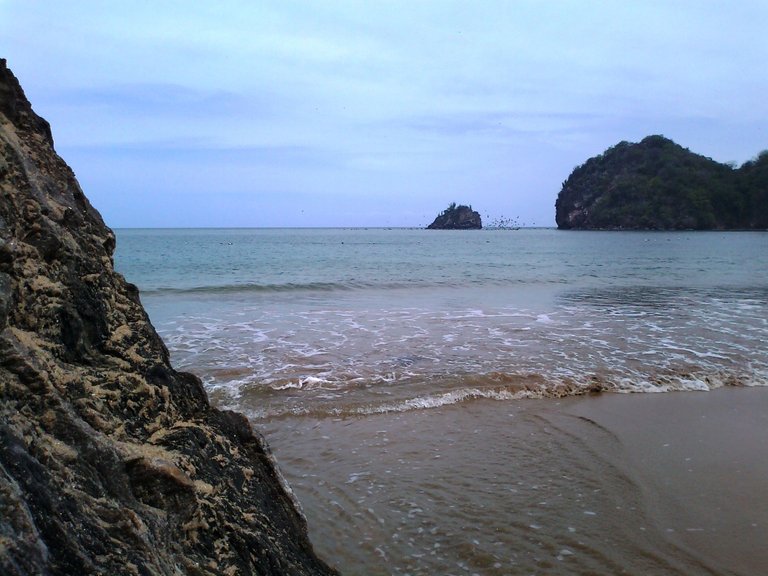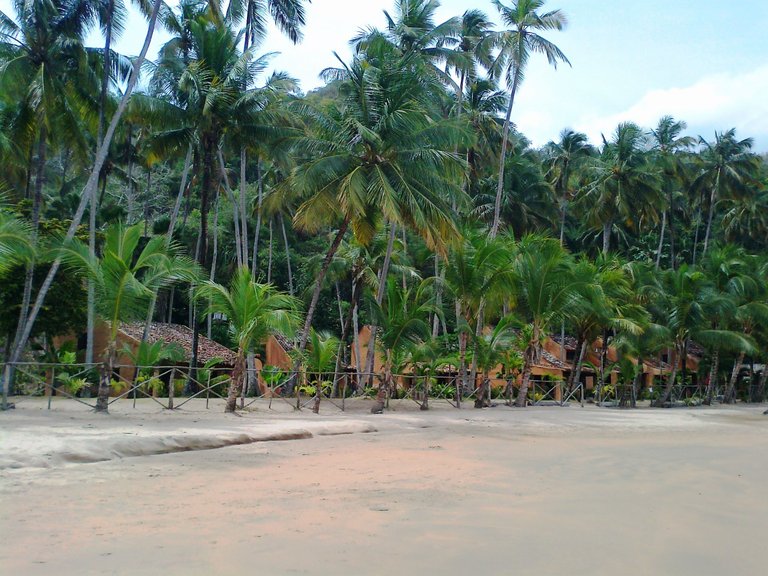 The cabins, the only construction in Medina Beach / Las cabañas, única construcción en Playa Medina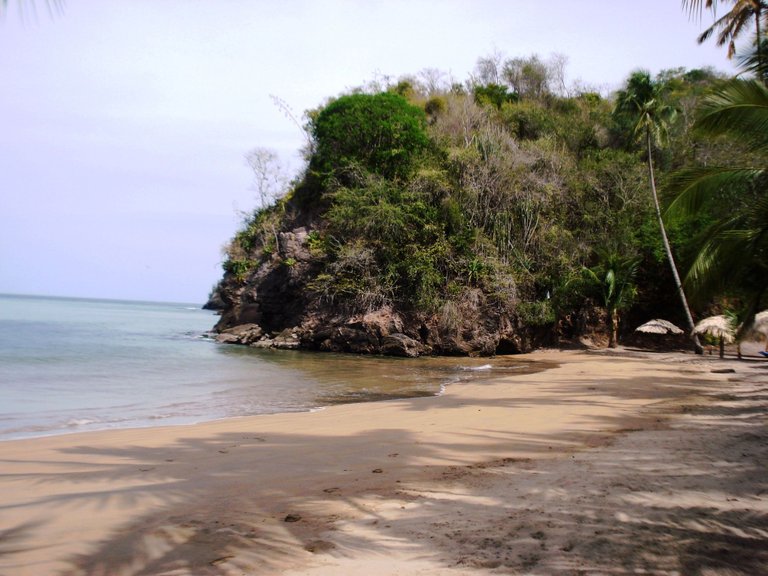 We saw several boats pass near the beach and the commotion of the birds at this, I suppose that sometimes the fishermen give them something of what they take.
Vimos pasar varias lanchas cerca de la playa y el alboroto de las aves ante esto, supongo que a veces los pescadores les dan algo de lo que sacan.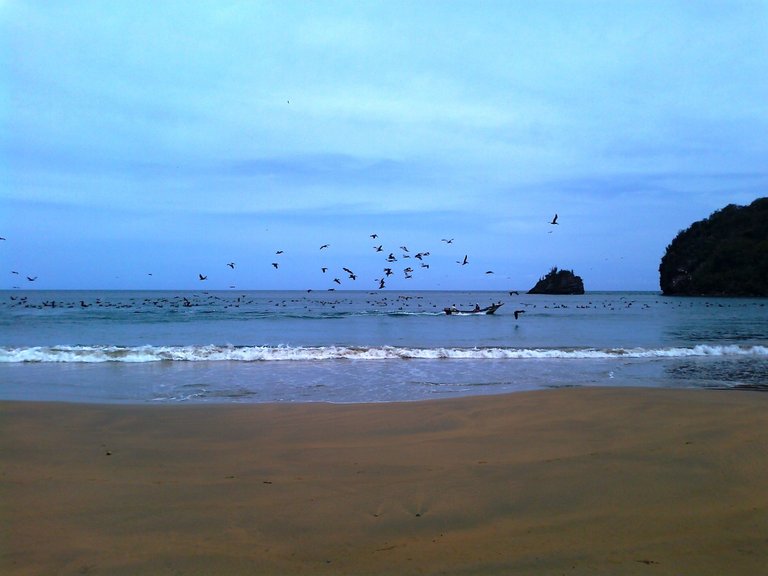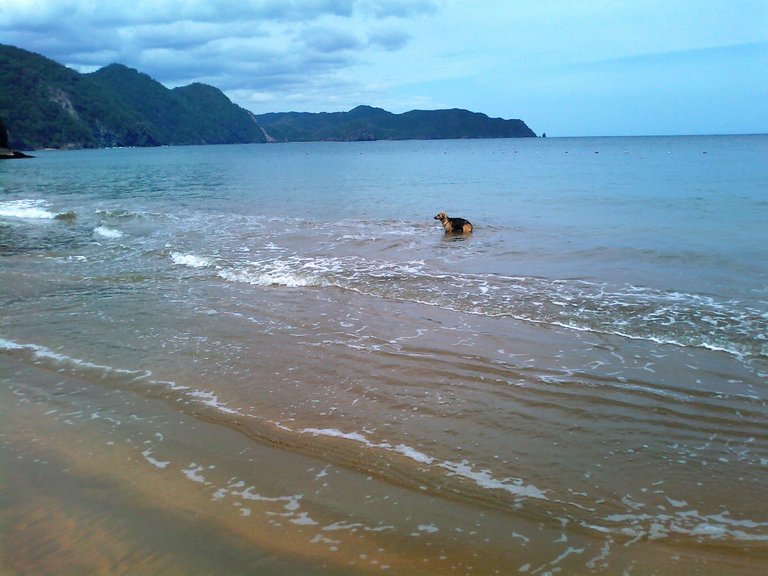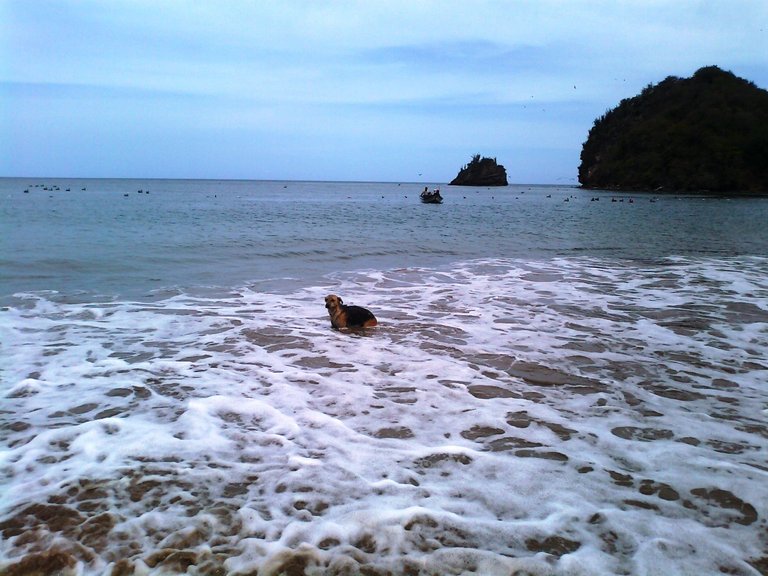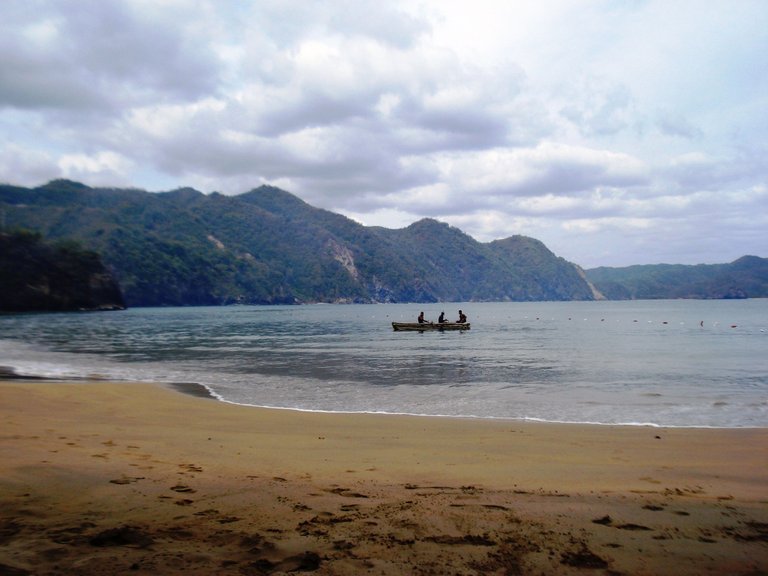 Then we began to explore a little in the rock formation that was at one end of the beach, in the distance some people could be seen there.
Luego nos pusimos a explorar un poco en la formación rocosa que estaba a un extremo de la playa, a lo lejos se veían algunas personas allí.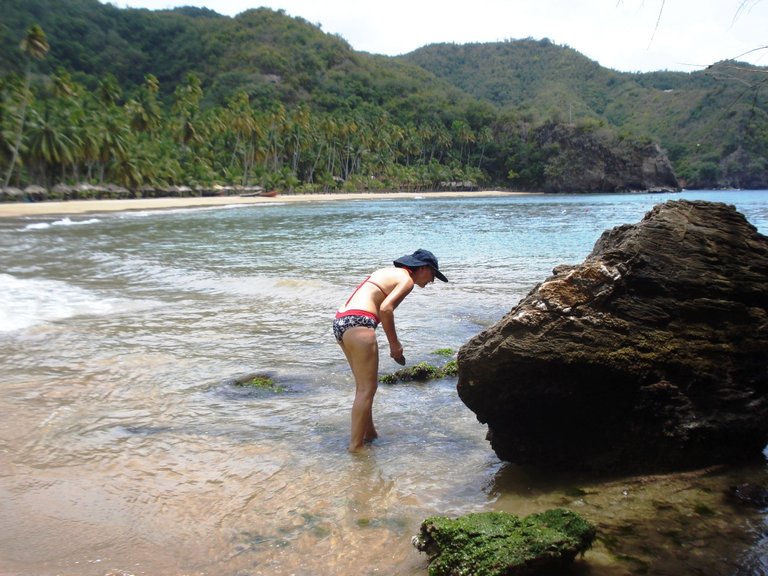 My mom looking for crabs / Mi mamá buscando cangrejos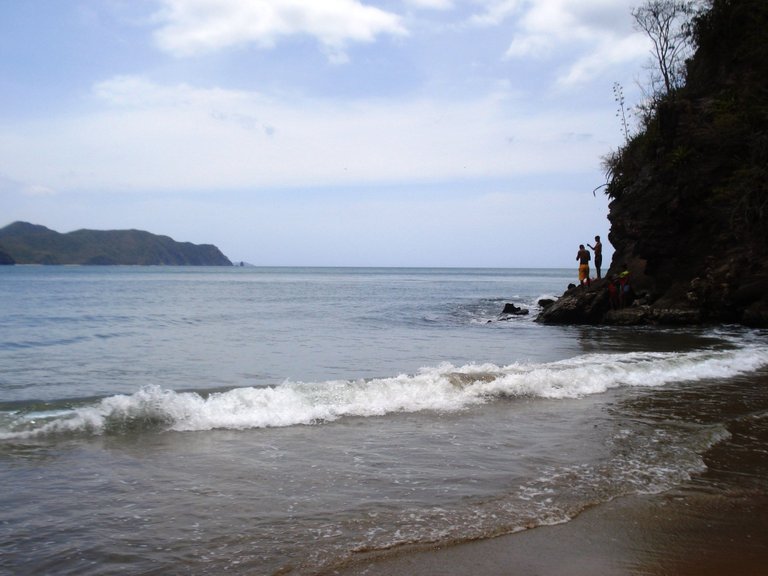 Medina Beach is photogenic from any angle, so I spent some time taking several shots of the landscape and other things that were around.
Playa Medina es fotogénica desde cualquier ángulo, así que me dediqué un rato a hacer varias tomas del paisaje y de otras cosas que había alrededor.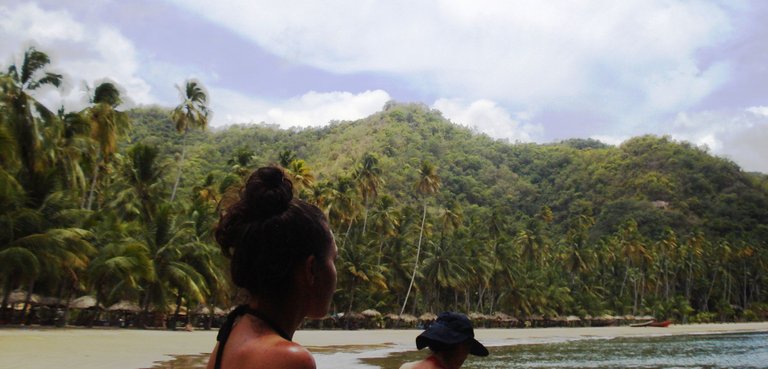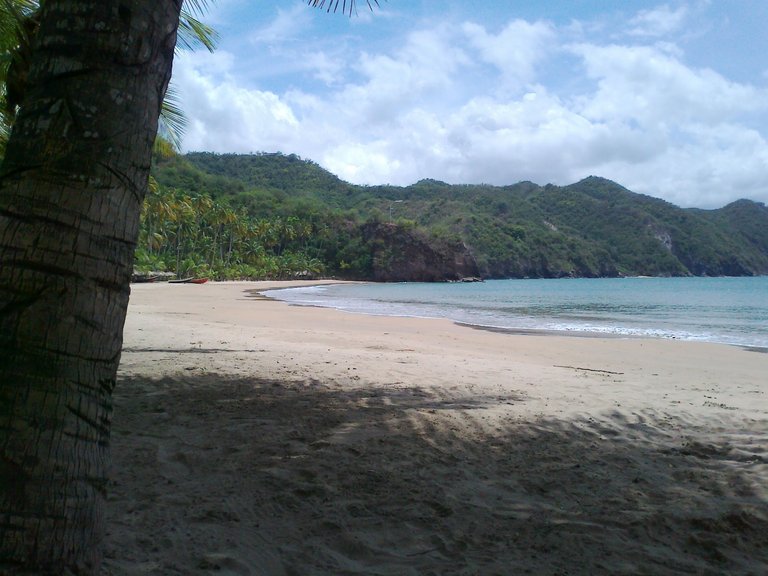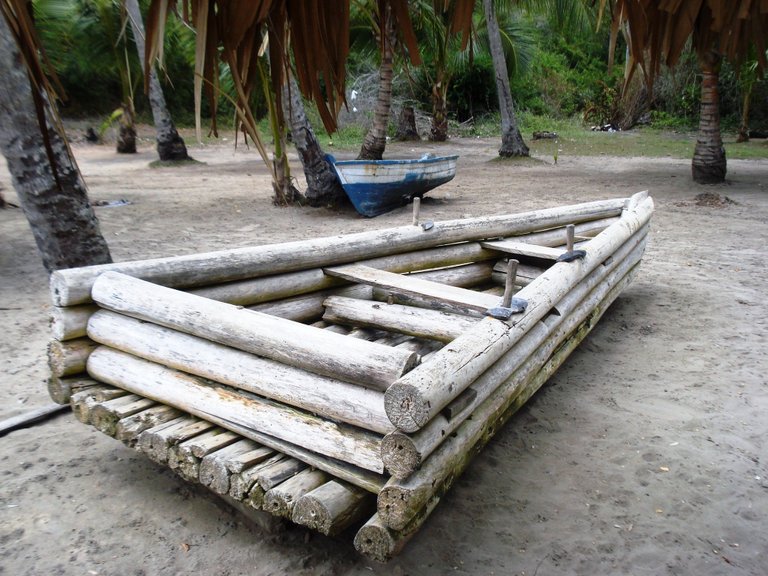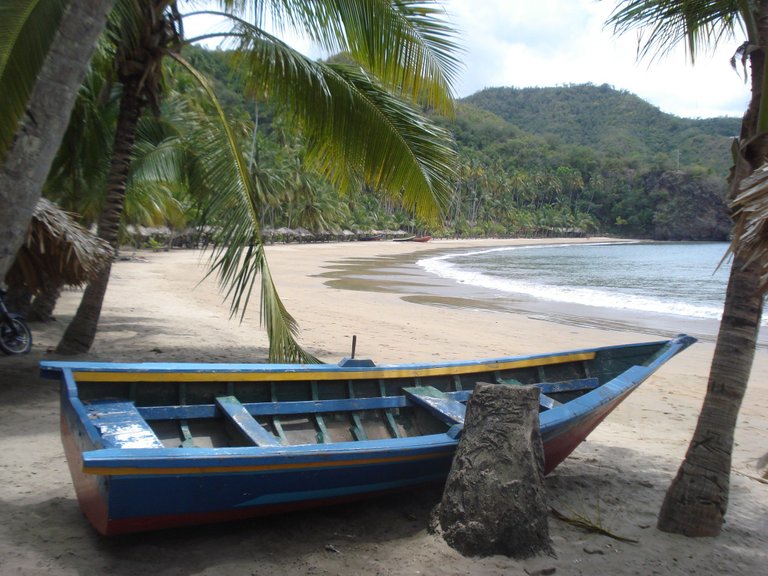 Noon and hunger arrived, so we bought some huge empanadas that were delicious and sat down to eat in the shade.
Llegó el mediodía y el hambre, así que compramos unas empanadas enormes que estaban deliciosas y nos sentamos a comer en la sombra.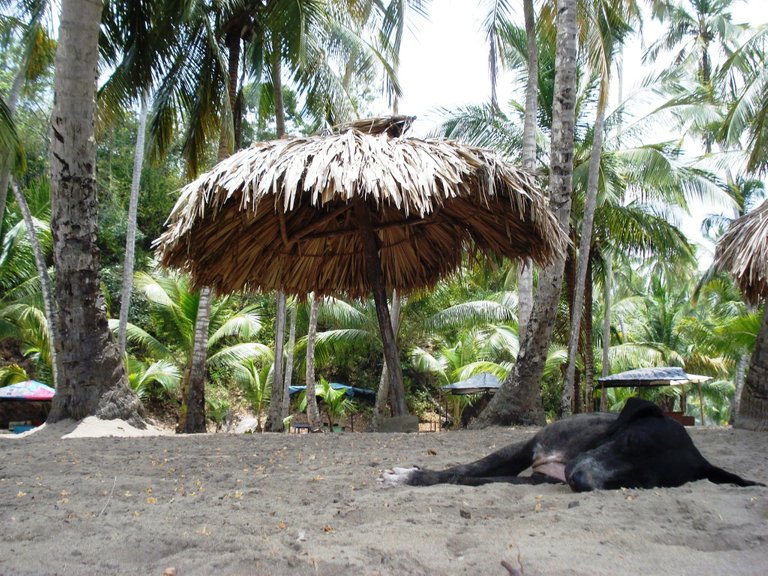 Then a man who sold "Vuelve a la vida" (Come back to life) passed by and I bought him a bottle, this is something typical of the Venezuelan coasts, it is like a seafood cocktail to which many attribute aphrodisiac powers, hence its curious name.
Luego pasó un señor que vendía "Vuelve a la vida" y le compré un frasco, esto es algo típico de las costas venezolanas, es como un cóctel de mariscos a los que muchos atribuyen poderes afrodisíacos, de ahí su curioso nombre.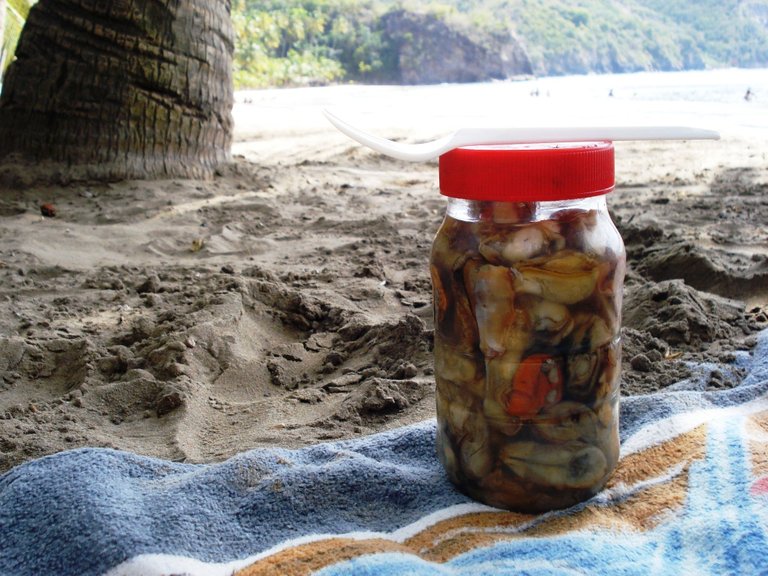 The afternoon passed relaxed and before we left we saw a beautiful old woman who had come with a basket and a cayenne that adorned her head. It was Eulogia, known in the area for selling delicious sweets that she has been preparing for years. She had coconut, pineapple with coconut, cocoa, milk and others. We bought her several to take away, they were huge and I loved that because I'm a lover of sweets hahaha.
La tarde transcurrió relajadamente y antes de irnos vimos a una bella viejita que venía llegando con una cesta y una cayena que adornaba su cabeza. Se trataba de Eulogia, conocida en la zona por vender unos deliciosos dulces que prepara desde hace años. Tenía conservas de coco, piña con coco, de cacao, de leche y otros. Nosotras le compramos varios para llevar, eran enormes y eso me encantó porque soy dulcera jajaja.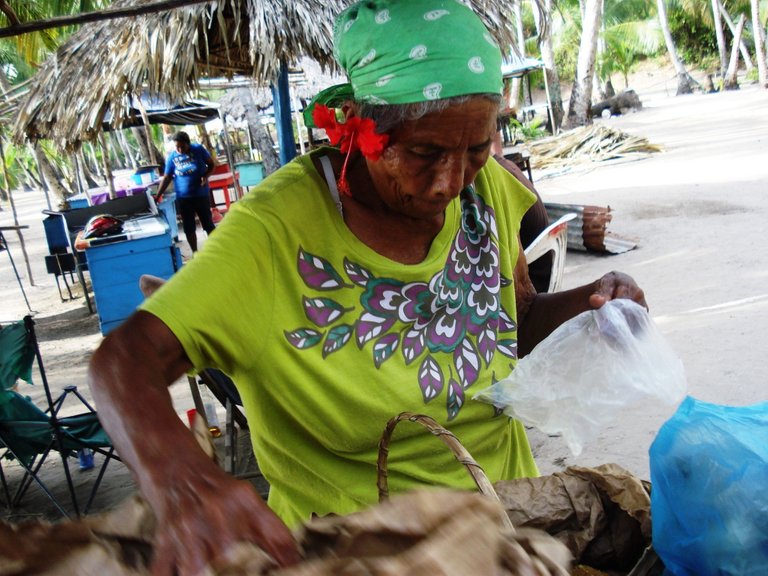 The rich flavors of a tropical paradise / Los ricos sabores de un paraíso tropical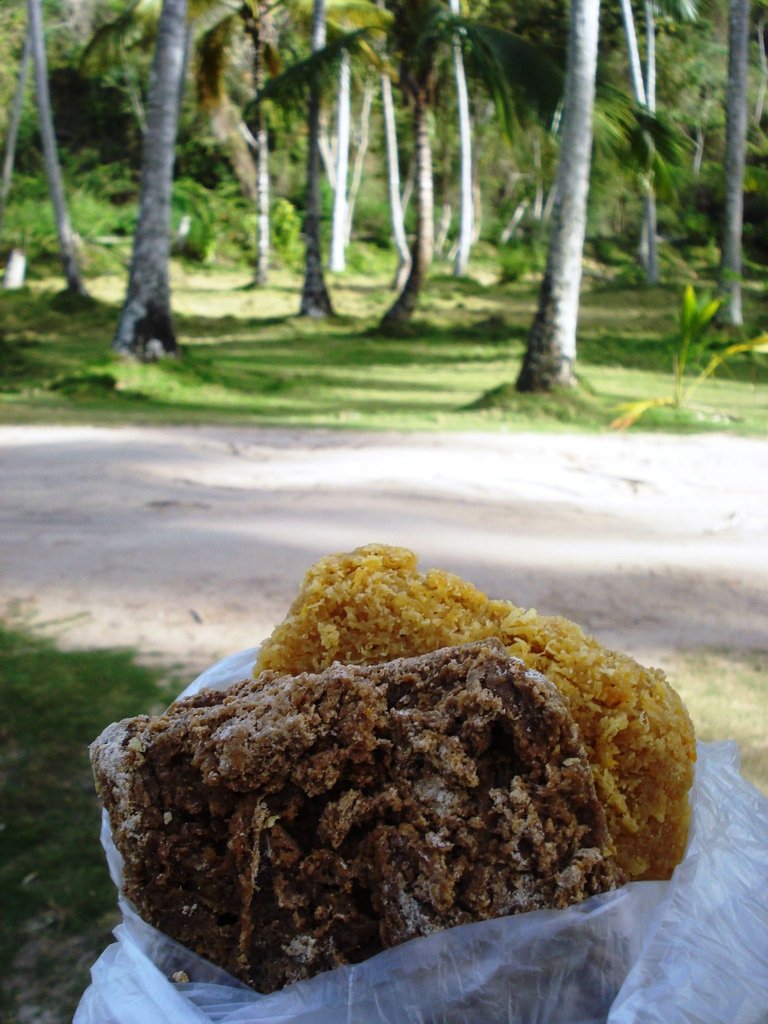 We sat in some fallen palm trees that were there to wait for the motorcycle taxi drivers and also to enjoy the atmosphere with the sun lowering its intensity and the sea breeze passing through the trees, pure poetic nature.
Nos sentamos en unas palmeras caídas que estaban por allí a esperar a los mototaxistas y también a disfrutar el ambiente con el sol bajando su intensidad y la brisa marina colándose entre los árboles, naturaleza poética pura.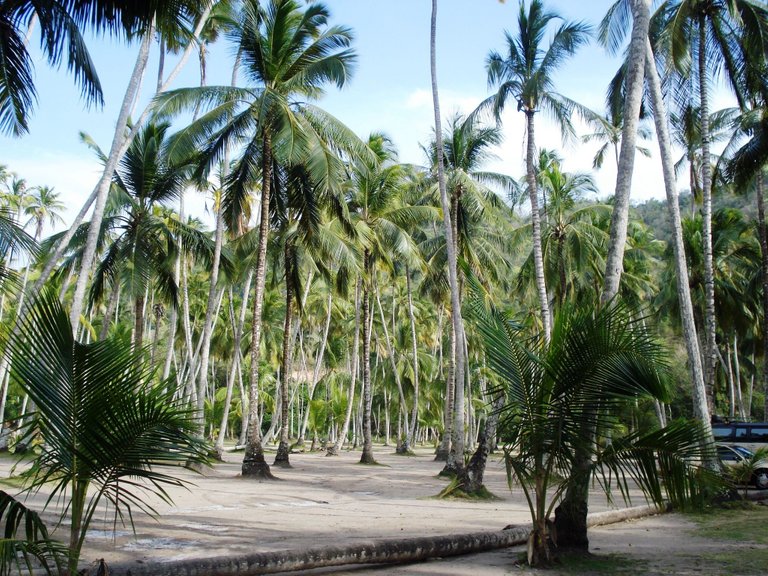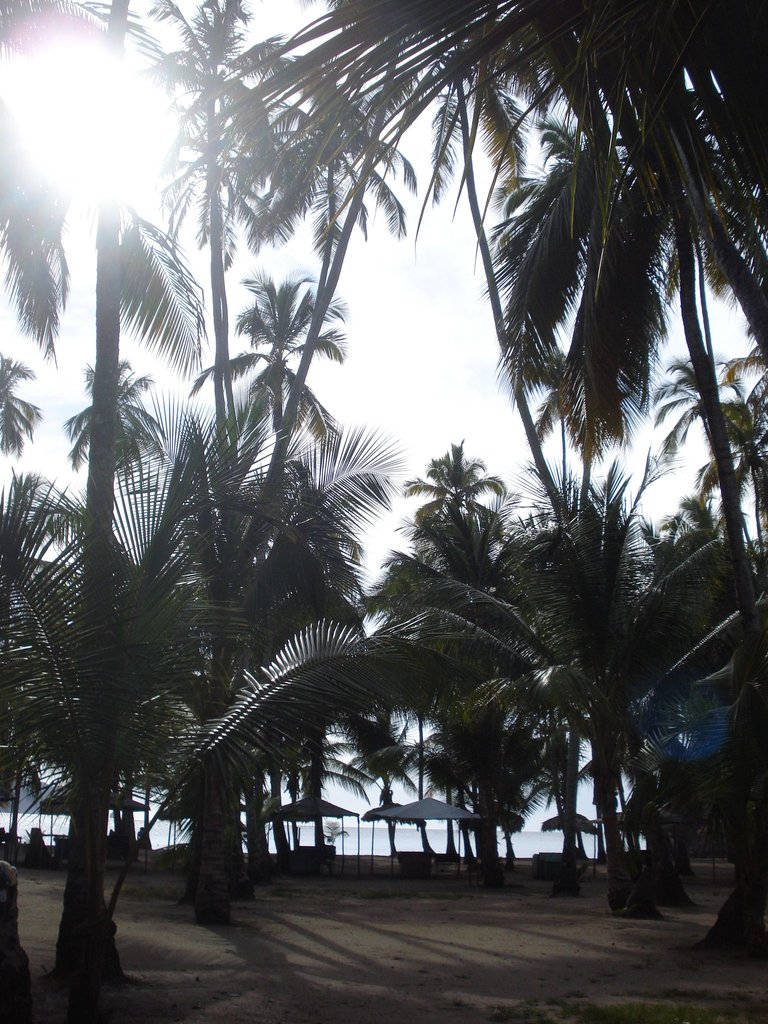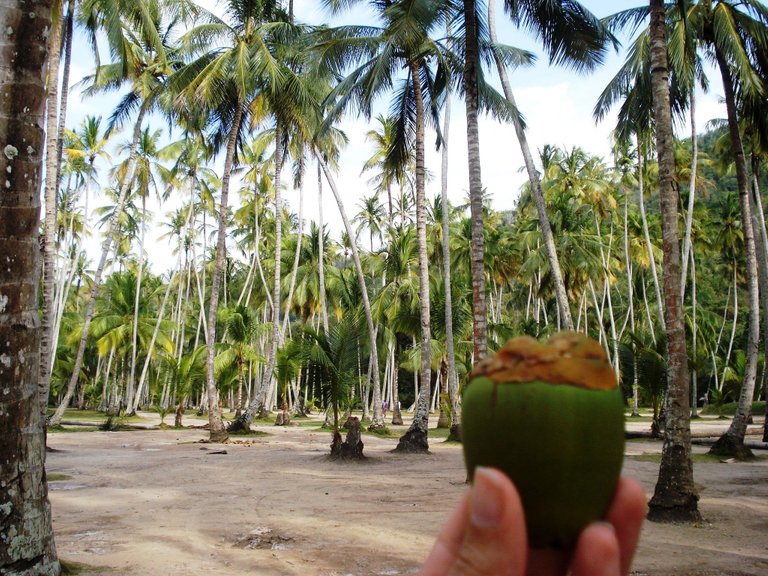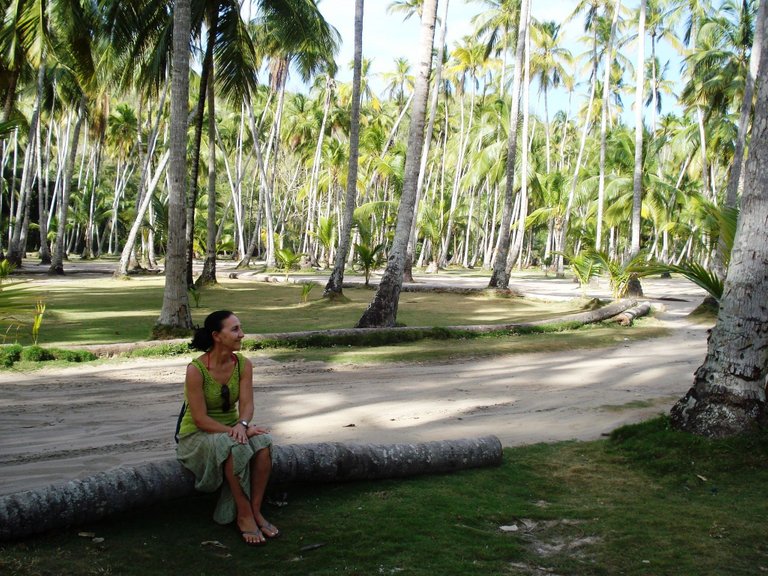 My mom and I / Mi mamá y yo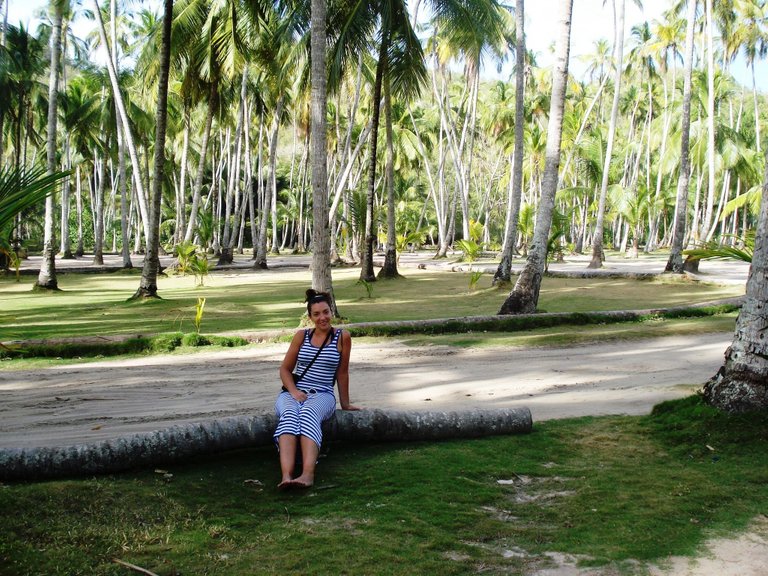 Well, we left Medina Beach and when we returned to Río Caribe we went to look for a pharmacy so that my mother could buy something for the burn on her leg, fortunately it was still open and she got a very good ointment that relieved her to continue enjoying without pain for more days in the Paria peninsula.
Bueno, dejamos Playa Medina y al regresar a Río Caribe fuimos a buscar una farmacia para que mi mamá comprara algo para la quemadura de su pierna, afortunadamente aún estaba abierta y consiguió una pomada muy buena que la alivió para seguir disfrutando sin dolor más días por la península de Paria.
THANK YOU FOR READING! / ¡GRACIAS POR LEER!


Photos taken by me with a Sony Cyber Shot 7.2 mp digital camera / Fotos hechas por mí con una cámara digital Sony Cyber Shot 7.2 mp
---
---