Let's get to know the wasp character in part 2

Hello Guys ... How are you today ?
---
Welcoming in my blog...
Wasps or Tambuhan are species that are often mistaken for bees, although they have a close relationship but there are many differences between the two, this has been explained in the previous post, if you want to add scientific insight about them, you can see in past posts, or you can also read on this link IDM.time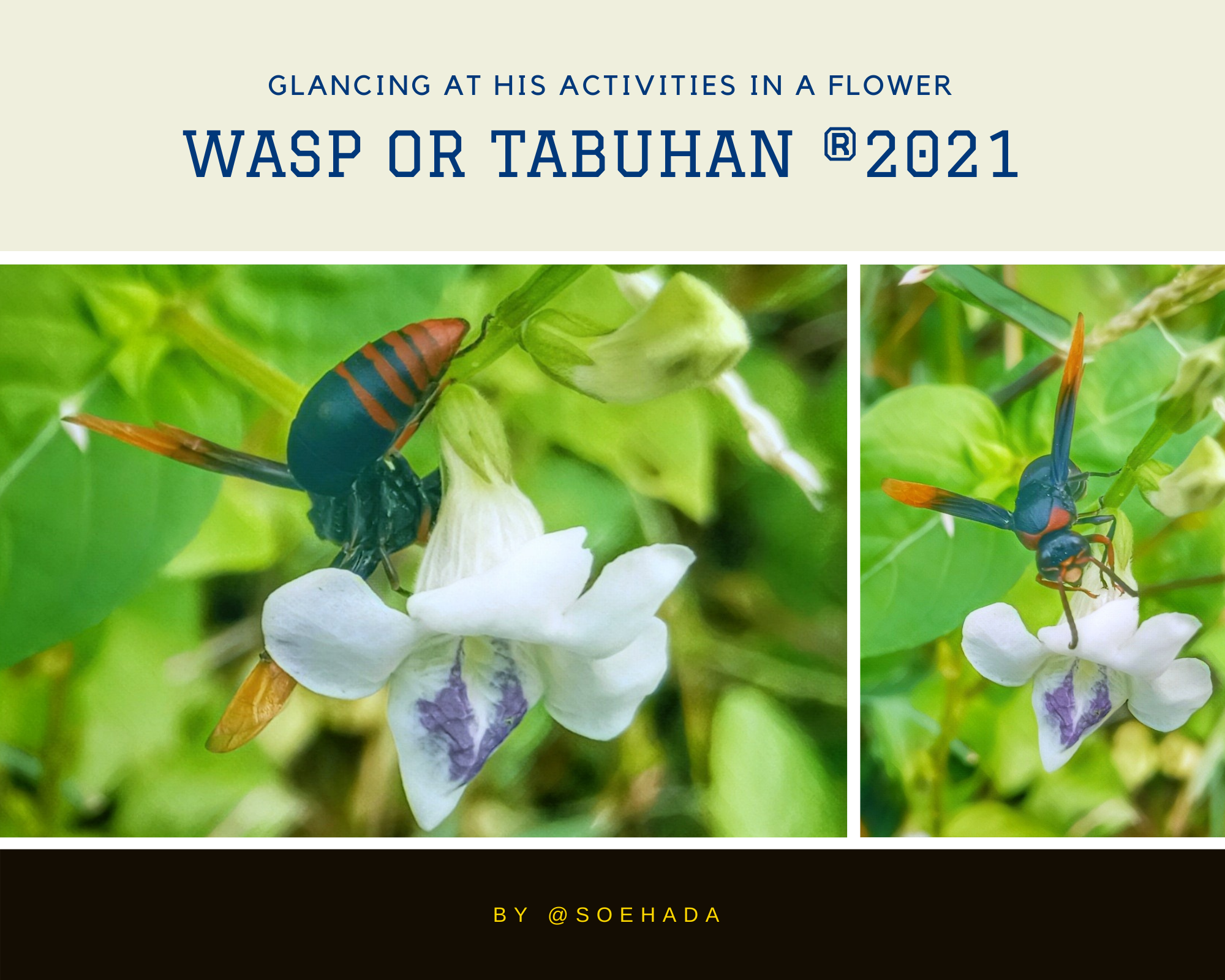 (¬Tambuhan ®2021¬)

Our society recognizes them very well, both in terms of character or patterns found on their bodies, so many names are often called for them, such as Wasp, TABUHAN, Tabuhna, and several other names that are spoken in non-verbal language.
Basically it is very easy to recognize them, because there are striking things on their bodies, having a slender waist is a characteristic they have, then a special line is also circular on each back of the body, if the species is different then the line is different too. Of course with shape and color. Entomologists say, in the world there are already about 75,000 species of wasps that inhabit every region of the earth. Except in certain locations or in very cold temperatures such as on the continent of Antarctica. In this area wasps are not able to adapt to the state of their body temperature.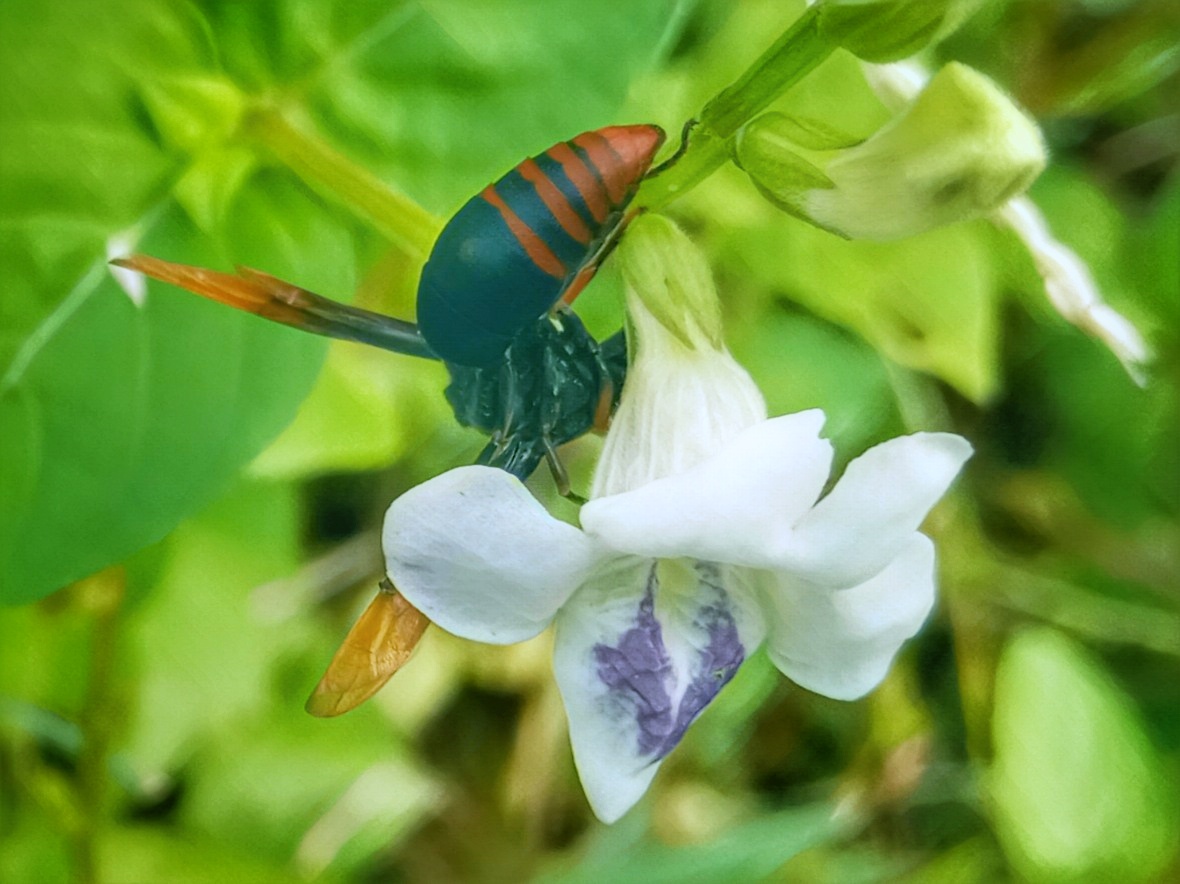 Thus, experts have explained some of its origins so that it is easy to understand scientifically. To make it easier for readers to recognize scientifically, you can see in the box below.
Wasp Taxonomy
| Sequence | Base | Description |
| --- | --- | --- |
| 1 | Ordo | Hymenoptera |
| 2 | Kingdom | Animalia |
| 3 | Filum | Anthropoda |
| 4 | Class | Insecta |
| 5 | Source | 8th grade biology textbook |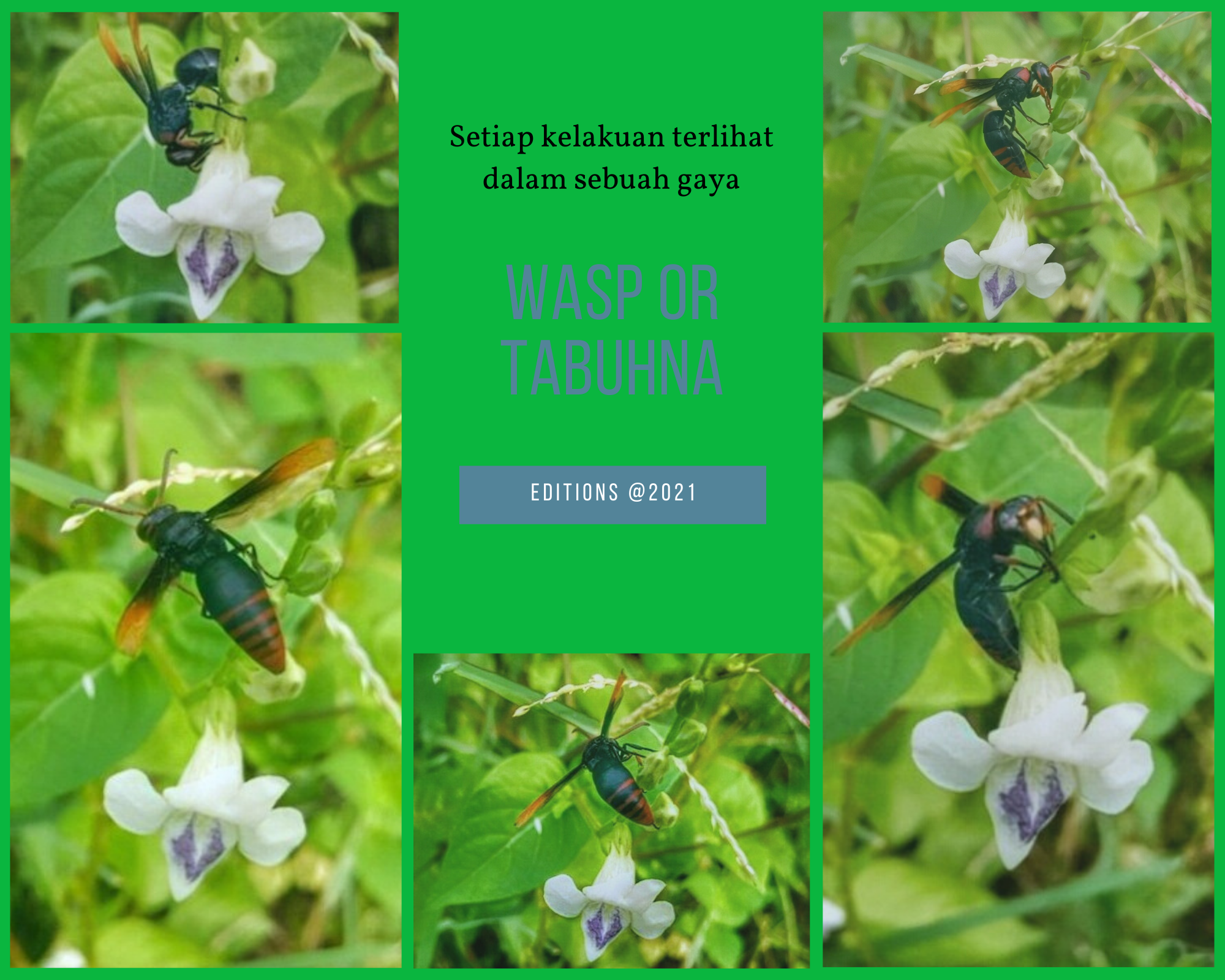 When you have read the explanation above and also the scientific explanation in the table, it is easy for you to understand and understand everything that is in it, although there are still many things that have not been written in detail in the explanation above.
As already said above, it is very easy to recognize wasps, because they have certain body parts as seen in each picture in this post, but in writing they can be divided into 3 parts, namely,
Head
Thorax
and abdomen.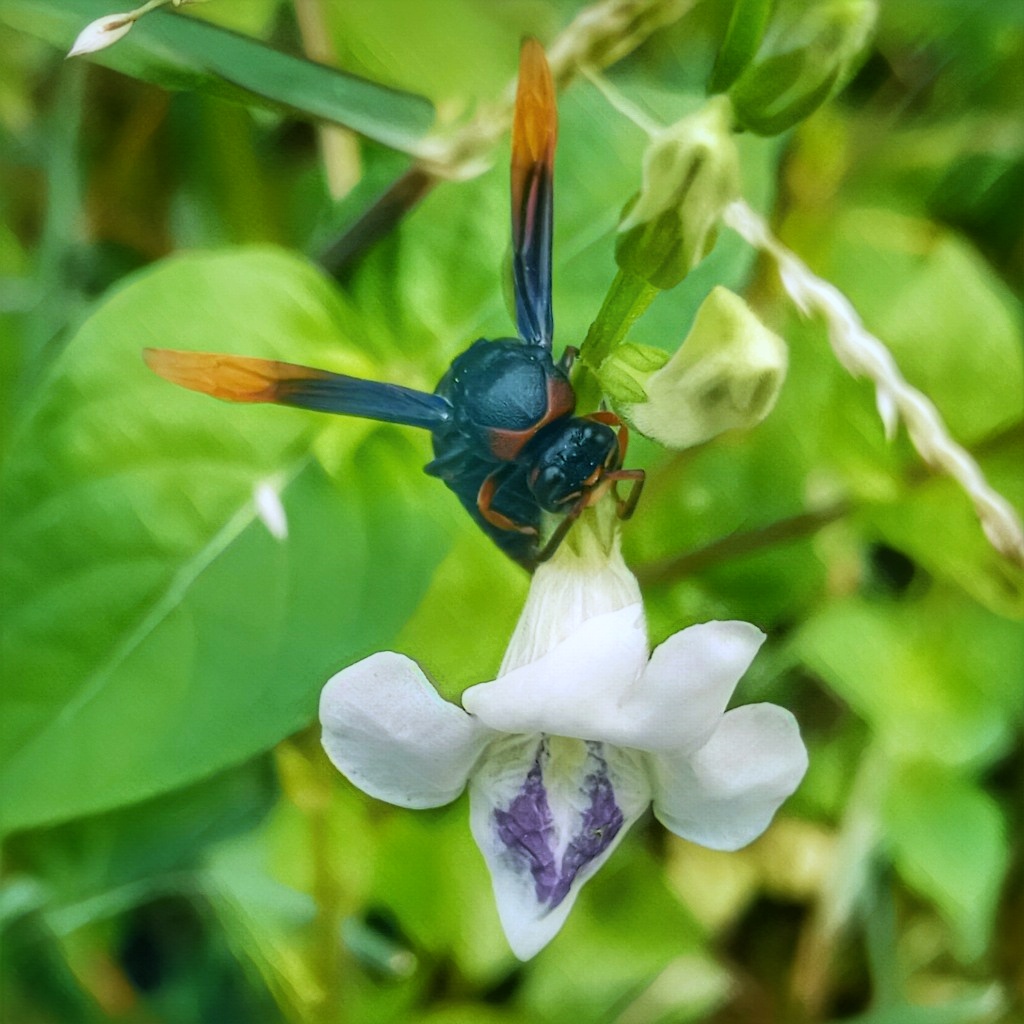 Other types of insects also have heads that have their own uniqueness, such as wasps, also have a very perfect head, namely there is a pair of compound eyes, like other species, the eyes also consist of a collection of small eye lenses, which can detect several colors and movements, which come suddenly -arrive. Uniquely, there are a pair of compound eyes and three ocelli. If interpreted that way, these eyes are simple eyes that are above the wasp's head, but unfortunately in this image it is not clearly visible because each image contained here does not see the front of the face clearly.
While the body size of the wasp which has the smallest rank of the 3 divisions above is the head, while the thorax and abdomen have a larger size. Even when compared to this small white flower, the petals are larger than the head.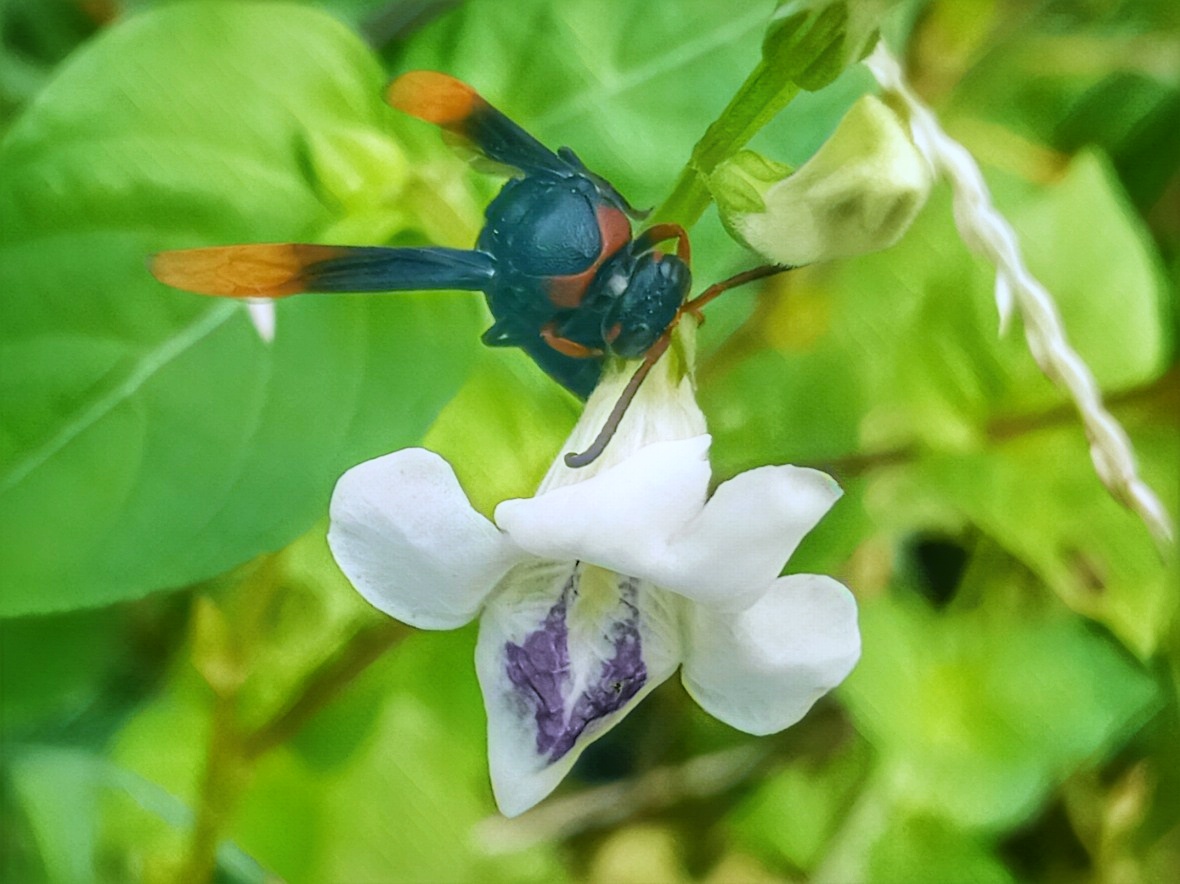 While the oselus which has been mentioned above, do not function by them to see like compound eyes, but are used specifically to detect the intensity of the light around them, including your movement when you approach them. Then do you know the other functions of the oselus? It turns out that by having an ocelliptic state, each group of wasps can know when to start and end their activities in a landing, so don't be surprised if you see they are always right in everything, so the answer is based on the tools in their bodies.
Then what about the explanation of each part of the thorax and also the explanation of the abdomen? The author does not explain here, because the planning will be clarified again in the 3rd post, because in the remaining time the following will explain the differences in bee behavior that I have never seen when sucking flower nectar.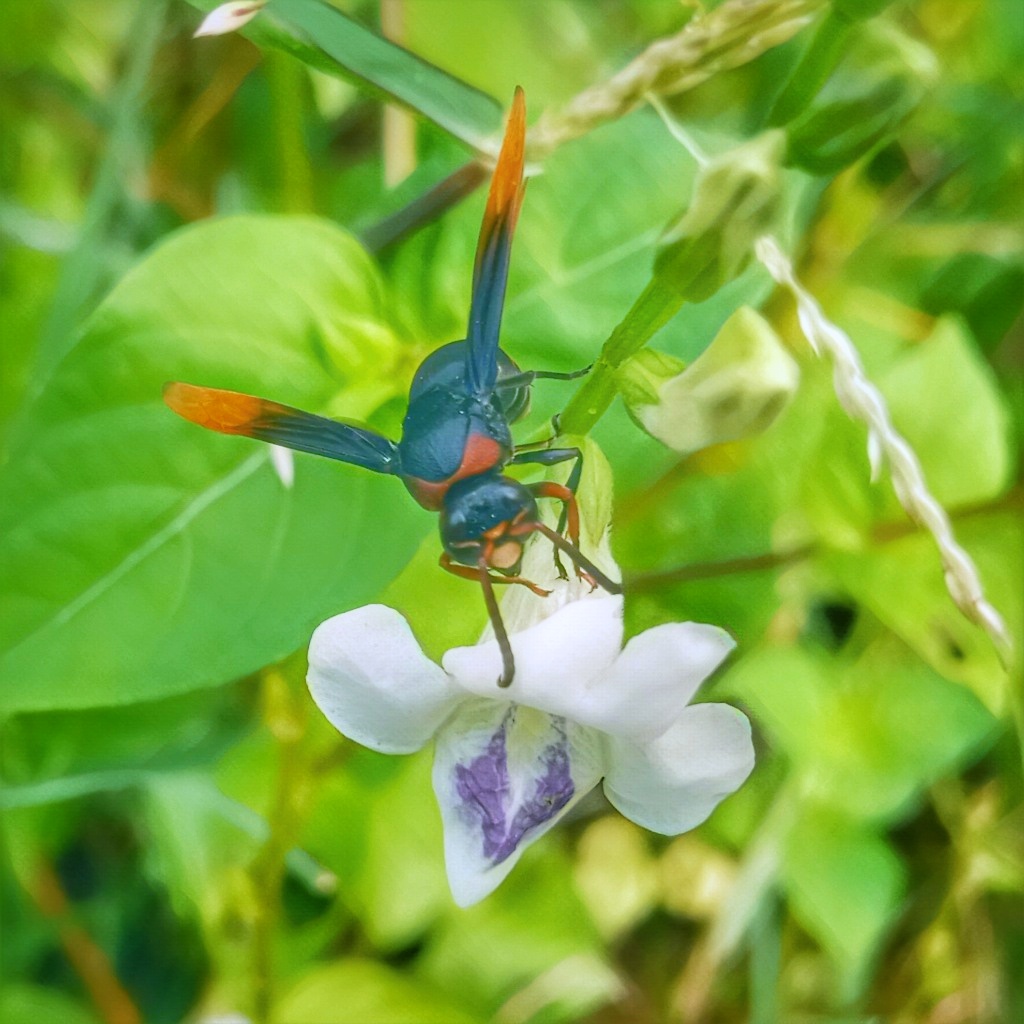 It is generally known that in addition to sucking flower nectar, wasps also often hunt other types of insects that exist in each plant, sometimes they also hunt small wasps or hunt other types of insects from different nations, this is reinforced by the ability of the wasps, when see his head. While on the head itself also has a strong jaw, so it is able to split or destroy its prey when it can be caught.
Today, I just saw a wasp that is often called a tambuhan (our region) in the nectar of a small flower that is blooming in the morning. He was seen doing his usual activity in general, namely trying to bite the bottom of the flower petals. Is the nectar in that location? Of course not! but flower nectar is located in the petals, or on the top of the pistil, not in the petals as a retainer (bottom) of the petals.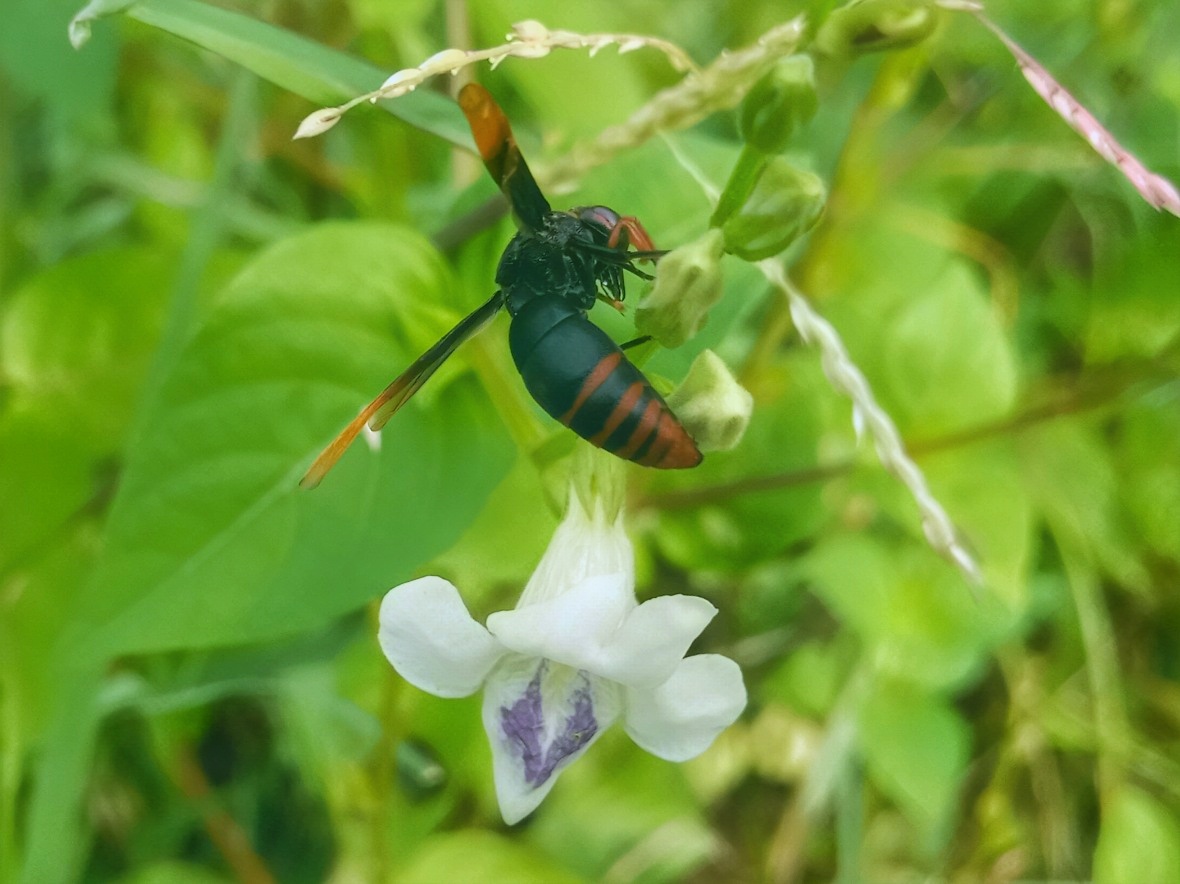 He even bit a small flower stalk, did he use his jaw to crush something? It's really a new behavior that is seen at this time, if this is true then it can be concluded that, wasps have new characters besides eating insects, flower nectar, and also liking the skin layer of flower stalks (not flower petals), but the worker in point 3 has not been proven scientifically because not all wasps behave like this, in general wasps only hunt other types of insects and also suck flower nectar.
Today, I am standing next to a small wasp with jet black color and a red-orange color covering part of its body, with a certain pattern. Seen a different behavior unlike the activities of other wasps. Although previously he also sucked flower nectar but he also bit other plant parts (not the petals), and chewed slowly and aggressively, when this activity took place he seemed very enthusiastic to get a goal on another part of the flower.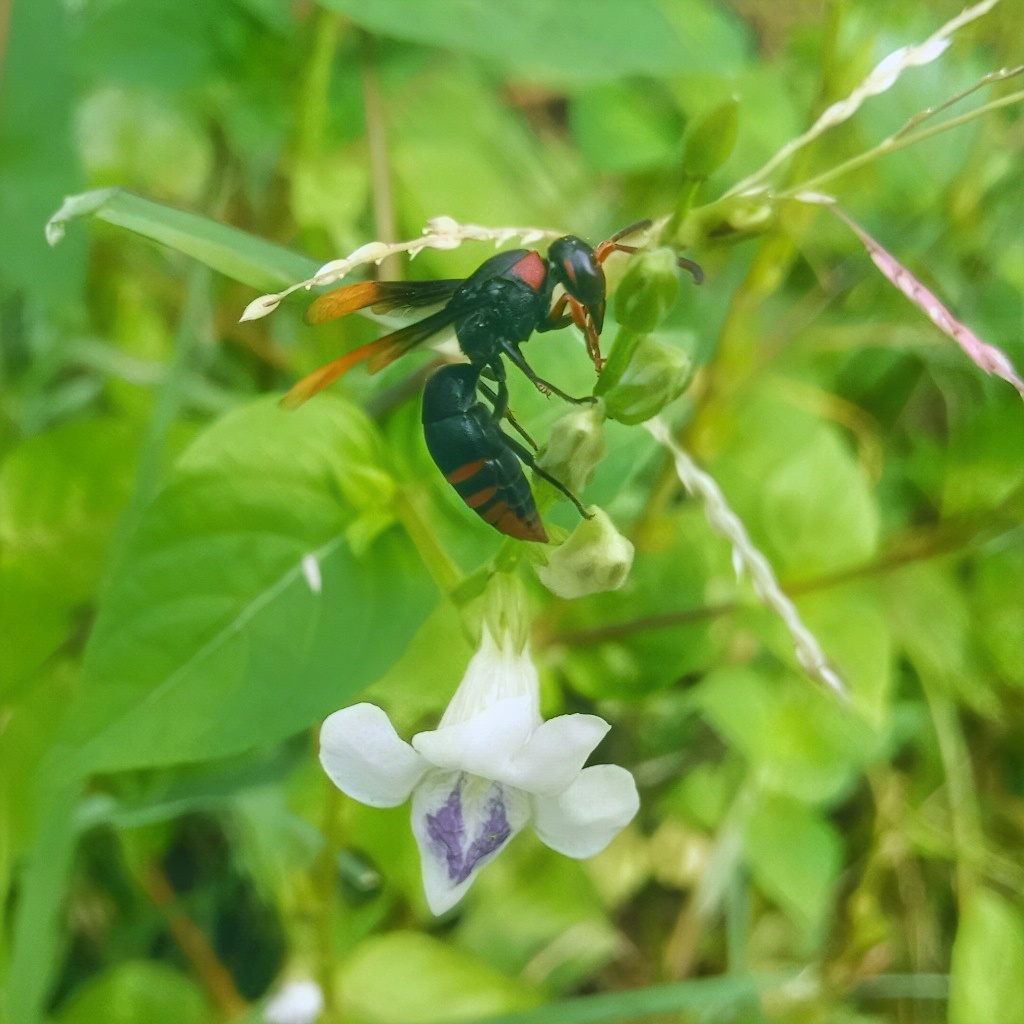 But never mind, there are many other behaviors that come from each wasp species, of course the characters are different even though the goals and missions are the same, just like humans when the initial work has decreased or there are difficulties, of course they will look for a new job that can satisfy their intentions and purpose.
Finally, I left them in a civilization in their habitat, because I also have a lot of other work to do, and as explained above, will talk about the continuation of the story.
To be contined, for part 3....

---
| Photografer | @𝘀𝗼𝗲𝗵𝗮𝗱𝗮 |
| --- | --- |
| Photo Taking Location | Lhokseumawe, Aceh |
| Camera Photo | Smartphone Type Vivo Y12 |
---
You Can See Mee In

Facebook

Twitter

Linkedin

About Author
Krue Seumangat!
Welcome to this simple blog. The author is a full-fledged nature lover, in his spare time likes to write, read and always likes something new, wants an innovation. Passion invites people to always learn. Likes to explore hidden things, and always wants to get ahead. Always upvote and provide suggestions to advance this author.
If you liked the content, don't forget to upvote and leave a comment below. Always want to do good. Thanks very much :)
---
---