Circumstances that change their lives
---
Actually I don't want to involve you, son... But circumstances forced you to be here.... Those were the words that came from a father's mouth when the atmosphere destroyed a family's economy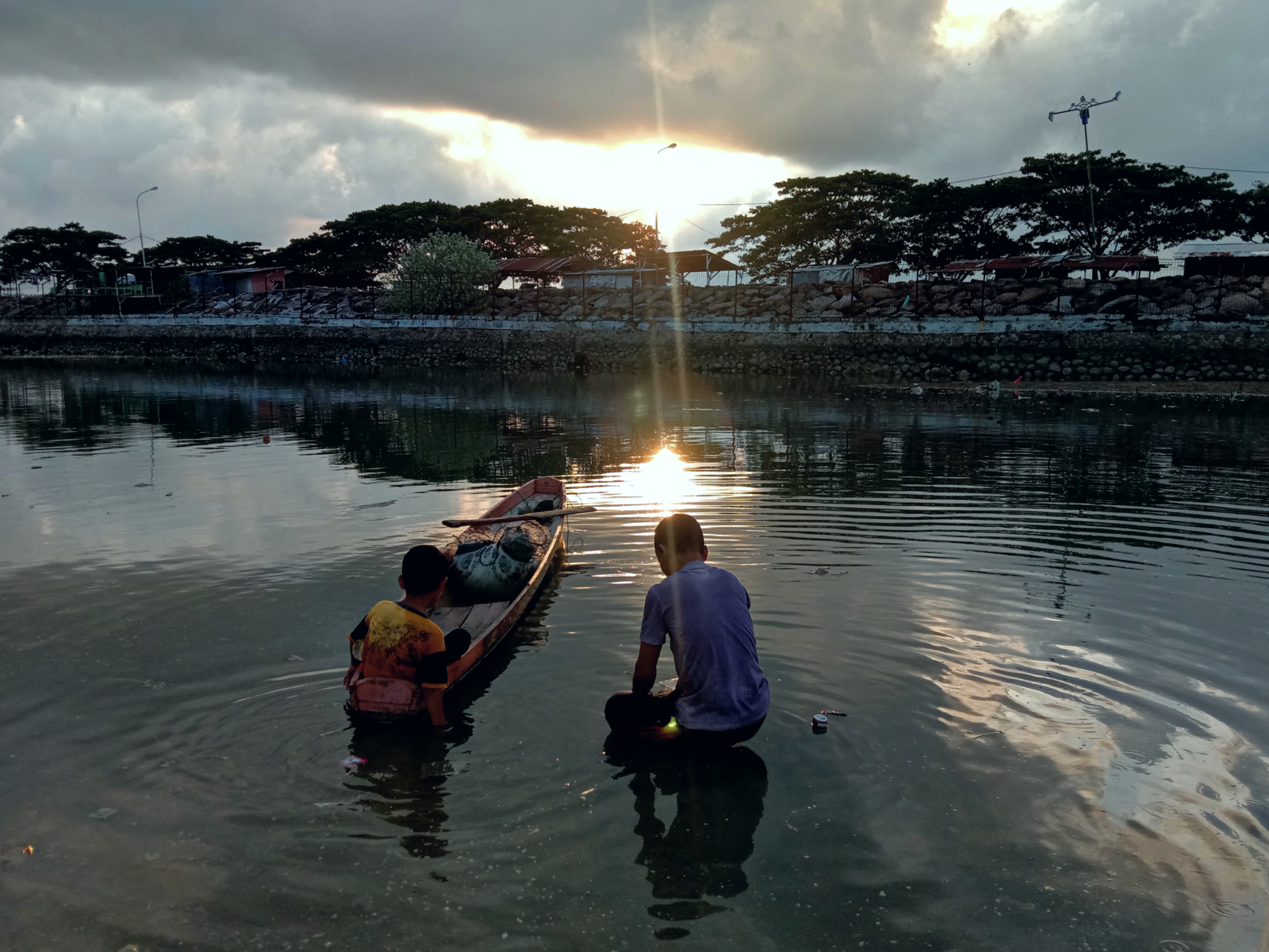 The time limit for carrying out daily activities of the fishing village residents

If a situation is invisible but it is able to affect every situation, then here, I can say covid19 is a very extraordinary creature, why?
The presence of a figure who is greatly feared by every human being who wants to be the ruler of the universe, becomes a concern and becomes an endless conversation in the story. It is invisible to the human eye, but exists, and gives birth to every impact from the side of the human child's life, although humans are said to be very intelligent, they are able to turn every habit into something extraordinary.
He is a shadow creature, named covid19 or sometimes people refer to it as corona, has destroyed every side of the lives of human children and is able to rule over all regions, and is also able to change different atmospheres.
The story that you will read below, is a true story in a happy family but eventually became a true fisherman, and had shortcomings in life, especially in the economic field, which made this family make urgent changes in living life. They even have to be willing to lose something they really love.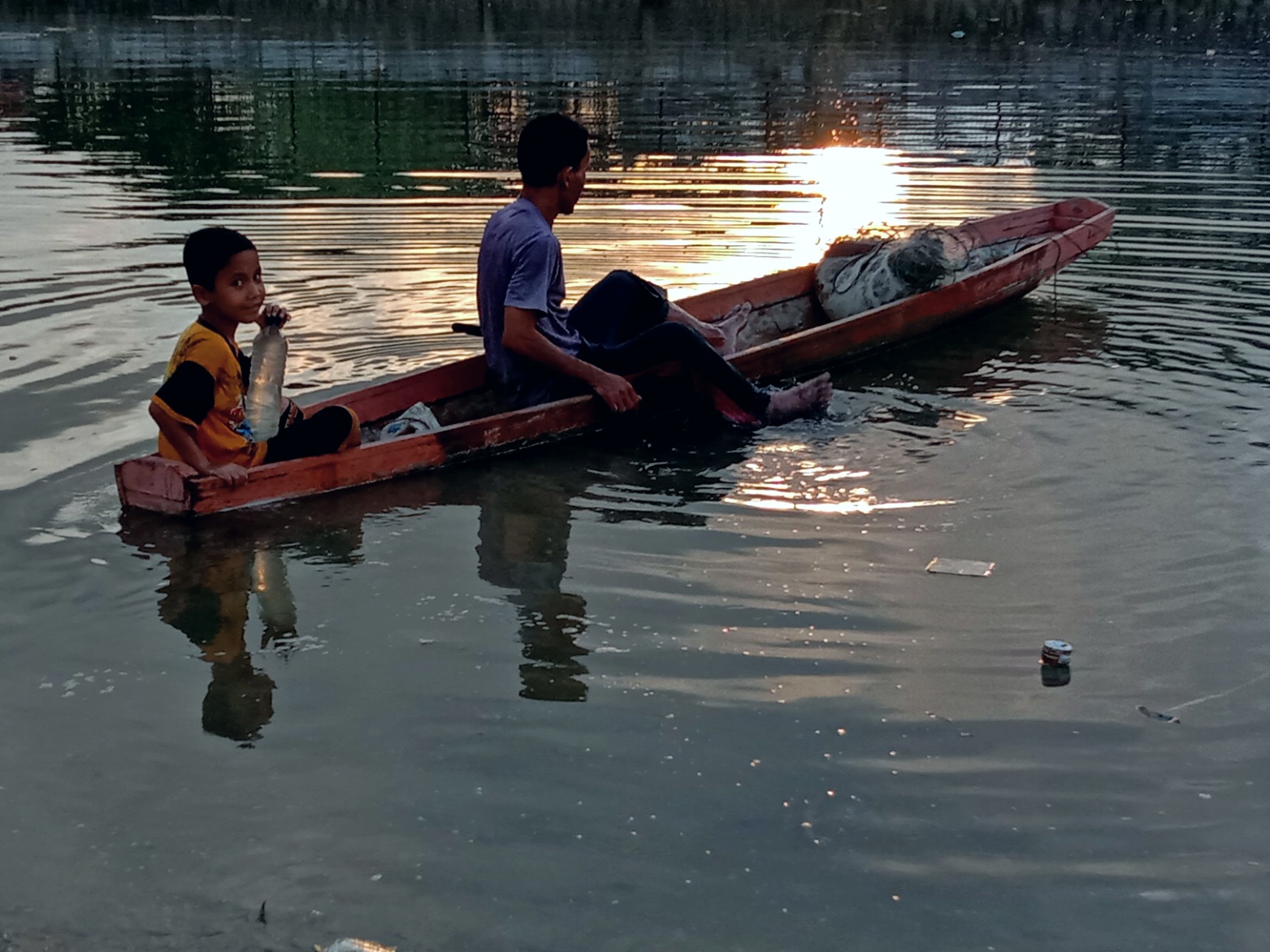 The day is approaching night, a child is still loyal to help his father

1. Have a happy little family and a potential job
Andrea (pseudonym), is a male and has been a father for 12 with his wife and two children. At the end of 2018, they were still a well-established family and had an adequate economy, so the family was very happy and always smiled at life. Likewise, his two young children also still have a decent life, a beautiful wife is also very happy to live together with her family. Having a small business place in the form of a simple drink shop, from that income they can support an adequate family, when compared to the economic side, they are people who have a medium economy.
Entering the beginning of 2021, at the end of March, the world was shaken by an issue and a tense situation in the form of the presence of covid19. Everyone feels deep sorrow why, because of the cessation of all activities recommended by each government in the form of Lockdown activities.
The cessation of every activity, both day and night, then the location of their business becomes stalled and automatically their economy slowly thins out. When they aggressively try to stay at home, this is the peak of misfortune and despair, indirectly their business location is on fire, due to an electric short circuit, based on no one in the building as usual. So that at the beginning of the incident no one saw.
And, in the end, the location of his business was burned down by a smoldering red fire, and nothing left ran aground.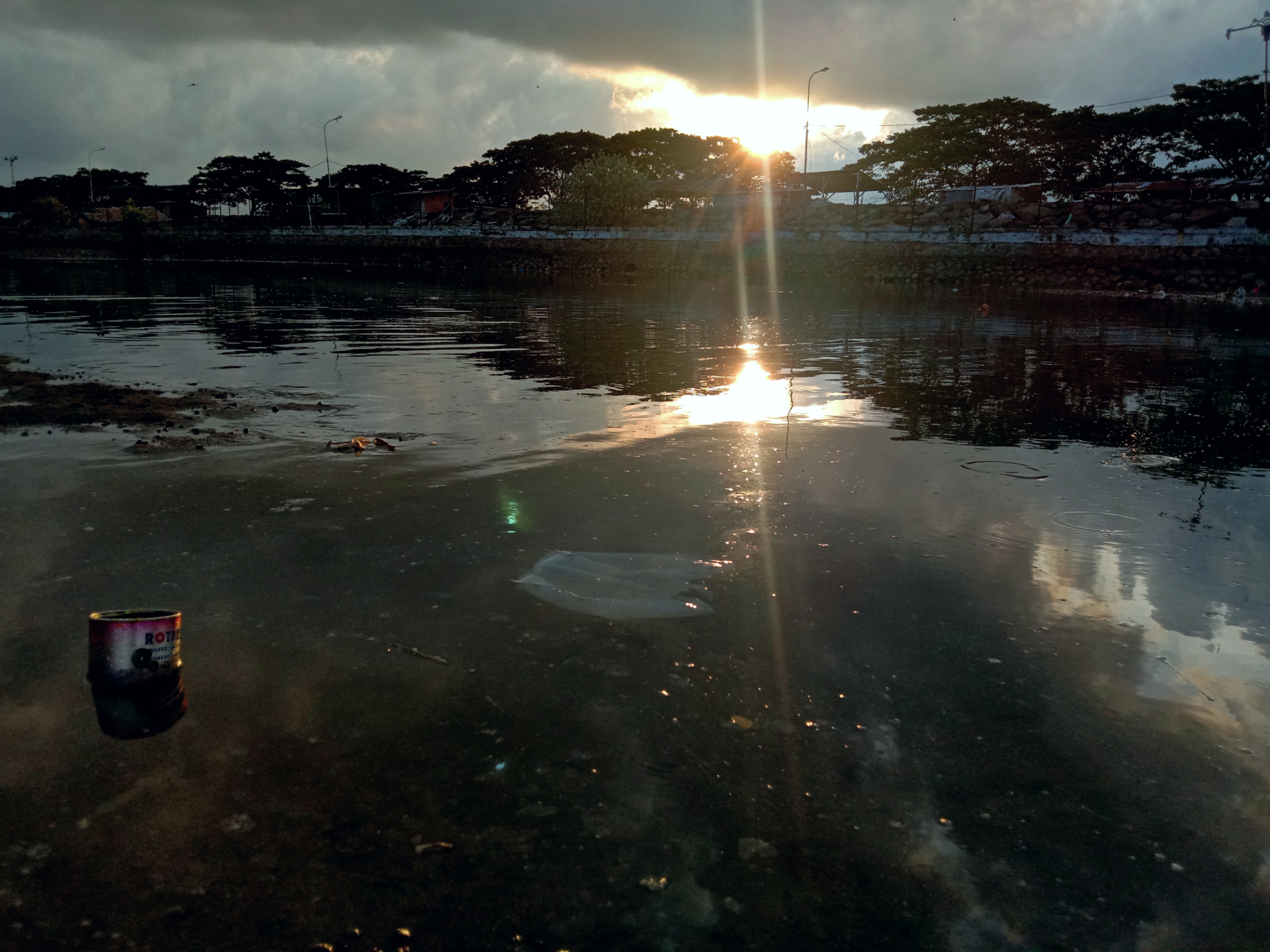 Slowly the sun returns to its circulation

2. Lost his beloved wife and youngest child
In the midst of a difficult situation, and in the midst of conditions that gripped his wife his family was exposed to covid19, unfortunate fate befell the family, so that the husband and wife were exposed to a virus, namely corona. His pregnant wife breathed her last while her husband survived after being treated for 3 weeks. Deep grief had befallen him that made him even more depressed in his life. Now he lives a son who is still 9 years old.
Now, Andrea is a very poor father, in the midst of very poor conditions, now he is raising his son who has lost everything. She must take care of her son under any circumstances. Covid19 has taken away their happiness. Loss of possessions and work, as well as people who are very dear to him, became a very stressful blow in his life. Even so, they remain strong even though they live in the midst of these conditions, they continue to live and at the same time raise their young children.
His son is often taken wherever he goes, because there is no one to take care of him, so he is now a father and a mother, just like any other family.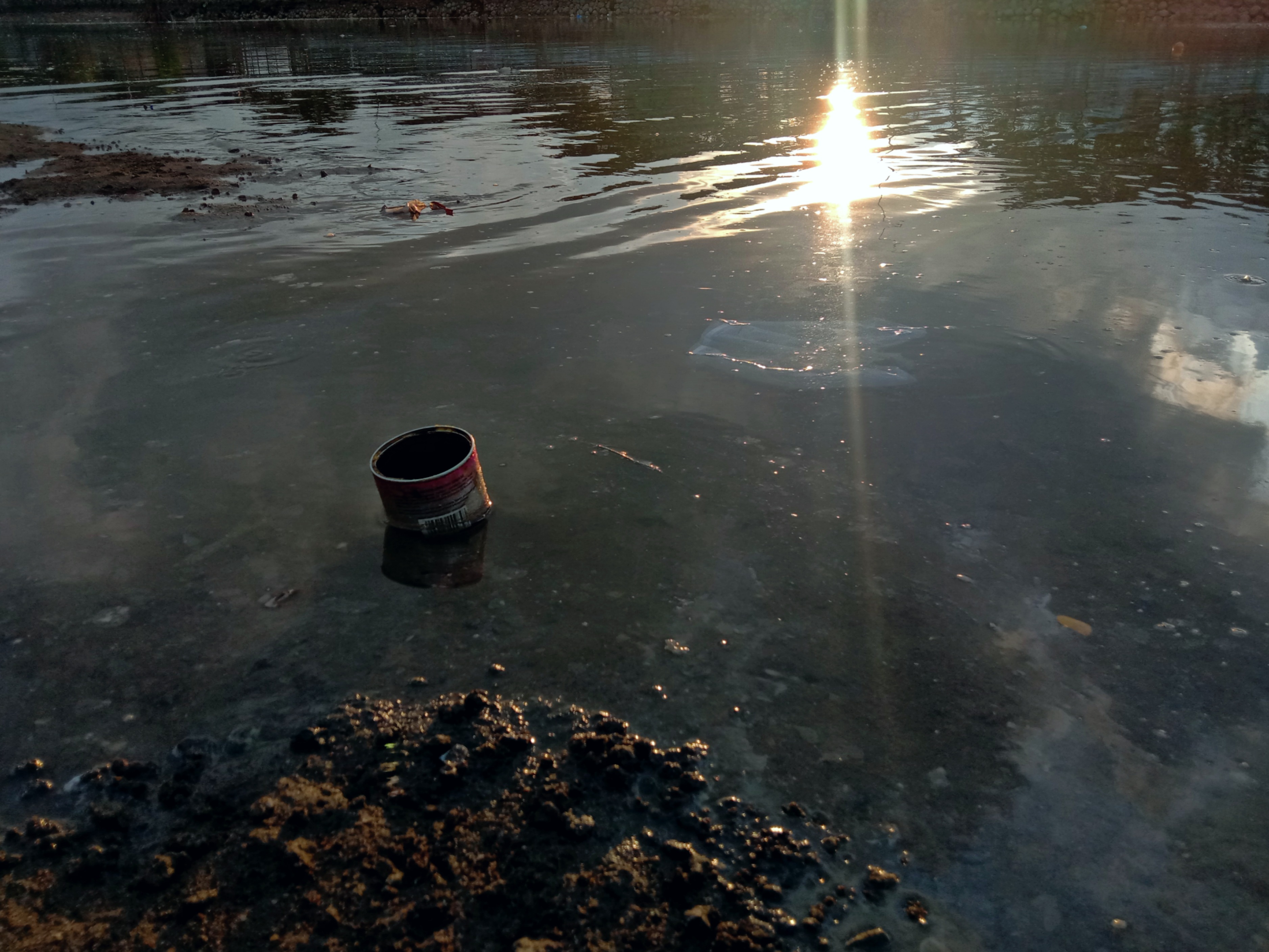 Used cans also enjoy the afternoon phenomenon

Then...
3. Become an impromptu fisherman as a traditional fisherman
Being a traditional fisherman is not the best choice, but circumstances have chosen them as true fishermen. This professional change greatly affects the mentality of his children and even himself, if they were people who had an adequate economy, today he is a person who often spends his time on the sea, as a poor traditional fisherman. Relying on a wooden boat, is the best land at this time, the boat as a means to earn a living for themselves and also their children's school fees.
Sadly, he had to take his son with him when earning a living on the beach, because he didn't have a brother from his father to take care of him, this 9 year old child who is still in the 2nd grade of elementary school Became strong on a wooden boat to help his father when perform the act of catching fish.
Relying on self-taught experience in fishing on the beach becomes a very sad thing if it is judged by educational institutions and other social institutions. His son is very adept at fishing activities like a god, he learns from a situation. Schools remain on the road but helping parents is still being done, this is what is in the public spotlight for him. This situation forced the family to live it every day in space and time without being interrupted every day.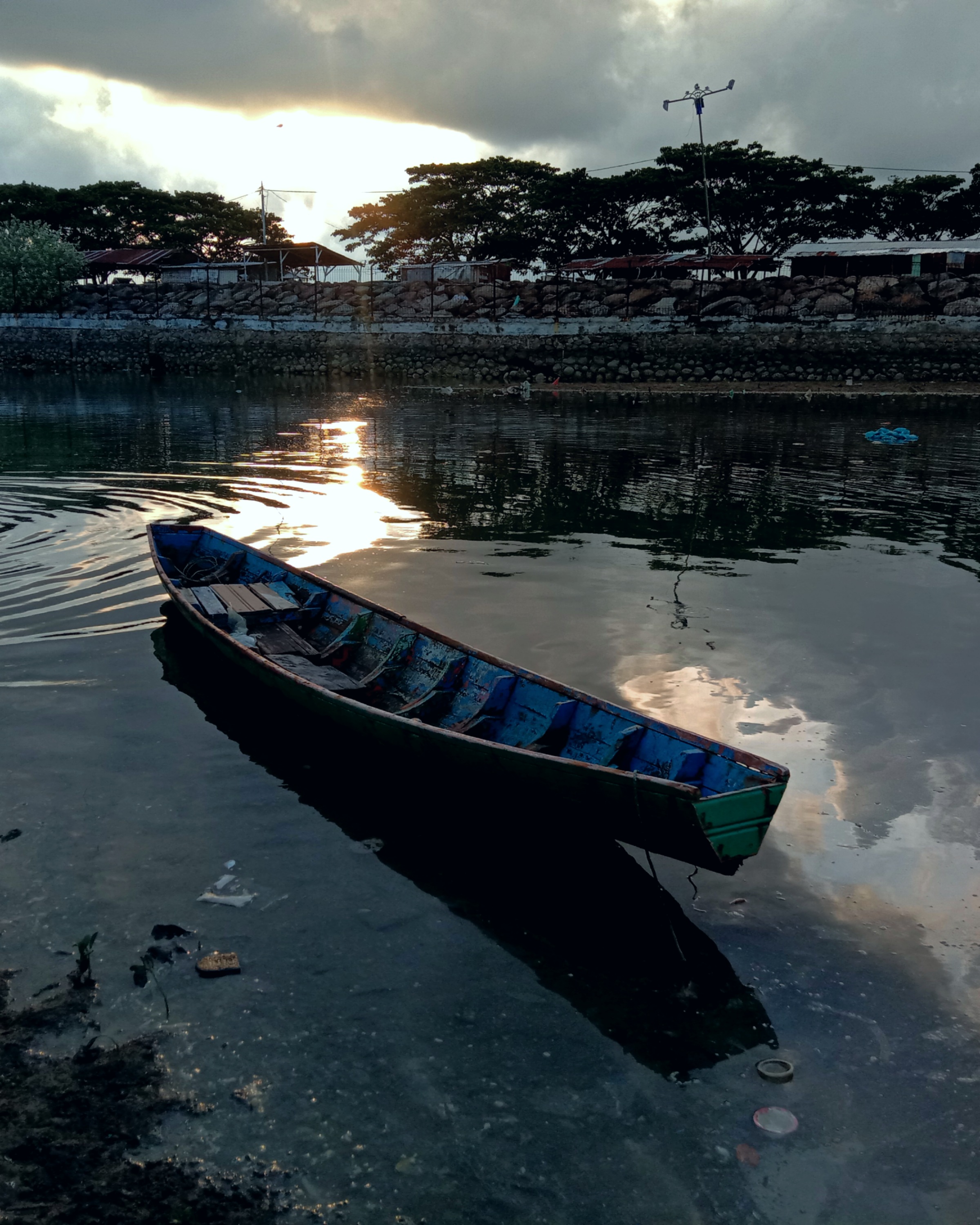 The traditional wooden canoe is left alone, hoping to meet the owner again tomorrow

Indeed, COVID-19 is an invisible situation, but its occurrence is very real, felt by everyone, and its impact is very touching for those who see it with a conscience. Although it is a deadly virus, it is a condition that every reasonable human being fears.
Covid19 is very clever at making humans fall into the abyss of sadness, if he is a man then he can be said to be a very evil person, has no conscience, has no mercy, and his existence is still talked about by people, he is often famous in this world. Even though he didn't have a face, it could be said that he had a very sinister and scary face. Separating people who are in love, changing a situation, from good to bad, from happy to sad, from happy to a bitter experience.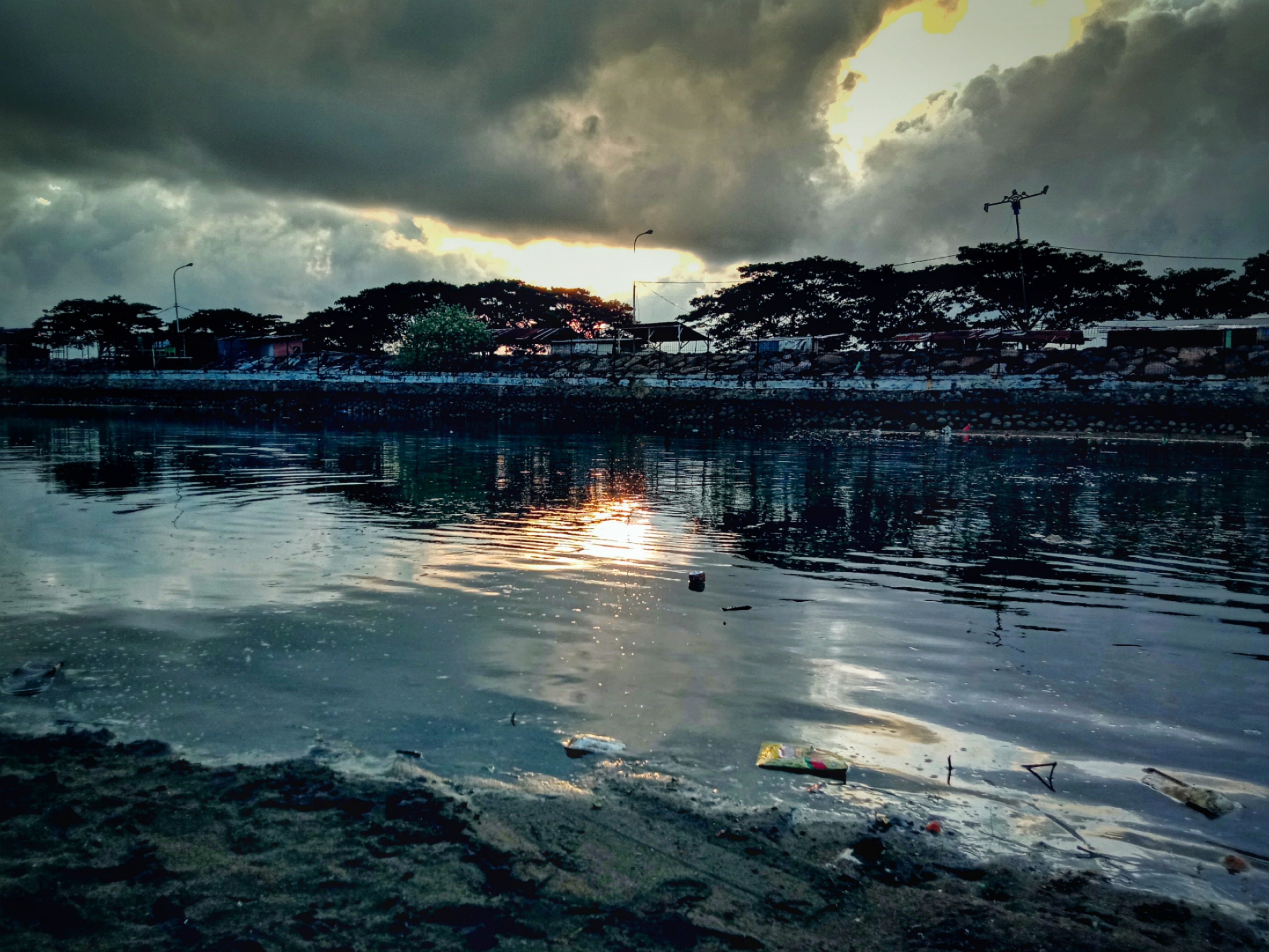 Nature is getting quiet, a sign that the day will soon be night
He, able to change nature from beautiful to terrifying, able to change humans from unexpected things, if you compare it with war then he is even more cruel with his presence. No one knows when he left this earth. Far from all good things, presence comes suddenly and separates things suddenly too.
Hopefully Andrea, his son's fans, will soon rise from adversity, so that his life can return to normal as before. Like a life when his wife and children are still alive. Hopefully this calamity that comes to him, will soon pass like the loss of day as it enters night, like a strong wind that only comes temporarily. Hopefully....

| Photografer | @𝘀𝗼𝗲𝗵𝗮𝗱𝗮 |
| --- | --- |
| Photo Taking Location | Lhokseumawe, Aceh |
| Camera Photo | Smartphone Type Vivo Y12 |
---
You Can See Mee In
𝔗𝔴𝔢𝔱𝔱𝔢𝔯

𝔉𝔞𝔠𝔢𝔟𝔬𝔬𝔨

𝔏𝔦𝔫𝔨𝔢𝔡𝔩𝔫

---
---