Tales of the Urban Explorer: Lodge Mill
"It's probably quite shit, but we should go and have a look"
It was the diagnosis of both I and @anidiotexplores regarding Lodge Mill.
Burned-out wrecks are rarely spectacular but after the initial drama has died down, which I have scientifically calculated to be approximately 2 weeks after the burning, that is the time to visit.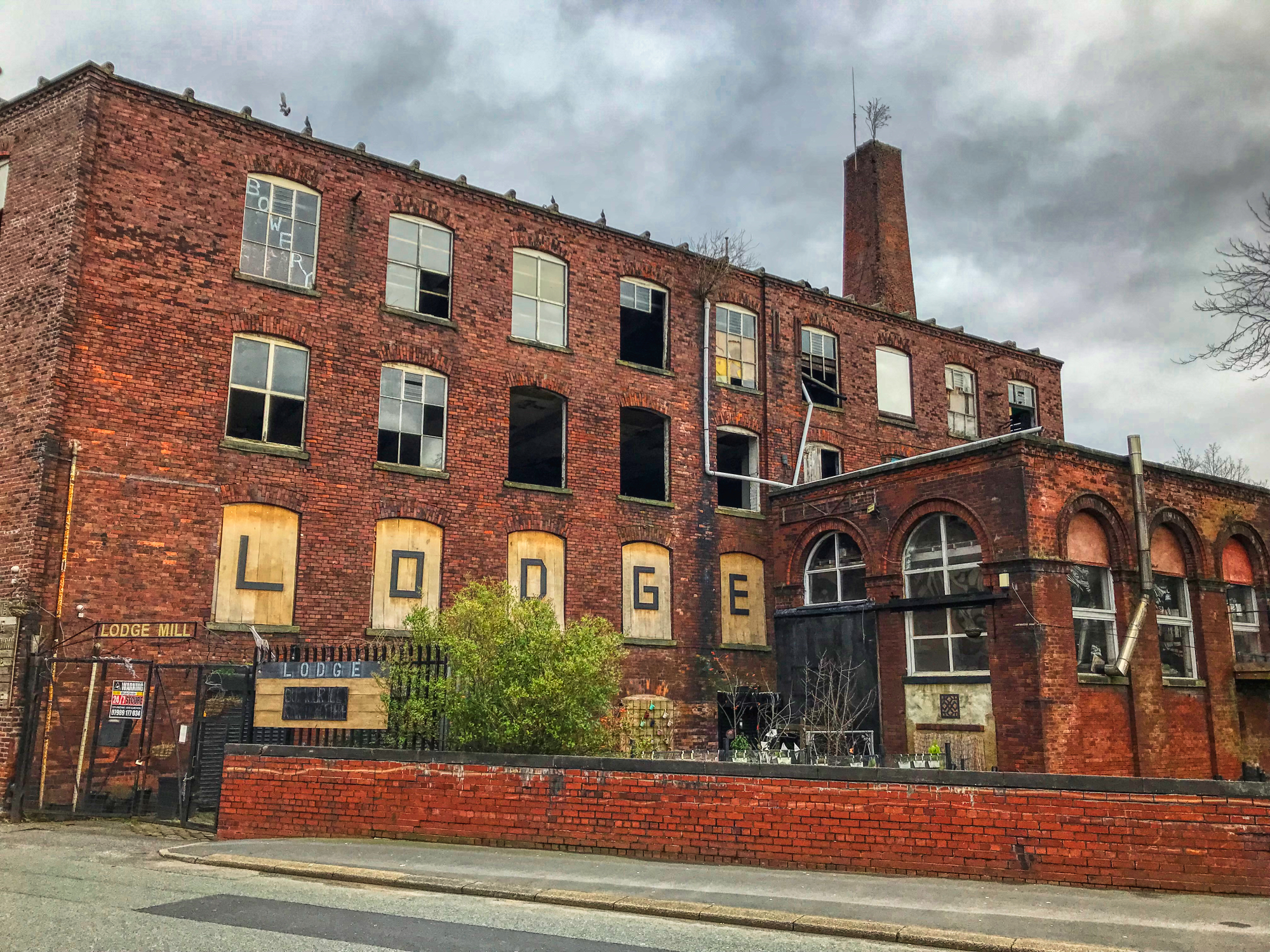 Except it was 2 months later, and we were late. Perhaps they had not stuck a mass of anti-climbing fencing around it all and hired a semi-useless security firm to keep trespassers away.
In December 2021, some cunts had burned down one of the oldest mills in Middleton, Lancashire. The images I was seeing looked terrible. Was there anything left?
I especially felt sorry for the Ice Cream Shop knowing it would certainly have affected their little thriving business.
Lodge Mill, a former silk and cotton mill dates back to 1839.
As it was hardly town centre material we parked quite close and for FREE. It does make a change having not to pay for parking on a public road.
Making note of the other small business close by with their door wide open, we strode past hoping they would not notice.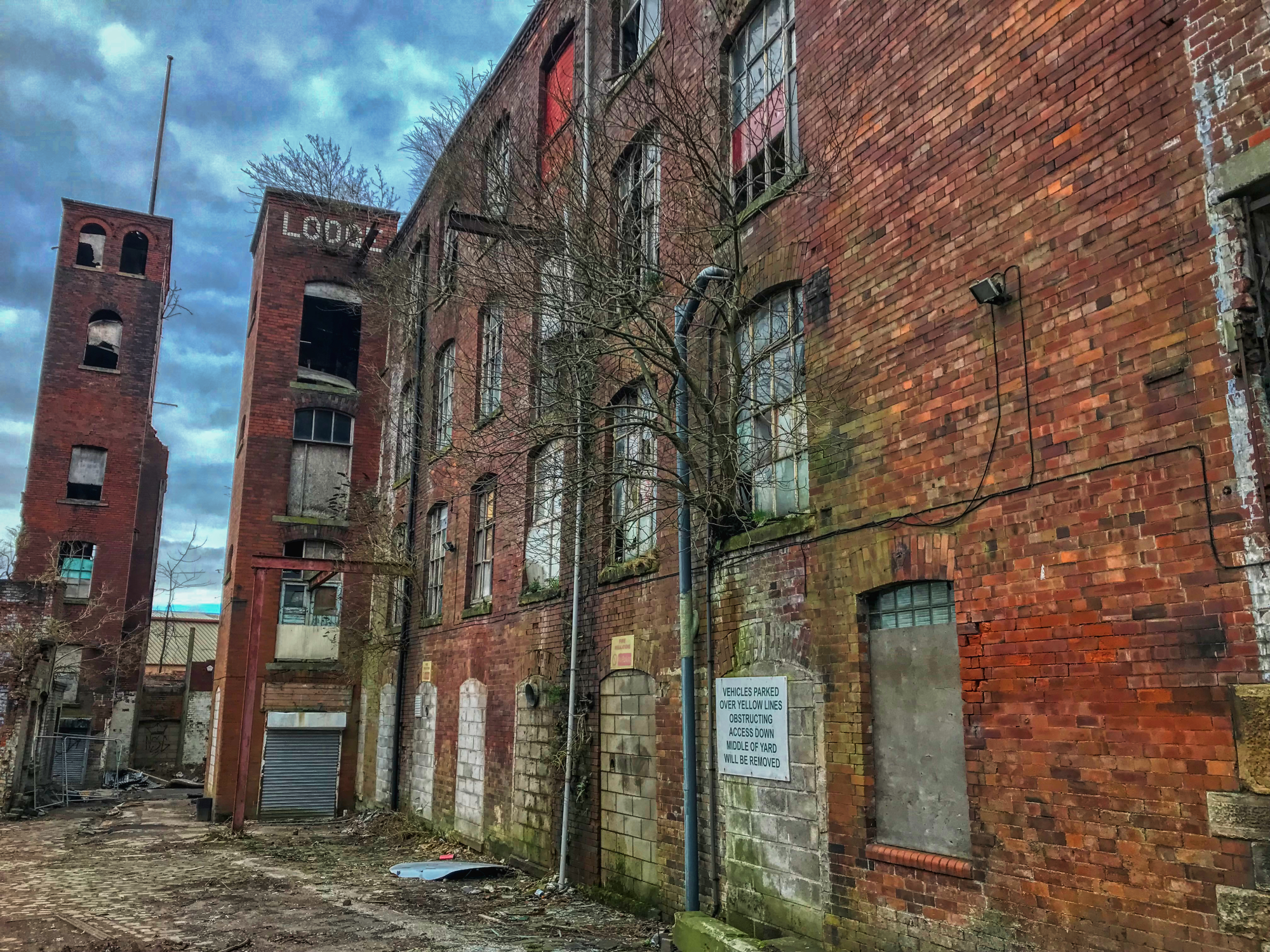 It seemed luck was with us, as we duly noted the lack of 'OOYYY' shouts as we crossed the door entrance, bypassed some barbed wire, and slipped into the derelict courtyard.
First impressions showed me much of 'Lodge Mill' was indeed intact and free from scorch marks.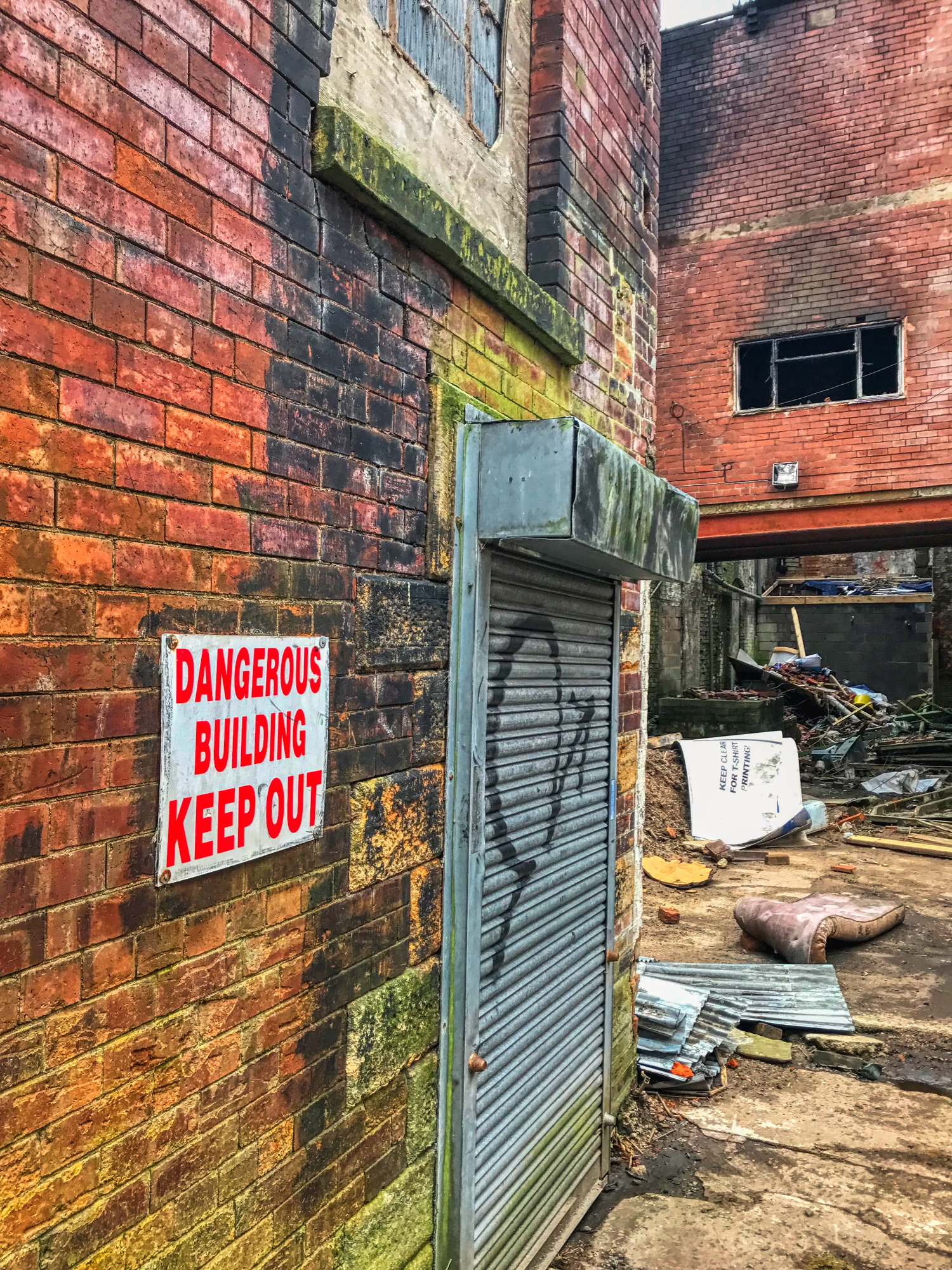 'Dangerous Buildings, Keep Out' signs make me want to go further in and snoop even more. The lower windows were full of concrete; we were not going to get very far using that access method.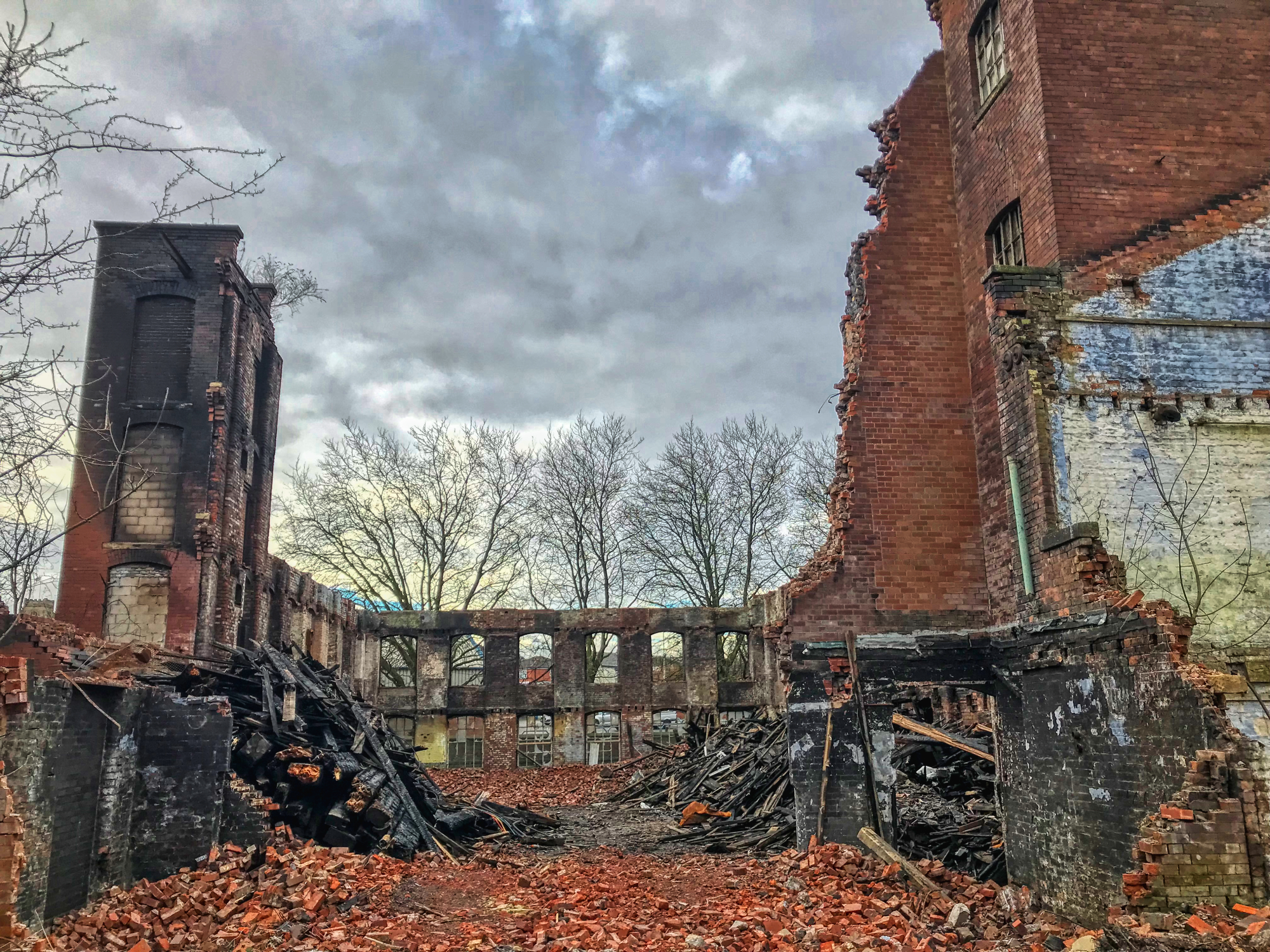 Rounding a corner, it all changed. Burned, Christ.., yes it was truly fucked.
The bricks were making it tough walking; I was not particularly looking to twist my ankle.
"Hardly a stellar explore", I mentioned to @anidiotexplores who was busily shooting in all directions at his usual haphazard speed.
True to form, I tried to find something worth looking at, The burnt beams angled like this could be worth a shot?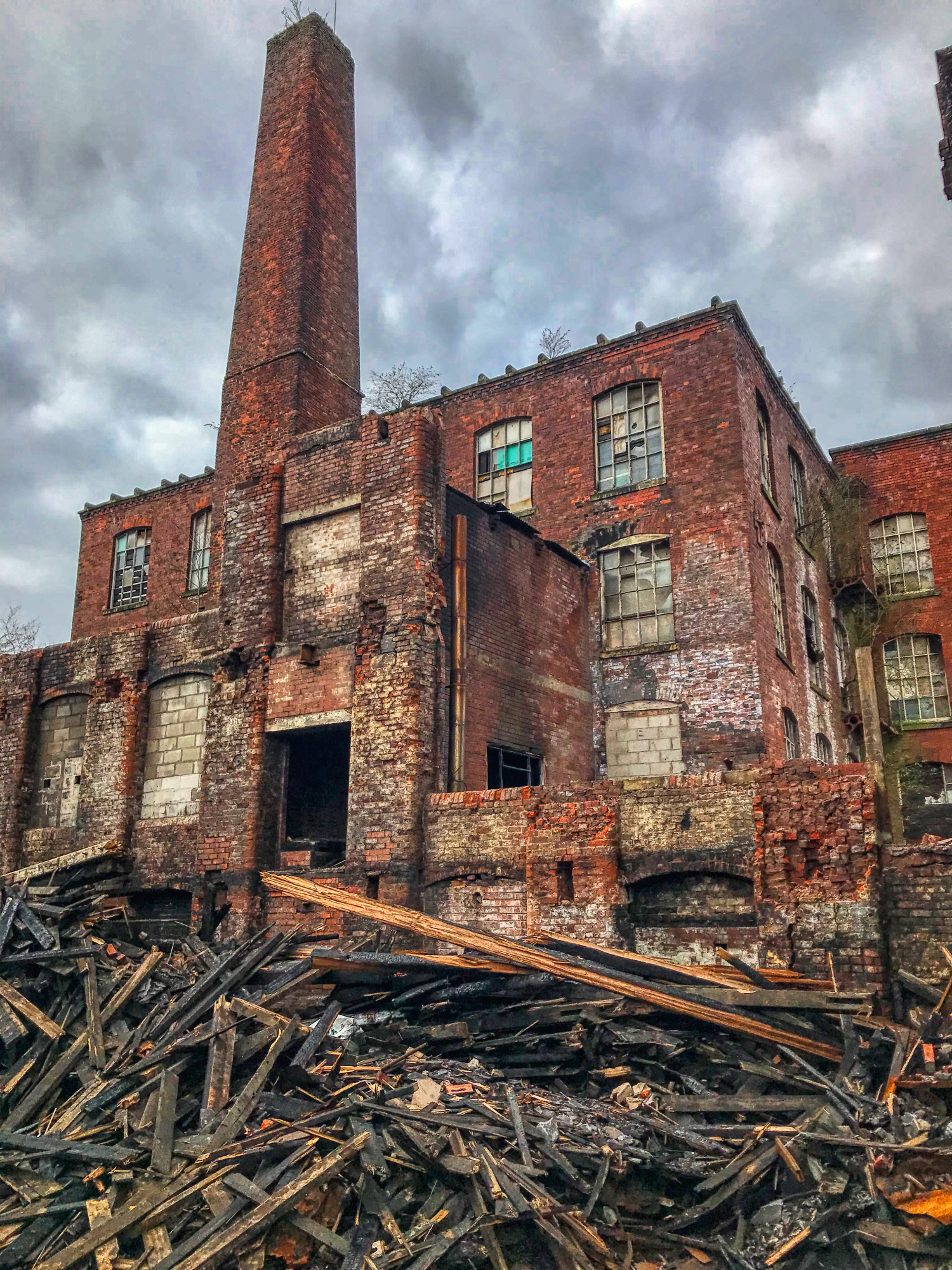 The missing door high up there could be a way into the old mill. Getting to it was another issue.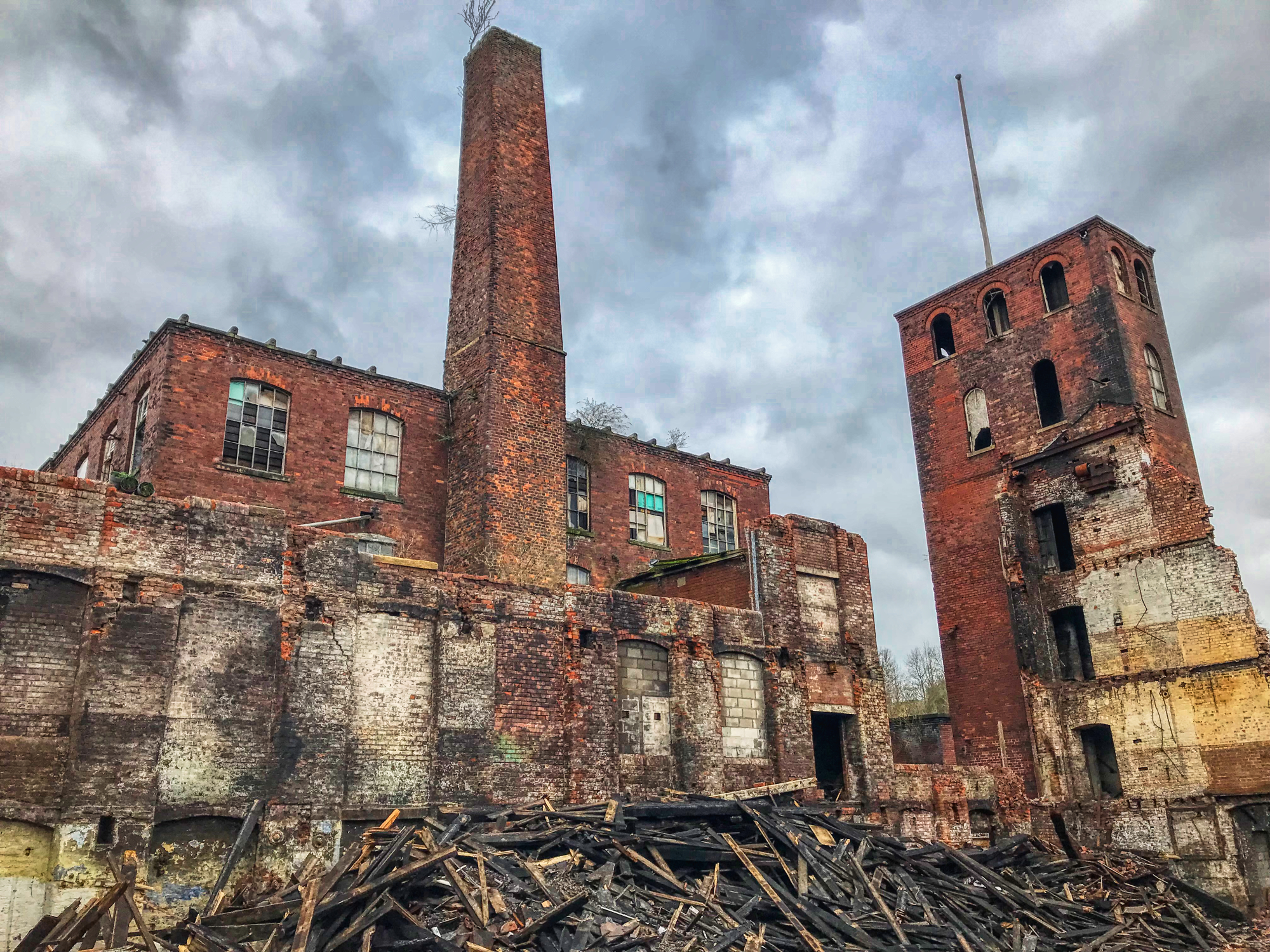 After climbing up there was no guarantee of general access to the non-burnt sections of 'Lodge Mill'. Using our previous experience of mills and out-of-reach door arches we both decided it would not be worth the effort.
Fire does not create loose bricks, if there was some demolition going on we could not see any machinery on the grounds.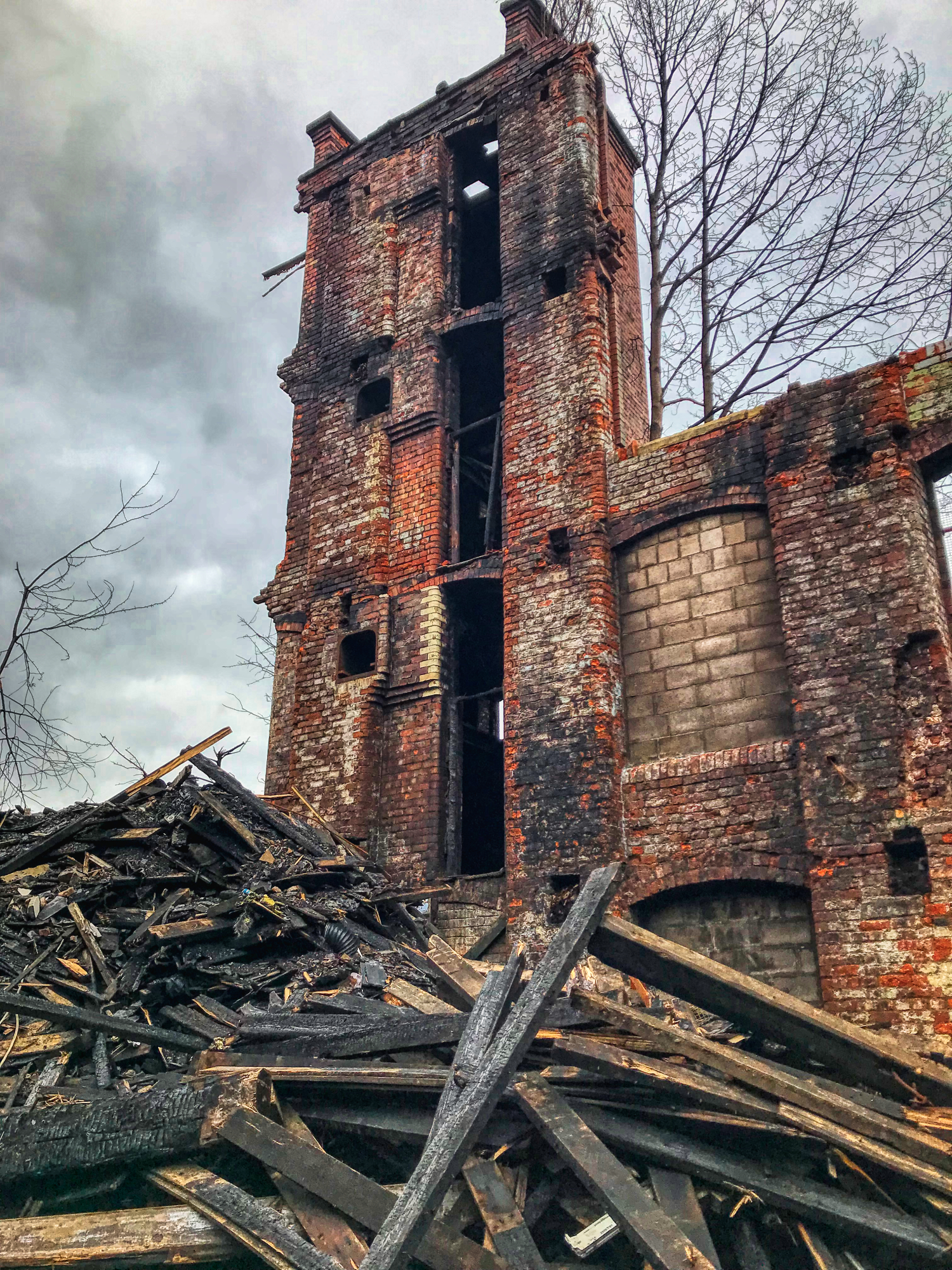 We had to try to get into one of these holes, after all.., who doesn't want to enter a smelly dark hole?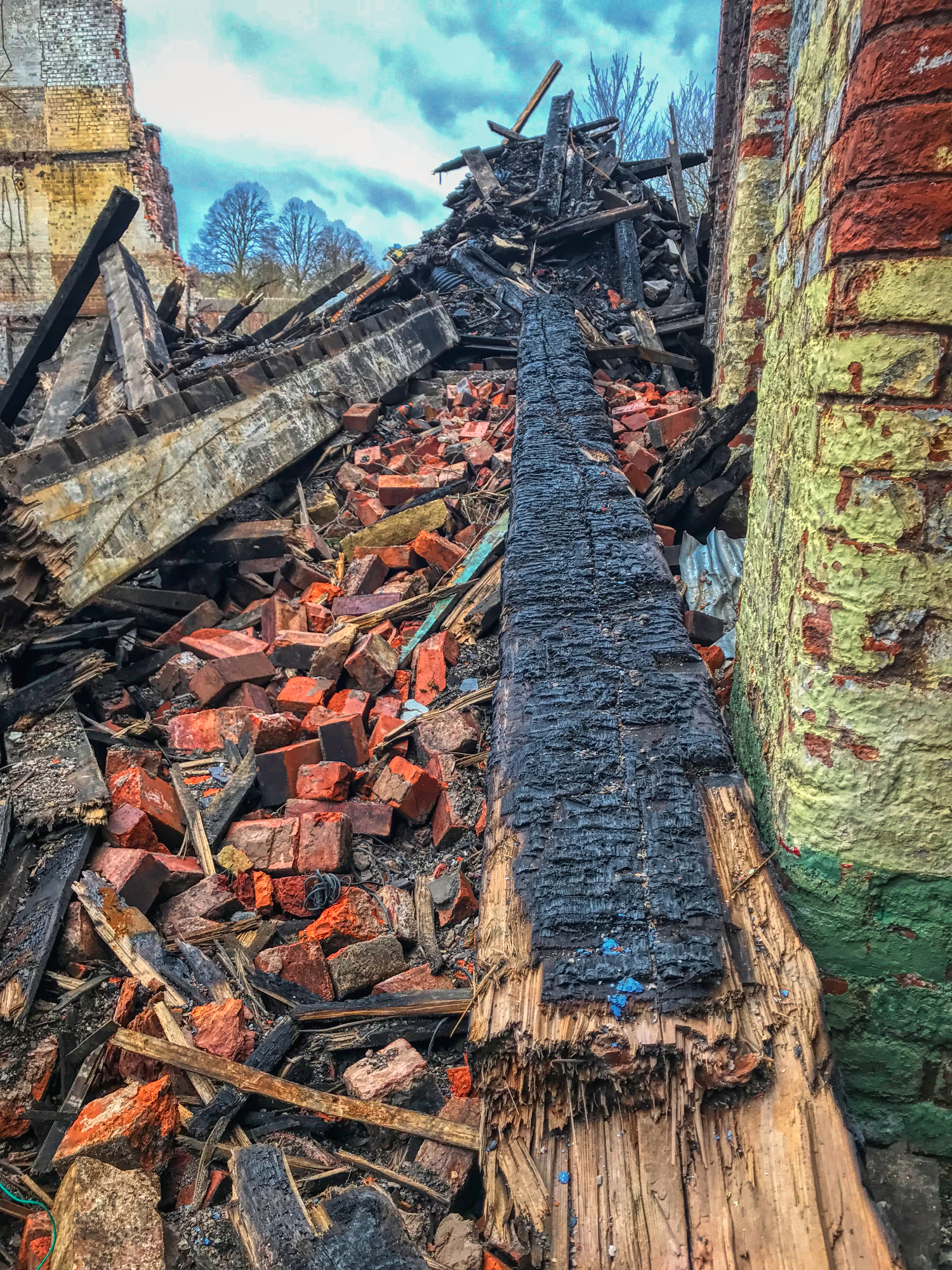 This one was a little easier but required a little adept balancing on this charred beam. It was a little wobbly but the fall was just a few feet with all those loose bricks as our landing area.
Compared to the usual risks I take, it seemed doable. A broken ankle at worst would be the outcome.
Reaching the top and hopping into the gap we were filled with even more misery. A lousy set of steps awaited us. Well isn't that just great?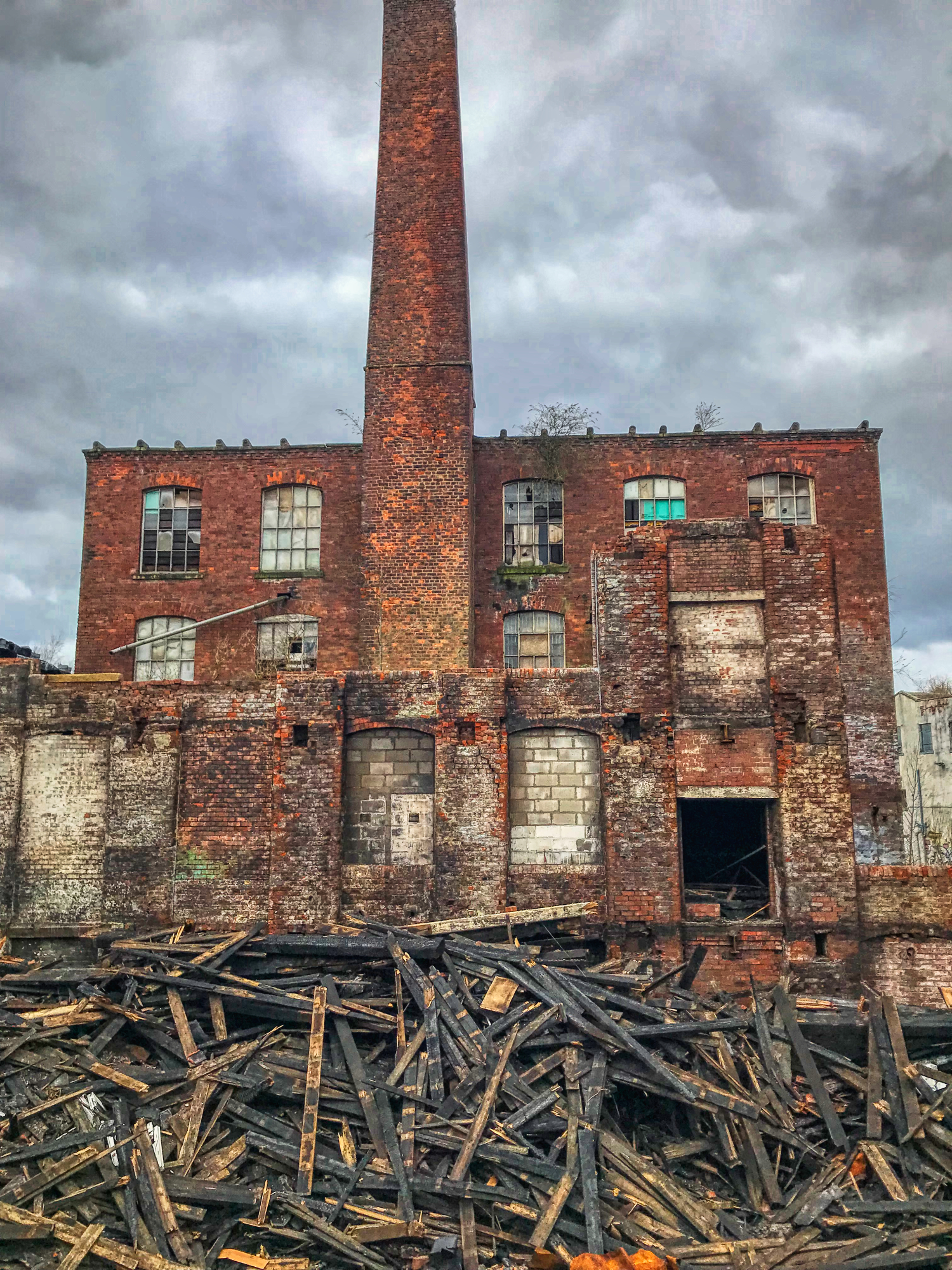 More than slightly disappointed we backtracked down the wobbly beam and looked for another way into the depths of 'Lodge Mill'.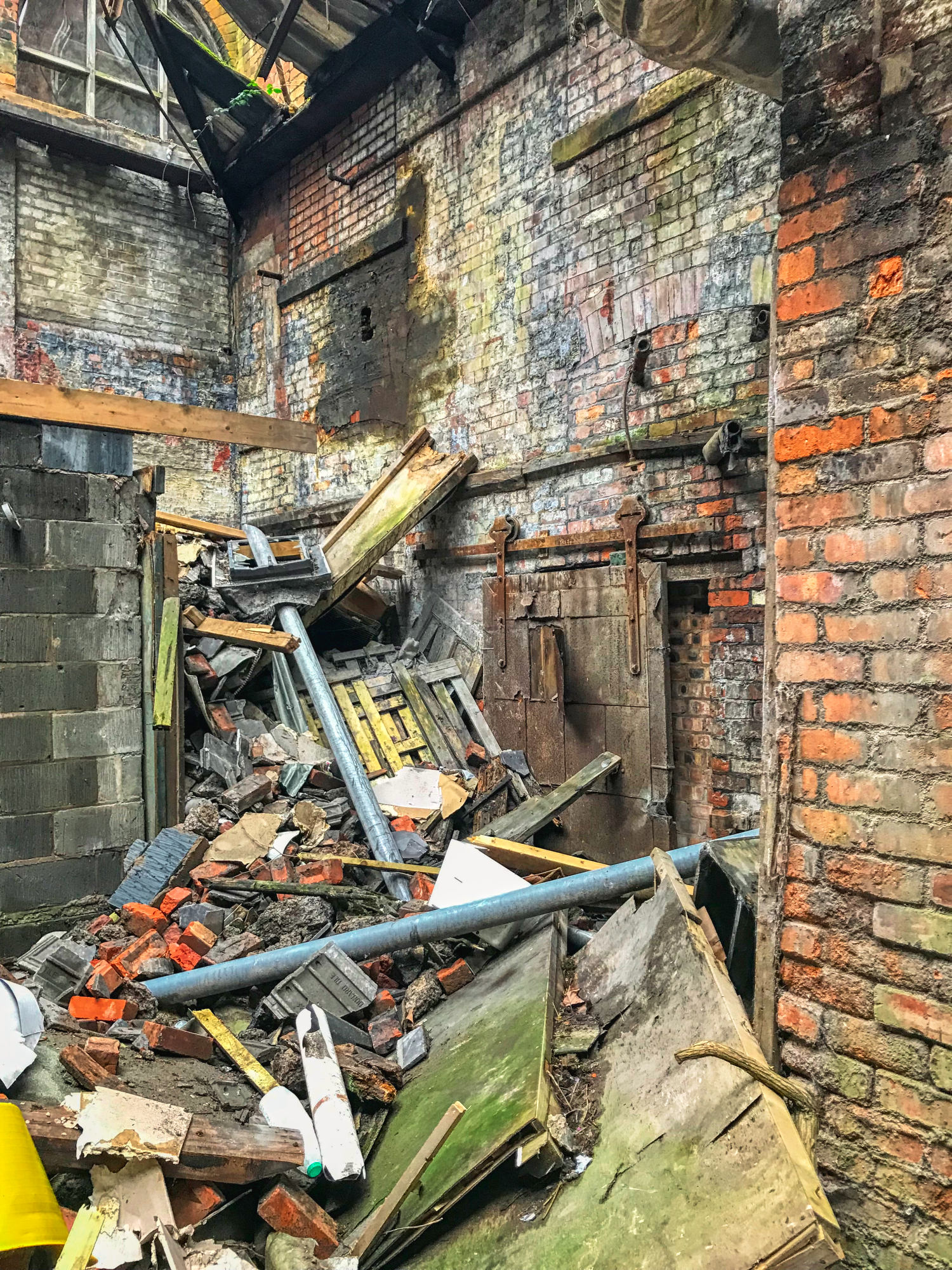 There were a few alleys that looked promising but were mostly full of mounds of crap. I will climb over this shit if there is a visible entrance as long as it is slime free. There was not.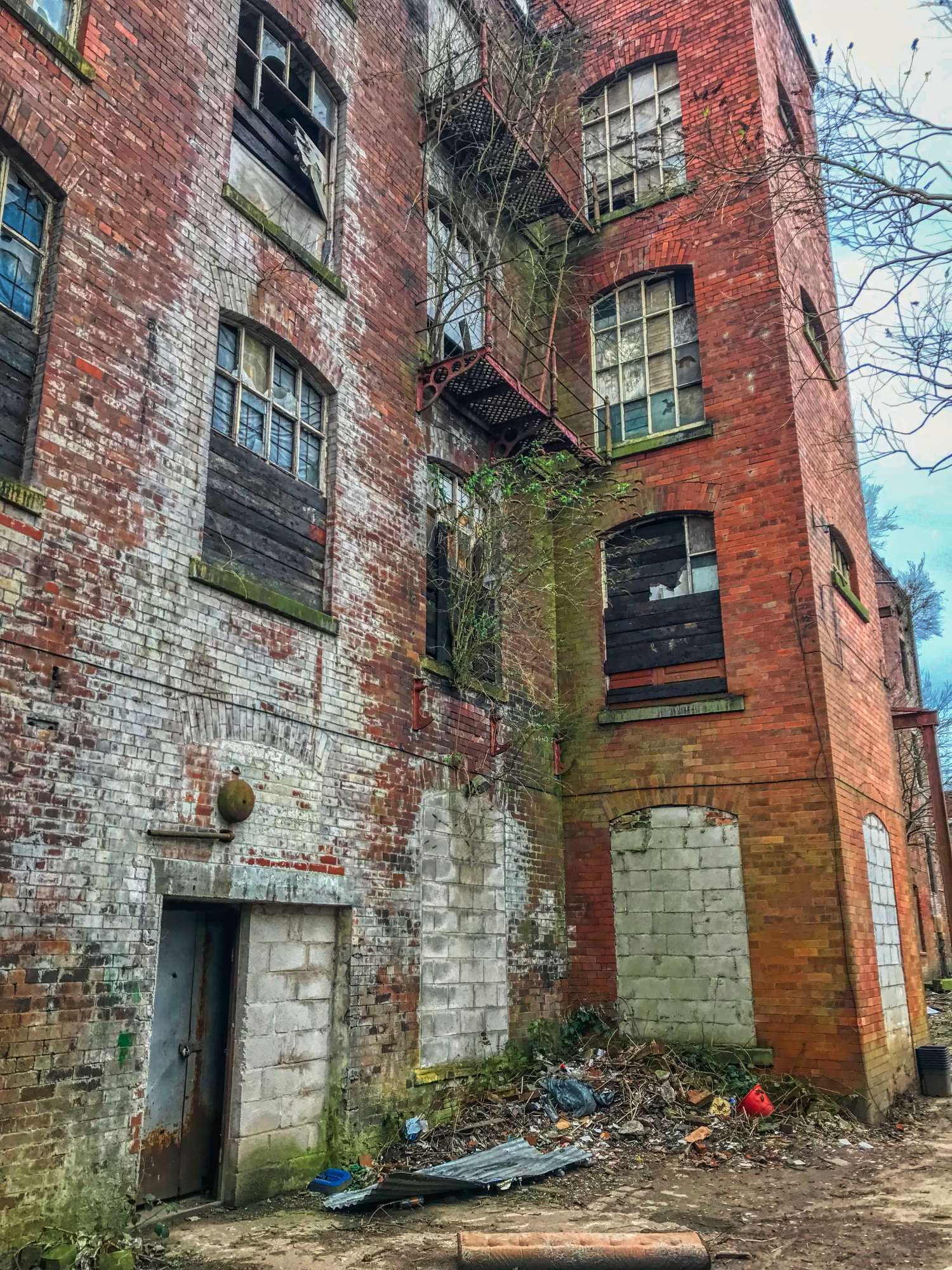 Doors were fully sealed and locked, disappointing.
We made our way out of 'Lodge Mill', past the door of the active business that didn't appear to give a shit regarding our noseyness.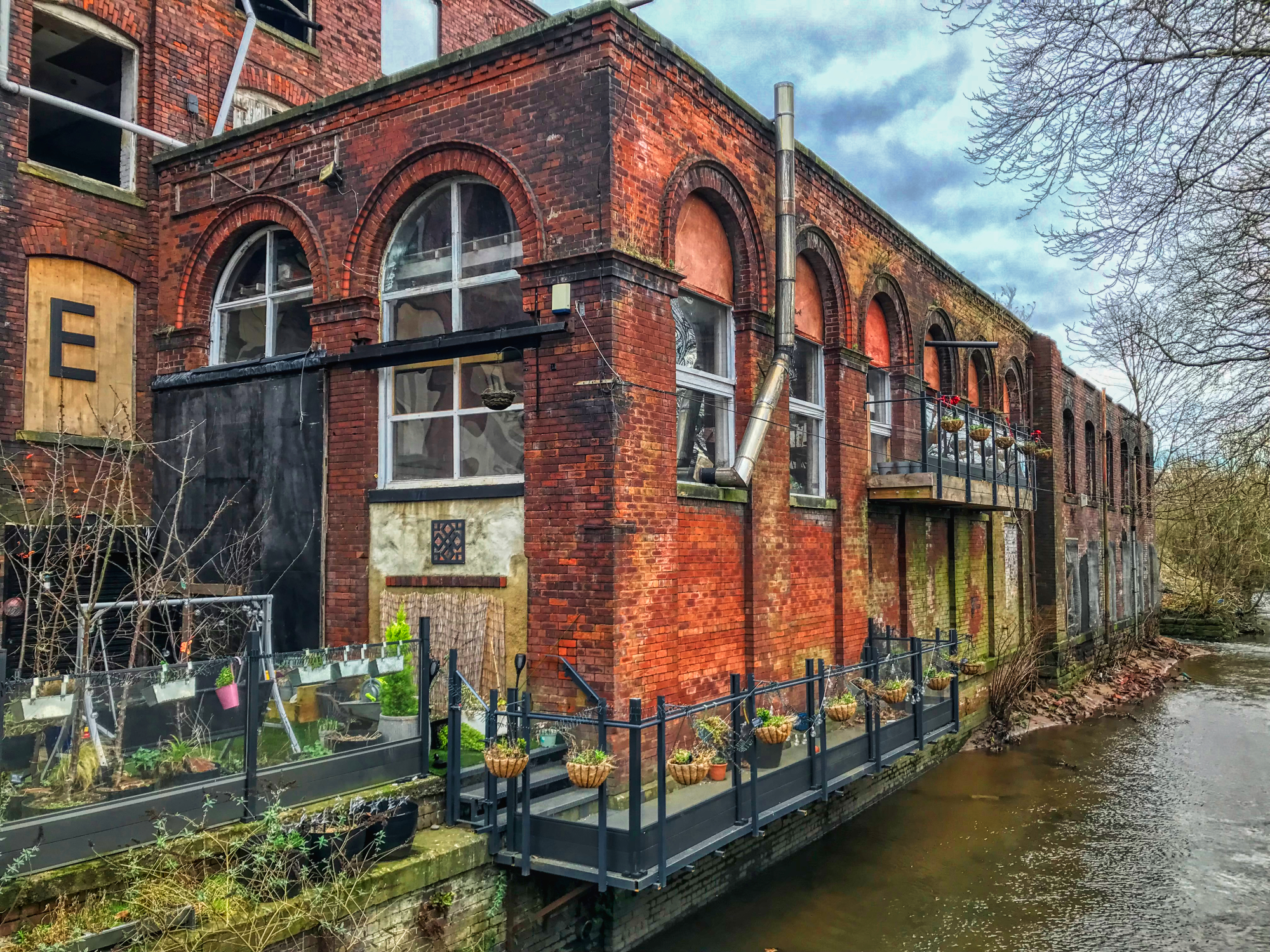 I could see where the Ice Cream Shop used to be housed, now closed and dark. Some of the windows had exploded due to the extreme heat of the fire. Another business ruined by mindless idiots.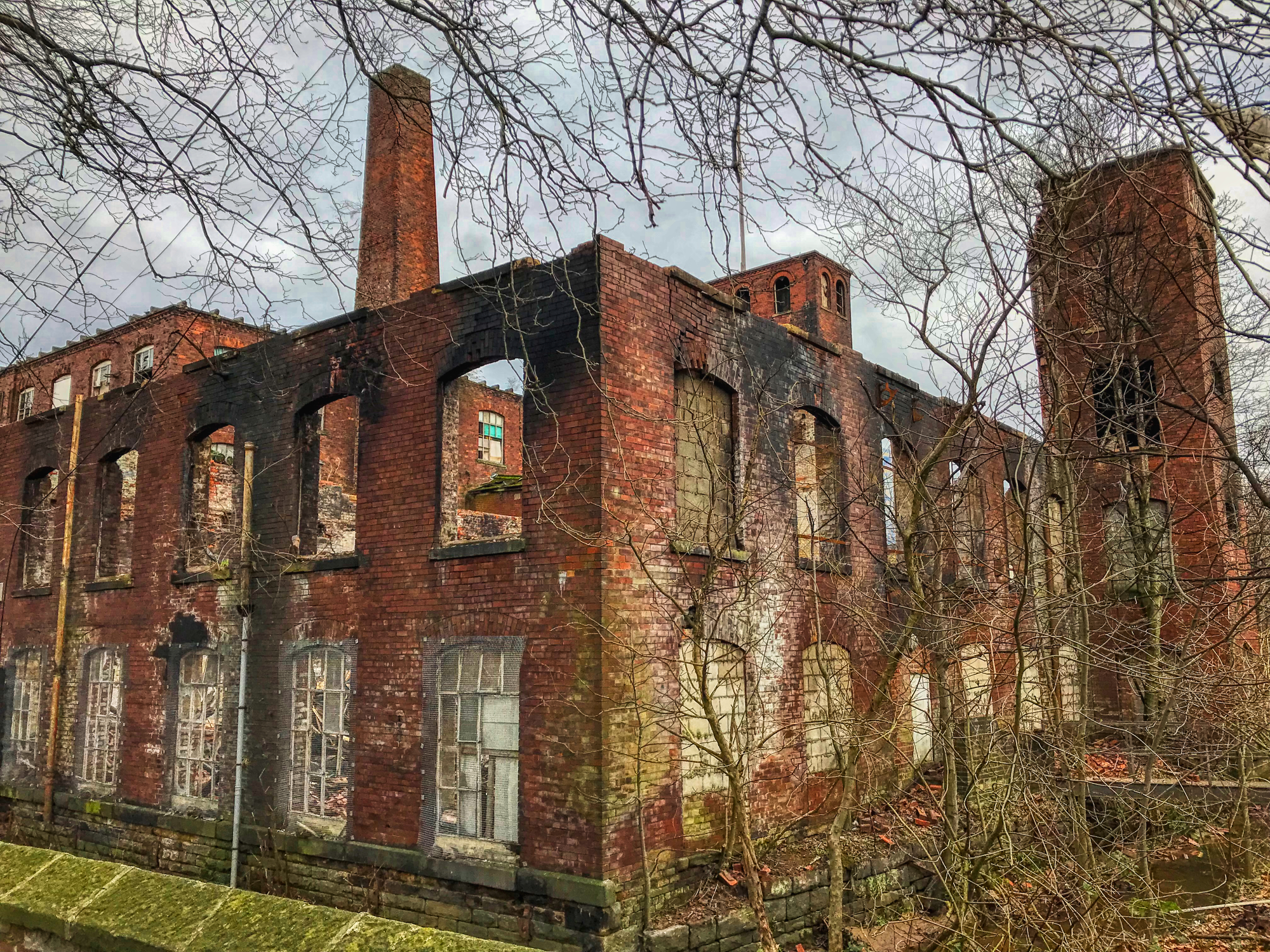 In the latest internet article about 'Lodge Mill', I am reading the mill 'could be' fully renovated and converted into commercial and residential property.
Note that I highlighted the 'could be'. I have read this so often but rarely it is acted upon. It could also be that it stays in this derelict terrible state indefinitely as many other firebombed mills have done.

Do you like posting your Urbex content and photography for FREE on Facebook and YouTube? I like to get some form of reward for my work and every time I create I do just that. Take a look at The Urbex Community on HIVE.
If you want to keep creating for FREE then ignore what you are reading. If you want to be like me and gain something other than BUGGER ALL for your work then click here and learn about posting on the HIVE blockchain.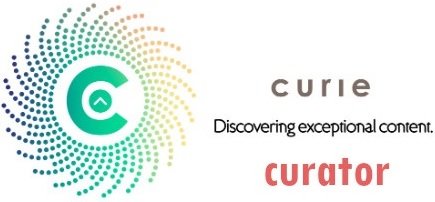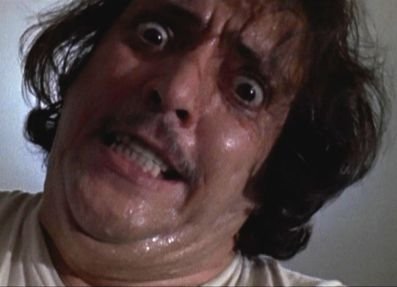 If you found this article so invigorating that you are now a positively googly-eyed, drooling lunatic with dripping saliva or even if you liked it just a bit, then please upvote, comment, rehive, engage me or all of these things.
---
---