Tales of the Urban Explorer: Hyde Library

"Hyde Library is open, we need to get there quick"....
@anidiotexplorers as always, the eyes and ears of the Manchester Underground was telling me this over Facebook messaging. Facebook does have its uses..., but not many.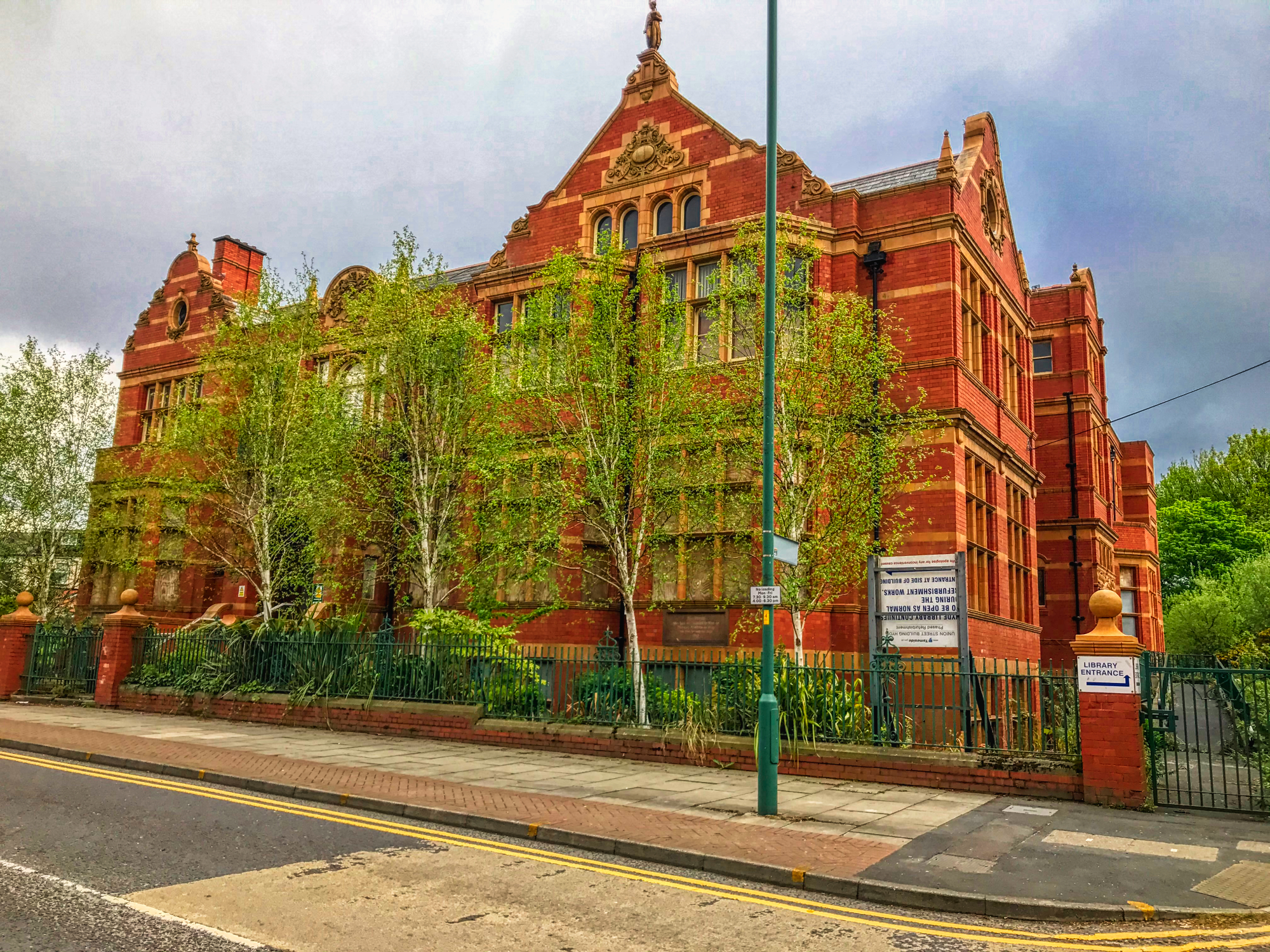 It was one of those old majestic buildings that I never manage to gain access to. We added it to the itinerary and scheduled it for a visit hoping for some success.
The present building was built in 1897, opened 2 years later, and the children's library section was added in 1931.
In 1946 the book fund was improved and the building was completely redecorated, the children's library and reference library were reopened.
In the 1950s the Library was recovering from a period of wartime neglect when it had been used as a first-aid post. It was closed in 2014 amid much protesting. As per the norm, it would all be in vain.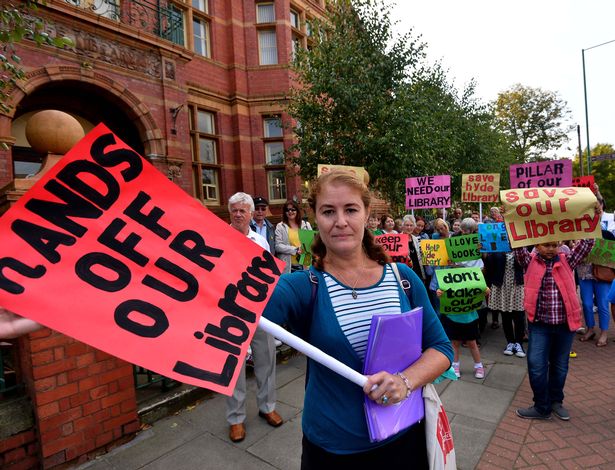 Source
As we approached @anidiotexplorers was in contact with another set of explorers. The Tour Bus was in full swing and as we struggled to find the way in I noticed a bunch of lads within the grounds.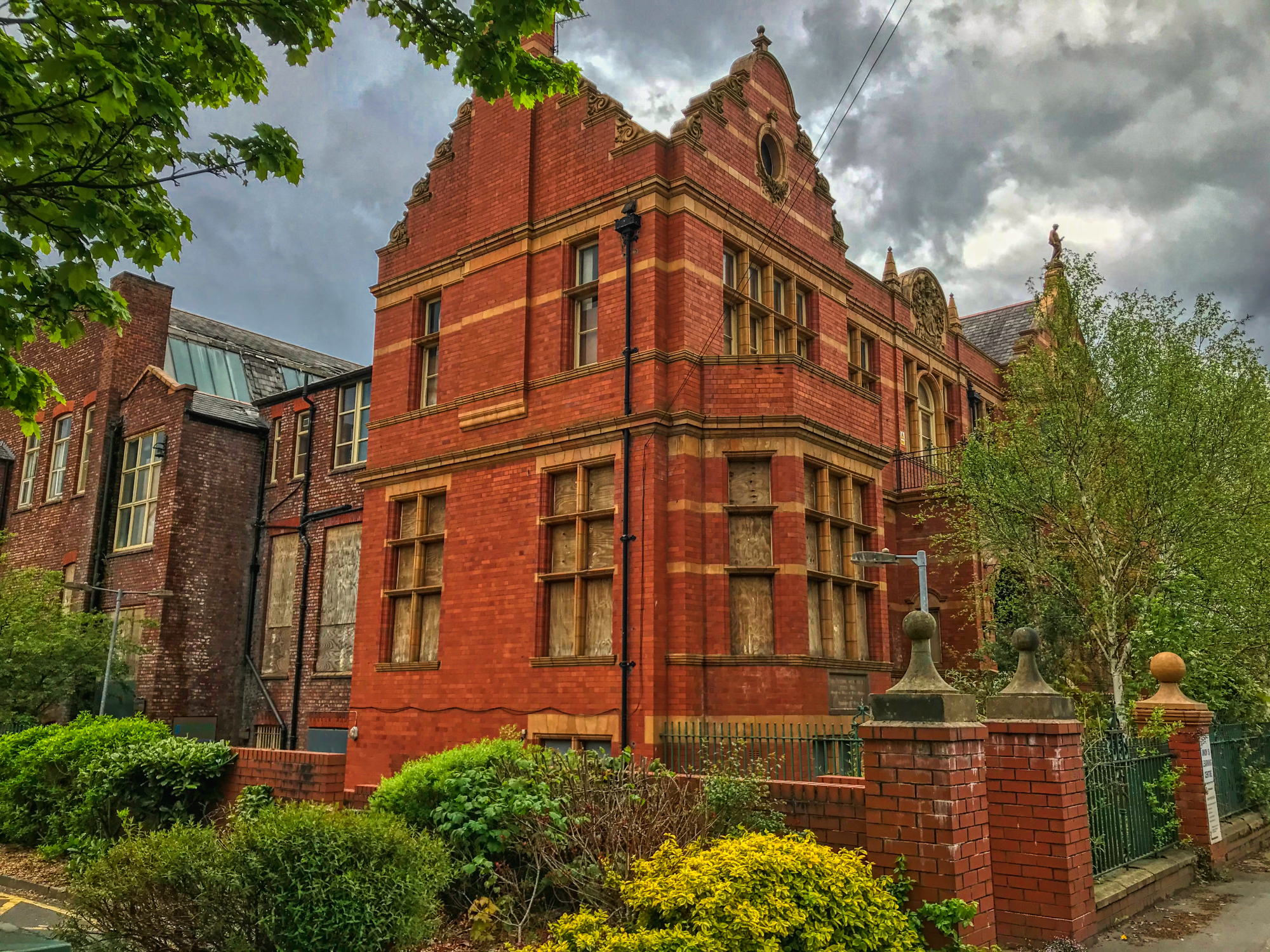 "That's them... I know them", said @anidiotexplorers.
Better to know them than not.
He started waving and yelling like a crazy bastard and soon got their attention.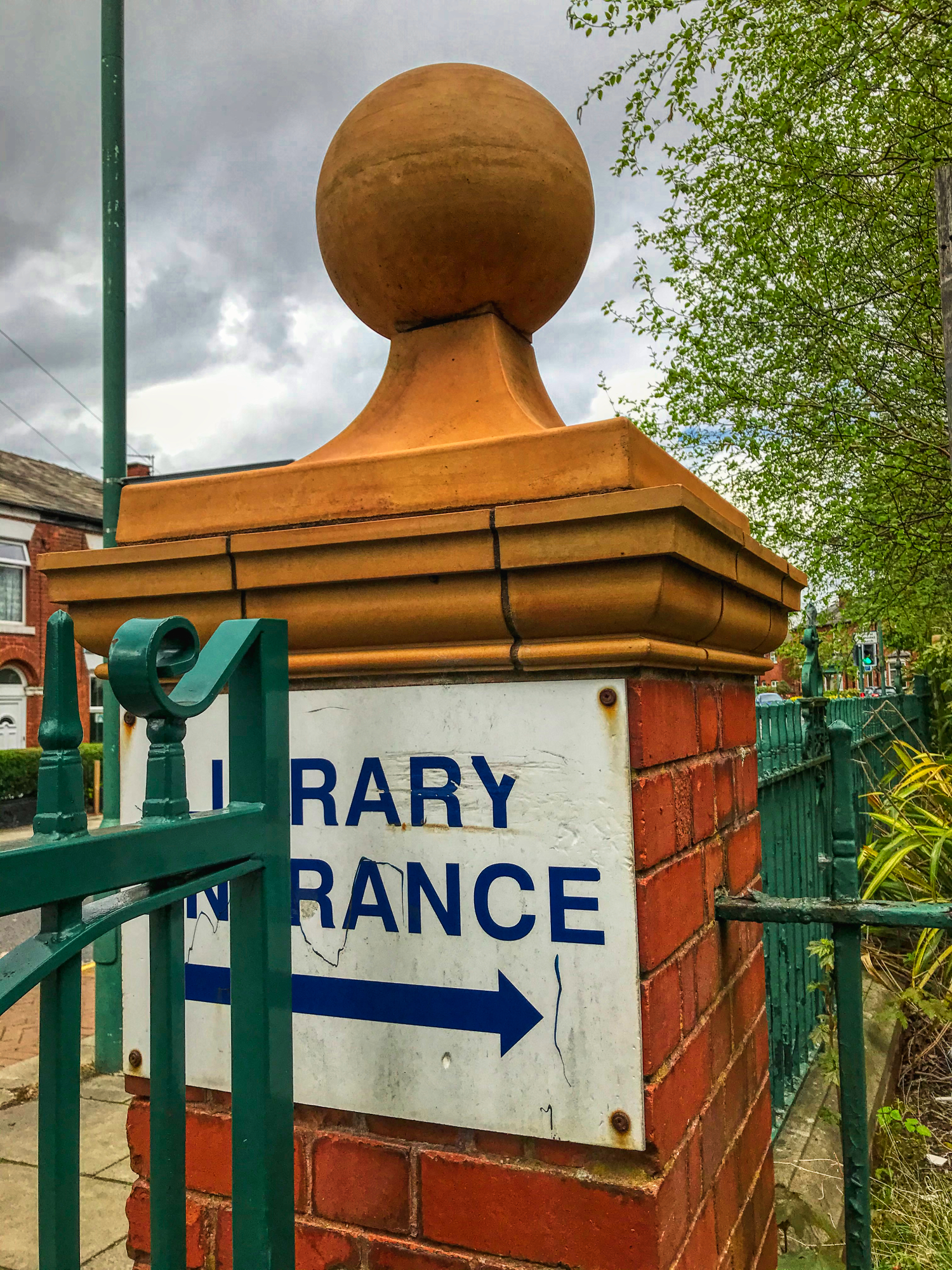 The benefits of collaboration; we had approached from the wrong angle and were soon skirting around the front, heading up the side and entering a large gap via the back that has since been firmly sealed up.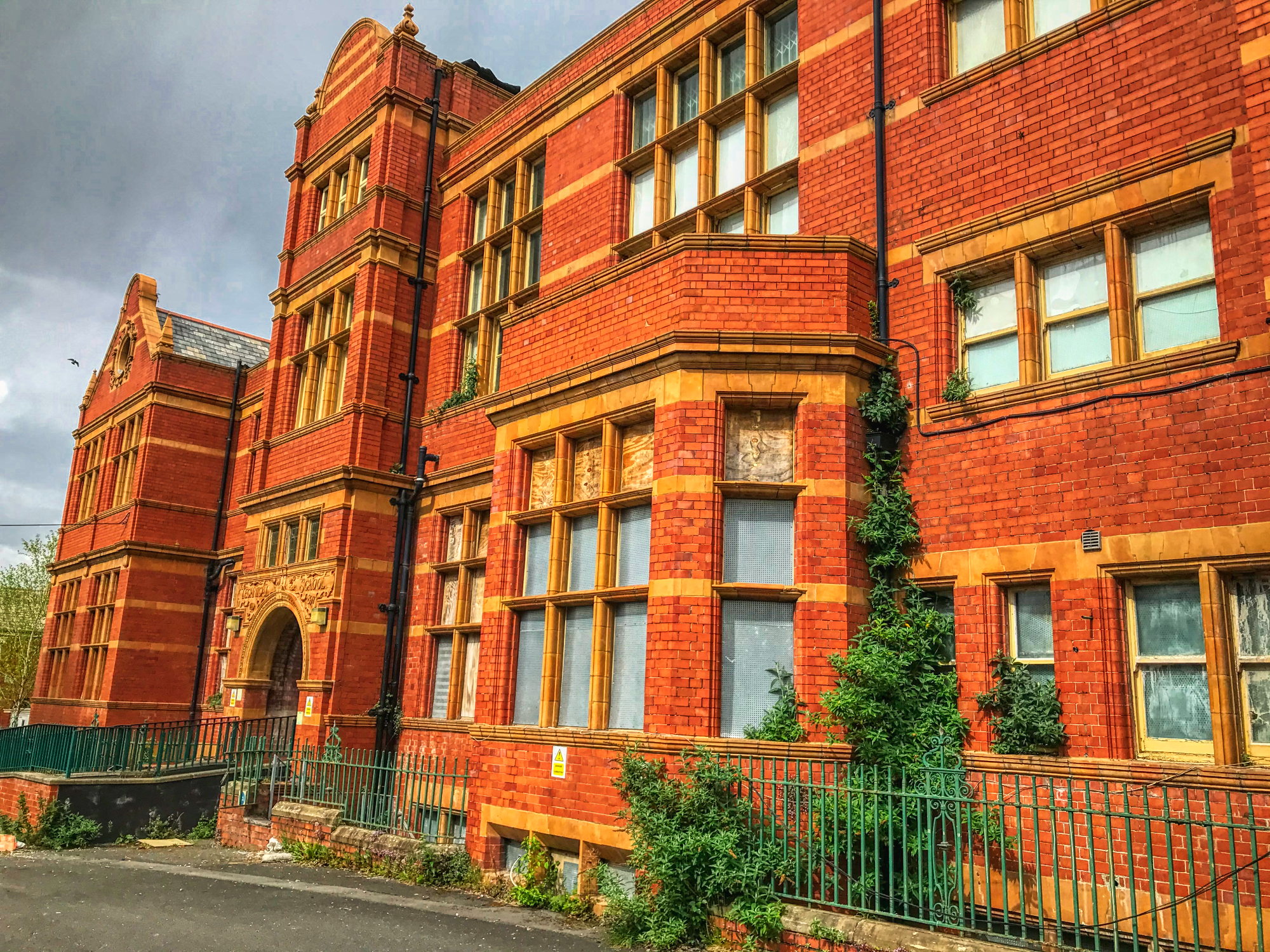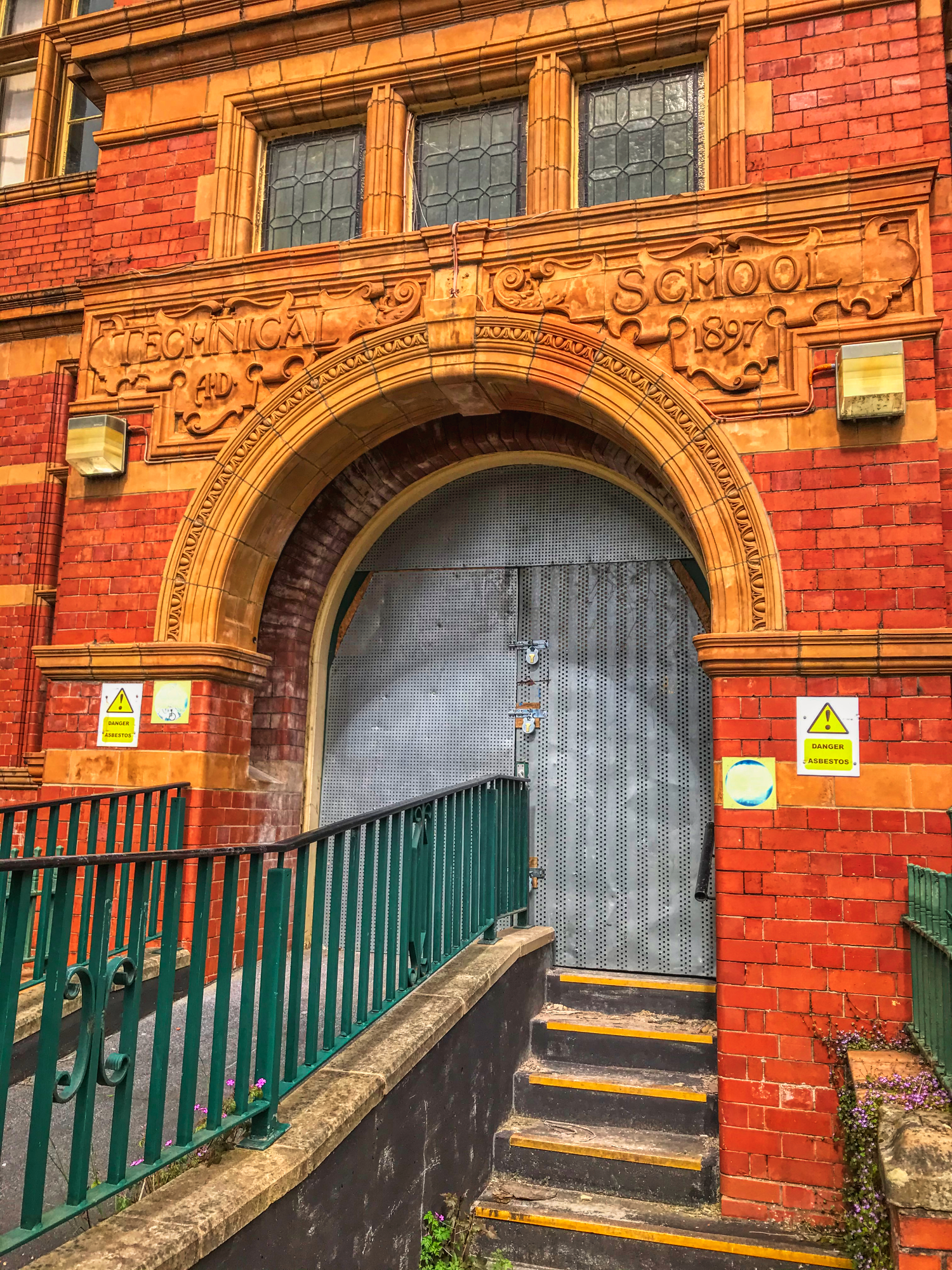 If they spent lots of money making the front look majestic, it appeared the cash had dried up when it came to the rear.
It looked boring, plain, and not at all photogenic.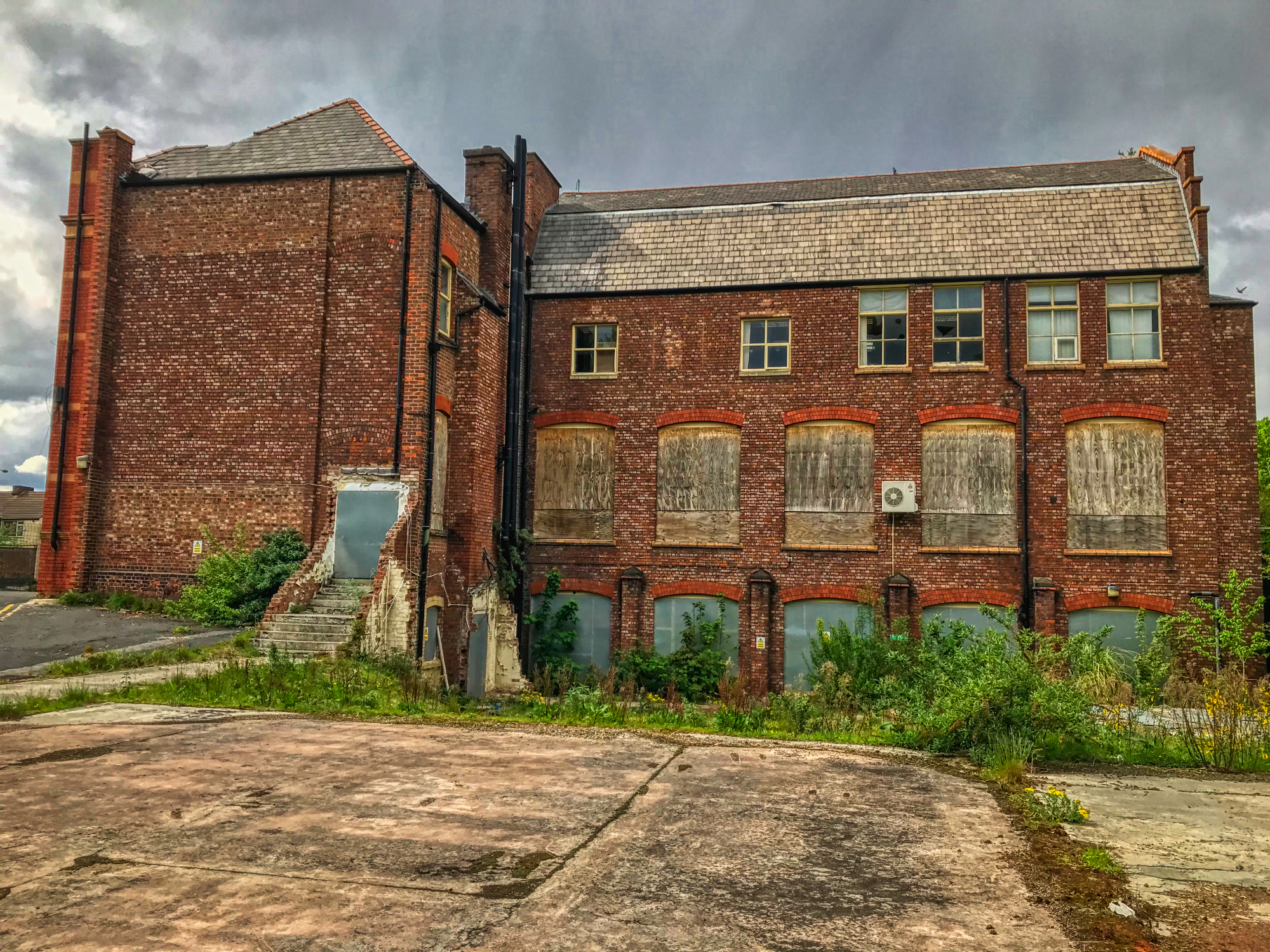 I was quite overwhelmed that I was actually inside. Normally the entrance point would seal up before my very eyes on approach like some magical fucking conduit.
"You are not worthy..", a deep booming voice would emit causing me to cower in fear and terror. It had happened many times before. Some of these places are so full of themselves.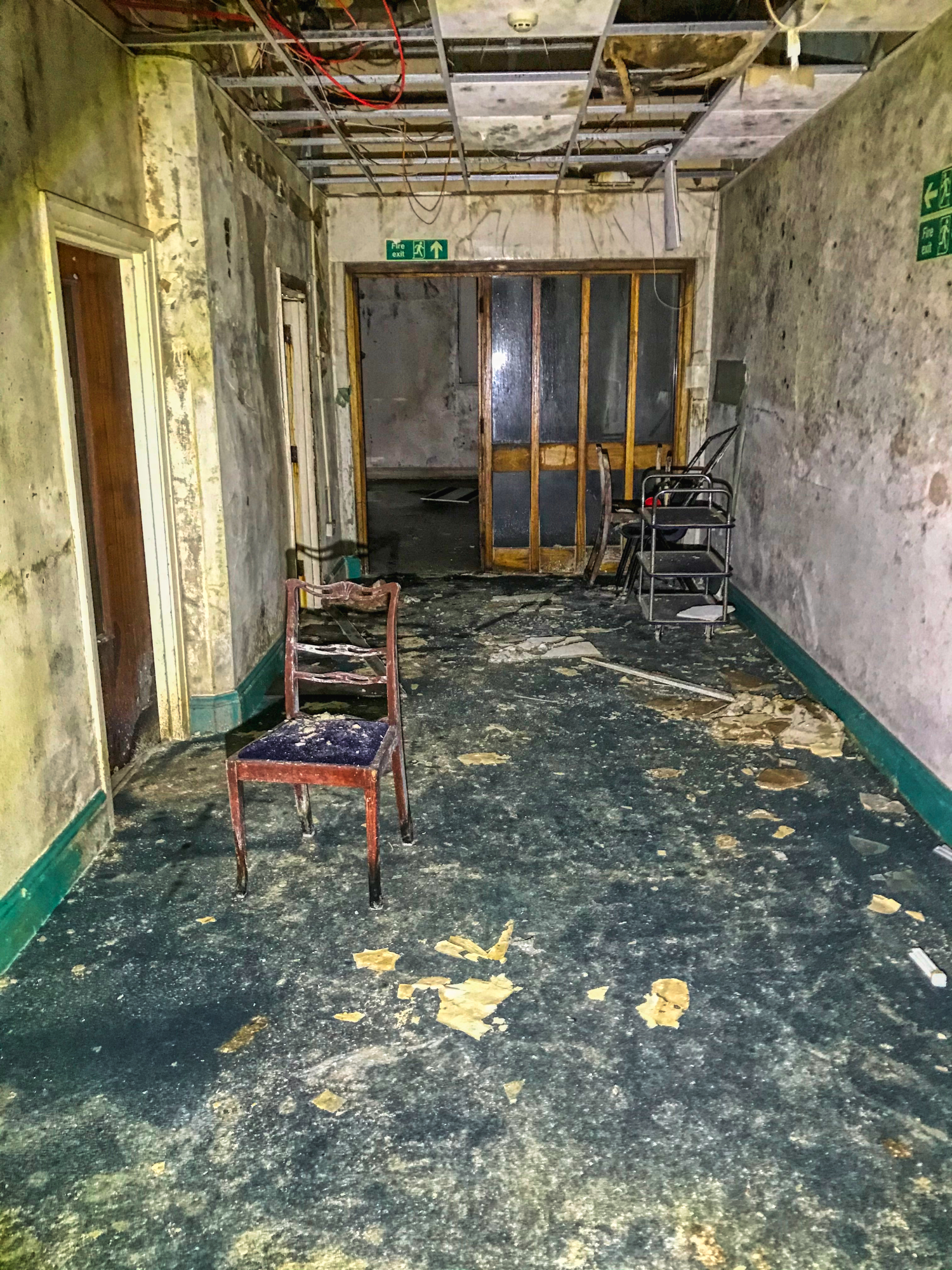 If you think it looked great from the outside, it was a different story in there.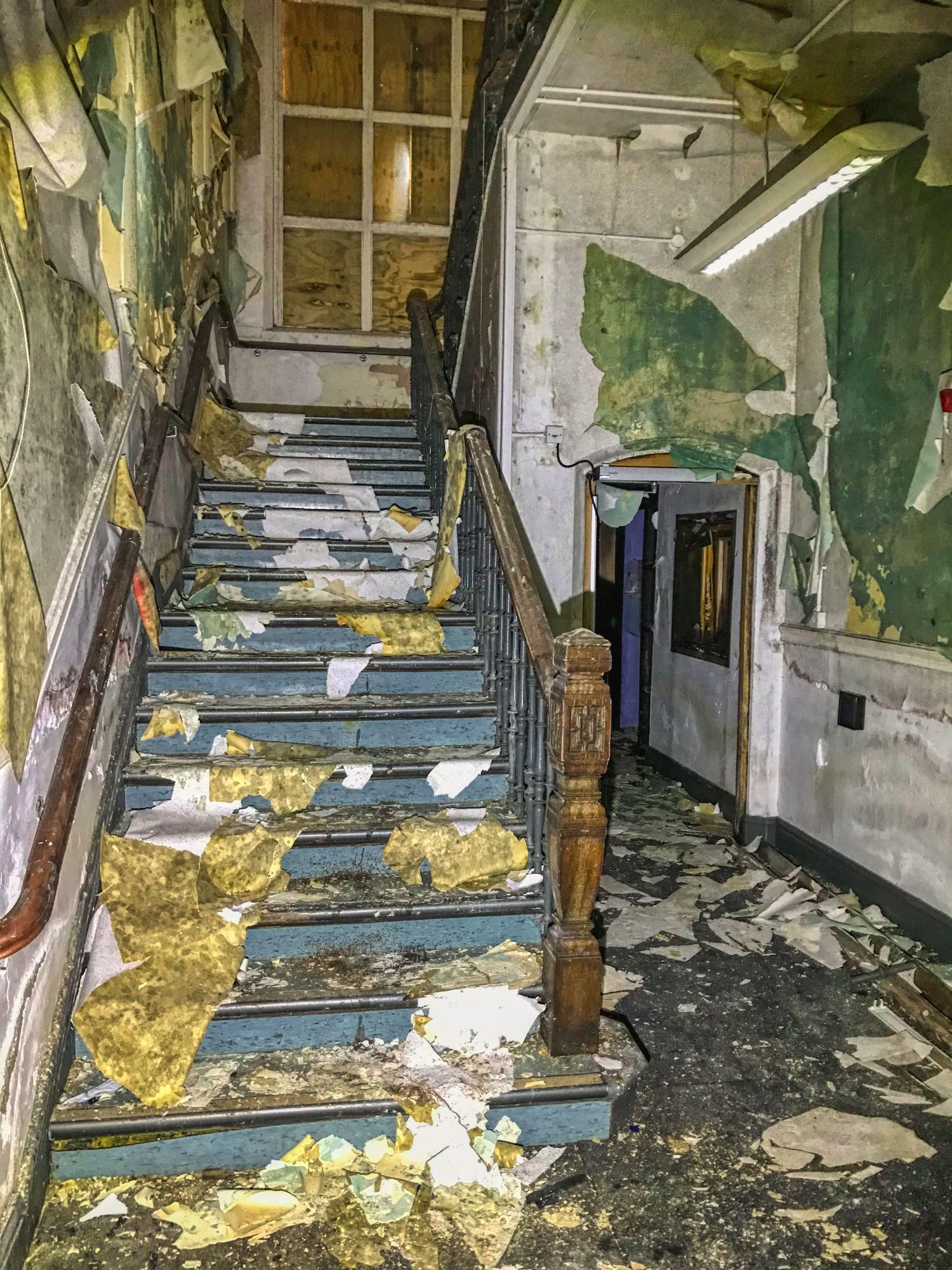 Outside was an overcast day and a little cold. I felt a chill when entering this substantial-sized building that had seen little love over the last half-decade.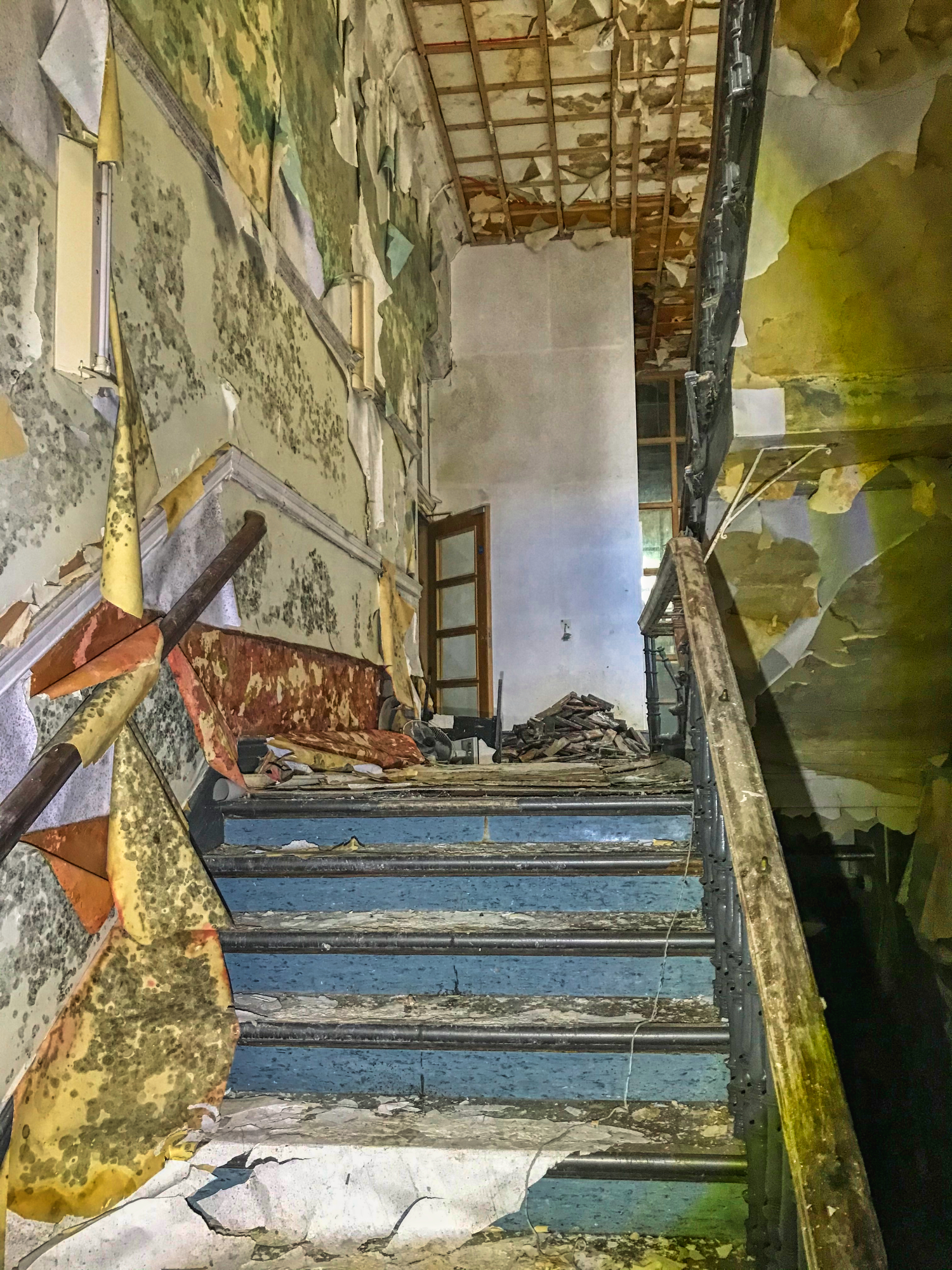 Wallpaper does not do very well when the central heating is permanently switched off.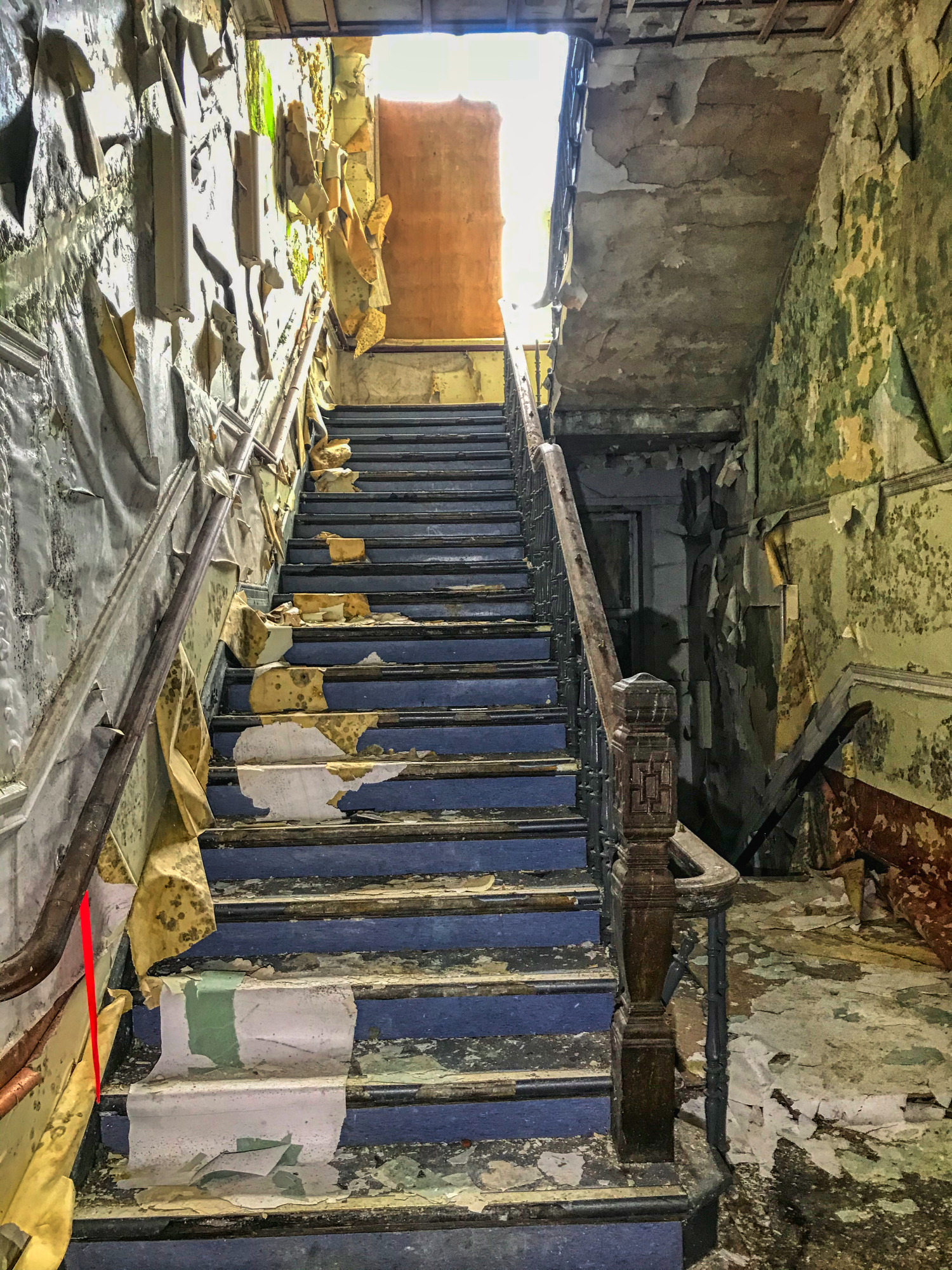 This staircase looked so much better when actually standing in front of it. I am quite disappointed this photograph does so little justice.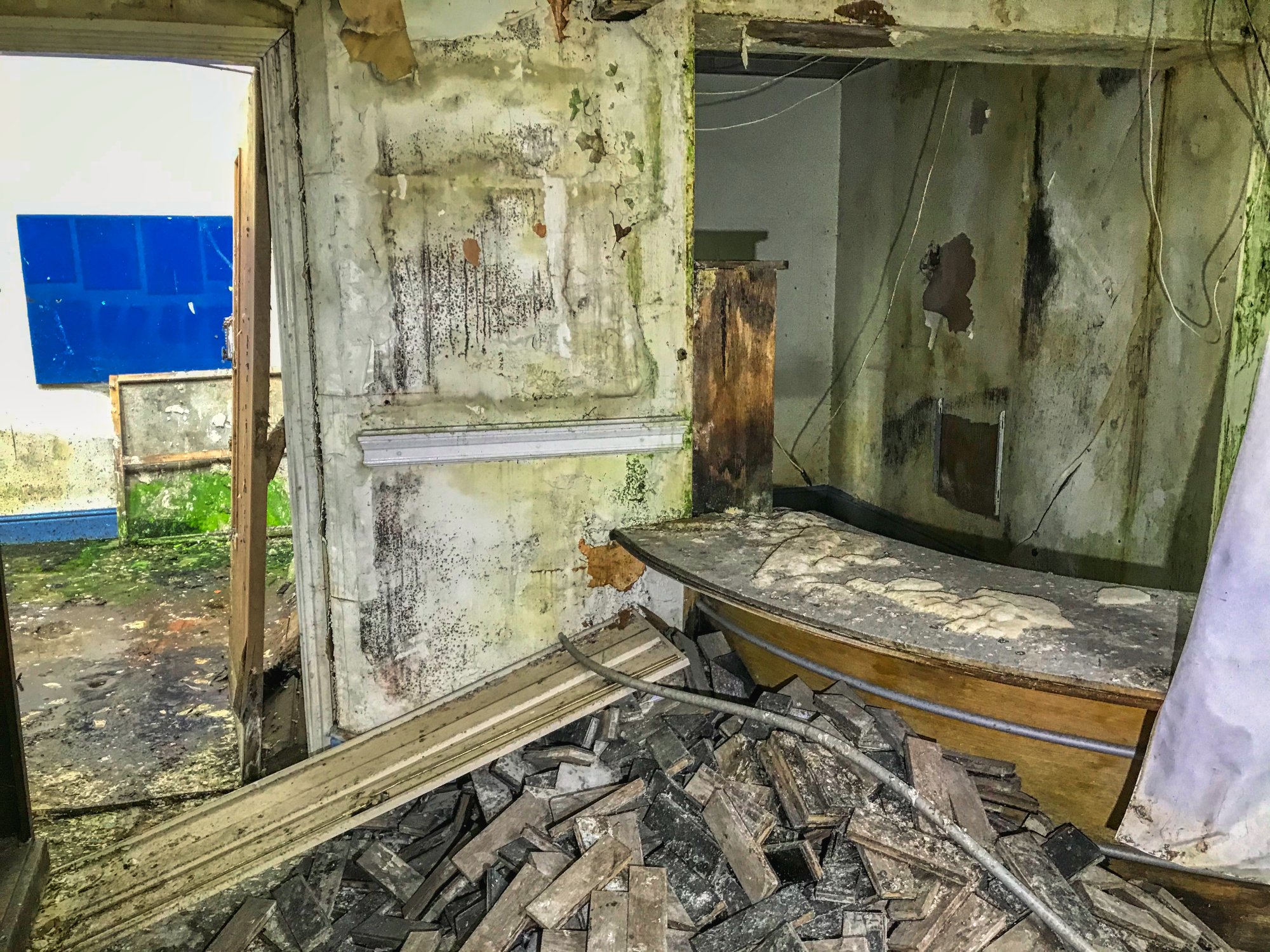 We made our way up to what was some kind of reception area.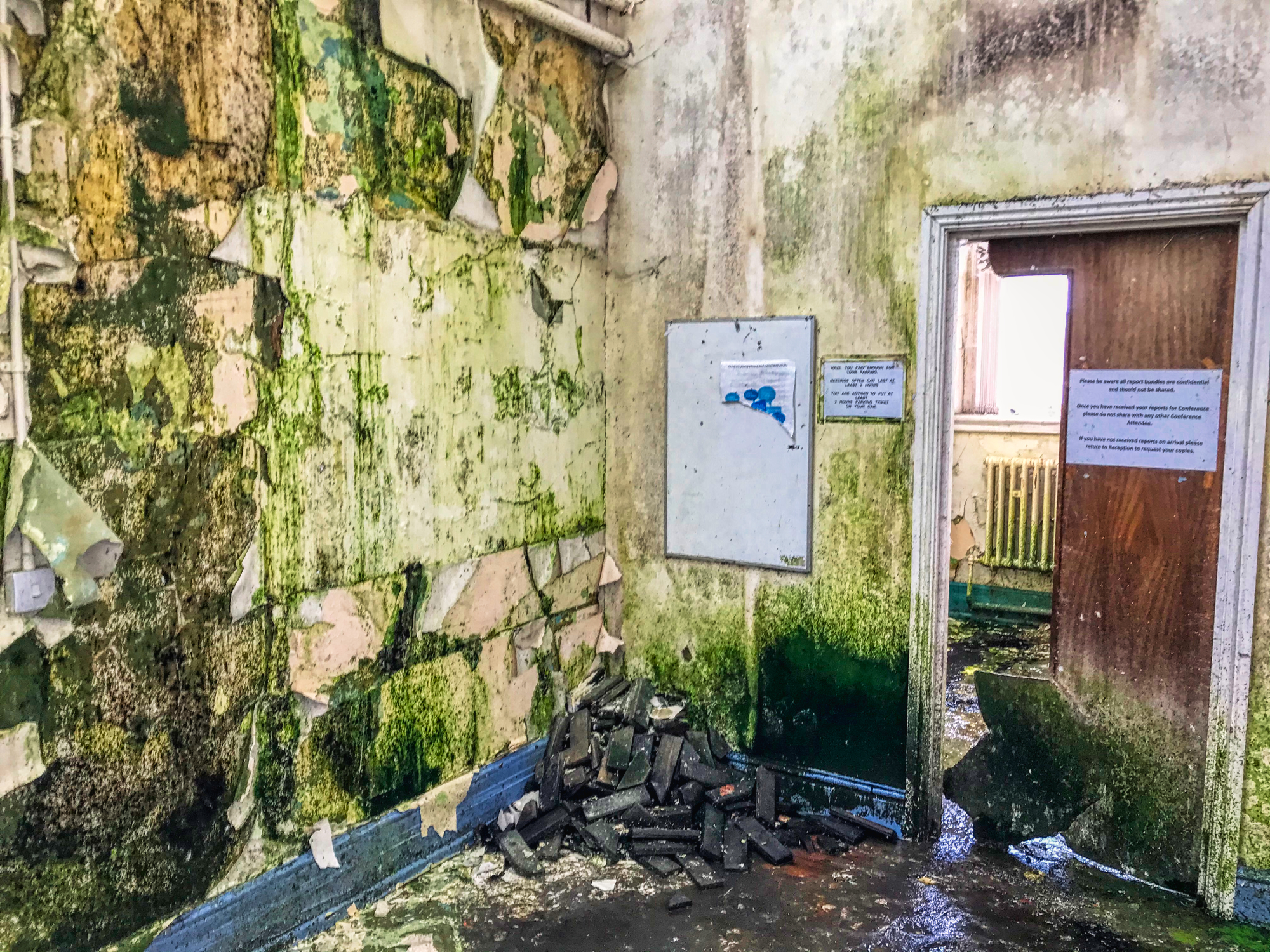 This part was quite soggy underfoot and I quickly backpedaled as it got progressively worse. It's not as though there was a shortage of sights and I was happy to miss this part.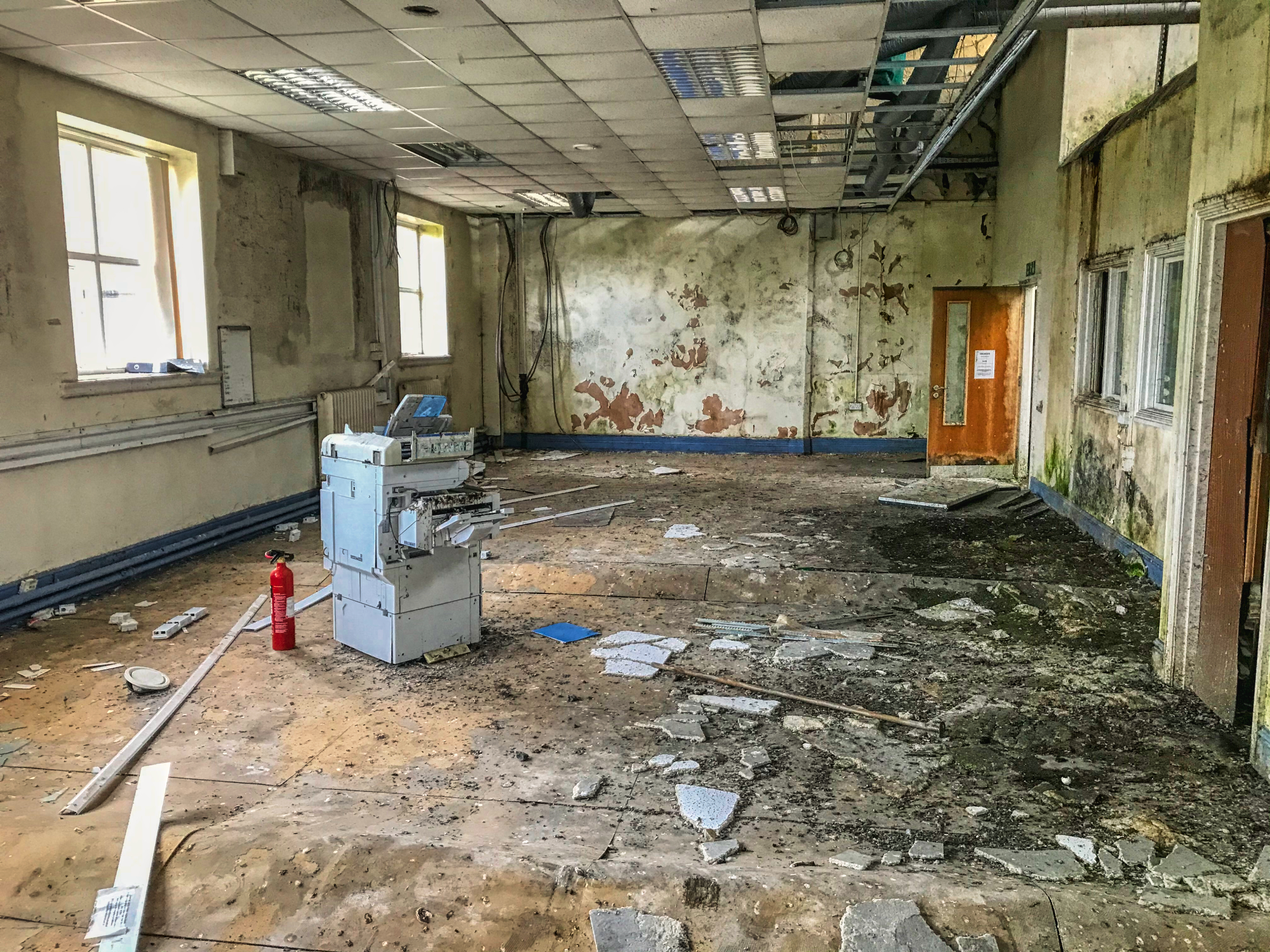 Why are photocopiers so disposable? Is it because nobody wants to give themselves a hernia lugging them down the steps?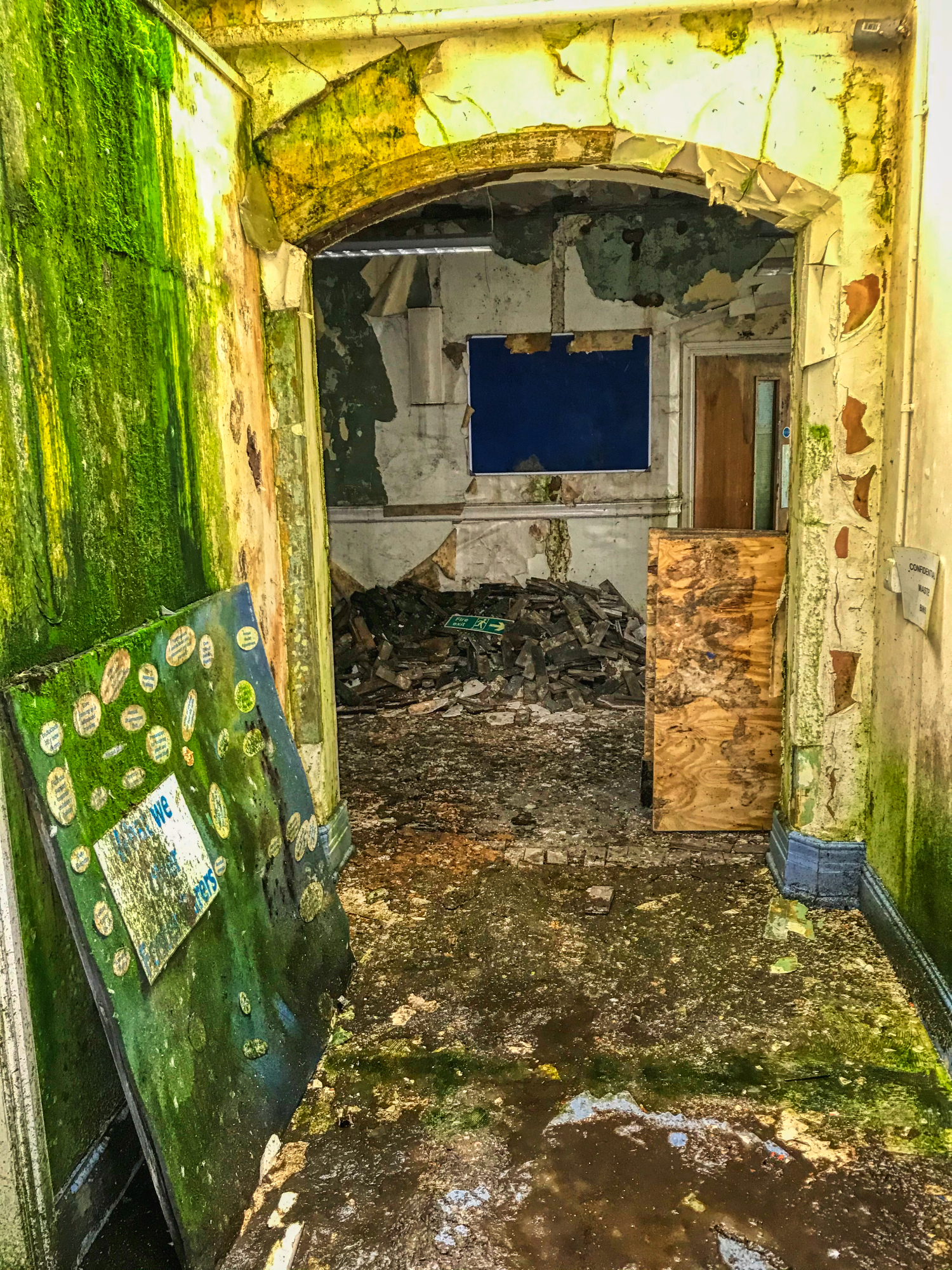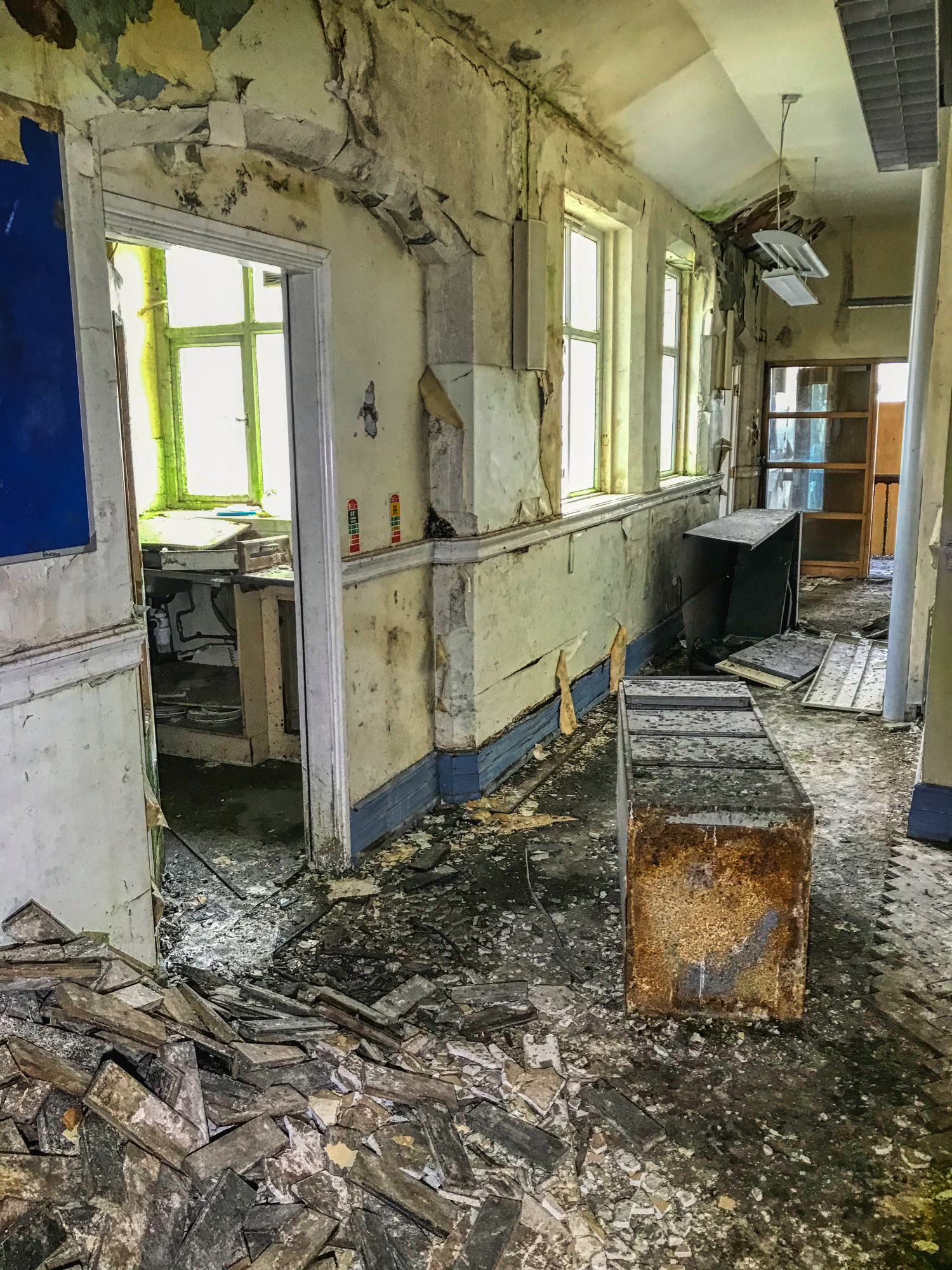 It looks bad but the floors were sturdy enough compared to some of the death traps I visit.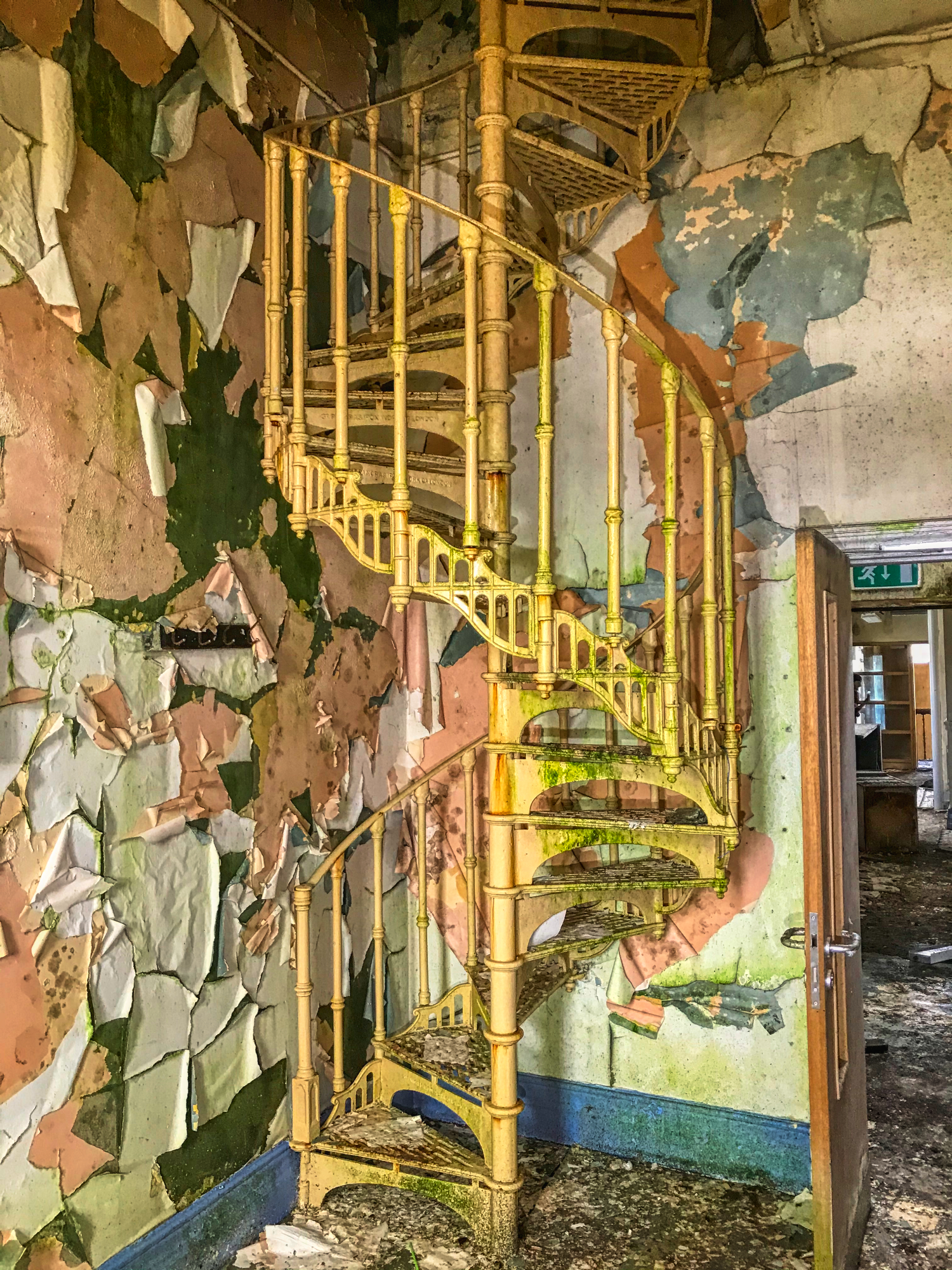 That spiral staircase was oh.... so inviting. I guess visitors would not be allowed up there even during the old opening times. We took little time climbing up, our footsteps making clanging noises on the metal.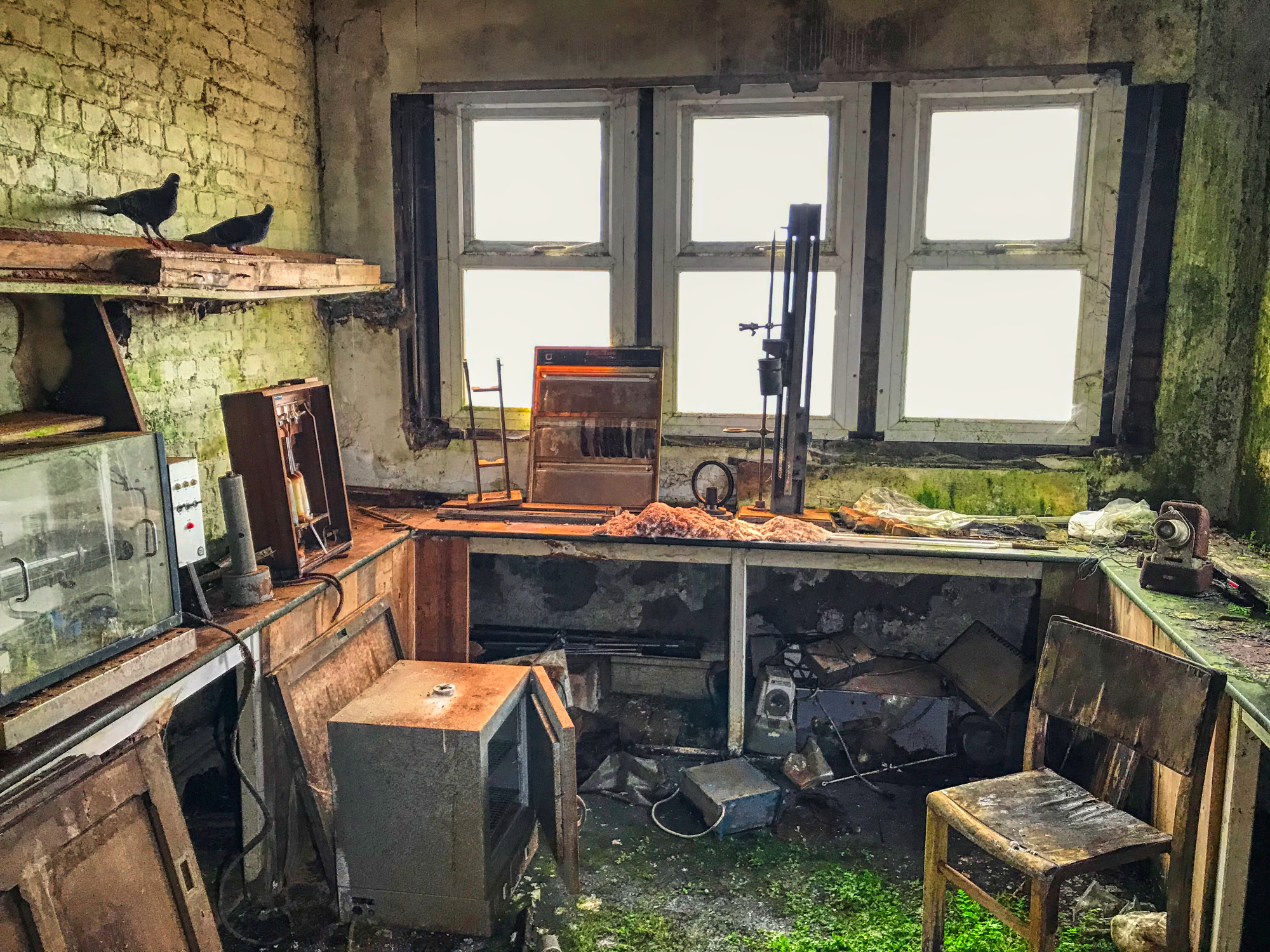 The two pigeons on the left were far from happy to see us. They did keep quite still for once which is better than trying to fly through solid glass.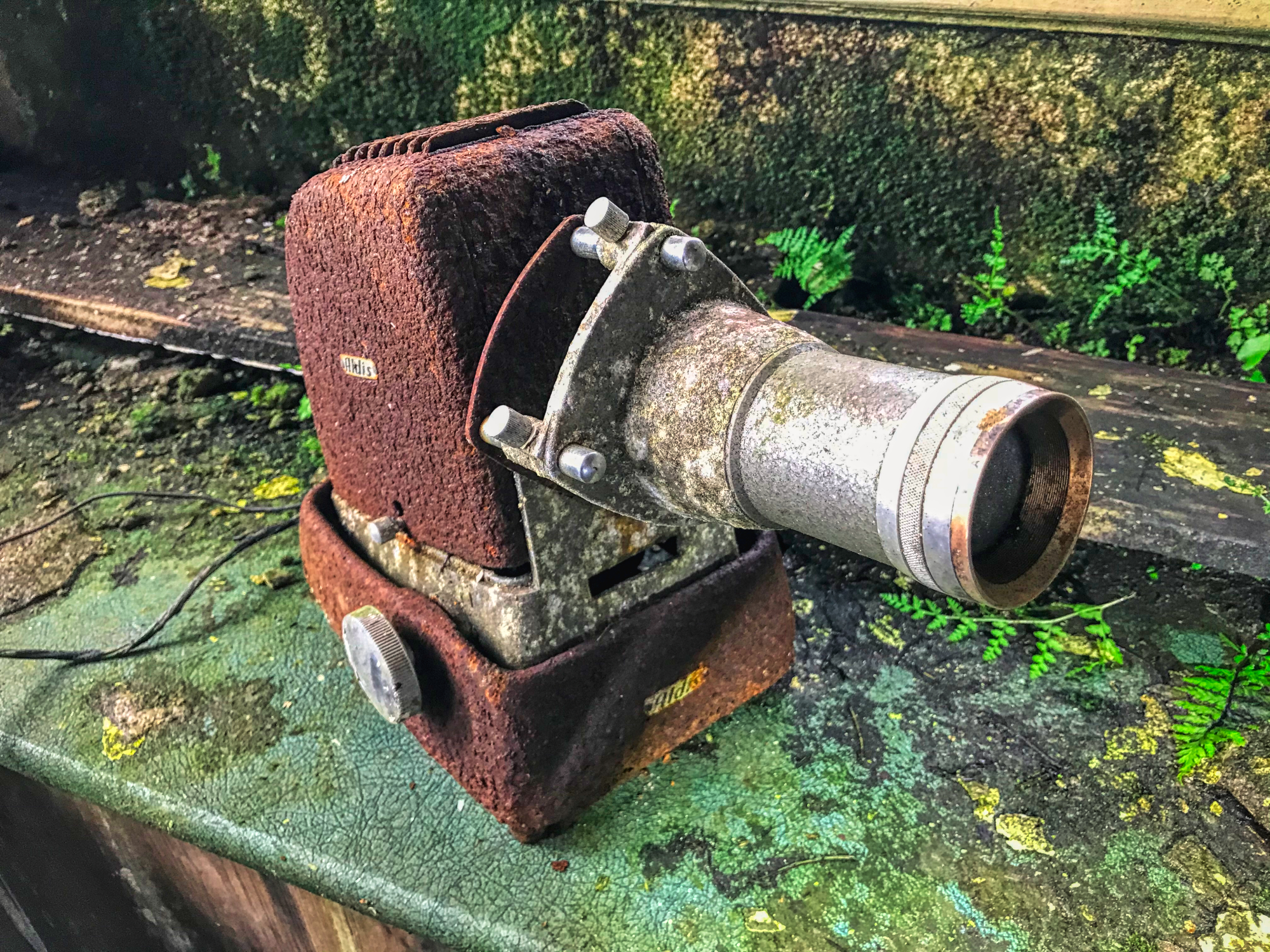 It looked like something from His Dark Materials; from another age! Plenty of embedded rust on this old relic; it has got to be a camera?
The white substance was tempting. Should I roll a twenty uptight and take a snort?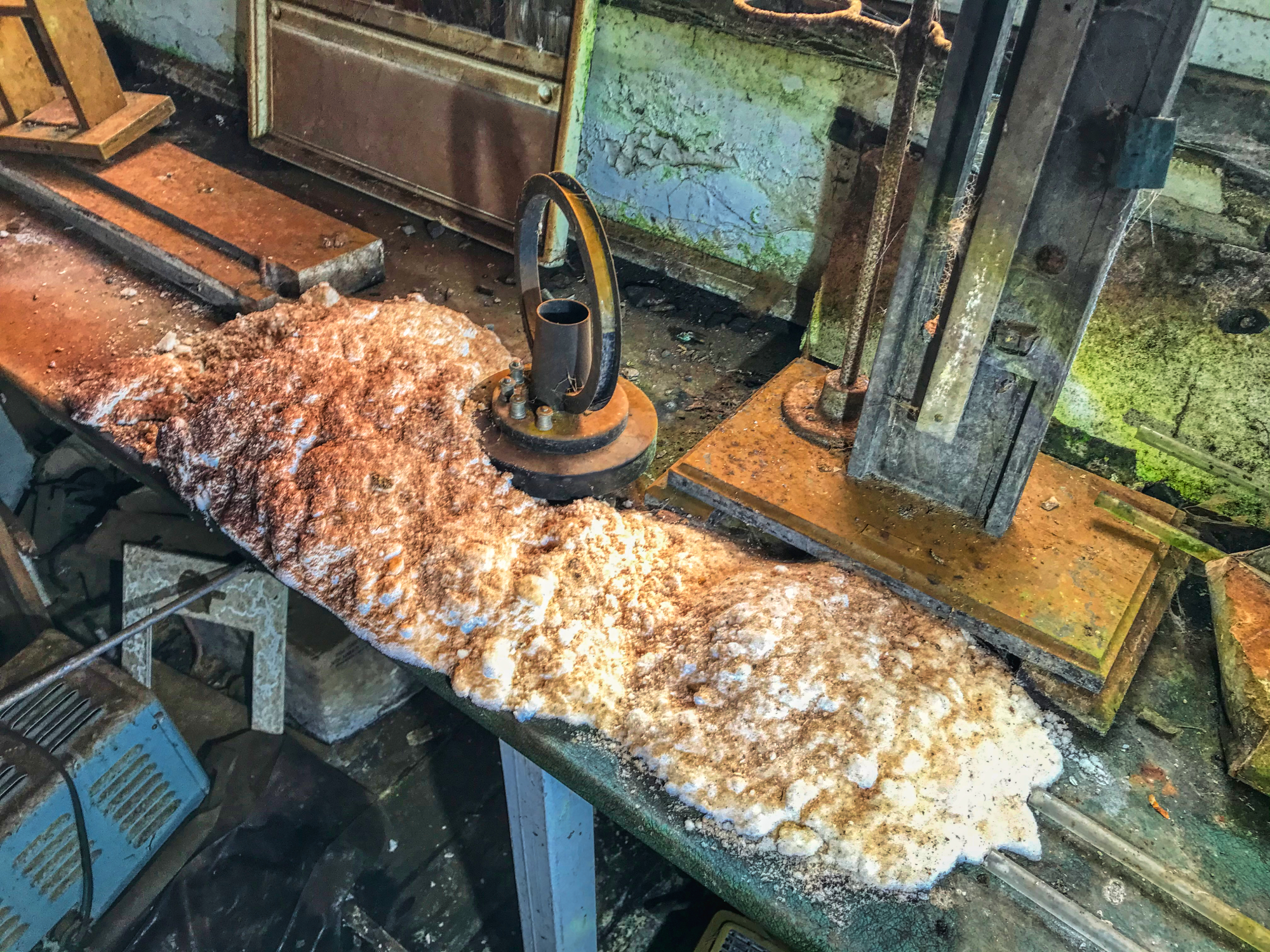 Thinking it was a little discoloured I thought better of it, and it had no 'Best Before' stamped anywhere. Yes, that was the determining factor.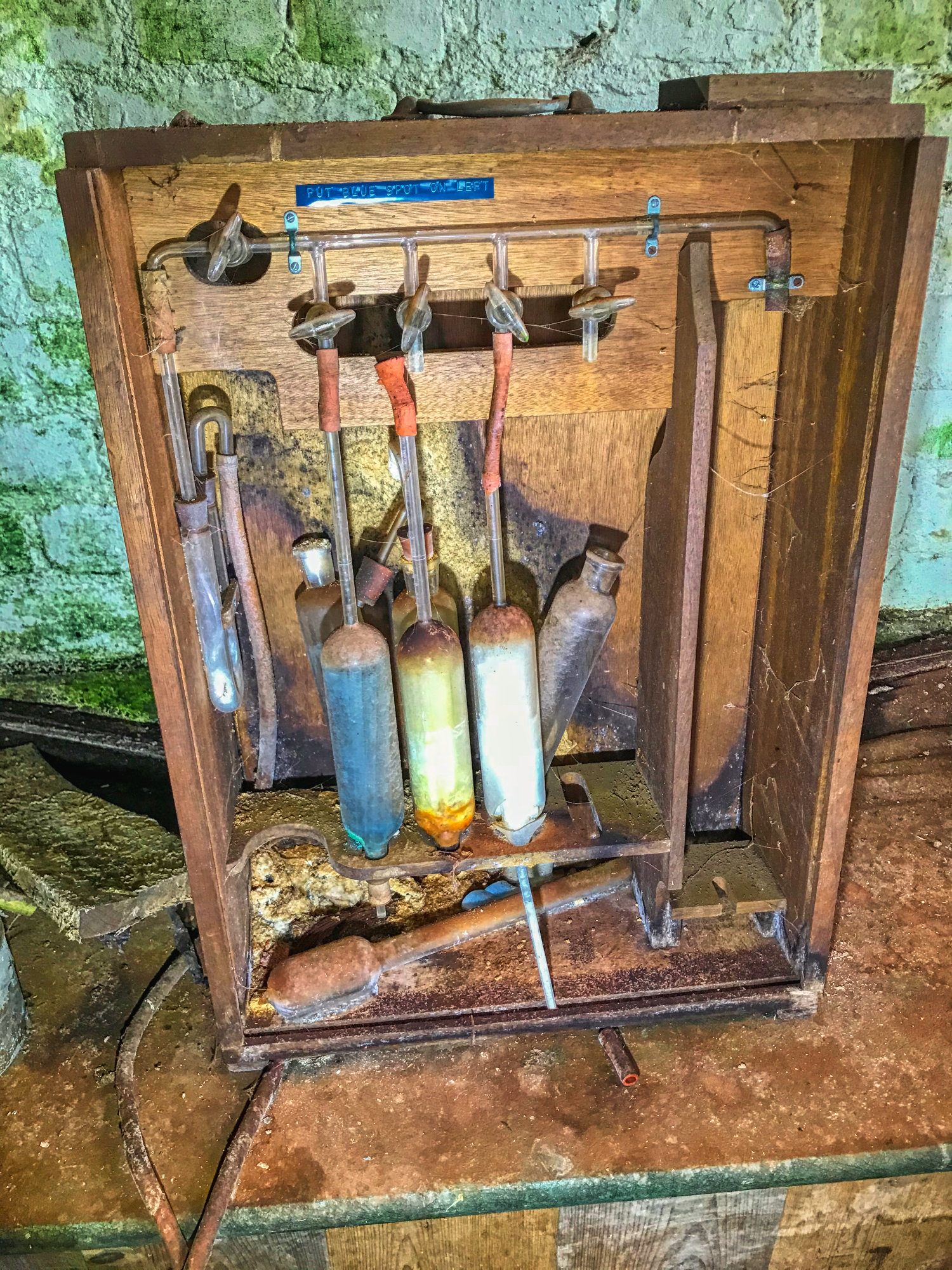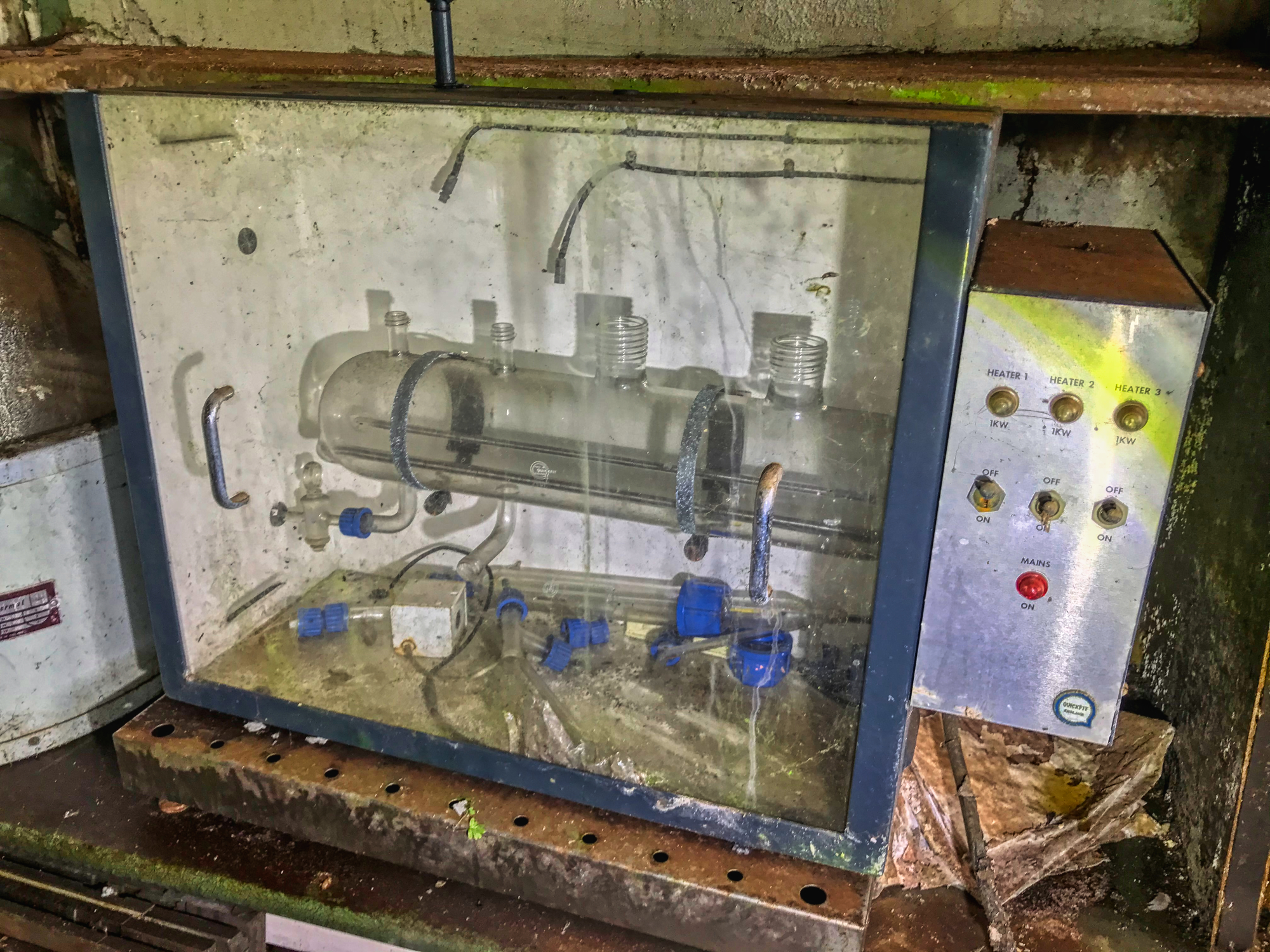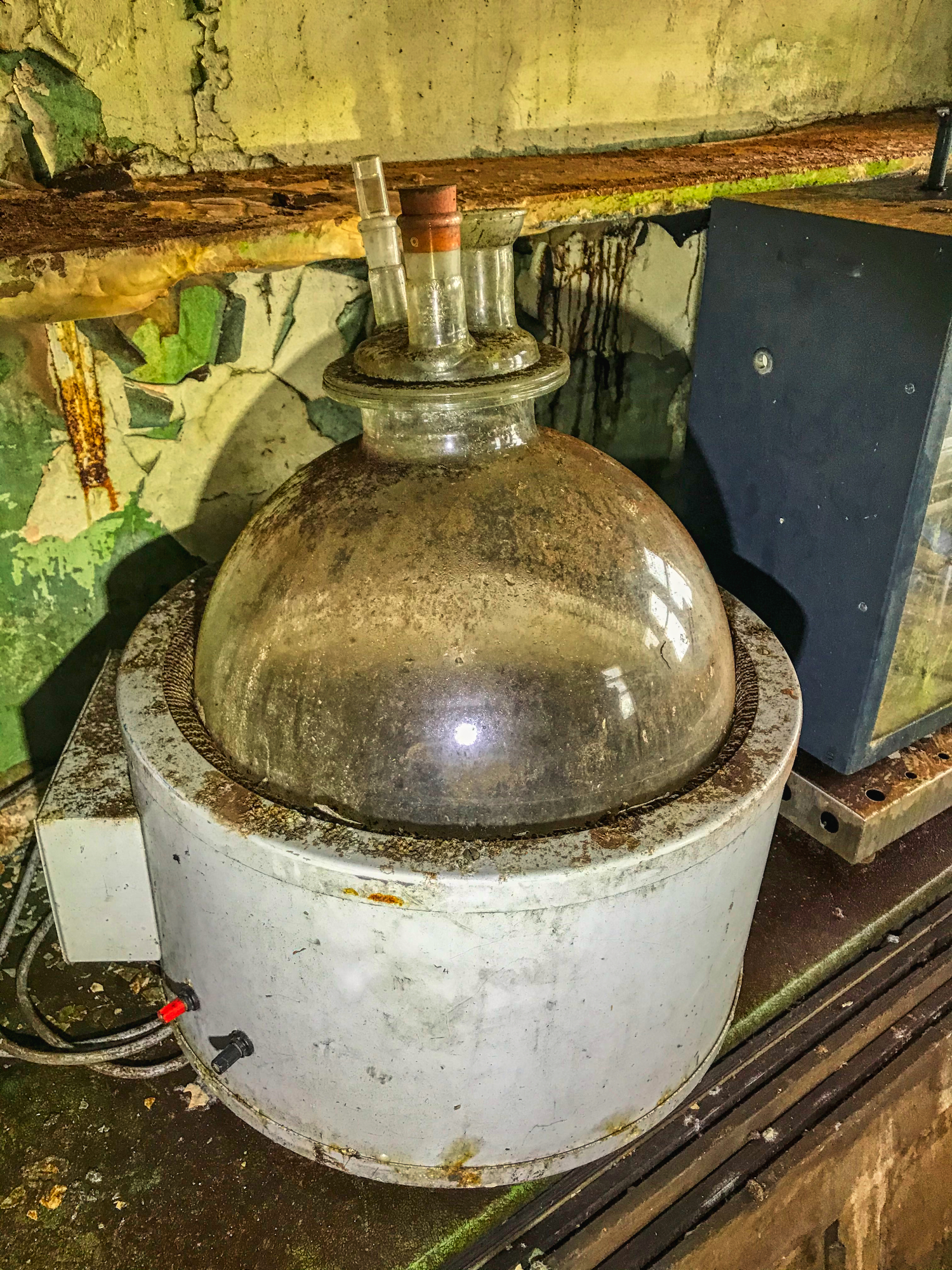 Is it some kind of laboratory from the 1950s or items you might find in the chemistry class at school? I couldn't quite decide.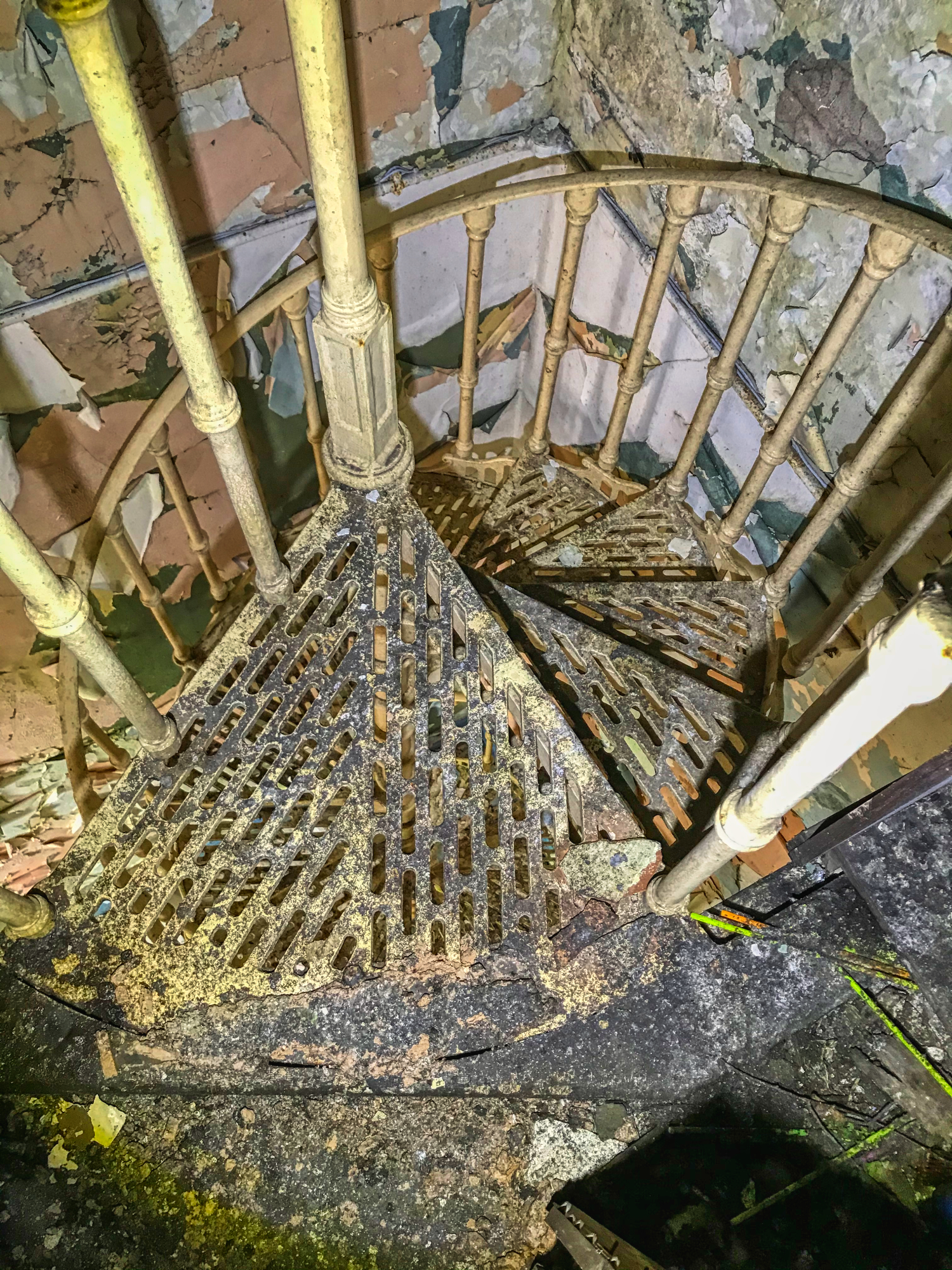 Blimey, I do love seeing stuff like this. It was back down the spiral staircase and yelling to those other explorers who couldn't wait to get up and look themselves.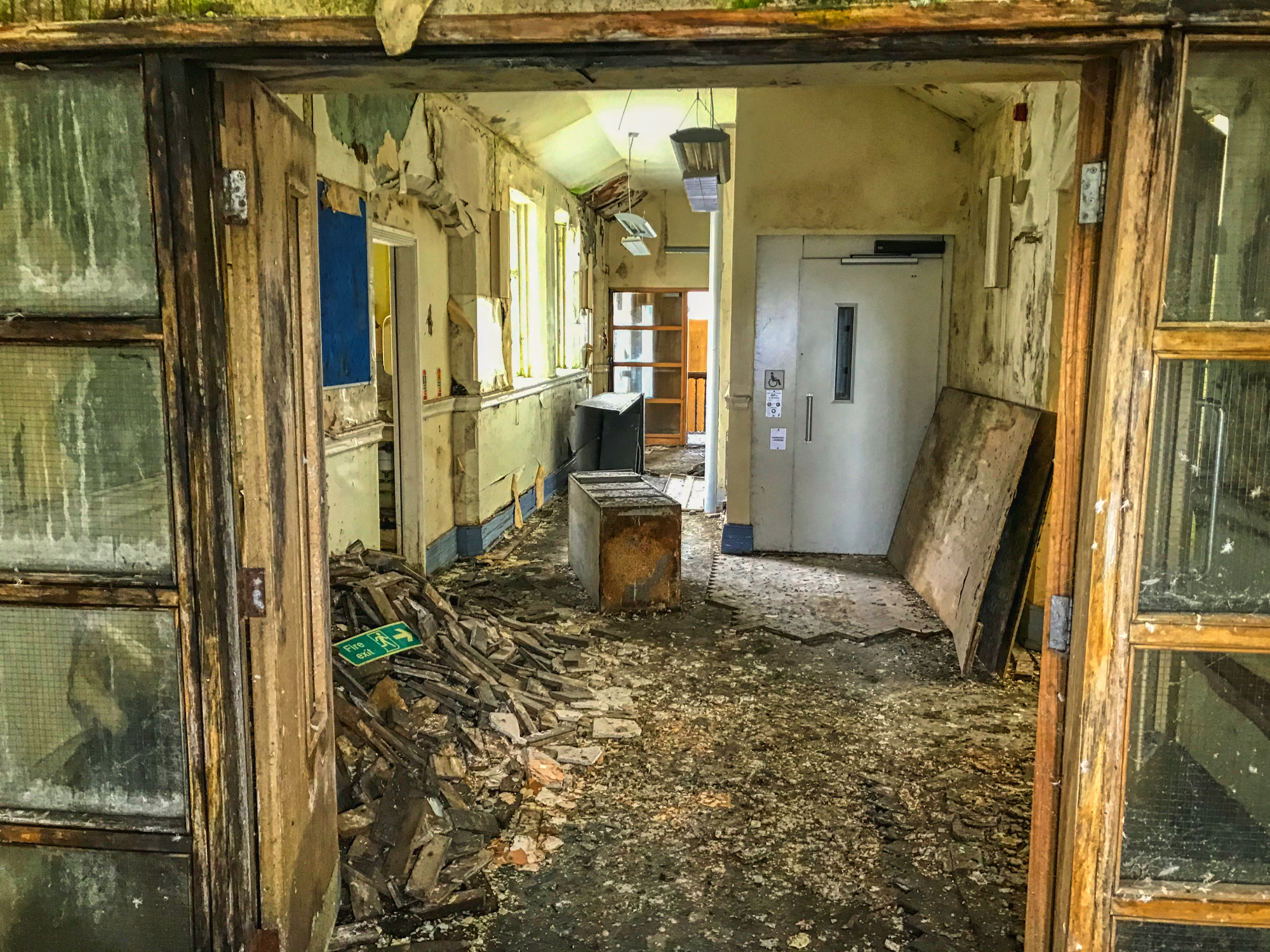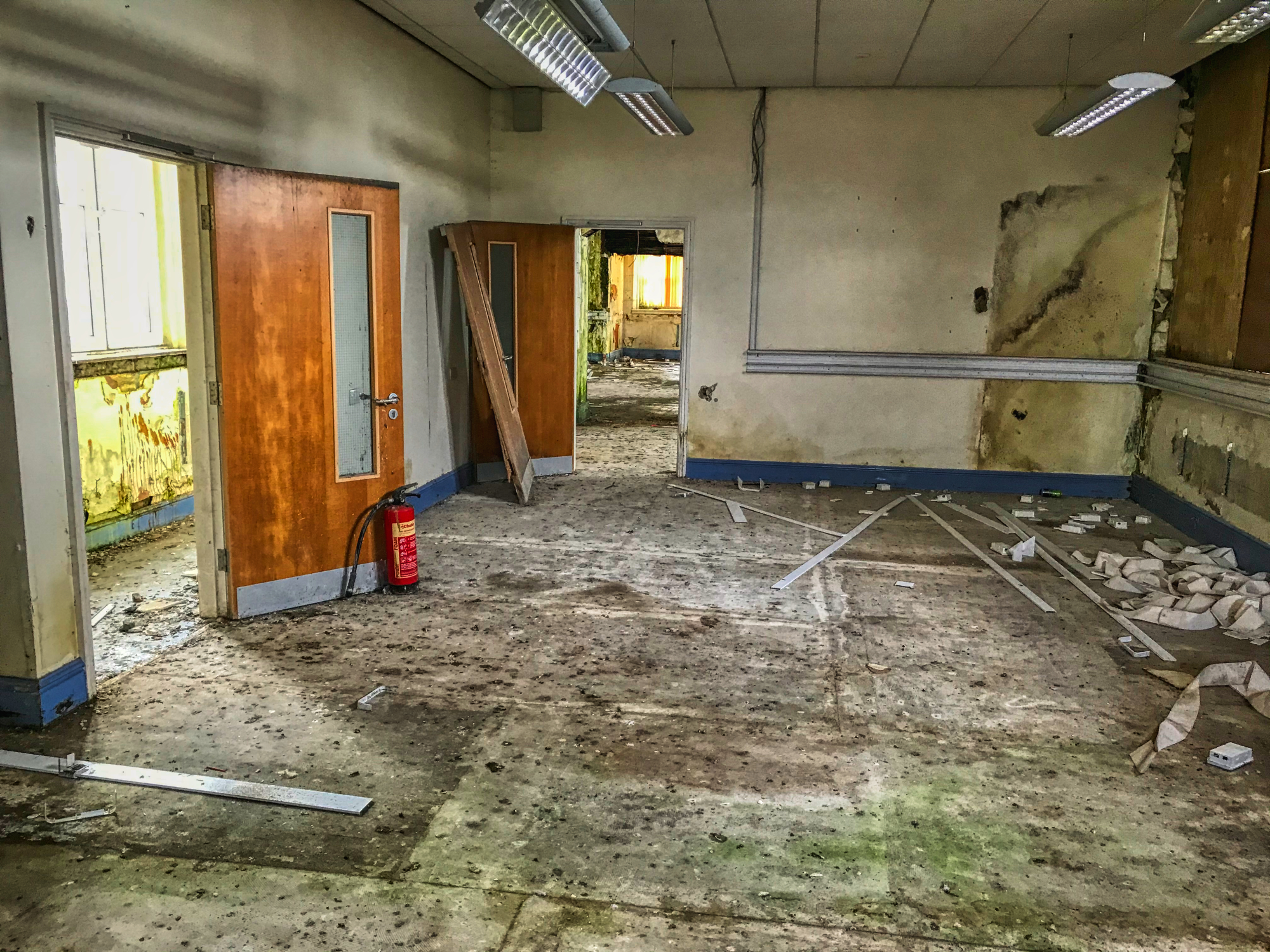 Hyde Library for the most part was quite empty and had several sets of staircases.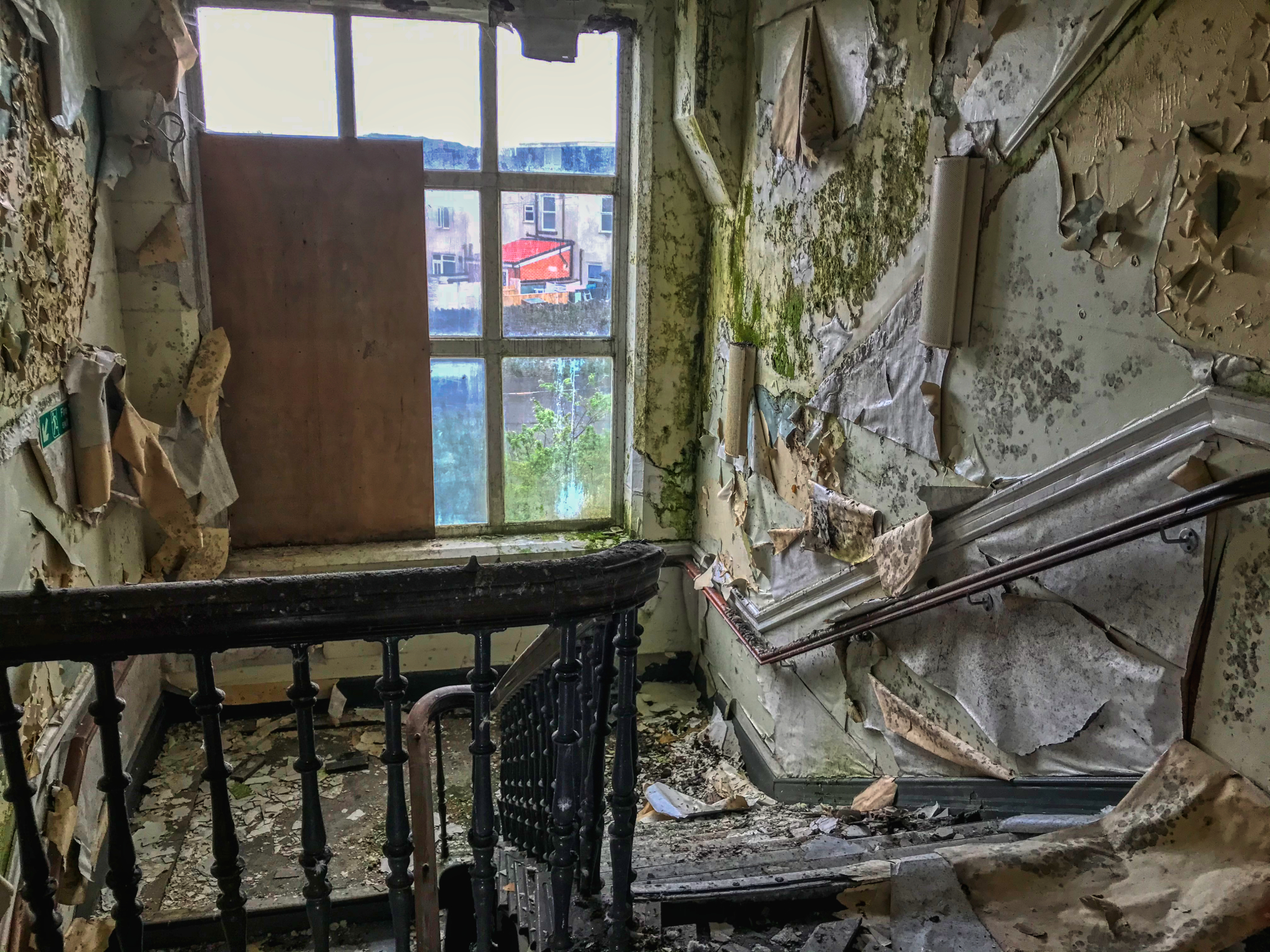 We descended with me taking note of the wear on the banister. I would guess this is the original woodwork from 120 years ago.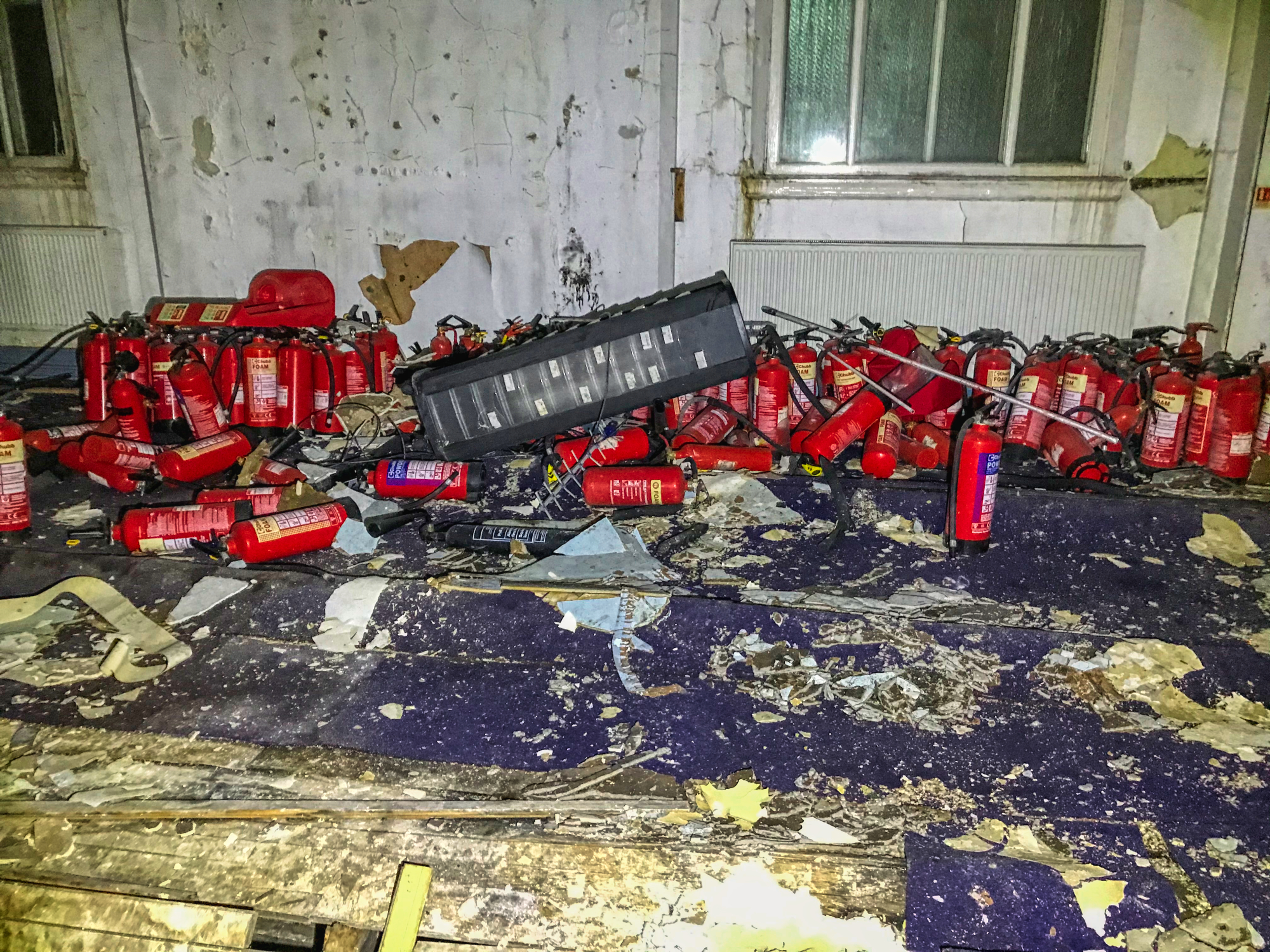 Collecting fire extinguishers can be obsessive. There would be little chance of burning down the library.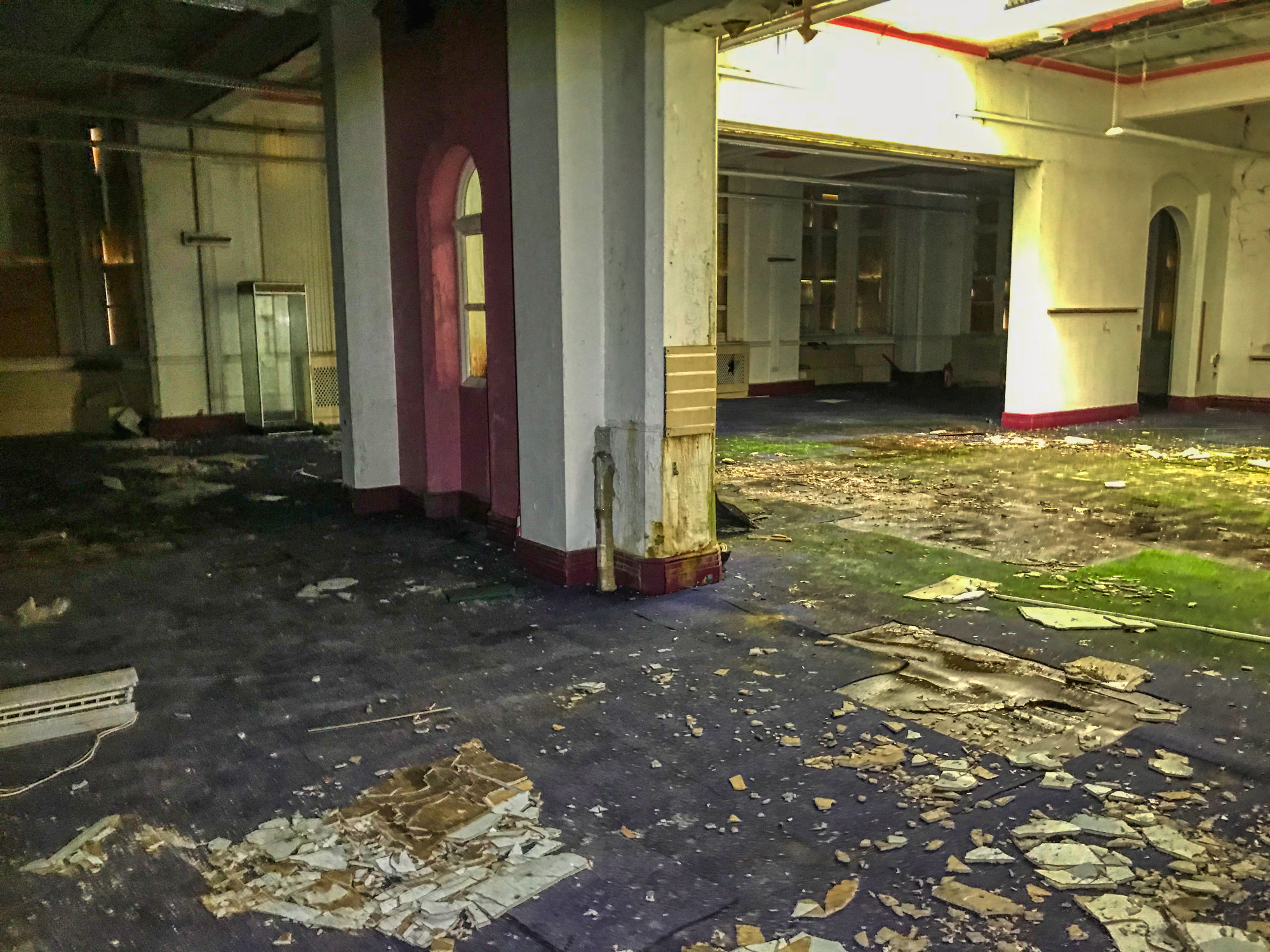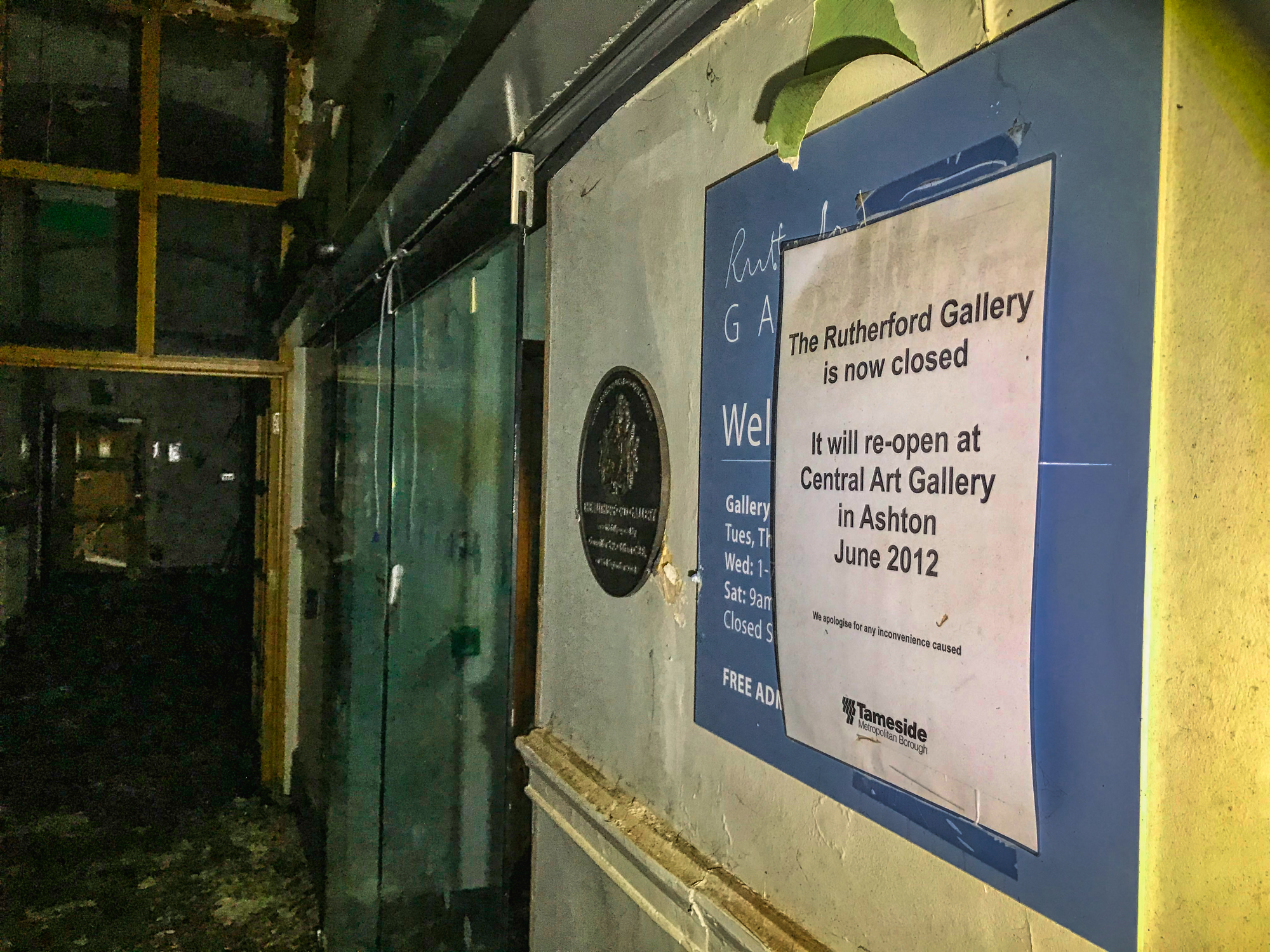 The Rutherford Gallery is not going to open, that is quite certain.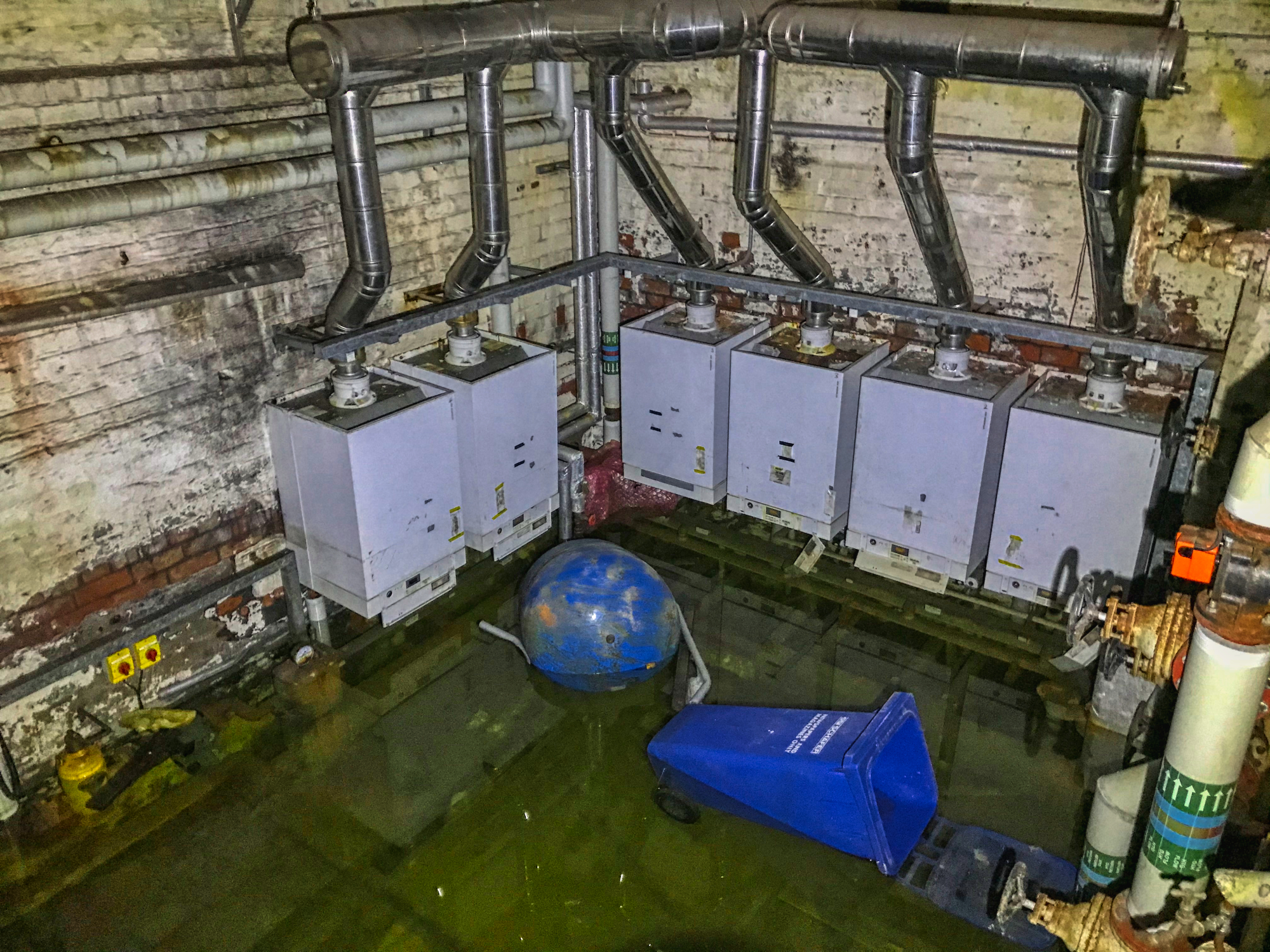 Some steps led us into a basement that was more than a little wet.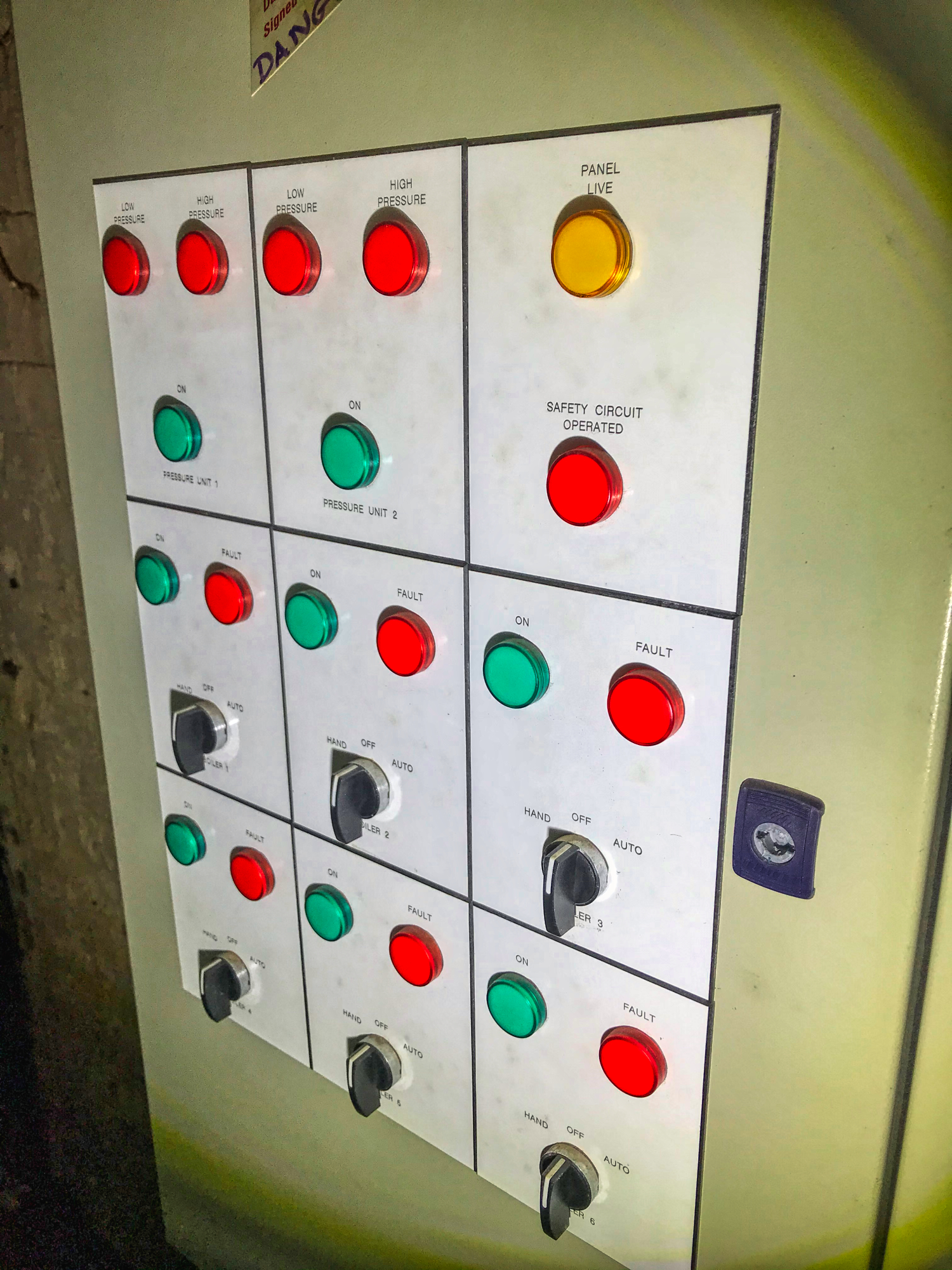 It almost looks new and those switches could do something.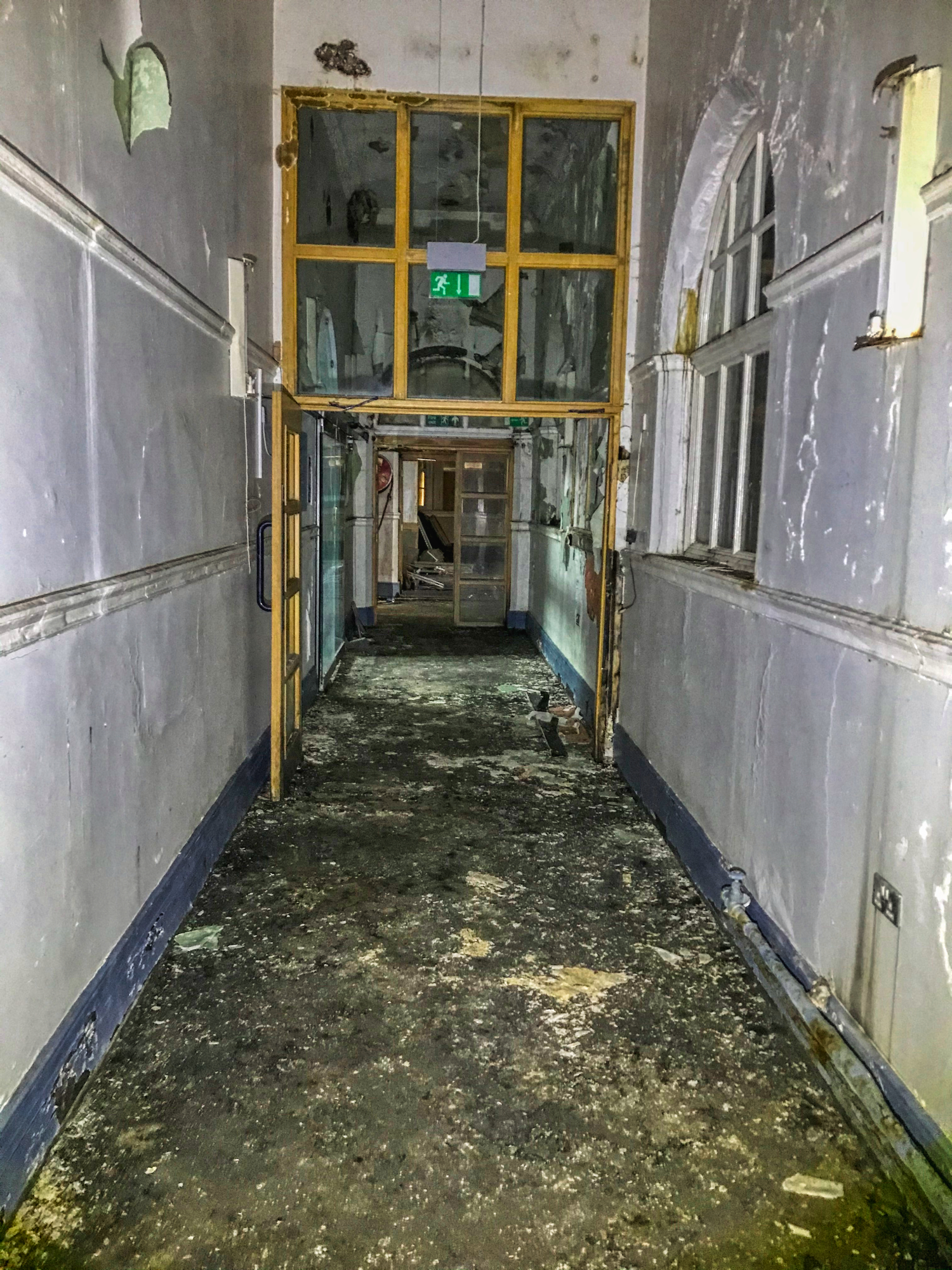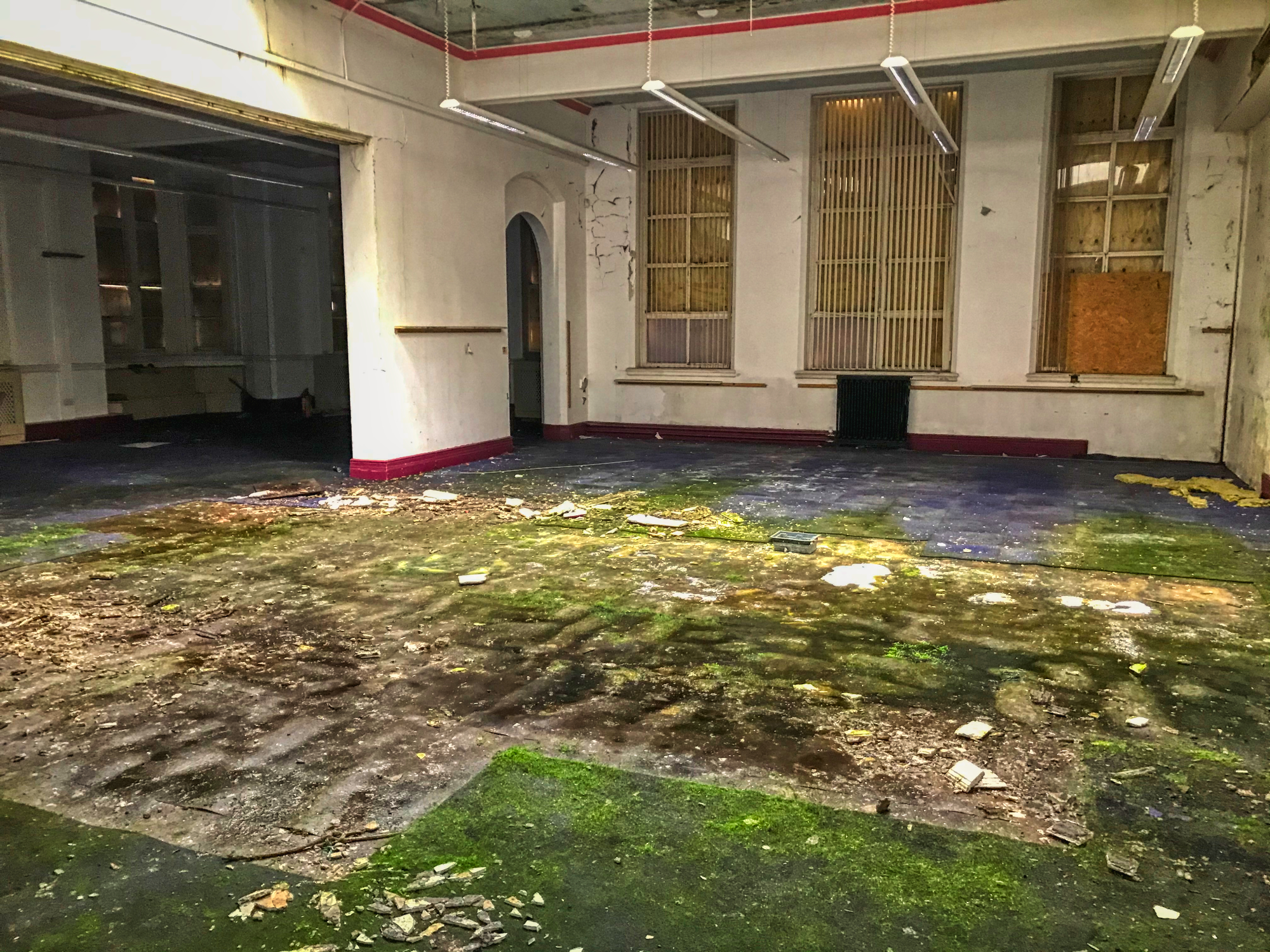 If you think it looks spooky and scary, you have to remember there were around SIX of us in there. It kind of defuses that element to a near nothing.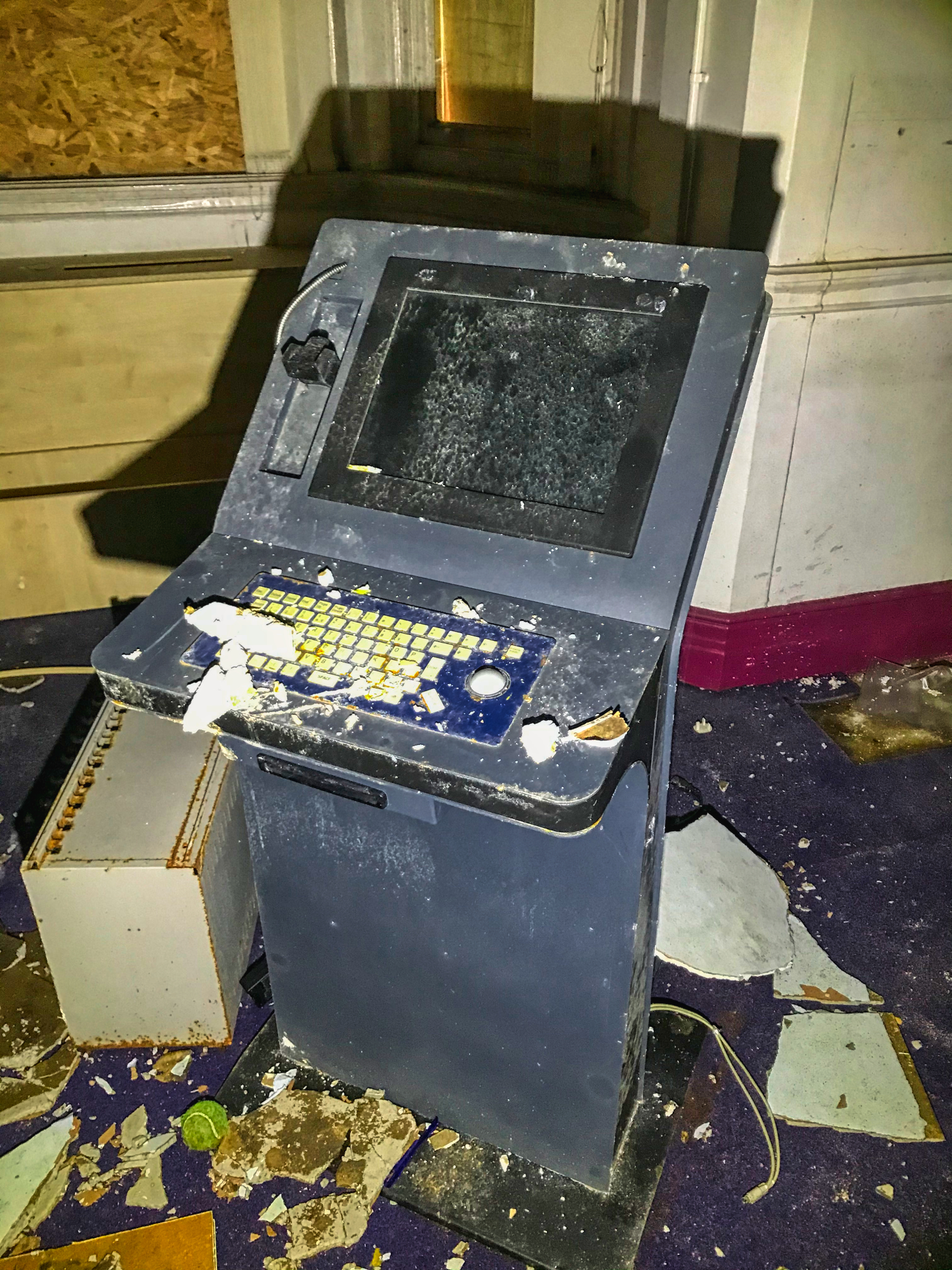 One of those login terminals for customers; it wouldn't spring to life no matter how much I coaxed it.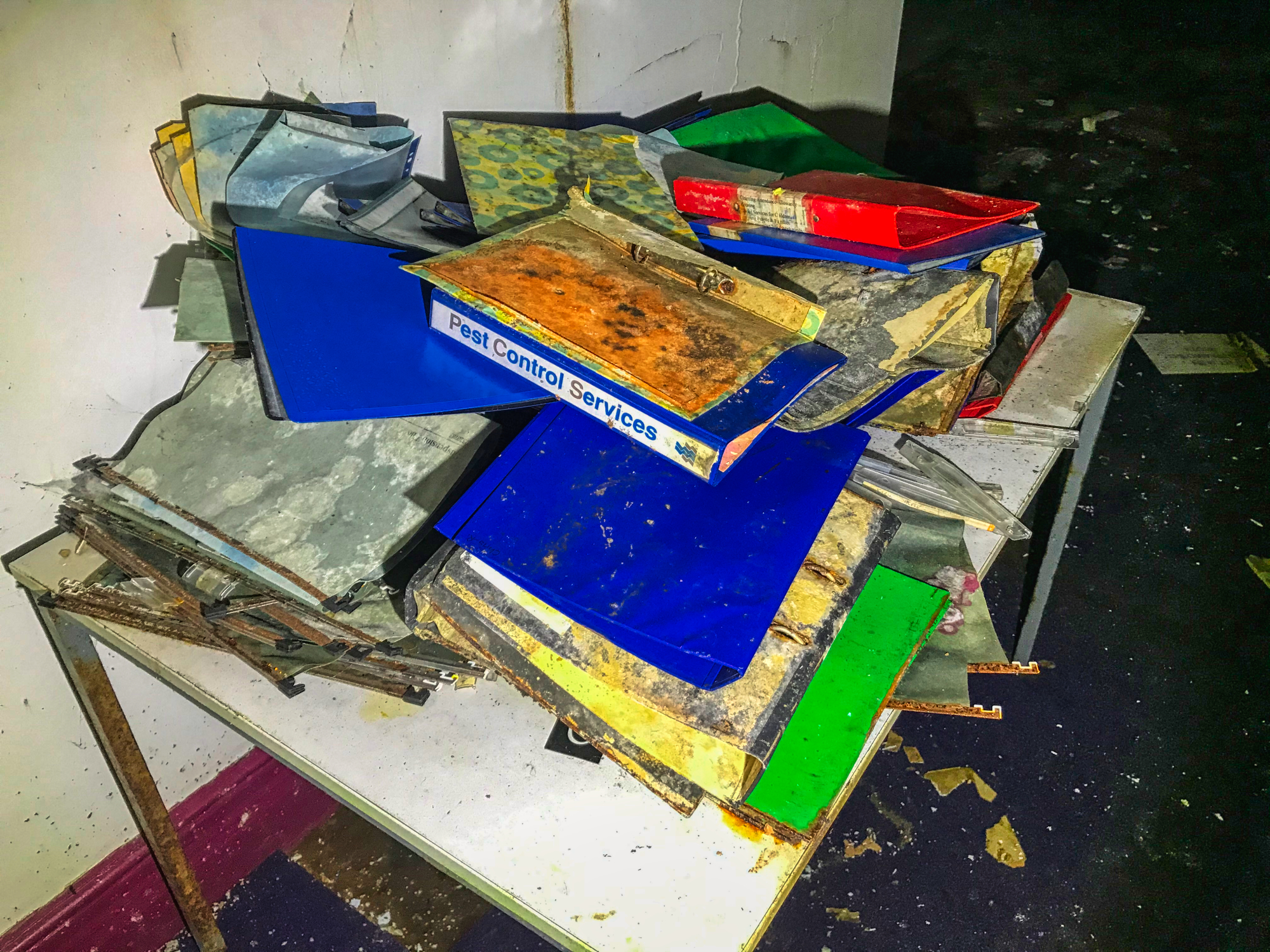 The old folders were just that. Not a scrap of paper in any of them. I thought there might have been a stray girlie magazine in at least one; most disappointing.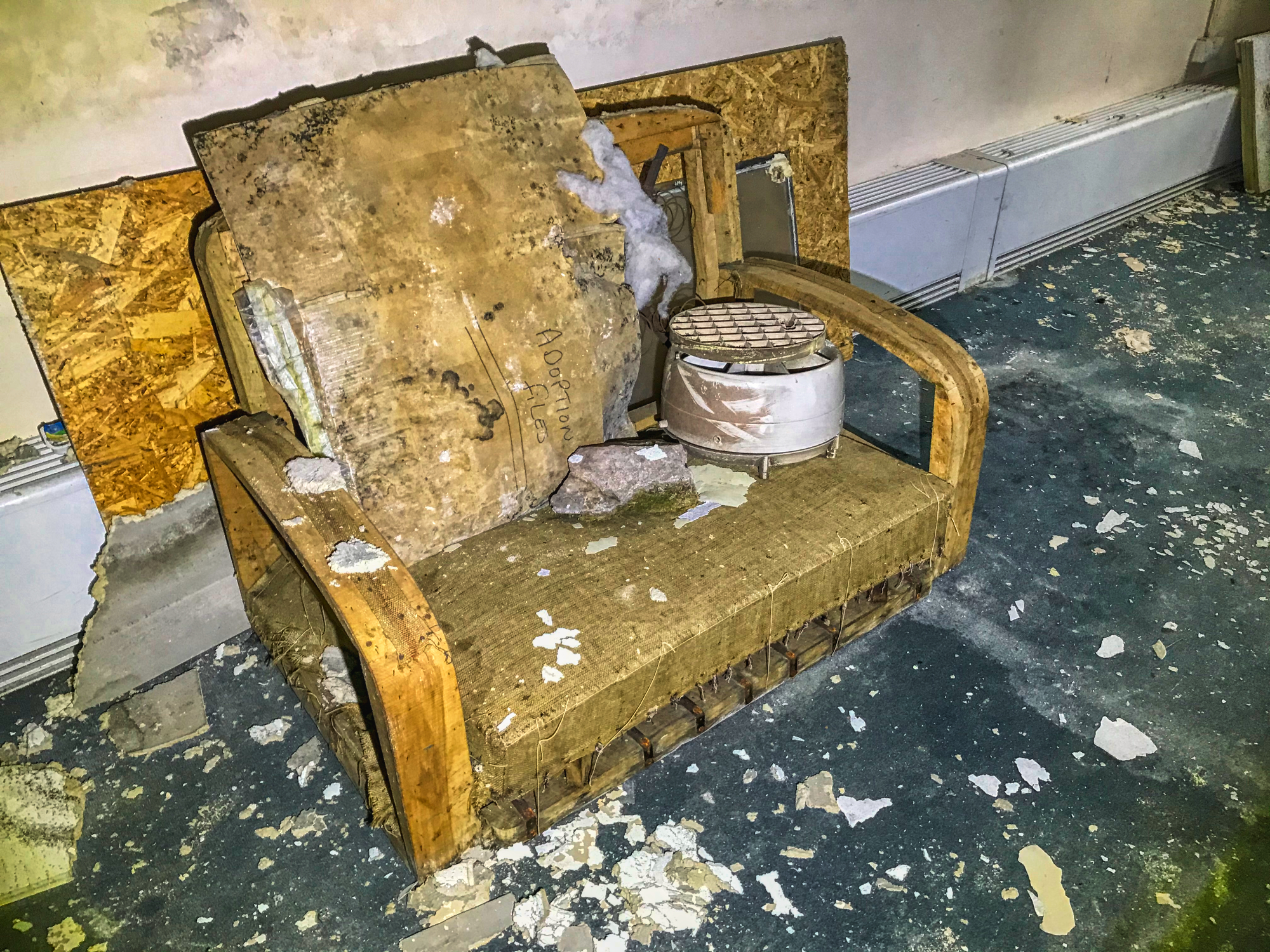 If you feel tired during your visit to the library there's always comfortable seating available.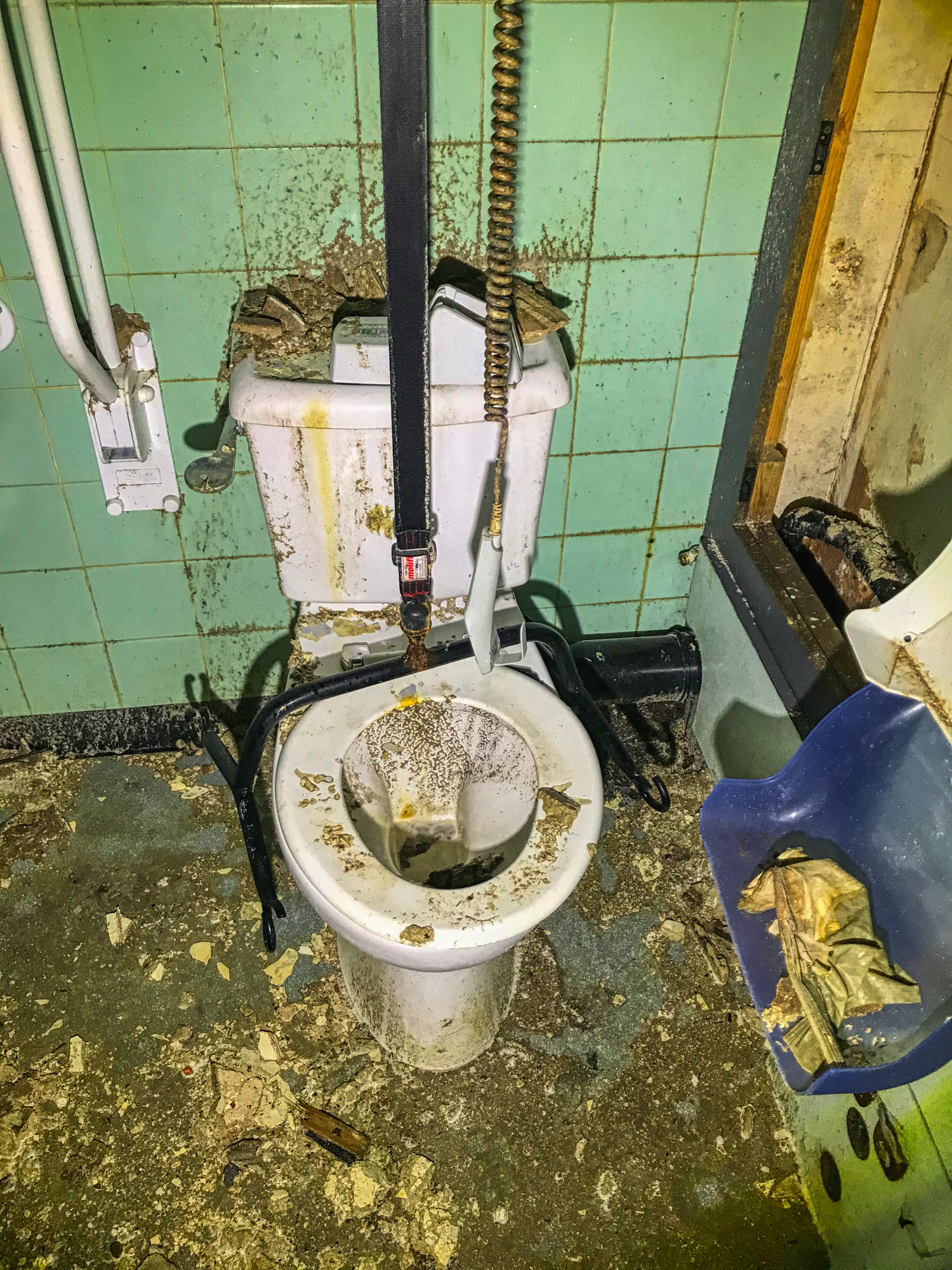 In several different places..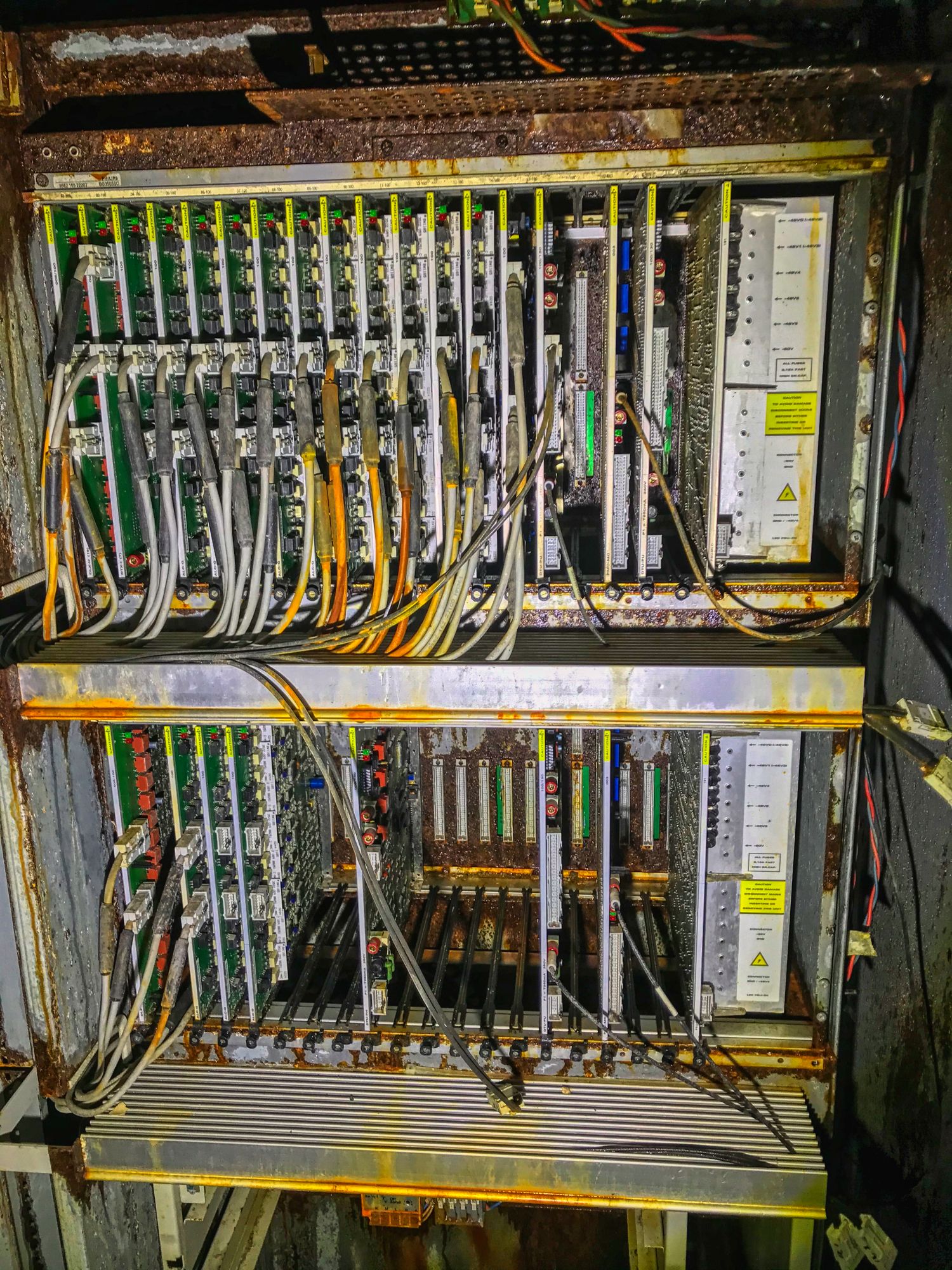 The server room was looking a little rusty. I doubt those connectors would function now.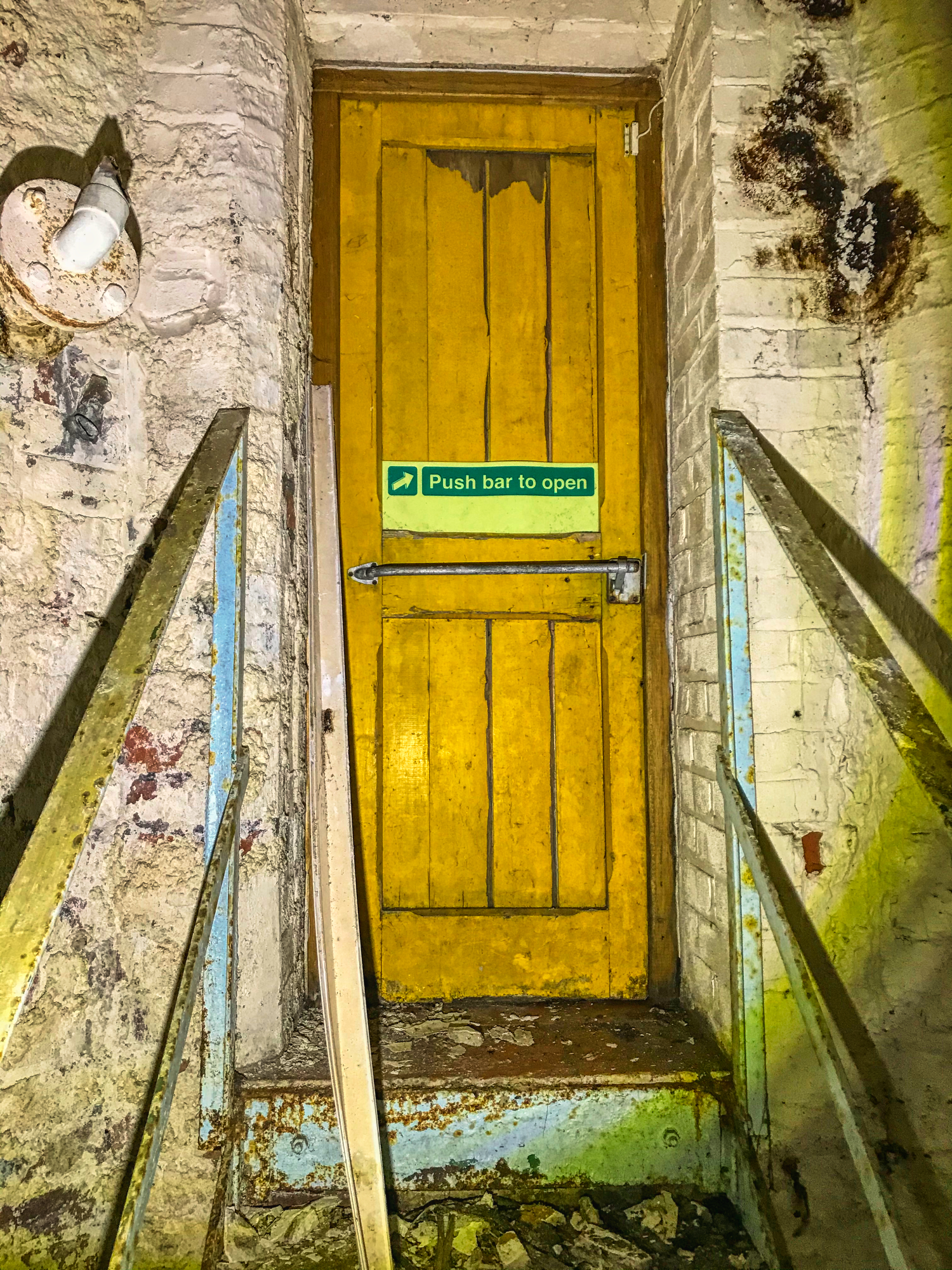 We pushed and heaved and the damn door would not open. Surely that's a breach of health and safety rules? I will send a report in later.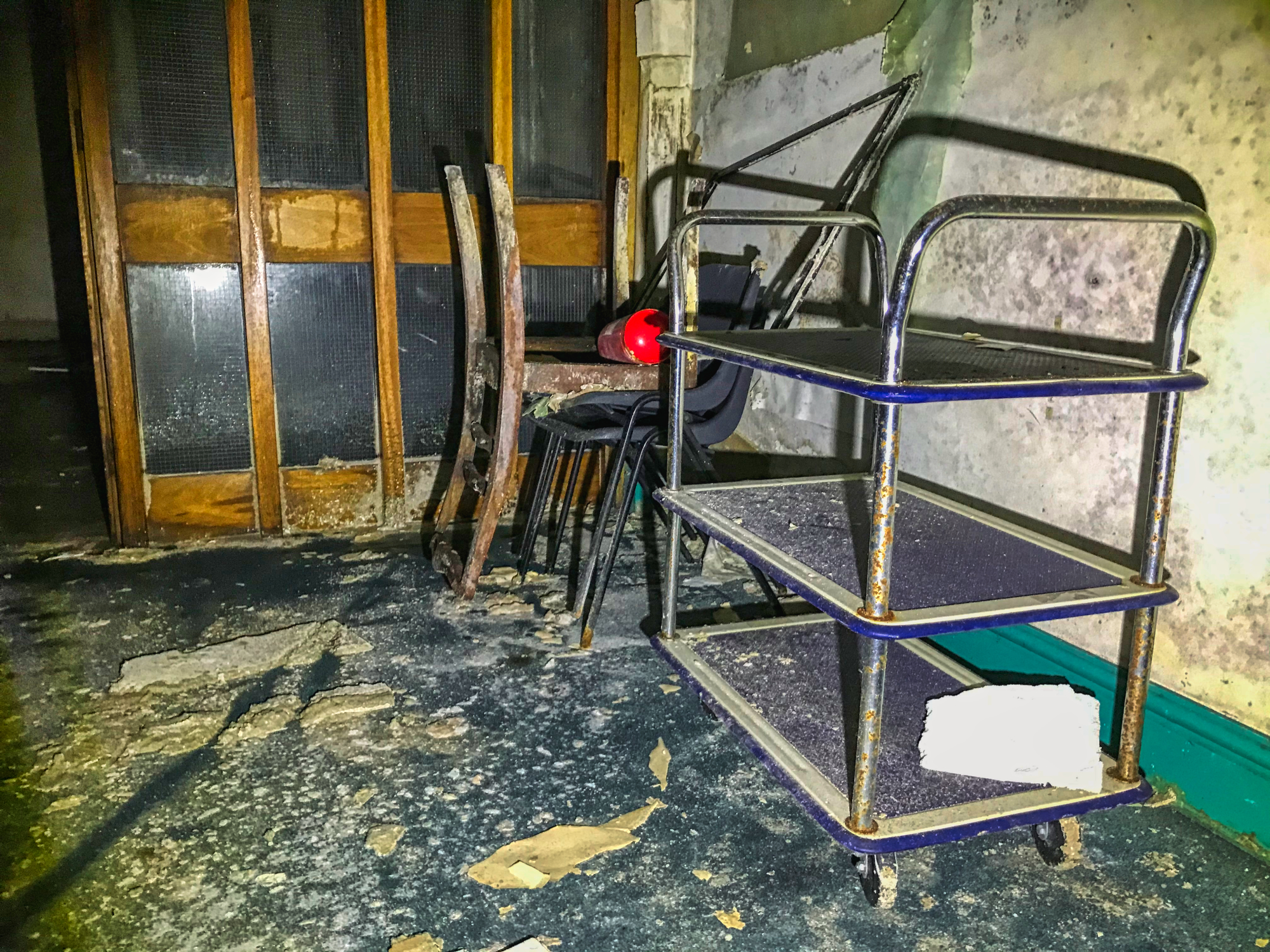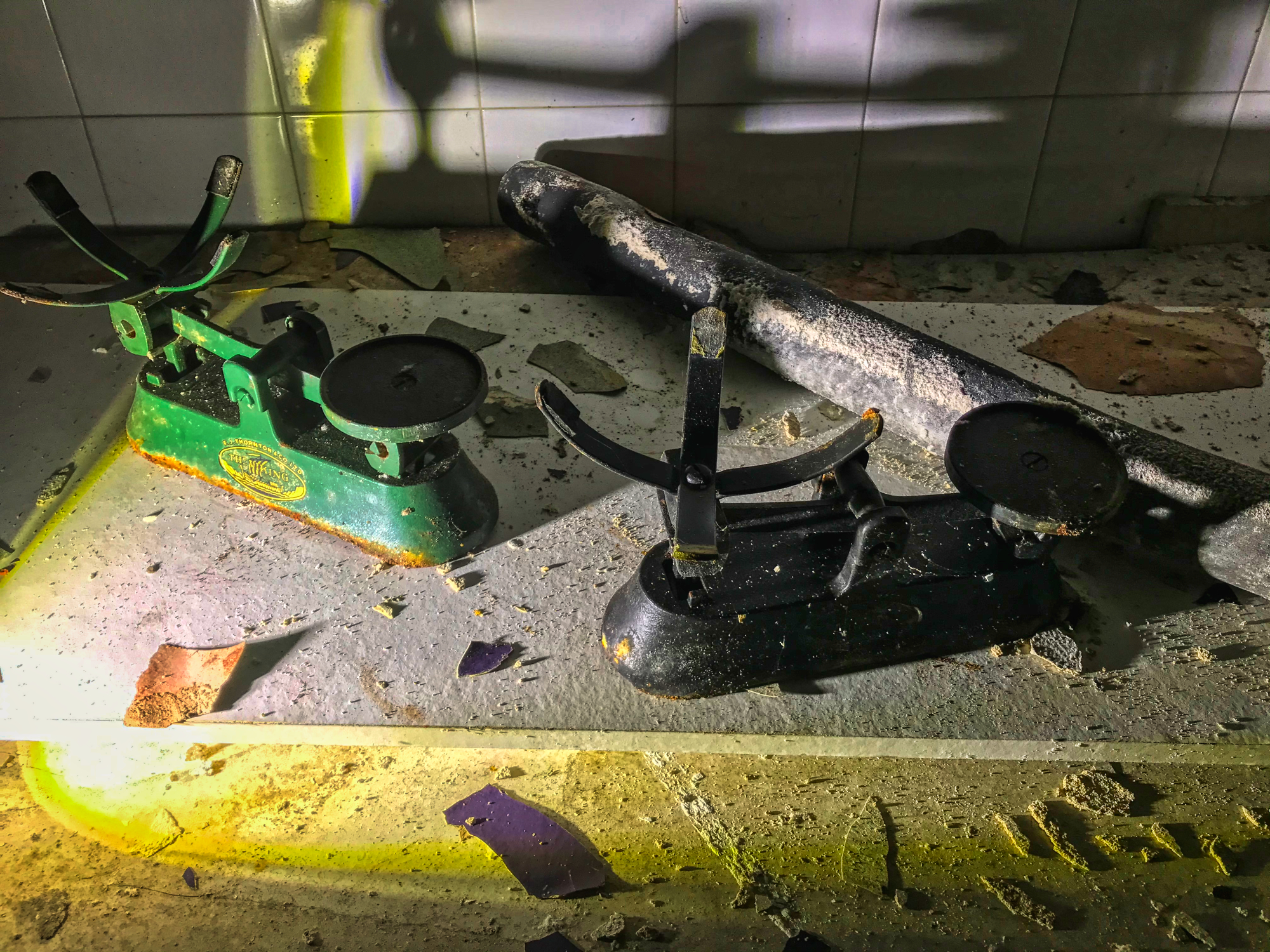 I would have thought these scales would be better located in that secret chemistry laboratory. Then I could have been sure about that 'dodgy powder'.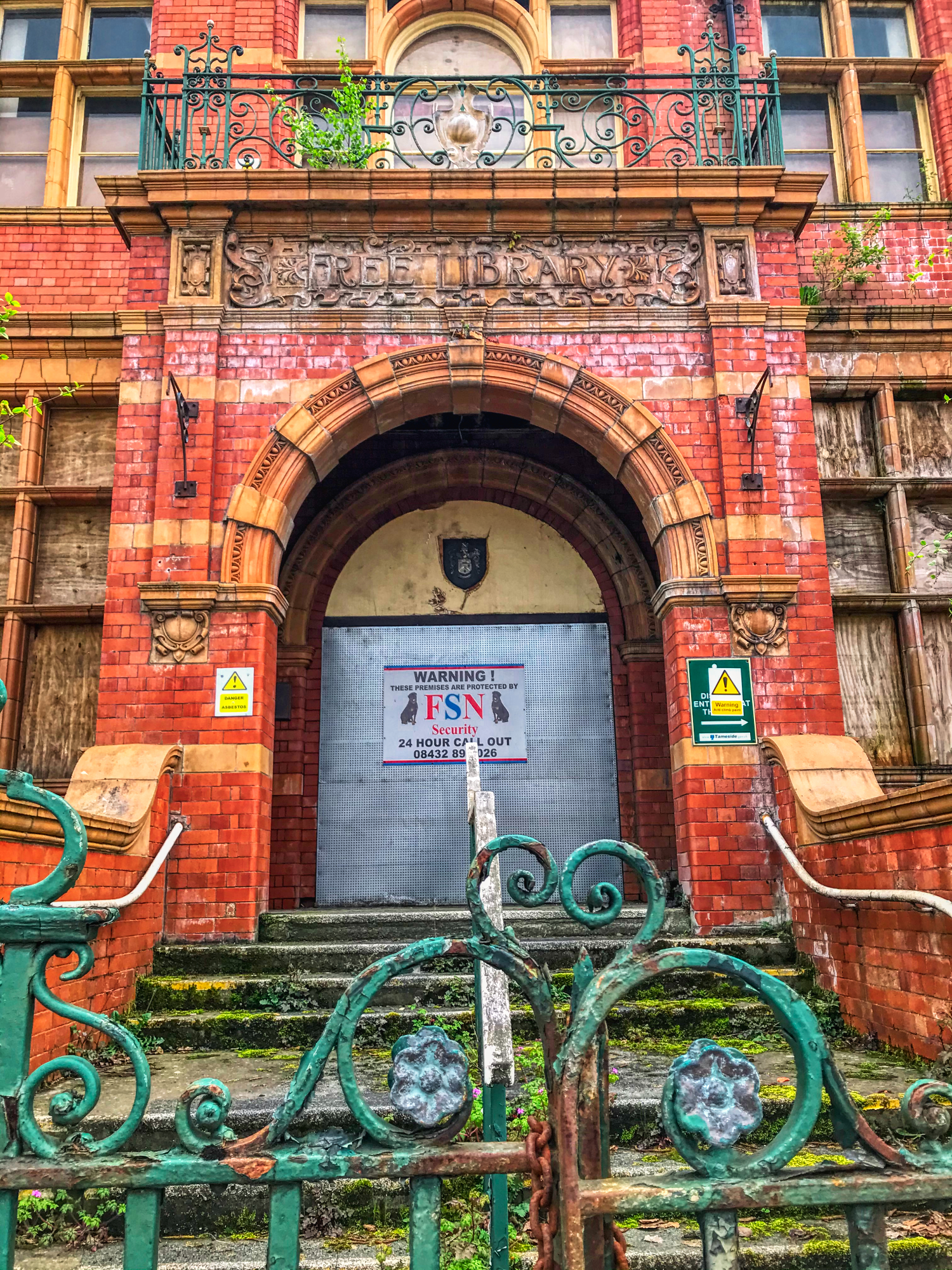 We spent around 45 minutes in Hyde Library. That's a big explore for us speed explorers. What a blast!

Do you like posting your Urbex content and photography for FREE on Facebook and YouTube? I like to get some form of reward for my work and every time I create I do just that. Take a look at The Urbex Community on HIVE.
If you want to keep creating for FREE then ignore what you are reading. If you want to be like me and gain something other than BUGGER ALL for your work then click here and learn about posting on the HIVE blockchain.


All my 'Tales' content is easy to find on my personal website:
'Tales of the Urban Explorer'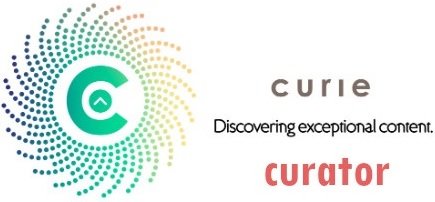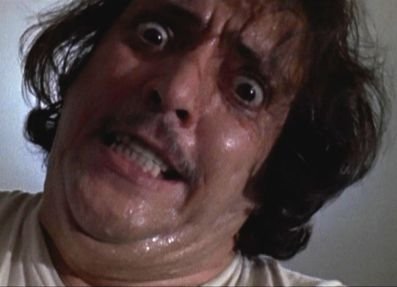 If you found this article so invigorating that you are now a positively googly-eyed, drooling lunatic with dripping saliva or even if you liked it just a bit, then please upvote, comment, rehive, engage me or all of these things.
---
---