Tales of the Urban Explorer: Finsley Gate Mill
Many times I had driven past it; once it was a huge factory but now there is barely anything left.
Albion Mill is next to it, in the mid-1800s, the north of England was crammed with these goddam awful places forcing people to work for peanuts.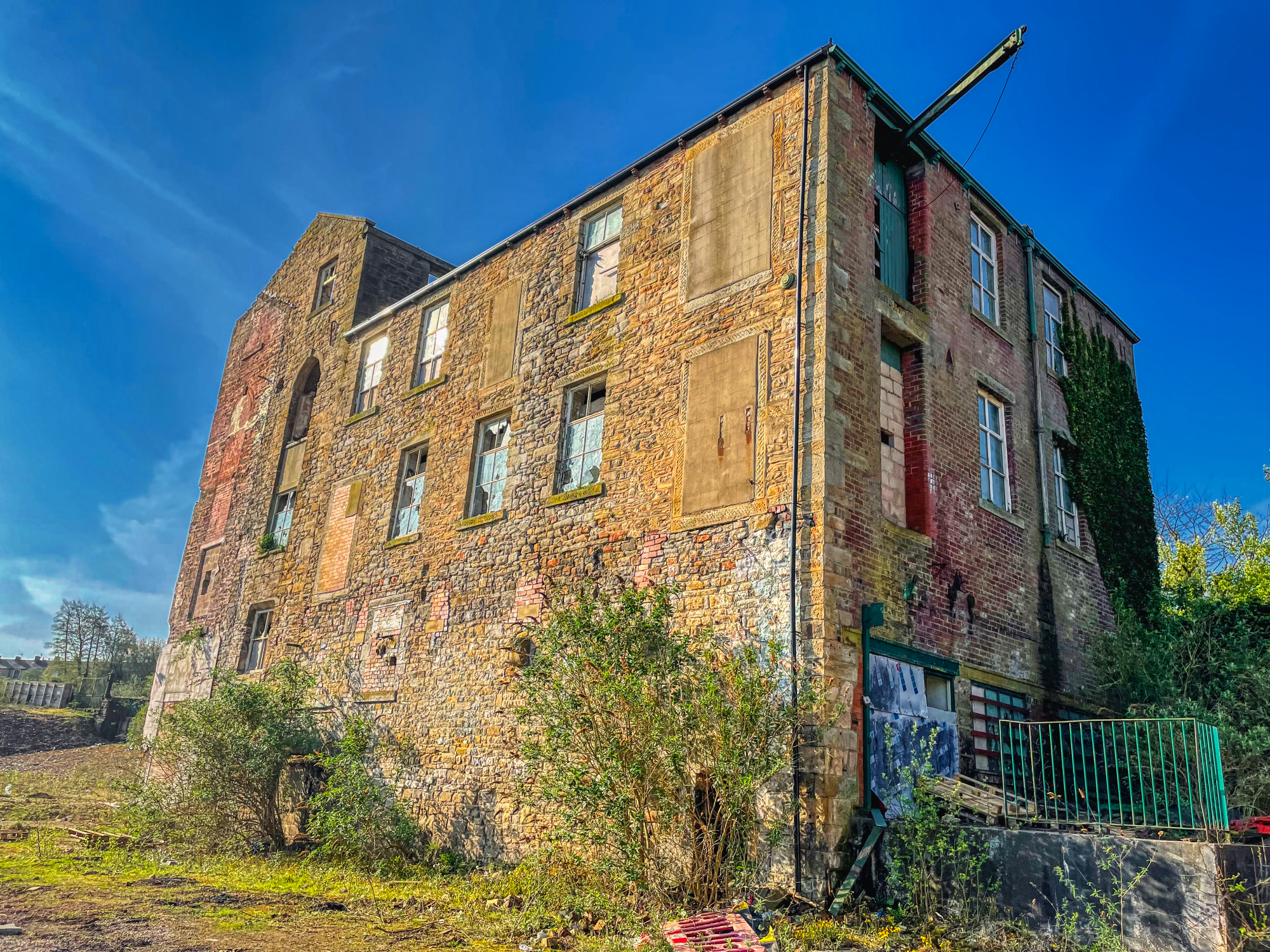 I know as I endured less than 2 weeks in one of these shitholes when young, before walking out. I would rather be unemployed than be subjected to those wank conditions.
Even in the 1980s, The Horrors of Kwiksave was a step up in quality. Mills treated their employees worse than Mort, that is a fact.
In today's world, I can track down what's left of Britain's Industrial revolution and enter old Mills, secure that I won't lose any more of my hearing due to the constant 120-decibel noise, be bullied by middle-aged blokes who take out their life anger on young lads, or gassed when entering one of those foul smoking rooms where the walls are brown and sticky.
…'Finsley Gate Mill' in 2011. The greater part would be demolished in 2016. It would have made for a fine exploration then'…
Source
The mill dates back to 1820 and an article from 2013 states it is likely to be demolished, and replaced by housing. Nine years later, the housing is yet to appear.
@bingbabe had gone for a run at the local park and I stood outside 'Finsley Gate Mill', intent on entering solo.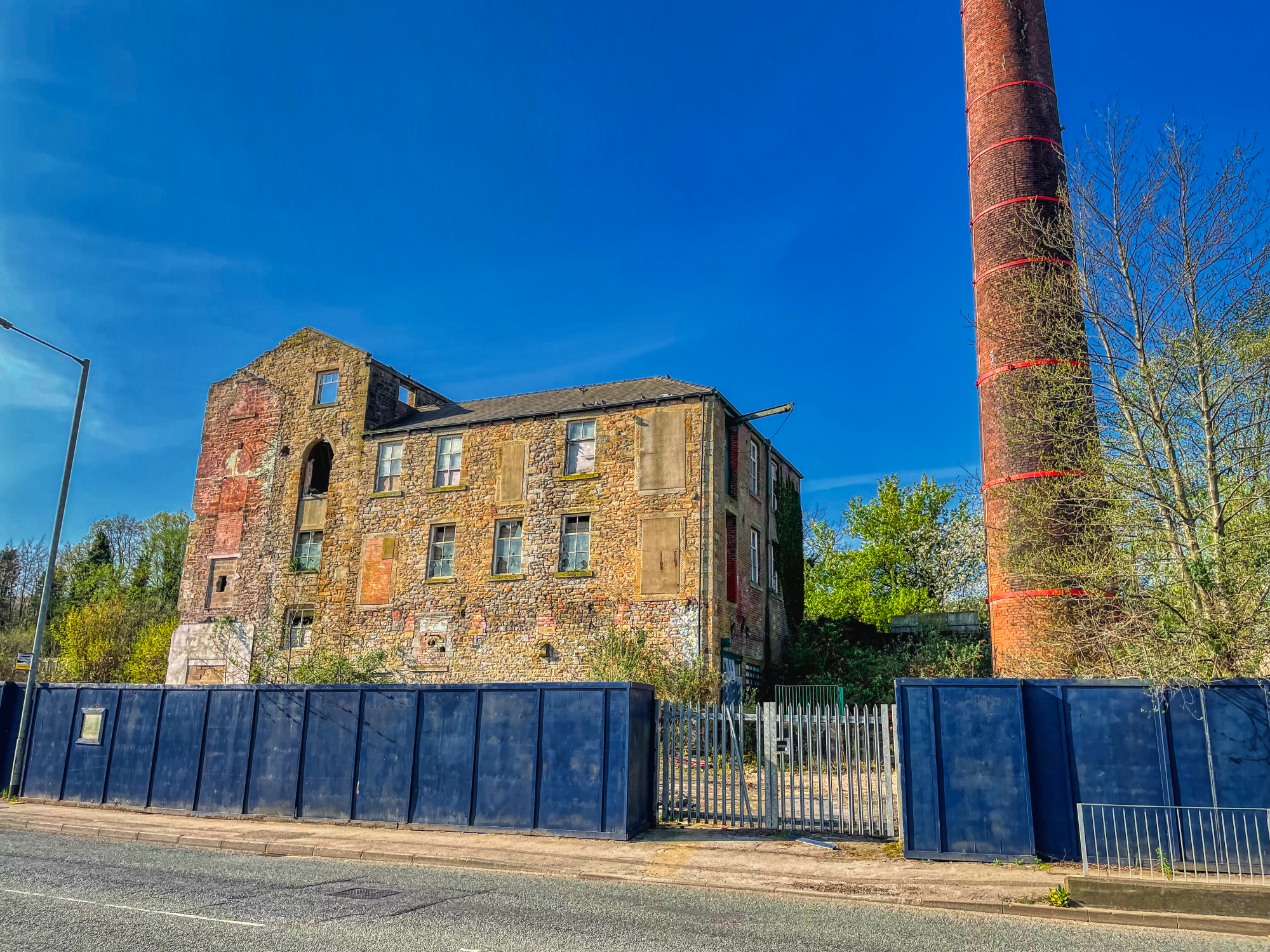 The pallaside fencing had been compromised and I can fit through those gaps, just. Slipping inside after checking for passing motorists and very aware of the local police station just around the corner I entered the grounds.
The blue boarding was shielding me a little from nosey bastards at this point.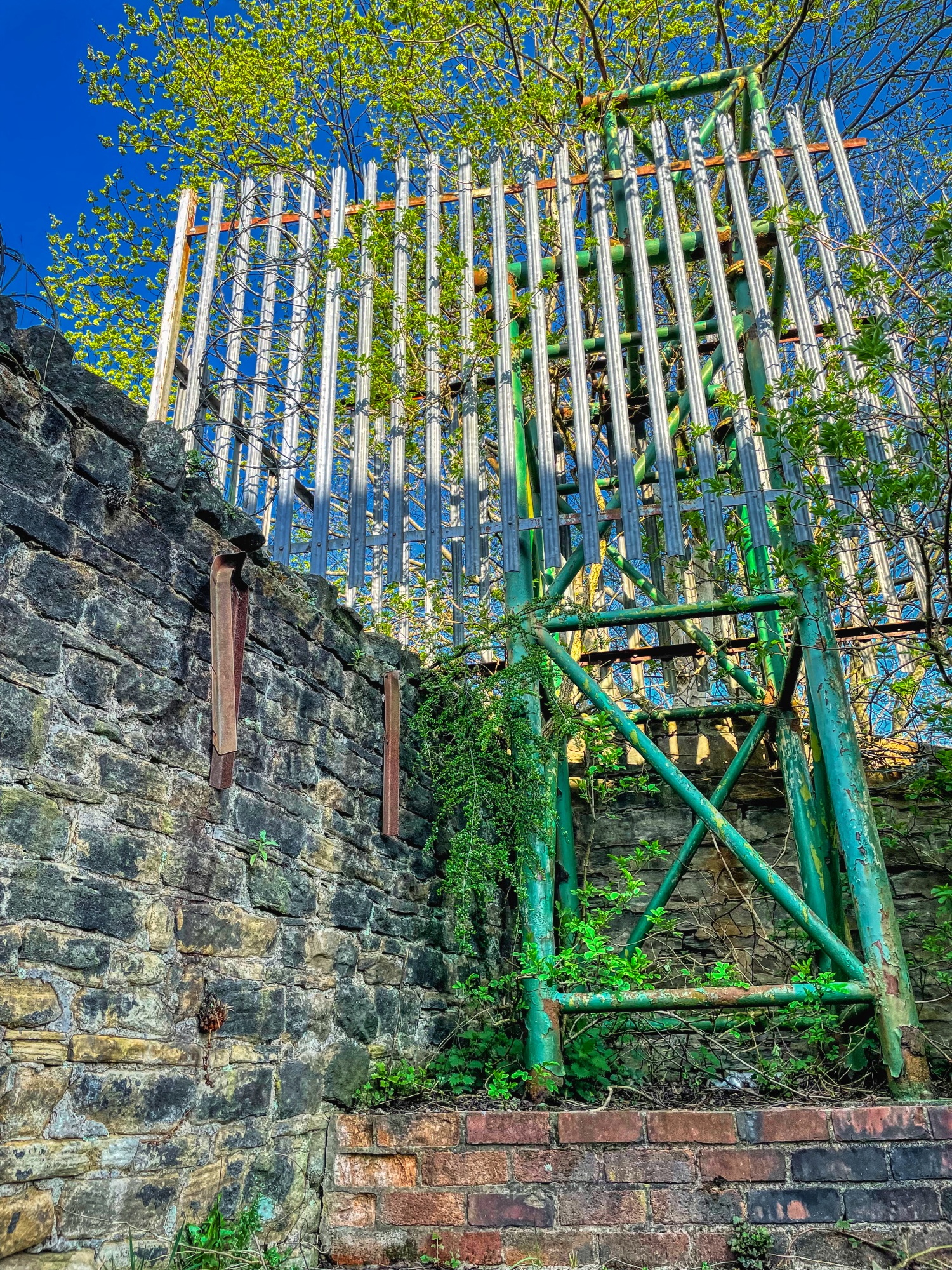 Walking to what looked like an access point I noted they had gone to some effort to keep people out via the canal entrance.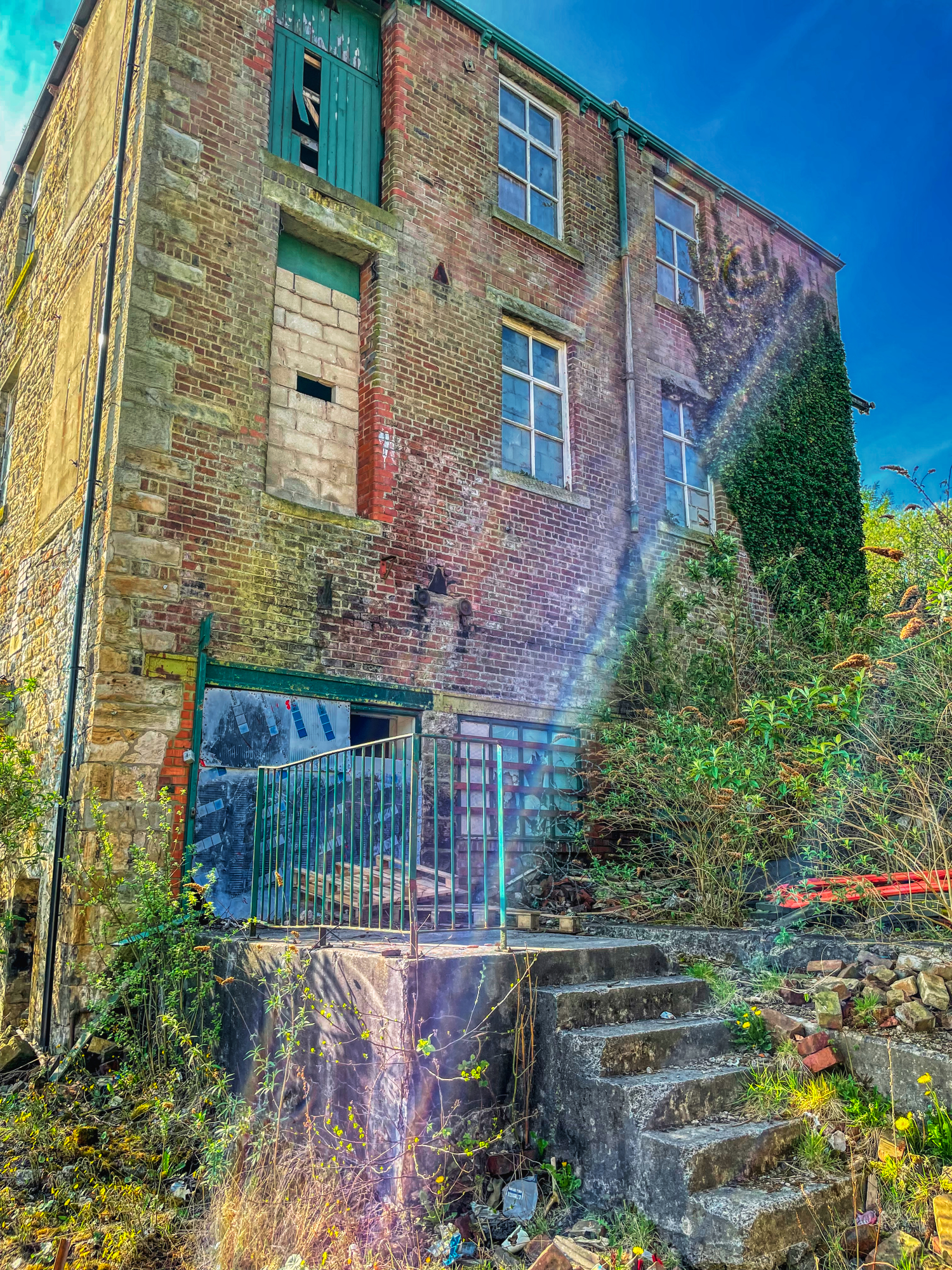 The gap looked awkward and required me to balance on a wonky pallet. It was that thin sheet metal that crunches your nuts. I could see my balls were in for a rough time.. again.
After some struggling, I entered a dark large room devoid of light. This was to be my second attempt at 'Finsley Gate Mill', the first being a fail as I forget 'the big light'.
Inside was predictably bare, with large pools of fetid water underfoot.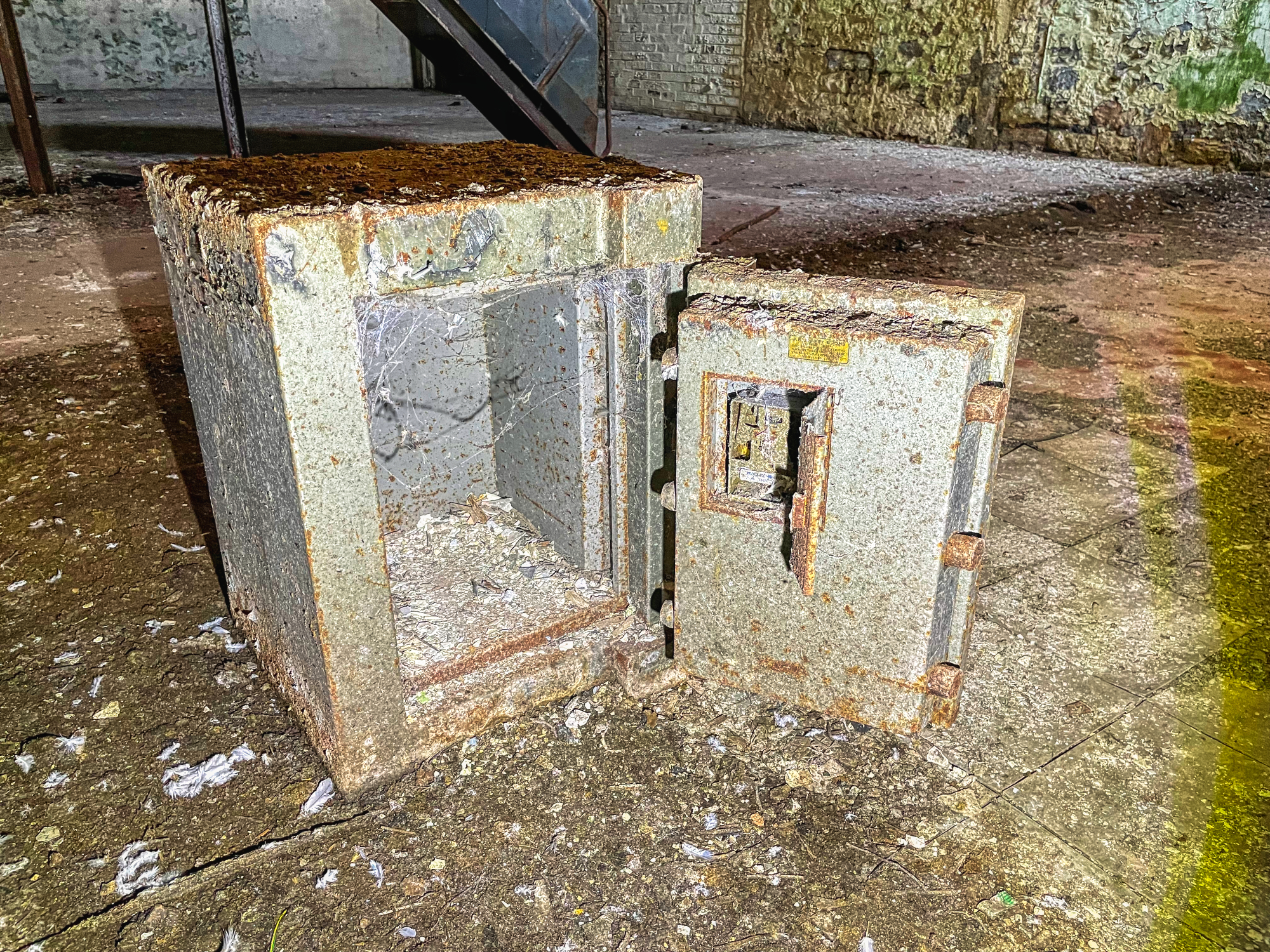 The room beyond looked mostly made of rust and contained an unmovable safe. Besides an impenetrable fence at the far end, the only way was up.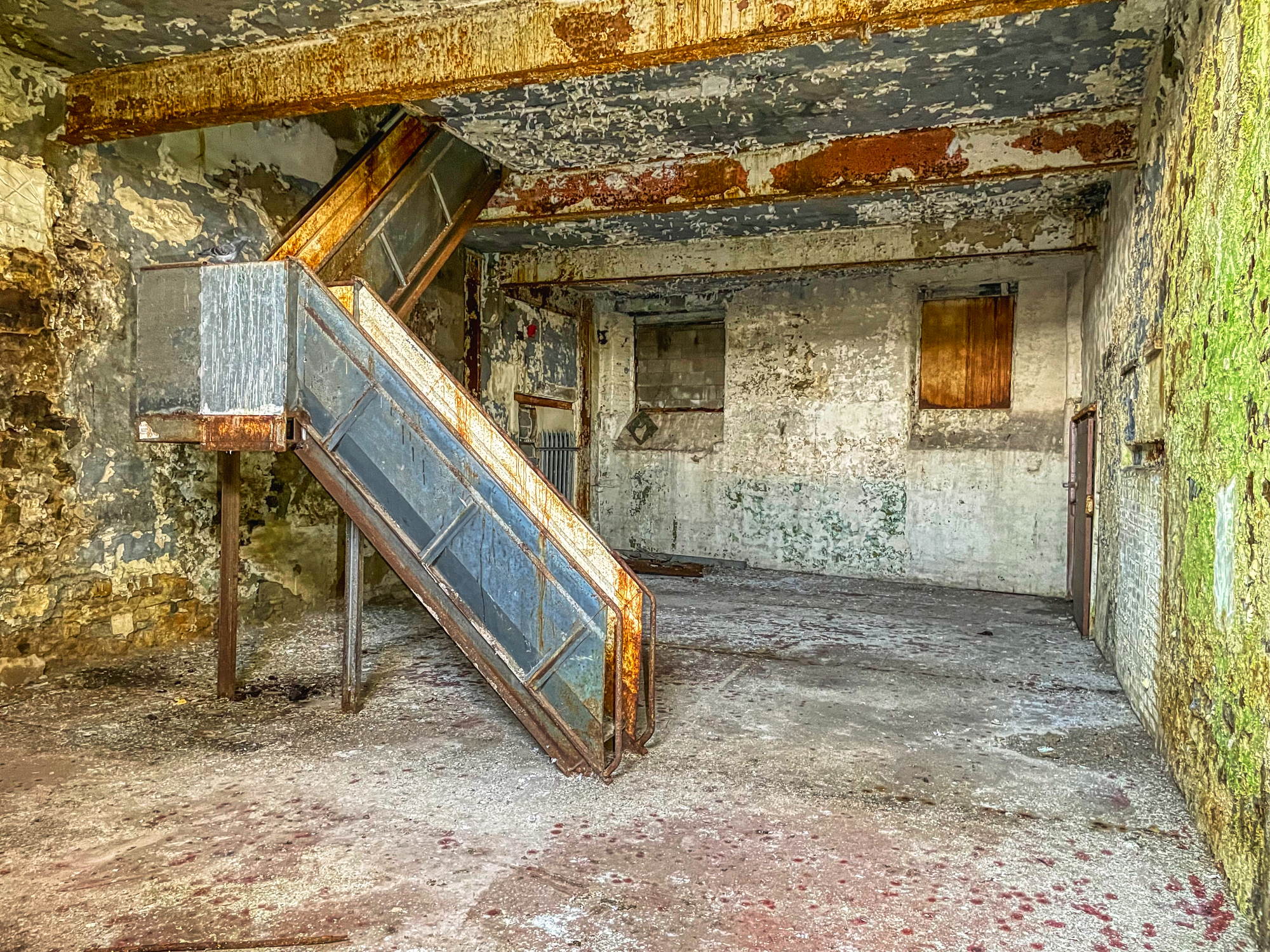 The metal stairway was secure enough, and I found myself on the second floor.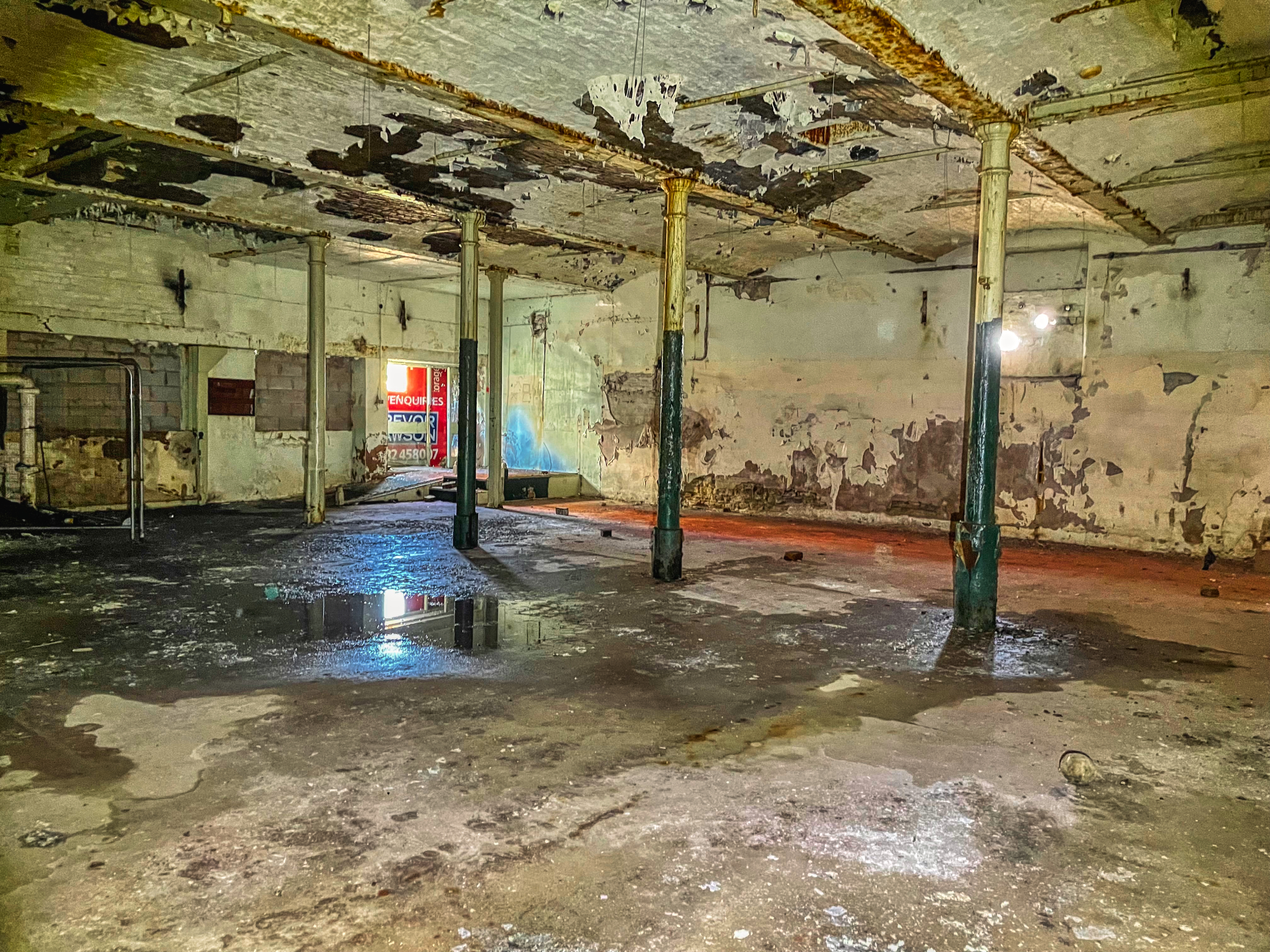 It was getting more squelchy by the minute, and about as fascinating as the ground floor.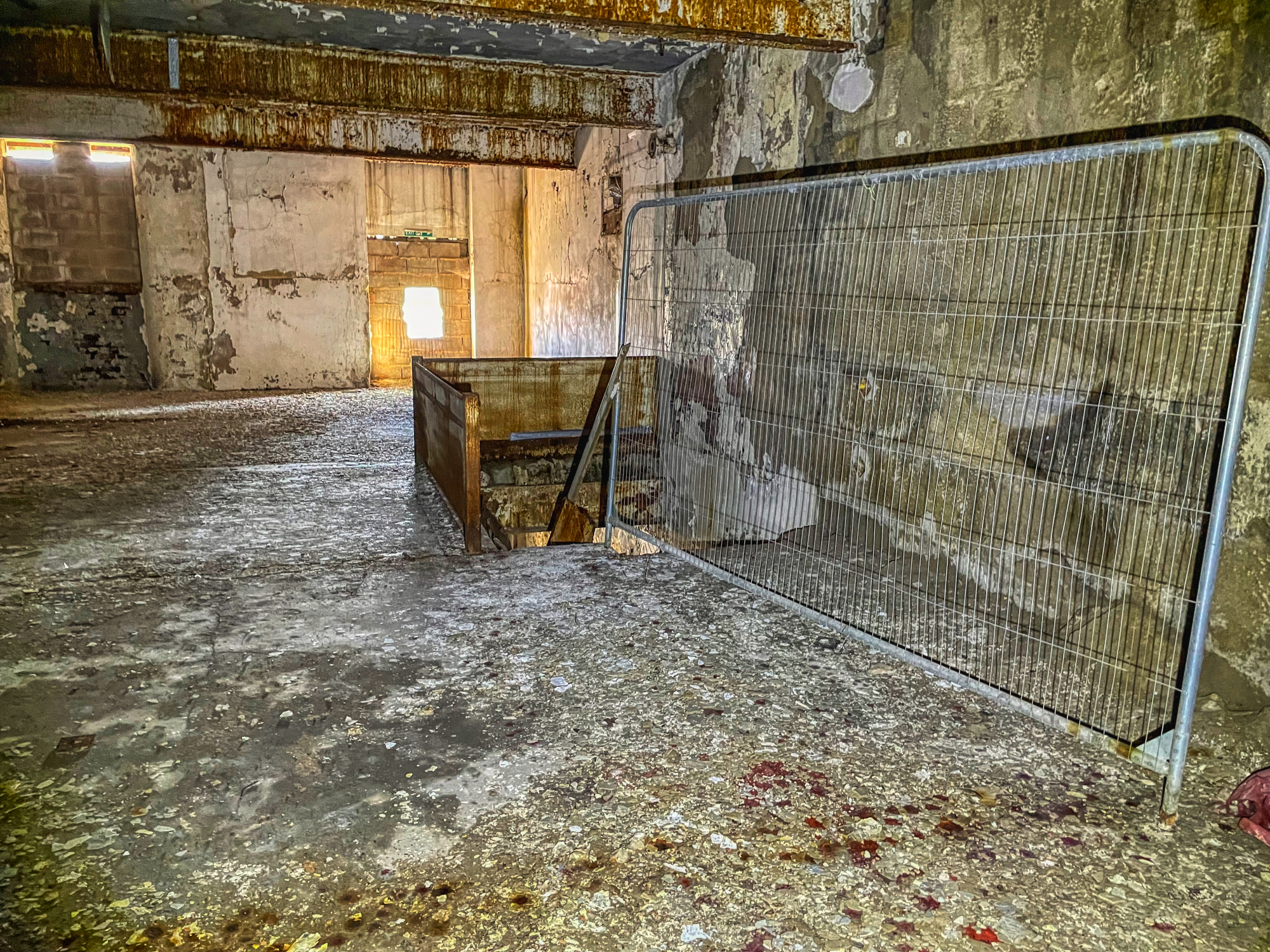 This piece of anti-climbing fence must have lost its way in life, shuffled up those stairs, and resigned itself to be forever alone. I patted it softly and advised a little counseling.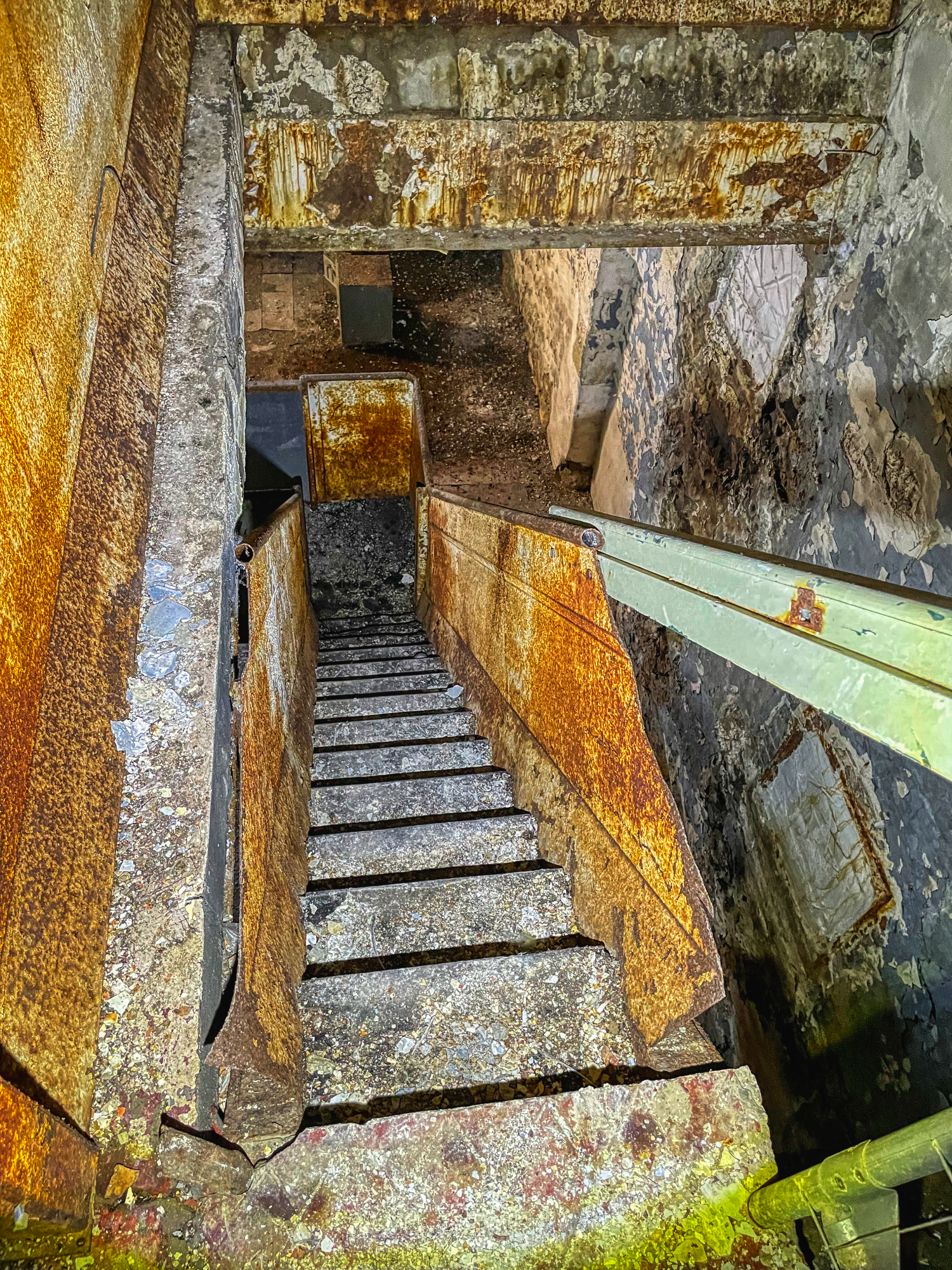 …'it might look ropey, but it was quite safe, as long as you tiptoe and don't breathe'…

From here I was awarded fabulous views over industrial Burnley. Is this what it looks like from a jail cell?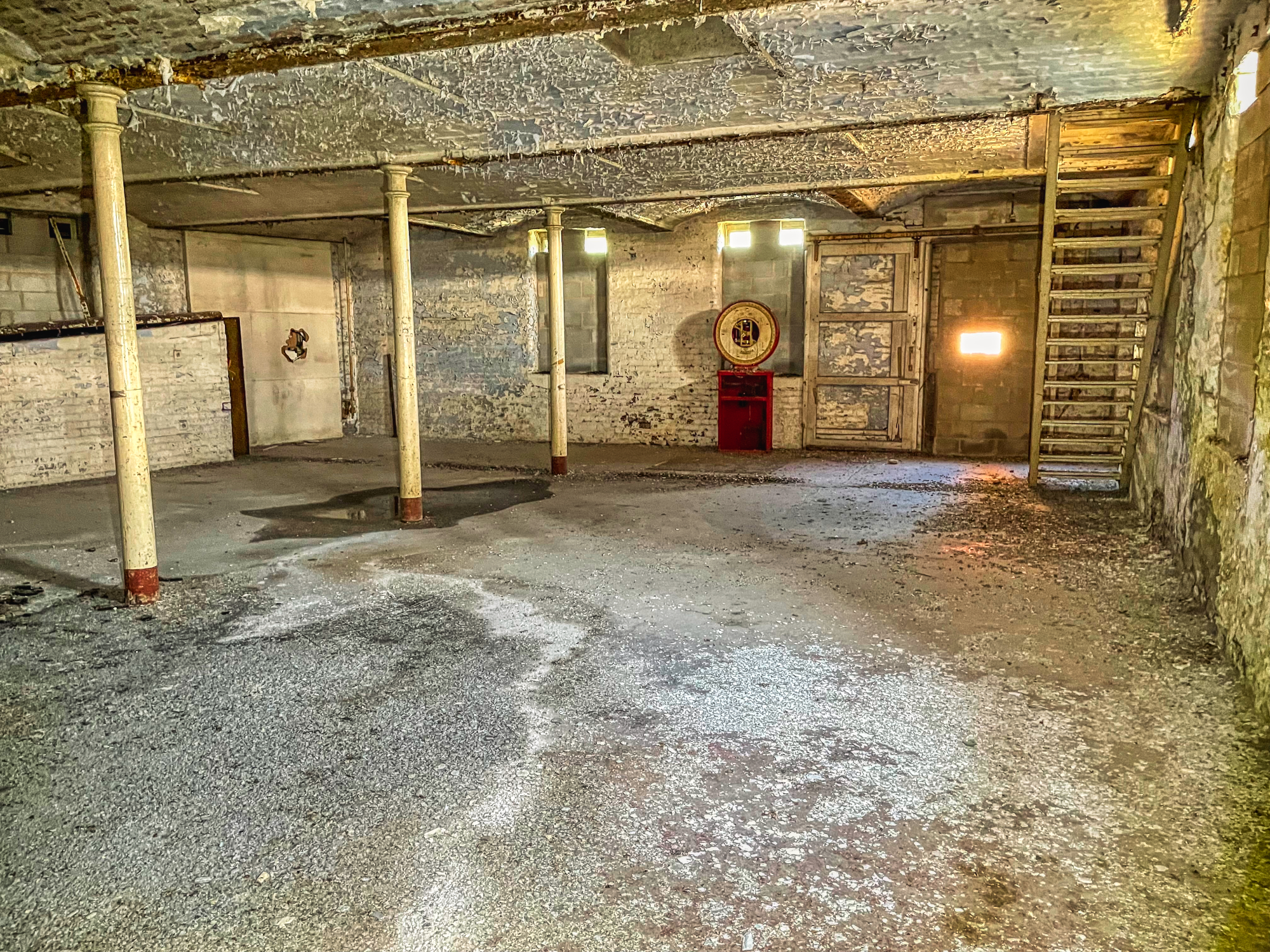 Yet more steps beckoned and something had been left behind.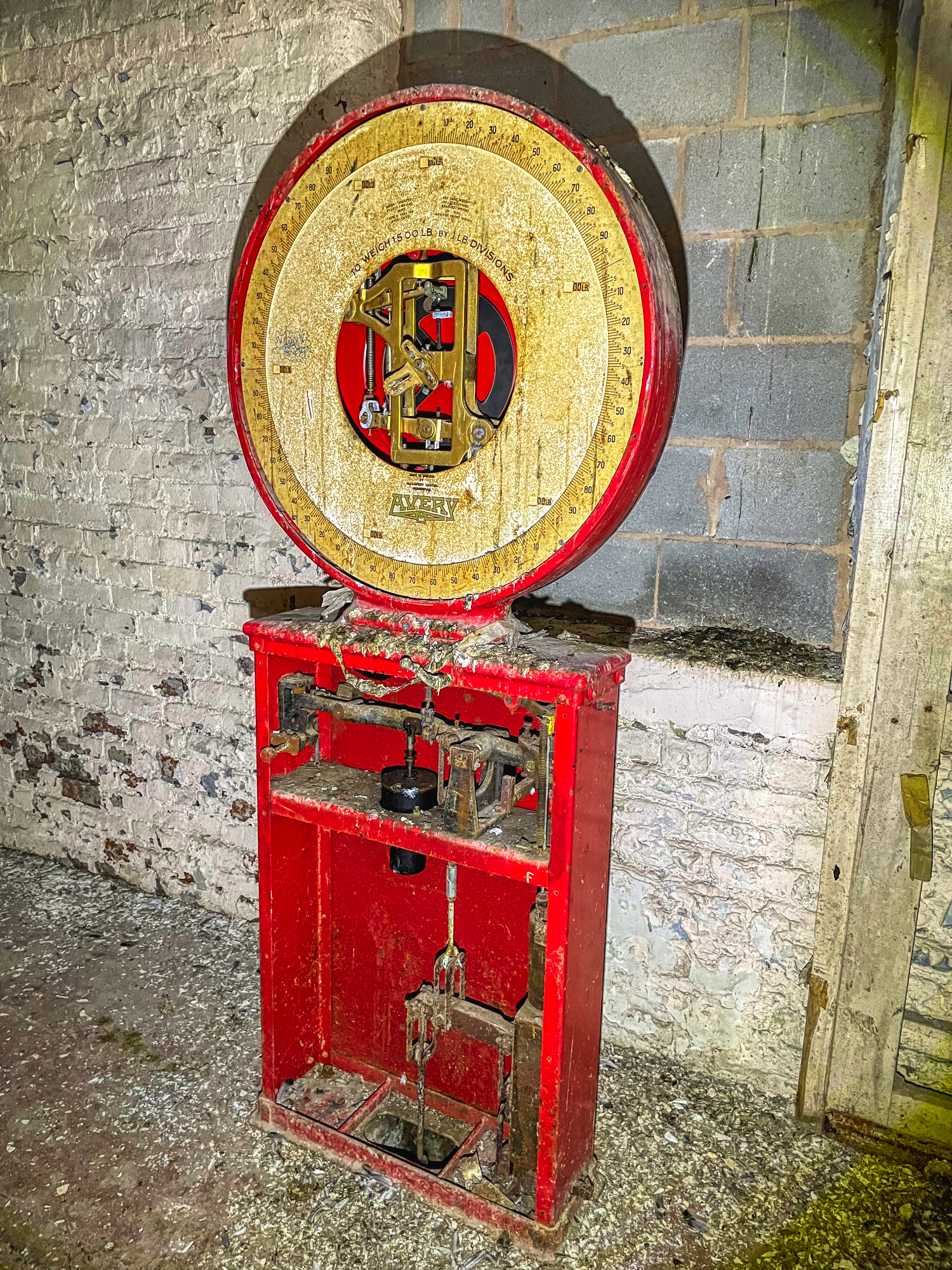 The dial was missing so I couldn't be shocked to see how fat I had become. Perhaps that was a blessing.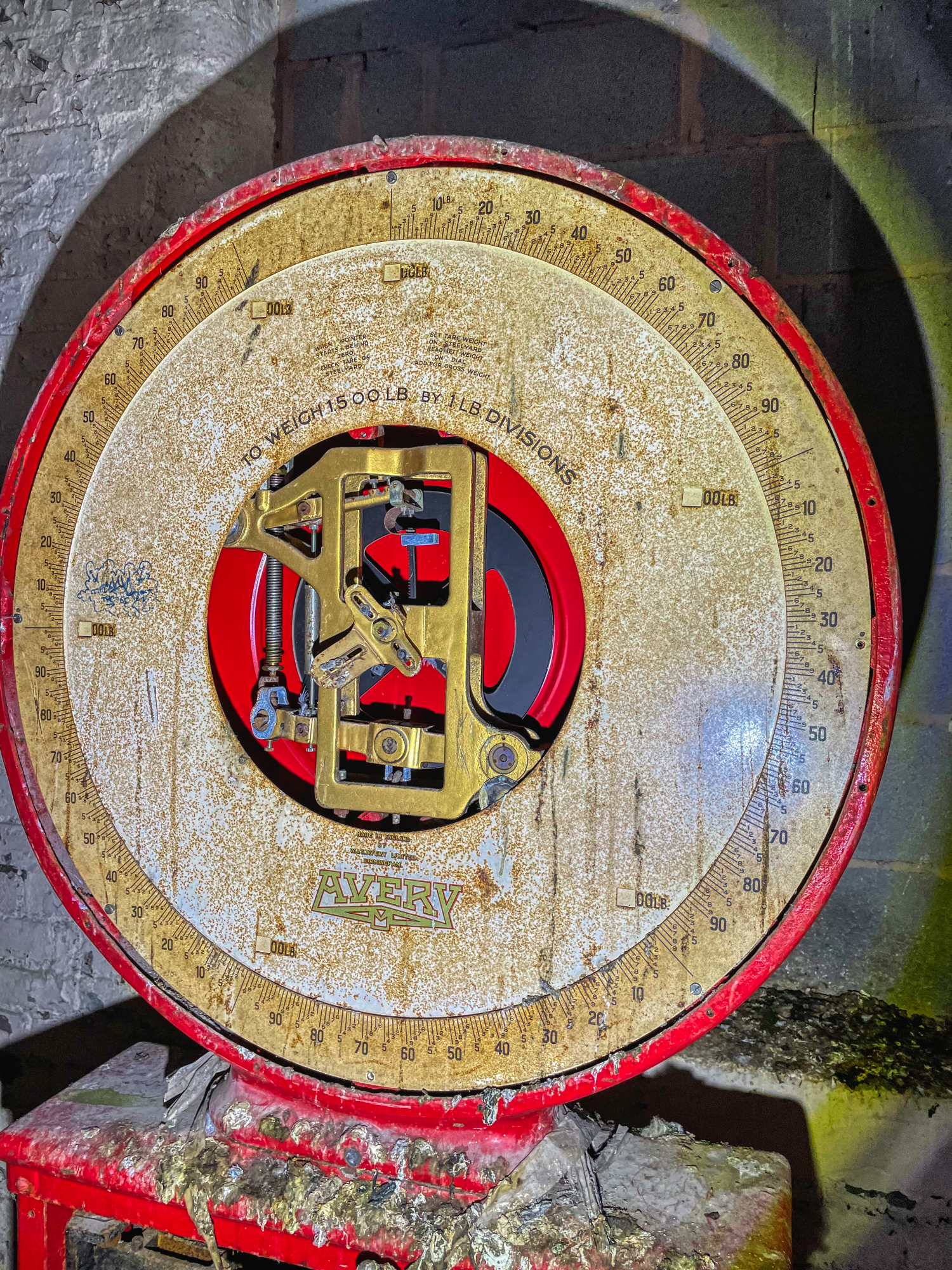 You won't find Kilograms here, this is old-style Pounds.
The next lot of stairs awaited and once again they were those solid metal ones.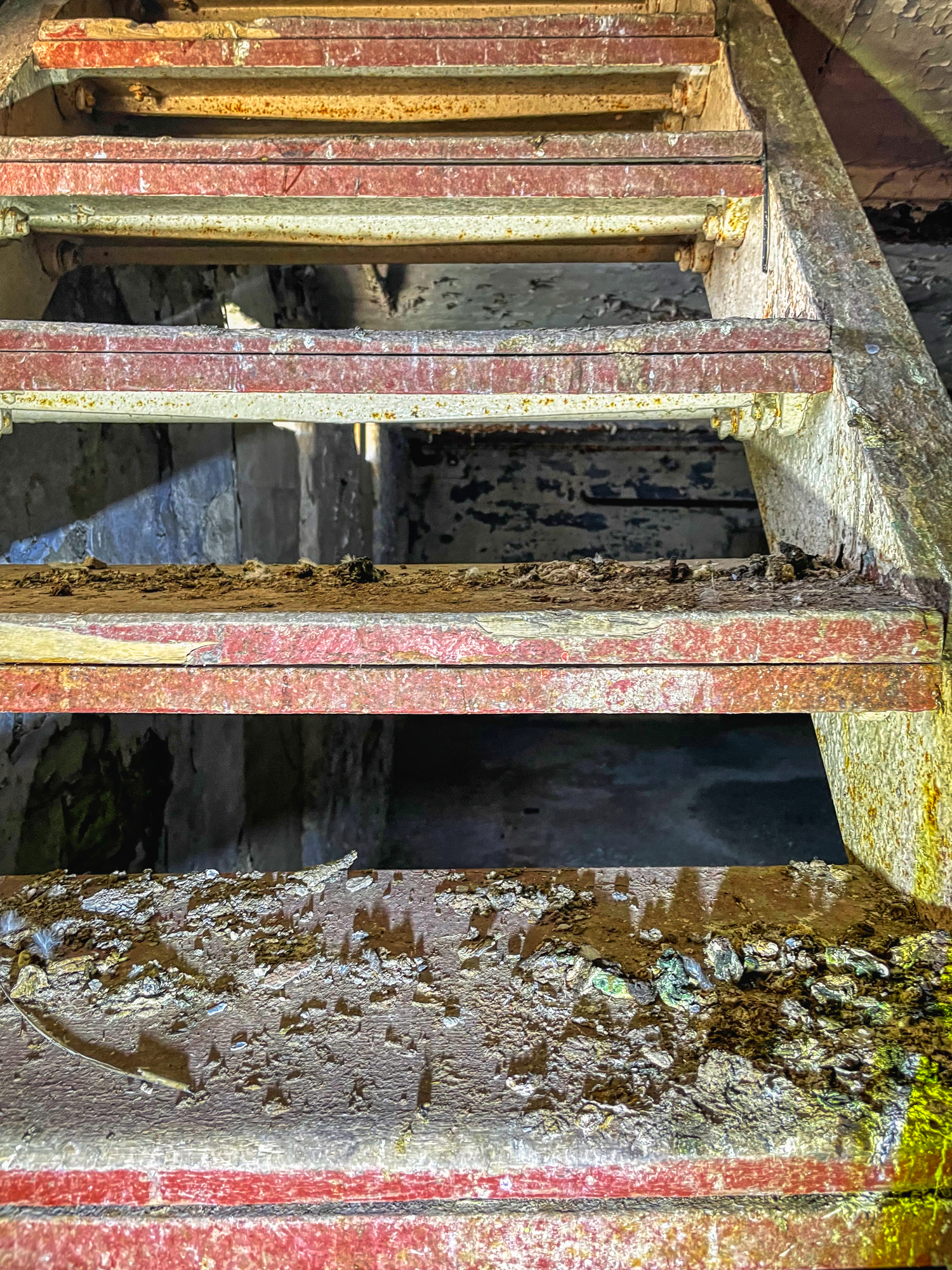 A little slippery due to all the fallen debris, but otherwise quite safe. There was even a bannister to clutch.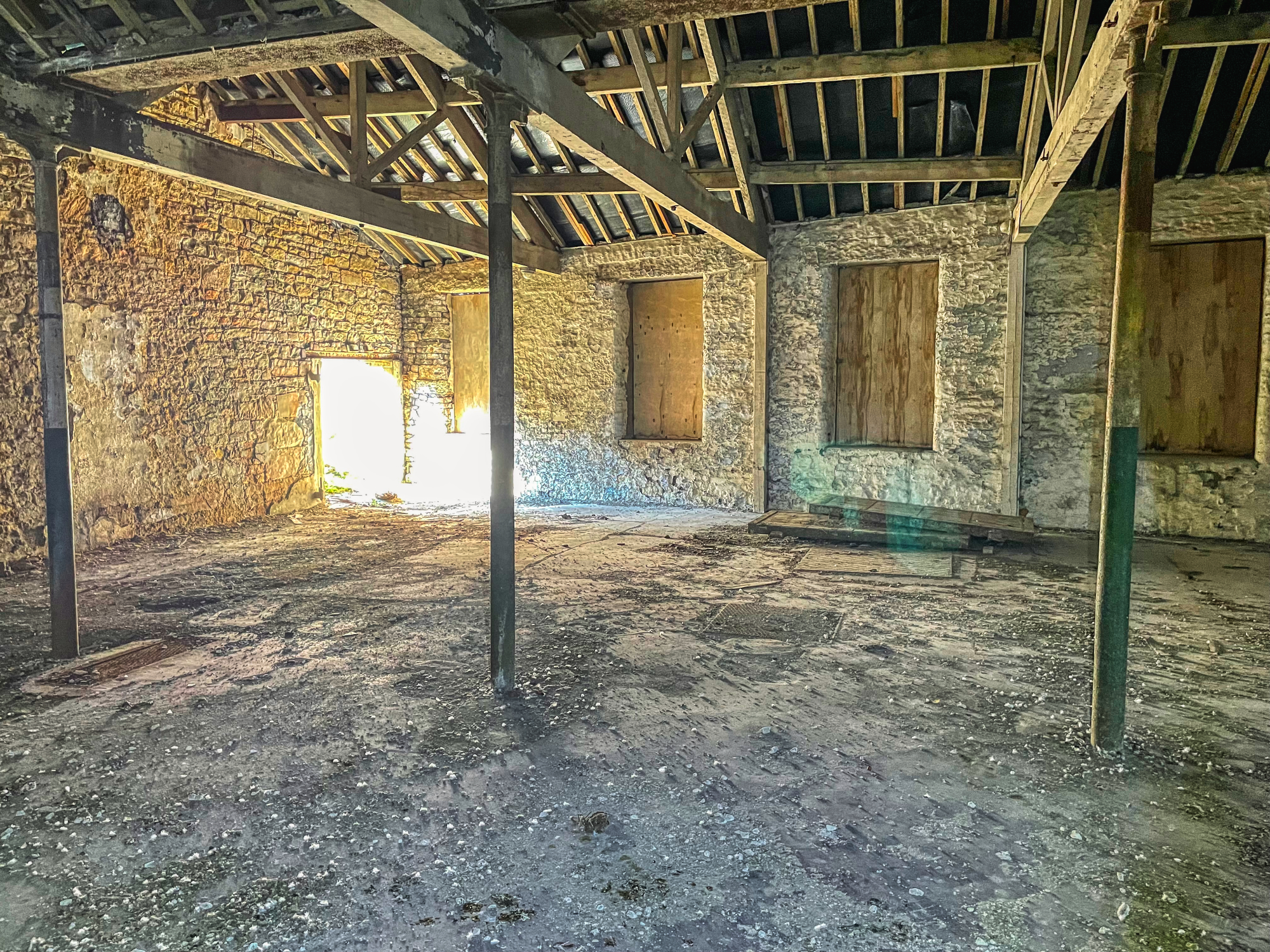 For once I wasn't going to get my feet pissed through, this one was quite dry.
An ageing pulley system that would probably still work if called back to action.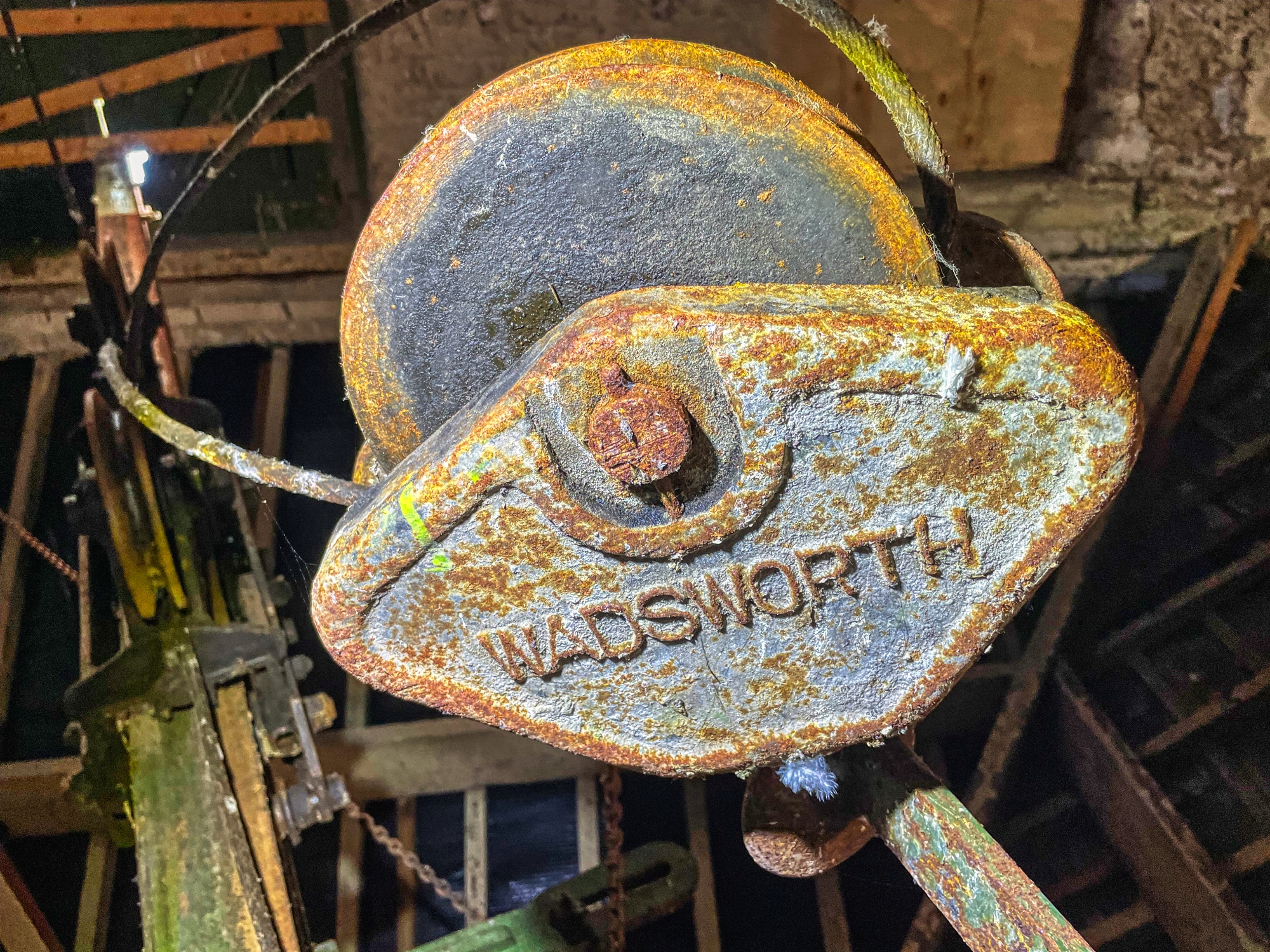 'Wadsworth' have likely gone under. I couldn't find them in today's world. This gearing is likely from the 19th century.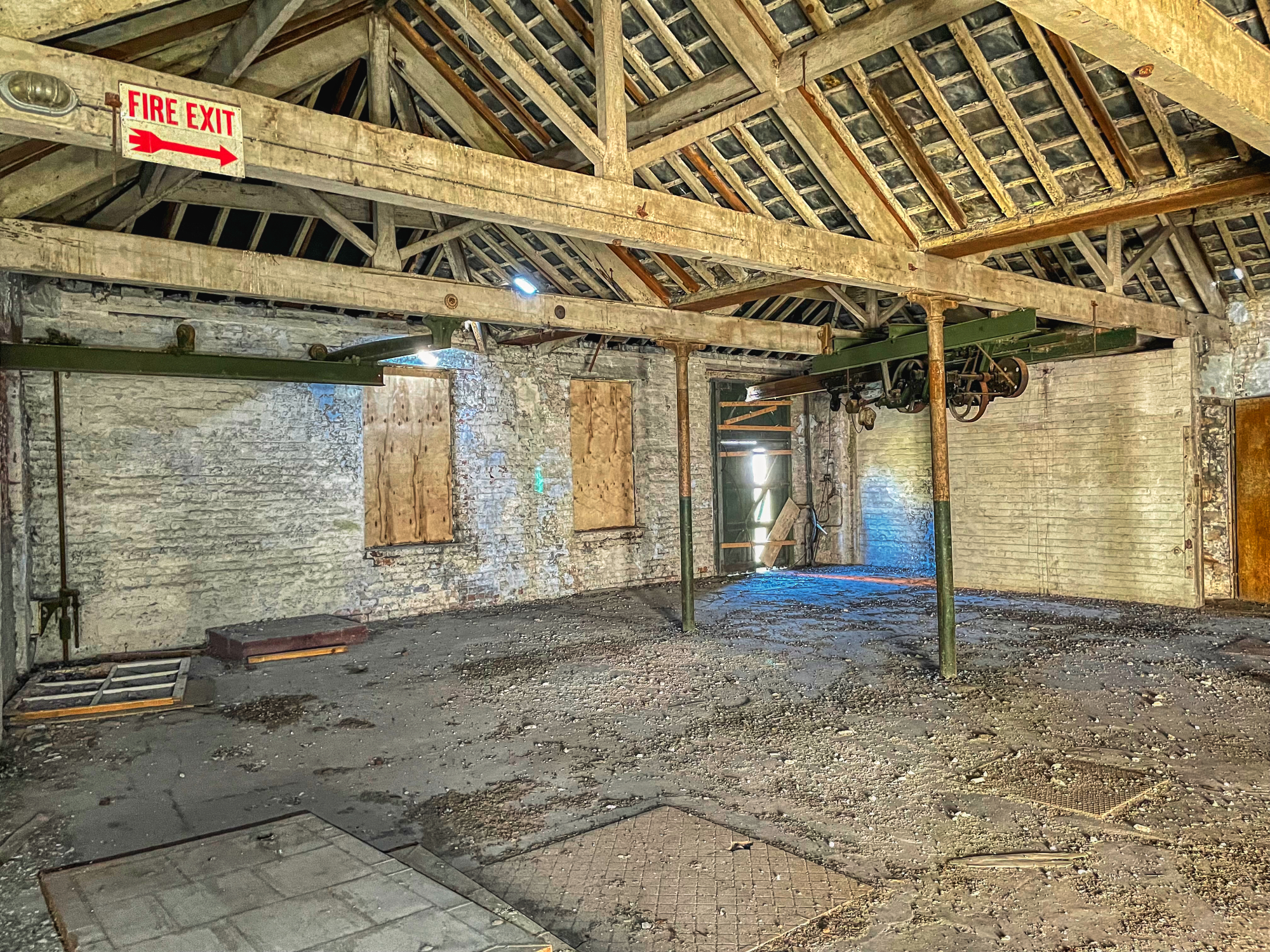 I headed for the corner that was streaming with light. Might I find some glowing eternal being beyond that door that would reward yours truly with fascinating scenes of the past?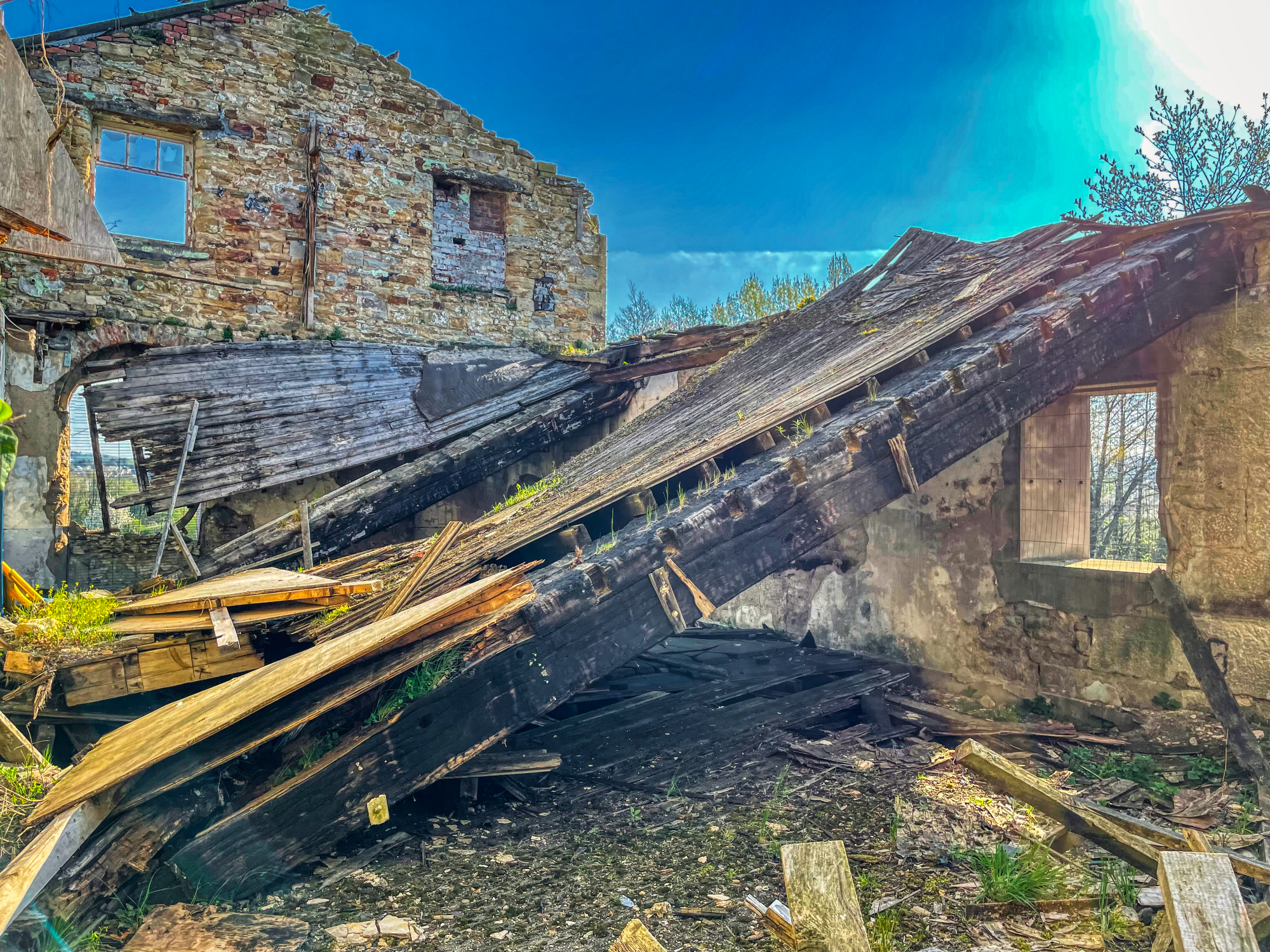 More like the end of the road. Walking over that dodgy flooring alone, not fucking likely!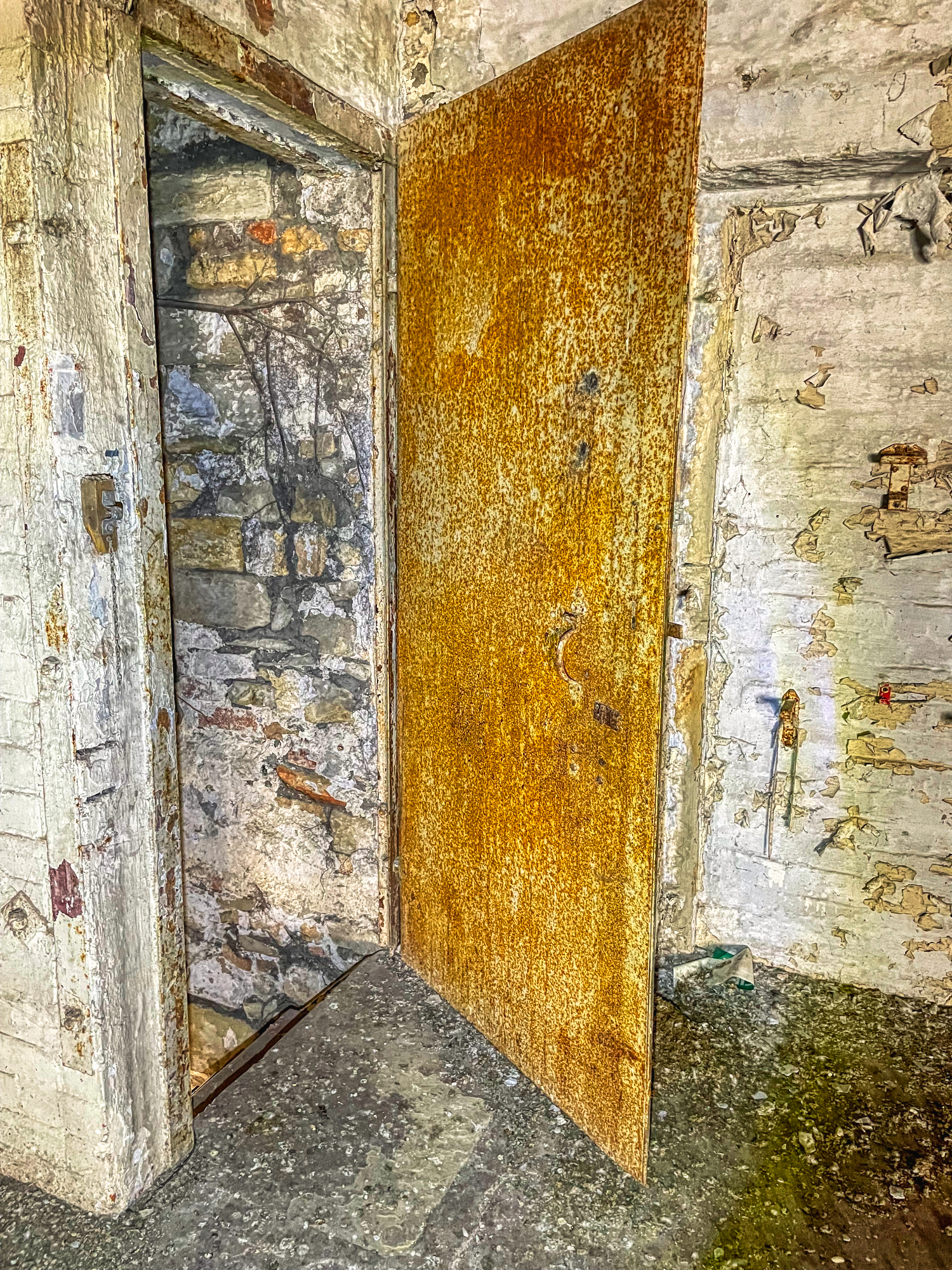 They made doors solid in the old times. It creaked in protest when I opened it wider.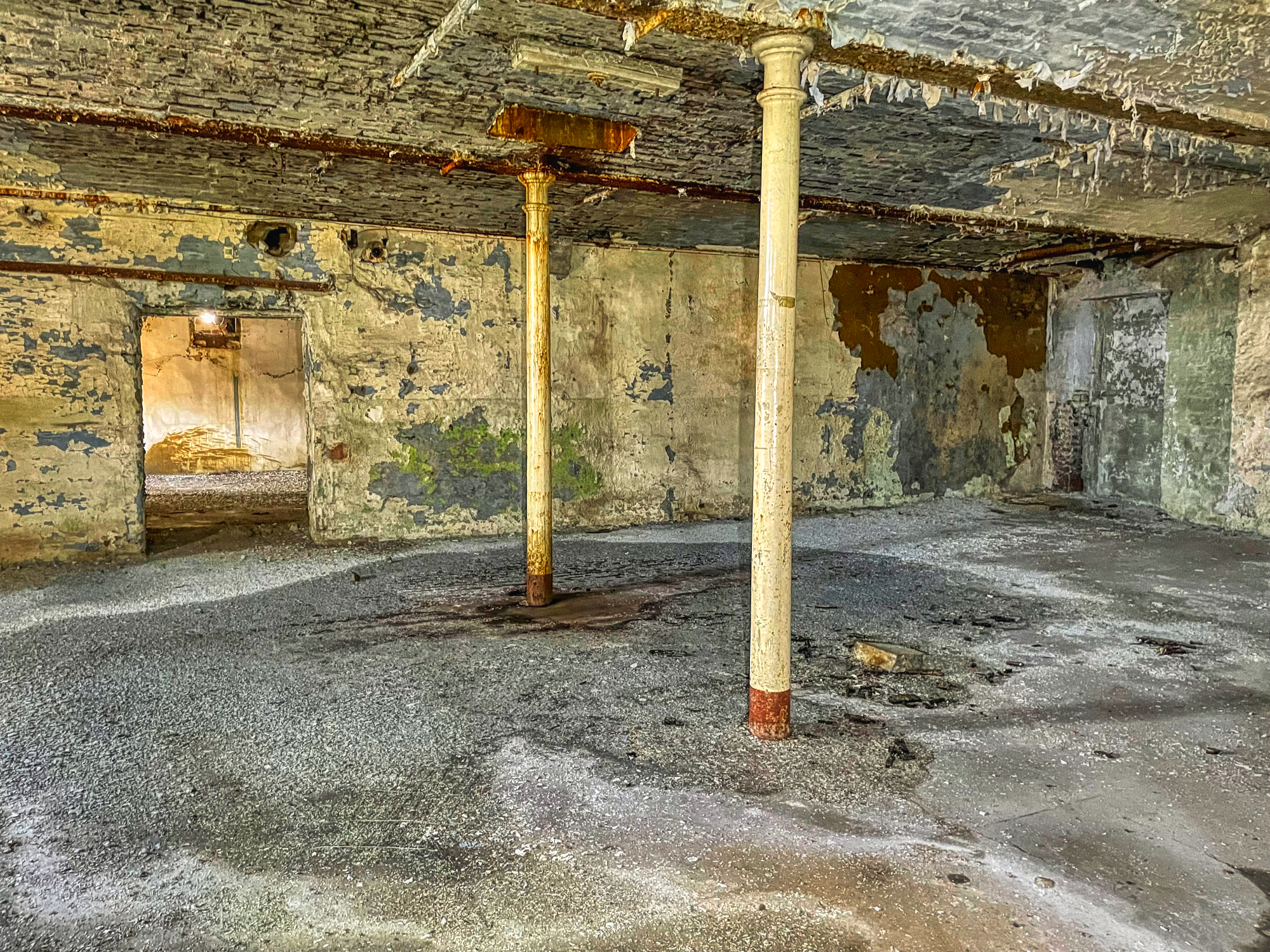 The majority of 'Finsley Gate Mill' has been demolished. I can only guess this part is Grade listed and falls under those ridiculous UK laws of 'you can't knock it down'.
The floor at the foot of the chute steps was slimy. Ugh, this is why I wear shitty trainers when exploring.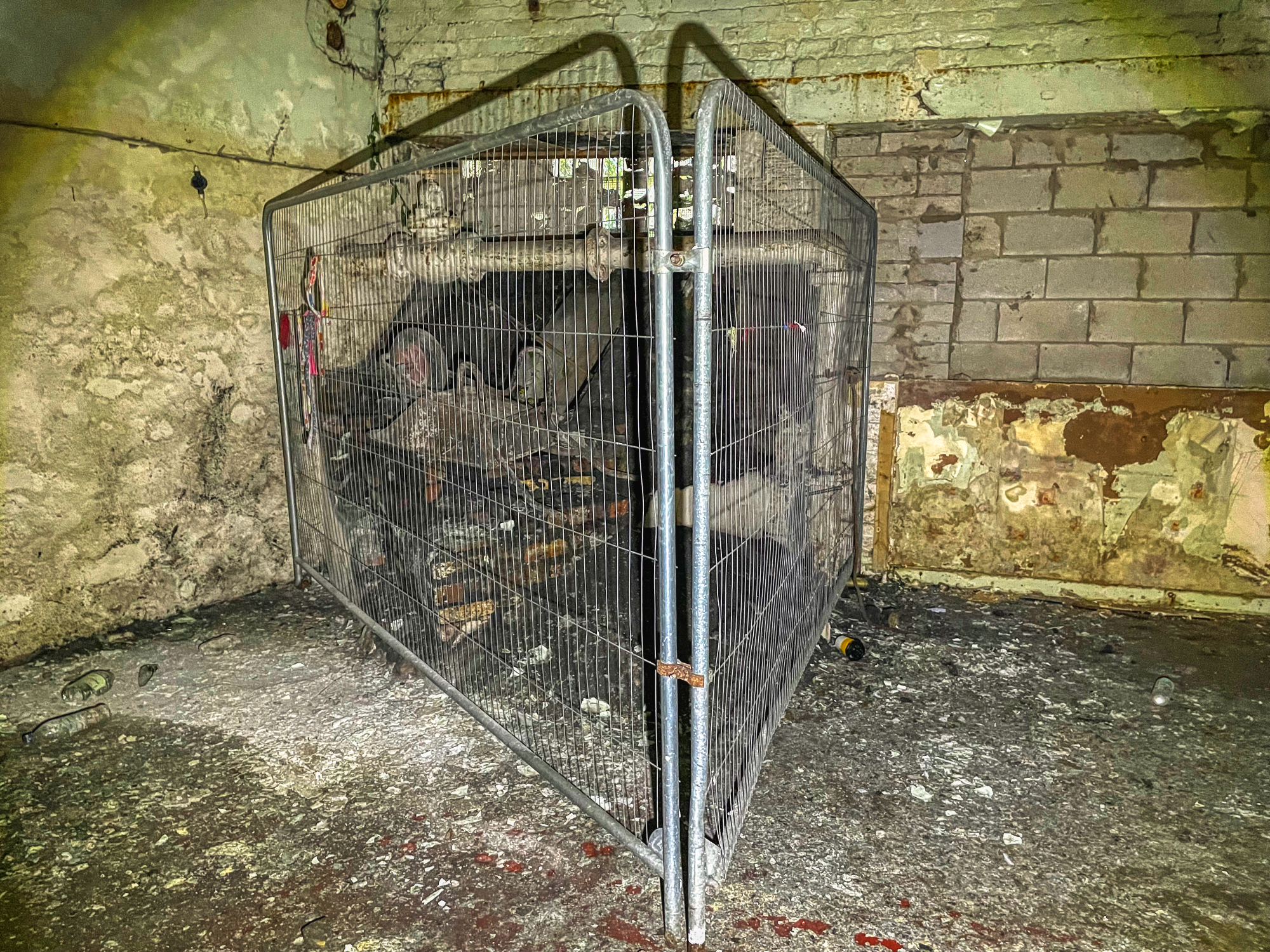 Is there something valuable in the corner? It could well be toxic, hazardous or an overturned wheelbarrow.
Getting back out was no easier. I took a few outside shots before leaving.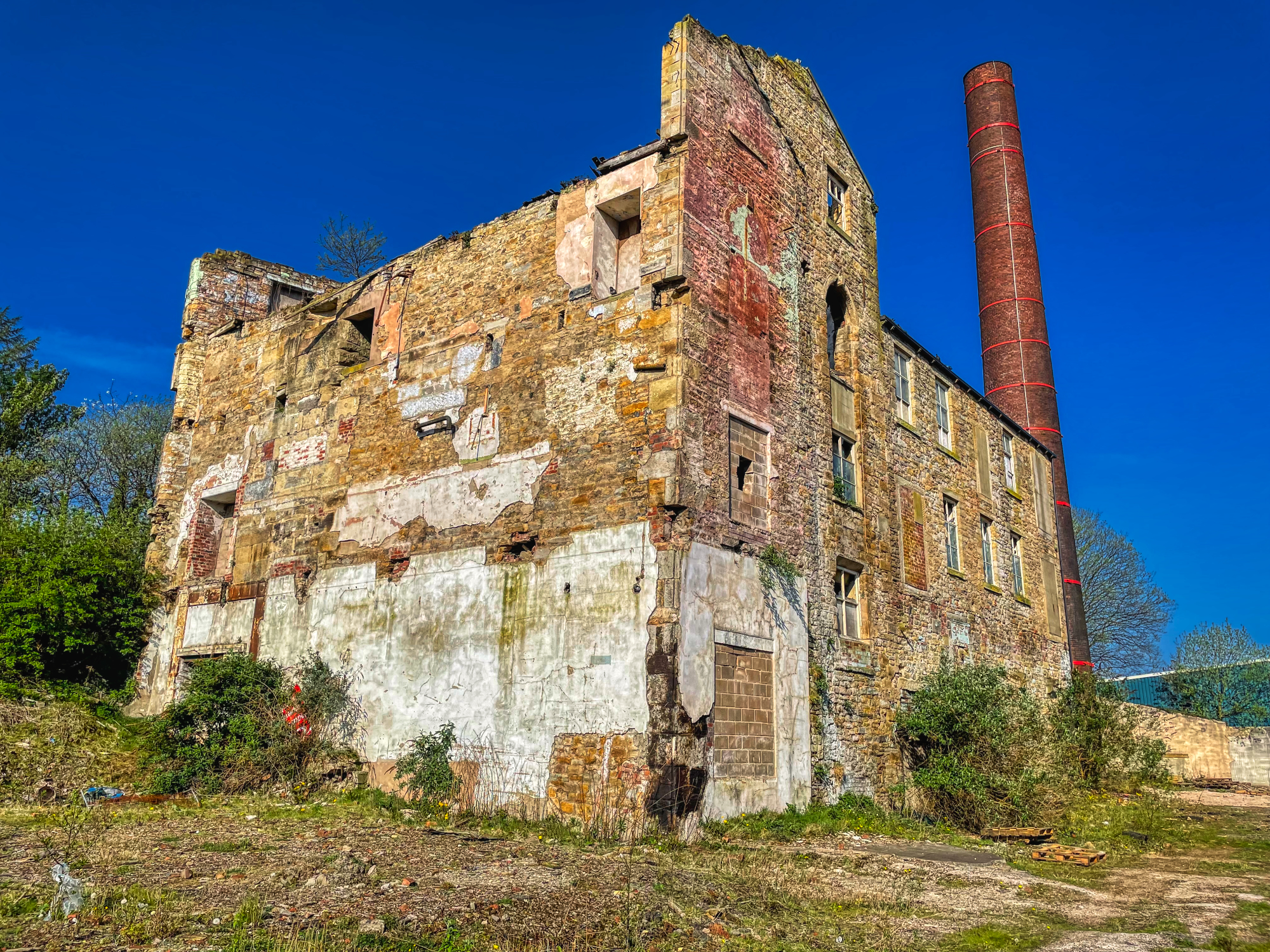 'Grade listed' - Why would we want to save this shitty-looking building? It's apparent that it started small and more buildings were sellotaped onto it due to expansion.
Remove the tape and you get an unsightly mess like this. The original demolition was done years ago. I can't see any change soon that is besides the access point which has now been sealed.

Do you like posting your Urbex content and photography for FREE on Facebook and YouTube? I like to get some form of reward for my work and every time I create I do just that. Take a look at The Urbex Community on HIVE.
If you want to keep creating for FREE then ignore what you are reading. If you want to be like me and gain something other than BUGGER ALL for your work then click here and learn about posting on the HIVE blockchain.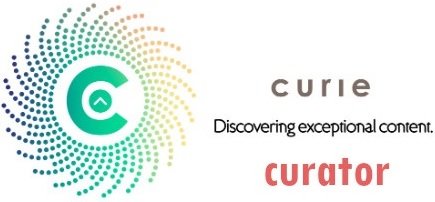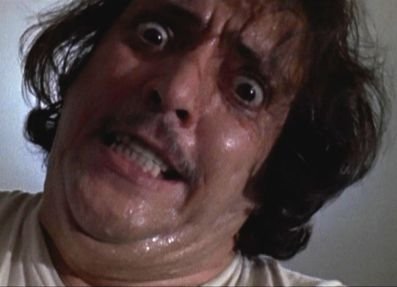 If you found this article so invigorating that you are now a positively googly-eyed, drooling lunatic with dripping saliva or even if you liked it just a bit, then please upvote, comment, rehive, engage me or all of these things.
---
---