Splinterlabs.io Free Middleman Trading by Bot and Custom RePacks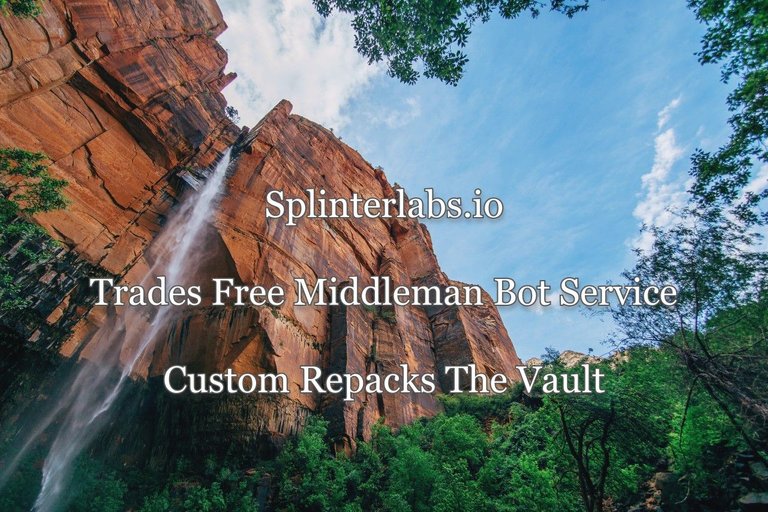 Stock Background Image provided by pixlr X Free Edition
What is Splinterlabs.io?
Splinterlabs.io is owned and developed by @chansetheguy, and it's community first website for the Splinterlands Play to Earn game with Free Middleman by Bot Trading, Custom Repacks at a slight markup that changes based on your rarity, splinter, and games to try your luck at the dice.
I am an admin on the discord server, an event coordinator for events on the discord server, and the head moderator on the discord server. We have a very fun community with a lot of chat, and we really hope these services will help new players and cut down dramatically on scams.
@kramlyn12, @subaxis, and @hyde-20 are our awesome moderators on the discord server providing help and fun conversations with a smile!!!
Front Page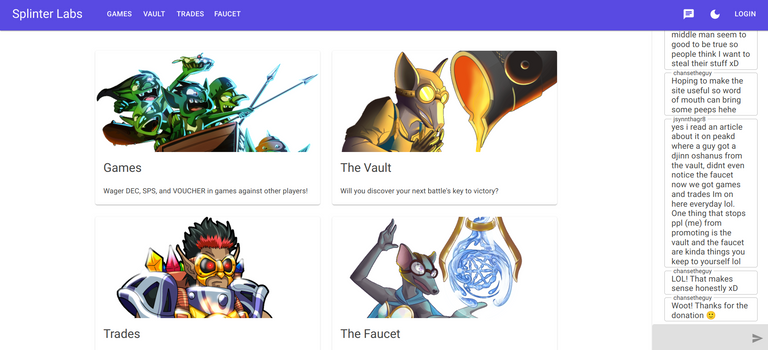 Sign in Securely with Keychain Integration
You can trust your data is being handled with care by the keychain app,and we never have access to your keys at any time. It is very important to us that you can utilize our website with confidence knowing that your information is secure-- we offer our middleman service 100% for free to do our part to put the scammers out of business. It is our passion to help the players of this community, and that drives everything we do. That's why, while we'll try to recoup our server costs with other free features, it's very important to us that the trades middleman service be absolutely free for the good of the community.
To login, you first hit login in the top right of the screen, and then you enter in your IGN below.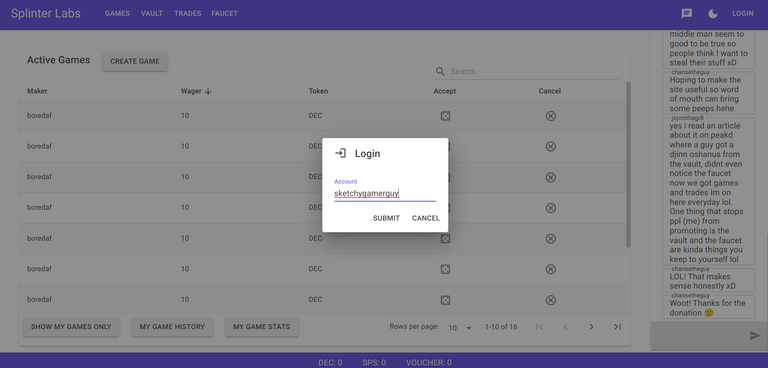 Then we don't ask for your keys, and the keychain extension pop up comes up, and it will allow you to interact with our site without ever giving us your keys. Never give your keys directly to anyone or to any websites. Use the Keychain extension or Hive Signer to login securely with confidence.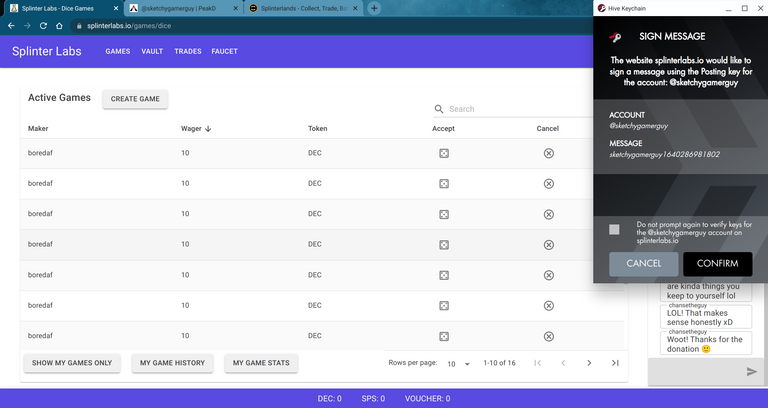 Once logged in, you choose which transactions to approve, and nothing you don't personally review can take place.
Free Middleman Trading by Bot
After clicking on the trades button, you will be taken to a screen with all active trades. This is the v1.0 release of trades, and the user interface may change in the future. A very special shout out to @thilo-zoran, @doombledore, and @dynamicrypto for helping us test this new feature as shown below!!! You guys are awesome.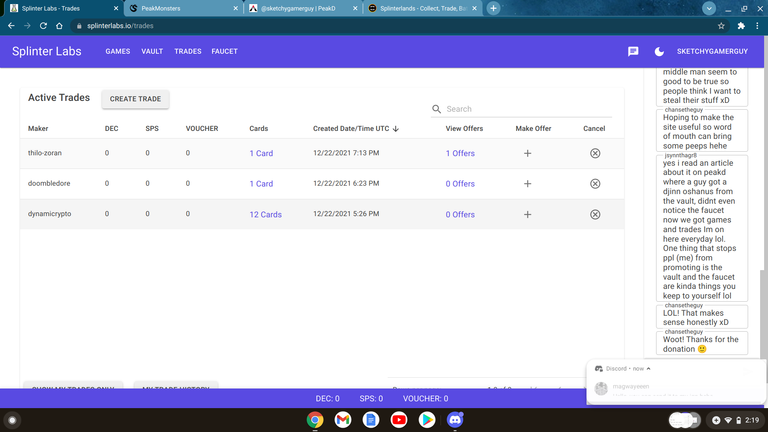 Once you click on the card, a pop up will show you the name, serial number of the card, whether or not it is Gold, the Edition, and total BCX.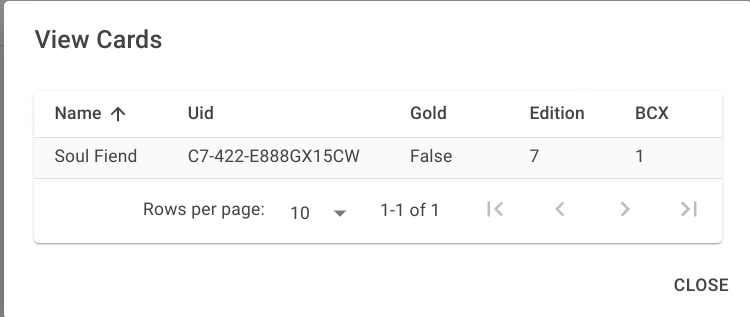 You can make an offer on a card by clicking make offer, and then selecting the DEC, SPS, and Voucher you would like to offer in exchange. The user can then review the offer, and if accepted, the exchange will take place automatically.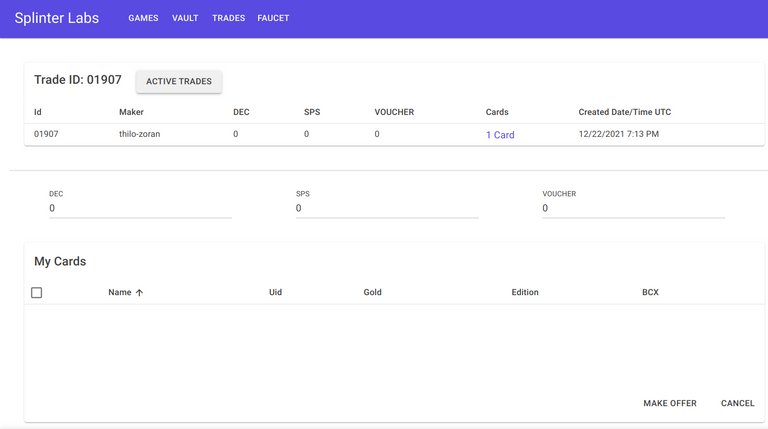 To add funds or cards for offers or to put up for trades, first click your name on the top right, and then choose Deposit Funds or Deposit Cards. You can withdraw them at any time by clicking the withdraw funds or withdraw cards options.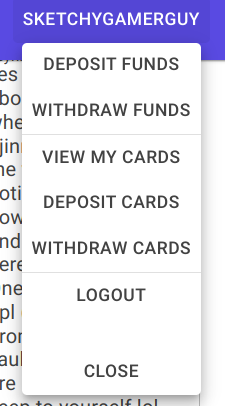 If at any point, you'd like to remove a card from trades, you can click the X button at the furthest right part of the screen.
We are very excited to announce this new feature, and I sincerely hope that we can put the scammers out of business with this one. Make sure you p2p trade securely with splinterlabs.io! This middleman never sleeps, and we do not take a cut of any trade. This feature is purely to help the community.
The Vault Custom Repacks
We do sell custom repacks called The Vault at a slight markup to help pay server costs. You can select your desired Foil, Rarities, Splinters, and number of cards to create the perfect pack of your dreams. For now we are only offering common and rare reward cards for testing purposes, but down the road you'll be able to select editions as well. The cost of the pack changes with your selections, so you only pay based on the EV of your selections.
I've opened a few Dragon only packs myself. I had a blast knowing that, no matter what I pulled, it would go Rawr and STOMP.
The Games
For now all we have up is dice, but we have some really fun ideas for future games. Such as Battles, already live on our discord server for the time being, which is a little bit like Rock, Paper, Scissors, Lizard, Spock but with Splinterlands Splinters!!! You can roll the dice against any player currently posting a challenge with Dec, Sps, or Vouchers. Good Times.
The Faucet
We also have a feature, designed with new players in mind, where they're able to get a little bit of Dec/SPS/Voucher with every sip available every ten minutes. You do need to fill out a captcha, but our hope is that between the captcha, the small amounts available, and Chanse's vigilant finger over the ban hammer button, we can deter bots from taking advantage of the system at the expense of the players who need it the most. You can also choose to donate from the same screen, and we do not take any cut of the faucet donations, and we pay into ourselves too.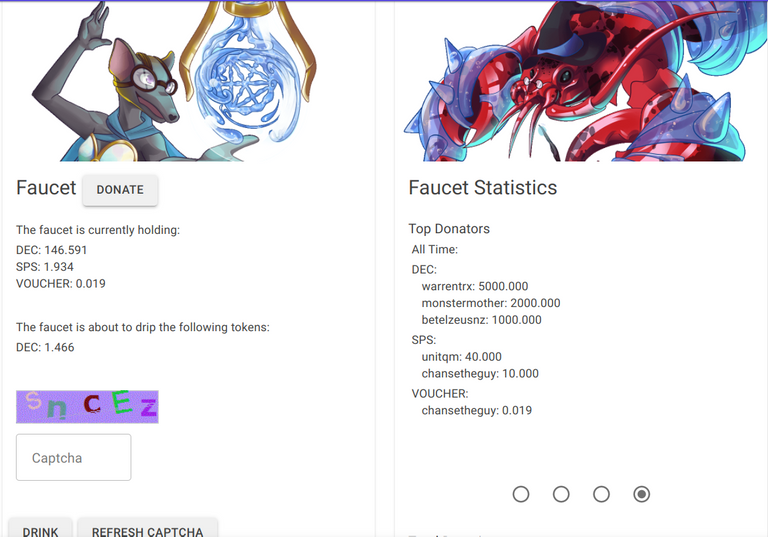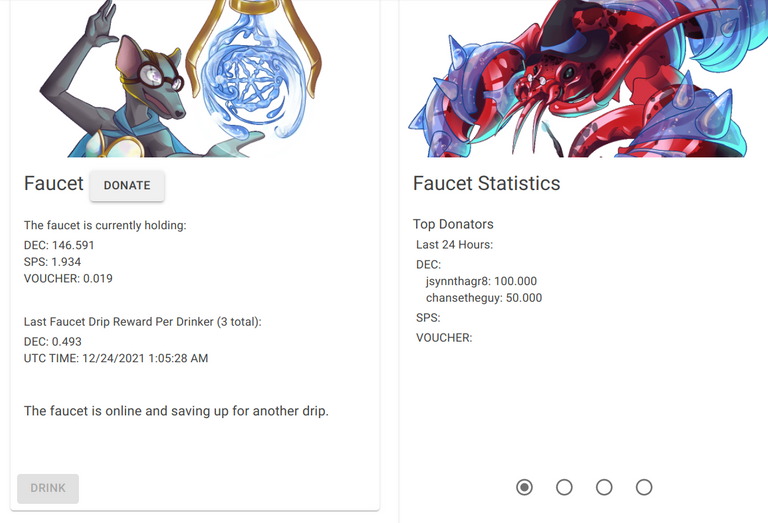 A very special thanks to @warrentrx @monstermother @betelzeusnz @unitqm @dynamicrypto @jsynnthagr8 and @chansetheguy for your very kind donations. They are very appreciated!!!
Our Discord Server
We offer events such as the Wednesday Morning Sketchy Says and the Tuesday Morning Training Dojo, and we also provide challenges that automatically record your splinterlands battles when you're done battling with a friend.
Lots of fun channels for community, and a lot of great regulars there having fun and vibing.
We also have channels for promoting your content!
Thank you all so much for reading, and I hope you all enjoy this amazing team and community!!! This is going to be some next level stuff, and you don't want to miss out on these amazing benefits!!! See you soon.
---
---