SONGS THAT TRANSCEND IN MY LIFE THROUGH A SERIES // OF SUNSHINE TO SUNSHINE [ENG-ESP]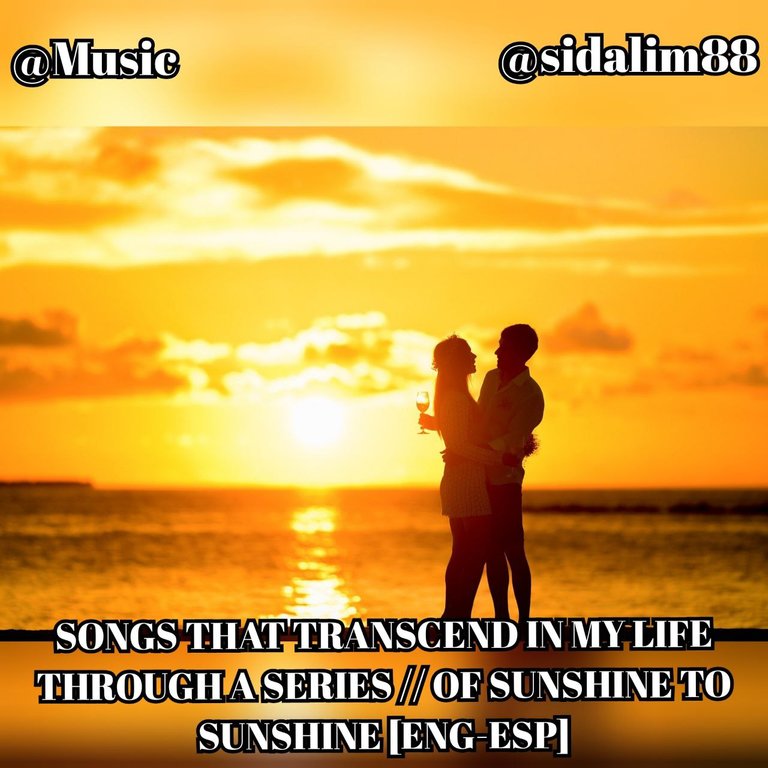 Cover image by @sidalim88, using public domain image. extracted from: Pixabay, Pexel:
---
---
VERSIÓN EN INGLÉS
---
---
Greetings friends of the
@Music
community and especially to all the great music lovers. Today I want to share with you part of the music of my early childhood, this is a youth series that shows us that love can knock on our doors from a very early age, and in turn teaches us how we can make our dreams transcend when we work as a team.
A few days ago I was listening to music, when suddenly a song came on that made me relive pleasant moments of my childhood, I don't know about you but I used to be a faithful lover of television and my programming was always directed to series, soap operas, movies, in short it is something broad my taste, but today I want to emphasize the series of my childhood "From sun up to sun down." Waooo! It's been almost 27 years since this series premiered on the Tigritos Club program and even though I was a child I remember it because I liked it from the first episode.
Audiovisual content, compiled from: salsabor1987, Youtube:
Even when I analyze it now with a cool head and as a mother I am aware that it was not an accurate series for a girl of my age, I was every afternoon as a faithful viewer, after I finished my homework to watch the series from sun up to sun down and there delight me with each of the songs they sang. I would even dare to say that this is where my taste for music began and I saw its focus in life, to see how love could arise from children and how they in turn sighed for the people they liked as did Roxana, the protagonist of the series for Servando. From this love is born the main song of the mini-series titled "From sun up to sun down." . And when we are in love the person we love is present at all times like the sun and we do not let it leave our heart.
Something that I always liked in this series is that love was shown in a clean and pure way with kisses on the cheeks, on the hands, as a symbol of respect, solidarity between friends and everything that involved her. And this song that I am going to share with you became one of my favorites for many years, since I went through the bitter pill that my mother especially did not accept my boyfriend, without having any specific reason, she simply looked at him in a derogatory way and this was very painful for me, because the acceptance of my boyfriend by my parents was something important to me and even when she did not want it and for not giving me a valid justification, I as any disobedient young girl decided to continue with my relationship, since he showed me to be a young man of principles, home values and good student, today in a way thanks to my perseverance and the help of an aunt who talked long and hard with her made her change her mind. So the theme I am talking about is
"A love like ours".
div>
Audiovisual content, compiled from: Floripondia :v, Youtube:
Each day brings its own eagerness and as its theme song "It doesn't matter" expresses it when one loves each other from the heart, neither time nor distance can put an end to that beautiful feeling, that's why I remember very specially the participation of Yorgelis, which is not far from the current reality, who played the role of Roxana's best friend, this girl in question from my perspective was a young woman with a sentimental instability and was carried away by the appearances of the people around her, so she went from conflict to conflict with her partner, but as in any telenovela true love always reigns in the end, they managed to overcome all obstacles and stayed together.
Audiovisual content, compiled from: Floripondia :v, Youtube:
In general terms, this mini series opened the doors to this great group of Salserin where their main vocalists were Servando and Florentino who currently have many singles recorded and continue to delight us with their hits. And you friends remember this romantic series?
Thank you in advance for dedicating part of your valuable time to read my work and may God multiply the support you give to my publication. Blessings
---
---
VERSIÓN EN ESPAÑOL
---
---
CANCIONES QUE TRASCIENDEN EN MI VIDA A TRAVÉS DE UNA SERIE // DE SOL A SOL
---
---
Saludos amigos de la comunidad de
#Music
y muy especialmente a todos los grandes amantes de la música. Hoy quiero compartir con ustedes parte de las músicas de mi primera etapa de la niñez, se trata de una serie juvenil que nos muestra que el amor puede tocar a nuestras puertas desde edades muy tempranas, ya su vez nos enseña cómo podemos lograr que nuestros sueños trasciendan cuando trabajamos en equipo.
Hace unos días estaba escuchando música, cuando de repente salió una canción que me hizo revivir gratos momentos de mi infancia, no sé ustedes pero yo anteriormente me caracterizaba por ser una fiel amante de la televisora y mis programaciones siempre iban direccionadas a las series, telenovelas, películas, en fin es algo amplio mi gusto, pero hoy quiero hacer énfasis en las series de mi niñez "De sol a sol" ¡Waooo! Han pasado casi 27 años de que esta serie se estrenó en el programa del Club de los tigritos y aunque yo era muy niña la recuerdo porque desde el primer capítulo me gusto.
Contenido audiovisual, recopilado de: salsabor1987, Youtube:
Aun cuando ahora lo analizo con cabeza fría y como madre soy consciente que no era una serie acta para una niña de mi edad, yo estaba todas las tardes como una fiel televidente, después que terminaba mis tareas para poder ver la serie de sol a sol y allí deleitarme con cada una de la canciones que cantaban. Hasta me atrevería a decir que de allí inicio mi gusto por la música y le vi su enfoque en la vida, al ver como el amor podía surgir desde niños y como ellos a su vez suspiraban por las personas que le gustaban como lo hacía Roxana, la protagonista de la serie por Servando. De este amor nace la canción principal de la mini serie titulada "De sol a sol". Y es que cuando estamos enamorados la persona que amamos está presente en todo momento como el sol y no dejamos que salga de nuestro corazón.
Algo que siempre me gusto en esta serie es que el amor lo demostraron de una manera limpia y pura con besos en las mejillas, en las manos, como símbolo de respeto, la solidaridad entre los amigos y todo lo que a ella misma la envolvía. Y esta canción que les voy a compartir se volvió en una de mis preferidas por muchos años, ya que pase por el trago amargo de que mi madre especialmente no aceptaba a mi novio, sin tener algún motivo en específico, simplemente ella lo miraba de manera despectiva y esto para mí era muy doloroso, pues la aceptación de mi novio por parte de mis padres era algo importante para mí y aun cuando ella no lo quería y por no darme una justificación valida, yo como cualquier jovencita desobediente decidí continuar con mi relación, ya que él me mostraba ser un joven de principios, valores de hogar y buen estudiante, hoy de cierta manera gracia a mi perseverancia y la ayuda de una tía que converso largo y tendido con ella la hizo cambiar de opinión. Por lo que el tema del que les hablo es "Un amor como el nuestro"
Contenido audiovisual, recopilado de: Floripondia :v, Youtube:
Cada día trae su propio afán y como su tema musical "No importa" lo expresa cuando uno se ama de corazón, ni el tiempo, ni la distancia podrán acabar con ese hermoso sentimiento es por ello que recuerdo muy especialmente la participación de Yorgelis, la cual no se aleja de la realidad actual quien representaba el papel de la mejor amiga de Roxana, esta chica en cuestión desde mi perspectiva era una joven con una inestabilidad sentimental y se dejaba llevar por las apariencias de las personas de su entorno, por lo que pasaba de conflicto en conflicto con su pareja, pero como en toda telenovela el amor verdadero siempre reina al final, ellos lograron superar todos los obstáculos y quedaron juntos.
Contenido audiovisual, recopilado de: Floripondia :v, Youtube:
En líneas generales, está mini serie le abrió las puertas a esta gran agrupación de Salserín dónde sus vocalistas principales eran Servando y florentino quienes actualmente llevan muchos sencillos grabados y nos continúan deleitando con sus éxitos. ¿Y ustedes amigos recuerdan esta mi i serie romántica?
De ante mano agradezco el que dediques parte de tu valioso tiempo para leer mi trabajo y que Dios te multiplique el apoyo que le aportes a mi publicación. Bendiciones
---
---

---
---
---
---

---
---
---
---
---