YOU SHOULD TRY INVESTING IN HIVE
There are obviously diverse ways one can invest in hive but I'll be talking about few of them, which some of us already know and some are yet to know.
So I guess it'll help in both ways, a reminder to those that are already aware and it'll also make those that are yet to know have the knowledge and understanding.
How to invest in hive through onboarding people...
I'll say some are yet to understand how this works, when you onboard you're indirectly building future investors because those you bring to the platform will also invest in one way or the other after getting to know how things work In here and the benefit they stand to gain in investing.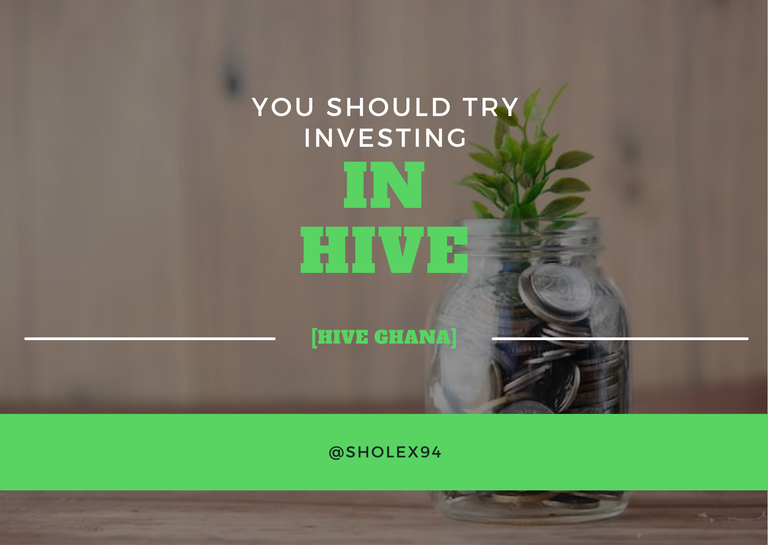 [Image designed with canva]
Onboarding also helps to expand the hive network, it makes people know more about it, and that's a very important factor. I think one of our aim is to make hive global, to make it get to every nooks and crannies of the Earth, the more we're on the blockchain the better and it will also be more interesting.
So you can always do well by onboarding at least one or two persons, doing this you're investing in hive.
Staking your hive...
Automatically, the blockchain helps us to invest our hive via our post reward, in most cases whenever we blog except for videos where the percentage is a little bit different, the author gets 50 percent of the reward while the curators also share the remaining 50 percent. The 50% share of the author will further be divided into two, 25% for hive power (HP) and 25% for hive backed dollar (HBD).
The 25% for HP is staked, you're automatically investing anytime you have a post payout. And that's one of he things I love about hive, it teach us how to invest, which is one of the best way to make more money.
Your staked HP can be used to curate posts, you can delegate to people or communities, it's also used to have a good time in hive, someone with no or little hp might not be able to engage with other people but with your HP, you're good to go with engagement.
Having your HBD saved in Hive savings....
This would help you grow your HBD in savings, which would increase at 20% APR.
This is also a very good way to invest in hive blockchain. Moreso there are second layer token like BRO, LGN, NEOXAG, LEO and so on that one could also invest in, for example BRO was around 3 hive last year but this year it's around 11 hive per one, so you see it's a very way to invest and make more money aswell.
Thank you for stopping by 🥰
---
---