THE CIRCLE OF GOOD PEOPLE I HAVE IN MY LIFE
It's good to have good people around you, the people you mingle with or your circle matters alot about your growth. If you move with negative people, the result one would get most times might be negative ones and if you move with positive people, people that see solution to every problem that arises (optimistic people), one will mostly get positive result.
If I should start mentioning people they have helped me get to where I'm today, that means I have to keep writing and writing till thy kingdom come, lols... But to make everything moderate, I'll just mention few.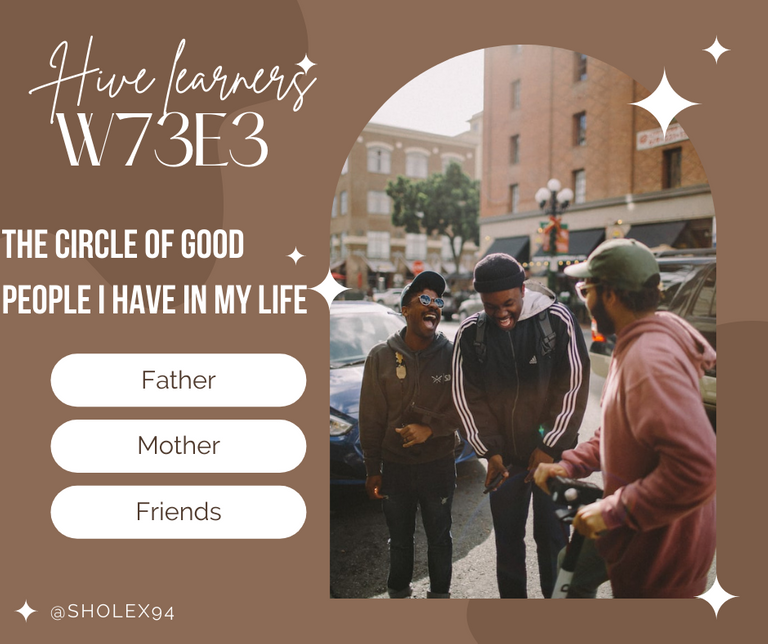 Image designed using canva.
MY FATHER...
There's no way I can talk about the story of my life without including the role played by my father, that man is a living legend. Even if he did not do anything again for me, for nurturing me right from birth till when I became an adult is worth it. There was a time that we're three in the university, myself and two of my siblings, yet my father keep providing for our needs, he never wants us to suffer, He used to say " you children will not suffer how I've suffered."
There are times he will be left with no option than to take a loan from his place of work, so we the children can be well taken care of. He made sure that we're all well educated not only that also tried his best to see that we get a job afterwards. I'm happy today he has retired and eating the fruit of his labour.
MY MOTHER...
Just like people would say that mothers are gold. It's so true, My mother just like my father is also a living legend. She has been so supportive and caring, if it's possible that I come back again to this life, I would like to come through my parent. Because they showed me what the definition of a good and responsible parent should be. Sometimes I would even think she's too caring, because she won't stop asking after my well being even till now, keep calling me every now and then, to check if everything is fine. If you ask me I'll say I have one of the best parent in the world. Am also happy she's enjoying all what she had laboured for.
MY FRIENDS...
Starting from primary school, I was blessed with Solomon and Lucky, these two were my motivation back then, I love them more because they are brilliant, they motivate me to study hard back then and I didn't regret it one bit. The first, second and third position was always between the three of us, no other person come close.
Fast forward to my secondary school, hmm I also had some set of friends that also ginger me to study that time, we will go to extra moral class together, go to the library together and all, thank God at the end, the seriousness paid off.
Then to my tertiary institution days, hmm that was where I met @vickoly who later turn to be my mentor and onboarder on the blockchain, I don't want to tag him again like have always do, let me just allow him rest for now, ohh sorry have tagged you already 😃. Vic and @oluwadrey were best of friends and even till now, our great musician. I tapped some musical tips from him indirectly lols.
so also @lensworld, there was a time we started living together, even though we aren't roommate lols, I cannot forget to also mention @harhess my very good roommate and my brother from another mother, we share a lot of things in common, we're even from the same hometown.
These guys and many others contributed immensely to my growth while in school and after school.
I can't also forget my friends on the blockchain, on hive learners community, afri-tunes and my neoxian city pals, these guys are so amazing, full of beautiful people with good heart, they've all contributed to my growth in one way or the other. Surround yourself with good people today and thank me later.
Thanks for stopping by 🥰
---
---