Vegan Hell Spicy Noodles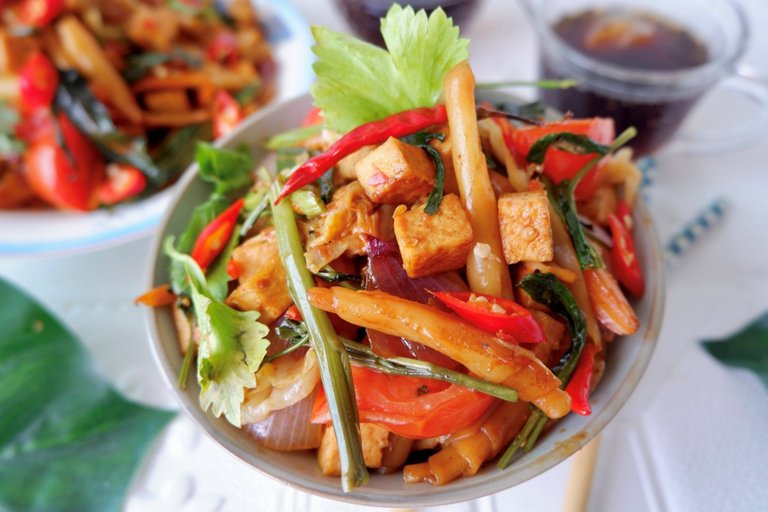 Sa Wad Dee Ka 🙏 Hive Community ^^
Meet the hell spicy noodles made with my creation chili paste, a recipe that I came up with myself when I was a student in university and continue to impress a person who crazy fascinates with spiciness.
The story of Hell Spicy Noodles started when I was still a student. Millions of times I'm tired and exhausted from reading textbooks or doing projects and wanna keep myself awake and alive during those late night hours. Hell Spicy Noodles was the perfect food and a great option for energizing my brain booster.
Vegan Hell Spicy Noodles is a delicious noodle stir-fry with lots of protein and veggies. I love crispy tofu in this dish as it blends so well with the rice roll noodles and various vegetables. And I'm still determined to finish with most of my old stuff first so the main carbohydrate is dried rice roll noodles, which I bought over a month ago, and stay quiet in a glass container in my fridge for such a while so it's time for them to shine again as the main ingredients of my dish today.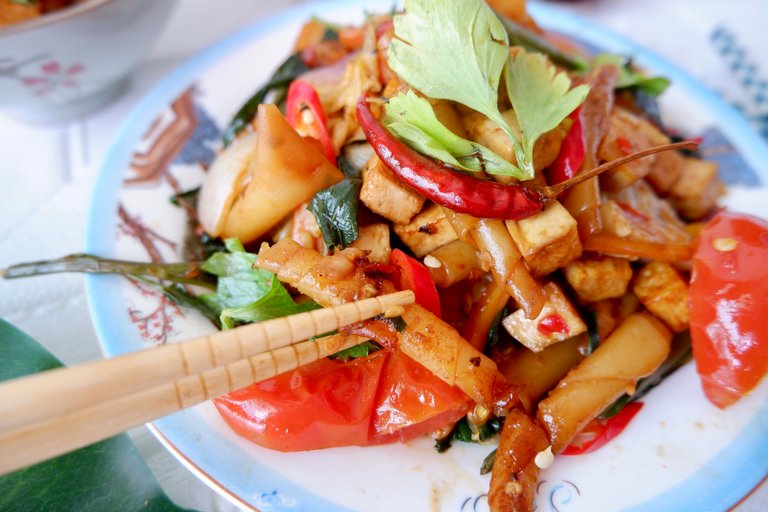 The main ingredient of this dish is Thai red chili, which the capsicum is not only responsible for the spiciness but also provide many health benefits such as boosting metabolism, fat burning, recharging the nerves, and giving new energy. This dish started with my favorite chili paste was all pounded in a stone mortar, which is combined with Thai Red Chili, garlic, black peppercorn, coriander root, and salt.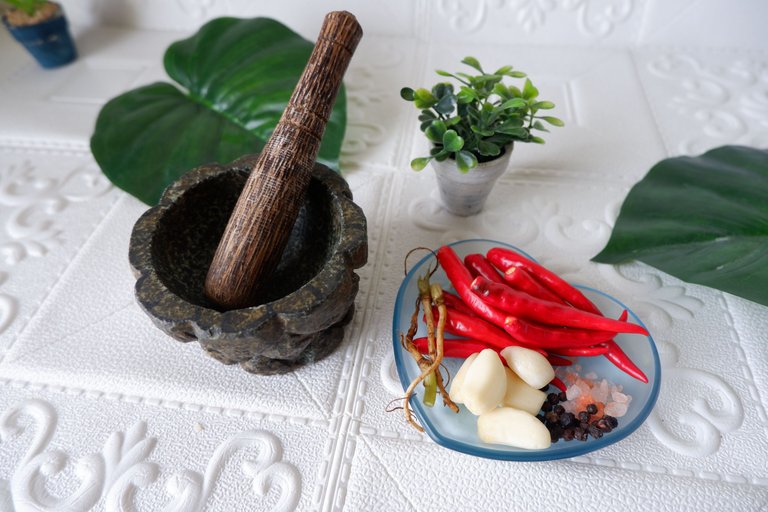 Then stir-fried the chili paste with baby carrots, water spinach, napa cabbage, cabbage, tomato, and red onion with a touch of exotic flavor from the savory sauce and more kick punch from the dried chili. But these noodles are the kind of dish that can easily experiment with fantastic spicy food.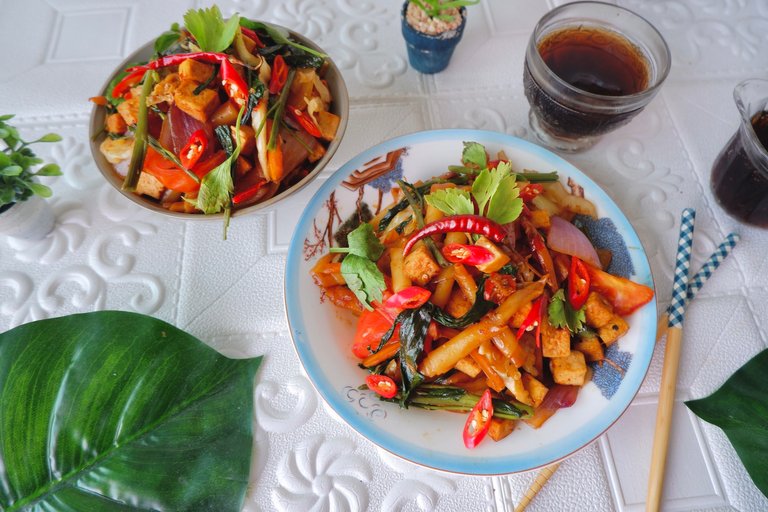 ---
---
INGREDIENTS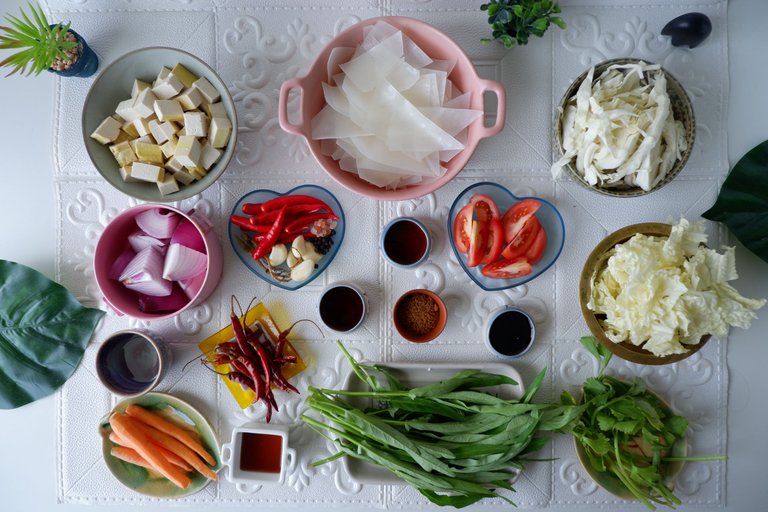 200 Gram Rice Roll Noodles
1 Tofu
10 Thai Fresh Red Chili
5 Clove Garlic
1 Teaspoon Himalayan Salt
1 Teaspoon Black Peppercorn
200 Gram Napa Cabbage
100 Gram Cabbage
200 Water Spinach
1 Red Onion
50 Gram Baby Carrot
1 Tomato
1 Thai Parsley
10 Red Chili
1 Tablespoon Vegetable Oil
1 Tablespoon Light Soy Sauce
1 Tablespoon Dark Soy Sauce
1 Tablespoon Mushroom Sauce
1 Tablespoon Seasoning Soy Sauce
1 Tablespoon Brown Sugar Cane
 
---
---
INSTUCTIONS
---
---
STEP 1 - POUNDING THE CHILI PASTE
Add the coriander root in a stone mortar and pestle until fine and grind them into a paste and release the fragrance aroma and wetter. Once the coriander root is done. In the same mortar, then adds the garlic into the stone mortar and pound the ground for about 2-3 minutes. And add the Himalayan salt and black peppercorn, then pound them together. Lastly, add the chili then pounding goes on until everything in the mortar is mashed into a paste. Then move the mixture of chili paste aside.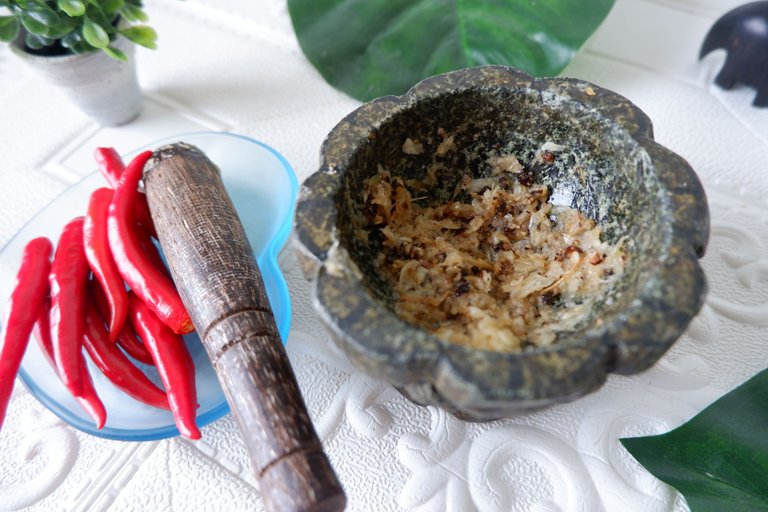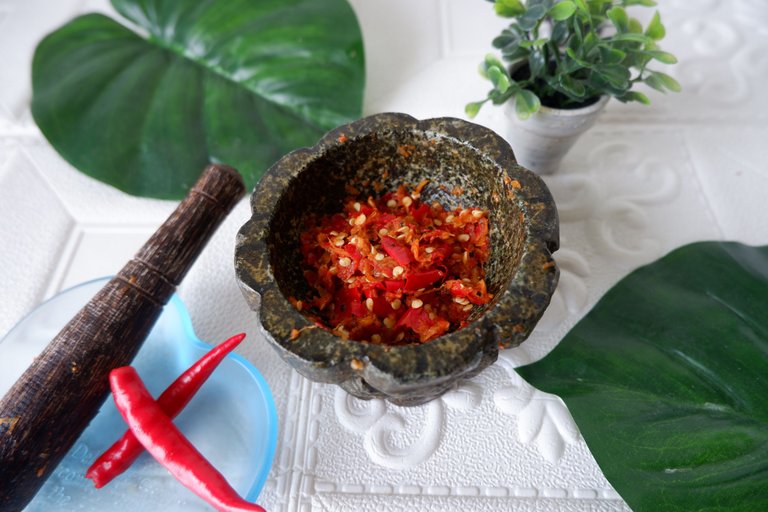 ---
---
STEP 2 - BLANCHED THE RICE ROLL NOODLES
Boil water in a large pan over high heat until it comes to a boil and put in the amount of dried rice cake slices individually piece by once at a time and keep stirring continuously.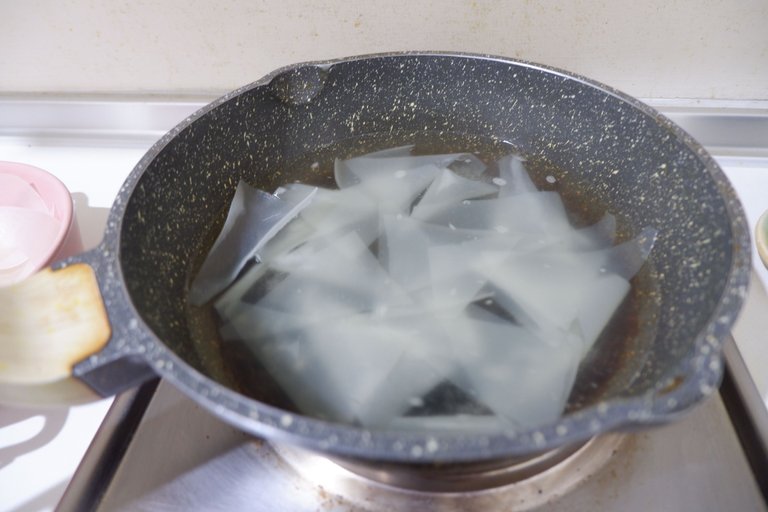 Cook until the noodles are just done for about 1 minute. Once the noodles are soft enough, drain away from the excess water and it is ready to be used.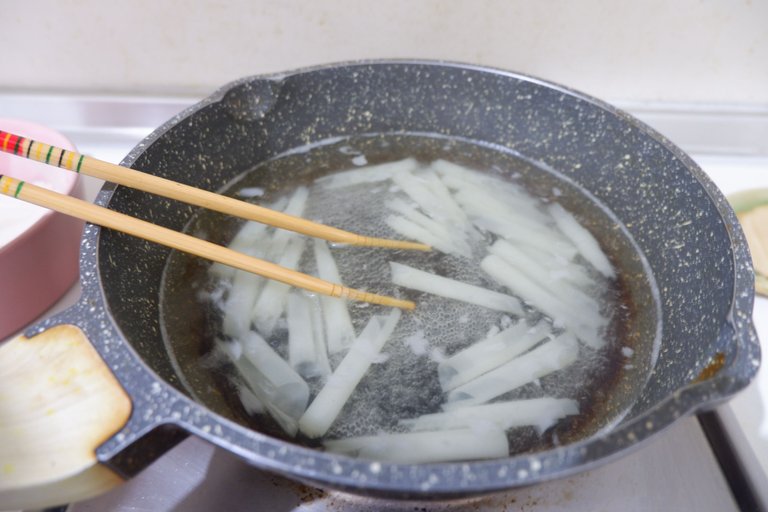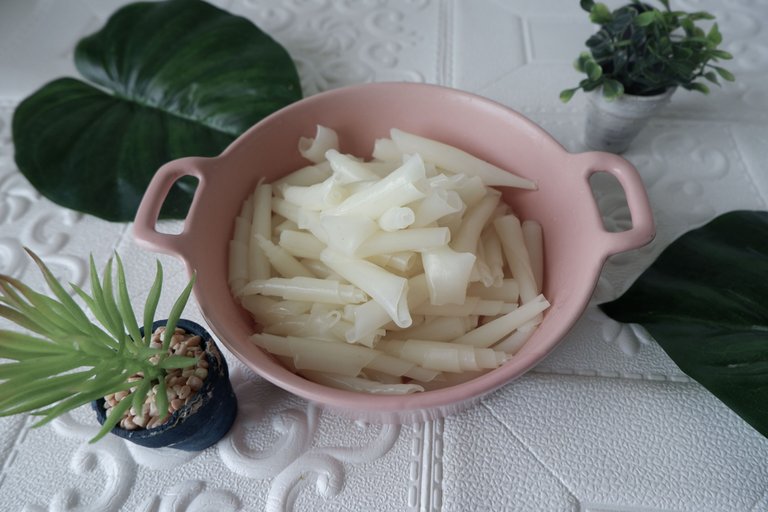 ---
---
STEP 3 - PAN-FRIED THE TOFU
Here are the important things to get right for this Vegan Vegan Hell Spicy Noodles. Firstly cube and dice cut the firm tofu into square pieces of equal size.
In a well non-stick pan, heat about 1 teaspoon of vegetable oil over high heat. Once very hot, carefully add the cube of tofu and spread it out into a single layer. Sear on one side until browned or halfway cooked, then flip or toss and cook the other side until done.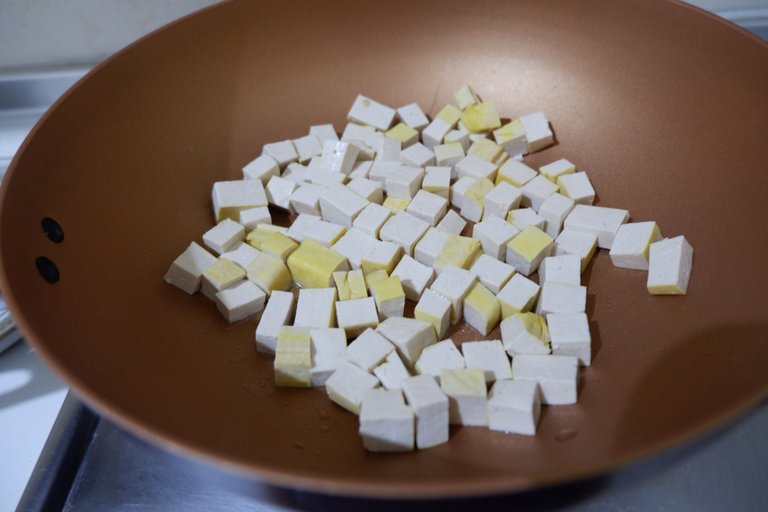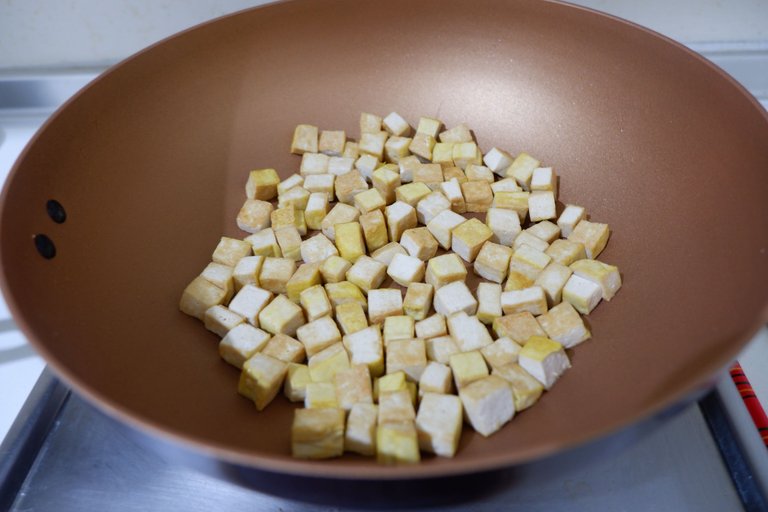 And The key to this delicious crispy tofu is very good tofu. Definitely need to use firm tofu which can't use soft or silken tofu that will be broken when we pan-fried.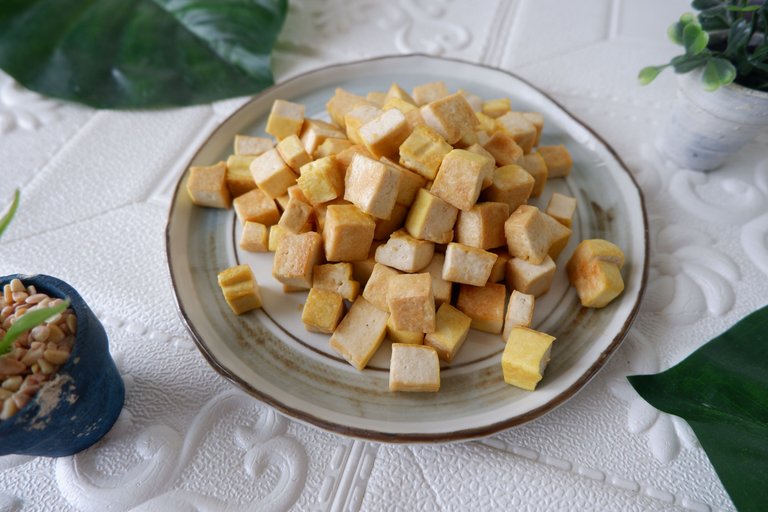 ---
---
STEP 4 - SAUTE THE CHILI PASTE
Put the pan back on the stove with the heat still on, then quickly add the grind of chili paste into the pan. Then whisk all the paste until the smallest pieces of paste start to turn sizzling or until it releases its fragrance aroma.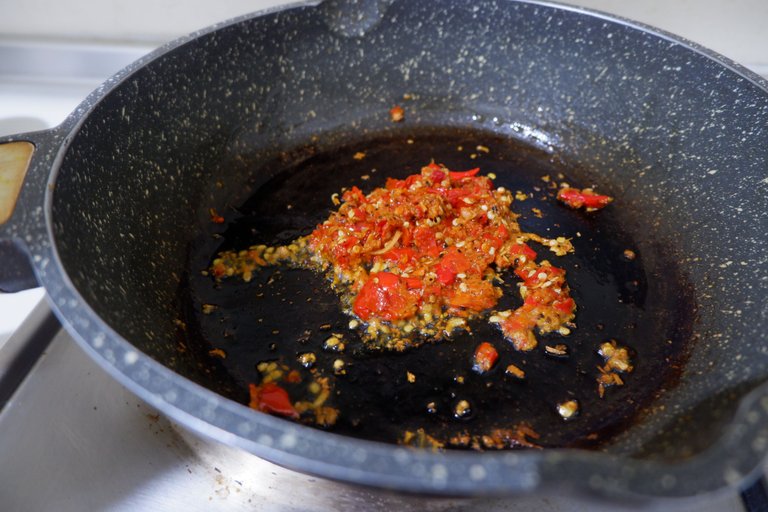 ---
---
STEP 5 - STIR-FRIED THE VEGETABLES
Then add the cubed carrots, water spinach, napa cabbage, and cabbage. Then stir fry to cook about 50% over about 2 minutes and continuously whisk them together.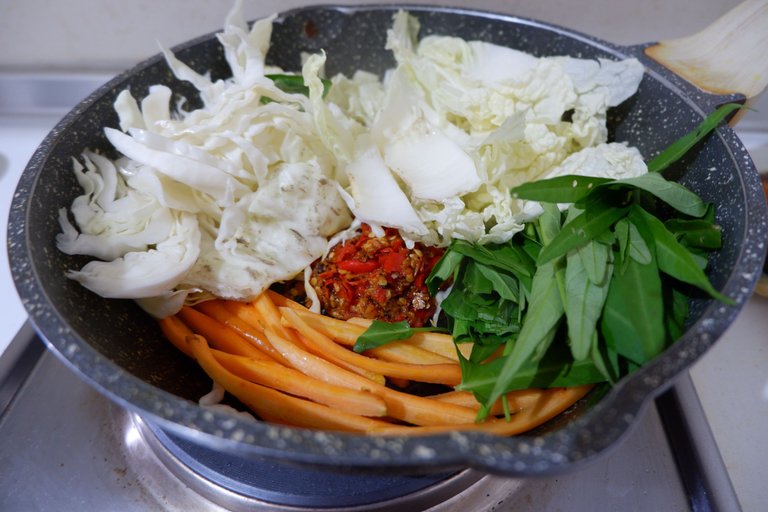 Once all the hard vegetable is cooked, then add the red onion. And continue tossing for about 1 minute to heat through all ingredients.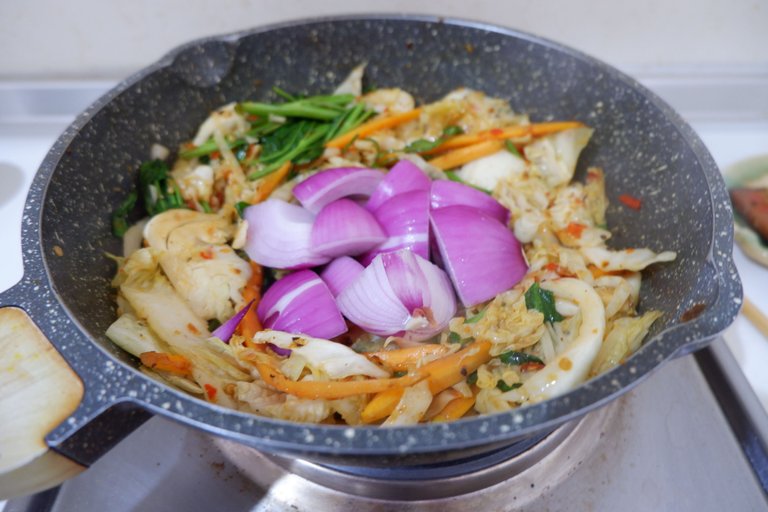 ---
---
STEP 6 - STIR-FRIED THE NOODLES
Then lower the heat to medium, then add the rice roll noodles and stir-fry for about 2 minutes to let the rice roll noodles burnt and get the smoke flavor.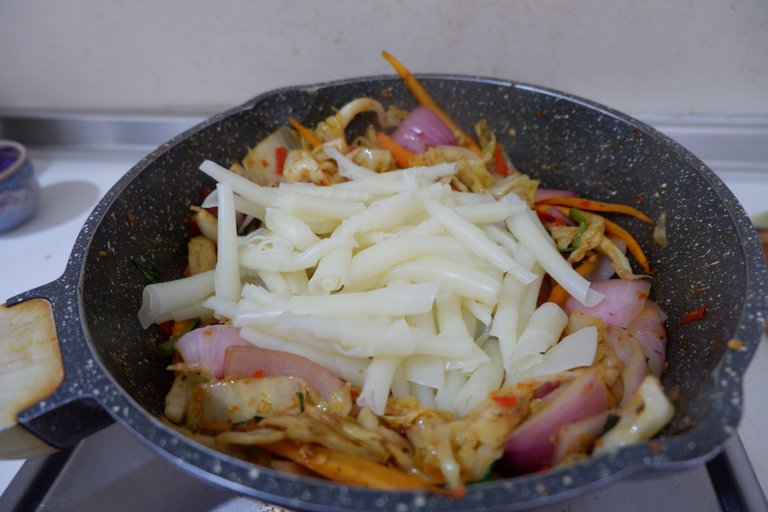 Keep stirring and once let the rice roll noodles sit without stirring so it'll develop more flavor.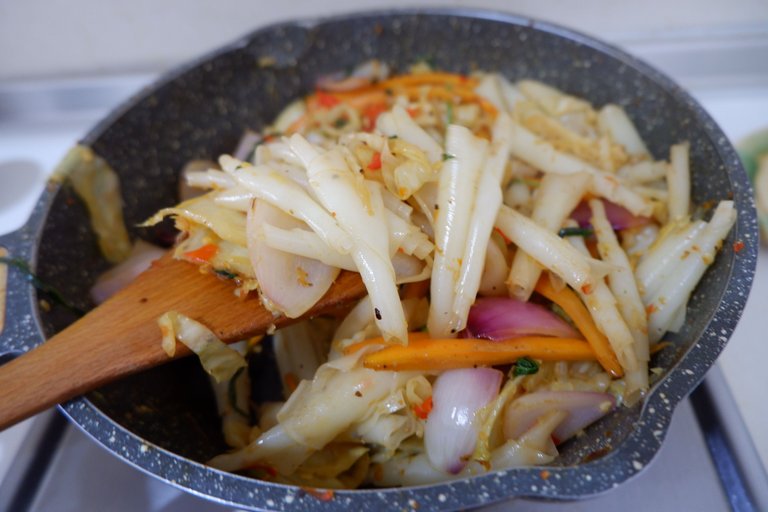 ---
---
STEP 7 - SEASONING
After adding the noodles to the pan and whisk them well. Then followed with crispy tofu and dried chili. The tip for this recipe is I didn't pick off the stem of chili away because I want to keep the benefits of lactic acid bacteria from the chili stem.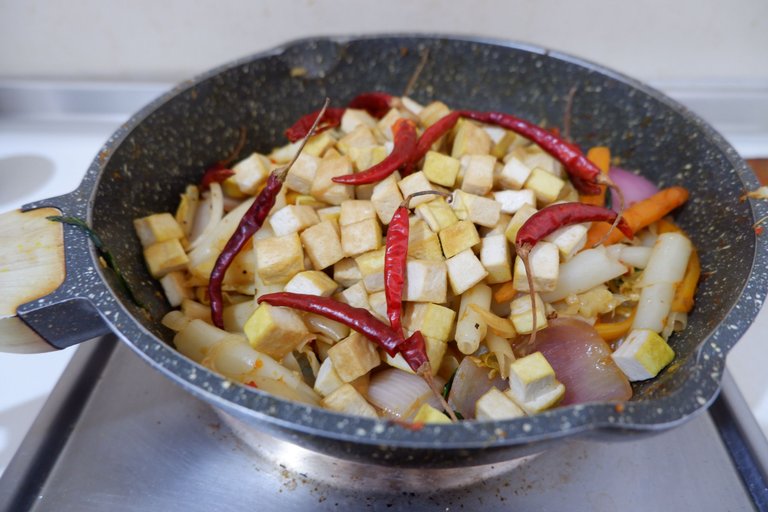 Drizzle the mushroom sauce, soy sauce, seasoning soy sauce, and dark soy sauce. Then sprinkle the sugar.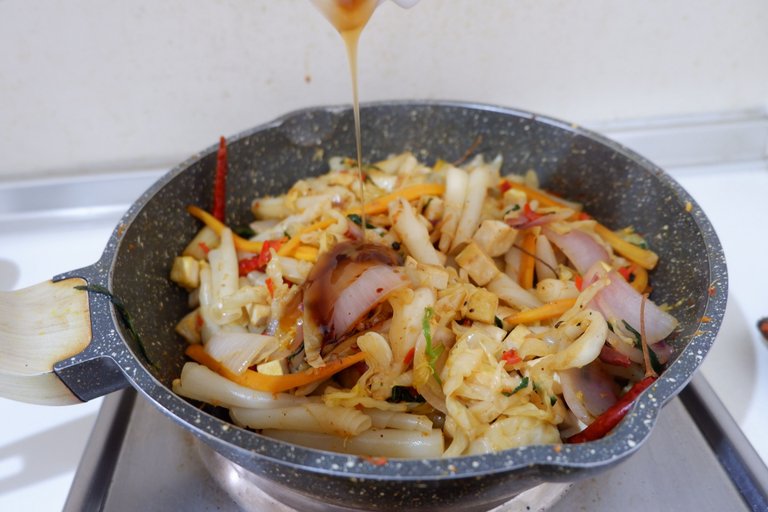 Toss until all the noodles are evenly coated and the sauce has been absorbed. If you want a darker color, possibly to add a dash of black or dark soy sauce at a time. Lastly, add the tomato and quickly toss for about 30 seconds and turn off the heat.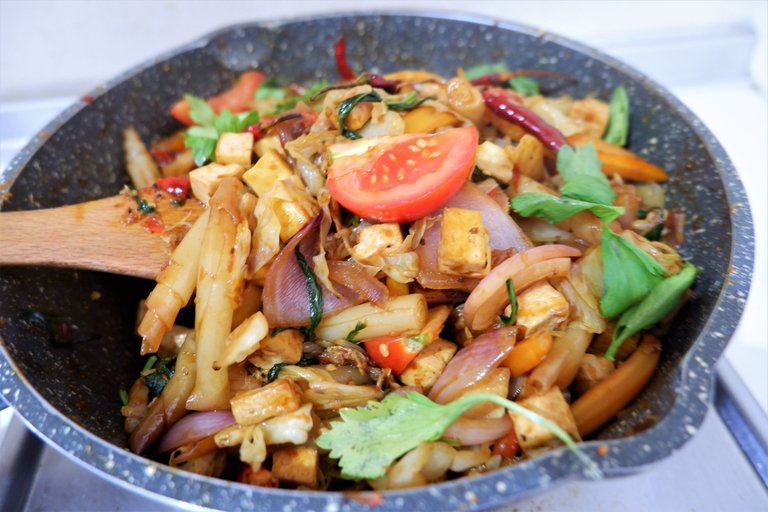 STEP 8 - PLATTER
Serve Vegan Hell Spicy Noodles immediately with my favorite slices of chili and a wedge of Thai parsley.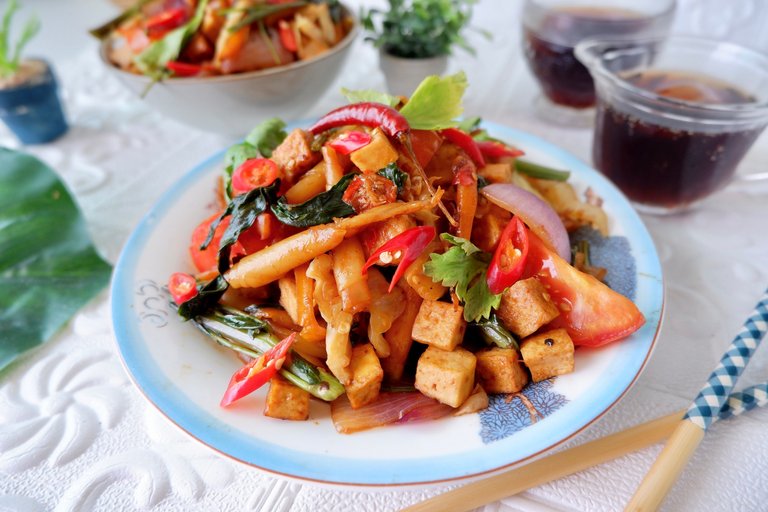 Seriously. It's probably one of the spiciest noodles recipes I've ever made. If you are looking for food that 100% guarantees that you will definitely not fall asleep and keep your nerve awake, this is a dish for you.
 
Here's a super spicy stir-fried noodle recipe that can make with just a few ingredients. And of course, depending on your spice tolerance, it may be a bit too spicy so adjust the level of chili to your preference!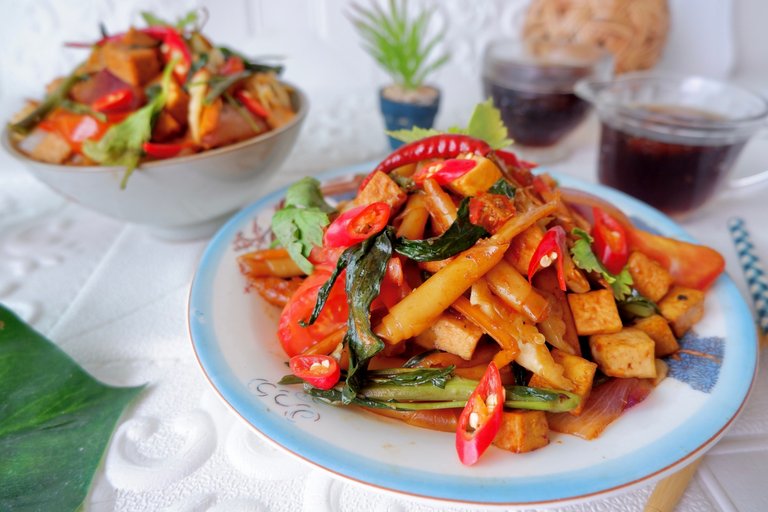 Thanks for reading my blog and hope you guys have a great week!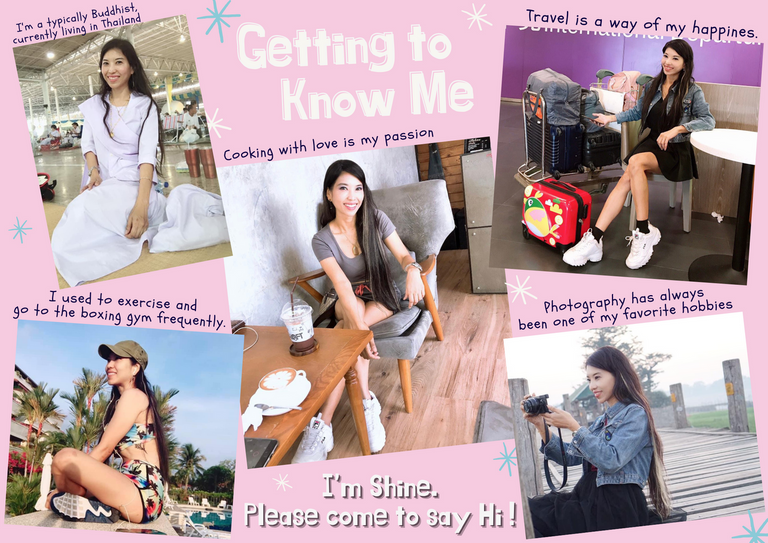 ---
---