Funky Shrimp Paste Dip with Eggplants and Climbing Wattle Omelette 🇹🇭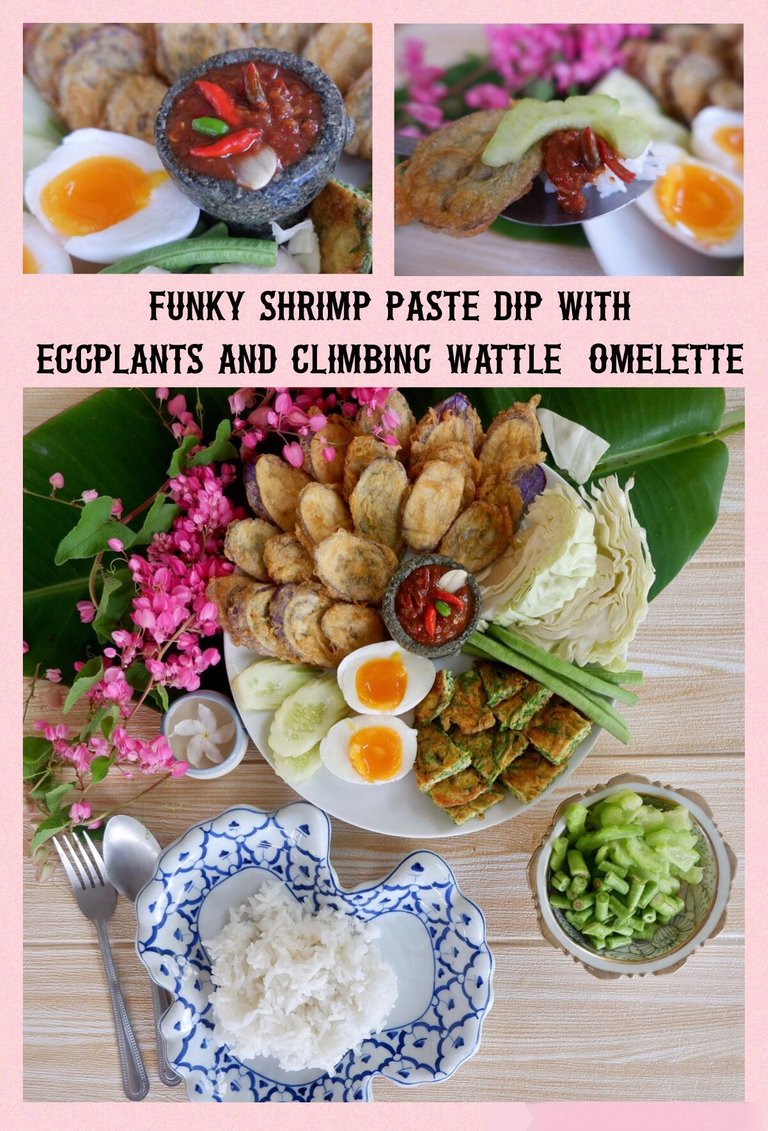 Sa Wad Dee Ka 🙏 Hive community ^^
Today I would like to share with you one of the oldest Thai foods since Ayutthaya Kingdom over 650 years ago which is still eat until nowadays. 😍
🇹🇭 Shrimp Paste Dip is perhaps the most famous Dip that served on the table in every Thai house. This spicy dip made with the funky fermented tiny shrimp paste that is the wildly use ingredient in the southern China and most of southeast Asia. If you are familiar with fish sauce so the shrimp paste is similar.😄
The Shrimp paste not taste good on its own because of strong smell and way too far of salty taste but the smell will turn fragrance and gone after mixing with local spice and herb and almost of all Thai curry pastes use shrimp paste in the recipe.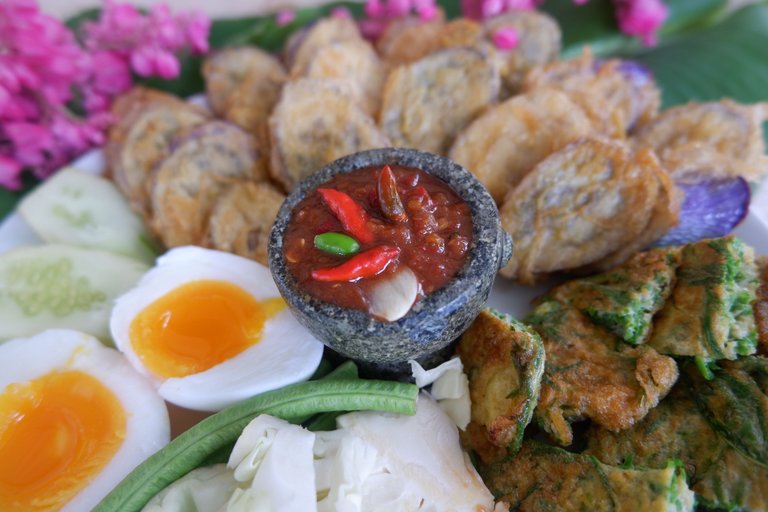 Shrimp Paste Dip is often served with Eggplants and Climbing Wattle Omelette plus various fresh vegetables and boiled egg.
The delicious of this dip depend on the quality of shrimp paste that should smell fishy and aromatic but not stinky. I honestly have to admit that I'm out of breathe sometimes time when I open the jar of shrimp paste but it's a common ingredient for Thai kitchen. 😆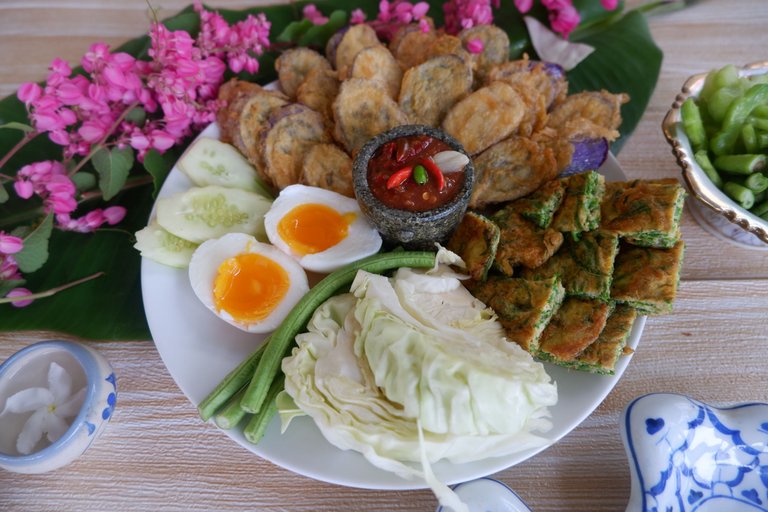 The important method is roasting the shrimp paste in a banana leaf to bring out the wonderful aroma and make it better smelling and tasting then grind all the ingredients by stone mortar.
It combines salty fragrance shrimp paste and spicy Thai chilis with lime juice for sourness and palm sugar for sweetness.
Shrimps have a high omega and the paste contains full of calcium from the whole shrimp including various vegetable with several health benefits and egg contained high protein. Such a perfect healthy dish, right? 😀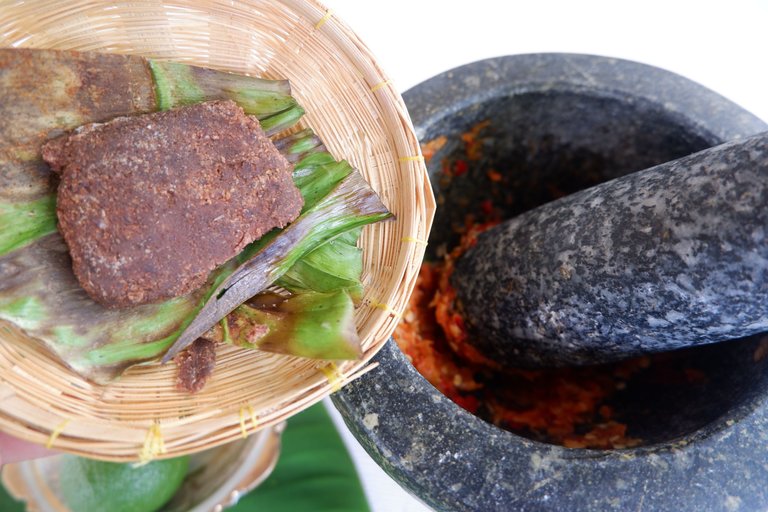 Ingredients of this dish have a lot of nutrients.
100 Gram Shrimp Paste
2 Tablespoon Palm Sugar
2 Tablespoon Garlic
2 Tablespoon Lime Juice
1 Tablespoon Thai Bird's Eye Chili
2 Tablespoon Thai Jinda Chili
1 Cup Climbing Wattle
2 Eggplants
3 Egg
Fresh Vegetables that you preferred
2 Tablespoon All Purposed Flour
1/3 Cup Vegetable Oil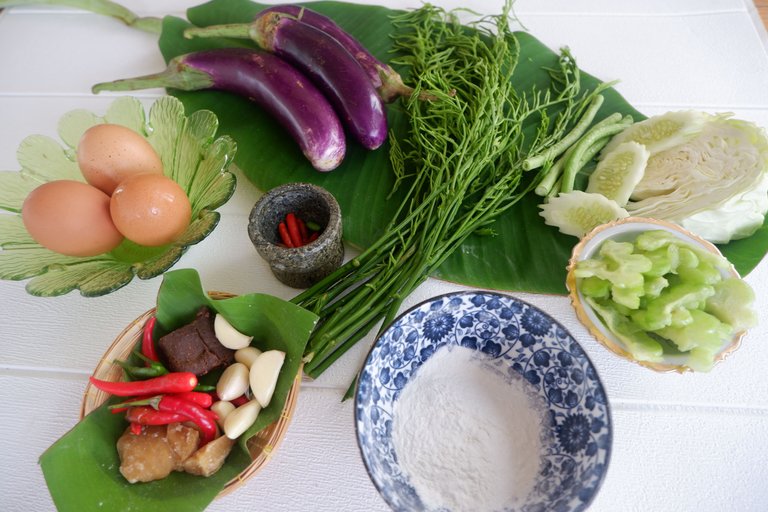 Ready for Cooking?
Put the shrimp paste on the banana leaf and fold it and put on the heat skillet about 2 minutes on each side.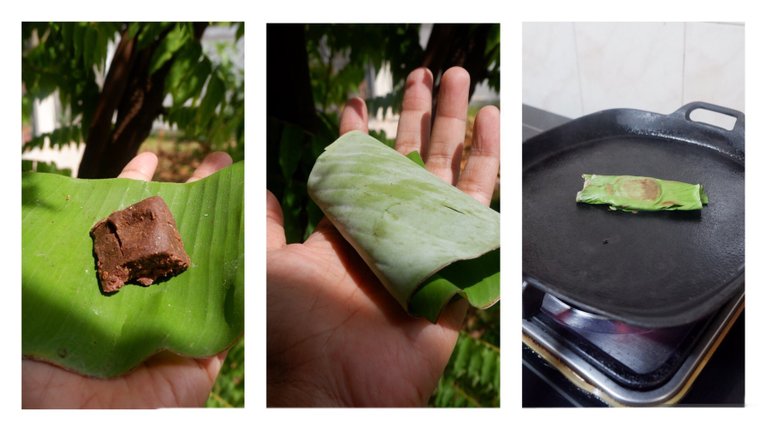 Pounding Time!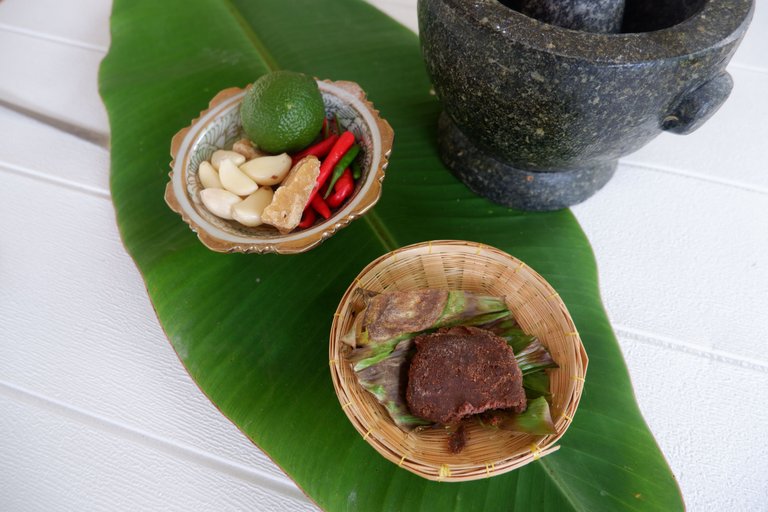 Put the chilies and garlic in a stone mortar then pound roughly and add the roasted shrimp paste, plum sugar and lime juice then keep pounding lightly until well mixed.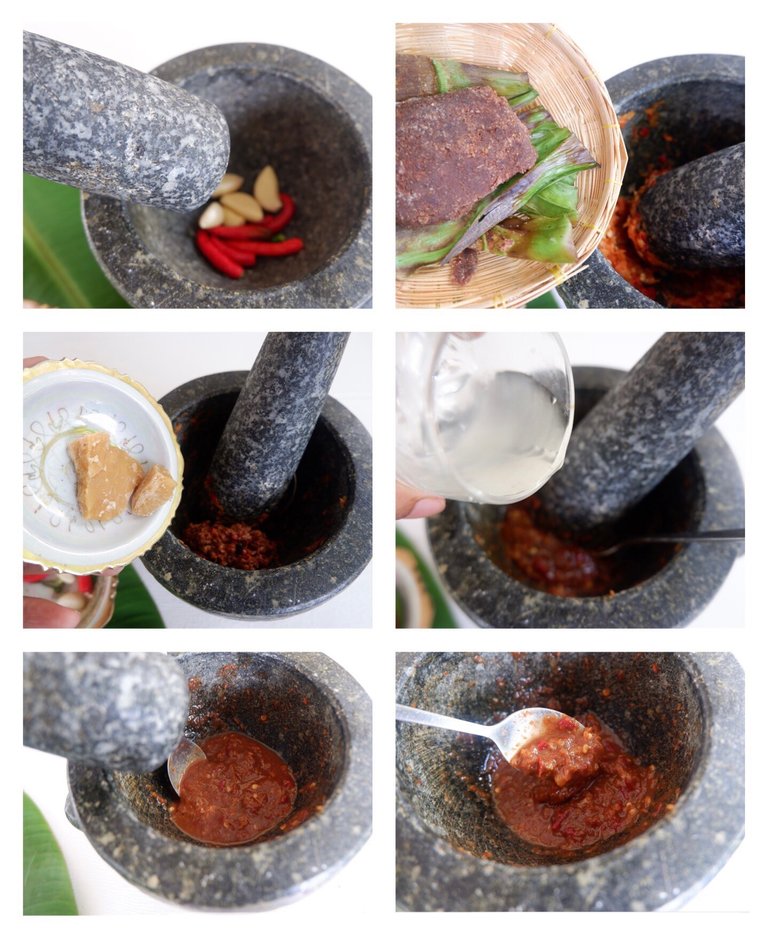 How to cook The Eggplants Omellete
Slice the eggplant and toss with all purposed flour then heat the pan to medium high and dip the eggplant into the bowl of one egg beat. Deep Fried the eggplant until golden brown and rest on the rack.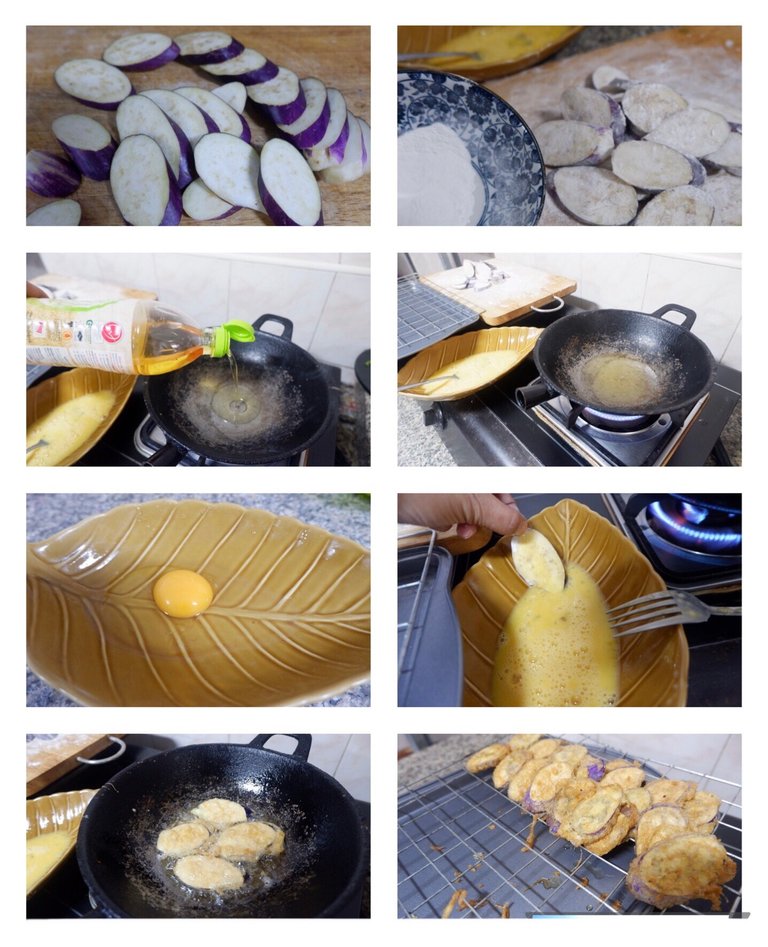 How to cook The Climbing Wattle Omellete
Pick off the leaves of climbing wattle(don't use stick) and drop them into the egg and fried them.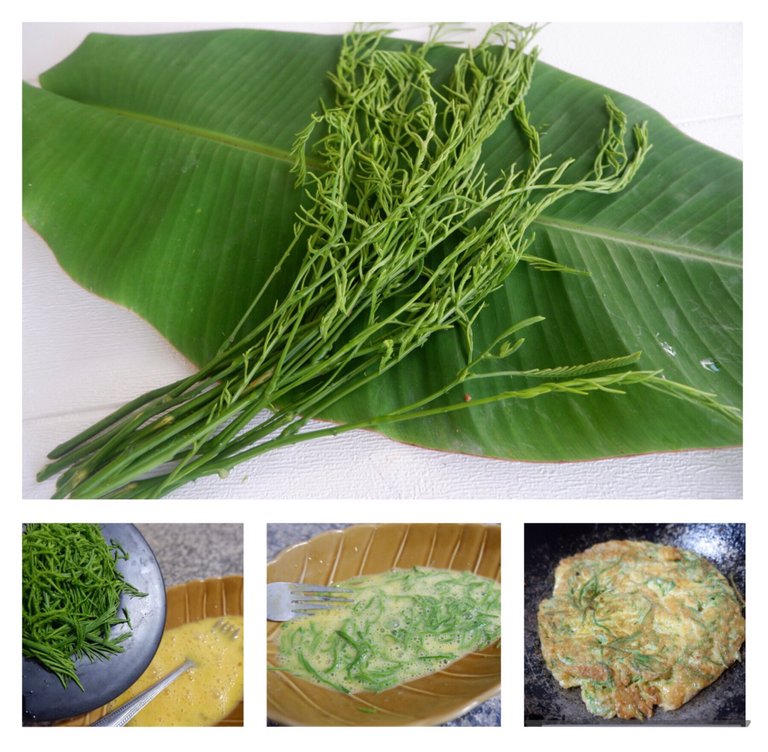 Omelette is Ready!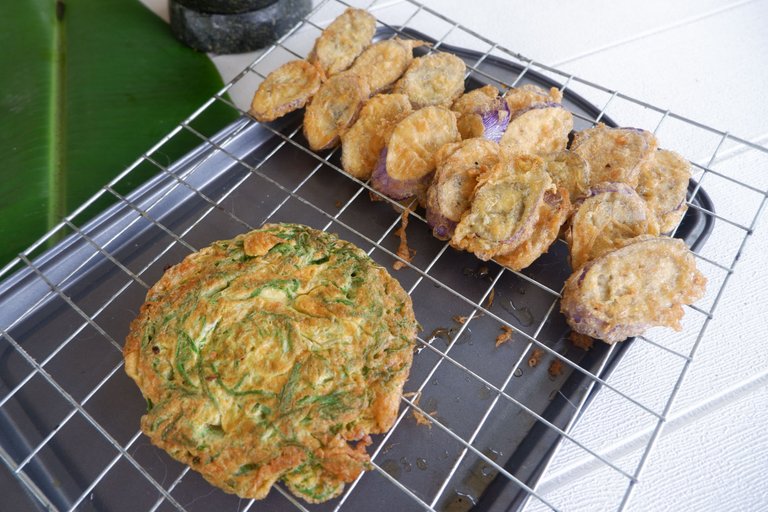 Served Funky Shrimp Paste Dip with Eggplants and Climbing Wattle Omelette with Jasmin Rice and Boiled Egg and Fresh Vegetable.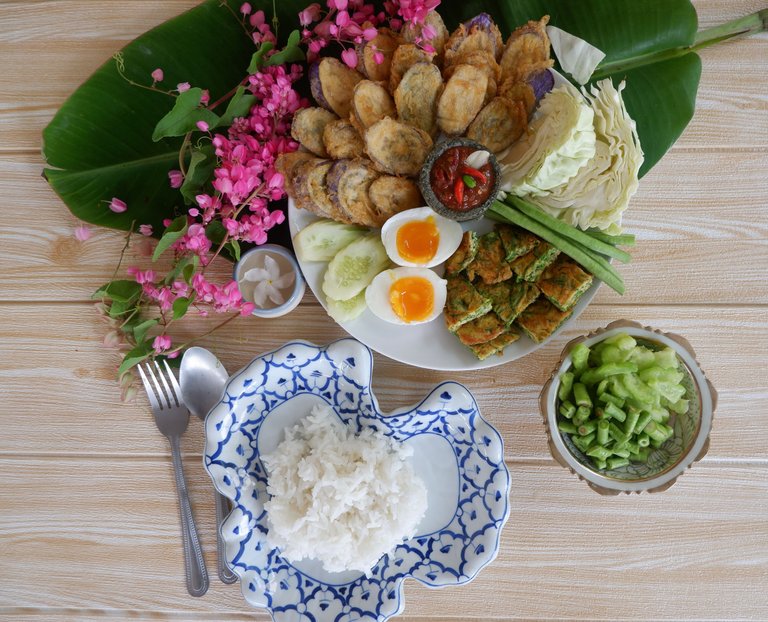 Time to Dip!
Have a spoonful!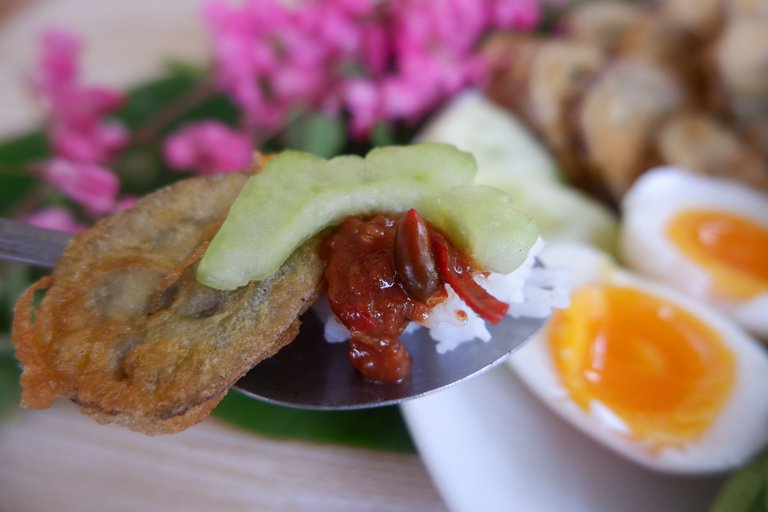 I hope you enjoy this recipe and some of you guys were familiar and some probably were not but I would love to encourage a try and hopefully you appreciate it as all Thai people because it's recall us a fondly memories of home.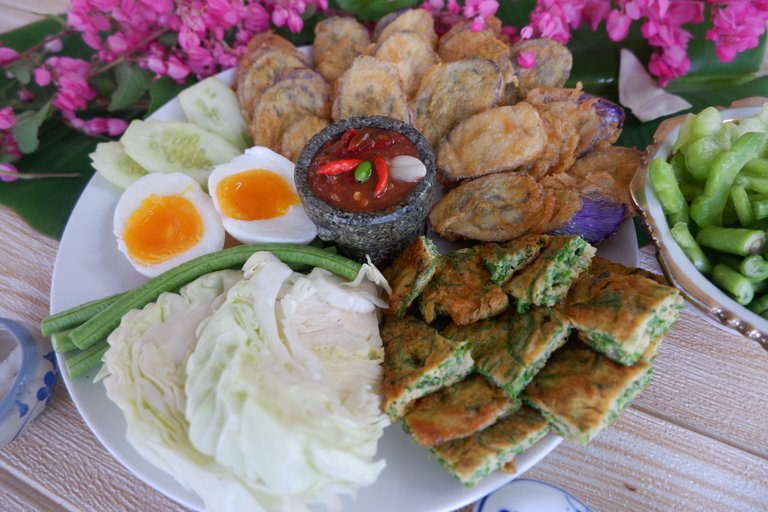 Hope you guys have happy day ahead. 🙆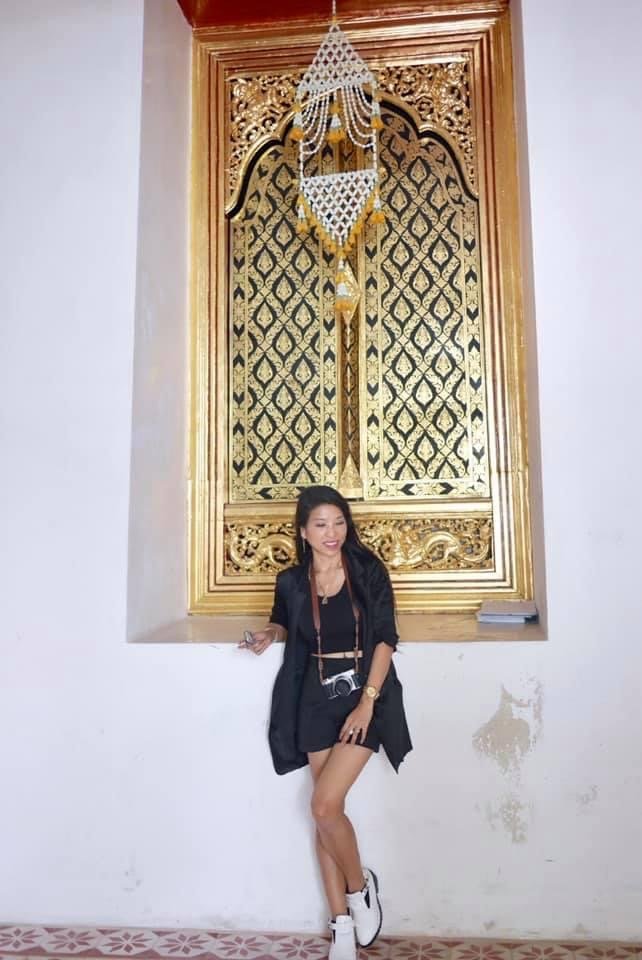 ---
---