Fried Stuffed Chinese Eggplant with Mix Vegetable in Garlic Sauce 🇨🇳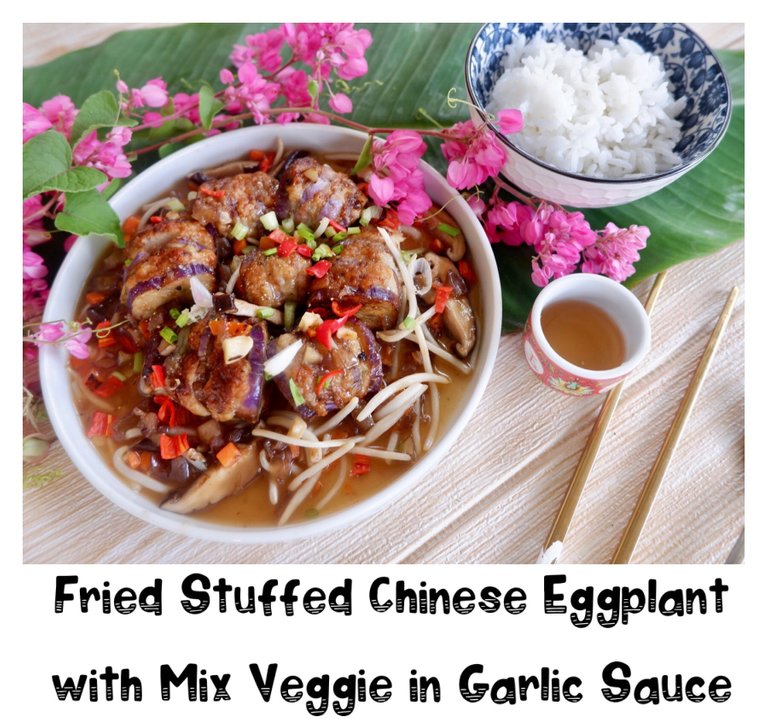 Sa Wad Dee Ka 🙏 Hive community ^^
A couple of day ago I went to my friend house and luckily to get the organic eggplants from her garden.
so today I would like to share with you how to make one of my favorite eggplant dish, "Fried Stuffed Chinese Eggplant with Mix Vegetable in Garlic Sauce "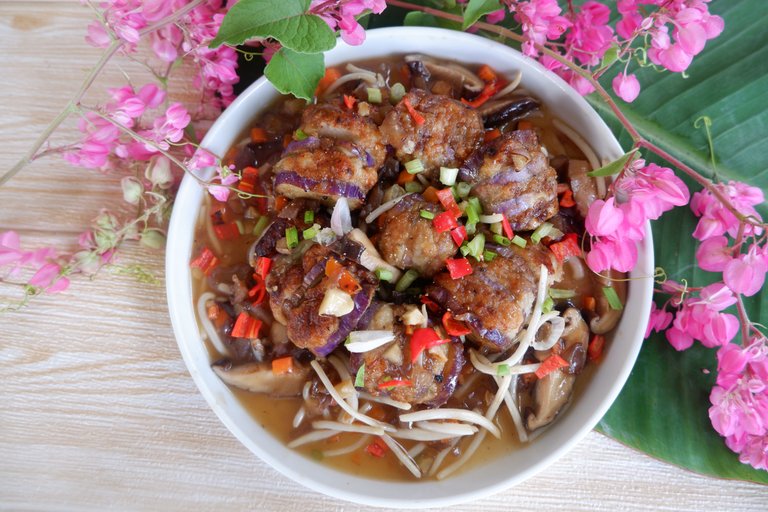 Eggplant has high fiber contend and very low in carbohydrates so it can be the right food choice for a person who concern about healthy diet. 😄
Eggplant should be firm but not hard and the stem end of Eggplant should be long and green.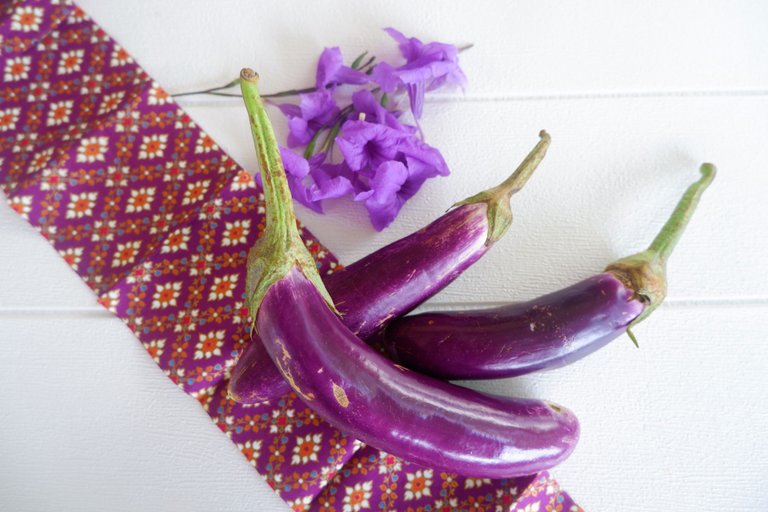 The dish is delicious and full of flavor with contrasting textures. It's a fun dish to cook with Eggplant stuffed with pork paste and fried until golden brown and stir fried with a savory sauce.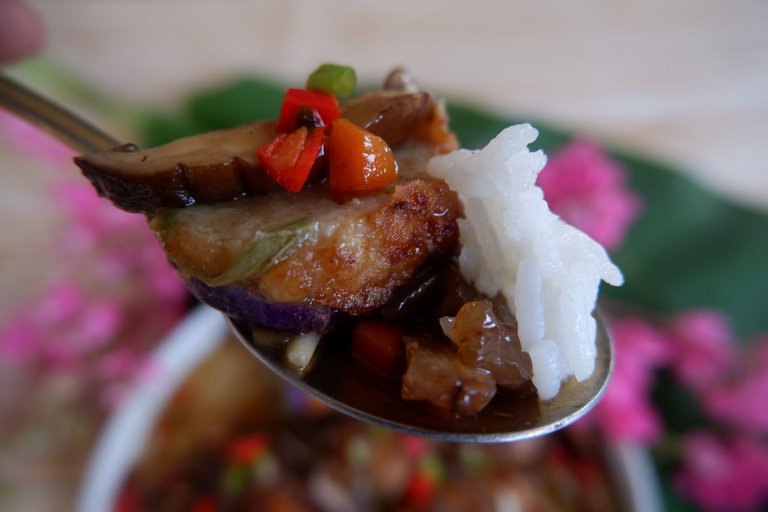 This stuffed eggplant dish is pretty quick and easy to make. Here are the main ingredients,
Stuffed Eggplant Filling
1 Eggplants
100 Gram Minced Pork
1/2 Teaspoon Soy Sauce
1/2 Teaspoon Oyster Sauce
1 Teaspoon Garlic
1 Teaspoon Black Pepper
1 Teaspoon Coriander Root
1/2 Teaspoon Ginger
1/2 Cup Vegetable Oil
 
Stir Fried Vegetable and Garlic Sauce.
1/2 Teaspoon Garlic
1 Tablespoon Carrot
2 Tablespoon Ear Wood Mushroom
2 Tablespoon Mung Bean sprouts
1 Dried Shitake Mushroom
1 Tablespoon Corn Flour
1 green onion (chopped for Garnish)
2 Red Chili (Seedless and chopped for Garnish)
1 Tablespoon Soy Sauce
1 Tablespoon Oyster Sauce
1 Tablespoon Vegetable Oil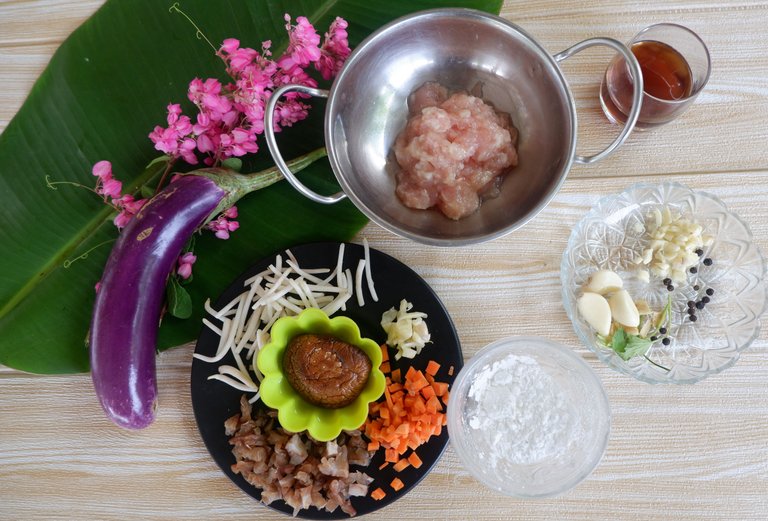 How to make the pork paste stuffed.
Pounding the garlic, ginger, coriander root and black pepper to the mortar then drop the minced pork, sauce and pounding it together.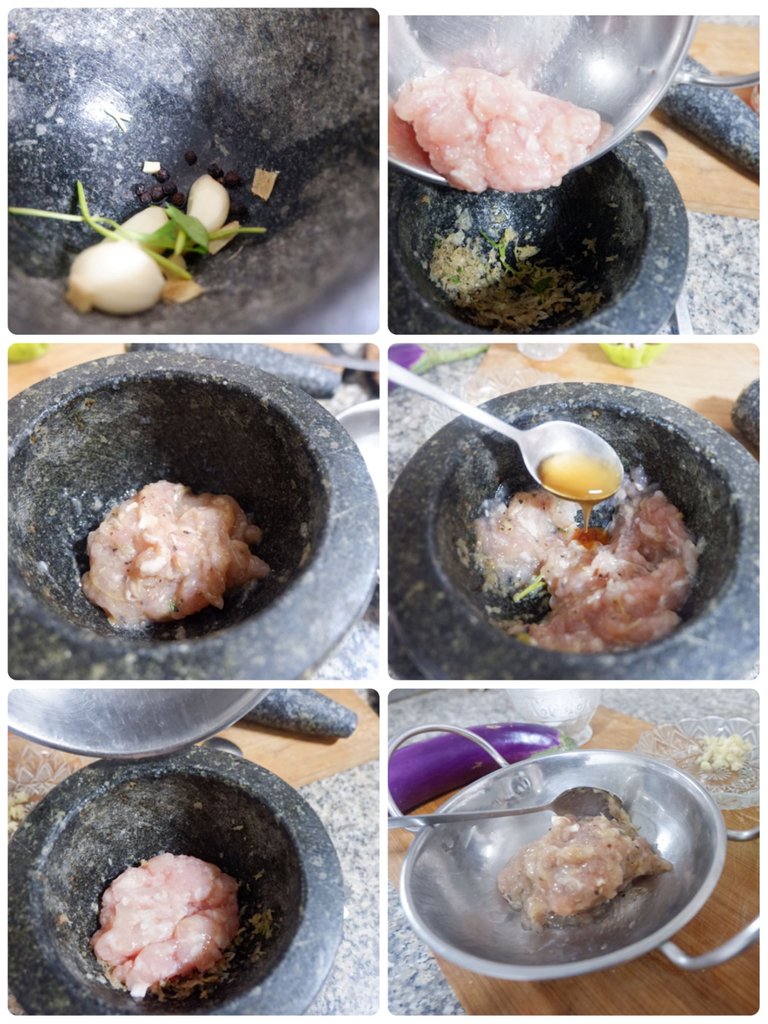 Eggplants Preparation!
Cut the stem away and put the eggplant between the chopsticks and slice through the middle but not all the way to make a space for stuffing paste and cut off to the end every third time.
Fill each eggplant slice with pork paste mixture.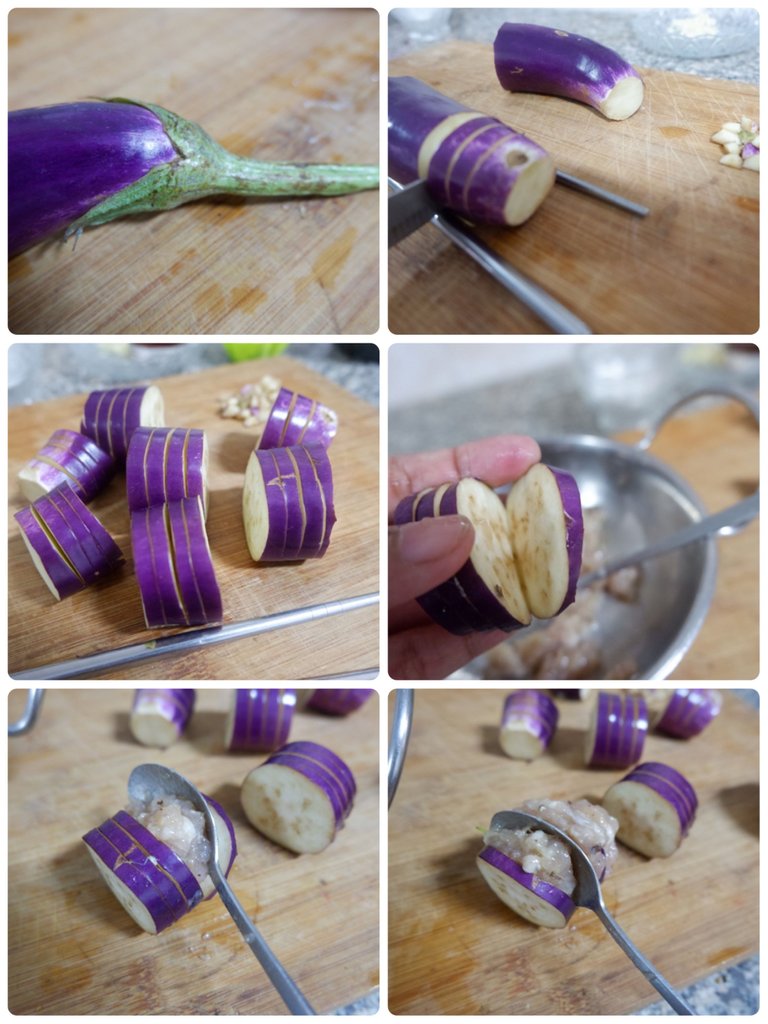 Stuffing Done
Coating the eggplants with the all purpose flour.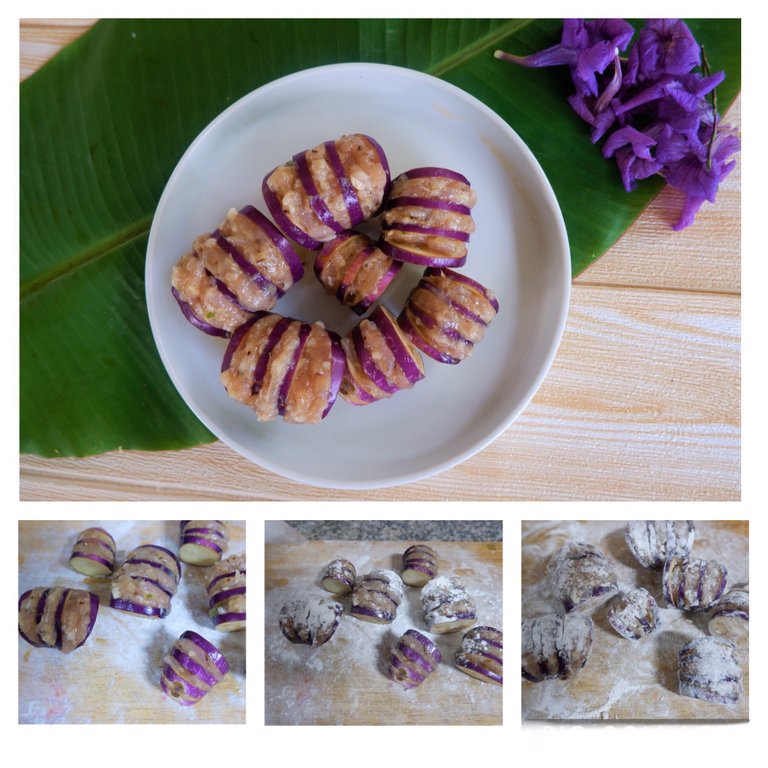 Time to Fried the eggplants.
Heat a wok to medium-high and pour the oil. Drop the eggplants when smoking start and fried until golden brown and put aside on the rack.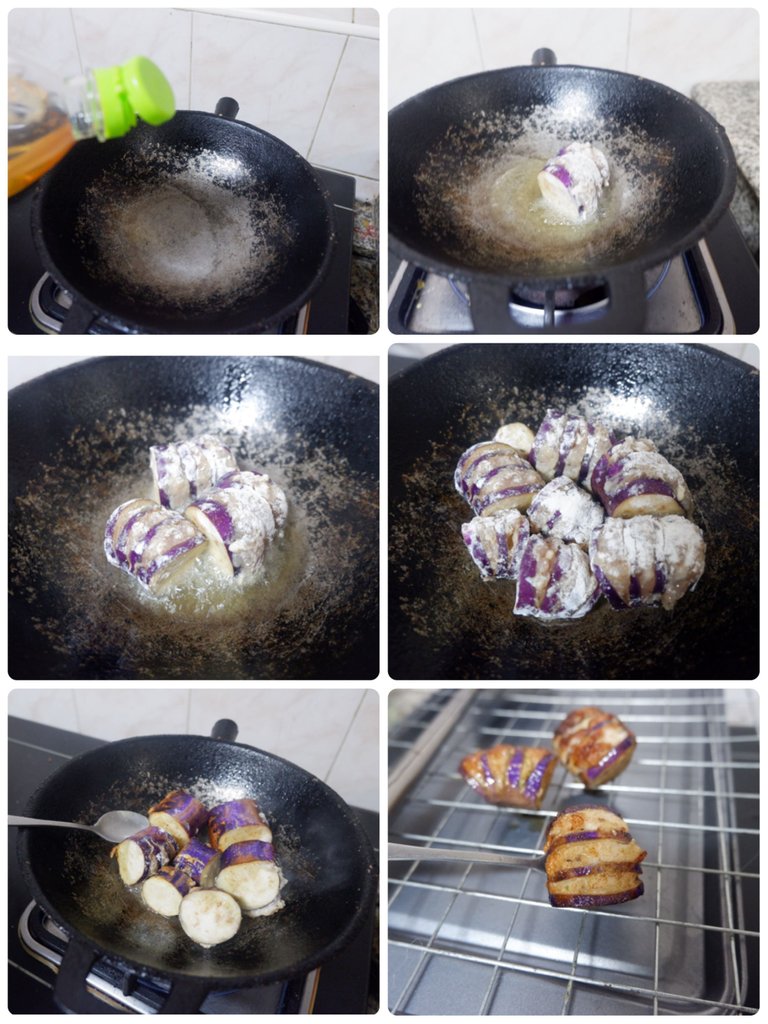 How to cook the mix veggie in garlic sauce.
Drop the garlic, carrots, dried shitake, ear wood mushroom, water, all sauce and corn flour to the pan and stir them well.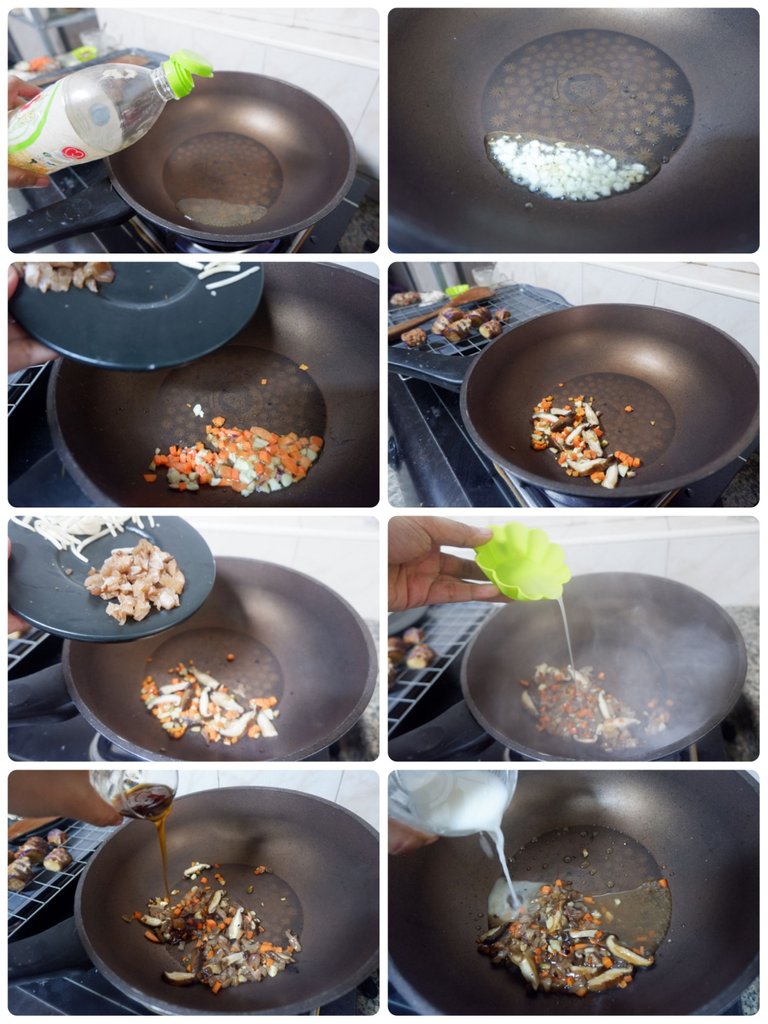 Gathering the ingredients.
Toss the eggplant stuff into the sauce then drop the mung bean sprouts. Turn off the heat and put on the dish and garnish with spring onion and seedless red chili and sprinkle with white pepper.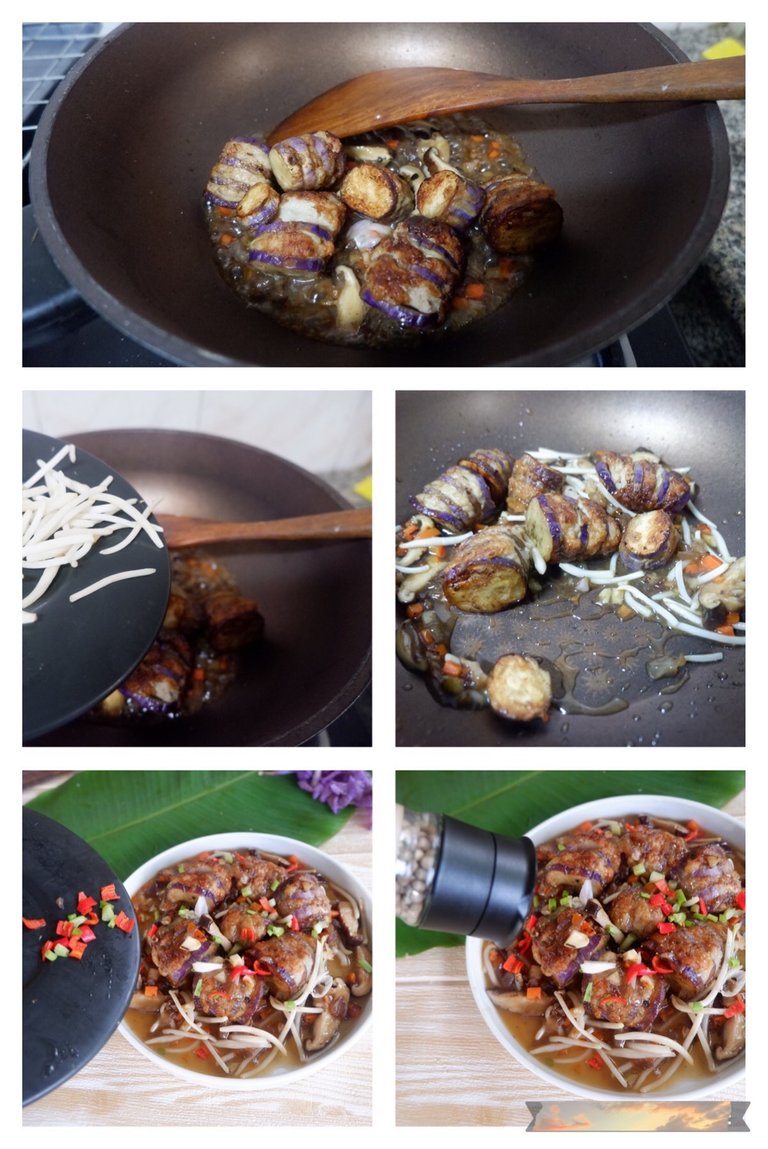 Serve it with steamed rice for a cozy dinner.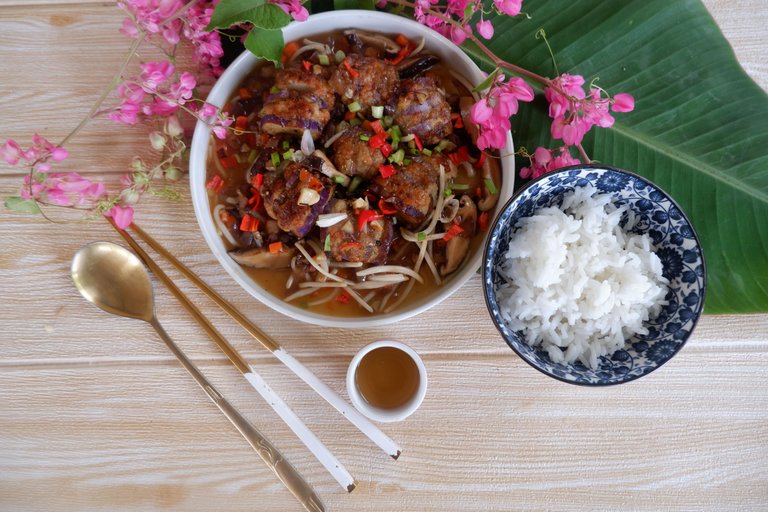 Serve hot!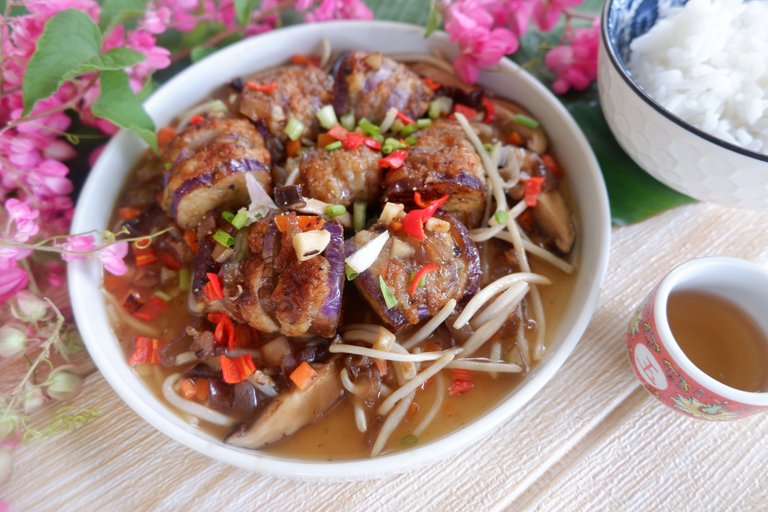 Let Eat!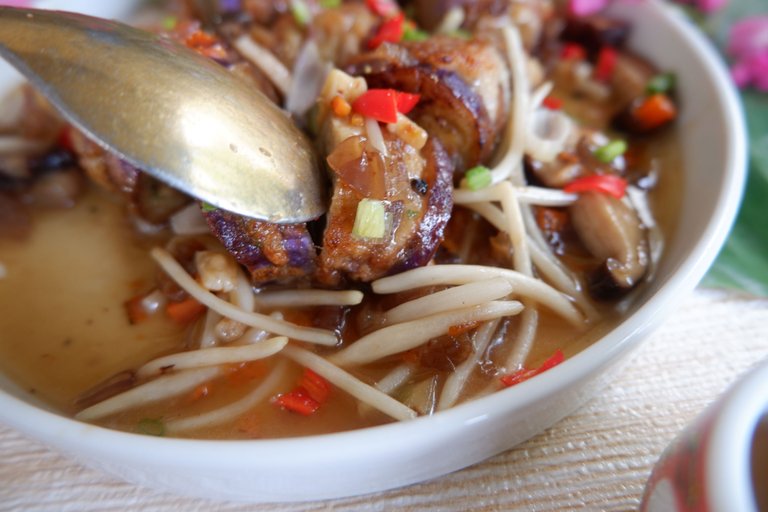 Have a spoonful!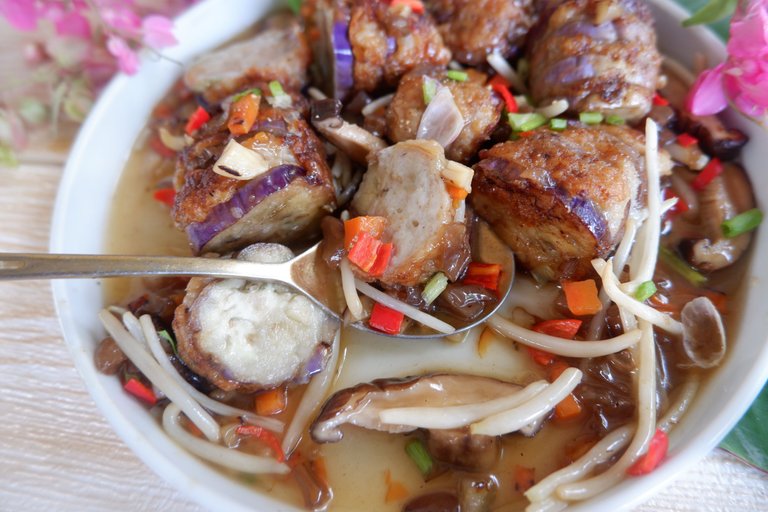 Hope you guys have a great day!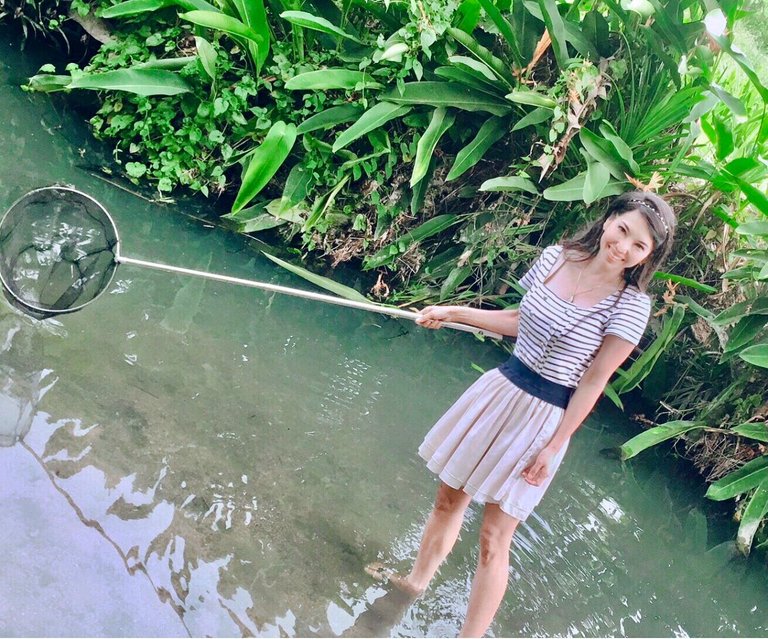 ---
---