Travelling Books No 2 - December 2022 | Inspired by Poetry | Design and Techniques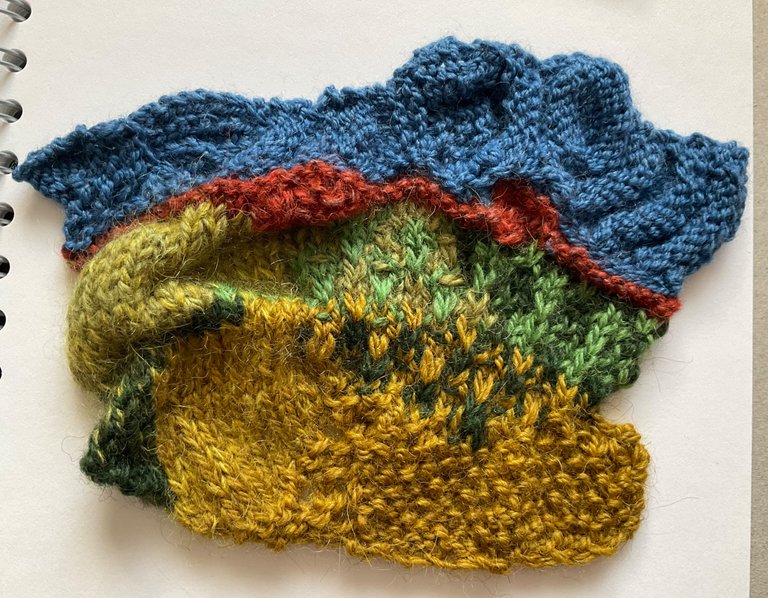 Experimental sample for the theme "Inspired by Poetry"
Inspired by Poetry: A Portable Paradise
I bought A Portable Paradise in January 2020, before the pandemic, when we could still wander into town and in and out of bookshops and bars. I wrote about it here, the terrifying sadness of Grenfell and the compassion of Grace: 'No baby must dead/ wid a hungry belly' and young men's yearnings.
Even then, A Portable Paradise, the poem about his grandmother's words, stayed in my memory, floating in the unconscious, seaweed in water, an eerie cosmos of swirling dust, waiting for its time. Somehow those images found their way into a story, became a talisman protecting a young woman in a post pandemic world.
But I wasn't done with it yet:
trace its ridges in your pocket,
smell its piney scent ...
The words came back to me as I was thinking about ideas for this month's Travelling Books theme, Inspired by Poetry. When he won the T S Eliot prize, Roger Robinson spoke about how the book had come about and how his ideas about what paradise might be had changed, influenced by Grenfell, the premature birth of his son, the Windrush scandal, as well as his own experiences of living in Trinidad and England.
... "and paradise became hope" ...
In the video, Roger Robinson mentions TS Eliot, who also came to mind as an inspiration. I had The Love Song of J Alfred Prufrock spinning round my mind, The Four Quartets are mentioned in the video and I came across the 100th anniversary of The Waste Land as I was researching for this project. Somehow, I got sidetracked and watched again the 2000 adaptation of The Great Gatsby with Toby Stephens as Gatsby.
Eliot and Fitzgerald were writing after the terrors of the 1914-1918 wars, the Russian Revolution and the 1918-1920 flu epidemic, exposing the hollowness of The American Dream and modernism; Robinson after Grenfell and the Windrush scandal, Caribbean elders sent back overnight, but before the pandemic and Black Lives Matter. Is it a surprise that these writers come to mind in this after time, when we are trying to make sense of all that has happened, the disrupting of everyday taken for granteds, the loss of life, the grief.
In A Portable Paradise, the poet offers us ways of coping and of hope:
A Portable Paradise
And if I speak of Paradise,
then I'm speaking of my grandmother
who told me to carry it always
on my person, concealed, so
no-one else would know but me.
And if life put you under pressure,
trace its ridges in your pocket,
smell its piney scent on your handkerchief,
hum its anthem under your breath.
And if your stresses are sustained and daily,
get yourself to an empty room - be it hotel,
hostel or hovel - find a lamp
and empty your paradise onto a desk:
your white sands, green hills and fresh fish.
Shine the lamp on it like the fresh hope
of morning, and keep staring at it till you sleep.
from A Portable Paradise by Roger Robinson (2019).
Colours, Stitches and Techniques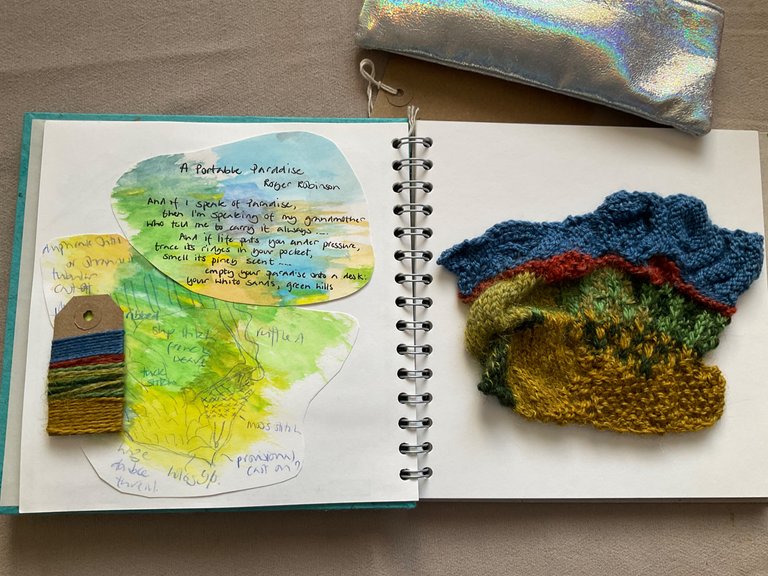 On the left hand page, my initial sketch and colour wrap, with an extract of the inspirational poem; on the right hand page, a free knitted piece. I loved the texture, the ridges and bumps and hollows, and some of the striations created by the slip stitch stranded colour work in the middle on the right.
"... smell its piney scent ..."
Drew me to my collection of green, green-yellow and green-grey yarns as my starting place. I swatched Moordale Gooseberry (shade 04) in stocking stitch as the base colour/stitch and built the other colours around it. I had a go at creating a background or base using watercolours in a sketchbook, and jotted ideas about stitch techniques on top.
As the piece developed, I wanted to use other colours and made a wrap to test how the red-brown and blue would look with the green palette. I had thought about a grey-white instead of the red, but it felt as if the piece was becoming too representational, a landscape, rather than a collection of ideas. Although I was struck by how it resembled layers in Google Maps - aerial pictures of the landscape - I wanted to leave it open to interpretation.
In the back of my mind, I had a quote from Buddy Penfold about getting away from the square (you can read more about Buddy's presentation at the Fleece to Fashion Conference in this post) - knitting lends itself to squareness and a grid formation; and from Emily Joy Richard, another presenter at the Conference, the idea of free knitting, almost a kind of knitting blog.
(Source) "...trace its ridges ..." drew me to this jumper designed by Erika Knight for Rowan. It's a kind of tuck stitch.
I wanted to try to create an experimental sample in one piece, very textural, that combined some of the techniques I'd been learning. I had an initial drawing, roughly sketched over some water colour washes, and a selection of colours I wanted to use, but I wanted to work fairly randomly and organically, and see what happened.
The final piece includes stocking stitch, some with a strand of fine silk mohair held double with the main yarn, moss stitch, slip stitch stranded colour work, lace stitches using yarn overs and decreases to create holes and hollows and tuck stitch. Techniques included stacked stitches, short rows, intarsia and shaping using welts and ribs.
I talk more about how the piece was constructed in this comment below.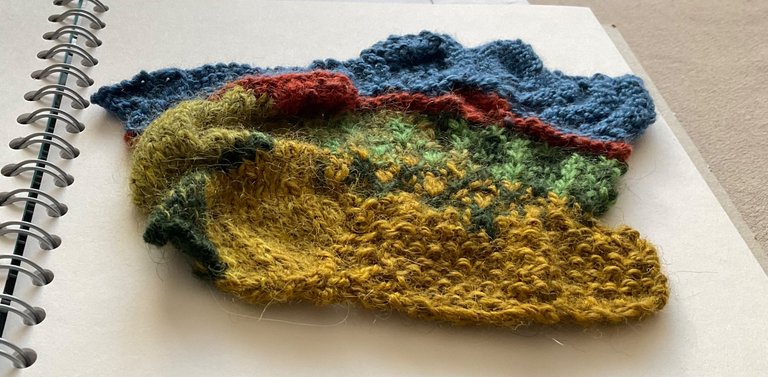 I was pleased with how lumpy it was, and the shadows and bumps. If it wasn't for constraints of time and that it was going be stored in a book, so better to be flat, I would have continued building it into a more 3D form.
Colour is new and fascinating to me: selecting colours, how they work with each other, how to create effects. I feel like I've just picked a set of crayons at infant school - I'm clumsy but intrigued. I've been to a couple of colour workshops and I've just bought The Colour Bible by Laura Perryman to add to my small collection of books about colour. As I was knitting, I found I kept having ideas of colour experiments I wanted to try.
It's both daunting and exciting.
---
---