#needleworkmonday | Sock Stories - Finishing | New Sock History Series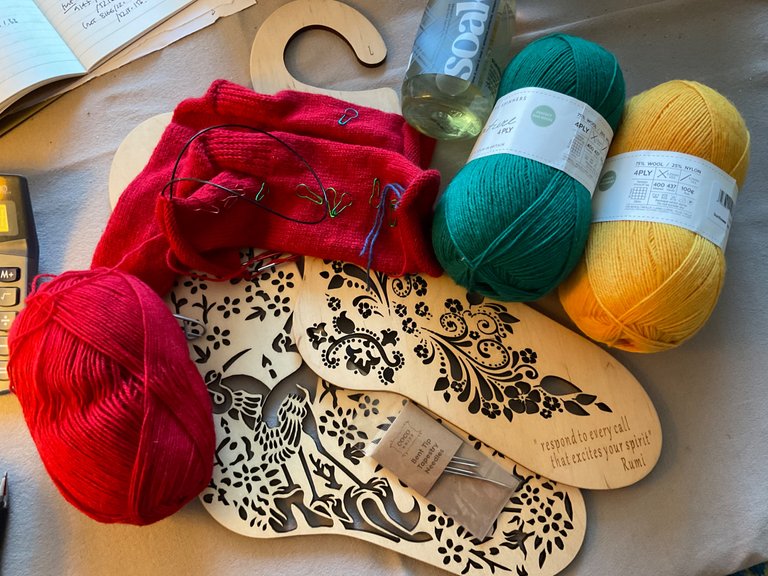 My latest socks - a present for Mr P, they are going to have red, gold and green ribbing at the cuff.
Each sock has about 15,000 stitches (30,000 for a pair). It takes me about 3 minutes to knit a round of 64 stitches, and I knit for about two hours a day. I calculated it would take me about 12 days to finish this pair. I'm intrigues that my tension is getting firmer with each pair of socks - these have naturally arrived at a tension of 36 stitches to 10cms (previously 32 stitches) and I was much quicker and neater at picking up stitches after making the heel flap.
When they are complete and all the ends woven in, a peaceful job that I enjoy, I submerge the socks in cool water (not cold, not hot) for about thirty minutes to allow all the air to escape. After gently squeezing out excess water, the socks are wrapped in a towel to absorb as much water as possible.
Previously, I've set the socks out in shape. smoothing out wrinkles and let them dry naturally over about 24 hours or so. Just recently, I bought some sock blockers, which stretch the sock while it dries and helps to even out all the stitches. I haven't tried this yet, so it will be interesting to see if the difference.
I like the Rumi quote on one of the blockers:
respond to every call that excites your spirit.
Good advice for a new year.
I'm also going to try some Soak. This is specially designed for cleaning knitwear and, to make it as easy as possible, you don't need to rinse the garment after using Soak. This small bottle holds enough for 75 washes: the liquid is plant-based and bio-degradable and the container is made from recycled plastic.
I do hand wash some of my socks, but some of the older ones I have started throwing in the machine on a delicate wash - so far so good. Hand made woollen socks can be washed less frequently than commercially purchased ones. I turn them inside out after wearing and hang them up to air - in the fresh air, if I can, and, best of all, in sunshine. I wear them on alternate days.
I've found a pattern for 72 stitches on 2.0mm needles (I use 2.5mm) - I guess that would add another 12% or 1,800 stitches (3,600 per pair of socks). It should still be possible to knit a pair within fourteen days.
The last addition to my kit are some bent tip tapestry needles for seaming and grafting. The bent tips make it easier to pick up stitches. These are especially helpful for small fiddly stitches like the ones in socks.
New History Series About Socks Through the Ages
I follow Roxanne Richardson's channel on YouTube. She's recently started a new series about the history of sock construction, especially how heels are made. This started from a pair of Norwegian socks that had been knitted by an earlier generation and the recipient couldn't remember how the heel was constructed.
After completing a long-term project looking at the evolution of sweater (jumpers and cardigans) construction, Roxanne has decided to look at the evolution of sock construction. Here's her introduction to the project, starting at 9:19 minutes into the video.
Other videos in the series so far include:
Discovering the Secret of How a 1900s Sock was Knit 7:27 minutes
Getting Started on a Vintage Sock Journey 4:07
Recreating a Vintage Sock 19:42
Socks and Stockings: What's the Difference? 23:16
Woven Hose Heels 19:06
The last video also has some beautiful knitting art.



---
---