Hive Power Up Day | Wednesday 1 June 2022 | New EDS Mini Miner | Progress and Portfolio Update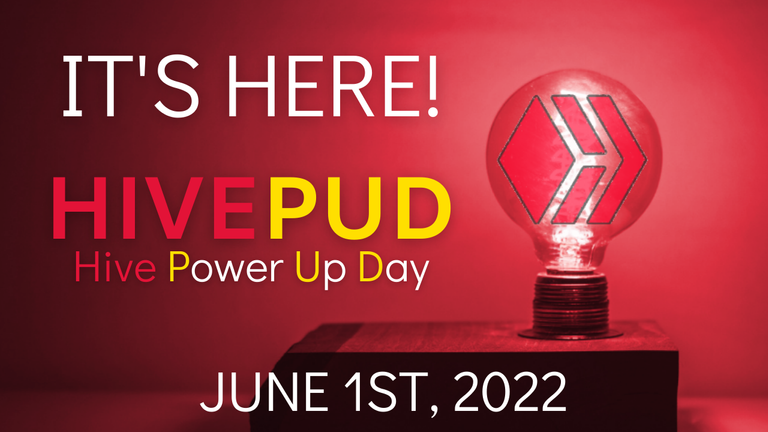 (Source) Hive Power Up Day hosted by @traciyork. See the post for how to take part and prizes.
NEW EDS Mini Miner Released
The new EDS mini miner (EDSMM) was released on Monday 30 June and has been selling very nicely. The latest addition to my portfolio, EDSMMs cost 1 HIVE and mint 0.2 EDS (my favourite token) or 20% APY every year. They are expected to mint for 40 years, so over that time one EDSMM will mint 8 EDS. There are twenty-four lotteries every day, each one with 20 payouts: 480 chances every day to mint EDS.
EDS are a savings and income token. All the HIVE gained by the @eddie-earner account from sales, posting, airdrops and selling H-E tokens is powered up and leased out. EDS guarantees a 12% income each year and, as the fund grows, this will increase. The current income is equivalent to about 23% APY. You can find the full projections for EDS fund growth and income in this post. EDS are pegged to 1 HIVE and you can buy them directly from Hive-Engine or mine them through buying EDSMM.
EDSMM are showing a better APY at present as the rewards are geared to 25,000 EDSMMs, but only 3,000 EDSMMs or so have been sold to date. I'm not a great fan of FOMO or YOLO, but savers who plan to buy tokens regularly over the next six months, a little each week, will benefit from increased rewards in the first few weeks. The last miner (EDSM) sold out over the course of nine months, but the lower entry price and greater awareness may move the mini miners along at greater speed.
Growth Targets - HIVE Power and LEO Progress
My main growth target is to reach 100,000 HP. This month I'm powering up to 64,000 HP and plan to meet this year's target of 65,000 HP by 1 July 2022. I'm close to my 5,000 LEO target, with 4,593 LEO in my wallet. LEO grows entirely passively through a delegation to @meowcurator (about 16% APY), and passive LEO income and dividends from CL and LBI. The rate was boosted a little this month with a new delegation to @leofinance.
Portfolio
I focus on tokens with:
a sound model
reputable team
contingency planning
good reporting and
passive income.
Last month:
SPI - Liquid HIVE income
EDS - Liquid HIVE income
LBI - Liquid LEO income
CL - Liquid LEO income
DLease to @curie - Liquid HIVE income
Delegation to @meowcurator - Liquid LEO income
HBD - HBD interest
and
Curation - HIVE Power (semi-passive)
and
EDSM - mints EDS x 20% APY
This month I have added:
Delegation to @leofinance - Liquid LEO income
EDSMM - mints EDS x 20% APY
Considerations
What to do when I reach 5,000 LEO? Keep passively building or maintain 5,000 LEO and sell income to build HP?
When to sell EDSMMs and how much to sell them for?
Extend my voting reach by a delegation to @ocdb and sponsoring more HIVE SBI shares?


Three things newbies should do in their first week and, for most things, forever afterwards!
HIVE UK MEET-UP: Saturday 18 June 2022 | 12.00-5.00pm | Halifax, West Yorkshire.

Posted Using LeoFinance Beta
---
---