ESP- ENG / Retrato a pincel y pintura //Portrait with brush and paint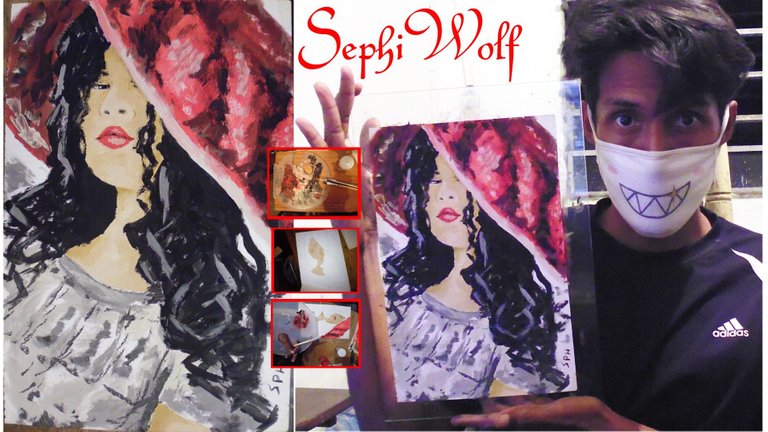 Saludos, mis queridos lectores! me emociona mucho compartir con ustedes La primera experiencia con pinceles y pintura, a lo largo de mi vida siempre quise iniciar en algo así ahora que tengo la oportunidad quiero aplicar todo lo que aprendí de forma autodidacta, Fue una gran experiencia que quiero compartir con ustedes y a pesar de no ser uno de mis mejores trabajos me emociona mucho el resultado, como Dice Bob Ross " mientras estés aprendiendo no estas fallando"
Greetings, my dear readers! I am very excited to share with you the first experience with brushes and paint, throughout my life I always wanted to start something like this now that I have the opportunity I want to apply everything I learned in a self-taught way, it was a great experience that I want to share with you and despite not being one of my best works, I am very excited about the result, as Bob Ross says "as long as you are learning you are not failing"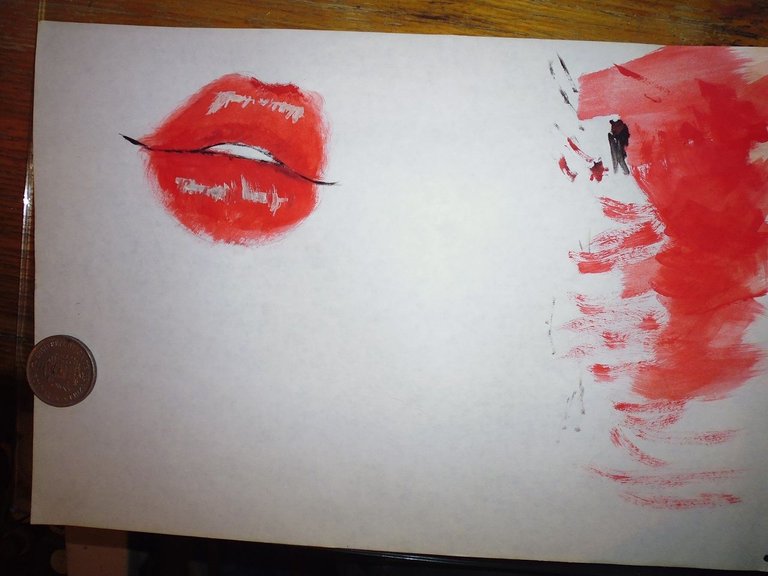 Antes de empezar quería ver como se comportan los pinceles que compre y las pinturas que tenía disponible así que practique un poquito haciendo unos labios ¿que tal?
Before starting I wanted to see how the brushes I bought and the paints I had available behave, so I practiced a little bit making some lips, how are you?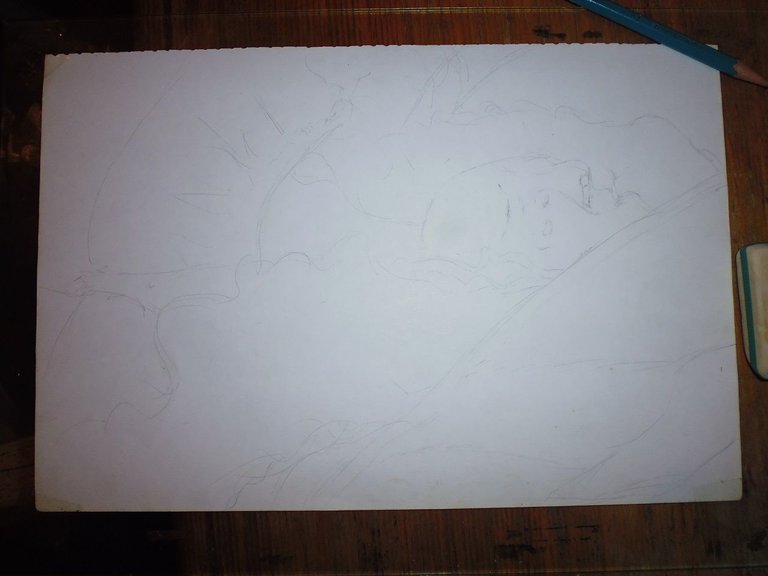 La idea original era un retrato dando un toque antiguo de los años 1700, para eso en el lienzo hago el dibujo con lapiz HB, aun asi casi no se ve.
The original idea was a portrait giving an old touch of the 1700s, for that I make the drawing on the canvas with HB pencil, even so it is hardly visible.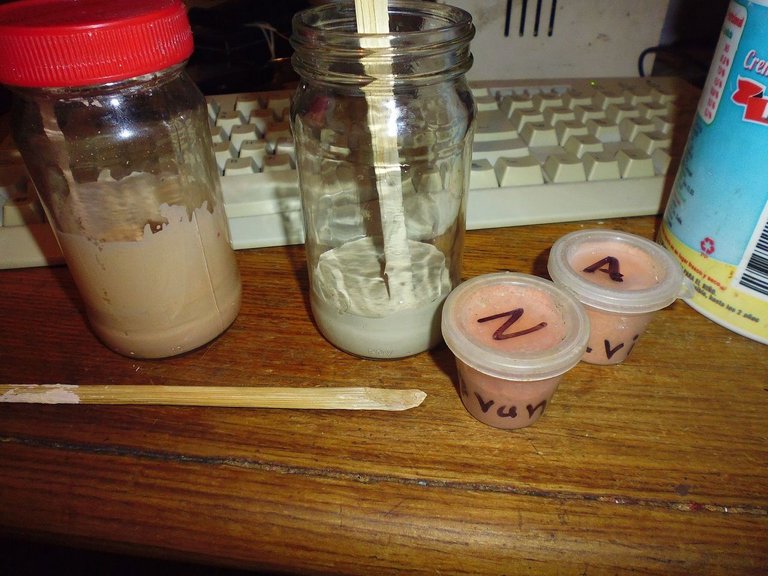 Tengo colores limitados de pintura, pero con ingenio puede conseguir otros tonos, combinando colorante vegetal de cocina y usando como base una pintura cercana al blanco logre conseguir varios tonos.
I have limited colors of paint, but with ingenuity you can get other shades, combining vegetable food coloring and using a paint close to white as a base, I can achieve several shades.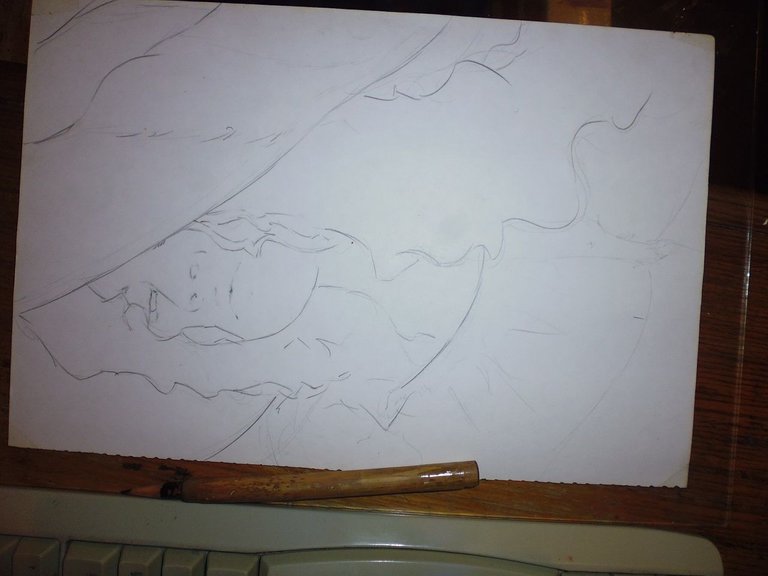 Remarque el dibujo con un lápiz del número 2 ahora se puede apreciar mejor en las fotos esto lo hice pensando que tras las primeras capas de pintura se perderían las líneas
Highlight the drawing with a number 2 pencil now you can see it better in the photos I did this thinking that after the first layers of paint the lines would be lost
Me llevo un buen rato encontrar el tono que buscaba, mezclando con los colores que tenía disponible
It took me a long time to find the tone I was looking for, mixing with the colors I had available
Esta es mi paleta casera... haha soy pobre, en fin la verdad me funciono muy bien para mezclar
This is my homemade palette... haha ​​I'm poor, in short, the truth is that it worked very well for me to mix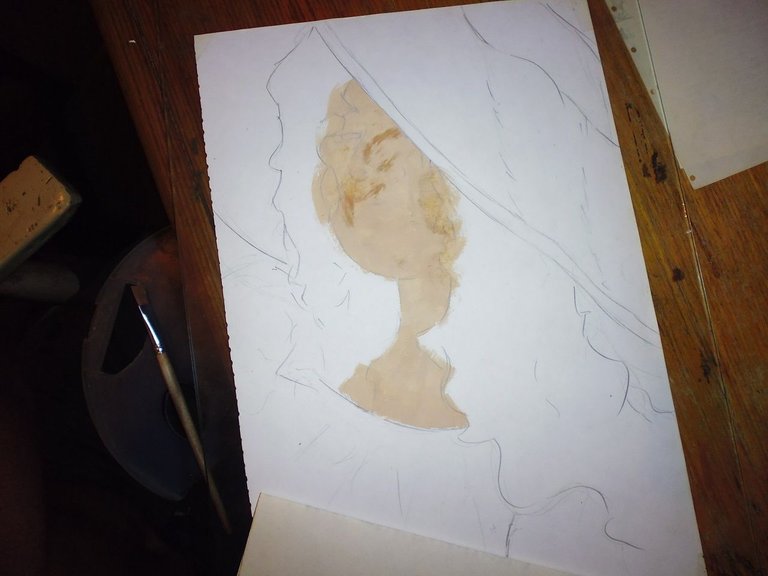 La primera capa de pintura, algo curioso con esta pintura es que suele ser más oscura al momento de estar fresca. Pero al secar aclara su tono. Es algo a tener en cuenta durante todo el proceso
The first layer of paint, something curious with this paint is that it is usually darker when it is fresh. But when it dries it lightens its tone. This is something to keep in mind throughout the process.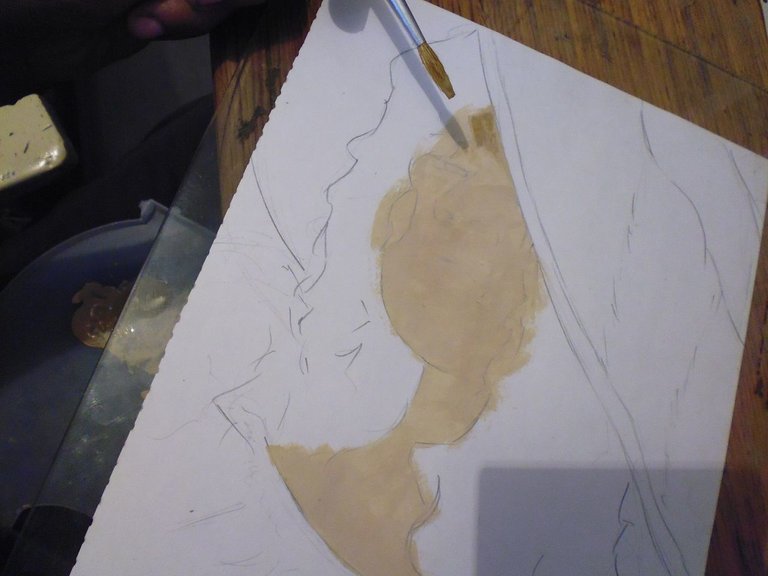 aquí un tono mas oscuro para las sombras
here a darker tone for the shadows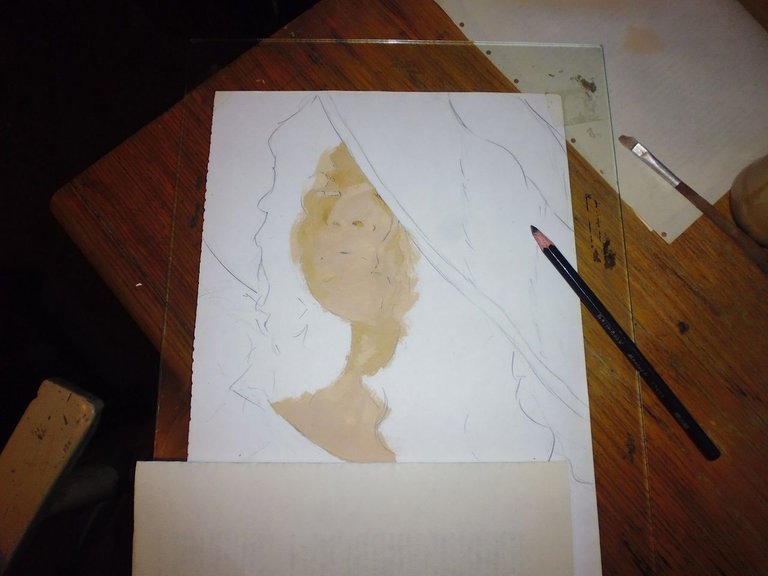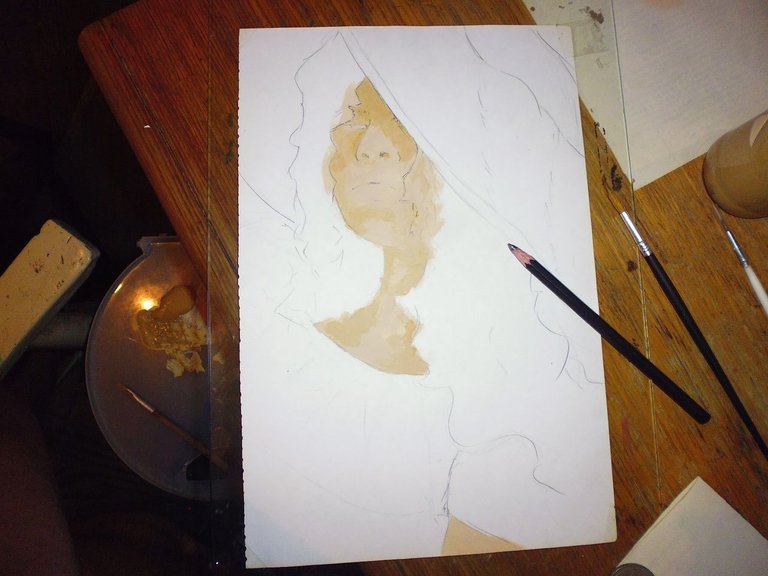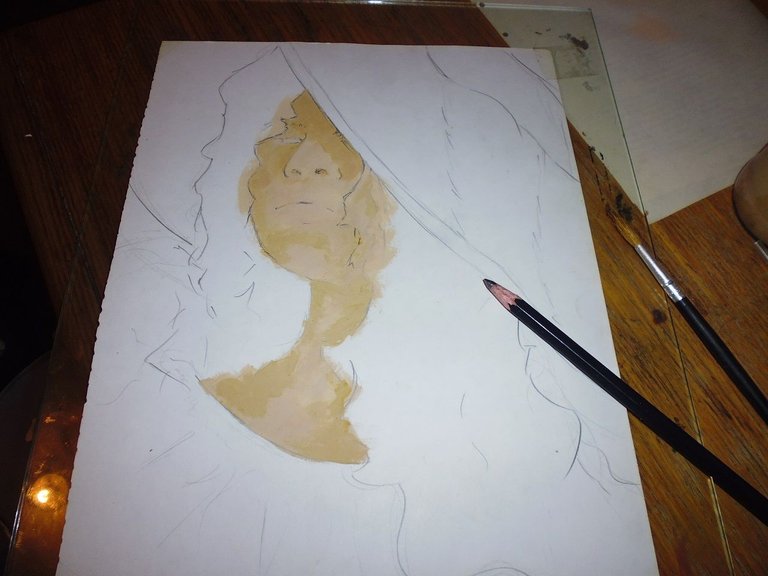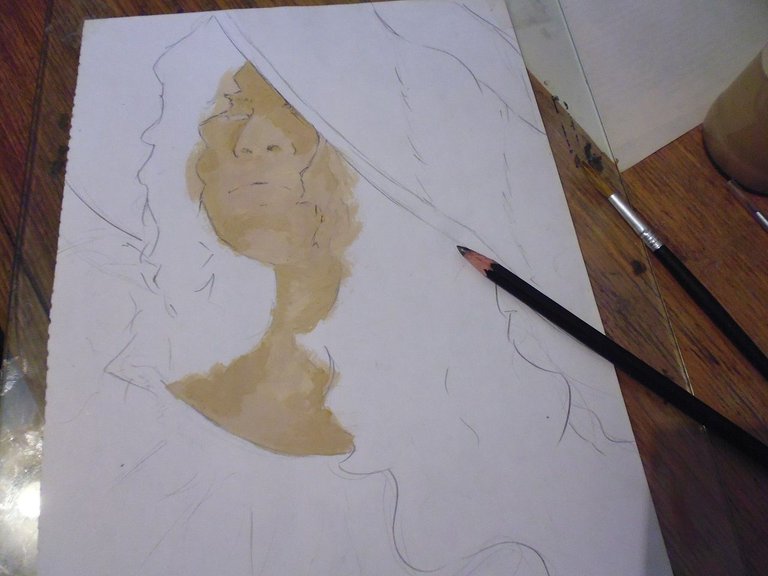 No se si es algo válido, pero para no perder el boceto volvia a dibujar la idea con un lápiz 9b
I don't know if it's something valid, but in order not to lose the sketch I redrew the idea with a 9b pencil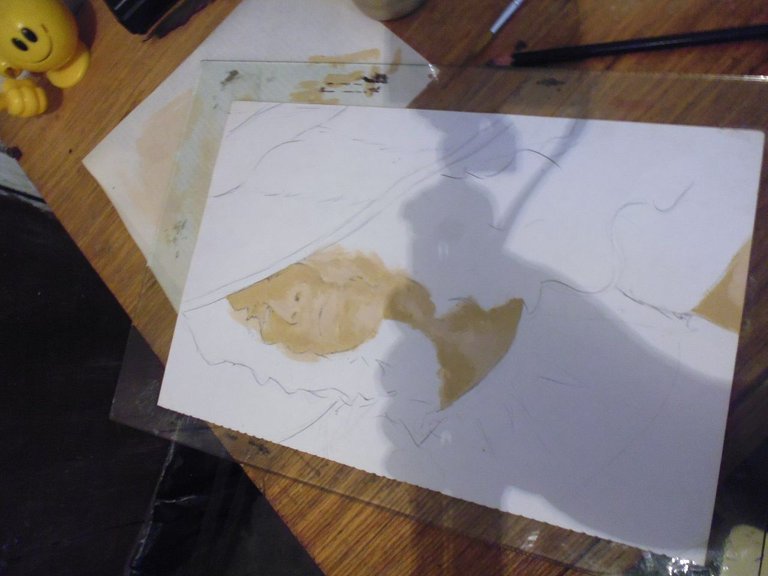 Termine con la piel ahora de pasar a los detalles
Done with the skin now moving on to the details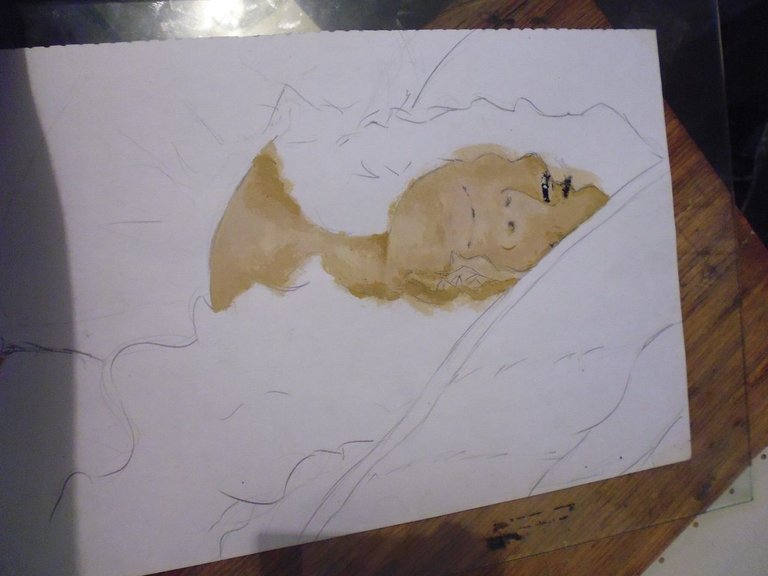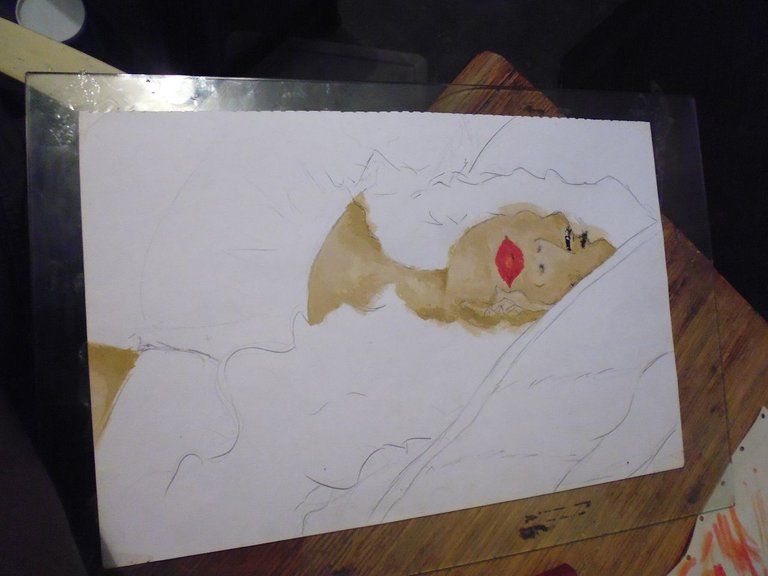 La verdad necesitó comprar mas pinceles, aun asi conseguí este resultado
The truth was I needed to buy more brushes, even so I got this result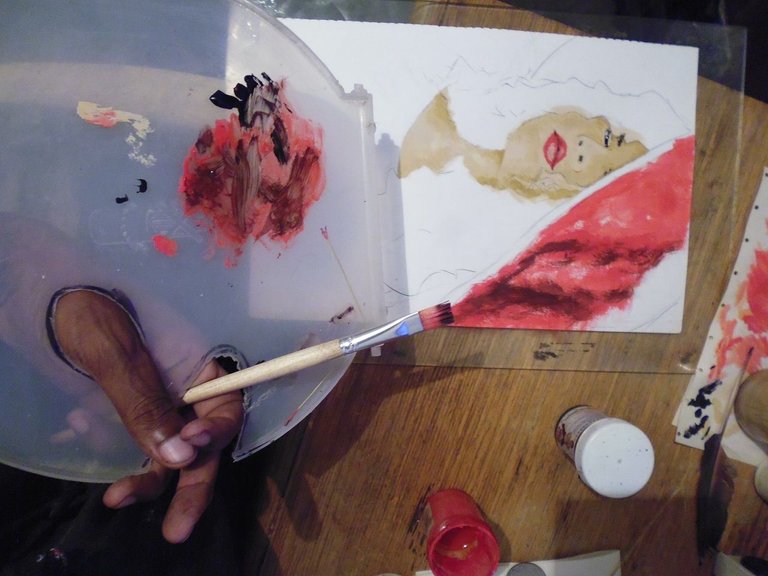 Debo admitir que esta fue mi parte favorita, Amo esta pintura roja y negra, como también amo este pincel creo que compraré otros como este.
I must admit that this was my favorite part, I love this red and black paint, as I love this brush I think I will buy others like this.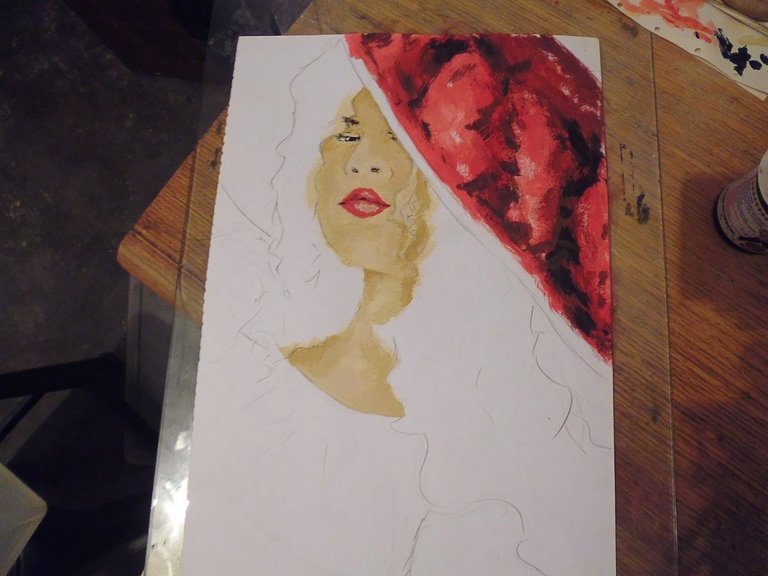 Realmente me gusto mucho el resultado y la combinación de los tonos
I really liked the result and the combination of tones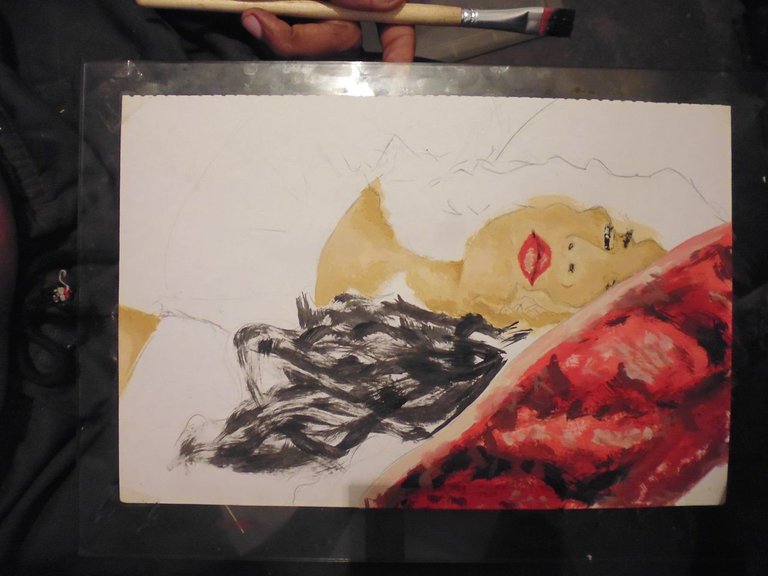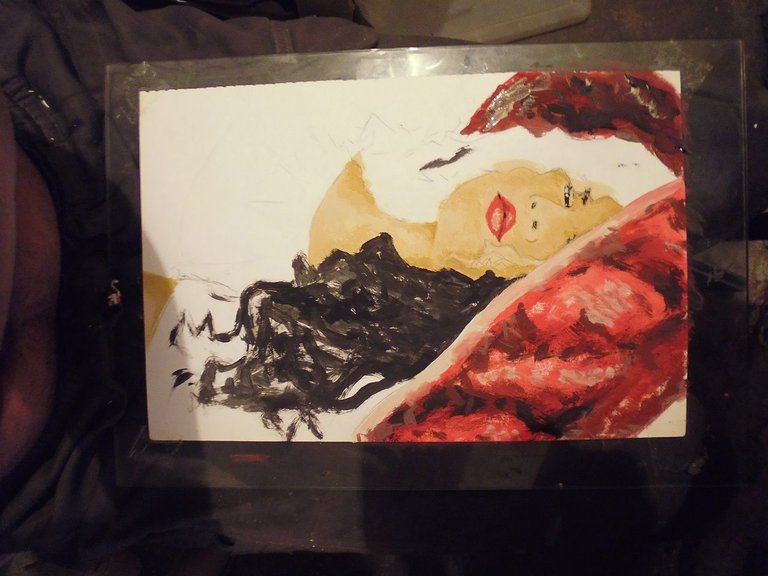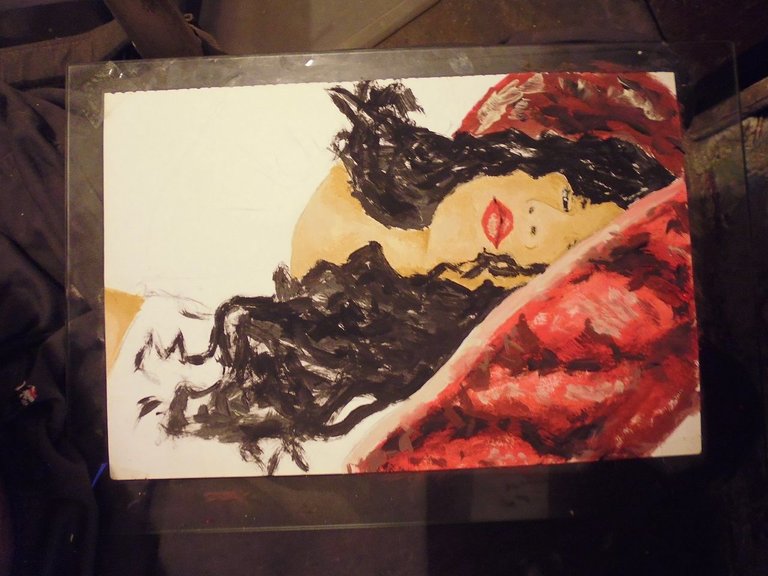 El cabello fue una mezcla de color negro y un color gris claro
The hair was a mix of black and a light gray color.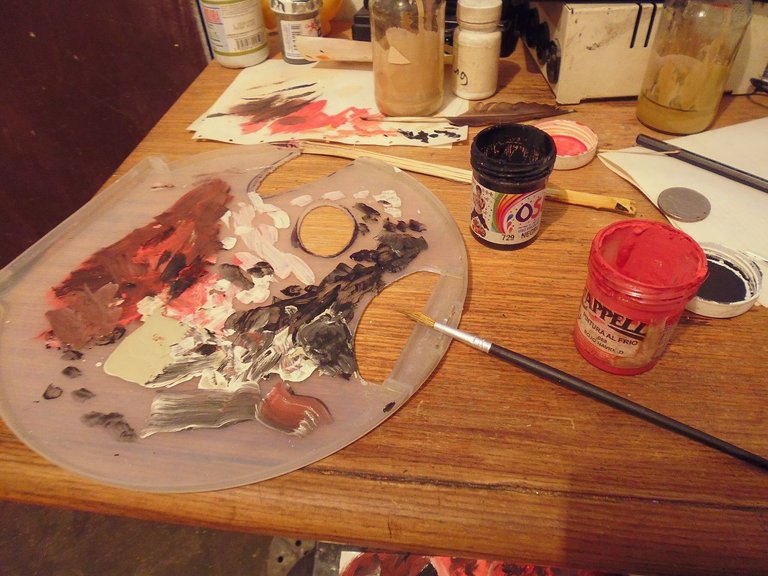 Siempre me pareció curioso las formas y tonos que quedan en la paleta despues de pintar...
I always found it curious the shapes and tones that remain on the palette after painting...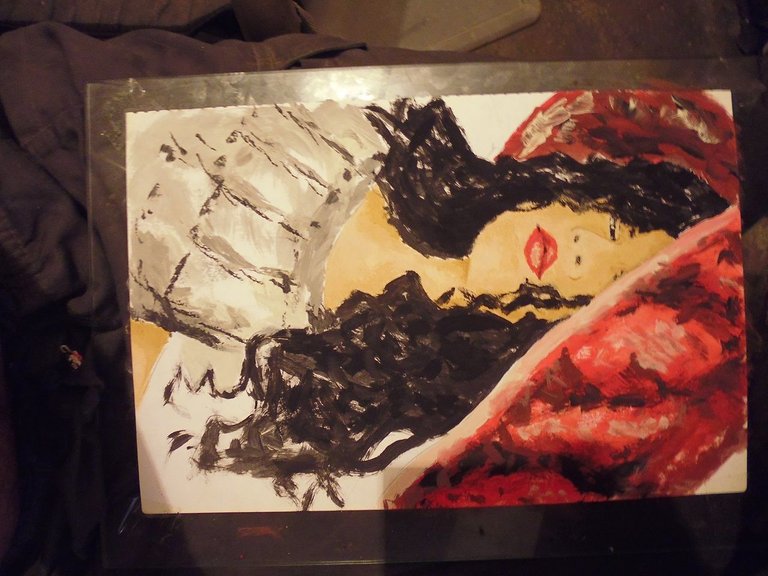 La ropa es una mezcla de tonos grises y algo de negro
Clothing is a mix of shades of gray and some black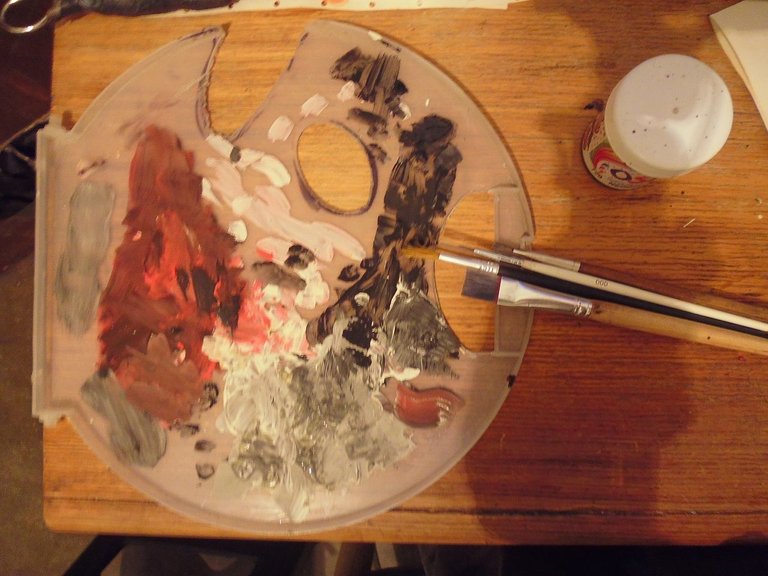 Así termino mi paleta después de lavarla 2 veces. para ser casera funciono muy bien. ya tengo pensado fabricar una con madera
This is how I finish my palette after washing it 2 times. for a homemade it worked very well. I already plan to make one with wood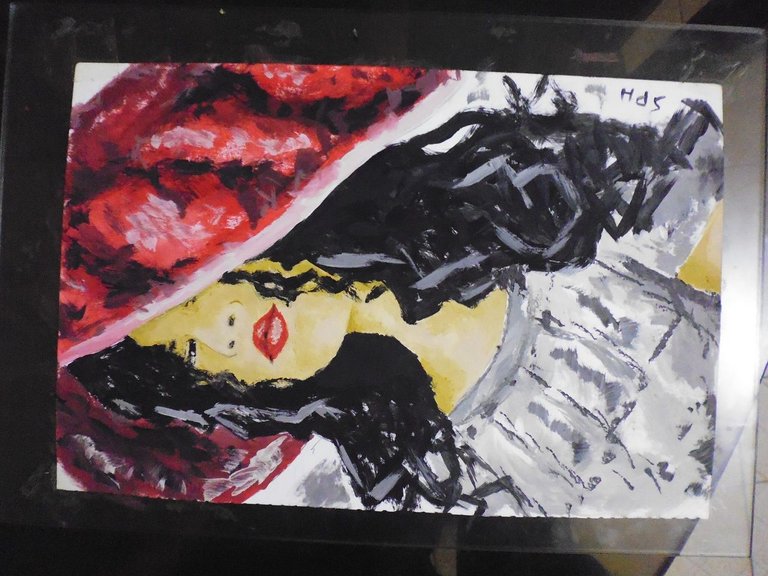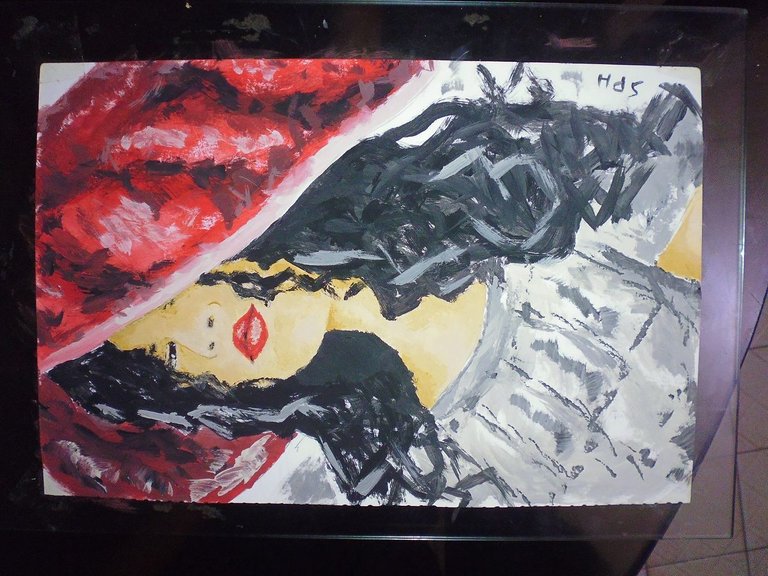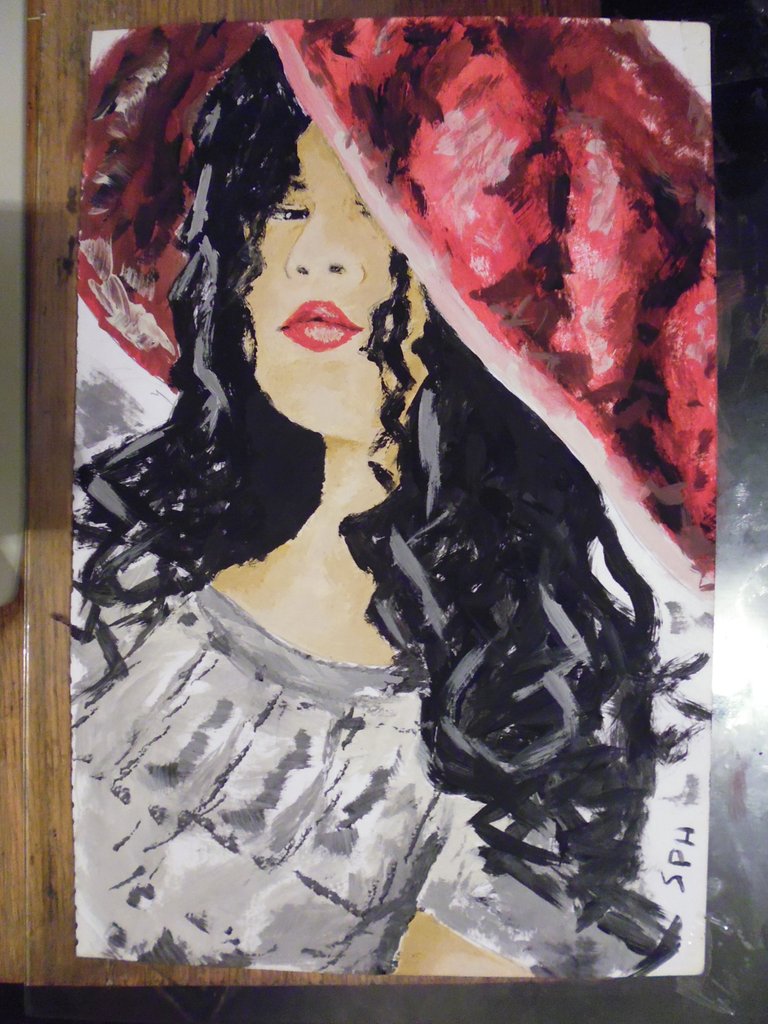 Quiero agradeceré si llegaste hasta aquí, espero te haya gustado tanto como a mí crear esta obra, es mi primer trabajo de este tipo y estoy muy emocionado por hacer otros iguales.
I want to thank you if you got here, I hope you liked creating this work as much as I did, it is my first work of this type and I am very excited to do others like it.
"El secreto para hacer cualquier cosa es creer que puedes hacerlo. Cualquier cosa. Siempre y cuando tú lo creas".
Bob Ross
"The secret to doing anything is to believe that you can do it. Anything. As long as you believe it."
Bob Ross

---
---