Hive Open Mic Week 165 || Take Me Home, Country Roads By John Denver (song cover) || Eng-Esp
---
Take Me Home, Country Roads is a favorite of mine that reminds me of memories I have with my brother of times when we were younger. The first time I heard this song was from the movie Kingsman: The Golden Circle, in a very emotional scene. It is hard to see that movie and not have this song imprinted on your mind.
The concept of home is relative. Several times I've heard people describe home as wherever they are, as long as they have their loved ones around them. In relation to the theme, this song describes home (to the singer) as a place. John Denver talked about the mountains and rivers of West Virginia and the environment as his home. This reminds me of where I grew up. I spent most of my childhood in the staff quarters of a tertiary institution. When I was younger, I'd take strolls with my siblings, visit the library, and admire statues, paintings, and flowers. It was like growing up with those elements. So when I had a friend over, I'd take them around and show off my non-living childhood friends (you could call them that). Below is a picture of my favorite location.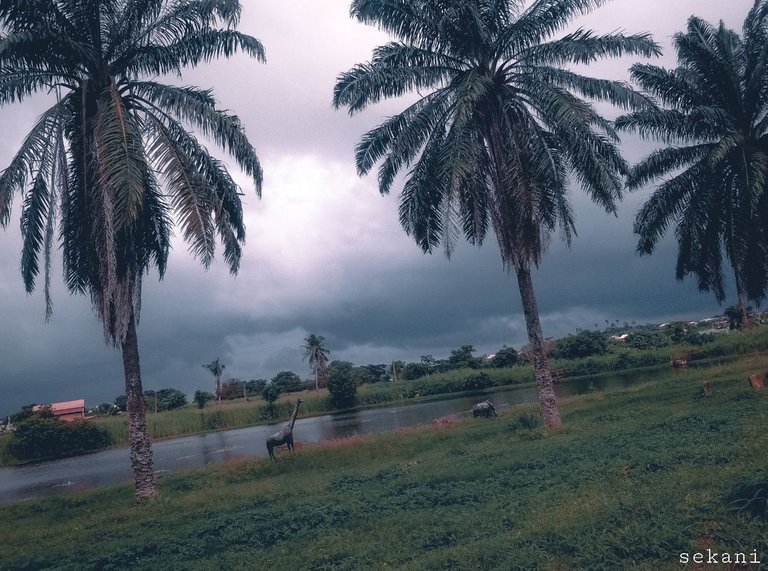 Abiola Lake
Every now and then when I'm away from home, I miss these sceneries so I make up for it whenever I'm home, especially when the students are not in session. It's a wonderful feeling that Mother Nature affords us. It would be a wonder for anyone not to love her.
Thanks for visiting my blog. It's a week to love up on Mother Nature, so let us love up together! Happy Weekend!❤❤❤
Spanish
Take Me Home, Country Road es una de mis canciones favoritas que me recuerda recuerdos que tengo con mi hermano de cuando éramos más jóvenes. La primera vez que escuché esta canción fue en la película Kingsman: El Círculo Dorado, en una escena muy emotiva. Es difícil ver esa película y no tener esta canción grabada en la mente.
El concepto de casa es relativo. Varias veces he oído a gente describir el hogar como cualquier lugar en el que se encuentren, siempre y cuando tengan a sus seres queridos a su alrededor. En relación con el tema, esta canción describe el hogar (para el cantante) como un lugar. John Denver hablaba de las montañas y los ríos de Virginia Occidental y del entorno como su hogar. Esto me recuerda al lugar donde crecí. Pasé la mayor parte de mi infancia en las dependencias del personal de una institución terciaria. Cuando era más joven, paseaba con mis hermanos, visitaba la biblioteca y admiraba estatuas, cuadros y flores. Era como crecer con esos elementos. Por eso, cuando venía algún amigo a casa, lo llevaba por allí y le enseñaba a mis amigos no vivos de la infancia (se les puede llamar así). Arriba hay una foto de mi lugar favorito.
De vez en cuando, cuando estoy fuera de casa, echo de menos estos paisajes, así que los compenso siempre que estoy en casa, sobre todo cuando no hay clase. Es una sensación maravillosa la que nos brinda la Madre Naturaleza. Sería una maravilla que alguien no la amara.
Gracias por visitar mi blog. Es una semana para enamorarse de la Madre Naturaleza, ¡así que enamorémonos juntos! ¡Feliz fin de semana! ❤❤❤
---
Lyrics
Almost heaven, West Virginia,
Blue Ridge Mountains, Shenandoah River
Life is old there, older than the trees,
Younger than the mountains, blowing like a breeze
Country roads, take me home
To the place I belong
West Virginia, mountain mamma,
Take me home, country roads
All my memories gather round her,
Miner's lady, stranger to blue water
Dark and dusty, painted on the sky,
Misty taste of moonshine, teardrop in my eye
Country roads, take me home
To the place I belong
West Virginia, mountain mamma,
Take me home, country roads
I hear her voice in the morning hour,
She calls me,
The radio reminds me of my home far away
And driving down the road I get a feeling
That I should have been home yesterday, yesterday
Country roads, take me home
To the place I belong
West Virginia, mountain mamma,
Take me home, country roads
Country roads, take me home
To the place I belong
West Virginia, mountain mamma,
Take me home, country roads
Take me home, down country roads
Take me home, down country roads
Casi el cielo, Virginia Occidental, Montañas Blue Ridge, Río Shenandoah La vida es vieja allí, más vieja que los árboles, Más joven que las montañas, soplando como una brisa
Caminos rurales, llévame a casa al lugar
Al que pertenezco
Virginia Occidental, mamma de la montaña,
Llévame a casa, caminos rurales
Todos mis recuerdos se reúnen en torno a ella,
Dama minera, extraña al agua azul
Oscuro y polvoriento, pintado en el cielo,
Brumoso sabor a luz de luna, lágrima en mi ojo
Caminos rurales, llévame a casa al lugar
Al que pertenezco
West Virginia, mountain mamma,
Take me home, country roads
Oigo su voz por la mañana, me llama,
La radio me recuerda mi hogar lejano.
Y conduciendo por la carretera tengo
La sensación de que debería haber estado en casa ayer, ayer
Caminos rurales, llévame a casa al lugar
Al que pertenezco
West Virginia, mountain mamma,
Take me home, country roads
Y me siento como en casa,
Como en casa.
West Virginia, mountain mamma,
Take me home, country roads
Llévame a casa, por caminos rurales
Llévame a casa, por caminos rurales
---
Thanks For Watching. Lots Of Love ❤❤❤

Lyrics source
Instrumental source
Translated using DeepL
---
▶️ 3Speak
---
---