I Never Expected Public Speaking To Come That Easy
I wasn't a timid kid but I wasn't part of the cool kids that danced in the choreography at school functions (have my dancing skills been that bad since I was little??🤧). But there was one thing I could do: sing. I've been singing before Kings and Queens since I was as little as 7 😎😂. I was a part of my school cultural team and at a point I became the leader and brought home spoils of victory from the money they showered us (literally) while we sang and danced for them.
What I didn't expect was to be chosen for the first debate in my school when I was in Basic 6. Several weeks we had been having mock debates in my class; I remember a friend of mine who said "before I prospone" (he meant proceed)😂😂🤣, I feared for him that day because our teacher was there with his vicious looking cane, but even the teacher was in stitches with laughter. I didn't smash my presentation but I did it alright, anything to avoid Mr. Iyawe's cane.
When I was chosen, I had a fit of anxiety, what if I see the crowd and lose my voice, what if I forget my point, what if..., there were so many doubts in my mind but I could not back out, I was to lead my class and that was it. I don't know why I forget little important details but I know the topic was something about technology.
The day came, I tried to look less like a rogue for the debate😂. When the time came, the school gathered and debate started. I didn't know how I fared that day but in everything I was doing I was very much conscious of my environment. I read the body language of the judges, I read the faces of the crowd, I observed my supporting speaker was shaking badly and I knew I had to leverage on the nervousness of my opposing colleagues to win, I was a natural. My mum was working in the school at the time so it was quite comforting seeing her face in the crowd.
The debate was uneventful for me, but we won. That was huge, the school was in an uproar (they would have been anyway, even if the opposing team won). And that was my first debate / public speaking event.
I realized that I actually enjoyed the nervous feeling followed by the boldness that comes when you step up to speak. And that was just the beginning of my public speaking journey. In Seconday school, I was part of the literary and debate team and mhen I totally enjoyed it.
Coincidentally, I once came for a debate in my present department and school, I never knew I'd come back to be a student of that same department.
The highlight of being a part of the literary and debate team was the fact that I skipped classes 😂, I enjoyed anything that would make me skip classes (both legitimate and otherwise 🤣) and of course the incentives. The school provided us with allowance for transport and snacks every time we represented the school at any competition, and, we never lost one. I was the assistant debater and a friend of mine was the main speaker. When her workload got too much, I had to take over as the main speaker and trained a junior student to take over as the assistant speaker.
Over the years, I've participated in many public speaking activities and even represented my department in another tertiary institution sometime last year.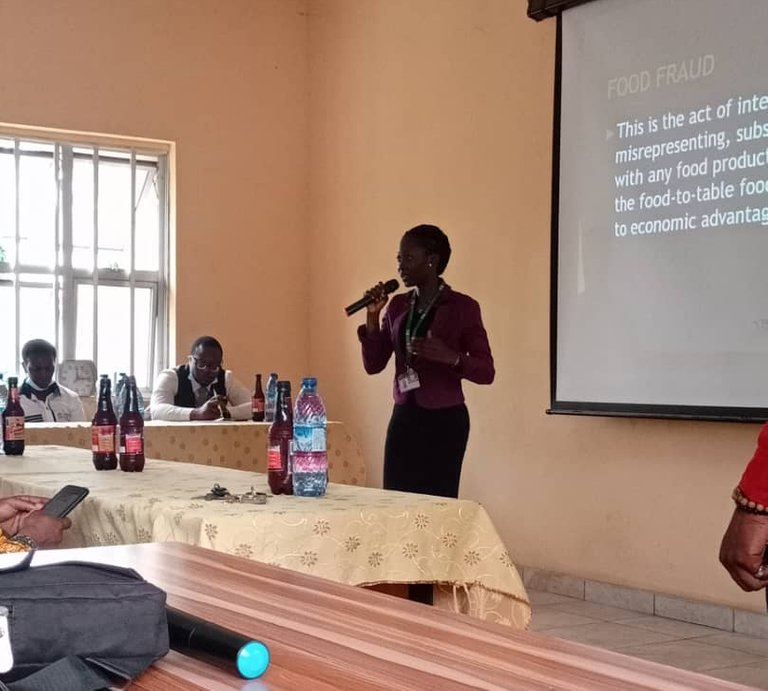 My cameraman didn't do a great job😂
How Has It Helped Me?
Public speaking has definitely impacted my reasoning. When you speak before an audience, you tend to be more objective in your thinking because you want to consider the different mindsets present in your audience and this has helped in my relation with people generally.

It has made me friends. In my first year in university, I was to represent my group in a presentation, one of my group members was determined to bring me down 😏 and frustrate me. At the time, I preferred to be quiet and let her take the reins but some of my group members would not have it. That single act of camaraderie endeared me to them. Most of my friends today are those people and their friends, it formed a bond between us even when I wasn't looking to make any friends.

Through public speaking, I have been on several stages. And for each stage, the audience has been relatively different. This has made me relate with different people from different strata.

I have earned certificates from participating in different public speaking activities, though they seem insignificant to me sometimes, they aggregate and prove my experience in public speaking which can be very relevant to me in the future.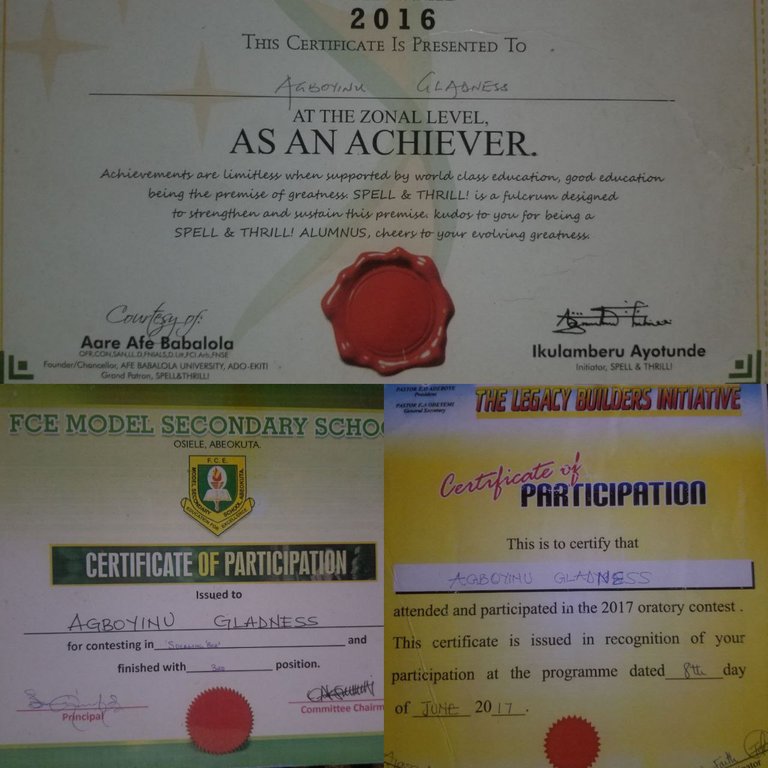 With these points of mine, I hope I've been able to confuse and convince you (@monioluwa, 2022) that even you're not sure or confident of your skills, try new things, they might resonate with your innate abilities.
Thanks for visiting my blog, you rock 🔥❤.
---
---