Versos en el olvido-[ENG/ESP]-poetry-N#39-2021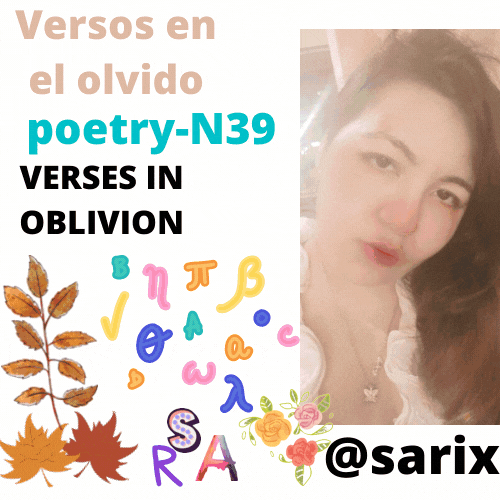 ---
Aquellos versos que quedaron en el olvido, está noche me recuerdan.
Si te fuera leído no te fueras ido.
🌸💚💜🌸💚💜🌸💚💜🌸💚💜
Ya tus besos no saben igual.
Ya tus pupilas no brillan y ese silencio ¿Por qué ? ya la rosa que me regaste se marchito.
Acaso ¿ya no sientes? lo mismo que antes.
Ya se que te sientes perdido y atrapado; En estos tiempos pero ¡Yo siempre estaré !. Eso lo sabes por eso ¡vienes a mi!.
🌸💚💜🌸💚💜🌸💚💜🌸💚💜
El deseo de tenerte me esta matando; contigo un juego es mas profundo porque me dejo ganar... Deja sentir esos labios que me devoren una vez mas.
Tú mirada y esa sonrisa Colgate que me enamoras.
Eres mío y de nadie mas ,eres mi tormenta y mi cielo.
Jamás pensé que fueras tú; La llama que hace arder...cada parte de mi
te quiero demás.
🌸💚💜🌸💚💜🌸💚💜🌸💚💜
Eres el fuego que me mata..
Eres adrenalina.
🌸💚💜🌸💚💜🌸💚💜🌸💚💜
¡Eras todo para mi y lo sabias! Pero me dejaste ir.
sin importar lo que sufriría mi corazón.
esos versos quedaran en el olvido, cómo las hojas secas de los arbóleles en otoño.
---
VERSES IN OBLIVION -poetry-N#39-2021
Those verses that were forgotten, tonight they remind me.
If you were read you would not be gone.
🌸💚💜🌸💚💜🌸💚💜🌸💚💜
Your kisses no longer taste the same.
Your pupils don't shine anymore and that silence, why? The rose that you watered me has withered. Do you no longer feel? the same as before.
I know you feel lost and trapped; In these times but I will always be! You know that's why you come to me.
🌸💚💜🌸💚💜🌸💚💜🌸💚💜
The desire to have you is killing me; with you a game is deeper because I let myself win.... Let me feel those lips devour me one more time.
Your gaze and that Colgate smile that makes me fall in love.
You are mine and no one else's, you are my storm and my sky.
I never thought it was you; the flame that makes every part of me burn... I love you more.
I love you more.
🌸💚💜🌸💚💜🌸💚💜🌸💚💜
You are the fire that kills me...
You are adrenaline.
🌸💚💜🌸💚💜🌸💚💜🌸💚💜
You were everything to me and you knew it! But you let me go.
no matter what my heart would suffer.
Those verses will remain in oblivion, like the dry leaves of the trees in autumn.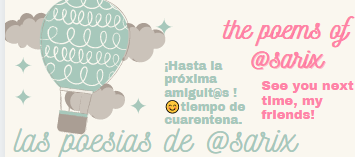 Imágenes trabajadas en canva-🍒🍷Canva-worked images
¡ 2021 tiempo de cuarentena.💜2021quarantine time.
traductor🌟translator
Anterior poesía.: ⭐️Previous poetry..:
The owner of my letters -[ENG/ESP] poetry N#38-2021
El sabor de tus labios poetry N#37 -2021
The verses united us -Poetry N#36 ENG/ESP
That-Poetry N#35 [ENG/ESP]


sage📖💬 Poetry N#34📖💬Sabia :📖💬-2021

Me dicen:💫👻 Poetry N#33💫👻They say: -2021


¡Los recuerdos de la lluvia! 💧☂️POETRY N#32💧☂️The memories of the rain! -2021




La velocidad -Poetry N#31⭐️ the speed-2021


¿Quien?🍒⭐️ Poetry N#30🍒⭐️ Who?

Una chica👻🌺 poetry N#29👻🌺2021👻🌺a girl

mirar hacia atrás / mirar hacia adelante 👻poetry N#28💜look back / look forward. -2021

mis cyber amigos poetry N#27my cyber friends-2021🧠




A veces☁️💜 poetry N#26 ☁️💜Sometimes

Entre la oscuridad 🌛🍒 poetry N#25🍒🌛Amidst the darkness





lloviendo el corazón 🖤🌟poetryN#24🥀raining the heart.




¡Ya llego febrero mi mes!💜🌟poetryN#23 February is my month! 💜




se que:🍀🍇 poetry N# 22🍇🍀I know that




Cuando 💜💜 poetry N# 21 💜 When




Eres poetry 💫 N#20💫 YOU ARE




¡ Ya!. poetry N#19🌸💚💜¡🌸NOW !.




La noche de hallowen 🍬🎃 poetry N#18🍭🍬🎃Hallowen night




✨Mi dilema de tenerte💋poetry N#17 💋my dilemma of having you




Un día maravilloso y relajado 🏖 poetry 16🏖A wonderful and relaxed day





Perdida en tu mirada✨ ¡Poem #15 Lost in your eyes✨





🔥💖🔥 Arder como el fuego -poemaN#14🔥💖🔥




-Las noches de paseo✨N#13 Poema.




Nuestro beso...💋N#12 poetry 💋 Our kiss...




-Sentimientos ocultos de este corazón...✨ N#11 Poema.✨



🌸💚💜🌸💚💜🌸💚💜🌸💚💜
---
---