The owner of my letters -[ENG/ESP] poetry N#38-2021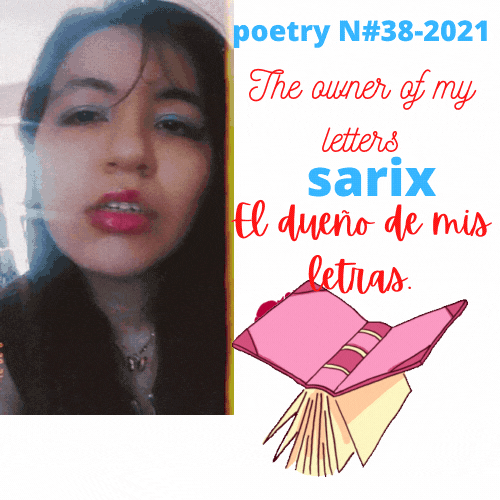 I don't know what happens to me, but more and more you make me blush ...
The melody of your voice, it came to me! in this weakness where my heart used to wither.
👻💬👻💬👻💬👻💬👻💬👻💬
The owner of my lyrics maybe you'll become.
I'm the old school girl you manage to catch .
Wanting a bit of your tenderness, the one you transmit when you speak.
👻💬👻💬👻💬👻💬👻💬👻💬
I don't think I'll fall in love again; So I don't want to go so fast.
Let's just let it all flow, as long as the sparkle in my eyes speaks.
The owner of my lyrics now is you.
El dueño de mis letras.
---
No sé lo que me pasa, pero cada vez más me sonrojas …
¡La melodía de tú voz, llegó a mí! en esta debilidad donde mi corazón se solía marchitar.
👻💬👻💬👻💬👻💬👻💬👻💬
El dueño de mis letras quizás te conviertas.
Soy la chica de la vieja escuela que logras atrapar .
Queriendo un poco de tu ternura, ésa que transmites al hablar.
👻💬👻💬👻💬👻💬👻💬👻💬
---
No creo enamorarme de nuevo; Así que no quiero ir tan rápido.
Solo dejemos que todo fluya, mientras el brillo de mis ojos hablen.
El dueño de mis letras, ahora eres tú.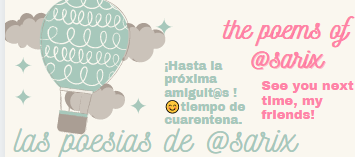 Imágenes trabajadas en canva-🍒🍷Canva-worked images
¡ 2021 tiempo de cuarentena.💜2021quarantine time.
traductor🌟translator
Anterior poesía.: ⭐️Previous poetry..:
El sabor de tus labios poetry N#37 -2021
The verses united us -Poetry N#36 ENG/ESP
That-Poetry N#35 [ENG/ESP]
sage📖💬 Poetry N#34📖💬Sabia :📖💬-2021
Me dicen:💫👻 Poetry N#33💫👻They say: -2021

¡Los recuerdos de la lluvia! 💧☂️POETRY N#32💧☂️The memories of the rain! -2021
La velocidad -Poetry N#31⭐️ the speed-2021

¿Quien?🍒⭐️ Poetry N#30🍒⭐️ Who?
Una chica👻🌺 poetry N#29👻🌺2021👻🌺a girl
mirar hacia atrás / mirar hacia adelante 👻poetry N#28💜look back / look forward. -2021
mis cyber amigos poetry N#27my cyber friends-2021🧠
A veces☁️💜 poetry N#26 ☁️💜Sometimes
Entre la oscuridad 🌛🍒 poetry N#25🍒🌛Amidst the darkness

lloviendo el corazón 🖤🌟poetryN#24🥀raining the heart.
¡Ya llego febrero mi mes!💜🌟poetryN#23 February is my month! 💜
se que:🍀🍇 poetry N# 22🍇🍀I know that
Cuando 💜💜 poetry N# 21 💜 When
Eres poetry 💫 N#20💫 YOU ARE
¡ Ya!. poetry N#19🌸💚💜¡🌸NOW !.
La noche de hallowen 🍬🎃 poetry N#18🍭🍬🎃Hallowen night
✨Mi dilema de tenerte💋poetry N#17 💋my dilemma of having you
Un día maravilloso y relajado 🏖 poetry 16🏖A wonderful and relaxed day

Perdida en tu mirada✨ ¡Poem #15 Lost in your eyes✨

🔥💖🔥 Arder como el fuego -poemaN#14🔥💖🔥
-Las noches de paseo✨N#13 Poema.
Nuestro beso...💋N#12 poetry 💋 Our kiss...
-Sentimientos ocultos de este corazón...✨ N#11 Poema.✨

---
---