Iniciativa N#37¿Qué es lo que más te [email protected]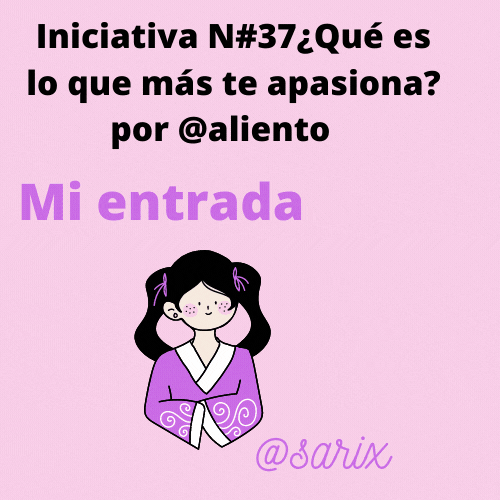 Hola, mi gente buenos días vs. noche, hace mucho no Participaba en una iniciativa y esta participación N#37.
Le pertenece al equipo @aliento como celebración del cumpleañero @eddiespino mis mejores deseos Felicitaciones sigamos creciendo.
A continuación :
¿Qué es lo que más te apasiona?
R:Desde que tengo 10años conocí el mundo poético.
Gracias a mis horas de soledad fueron y siguen siendo el motivo de drenar mis sentimientos.
Que fui desarrollando con acrósticos.
La cual sigo aprendiendo y aun no me considero tan buena, ni mala.
Me apasiona escribir versos y historias.
La cual me libera de cada sentir y mas me gusta al ver encontrado un lugar.
Para demostrar y descubrir ¿A donde? Me llevaran mis letras.
Por eso a agradezco a todas esas personas lindas que me apoyan y me enseñan para no dejar el camino.
2: La bisutería es otra cosa me encanta desde niña y siempre que tengo la oportunidad ,lo trabajo y ahora por este medio, también puedo mostrar lo.
11Tutoriales ,68 historias y 42 poesías compartidas y las que faltan.
Un año no es fácil espero seguir creciendo junto a ustedes, un abrazo.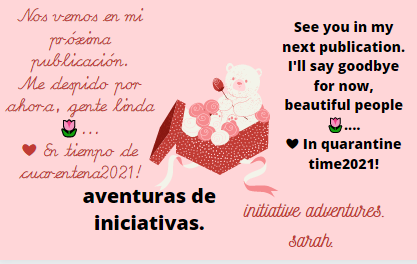 Todas las imágenes son de mi propiedad trabajadas en programa canva
All the images are my own, worked in canva program.
Tiempo de cuarentena. quarantine time.
traductor-translator
💫🌺¿Quién empezó con la iniciativas? A donde nos lleva? ¡posts 100!💫🌺Who started the initiative? Where does it lead us?
Anteriores iniciativas:Previous initiatives:
content three in-[ENG/ESP] 2021

Iniciativa @el-hallazgo:N#35Depresión y ansiedad .


Concurso "Testimonio: un comentario que cambió tu vida" | | Contest "Testimony: a comment that changed your life"





mirar hacia atrás / mirar hacia adelante 👻poetry N#28💜look back / look forward. -2021

mis cyber amigos poetry N#27my cyber friends-2021🧠


Caminando a la deriva.👣N#53👣Drifting in the wind-2021-Concurso N#8




Iniciativa de @lqch: 📺N#30 📺3 TV Shows Que Arruinaron Mi Infancia || 3 TV Shows That Ruined My Childhood.





INICIATIVA Mis 4 Fotos Favoritas📷💫🌺N#29💫🌺📷My 4 Favorite Photos




Iniciativa

[email protected]

:Sobre del covid-19😷😏🤧 N#28😏🤧 Initiative

[email protected]

:covid-19😷 Envelope-2021

iniciativa: Una selfie al natural @mayllerlys💄N#27💄iniciative: A selfie at the natural 2021.

Iniciativa: Mis 3 bebidas favoritas @yolimarag🍹 N#26🍹 Initiative: My 3 favorite drinks

Iniciativa: Nadando con Ballenas por @mayvil 🐳N#25 Initiative: Swimming with Whales by @mayvil 🐳




Iniciativa: N#24🍇🍒🍑-3 Current favorite fruits @gabygonz 3 Frutas favoritas actuales 🍇🍒🍑 postsN#99




INICIATIVA:

[email protected]

Mis 3 dulces de la infancia 🍭🍰🍮 My 3 childhood sweets post98




Iniciativa:N#22 -7 COSAS QUE NO PUEDE FALTAR EN TU BOLSO Y POR QUÉ? |7 Things That Cannot Be Missing In Your Bag And Why?




Iniciativa:N#21🌸-5 preguntas que hacerle a un hiver 🌸Post N#96 🌸5 questions to ask hiver

Iniciativa:N#20 Top 3 de escenas que te dejaron devastado.📺🎬 Post N#94📺🎬Initiative:N#20 Top 3 scenes that left you devastated.




Iniciativa:N#19-🚅de @canelarecetas🌉🏝5 lugares que quiero visitar. |🌸 Initiative. 5 places I want to visit




Iniciativa:N#18 Mis Parejas Favoritas de Series📺 Initiative: My Favorite Series Couples 📺




Iniciativa:N#17💜Reto: ¿Qué Amo de Hive? Challenge: What I love about HIVE.💜

Iniciativa:N#16🎧🎤3 canciones de mi adolescencia🎧🎤3 songs of my adolescence




Iniciativa: N#15🎬🖥Tags de películas🎬🖥Initiative:Movie tags📺postsN#85




Iniciativa:de @cami.rojasN#14🧠3 Grandes ideas que quedaron en nada🧠3 Great ideas that came to nothing





Iniciativa: N#13📷 El arte de la fotografía📷@sofi2001 🌺The art of photography




Iniciativa: N#12Mis 3 colores Favoritos♡🎨Initiative - My 3 Favorite Colors-postsN#78




-Iniciativa: N#11 🎀☃️regalos para Hive en esta Navidad🎀@mariajruizb🎀☃️gifts for Hive this Christmas





Iniciativa: N#10 MesdeNavidad ,¡Un cambio de look! 💇‍♀💄🎄☃: N #10 Christmas Month, A makeover!




Iniciativa :N#9 @corimarstorys Viajando al futuro🍀Initiative: N# 9 Traveling to the future




Iniciativa:🌟 N#8 Tres cosas del pasado al presente🌟
@corimarstorys Initiative: Three things from the past to the present




-Iniciativa: N#7 Crea un acróstico💟 @ambarvegas💟 Initiative: Create an Acrostic




Iniciativa🌟 N#6🎄

[email protected]

🌟3 cosas que te gustan de la navidad/3 things you like about Christmas .





Iniciativa N#5 🎧¡Tag de las canciones! |@cami.rojas.| Tag of the songs!🎧




Iniciativa N#4 @lililuki escritura inspirada en una canción🎧🎼Initiative N#4 song inspired writing




Iniciativa N#3 Imitating Tumblr Photos / Reto: Imitando fotos Tumblr-attempt.intento.




Iniciativa:

[email protected]

N#2 Libros que marcaron mi adolescencia. || Top 5.📚📖aceptada la invitación.





Iniciativa: de @theycallmedan y de @victoriabsb #AdoptAPlankton /Adopté a un plankton concurso mi entrada


🧠☁️🧠☁️🧠☁️🧠☁️🧠☁️🧠☁️🧠☁️🧠☁️🧠☁️
---
---