Gaia ✏🍃❤️ by:@sarayscristina

Hola amigos de Hive, específicamente de Hive Sketchbook, feliz fin e inicio de semana para todos ustedes❤️. Hoy quiero compartir una ilustración que realicé a mano, inspirada por un sueño que tuve con la belleza de la naturaleza.✏😁
Hello Hive friends, specifically from Hive Sketchbook, happy end and start of the week to all of you❤️. Today I want to share an illustration that I made by hand, inspired by a dream I had about the beauty of nature.✏😁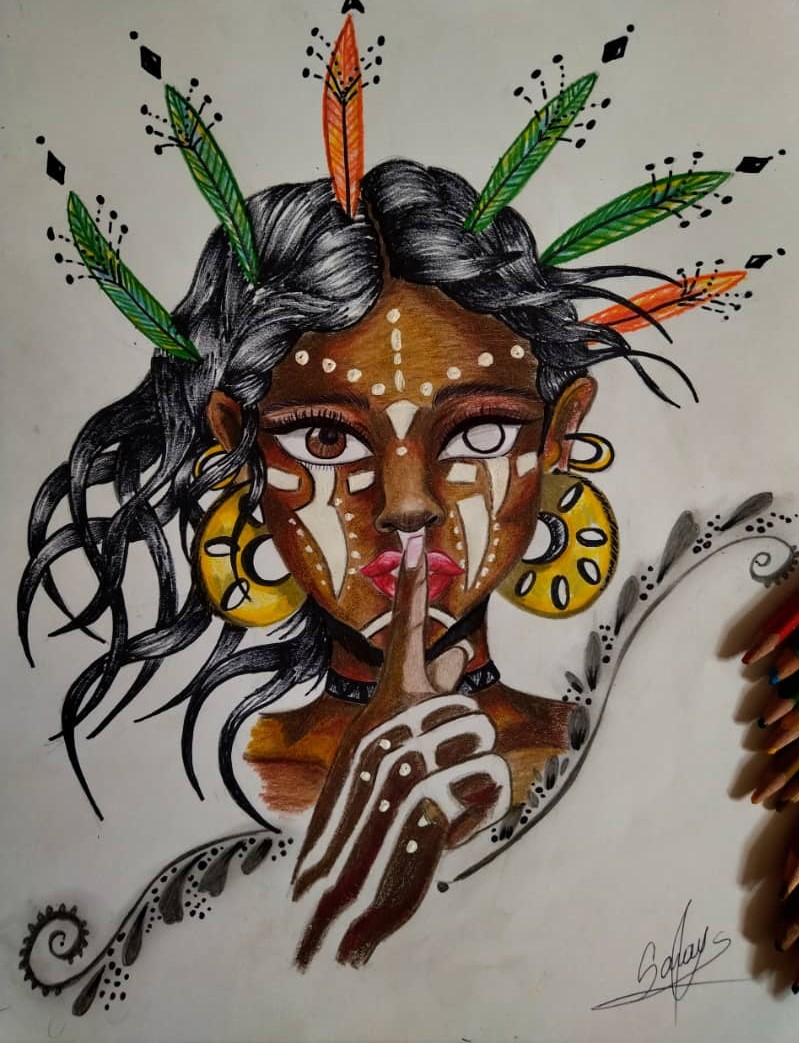 No sé si alguna vez le ha pasado que sueñan💤 con algo que no quieren olvidar y eso lo toman como punto focal para crear algo hermoso, si es así, tal cual como me pasó.😮 Les comento, que durante el sueño, me encontraba en un hermoso lugar lleno de naturaleza, muchos árboles gigantes y un enorme rio☘. Mientras disfrutaba del bello paisaje de momento todo se oscureció y entre la oscuridad pude visualizar a una mujer, parecida a esta ilustración, que me decía: calla y escucha a la naturaleza que hay a tú alrededor.
I don't know if it has ever happened to them that they dream 💤 of something they don't want to forget and they take that as a focal point to create something beautiful, if so, just like it happened to me😮. I told him that during the dream, I was in a beautiful place full of nature, many giant trees and a huge river☘. While I was enjoying the beautiful landscape for a moment everything went dark and in the darkness I could visualize a woman, similar to this illustration, who told me: shut up and listen to the nature around you.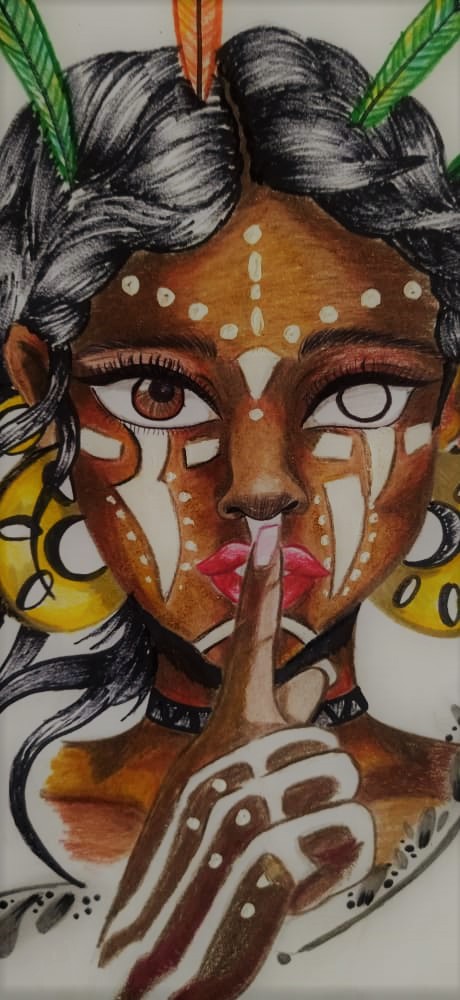 De momento me desperté súper inspirada con la musa a flor de piel y empecé a realizar este dibujo full color🎨✏ tratando de recordar hasta el más mínimo detalle de esa fantasía, sus ojos, su mirada, el color de piel, la forma del cabello, entre otros detalles característicos de esa visión. He de resaltar al principio fue difícil diseñarla, no solo por tratarse de una imagen proveniente de un sueño, sino que yo me considero que aún me falta mucho para mejorar el arte de dibujar rostros humanos, pero considero que le hice justicia.
At the moment I woke up super inspired with the muse on the surface and I started to make this full color drawing🎨✏ trying to remember even the smallest detail of that fantasy, her eyes, her gaze, the color of her skin, the shape of her hair , among other characteristic details of that vision. I have to highlight at the beginning it was difficult to design it, not only because it is an image from a dream, but also because I consider that I still have a long way to go to improve the art of drawing human faces, but I consider that I did it justice.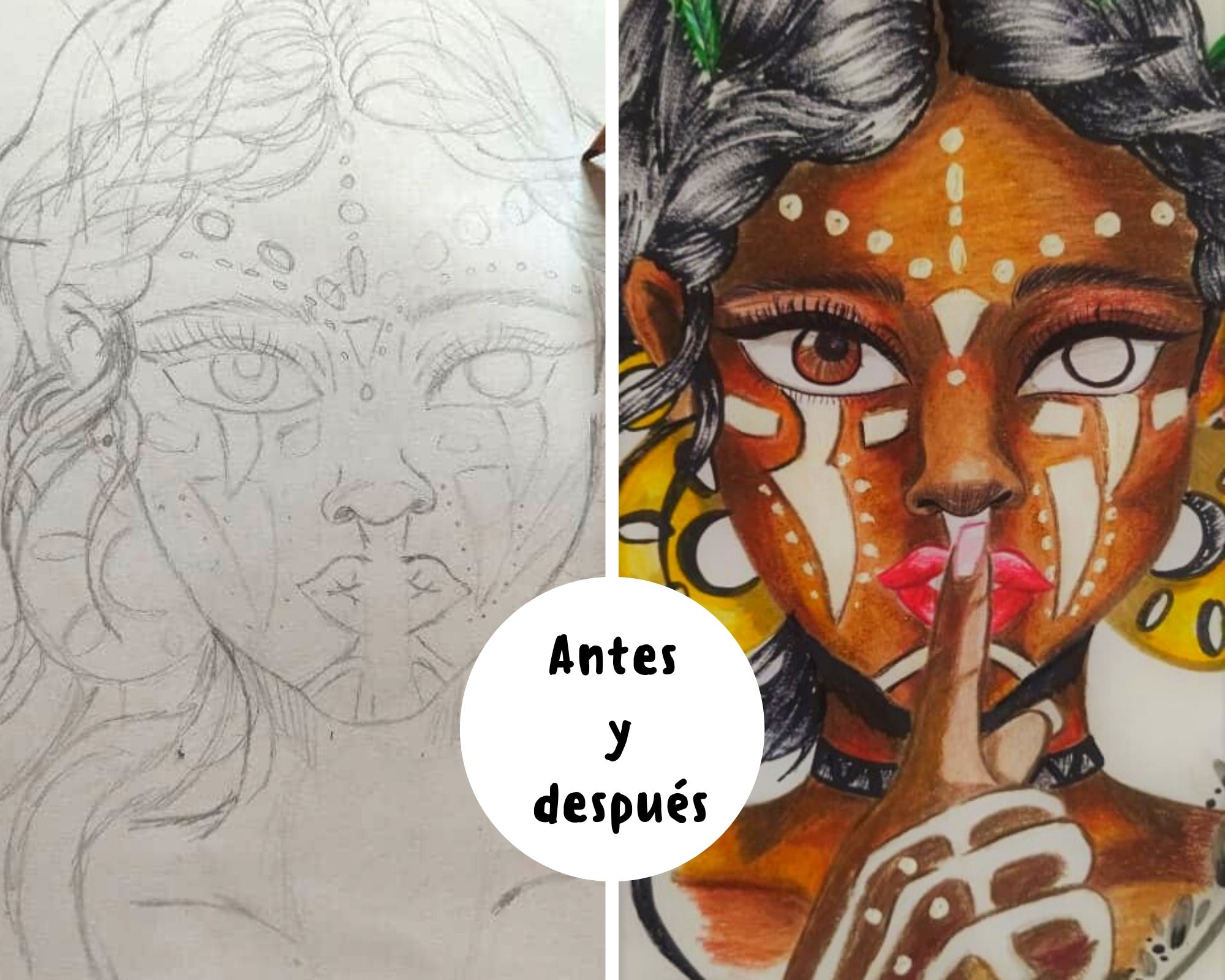 Para dibujarla realicé un boceto a lápiz ✏de cada detalle, seleccioné las tonalidades de los colores marrones 🎨y la combinación de los mismos que logré visualizar en el sueño, para los detalles en blanco utilicé pintura al frío y para el cabello un marcador de color negro.
To draw it I made a pencil sketch ✏ of each detail, I selected the shades of brown colors 🎨 and the combination of them that I managed to visualize in the dream, for the white details I used cold paint and for the hair a color marker black.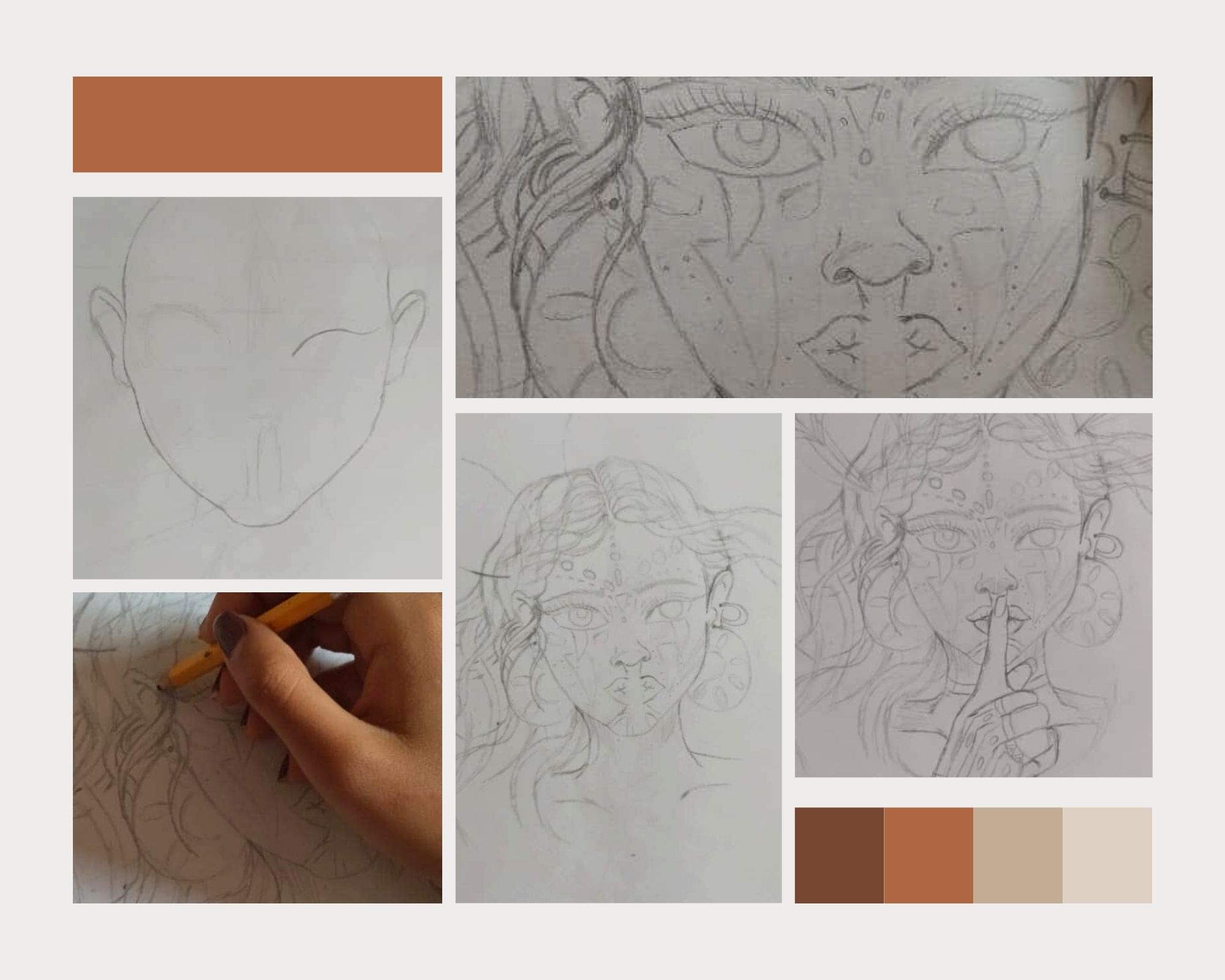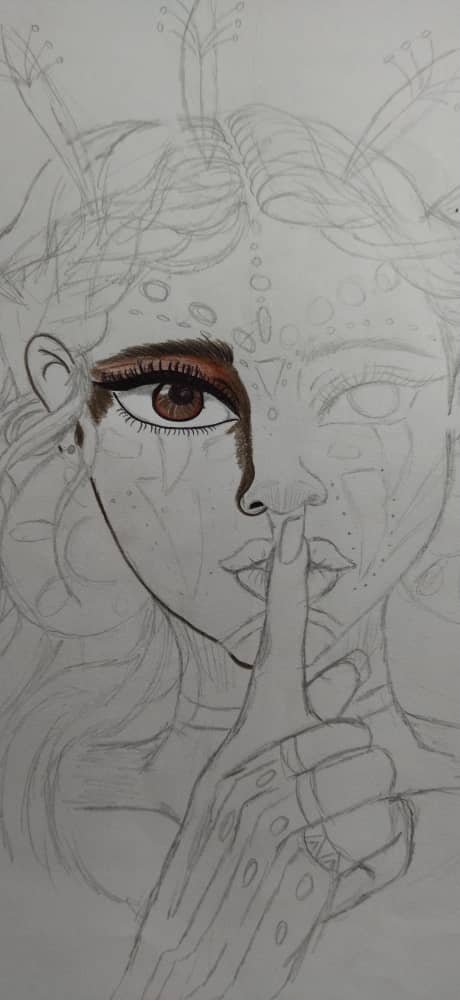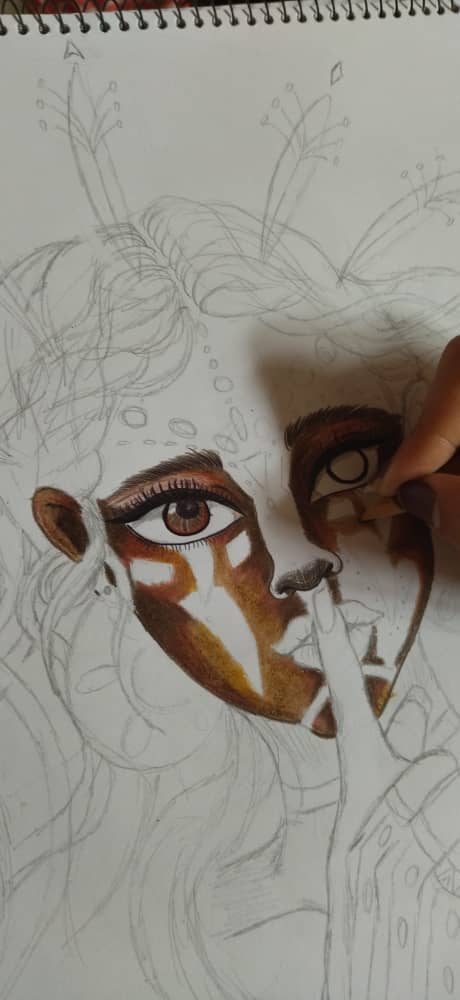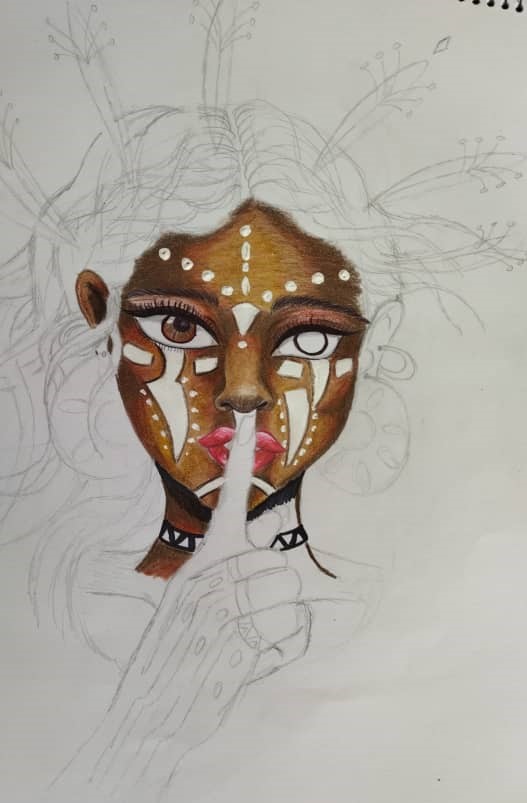 Espero que les guste mi ilustración ❤️😁, serán bien recibidas sus sugerencias y comentarios. Recuerden "la naturaleza es algo hermoso en todas sus formas, tamaños, colores y misterios, es necesaria para nuestra sobrevivencia, además puede servir como punto de inspiración para grandes obras, solo escúchala y déjate envolver por ella".✏🍃
I hope you like my illustration ❤️😁, your suggestions and comments will be welcome. Remember "nature is something beautiful in all its shapes, sizes, colors and mysteries, it is necessary for our survival, it can also serve as a point of inspiration for great works, just listen to it and let yourself be enveloped by it."✏🍃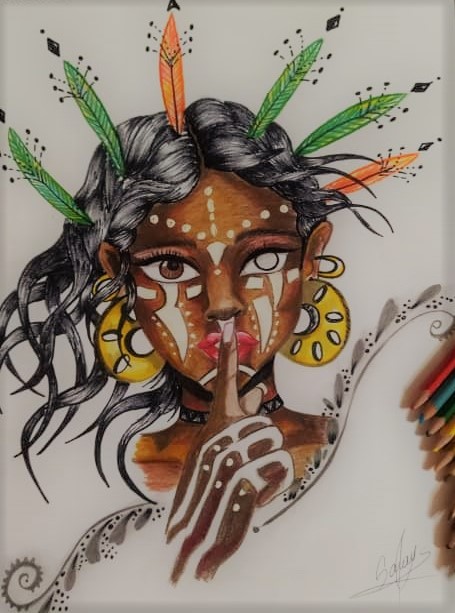 Adiós// Bye bye 👋

❤️✏🍃


---
---