Reasons Why Arsenal Fans Can Start Dreaming Of The Premier League Title!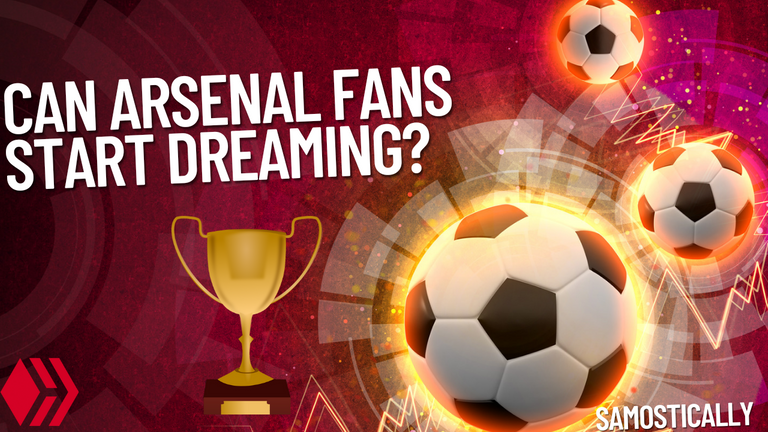 Image designed using canva, Trophy
I know, I know, I know.
I know many might say it's too early. They said the same thing after our exceptional pre-season matches. I'm sure they said the same thing after our opening battles against Crystal Palace and Leicester City!.... The Truth is YES, We have all it takes and we can Start DREAMING! Winning The Premier League is achievable for Arsenal and in this post, I'm going to tell you Why!
I've been an Arsenal fan since childbirth, I was born into the club. I haven't been more loyal to anything than I have to the club. I know how shitty we've been for many years now and I can recognize a change. Let's dive into reasons why I think we can challenge for the title.
Last Season
One thing everyone should know is that the fact that we fumbled top4 last season is a very important factor why we won't flop this lead. Arsenal has won 9 out of their 10 opening matches. The first ever in their history! Yes, that doesn't win the league but it surely boosts the boys confidence. Last season we lost our first 3 matches and we were languishing in the relegation zone. We managed to turn that around and we looked like we would contend for that champions league spot but inexperience played a role in the ending. This is something that I don't think will happen. The gap is 4 points now... It might as well get larger as we don't play city yet. The match against them just got postponed!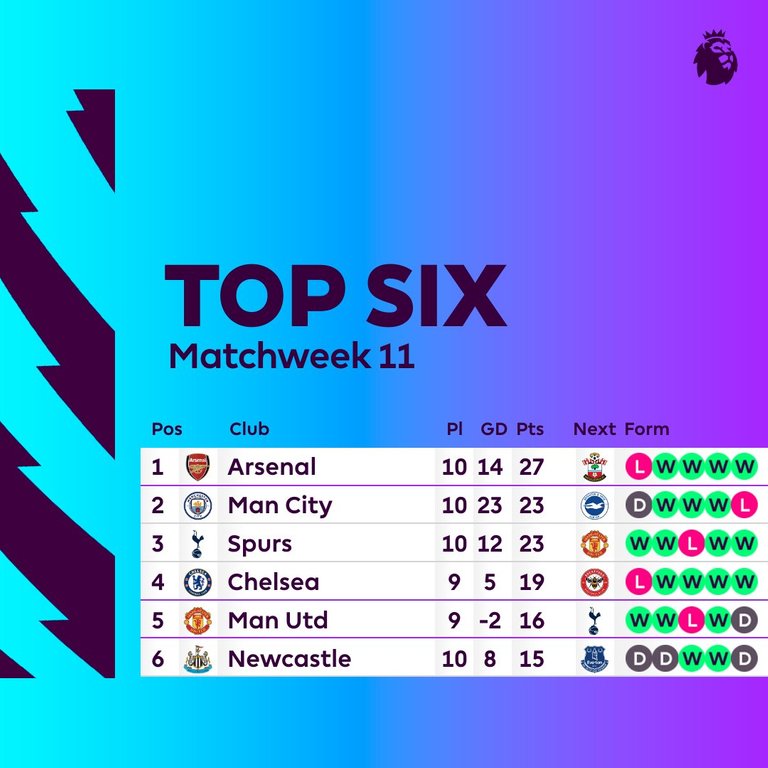 Mikel Arteta
Ah, Don't sleep on this Man. I know most coaches are passionate, However, this man is on another level. I was watching the "All or Nothing" documentary and I could see Arteta's Passion. There's a popular clip where he talks to the Man City bench yelling about the importance of winning duels. You can see it. "The Winning Mentality" - He said in our recent win against Leeds that he was happy with the way the tired boys ground out the victory.
Many can also say because he worked with Pep Guardiola, he learned alot. I see him doing wonders with this Arsenal side. I'm proud of this Arsenal side.
Have you seen Breaking Bad? Remember when Walter started partnering with Jesse?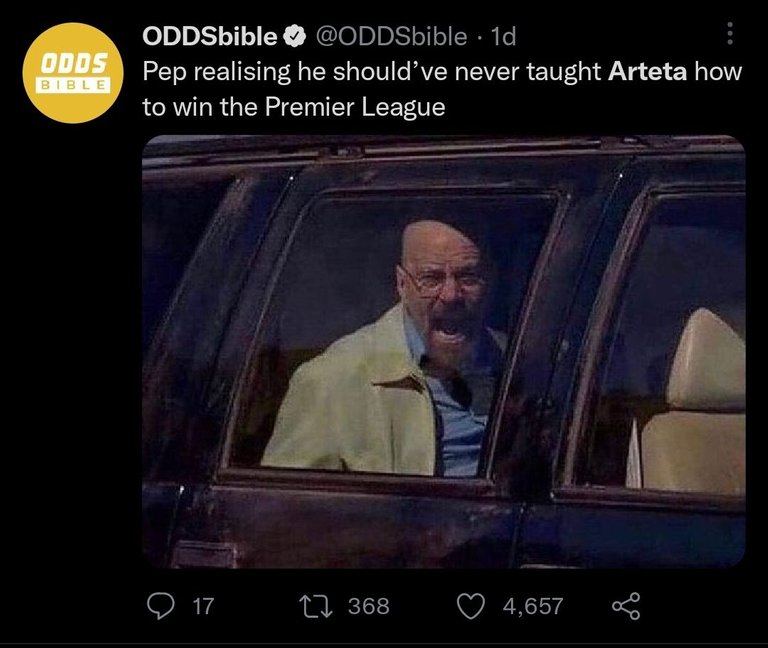 ---
Everyone Says Top 4 Is An Achievement!
---
I think this is to our advantage. Everyone says this Arsenal side would take the top 4 as a big achievement and they shouldn't worry about the title. It's too far from them they say.
I disagree but I think we can use that as a smoke screen and gun for the title after all we are the gunners!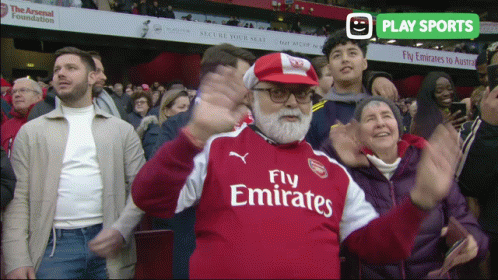 Not many saw Leicester winning the league when they did. It's the same thing that could happen to this Arsenal side! I honestly believe they can do it. The pressure is less, Everyone is downgrading them to a top 4 place.
---
Manchester City
---
I would say Manchester City has a good squad and are title challenger. I would also say if Arsenal wins the premier league, They would be one of the reasons why it happens.
I've always said I get puzzled about how man city draws or loses matches. They play the best football in the premier league but they are not invisible. Yes, Haaland has terrorized alot of defense since his arrival and is a strong favorite to win the Golden boot. However, it doesn't mean Man City will win the league. Aubameyang winning the golden boot with Arsenal didn't change anything for us.
Manchester City would still drop points this season and I think Arsenal might just drop less. To be honest, I'm more scared of the Spurs than Manchester City.
---
In Conclusion
---
Yes, Arsenal fans can dream of winning the Title, We have all it takes. Our Front Trio is Awesome. Party and Xhaka partnership is really helpful. The defense is constantly improving and we are captained by the most creative player in the squad. It's a really good Young side that can surprise everyone!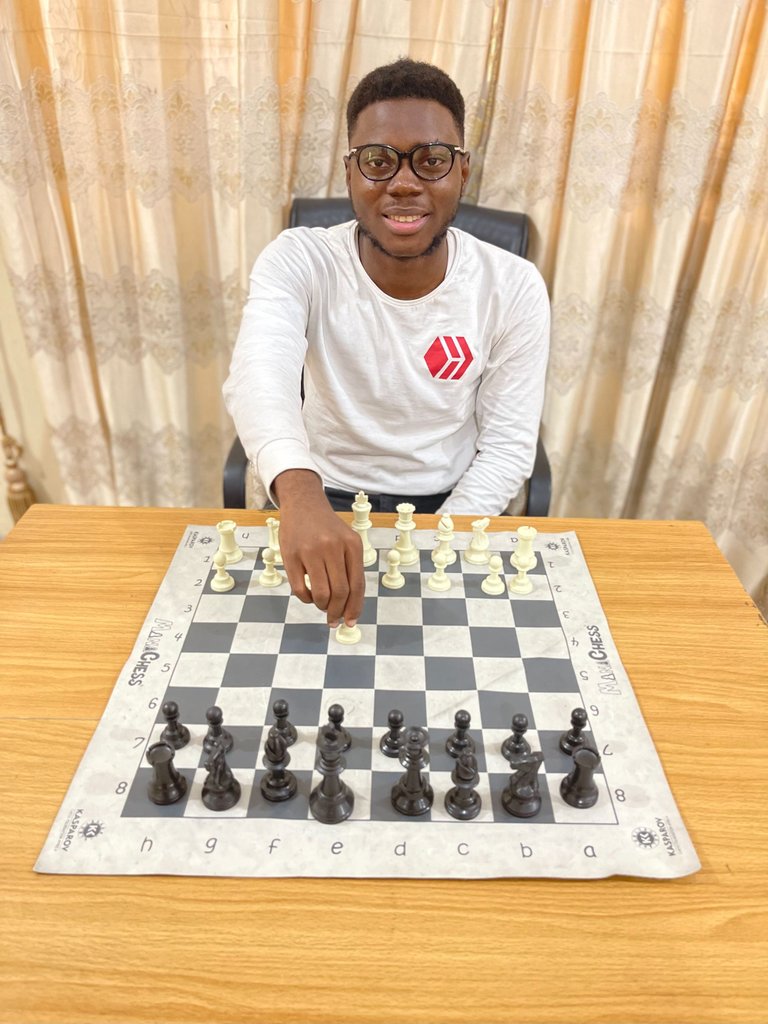 I am @samostically,I love to talk and write about chess because i benefited alot from playing chess. sometimes i share my thoughts on life in general and i write about my love for hive!
I love to engage with others and i love communication. I believe life is all about staying happy and maintaining peace.

♟♟♟♟♟♟♟♟♟

Thanks For Reading!
gifs via tenor
---
---