Peace Of Mind Is Underrated / La Paz Mental está Subestimada [English/Spanish]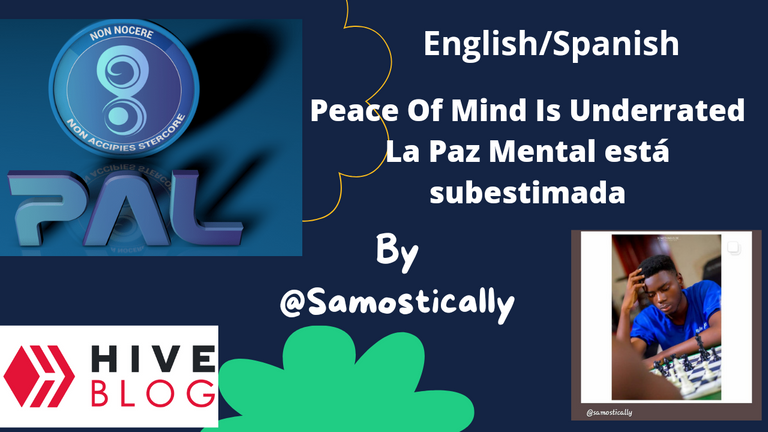 Image Designed using Canva
Hello everyone, I recently joined the palnet community and I was inspired to write this article by @victoriabsb, one of the leaders of the newbie programme. I hope you enjoy reading and get inspired.
Hola a todos, Hace poco me uní a la comunidad Palnet y me inspiré para escribir este artículo de @victoriabsb, uno de los líderes del programa para novatos. Espero que disfrute leyendo y se inspire.
Peace Of Mind is Underrated
I think peace of mind is underrated and from what I know peace of mind is a great.
Value.When you are at peace with yourself, and your situation, it does not mean that everything is going great. No, it just means that you are at peace with how things are at the moment. Things could be better, but you choose not to stress over that. As a result, your life becomes very fulfilling. You possess an asset that no bank, or person, can take away from you.
Creo que la paz mental está subestimada y, por lo que sé, la paz mental es excelente valor.Cuando estás en paz contigo mismo y con tu situación, no significa que todo vaya bien. No, solo significa que estás en paz con cómo están las cosas en este momento. Las cosas podrían mejorar, pero eliges no preocuparte por eso. Como resultado, su vida se vuelve muy satisfactoria.Posee un activo que ningún banco o persona puede quitarle.
Here are some reasons why i feel Peace of mind is important.
Aquí hay algunas razones por las que siento que la tranquilidad es importante
1. Peace of Mind Keeps You Healthy.
This year has been really tough for me with little happiness which has really affected my health and some of my activities but recently I have overcomed most of my problems and now i can say peace of mind is a very important health factor.
1. La paz mental lo mantiene saludable.
Este año ha sido muy duro para mí con poca felicidad lo que ha afectado mucho mi salud y algunas de mis actividades, pero recientemente he superado la mayoría de mis problemas y ahora puedo decir que la tranquilidad es un factor de salud muy importante.
2. Peace Of Mind Helps Addiction.
Addictions form from reveling into a conduct that cause you to feel great at that point. At the point when it causes you to feel great around then, you attempt it the following time you feel low and sure enough, you get the lift that you need, for that second. No medication junkie, heavy drinker, shopaholic or some other fiend wanted to get where they are. They just satisfied their need at that one time, then, at that point, another, then, at that point, the following one and before they knew it, they couldn't feel incredible without that fix.
Notwithstanding, suppose they were peaceful with their circumstance at that point? For instance, in case you are tragic, on account of a misfortune, it sure is something troublesome. In any case, you accommodate it to you that misfortunes, however hard as they seem to be, they are a piece of life. You implore, to whomever you petition, that in this trouble, you get some peace of mind. Being peaceful will imply that you can oversee what you are feeling by tolerating that indeed, it is awful, yet it is important forever, and in the end, it will become simpler.
2. La Paz Mental Ayuda a la Adicción.
Las adicciones se desarrollan a partir de una conducta que te hace sentir bien en ese momento. Cuando te haga sentir bien en ese momento, inténtalo la próxima vez que te sientas decaído y, efectivamente, obtienes el impulso que necesitas, para ese momento. Ningún drogadicto, alcohólico, adicto a las compras o cualquier otro adicto planeó llegar a donde está. Simplemente cumplieron con su necesidad en ese momento, luego en otro, luego en el siguiente y antes de que se dieran cuenta, no podrían sentirse bien sin esa solución.
Sin embargo, imagínese si estuvieran en paz con su situación en ese momento. Por ejemplo, si estás triste por una pérdida, seguro que es algo difícil. Sin embargo, reconcilia en su mente que las pérdidas, por duras que sean, son parte de la vida. Reza, a quienquiera a quien le reces, para que en toda esta dificultad, tengas algo de tranquilidad. Estar en paz significará que puedes manejar lo que estás sintiendo aceptando que sí, es terrible, pero es parte de la vida y, eventualmente, se volverá más fácil.
3. Peace Of Mind Keeps You Focus
Inward feeling of harmony assists you with making the right need list. You make your psyche to focus on things that matter as gone against things that you do to approve yourself or your situation in the general public. Things that truly matter are like family, self-development, your vocation and heritage. Giving opportunity to your family is an extraordinary resource as your family's joy thinks about you; you infer such a lot of bliss and satisfaction from having a cheerful family.
Whatever is denying you harmony, attempt to pull back from it and you will acknowledge how much genuine serenity feels wonderful
3. La Paz Mental te Mantiene Enfocado
La tranquilidad le ayuda a crear la lista de prioridades correcta. Usted hace que su mente se concentre en las cosas que importan y no en las cosas que hace para validarse a sí mismo o su posición en la sociedad. Las cosas que realmente importan son la familia, el crecimiento personal, su carrera y su legado. Darle tiempo a su familia es una gran ventaja, ya que la felicidad de su familia se refleja en usted; obtienes tanta alegría y satisfacción de tener una familia feliz.
Sea lo que sea lo que te niega la paz, trata de alejarte de ello y te darás cuenta de cuánta paz mental se siente increíble.
Conclusion
I want everyone to try their best to leave everything that will make peace of mind difficult,because money can't buy peace of mind.
Conclusión
El dinero no puede comprar la tranquilidad. Así que quiero que todos intenten eliminar todo lo que les impida tener tranquilidad.
Translated using Google
Thanks For Reading
---
---