Working in a coffee shop, no internet service at home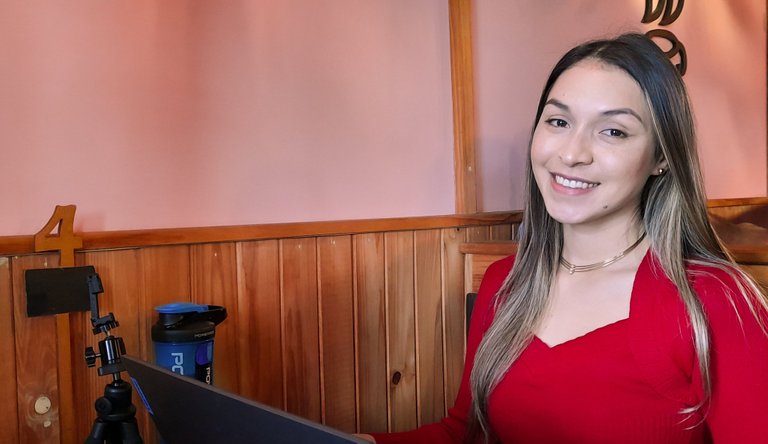 This post is a writing where I share a current problem that I am living due to the failures of my internet service, the quality of the service is so bad that not even Twitter opens, videos hang, and more. At this moment I think I'm having a behavioral test in complicated situations.
Este post es un escrito donde comparto un problema actual que estoy viviendo debido a las fallas de mi servicio de internet, está tan mala la calidad del servicio que ni si quiera abre Twitter, los videos se cuelgan, y más. En este momento creo que estoy teniendo una prueba de comportamiento ante situaciones complicadas.
---
Internet, a matter of concern in my country Venezuela and in many countries around the world, at this time, very close to midnight we are still testing at home with our internet provider to correct all the details that may be affecting our service.
I have a 4 Mbs internet service, it is a service that I receive from a receiving antenna at home and it allows me and part of the team that works with me to work. However, a few days ago we received a notification informing us that most of their equipment was burned and that we would be without service for a few days.
I have been without internet service for more than two days now and this is a feeling I had not experienced for a long time, a friend told me I was "Frustrachera " This word does not really exist, it is a combination in Spanish of anger and frustration. So I have been meditating and trying to be calm to look for preventive solutions.
I have clients, I have ventures, I study, I do trading, I create content in Hive, and a lot of other activities that I can't do without a quality internet connection. In my work process I share files and review information in the cloud. Feeling limited when you pay for a private service is an unpleasant feeling that I haven't experienced for a long time.
El internet, un tema de preocupación en mi país Venezuela y en muchos países del mundo, a esta hora, muy cerca de la madia noche aún estamos haciendo pruebas en casa con nuestro proveedor de internet para corregir todos los detalles que puedan estar afectando nuestro servicio.
Tengo un servicio de internet de 4 Mbs, es un servicio que recibo desde una antena receptora en casa y me permite trabajar a mi y a parte del equipo que trabaja conmigo. Sin embargo, hace unos días nos llegó una notificación informándonos que se quemaron la mayoría de sus equipos y que estaríamos sin el servicio por algunos días.
Ya hace más de dos días que estoy sin servicio de internet y esta es una sensación que tenía tiempo sin experimentar, una amiga me dijo que era "Frustrachera" Esta palabra realmente no existe, es una combinación en español de rabia y frustración. Así que he estado meditando y tratando de estar tranquila para buscar soluciones preventivas.
Tengo clientes, tengo emprendimientos, estudio, hago trading, creo contenido en Hive, y otra cantidad de actividades que no puedo ejecutar sin una conexión a internet de calidad. En mi proceso de trabajo comparto archivos y reviso información en la nube. Sentirse limitados cuando pagas un servicio privado es una sensación de disgusto que tenía tiempo sin experimentar.
👩‍💻🌐 Working in a coffee shop | Looking for solutions / Trabajar en un café | Buscando soluciones
Thanks to my work in the blockchain ecosystem and the education I have done in different events, I am known in many coffee shops and I was able to attend one of them to work because I had many pending things to do and I already needed internet connection.
I feel grateful to have solved some of the day's activities and I am still with the uncertainty of tomorrow, I am also analyzing the other internet services in the area to evaluate if I find one of better quality and with better customer service.
This post is basically a venting of what I have been going through these days, we are doing a lot of tests at the moment and sending feedback to the service company, I hope this situation will be solved.
I could be disconnected from the internet, going camping is an activity that I love, but at this time of my life requires planning because there are processes that depend on me at this time and I can not afford to be offline without first performing a few actions.
Thanks for making it to the end of this post, I usually don't share my problems here, but this situation has unbalanced me these days in my productivity and performance. I am taking many lessons learned from this experience and will take action to prevent it from happening again.
Gracias a mi trabajo en el ecosistema blockchain y la educación que he realizado en diferentes eventos, me conocen en muchas cafeterías y pude asistir a una de ellas a trabajar porque tenía muchas cosas pendientes por hacer y ya necesitaba conexión a internet.
Me siento agradecida de haber resuelto algunas de las actividades del día y sigo con la incertidumbre de mañana, también estoy analizando los otros servicios de internet de la zona para evaluar si encuentro uno de mejor calidad y con mejor servicio al cliente.
Este post es básicamente un desahogo de lo que he estado pasando en estos días, estamos haciendo muchas pruebas en este momento y enviando feedback a la empresa de servicio, espero que ya se solucione esta situación.
Podría estar desconectada de internet, irme de camping es una actividad que me encanta, pero en este momento de mi vida requiere planificación porque hay procesos que dependen en este momento de mi y no me puedo permitir estar fuera de linea sin antes realizar unas cuantas acciones.
Gracias por llegar hasta el final de este post, generalmente no comparto mis problemas por acá, pero esta situación me ha desequilibrado estos días en mi productividad y desempeño. Estoy tomando muchas lecciones aprendidas de esta experiencia y tomará acciones para evitar que se repita.

Fotografías de mi autoría
Traducido con Deepl

---


Otras redes:
Professional account | 3speak.online| Instagram | Youtube Vlog | Youtube Blockchain
---
---