Pico Espejo, one of my favorite cold coffee in the city [ES-ENG]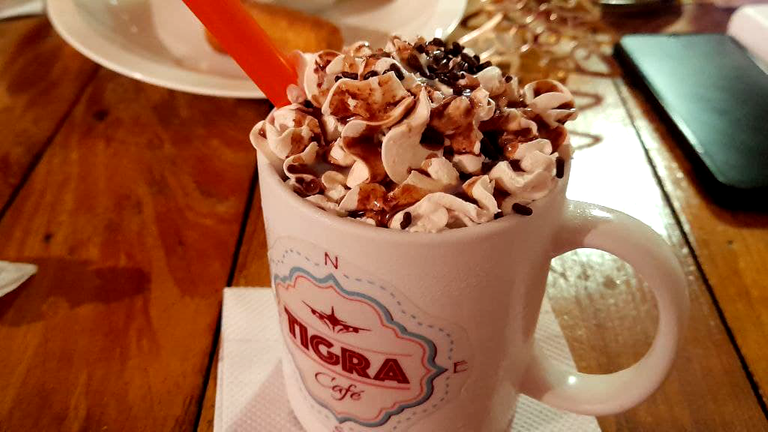 Un café que es como un postre a base de café, así es el Pico Espejo, un café temático que ofrecen en la cafetería Tigra Café acá en la ciudad de El Tigre Venezuela.
Pico Espejo es el nombre de una formación natural, este pico es parte de Sierra Nevada de la cordillera andina en Venezuela, un lugar donde generalmente hace mucho frío. Esta bebida está inspirada en esta formación y por ello viene decorada con crema chantillí que al colocarlo parece la forma de una montaña.
Adicionalmente esta bebida tiene café, licor de café, chispas de chocolate. Es una bebida fría a base de licor de café.
A coffee that is like a coffee-based dessert, this is the Pico Espejo, a themed coffee offered at the Tigra Café coffee shop here in the city of El Tigre Venezuela.
Pico Espejo is the name of a natural formation, this peak is part of the Sierra Nevada of the Andean mountain range in Venezuela, a place where it is generally very cold. This drink is inspired by this formation and therefore is decorated with whipped cream that looks like the shape of a mountain.
Additionally, this drink has coffee, coffee liqueur and chocolate chips. It is a cold drink based on coffee liqueur.
---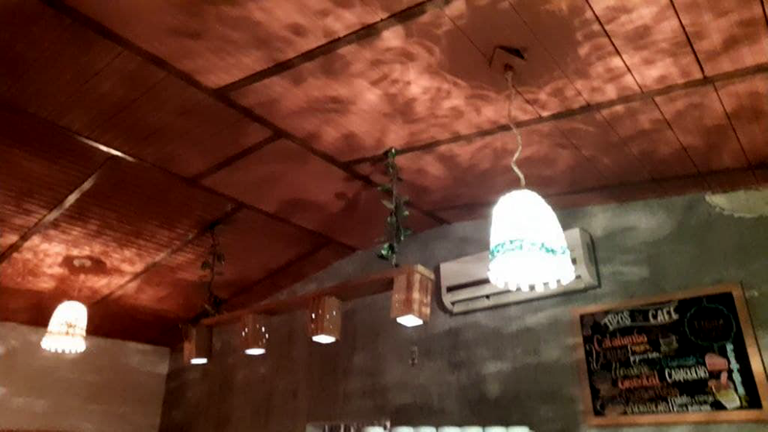 ---
Otro aspecto que es muy importante y me gusta mucho es el espacio armónico de la cafetería, está inspirado en temas viajeros, y tiene frases hermosas en la mayoría de sus paredes. Mantienen la luz opaca y una música de fondo muy agradable. La cafetería está decorada con lámparas, objetos de madera, pizarras, flores; todo este ambiente hace que realmente se pueda disfrutar el café.
Another aspect that is very important and I like a lot is the harmonic space of the cafeteria, it is inspired by traveling themes, and has beautiful phrases on most of its walls. They keep the light opaque and a very pleasant background music. The coffee shop is decorated with lamps, wooden objects, blackboards, flowers; all this atmosphere makes you really enjoy the coffee.
---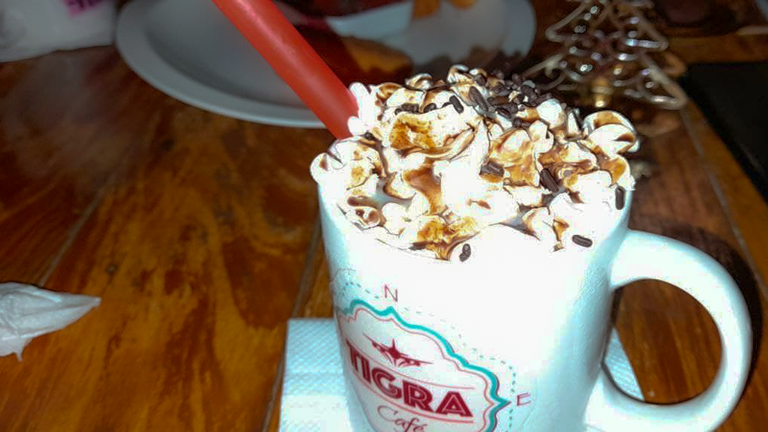 ---
Eventualmente también pido esta bebida para consumir en casa, esos días que estoy muy ajetreada y quiero probar algo delicioso pido café a domicilio, resulta que aún tengo mi oficina en casa y por ello en ocasiones pido café u otro aperitivo para los momentos de break.
El pico espejo es una bebida espesa debido a la cantidad de crema que posee, como tiene licor solamente consumo uno en cada oportunidad, pero realmente es una opción que considero para cuando me voy a reunir con mis amigos o con compañeros de trabajo, pienso que el café es ideal para este tipo de reuniones.
Bien, hoy te he presentado el Pico Espejo, es una bebida fría, y dulce a base de licor de café, huele y sabe delicioso. Nos leemos en otro post con una nueva experiencia o algo que contar.
Eventually I also order this drink to consume at home, those days that I am very busy and I want to try something delicious I order coffee at home, it turns out that I still have my office at home and therefore sometimes I order coffee or other snacks for break times.
The pico espejo is a thick drink due to the amount of cream it has, as it has liquor I only consume one at each opportunity, but it is really an option that I consider for when I am going to meet with my friends or work colleagues, I think that coffee is ideal for this type of meetings.
Well, today I have introduced you to the Pico Espejo, it is a cold, sweet drink based on coffee liqueur, it smells and tastes delicious. See you in another post with a new experience or something to tell.

Fotografías de mi autoría
Traducido con Deepl

---


Otras redes:
Professional account | 3speak.online| Instagram | Youtube Vlog | Youtube Blockchain
---
---