Leaving the comfort zone / Saliendo de la zona de Confort | Lifestyle
I had been living in the same place for a long time, doing repetitive activities, settled in the same discomfort; although I did activities to get out of the comfort zone, they were not enough to generate a major impact in my life. Experts in personal growth, memory and mind, point out the importance of taking advantage of the brain's reuroplasticity and practicing to get out of the comfort zone frequently.
In my case, a few days ago I decided to take a small turn that has taken my life out of the zone of total balance, I took a personal challenge and decided to leave the apartment where I lived rented and enable a small apartment that I bought with my boyfriend. This new place was not suitable for living so we had a few weeks of hard work.
Fortunately we did not live this stage alone, but there were days when I felt I could not take it anymore. Exposing ourselves to new situations, living new challenges tests our character and in fact teaches us to be more balanced, to make better decisions and in general fills us with learning.
Tenía mucho tiempo viviendo en el mismo lugar, haciendo actividades repetitivas, acomodada en las mismas incomodidades; aunque hacia actividades para salir de la zona de confort, no eran suficientes para generar un impacto mayor en mi vida. Los expertos en temas de crecimiento personal, memoria y mente, señalan la importancia de aprovechar la reuroplasticidad del cerebro y practicar salir frecuentemente de la zona de confort.
En mi caso, desde hace unos días decidí dar un pequeño giro que ha sacado mi vida de la zona de equilibrio total, tomé un reto personal y decidí dejar el apartamento donde vivía alquilada y habilitar un pequeño apartamento que compré junto a mi novio. Este nuevo lugar no se encontraba apto para vivir así que tuvimos unas semanas de mucho trabajo.
Afortunadamente esta etapa no la vivimos solos, pero hubo días donde sentía que no podía más. Exponerse a nuevas situaciones, vivir nuevos desafíos nos pone a prueba en carácter y de hecho nos enseña a ser más equilibrados, a tomar mejores decisiones y en general nos llena de aprendizajes.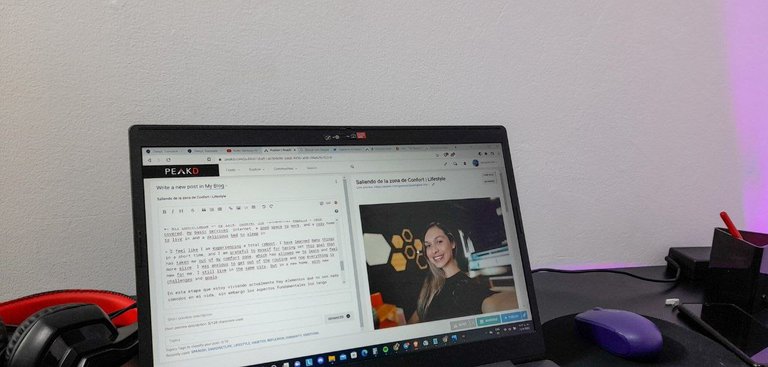 In this stage that I am currently living there are elements that are not at all comfortable in my life, however the fundamental aspects I have covered, my basic services, internet, a good space to work, and a cozy home to live in and a delicious bed to sleep in.
I feel like I am experiencing a total reboot, I have learned many things in a short time, and I am grateful to myself for having set this goal that has taken me out of my comfort zone, which has allowed me to learn and feel more alive. I was anxious to get out of the routine and now everything is new for me, I still live in the same city, but in a new home, with new challenges and goals.
One of the things I have developed the most during this time is patience and tolerance, to move forward despite the dust from the repairs, the smell of paint, the sounds of the drill, and to be honest I also think that my neighbors have developed patience these days with the noise we have generated in the apartment. It has been a learning experience for all of us, and we have all come out of our comfort zone.
Thank you for joining me until the end of this post, I hope there have been many positive changes in your life and I will surely share with you soon some part of this adventure.
En esta etapa que estoy viviendo actualmente hay elementos que no son nada cómodos en mi vida, sin embargo los aspectos fundamentales los tengo cubiertos, mis servicios básicos, internet, un buen espacio para trabajar, y un hogar acogedor donde vivir y una deliciosa cama para dormir.
Me siento experimentando un reinicio total, he aprendido muchas cosas en un corto tiempo, y estoy agradecida conmigo misma de haberme establecido esta meta que me ha llevado a estar fuera de mi zona de confort, que me ha permitido aprender y sentirme más viva. Estaba ansiosa por salir de la rutina y ahora todo es nuevo para mi, sigo viviendo en la misma ciudad, pero en nuevo hogar, con nuevos retos y metas.
Una de las cosas que más he desarrollado en este tiempo es la paciencia y tolerancia, para avanzar a pesar del polvillo de las reparaciones, al aroma a pintura, los sonidos del taladro, y siendo sincera también creo que mis vecinos han desarrollado paciencia estos días con el ruido que hemos generado en el apartamento. Ha sido un aprendizaje para todos, y todos hemos salido del confort.
Gracias por acompañarme hasta el final del post, espero hayan muchos cambios positivos en tu vida y seguramente pronto les compartiré alguna parte de esta aventura.


Otras redes:
Professional account | 3speak.online| Instagram | Youtube Vlog | Youtube Blockchain
---
---