LeoFinance As A DeFi Platform ($6.8M TVL)
The importance of DeFi evolution globally can not be overemphasized as it embodies all the streams of future financial systems with limitless functionalities. Gradually, decentralized finance is sliding into our day-to-day activities and taking the place of traditional technologies of the current financial system with open-source protocols, blockchain, and smart contracts.
Are you still confused about what the technology is set to solve in our financial system?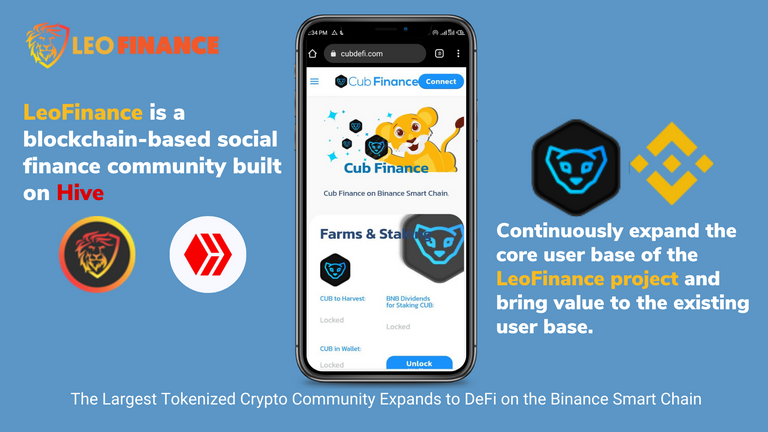 DeFi Settlement
As the growth DeFi increases, it is clear that one of the solutions the ecosystem provided is the exclusion of intermediaries from all transactions, it only requires the enforcement of a smart contract for its operation.
Scalability is one of the problems DeFi platforms are experiencing on Ethereum blockchain because most of them are built on ethereum blockchain and constantly the number of new applications in the field of decentralized finance is steadily growing. Yes, the ecosystem of DeFi is a mix of open-source blockchain and it's a determinant of a specific platform which oftentimes comes with a set of applications that may vary.
Note: DeFi ecosystem is accessible to anyone with an internet facility and smartphone.
What Are The Things To Take Note of?
1. Creation of Wallet:
DeFi releases power to its users by allowing them to control assets in their custody (wallet). The creation of a wallet can be something beginners may find difficult, but through your smartphone, you can create one.
Download Trust Wallet or Metamask from playstore and save your seed phrase which is the most important thing.
Never share your seed phrase with anyone.
2. Load your wallet with digital assets.
The wallet you created needs to be loaded with funds (digital assets) but you may ask, which digital asset is good to store? The wallet you created works with different networks. There are Ethereum-based assets, Binance-based assets, Polygon-based assets and much more, each network you select needs its base token first in that wallet.
For example, if you select binance-based assets, you will need to send in BNB into your wallet for a transaction fee during a transaction on that network. As a Nigerian, you can use Binance Centralized Exchange (after registration & verification) to buy your first crypto and send it to your wallet. If you need guidance on this, you can chat me up on Telegram.
3. Connect Your Wallet To DeFi Solution
Here you need to be very careful. There are multiple of DApp (Decentralized Application) that provides, financial solutions whereby you generate reward minute by minute depending on how the solution is designed.
DeFi can be a staking platform, lending platform, or governance platform and can even have all these solutions in one App.
During my engagement on Hive blockchain, Leofinance has been one of the hive blockchain platforms that launched a DApp on Binance Smart Chain known as CUB Finance which gives the opportunity to generate passive income via the DApp and since launched, Hive users and crypto enthusiasts have been leveraging on the solution LeoFinance provided via CUB Finance.
CUB Finance was launched alongside its utility token (CUB) which is listed on Coingecko and CoinMaketCap.
Cub Finance DApp has a unique feature known as Kingdoms. This is a composable auto-compounding application that allows the staking of tokens for cross-platform farming plus CUB rewards.
How secure is the CUB Finance Dapp?
The DApp was audited by Certik
As of the point of writing this article, the total volume locked on CubDeFi is $6,808,775.14.
In conclusion, there are many other DeFi platforms, creating opportunities for people to earn passively, but it takes personal research and asks questions on your findings as not to enter into a scam project. LeoFinance, a blockchain-based social finance community that has been building applications on a variety of platforms and blockchain's since July 2019 will continue in the mission of financial solutions that can open multiple streams of passive income.
Disclaimer: I am not a financial advisor, the very information shared is my personal stand which is prone to research.
Posted Using LeoFinance Beta
---
---