Know This Before Investing In Crypto
Just a few days ago, Bitcoin for the first time broke $57,000 after five months of dip experienced and much news around it brought in so many into the space. As Bitcoin price action increases, it has affected so many altcoins and people seems to enjoy this moment to a level of trading to make more profit forgetting that the world of crypto can be ripe with misinformation and scams particularly to newbies in the space. It is important not to keep your eyes open, try not to accept every information you get from social media especially when it's related to crypto.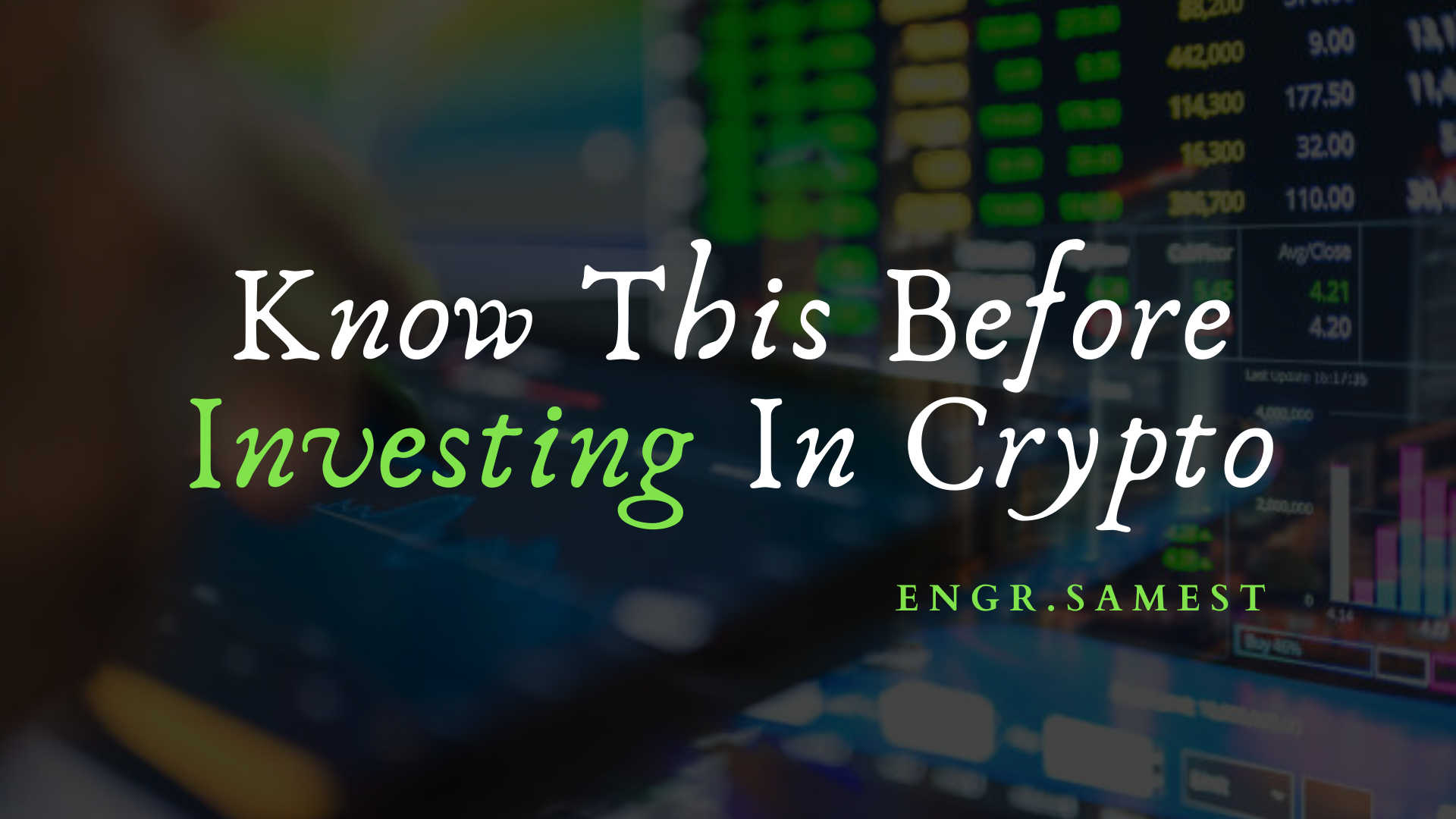 ---
Nigeria is one of the countries contributing to the growth of crypto globally and crypto enthusiasts in the state keep educating people around that region.
According to the world bank, Nigeria has the largest economy in Africa with more than $500 billion of nominal gross domestic products. Bitcoin is legalized in Nigeria still, the securities and exchange commission in the country beliefs investing in it is of high risk and warned each of their citizens to be very careful though the Central bank in the state is set to venture into the space despite the bill passed of the ban of all Nigeria banks to trade crypto. The world of digital assets is growing and easy to ignore, even the average Nigerian youth focuses more on crypto assets because of profit therein and not minding the risk attached.
Some of the crypto assets experience 1000X, 500X, 400X, and 100X within few days, should this be the basis of getting your first crypto?
Things To Know Before Getting Into Crypto Investment
Oftentimes, people get into investment wrong and disappointed within few days because they lack some basic information about the investment they ventured into.
Here is some point to pay attention to, should you need to buy your first crypto or invest in crypto.
1. Carry Out Personal Research
You may stumble upon a piece of information about a particular coin, project, or organization related to crypto investment, yes, that's your starting point, get more information about it on your own and ask questions. Attending a seminar is good but is to lay a foundation for your further research on the topic or project.
I need to say this, when you are considering one of the adventures to jump into, consider Cryptocurrency but not without adequate planning and research! Many ventured into it because their friends are buying into different altcoins trending on social media. Hey there, you better don't lose sight of the foundations of the crypto that will eventually lead to its growth in the long run!
Ask for a whitepaper this tells you everything about the project: The currency use case, community engagement, plans, scalability and other features you need to know.
2. Trade Only What You Can Avoid To Lose
Cryptocurrency is highly volatile, unregulated, so know that anything can happen when you invest and you need to manage your investment risk by not selling your kidney for getting your hands on the latest hone. Possibly you have heard your friend talking about the bullish or bearish market and every news around crypto this moment sweet your ears, you need to play safe as your financial health is important. Invest amounts that do not pull you back adversely.
3. Diversify Your Investment
Strike a balance when you are investing and try not to put all your fingers in one bag, it will burn. You need to carry out some analysis on your asset allocation, group them as a stable and risky investment and balance them between some leading crypto market leaders like Ethereum, Bitcoin, Solana and also pick some lesser mainstream tokens, you can check coingecko or coinmarketcap for your guide.
NOTE: Stay clear from coin/token not listed on a reputable exchange.
In conclusion, the crypto world is full of misinformation, scams and people leading many astray because of excitement around what they read or heard from friends and forgetting personal research. You mustn't have to trust every information from social media without you carry out your personal research and ask questions from people in the space, there is always somebody to answer your question.
Disclaimer: I am not a financial advisor, the very information shared is my personal stand which is prone to research.
Posted Using LeoFinance Beta
---
---