Deftify PAP Testnet With 2.5 Million $DFTY Reward Pool
With the evolution of decentralized finance that opens global accessibility to financial solutions without leveraging on third parties during transactions, there are some loopholes in recent times users discovered during their transactions and new project that closes up these loopholes will always come to the rescue as the ecosystem expands.
Crypto adoption in Africa is increasing daily and many entrepreneurs on the continent (Africa) have different ideas that are marketable in the crypto space but accessing all the tools in cryptocurrency to turn their ideas into products or services proves abortive.
Why?
Lack of funding

No proper advert/ marketing

No good team

No strategy for community building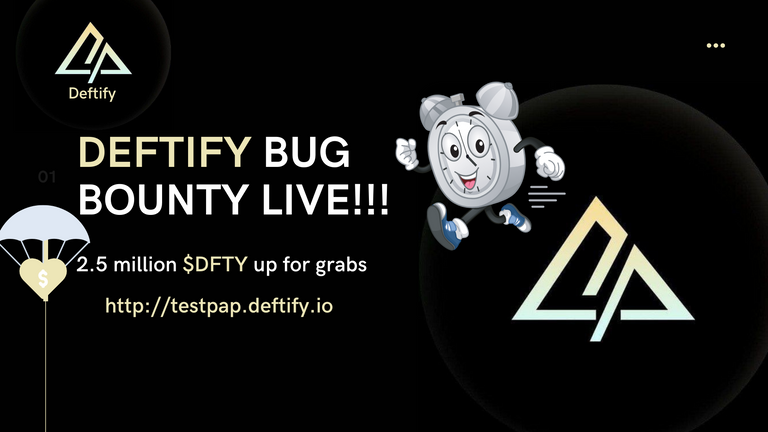 How Can Thing Be Solve?
In Q4 2021, an African team built the first world's multi-purpose DeFi and NFT platform that will offer private round access to cutting-edge African innovations. Welcome Deftify.
It's your understanding that determines your stand. That's one of my quotations @samest and being part of Deftify, most of my followers, right here and beyond, understand that increasing the adoption of crypto in Africa is one of my primary goals through educating people about crypto and blockchain technology.
With a brief introduction about Deftify, let me share with you our progress journey and where we are today!
Deftify Journey So Far!
First, the token launch is on the way but already has a product that is in Testnet at the moment. This is interesting, right?
Deftify team believes in the use case before the utility token launch and this should be in public testing while the world waits for the launch of the utility token.
What are we building?
There are three primary products: Private Access Pad (PAP), Deftify's MetaCurse, & Instant Watch.
A close look at the Website reveals information about Deftify 3 main products.
As the utility token launch is getting closer by the day, we already partner with so many projects, launchpads, Venture Capitals, Angel Investors during our seed round & private round though some slots are still available you can check with the Deftify's Team if interested to know more about this.
Where we are today
We have our launchpad PAP ready but in Testnet! The team announced the bug bounty today and make the launchpad Testnet live on the website homepage.
What Next?
Definitely launching the utility token on different launchpads is getting closer.
Take Note: $DFTY will be powered by Polygen, Cardano and more other blockchains as a multi-chain is major to us.
Are You Ready To Launch With Us?
Posted Using LeoFinance Beta
---
---