Decentralized Finance In LeoFinance
The explosion of DeFi since 2020 has brought in immensely popular activity for the crypto holders when talking about yield farming still many on hive blockchain are not aware of some products or interface providing profit to those interacting with the product.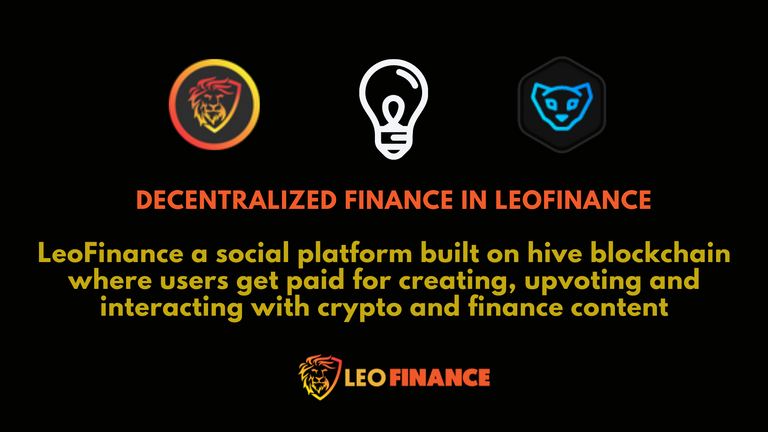 Lets consider LEOFinance.
Whats LeoFinance?
LeoFinance is a social platform built on hive blockchain where users get paid for creating, upvoting and interacting with crypto and finance content. The platform utility token of the platform is known as LEO Token which can be staked on the platform to transform to LEO power to produce more returns either by creating a post, voting on the post, commenting on a post, or delegating your LEO power.
Get Registered
Delegation on LeoFinance gives reward passively which is related to single staking on the DeFi app. However, LeoFinance launched a binance smart chain based farming platform after the launch of wLEO (Wrapped LEO) on the Ethereum network which was listed on the Uniswap automated market maker protocol (AMM).
Understand CubFinance, An Extension of LeoFinance
CubFinance being an extension of LeoFinance focuses on providing liquidity to existing LEO holders via bLEO and access to Binance Smart Chain pools. The App was launched alongside utility token called Cub Token with no presale rather claimdrop to all LEO token stakers on LeoFinance platform.
CUB Token
Contract Address: 0x50d809c74e0b8e49e7b4c65bb3109abe3ff4c1c1
Chain: Binance Smart Chain (BEP-20)
Supply: Unlimited With Predictable Inflation Via CUB / Block
Coingecko: https://www.coingecko.com/en/coins/cub-finance
CoinMarketCap: https://coinmarketcap.com/currencies/cub-finance
Cub Finance Features
1. Cub Kingdom
This is a cross-platform, autocompounding yield yaults that allow LPs to stake their liquidity, earn an underlying asset (i.e. CUB) and automatically compound their LP position via smart contract. From a little research carried out, Cub kingdoms gives room to farm 2 platforms simultaneously, which are, the Host Farm (PancakeSwap, Bakeryswap, Belt, etc.) and CUB Reward Multipliers on top of it.
2. LeoBridge
This is a seamless cross-chain swaps using the LEO token economy to convert ERC20 assets into BEP20 assets, and expecting more chain introduction as interoperability is one of the features Cub Finance embrace.
3. IDO
According to Cub documentation, decentralized IDOs allow new projects to utilize CubFinance as a launchpad. Read further about the IDO as it related to Cub Finance on its documentation.
In conclusion, DeFi is gaining popularity as the whe ecosystem provides solution to major problems in traditional finance, though transaction fee, scalability and many other factors discourage some people to interact with Ethereum blockchain but interoperability function has help people transact convienently while enjoying the DeFi features in a seamless cross-chain which Cub Finance is one of the platform that provide this solution.
---
Disclaimer: I am not a financial advisor, I only share this information for you to further do your research and flow your heart in your dealings.
Official Links
LeoFinance Platform | LeoFinance Twitter | LeoFinance Discord | Cub Finance DApp | Cub Finance Doc
Posted Using LeoFinance Beta
---
---