Retrato realista de un joven de cabello largo. // Realistic portrait of a young man with long hair. [ESP/ENG]
English version
Hello, welcome to a new post!
How are you friends, how are you? I hope you are well, today I'm here again with a realistic portrait, this portrait is done with graphite pencils.
I haven't done a portrait for a long time, I guess I started to do other things and I forgot a little bit about drawing.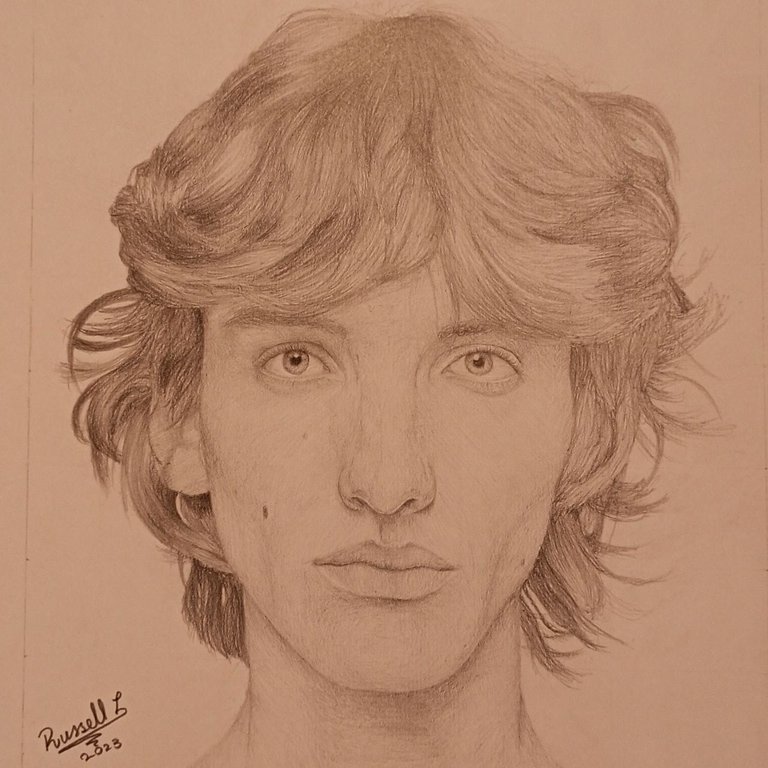 To begin to make this drawing, I had to look for a good reference, I found this guy, I like to draw people who have marked the cheekbones and jaw area, I also found a very good shape for the hair. Without further ado, let's start with the process.
Step by step: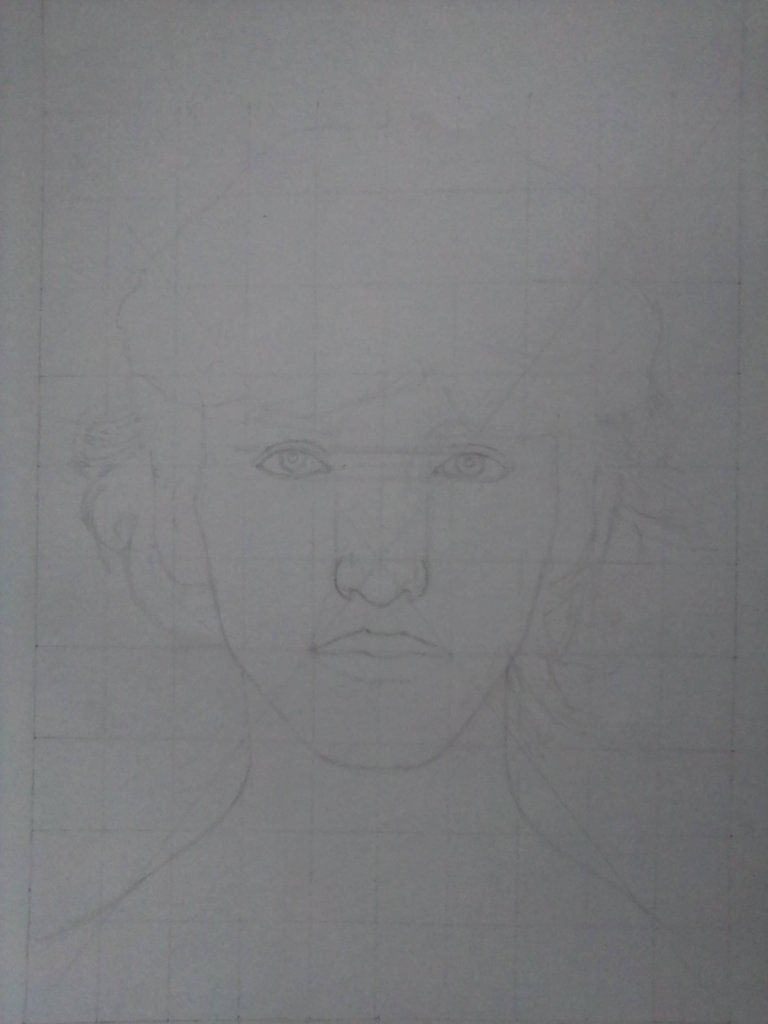 1.-The first step was to make the sketch, I did it with a HB pencil.
---
2.-Now I make the hair, I used the pencils 2B, 4B, 6B and 8B with each pencil I made the lightest and darkest parts of the hair. Before I used to do all the hair with a pencil and then use an eraser to give it the illumination, but this time that I used different pencils gave a much better result, I really liked it.
---
3.-Now I started to make the face, I started from the right side and so on until the other half. At the time of making the eyes, when I was already on the second eye, I realized that one was bigger than the other, when I saw it, I laughed a little, it was a little difficult and annoying to fix this, but they were well in the end.
---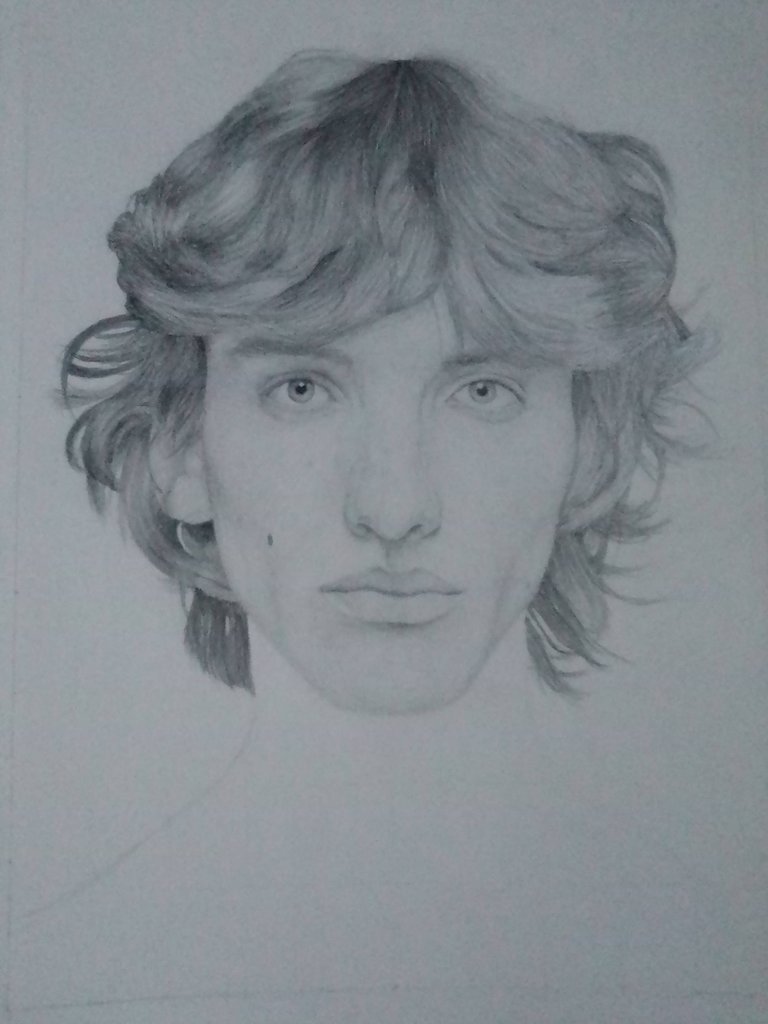 4.-Now I only had to do the lips and part of the face, for the lips I used a 2B and a 4B pencil, to finish the part of the face, I used a 4B pencil to mark the cheekbones and the jaw.
---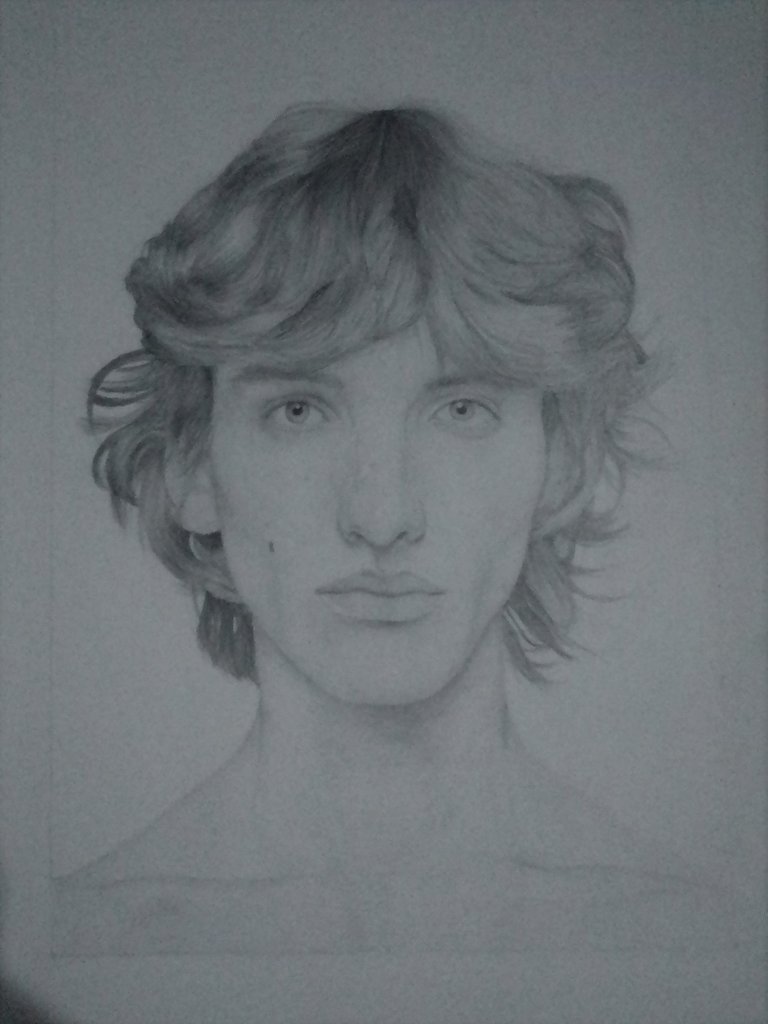 5.-And finally I only had to do the neck, with a 4B pencil I darkened below the chin and mark the collarbones, with a 2B I did the rest of the shadows and with the B pencil I finished filling the areas with a normal tone.
---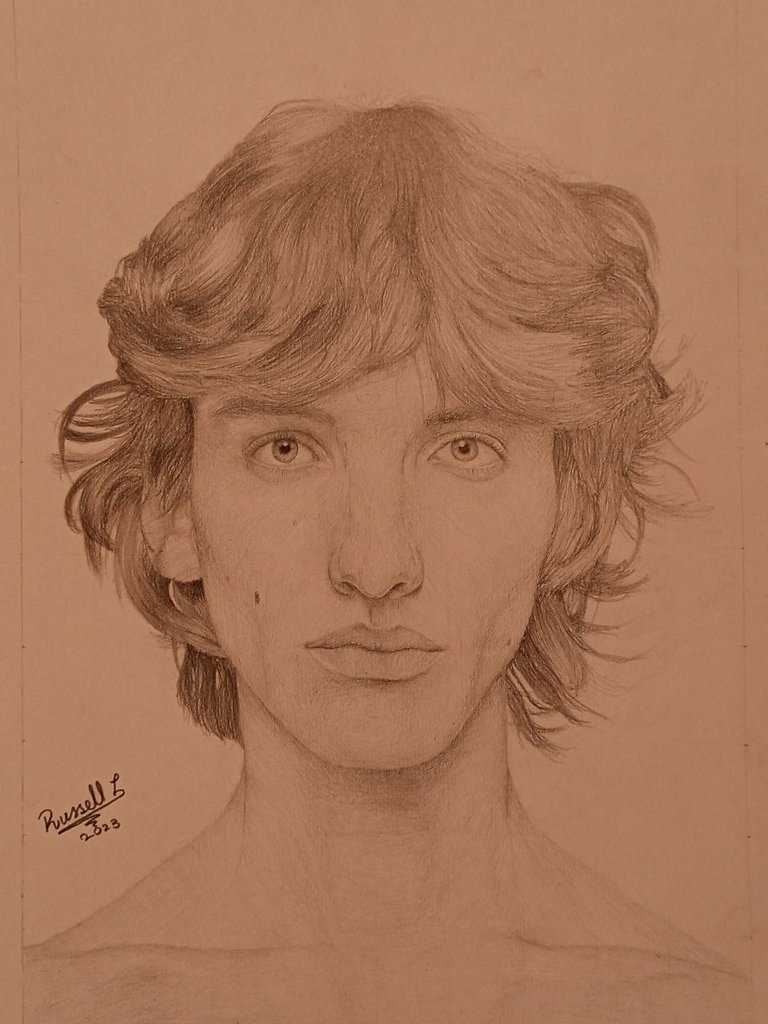 This is how my drawing was finished, sincerely I really enjoy doing this, that's one of the reasons why I have so much patience and dedication to do this kind of drawings. This drawing took 1 day to complete. I loved the result. I would like to know what you thought?
---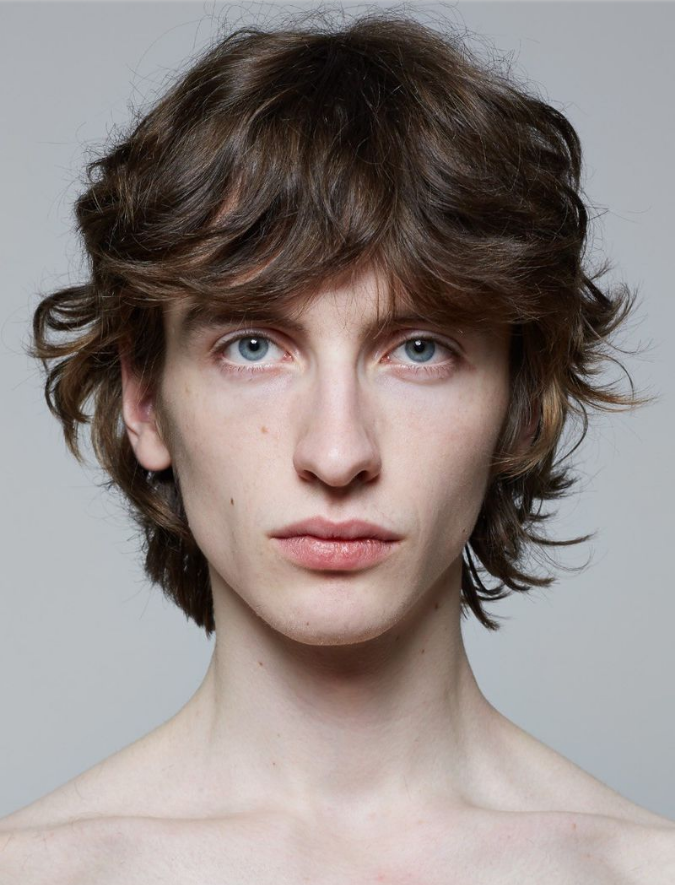 Reference image
---
Thanks for reading, see you next time!
---
---
---
Versión en español
Hola, bienvenidos a un nuevo post!
Que tal amigos, como están? Espero que se encuentren bien, hoy estoy aquí nuevamente con un retrato realista, este retrato esta hecho con lápices de grafito.
Tenia tiempo que no me animaba a hacer un retrato, supongo que empecé a hacer otras cosas y me olvide un poco del dibujo.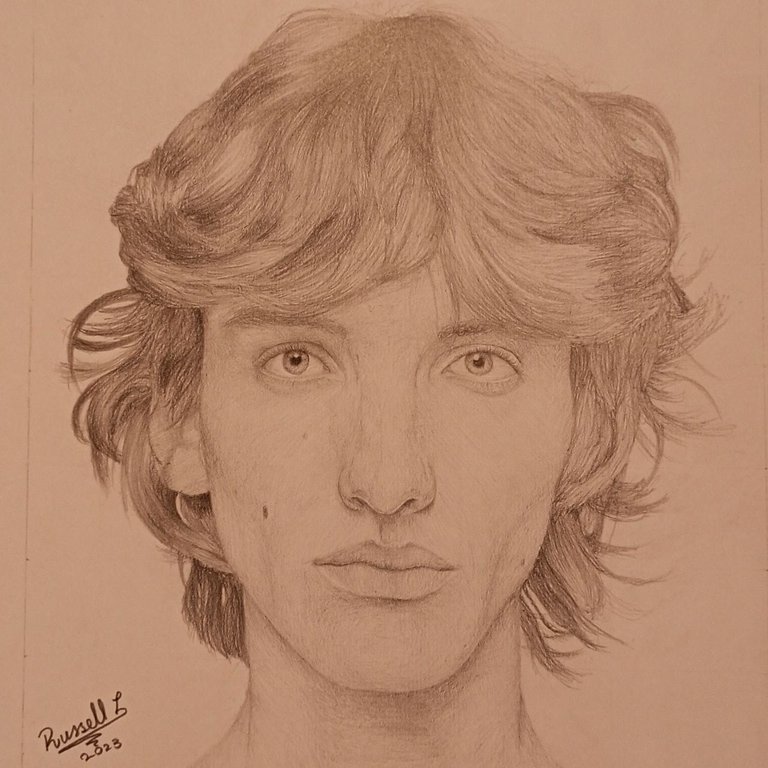 Para empezar a hacer este dibujo, tenia que buscar una buena referencia, encontré a este chico, a mi me gusta dibujar personas que tienen marcada la zona de los pómulos y la mandíbula, también le encontré muy buena forma al cabello. Ya sin mas, empecemos con el proceso.
Paso a paso: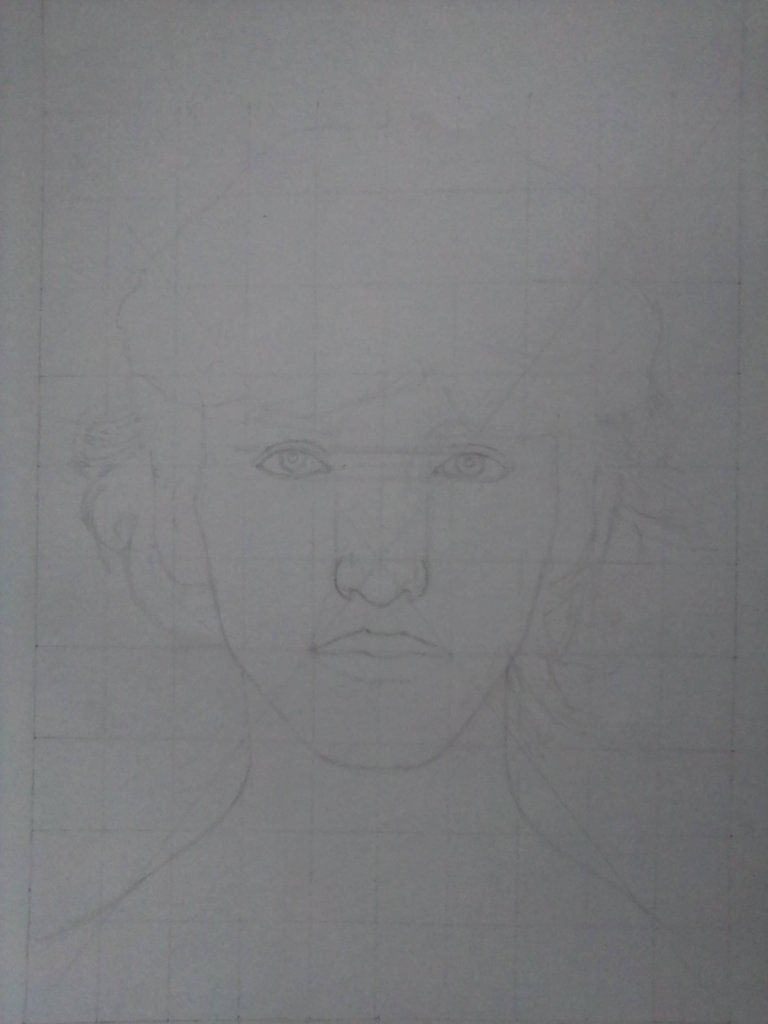 1.-El primer paso fue hacer el boceto, esto lo hice con un lápiz HB.
---
2.-Ahora hago el pelo, use los lápices 2B, 4B,6B y 8B con cada lápiz fui haciendo las partes mas claras y oscuras del pelo. Antes solía hacer todo el pelo con un lápiz y luego usar un borrador para darle la iluminación, pero esta vez que use diferentes lápices dio un resultado mucho mejor, a mi me gustó mucho.
---
3.-Ahora empecé a hacer el rostro, empecé por la parte derecha y así hasta la otra mitad. A la hora de hacer los ojos, cuando ya iba por el segundo ojo, me di cuenta que uno estaba mas grande que el otro, al verlo, me dio un poco de risa, fue un poco difícil y fastidioso arreglar esto, pero quedaron bien a la final.
---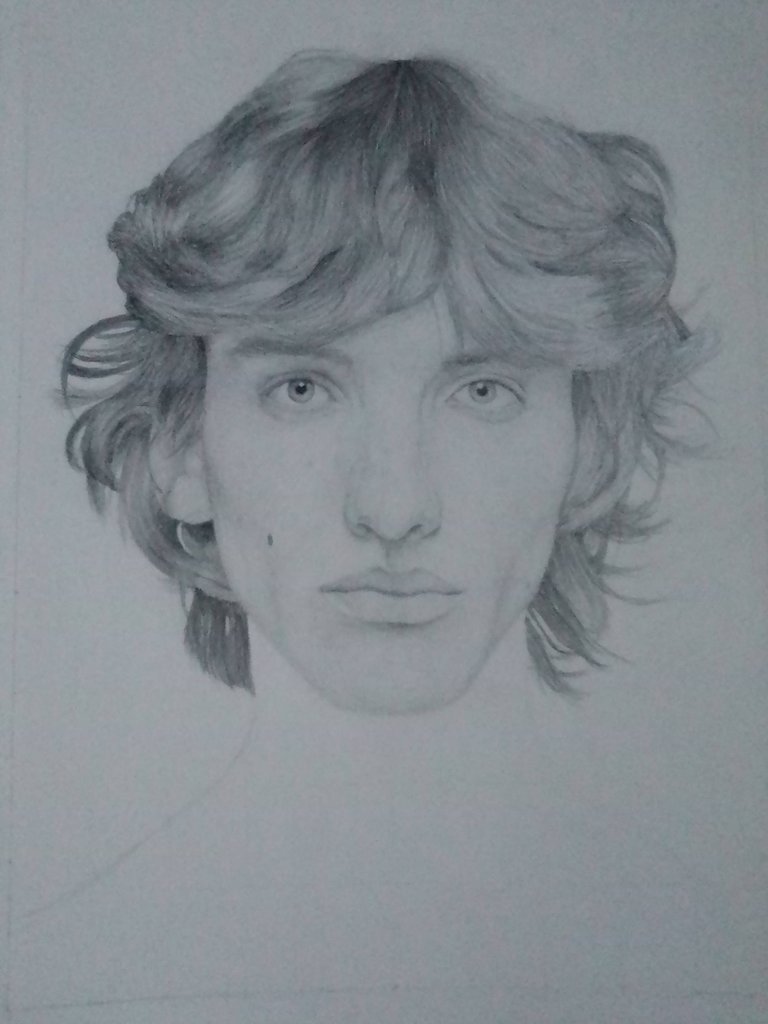 4.-Ya solo me quedaba hacer los labios y parte de la cara, para los labios use un lápiz 2B y un 4B, para la terminar la parte de la cara, use un lápiz 4B para marcar los pómulos y la mandíbula.
---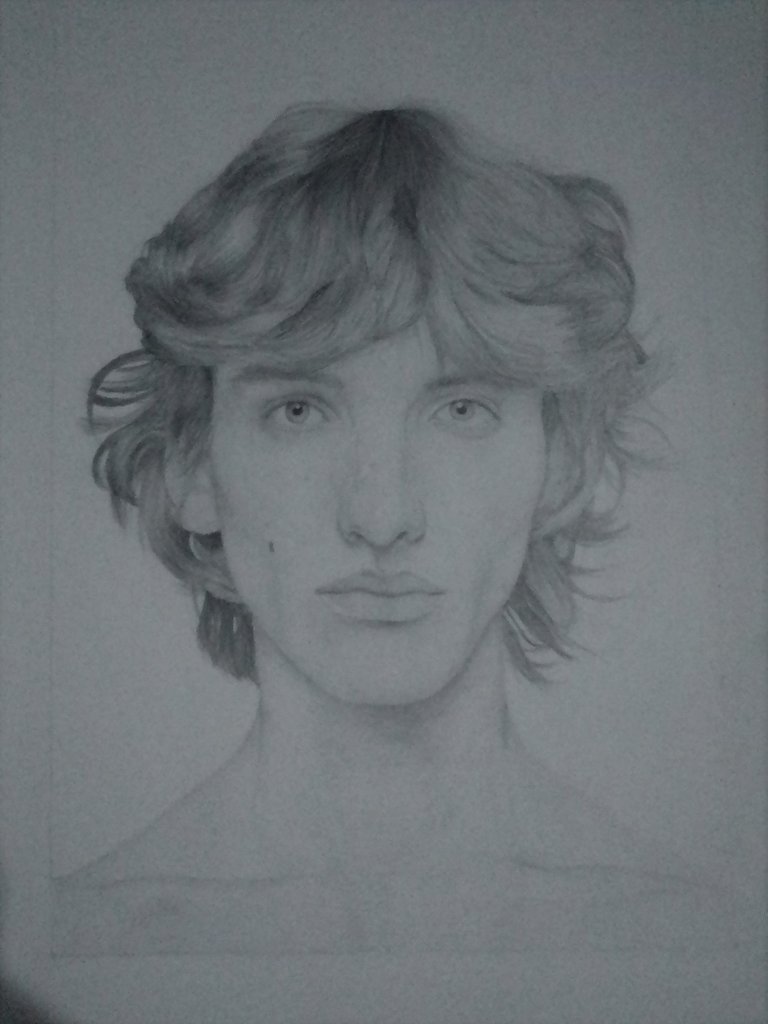 5.-Y por ultimo solo me quedo por hacer el cuello, con un lápiz 4B oscurecí abajo de la barbilla y marcar las clavículas, con un 2B hice las demás sombras y con el lápiz B termine de llenar las áreas con un tono normal.
---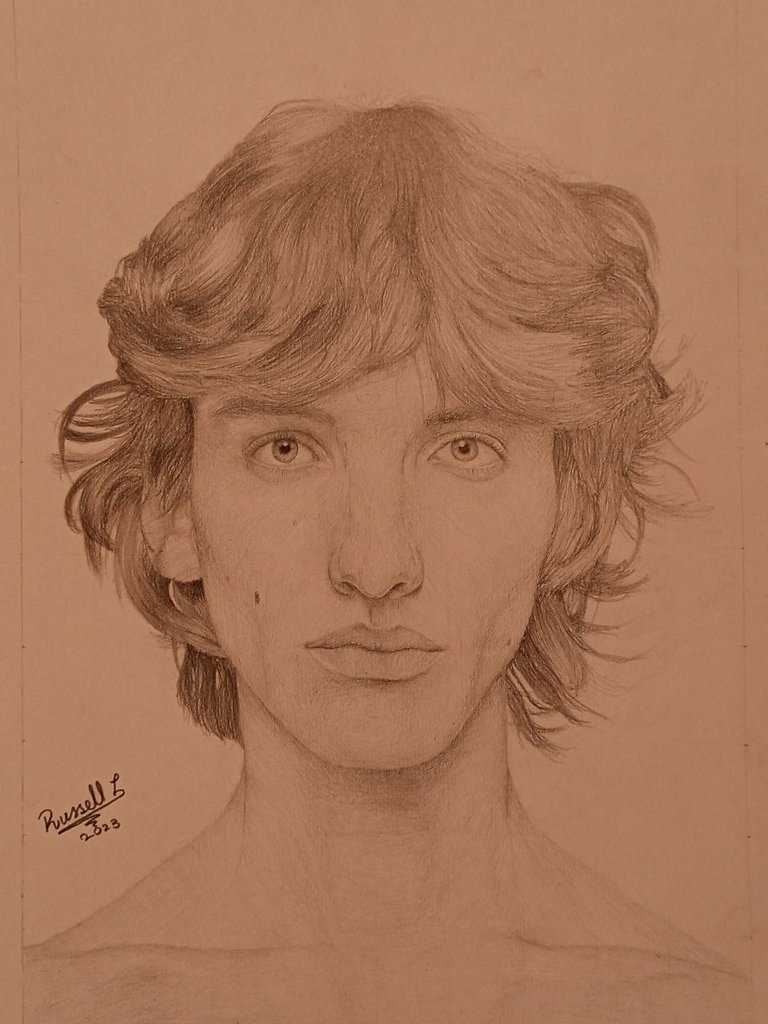 Así fue como quedo terminado mi dibujo, sinceramente disfruto mucho hacer esto, eso es una de las razonas por las cuales le tengo tanta paciencia y dedicación a hacer este tipo de dibujos. Este dibujo tomó 1 día en realizarse. Yo ame el resultado. Me gustaría saber que les pareció?
---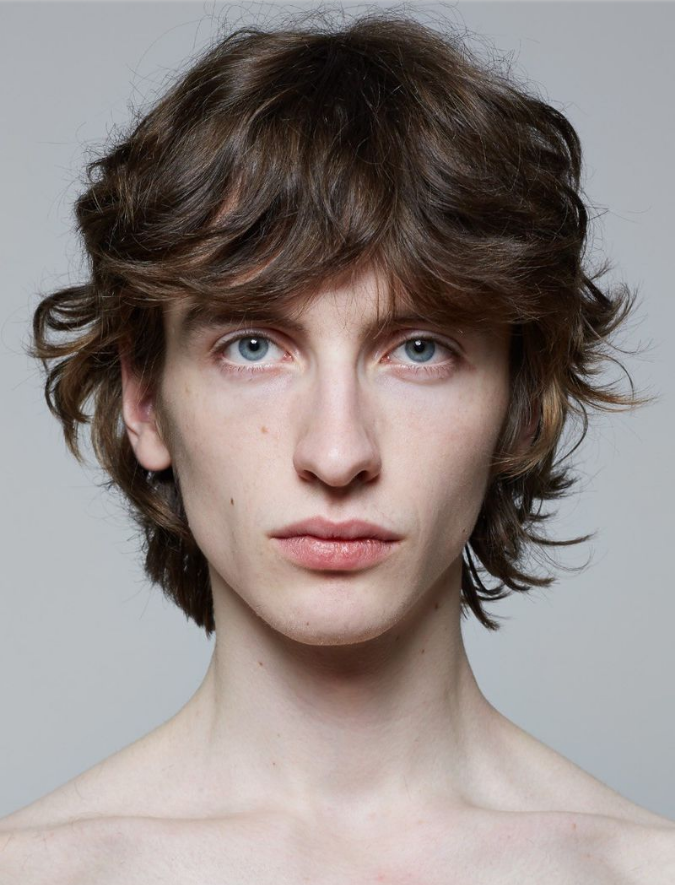 Imagen de referencia
---
¡Gracias por leer, hasta la próxima!
---
---