We Decided to Visit the Next Town for Thrift Shop Hunting and a Simple Birthday Celebration for My Mom.
This was already planned even before, which is why I saved enough money for me to use for that very special day with my mama.
As you all know, I have three mothers, and on March 19, 2023, two of them celebrated their birthdays. Although there are no big events that day, we still enjoy it in our own little way, just as we want it to be. And, just like before, but with only one difference. Because Me and Mama decided to visit the next town after Bansud, which is Bongabong.
It is a 30-minute ride in a van, while it takes 40 minutes in a tricycle. The trip was a smooth one; we couldn't find a forland that would bring us there, which is why we decided to travel by tricycle. The payment is much higher than in Forland, but we were able to ask for a discount. The driver is someone we know; that's why.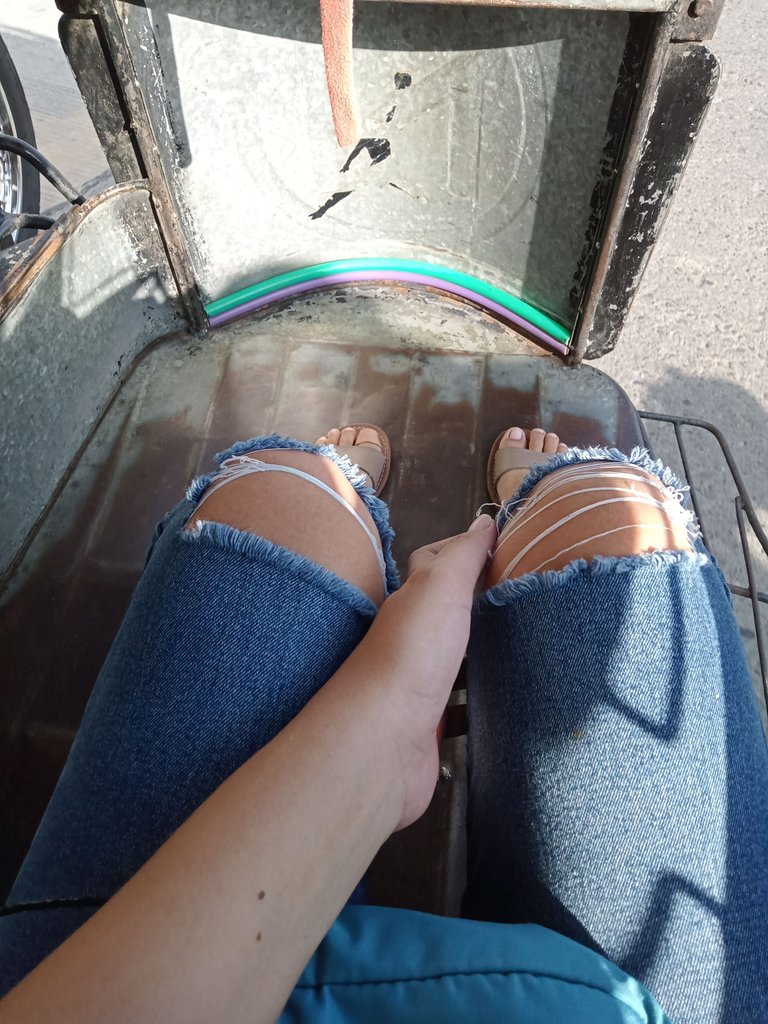 My outfit was just a black t-shirt and ripped jeans. The normal me would just wear a simple shirt and shorts, but I don't know why I am slowly changing my outfit whenever we go somewhere, lol. But either way, the outfit is comfortable, and so I enjoyed more our little escapade. And, there's more reason as to why we visit Bongabong on that day aside from thrift shop hunting.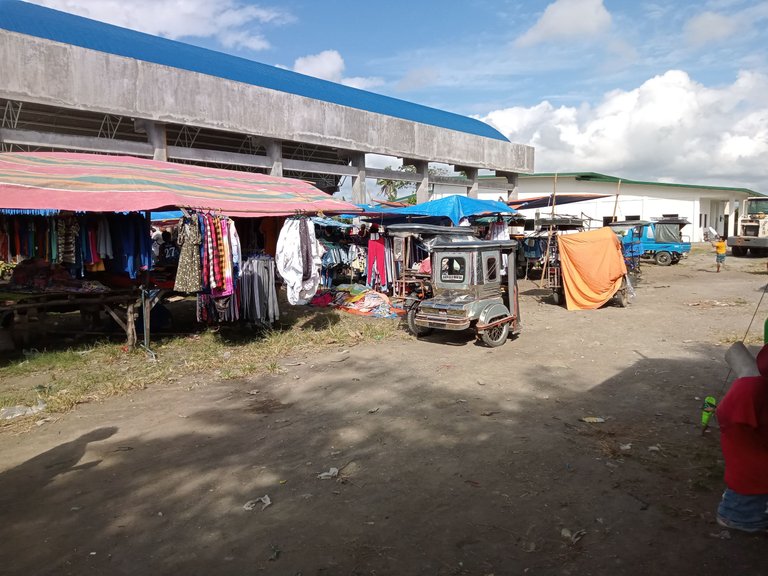 March 19 is also a fiesta in Bongabong. The plan is that we will shop for clothes and then watch some street dancing while enjoying the rest of the day. As we arrived at our destination, my first reaction was irritation because it was too hot. We still have to walk for a few minutes just to reach the market, and I regret that I didn't wear a jacket on this trip. I'll bring one next time.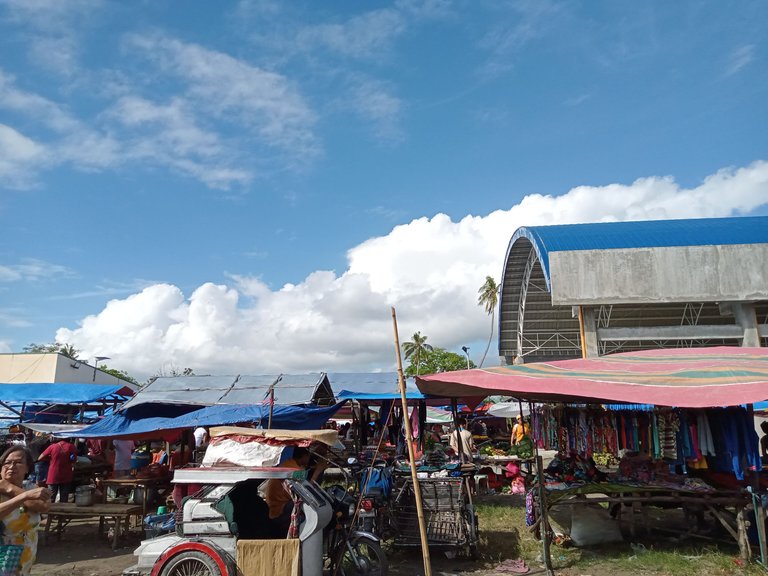 This is what it looks like inside. They are located at different spots with only their designated goods to sell. There's that big open space building where you can see a lot of fruits, veggies, spices, dried fish, and many more. There are different sellers too, like some of the Mangyan tribes that go down here to sell their harvested goods. You can actually buy a lot of different goods here.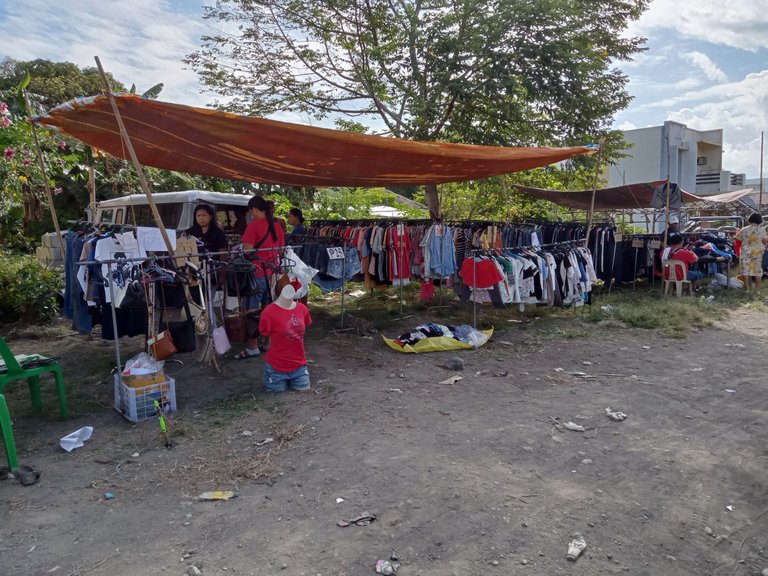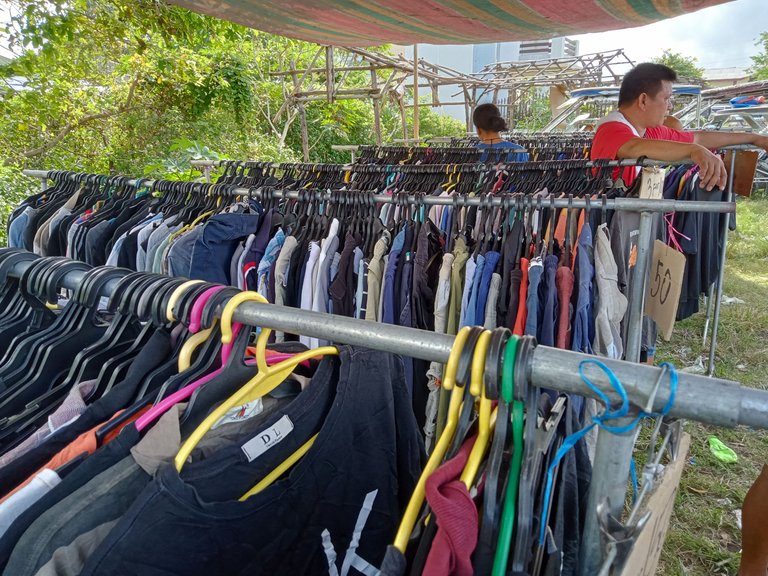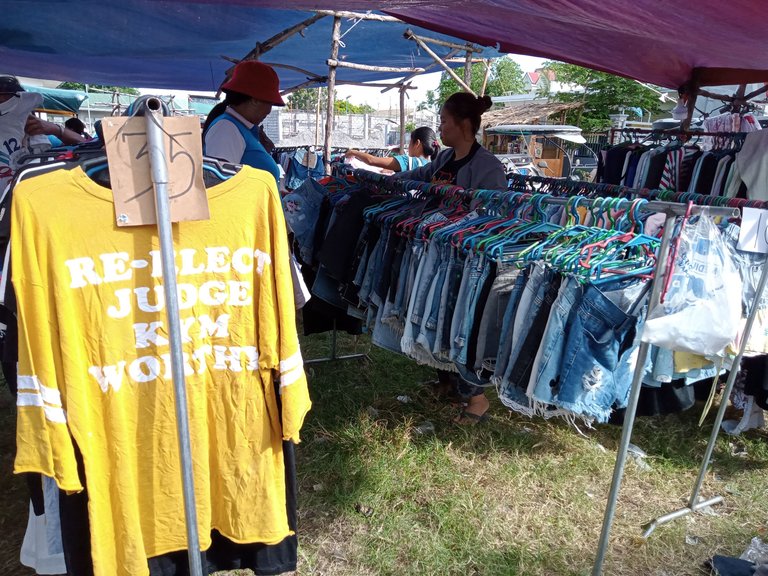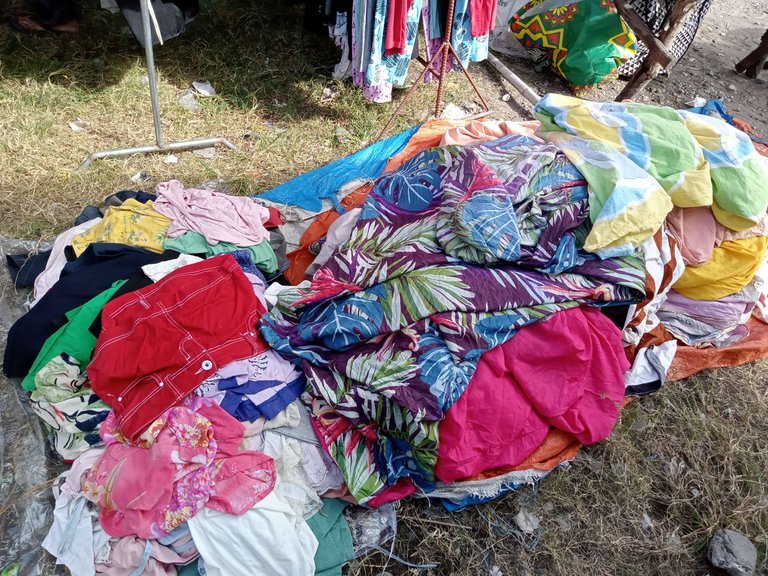 And because we came here only to look for a thrift shop, when we spotted it on the other side of the place, we immediately went down there to look for a good shirt or short with a cheap price. We see a lot of clothing in here; there's a bed sheet too, a comforter, and pillowcases. Mother, check those things while I check these t-shirts. They place is seriously a paradise to my eyes, hihi.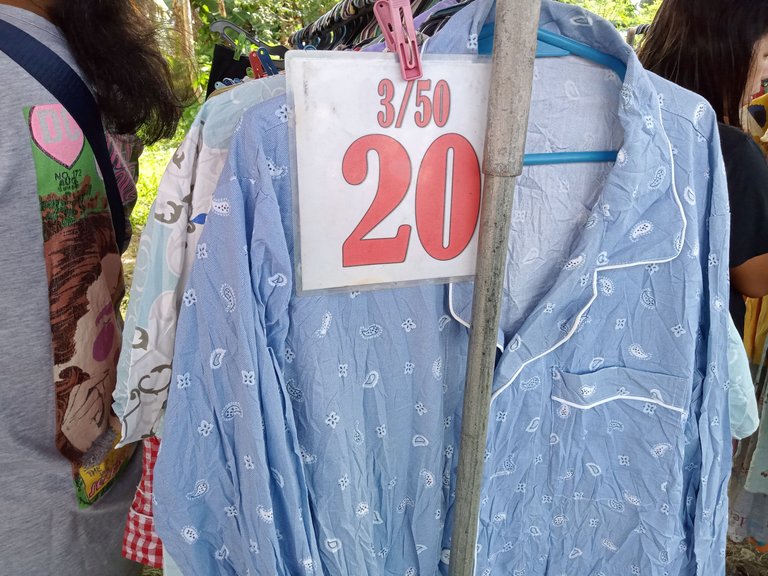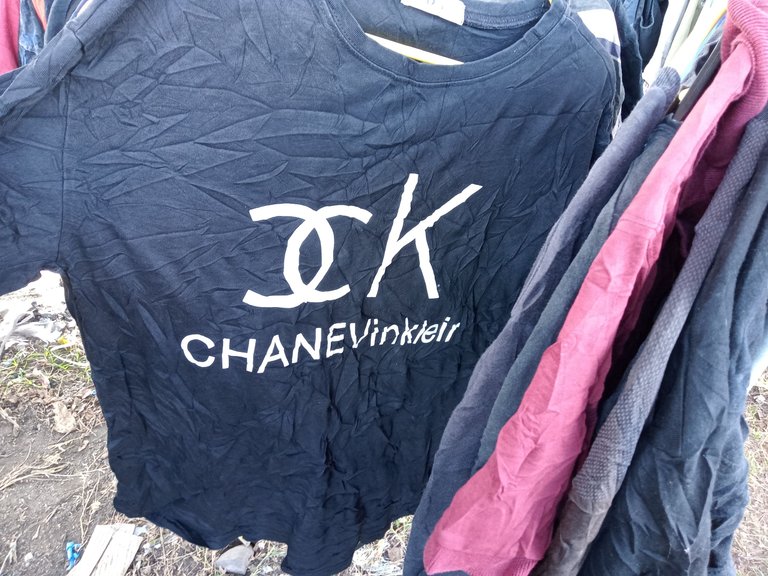 You can see a lot of good-quality t-shirts and jackets, but what's the price? OMG, it's so cheap. There's a lot of clothes and a jacket that caught my attention here, but just to be sure, I still asked my mother which is good and which is not. I am glad she approved my choices. She sees one problem with the way I chose a t-shirt though, lol they are all black. What can I do? I love black, lol.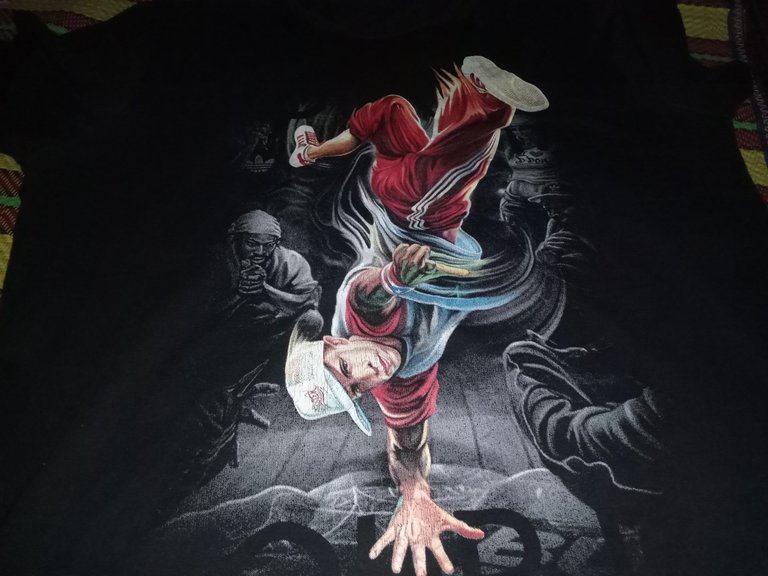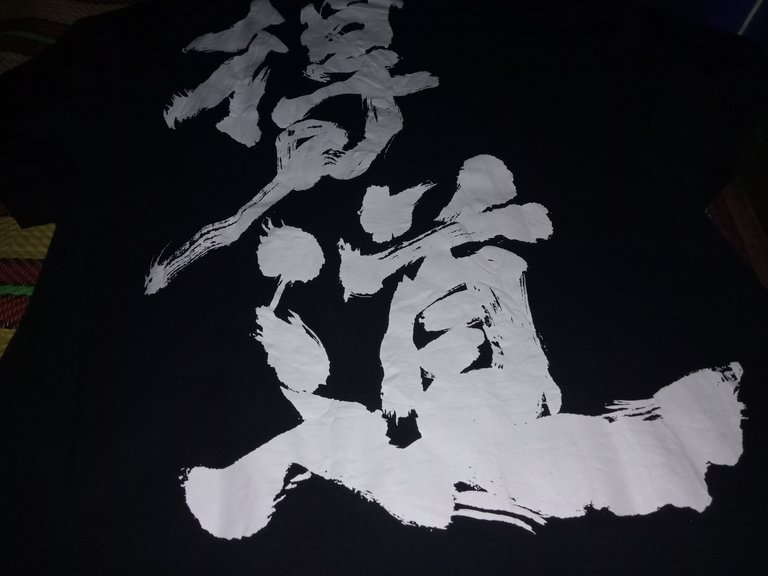 After digging for what seemed like an eternity into this pile of clothes, I finally found one or four? Lol. We spent 40 minutes looking for a good one. What I love about them, aside from the fabric used here, is the design or print on the front and back of these t-shirts. Don't you agree? They look cool, and I always have a thing for cool things, so owning them is definitely the right choice.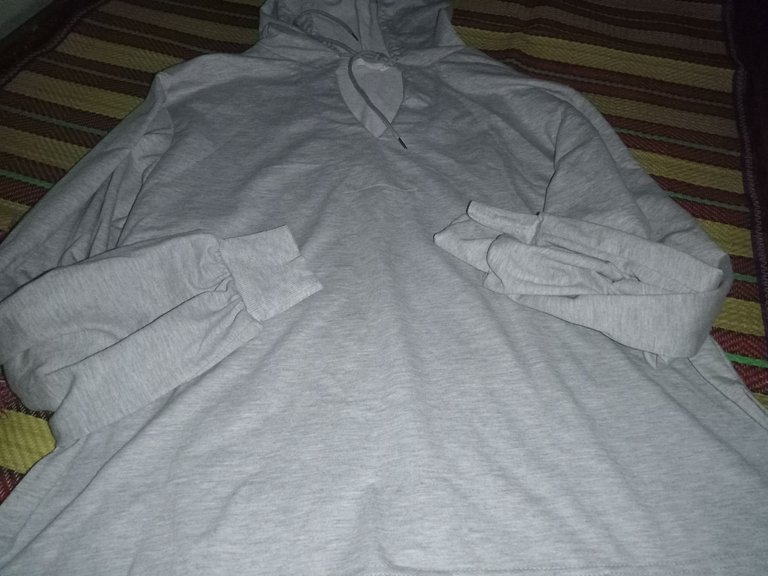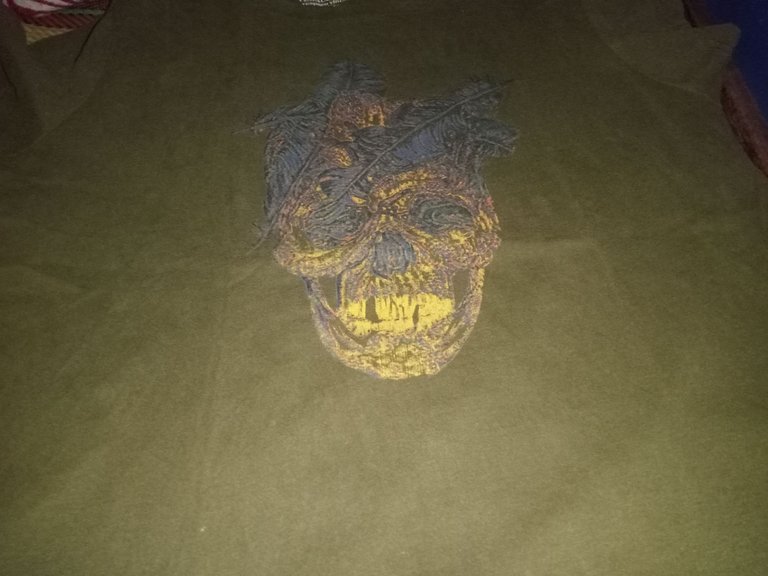 And, good thing I found this green olive t-shirt with this print. And it is not black; although I really want an all-black to find here, I couldn't find anything, so I have no choice but to find another color. This color is actually not bad; it is still a dark color, so it's all good. But if I have other choices, I will surely go with black. Who else here loves black? High five └( ^ω^)」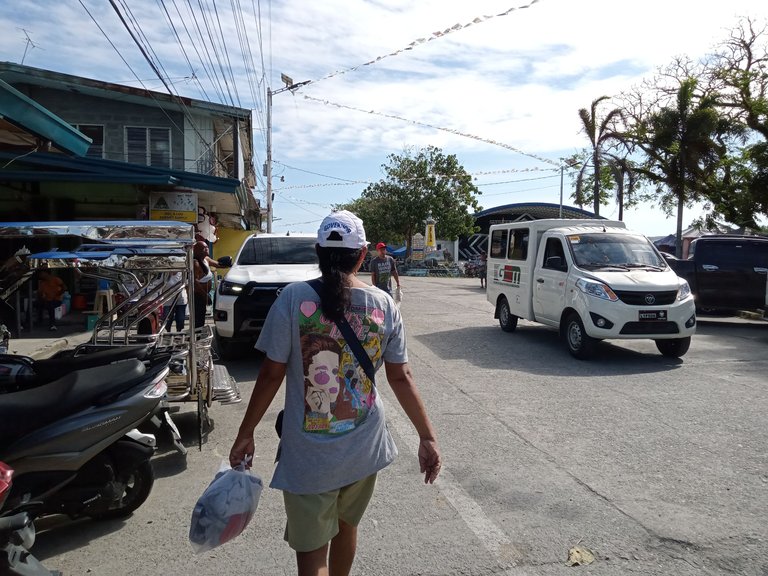 After this, we decided to go to the main market. We really just want to check what we can discover in there, like some happenings because it's a fiesta, so for sure there's a little gathering in there or what. But we couldn't find anything, sadly. We thought maybe the main events would happen in the afternoon, like the street dancing.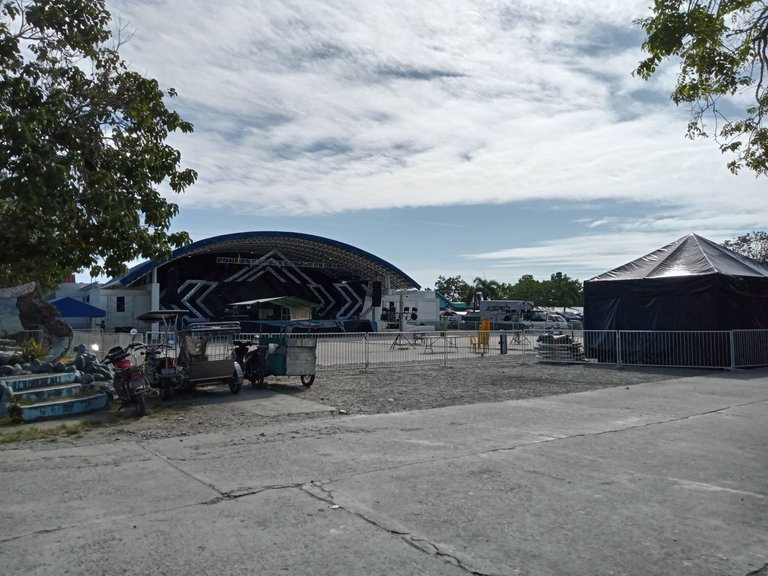 As we walked further, I saw this big stage here. My guess is that maybe they will hold the main events in there, like maybe a variety show with some invited guests or an artist. Although we didn't hear any news about that, there's a chance that it will happen. And that would be fun, for sure. But even if it is happening, I will not attend.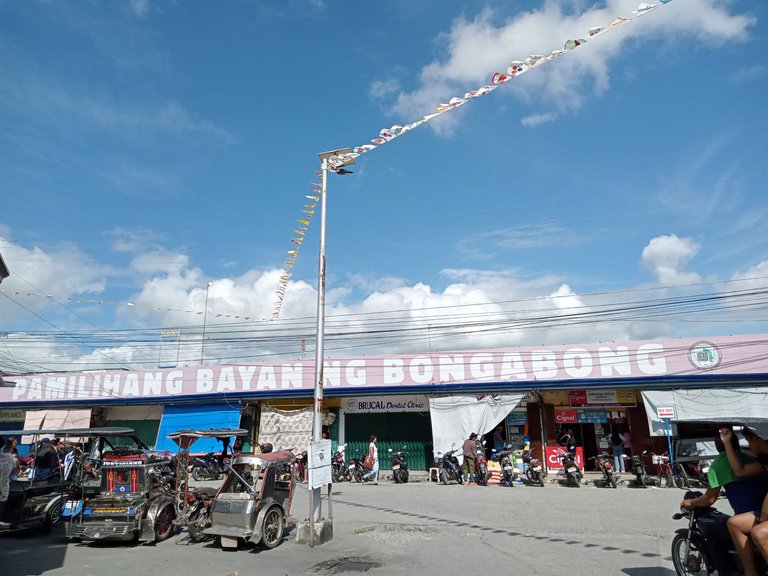 We finally arrive here; it is not that far from where we came from. It didn't take 10 minutes to walk to get in here. But it's still exhausting because, as you can see, it's really hot. We just have a cap with us and no umbrella. I really should've worn a jacket here, tsk. Anyhow, after checking everything we need, we were so famished that we decided to have an early lunch at 10 a.m.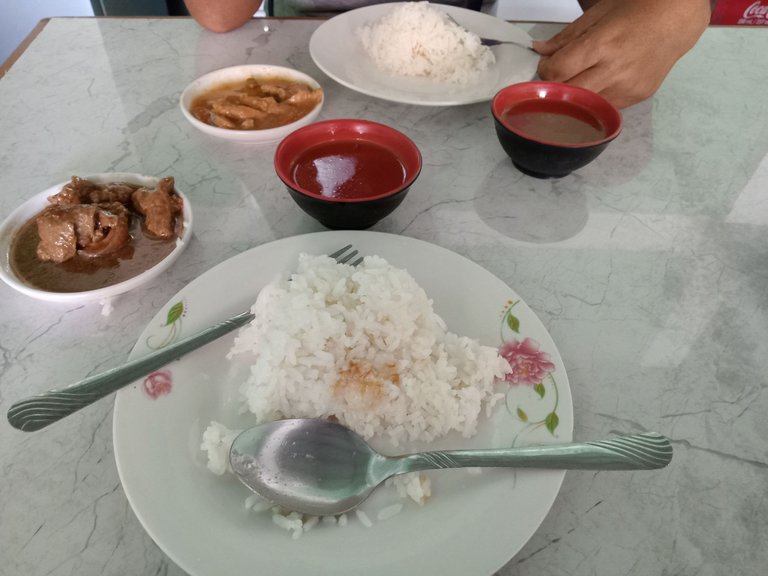 We got so hungry because of all that walking back and forth to the place, lol. It's not just clothes for us that we're looking for. We are also looking for some polo shirts for my mommy F. We found one, which is a brand new polo shirt, and then another two in the thrift shop. In fact, it is far better than the brand new one, lol. And here's our lunch by the way, a simple rice and pork stew. We also ordered soft drinks here.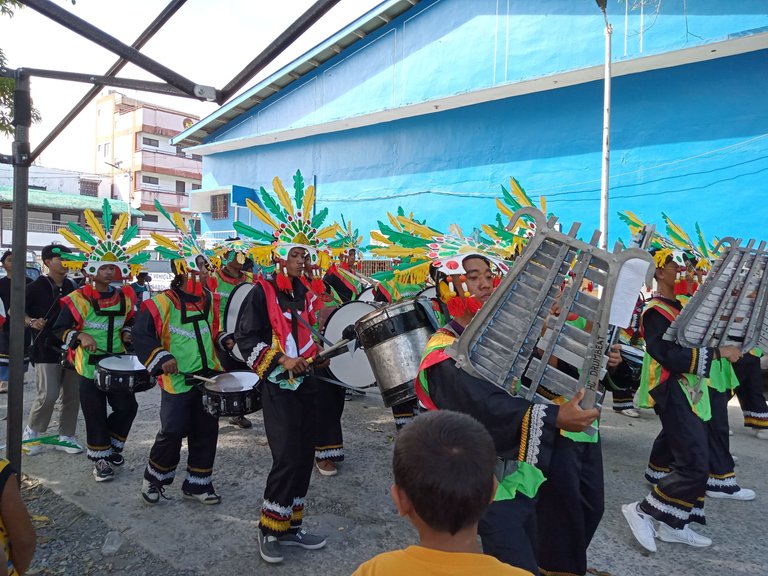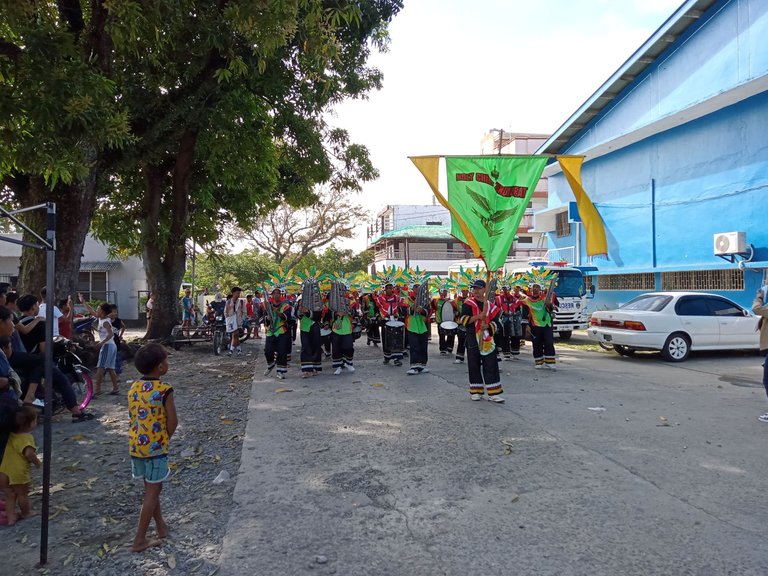 After resting a bit and filling our stomachs, we decided to go for a walk again. Then, in the middle of our walk, we heard a loud sound coming from a big instrument. Then we saw this band playing an unfamiliar beat. Maybe just to let the people know about the exciting events that are waiting for the people of Bongabong. We also thought the street dancing was already starting, but it's not. It's just an intro, haha.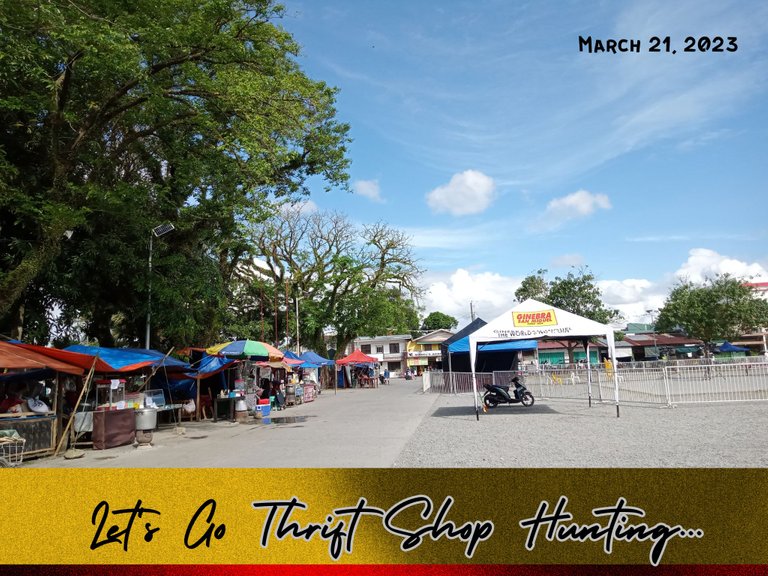 Image Edited in Canva.
We really want to stay longer in Bongabong, but we can no longer take the heat, and we are kind of tired already. So we decided that after visiting the last market, we would look for a vehicle that would take us home. We planned to stay until 2 p.m. or even more, but we arrived home before the clock hit 12 o'clock. And, we already got all that we needed, so there's no need to stay any longer in there. Ah, but before that, we went to the other market to buy some "Kakanin."
And that's how our little journey to thrift shop hunting ended. It's fun and tiring.
As for the birthday Celebration, we ate the kakanin and the Chicken Empanada's I bought in the market of Bongabong together with this desserts called "Halo-Halo" or Mix mix of different varieties of fruits with ice. It also has a "Yema" and "Macapuno" which make them extra especial. We are so full that day and I thank God for the very special day.

---
---