It was taken down harshly by a villain, but that's not the end of it.
It happened this year, a couple of months ago. My oldies were so happy after seeing this papaya tree growing at the back of our house, where our kitchen is. It is growing between Mom's land and our neighbor's land, just beside the Moringa Tree. We have a window in our kitchen, so we can see it every time we go there. After just a month, it started to bear fruits, and they started to grow. Soon, they will be ready for harvest, and my oldies can't keep their happiness. Papaya is one of their favorite fruits, so they are that excited.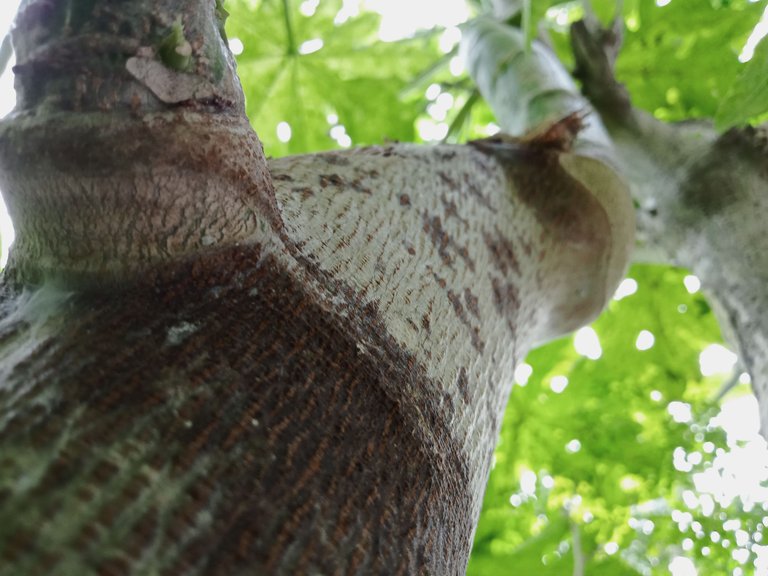 I can't really relate because I'm not a big fan of papaya, but I eat them too, sometimes if I feel like eating them. But you know, because of their happiness and excitement, I can't help but feel happy for them. They are like a kid that is about to receive an awesome gift from someone, lol. And mind you, that is not the only papaya tree we have because there's another one on the other side of the land. But it is still young compared to this one, which has fruit already. This is the reason they are so elated and extremely happy.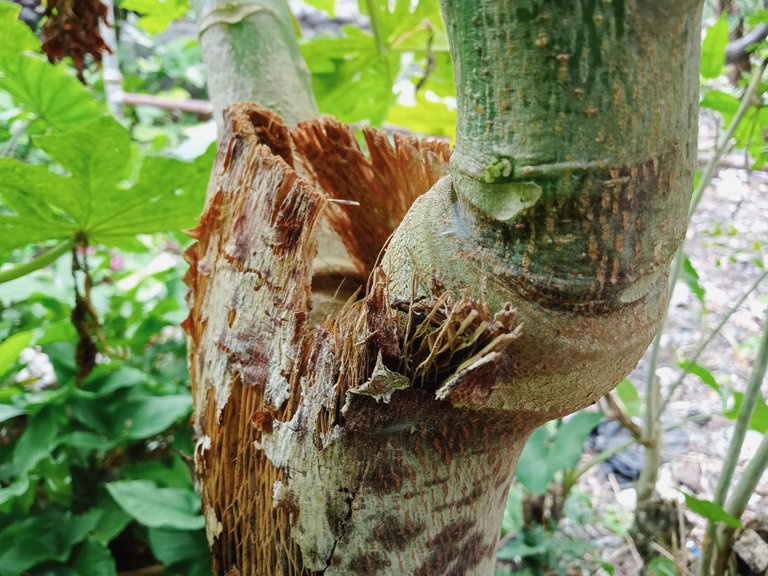 But then one day, someone just cut it. My oldies felt so sad and downhearted because of it. I mean, who wouldn't, right? The tree has fruits already, and they are growing beautifully as the days go by, but then this a** of a man just cut it without batting an eye, like a crazy person would do. I mean, it'll be understandable if he cuts it because it is blocking his way and he is being slapped with its leaves, but no, it is at the back and not even doing anything to him.
Even I feel sad that just like that, a good fruit that is rich with vitamins and can be eaten by a lot of people is suddenly gone. He didn't even give it a chance to grow more. Mind you, guys, he is a professor, so he should know how important this kind of thing is, but, tch. Some people even buy this kind of fruit in the market, but he will just cut it. He doesn't even feel bad about what he did.
Okay, yes, it is his land. Wait, it is actually not his land, he is just managing it, so it is his owner's land. Wait, that doesn't sound right either, it's like a dog that has an owner. Nevermind, let's just leave it like that. So, anyway, SIR, this will be useful to you too in the future, so why? Our only concern really was that it was a big loss and a waste of good fruit that it ended just like that. He doesn't really have the heart to spare the poor papaya tree. It's also like he doesn't know the importance of having a tree in the surrounding area. Some plant more of them, but he just cuts them down. What a pity.
But, here's a good news...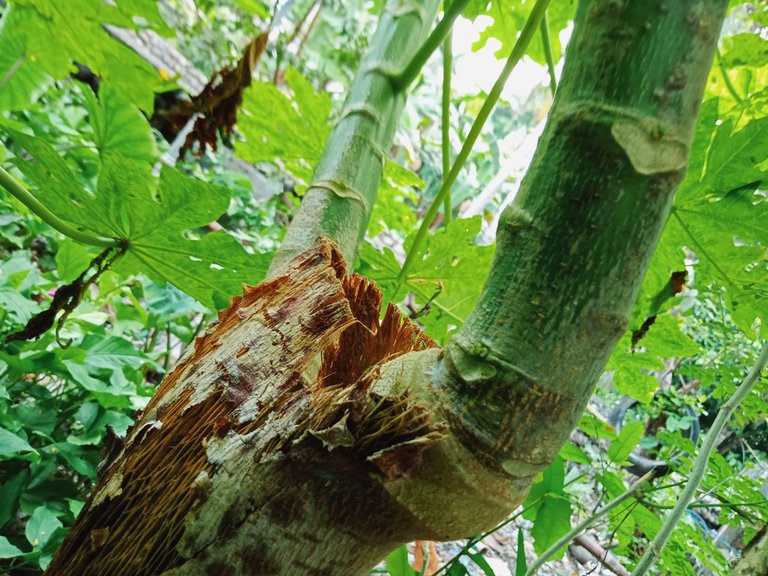 Fortunately, months after he cut it, the papaya tree started to grow again. I just noticed that he didn't cut it fully. He only cut off half of it, like he only did this to mock my parents and make them feel sad. They are really not in good terms right now, so my guess is that he did it to anger my oldies. They get mad, but they just don't show any reaction because they know that nothing will happen if they react violently, and it's not their thing either. We can just let bad karma do the work for him. Good luck to him.
I had my late afternoon walk yesterday and then I saw it again alive and growing. It has lot's of leaves too, though it is still just like a baby. When I told about it to my Mom, she is happy. But, she said too, "for sure, that man will cut it down again if he saw it." I'm not sure but there's really a big chance. Arghh, if he cut it again for the second time, hah! I hope all the red ant will bite his feet until it turns into red. Hmmmmpt!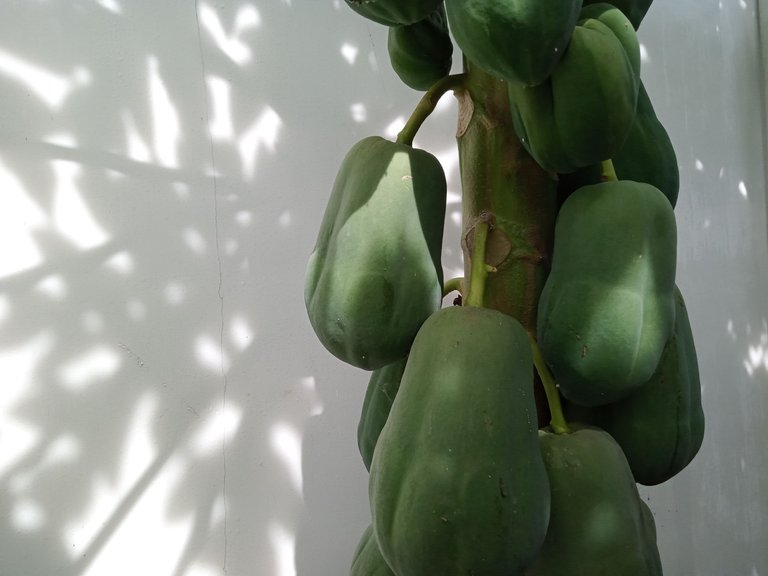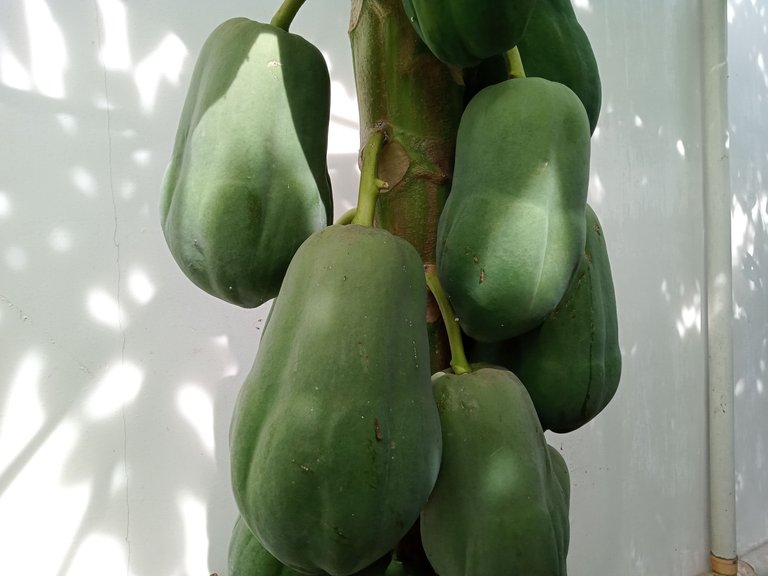 And, as for the other papaya that is growing on the other side of our house, This is how it looks now. Still growing and really looking good. Mama already tried harvesting one of them and mixing it in a Filipino dish called "Tinola." That serves as a vegetable for that dish. See, imagine what this fruit can give to people, a fruit and vegetable in one. It is sad that there are people who can't see the importance of having their own papaya tree in the backyard. They just don't care.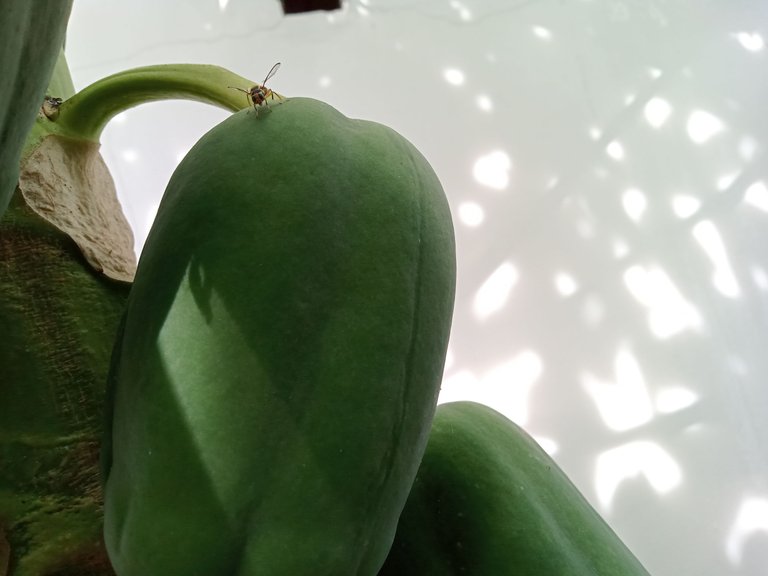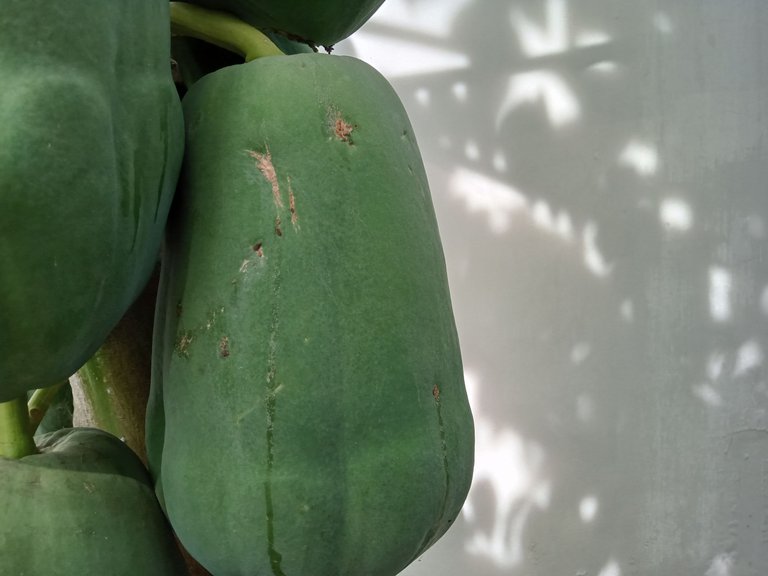 For us, every fruit of this is very important. It will never rot because there are a lot of people here waiting for its fruits, but my oldies are excited for it more. Once they started to turn yellow, that's when my mom would dance in excitement because, finally, the long wait was over. I'm just curious, if those trees have their own mind and can talk to people, I want to know what they are thinking, knowing that there are lots of people waiting for their blessing. Are they happy? Maybe excited too to distribute their fruit to people.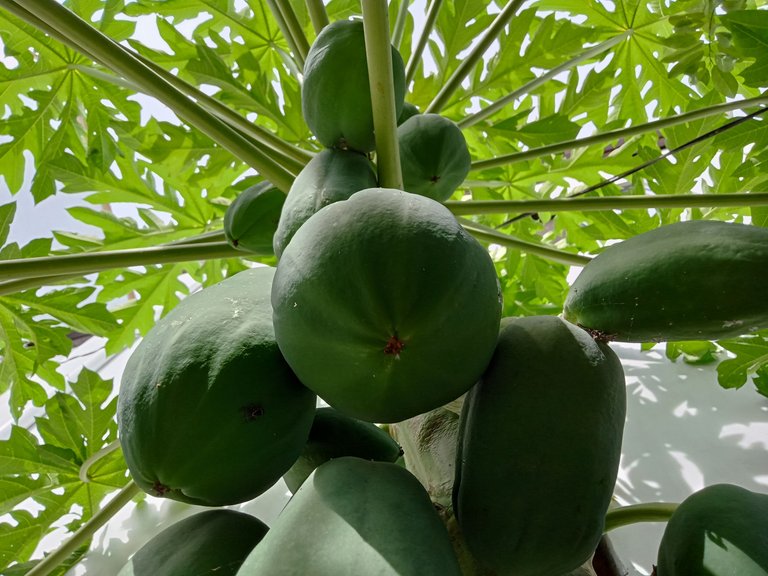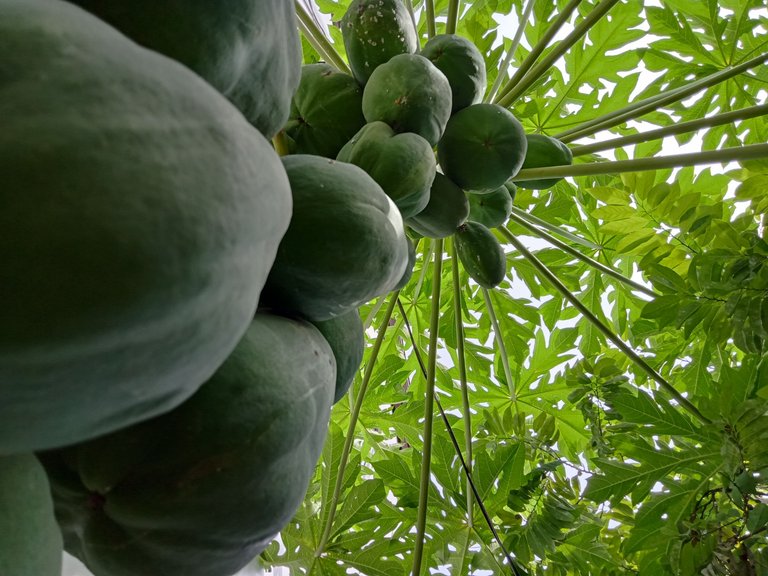 Or I will also aske them regarding the papaya tree that was cut down, did it feel any resentment toward the one who cut down the other papaya tree? I want to know, and if it is mad, will he still allow that man to eat its sweet fruit as a punishment? Or just a punishment, very time this man eats the papaya, he has to visit the comfort room, lol. This is really just what I want to happen, lol. And for sure, if the papaya tree has feelings and can talk, it'll never do something like this. I'm just sure of it, lol.

---
---