Is It Possible to Completely Ban the Trading of Cryptocurrencies?
The issue of banning or restricting cryptocurrencies is constantly on the agenda in some countries and sometimes comes to the parliament as a bill. Finally, in the news today, a bill scheduled for the Indian government winter parliament session includes banning almost all privately issued cryptocurrencies like Bitcoin and Ethereum. Is this possible?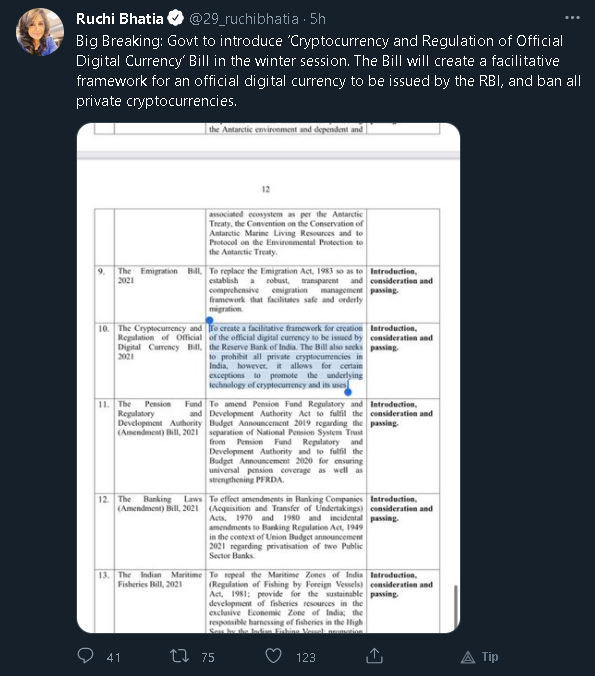 Source
Big Breaking: Govt to introduce 'Cryptocurrency and Regulation of Official Digital Currency' Bill in the winter session. The Bill will create a facilitative framework for an official digital currency to be issued by the RBI, and ban all private cryptocurrencies.
Similar bills have been brought up and discussed many times in the past. But many of them did not succeed, although they negatively affected the crypto markets. A country may prohibit the use of cryptocurrencies as a payment method. But it cannot prohibit trading or investors from holding crypto assets.
It is not possible to ban a decentralized currency. A country can ban centralized exchanges but not decentralized exchanges. A country can ban centralized finance but not decentralized finance. In short, a country can ban centralized platforms, but it is not possible to ban something decentralized.
That's why those who invest in cryptocurrencies have already taken precautions against this and similar situations and against FUD news. Recently, many investors have started to keep their crypto assets in cold wallets or decentralized wallets. In fact, it makes the most sense to keep a decentralized currency in decentralized wallets. After taking the security measures, you have all the control.
In short, it is not possible to ban something decentralized. The bans could have been very effective if there were no decentralized platforms for trading decentralized currencies. But recently the number of decentralized platforms has increased significantly, so these bans cannot be very effective. This is why decentralized finance (DeFi) and decentralized exchanges (DEX) are growing in importance. The crypto market is growing day by day and attracting more and more investors. The prohibition decisions to be taken by the countries regarding this market will make more countries lose financially. And remember it's important to keep your wallets secure and use secure platforms so you don't lose your crypto assets.
Disclaimer
This is not financial advice. Everything written is just my personal opinion. You should also do good research before investing and before using the platforms. Investing, lending, borrowing in Bitcoin and other cryptos are risky investments. And before you start using decentralized platforms, you should do good research and you are responsible for the security of your assets. For example, if you lose the private key or seed phrase of the wallet you are using, you will never be able to access your assets. Also DeFi, DEX are high risk investments and you can lose everything, just invest what you can afford. In short, do a good research before investing.
Posted Using LeoFinance Beta
---
---