Bitcoin (BTC) Ready For The Next Big Leap

The bears have struggled to push the Bitcoin (BTC) price lower for about a week. But they faced very solid support near $55,500. They realized that it was very difficult to break this support and they started to give up. Price adjusted and supports tested, now Bitcoin is ready for the next big leap.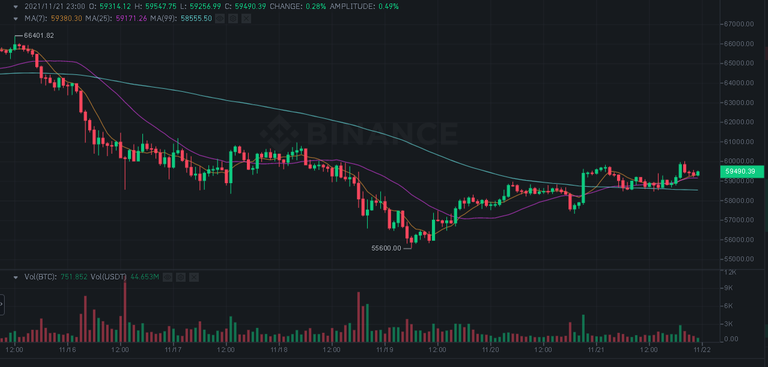 Although Bitcoin dropped to $ 55,600 2 days ago, it found solid support there and started to rise. It is currently trading at $59,490. He tested over $60,000 today but was unsuccessful. Although Bitcoin does not manage to stay above $ 60,000 in its first attempt, it will try a few more times and I think it will eventually succeed. Once it manages to stay above $60,000, it will make the next big jump to hit the new ATH over $70,000.
There is resistance at $ 60,000, this resistance is not very difficult, so Bitcoin can exceed $ 60,000 in a short time. It has support at $59,150 and $58,500.
After Bitcoin hit a new ATH on November 10, the bears struggled hard to push the Bitcoin price below $50,000. This drop has been a great opportunity for some investors to invest in Bitcoin at lower prices. Also, this drop provided a test of support prices and the very solid support at $55,600 was seen. Next week Bitcoin could take the next big leap. I also believe it will hit a new ATH at over $70,000 this month.
I also think that institutional companies that see this decline of Bitcoin as an opportunity have made significant investments in Bitcoin. In addition, new institutional firms may have entered the crypto market. I think there will be news and announcements about them in the coming days. Finally, I would like to point out that I believe Bitcoin will exceed $100,000 this year or in the first quarter of 2022.
Posted Using LeoFinance Beta
---
---