My favourite Christmas dish: Hallacas 🤩 💚 / Mi plato navideño favorito: Hallacas 🤩 💚 / [ENG-ESP]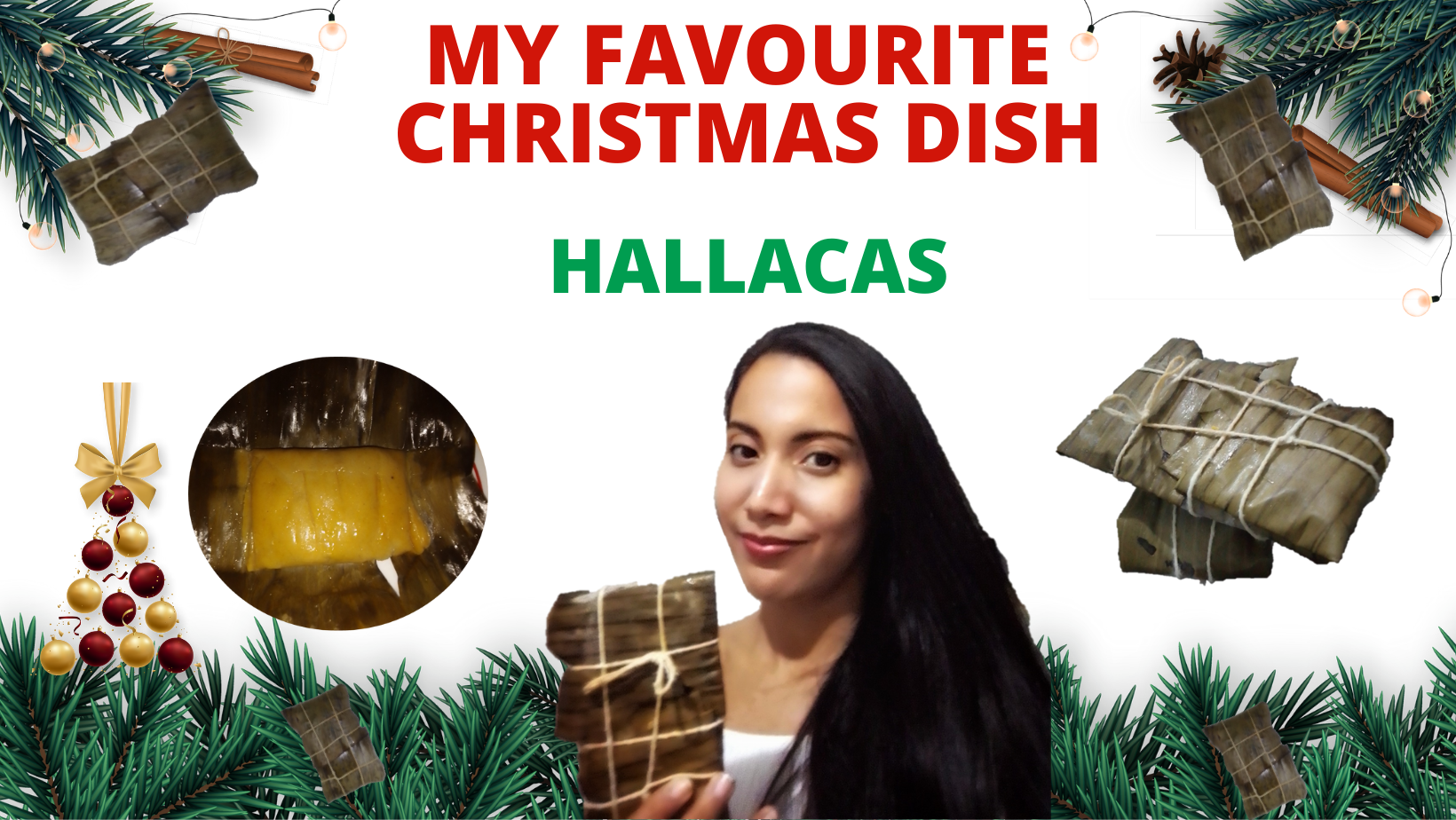 Hello my dear Hivers friends 😊, I hope you had a Merry Christmas with family and friends. I'm glad to write again after a few hectic days due to the Christmas holidays. Today I want to tell you about my favourite Christmas dish called "Hallacas" and how was my experience making this exquisite dish🤭.
Hallaca is a Venezuelan Christmas dish, which is a kind of cake made of corn flour, filled with an exquisite stew of different meats and vegetables, which is finally wrapped in banana leaves.
Holaaa mis queridos amigos Hivers 😊, espero que hayan pasado una Feliz navidad junto a familiares y amigos. Me alegra volver a escribir después de unos días agitados por las fiestas navideñas. Hoy quiero hablarle sobre mi plato favorito navideño llamado "Hallacas" y como fue mi experiencia realizando este exquisito plato🤭.
La hallaca es un plato navideño venezolano, el cual es una especie de pastel hecho de harina de maíz, relleno de un exquisito guiso de diferentes carnes y vegetales, el cual es finalmente envuelto en hojas de plátanos.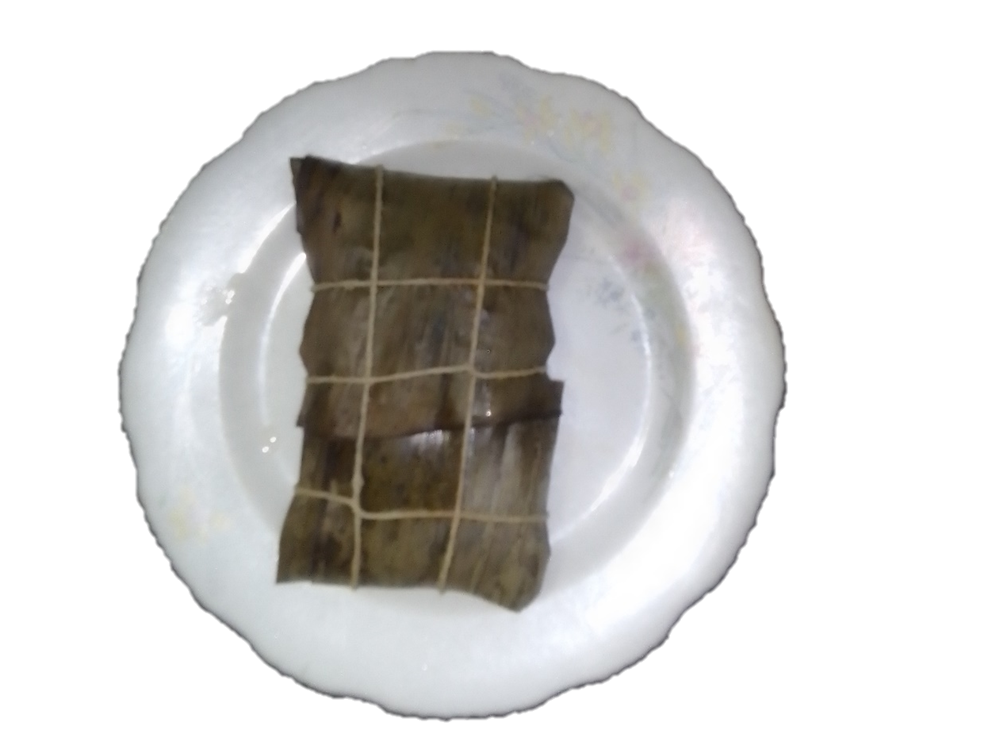 Depending on each region of the country, they vary in their filling, as well as the dough they are made with. Some people compare them to tamales, and yes I think it is "tamale family" so to speak, but it has its variations hehehe, I'll show you how I made them this year 🤭.
A few days ago I saw a video where they cooked a cheese hallaca😲, I was very surprised because they used white cheese instead of flour and filled it with meat, I had never seen anything like that hehehehe.
I personally like to make the traditional hallaca with corn flour, using beef, chicken and pork for the stew. I'm very simple when it comes to making this dish, I don't complicate it so much, I don't add a lot of ingredients and it's still very tasty 🤩.
Dependiendo de cada región del país, este varia tanto en su relleno, como la masa con la que es hecho. Algunas personas los comparan con el tamal, y si creo que es "familia del tamal" por así decirlo, pero tiene sus variaciones jejeje , ya les mostrare como las hice este año 🤭.
Días atrás vi un video de en donde cocinaron una hallaca de queso😲, quede muy sorprendida porque usaron queso blanco en vez de harina y la rellenaron con carne, nunca había visto algo así jejeje.
A mí personalmente me gusta hacer la hallaca tradicional con harina de maíz, usar para el guiso carne de res, pollo y cerdo. Soy muy sencilla a la hora de hacer este plato, no me complico tanto, ni agrego gran cantidad de ingredientes e igual quedan muy sabrosas 🤩.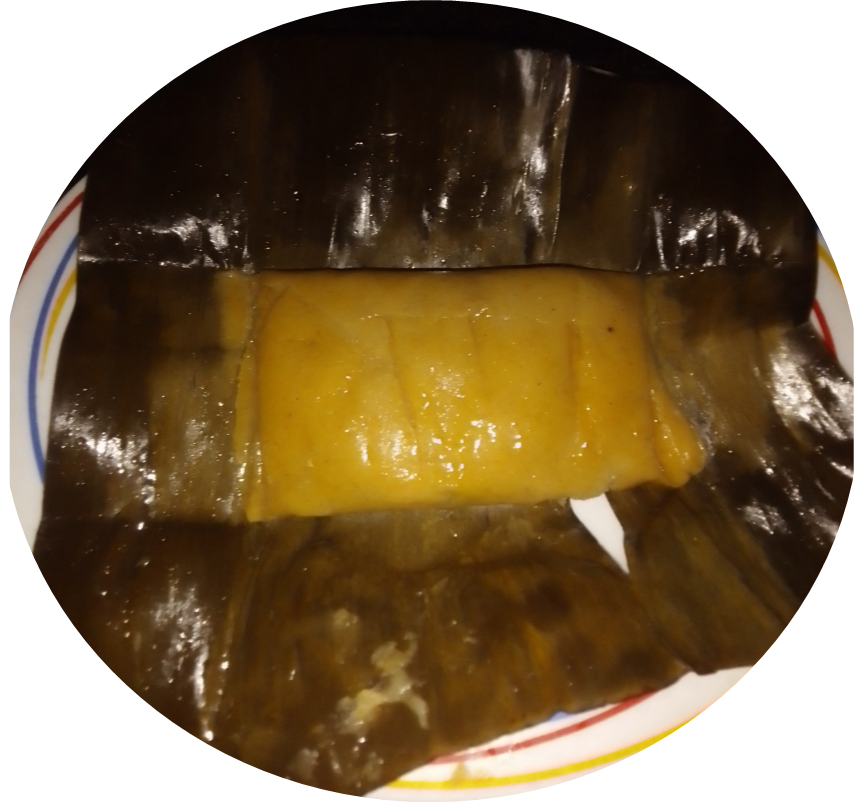 This year, as almost always, I made hallacas with my mum, it is a tradition every year to make this dish and share it with the family. This year I didn't make many, as we couldn't travel to share with the rest of the family, but we still didn't want to lose this custom.
So now I will share with you how I made the hallacas this year, the ingredients and the step by step. Without further ado, let's get started 😉.
Este año como casi siempre hice las hallacas con mi mama, es una tradición todos los años hacer este plato y compartir en familia. Este año no hice muchas, ya que no pudimos viajar para compartir con el resto de la familia, pero igual no quisimos perder esta costumbre.
Así que ahora si les compartiré como realice las hallacas este año, los ingredientes y el paso a paso. Sin más que agregar comencemos 😉.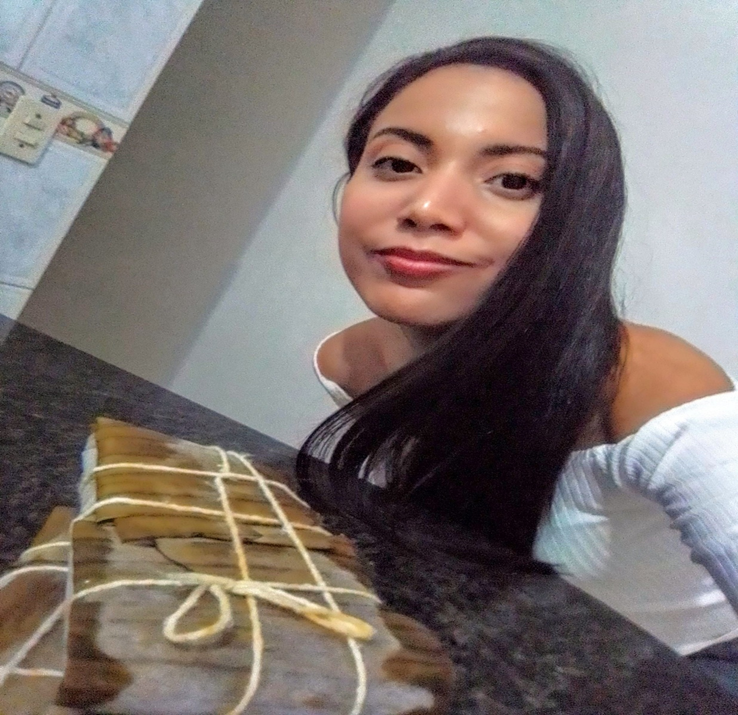 🥚 🐮 🐷 🐔 Ingredients 🌶 🧄 🧅 🥔
To make these exquisite hallacas use the following ingredients:
✔️ Onions.
✔️ Red peppers
✔️ Hot peppers
✔️ Chives
✔️ Leek
✔️ Garlic
✔️ Coriander
✔️ Chicken stock
✔️ Yellow cornflour ✔️ Cornmeal, yellow
✔️ Beef
✔️ Chicken Meat
✔️ Pork meat
✔️ Oil
✔️ Onoto (natural red dye)
✔️ Salt
✔️ Pepper
✔️ Cumin
✔️ Capers
✔️ Olives
✔️ Raisins
✔️ Red wine
✔️ Potatoes
✔️ Eggs
✔️Banana leaves
✔️Tying thread
🥚 🐮 🐷 🐔 Ingredientes 🌶 🧄 🧅 🥔
Para realizar estas exquisitas hallacas utilice los siguientes ingredientes:
✔️ Cebollas
✔️ Pimientos rojos
✔️ Ají picante
✔️ Cebollín
✔️ Puerro
✔️ Ajos
✔️ Cilantro
✔️ Caldo de pollo
✔️ Harina de Maíz amarilla
✔️ Carne de res
✔️ Carne de gallina
✔️ Carne de Cerdo
✔️ Aceite
✔️ Onoto (colorante rojo natural)
✔️ Sal
✔️ Pimienta
✔️ Comino
✔️ Alcaparras
✔️ Aceitunas
✔️ Pasas
✔️ Vino tinto
✔️ Papas
✔️ Huevos
✔️Hojas de plátano
✔️Hilo para amarrar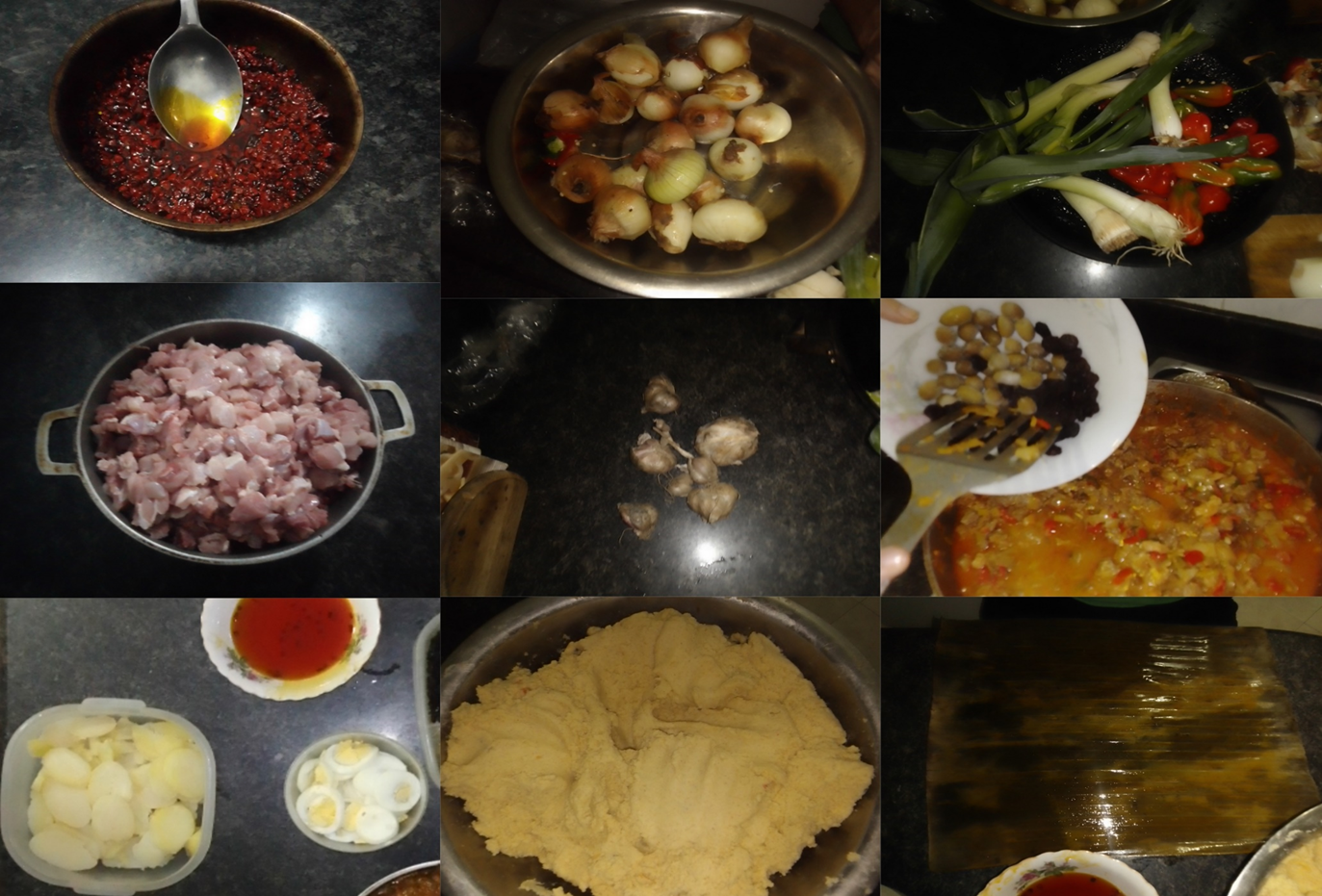 Preparation 👩🍳
To prepare the hallacas we made the stew a day before assembling them as such. As you can see it is almost a ritual to prepare the hallacas hehehe. So the night before, we put on some Christmas music and made the stew as follows:
Preparing the stew🥘
We chopped the beef, chicken and pork into small squares, as you can see in the following image.
Preparación 👩🍳
Para preparar las hallacas hicimos el guiso un día antes de armarlas como tal. Como ven es casi un ritual la preparación de las hallacas jejeje. Así que la noche anterior, colocamos un poco de música navideñas e hicimos el guiso de la siguiente manera:
Preparación del guiso🥘
Picamos en cuadros pequeños la carne de res, gallina y cerdo, como lo pueden ver en la siguiente imagen.
Then chop the onion, red peppers, chilli pepper, spring onion and leek into small squares. Remove the skins from the garlic and crush it.
Luego picamos también en cuadro pequeños, la cebolla, los pimientos rojos, el ají picante, el cebollín y el puerro. Los ajos se les quita la cascara y se trituran.
A little oil with red colour is prepared. It can be prepared with onoto or with any natural red dye you can find. Here we use "onoto", which are seeds of a plant, which give off a reddish colouring, which is used for food.
Se prepara un poco de aceite con color rojo. Se puede preparar con onoto o con cualquier colorante rojo natural que consigan. Aquí usamos el "onoto", las cuales son semillas de una planta, las cuales desprende un colorante rojizo, que se usa para la comida.
Afterwards, place the red onoto oil in a pot and add the onions. Then put it on the fire to fry and crystallise the onion.

When the onion is cooked, add the crushed garlic and the other chopped vegetables. These are left to cook for a few minutes.
Posteriormente se coloca en una olla el aceite rojo de onoto, y se le agrega las cebollas. Luego se coloca en el fuego para que se sofría y se cristalice la cebolla.

Al estar la cebolla ya cocida, se le agrega el ajo triturado y los demás vegetales cortados. Estos se dejan cocinar por unos minutos.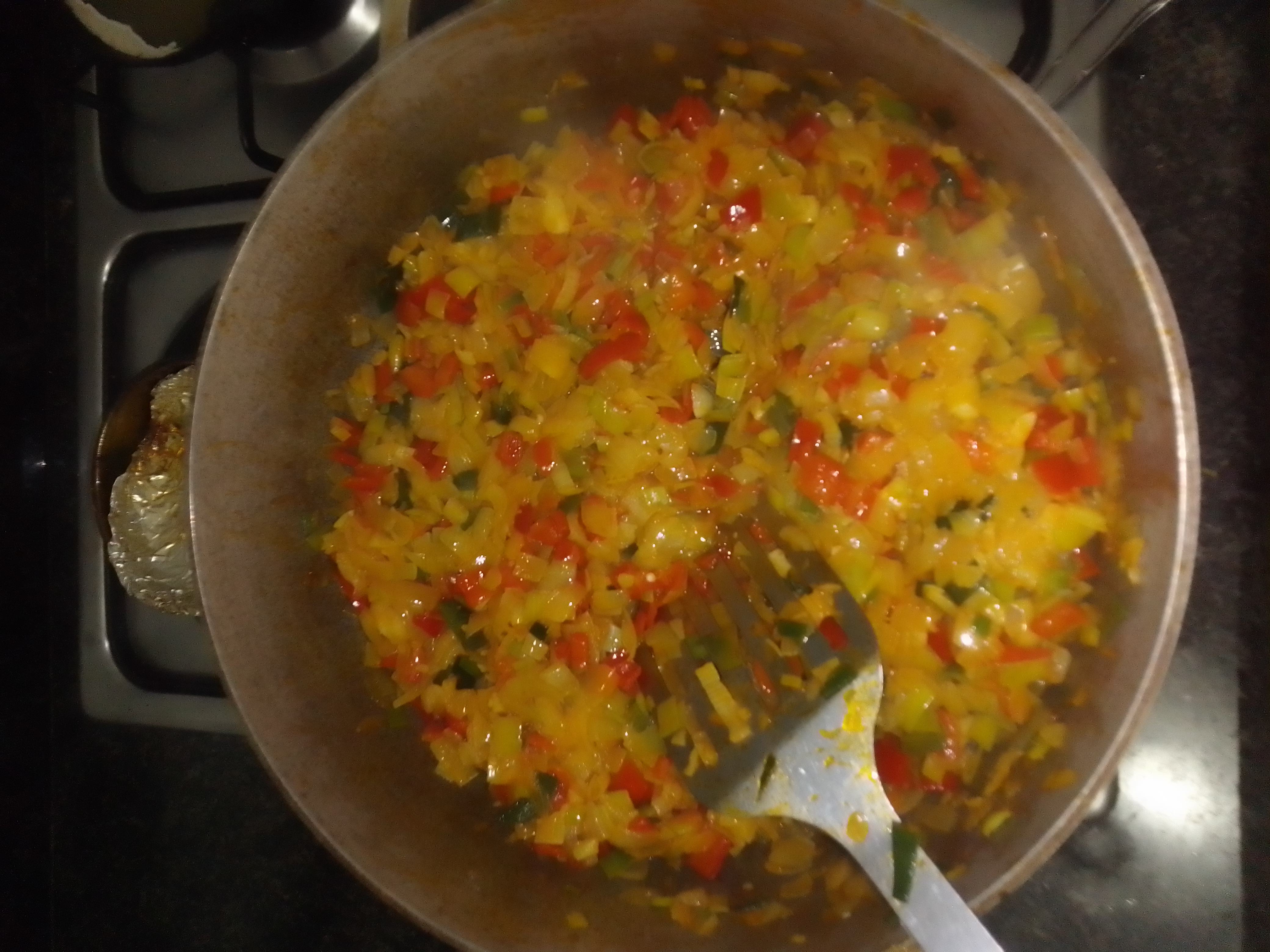 Once the vegetables are ready, add the minced beef, pork and chicken. Mix with the vegetables, add salt, pepper, cumin, wine and chicken stock. Cover and cook the meat for approximately 1 hour.
Luego al estar listo los vegetales, se le agrega la carne picada de res, cerdo y gallina. Se mezcla con los vegetales, se le agrega la sal, pimienta, el comino, el vino, y el caldo de pollo. Se tapa y se deja cocinar la carne por aproximadamente 1 hora.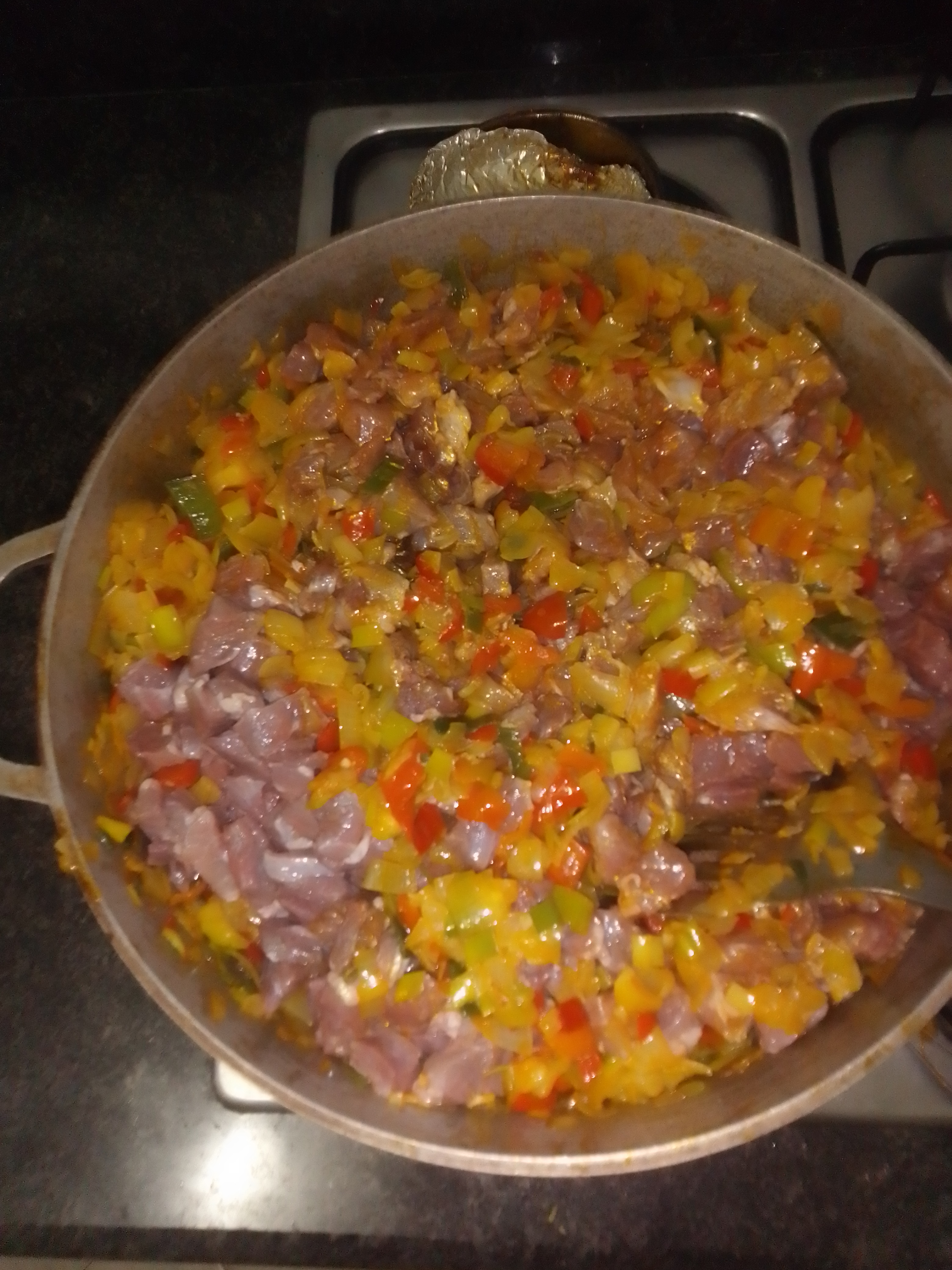 After this time, add the olives, capers and sultanas. Leave to cook for approximately 2 hours.
Al pasar ese tiempo se le agrega las aceitunas, alcaparras y pasas Se deja cocinar aproximadamente 2 horas.
Once the stew is ready, before taking it off the heat, add the chives and coriander, chopped very small.

This stew is left to cool and put in the fridge until the next day to prepare the hallacas.
Luego al estar guiso listo, antes de bajarlo del fuego se le agrega cebollín y cilantro picado muy pequeño.

Este guiso se deja enfriar y se coloca en la nevera hasta el otro día para el armado de las hallacas 🤭.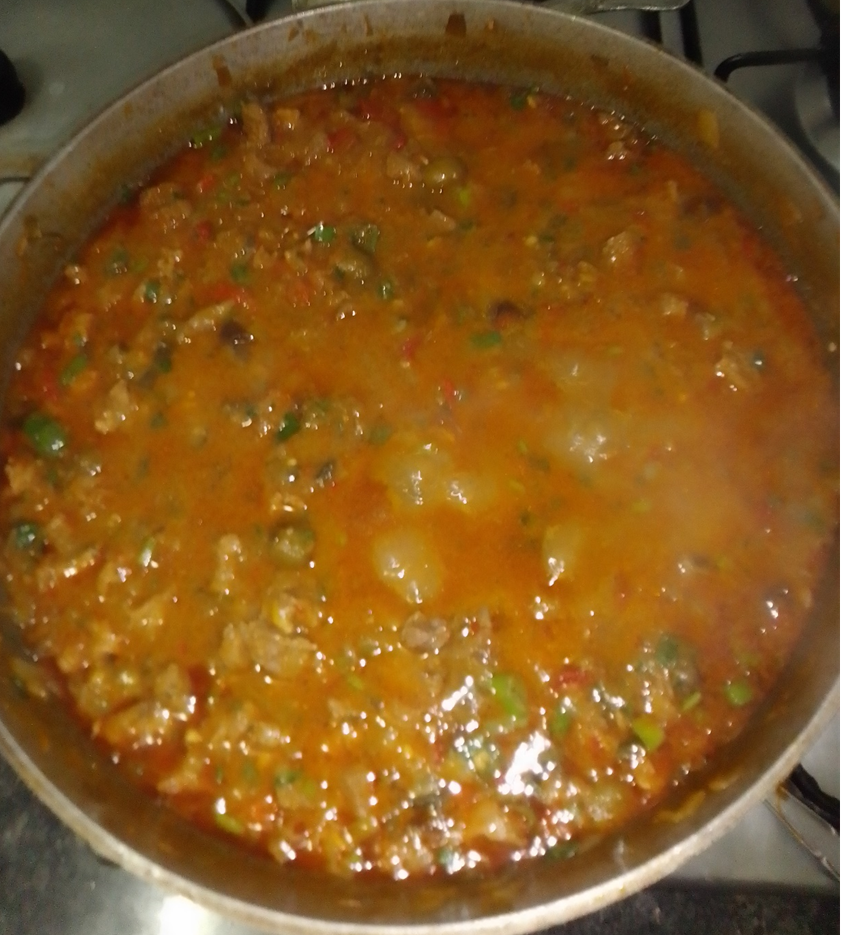 Arming the hallacas🌯
As I told you the day after making the stew, we used to assemble the hallacas, which was done as follows
First we clean and cut the banana leaves, where the hallacas are going to be made.

Boil the potatoes and eggs. When they are cooked, they are chopped into slices.

Then make the dough, which is prepared with yellow corn flour, chicken stock, a little of the hallacas' stew and salt. Mix all the ingredients together until a smooth and homogeneous dough is obtained.

Place all the ingredients on the assembly table, such as the cleaned banana leaves, the dough, the stew, the potatoes, the olives, the sultanas and the red onoto oil.
Armado de hallacas🌯
Como les había dicho al otro día de hacer el guiso, acostumbramos hacer el armado de las hallacas, el cual se realizó de la siguiente manera
Primero se limpian y cortan las hojas de plátanos, donde se va armar las hallacas.

Se hierven las papas y los huevo. Al estar cocidos se pican en rodajas.

Posteriormente se realiza la masa, la cual es preparada con harina de maíz amarilla, caldo de pollo, un poco del guiso de la hallacas y sal. Integrar todos los ingredientes, hasta obtener una masa homogénea y suave.

Colocamos todos los ingredientes en la mesa de armado, como las hojas de plátano limpias, la masa, el guiso, las papas, las aceitunas, pasas y aceite rojo de onoto.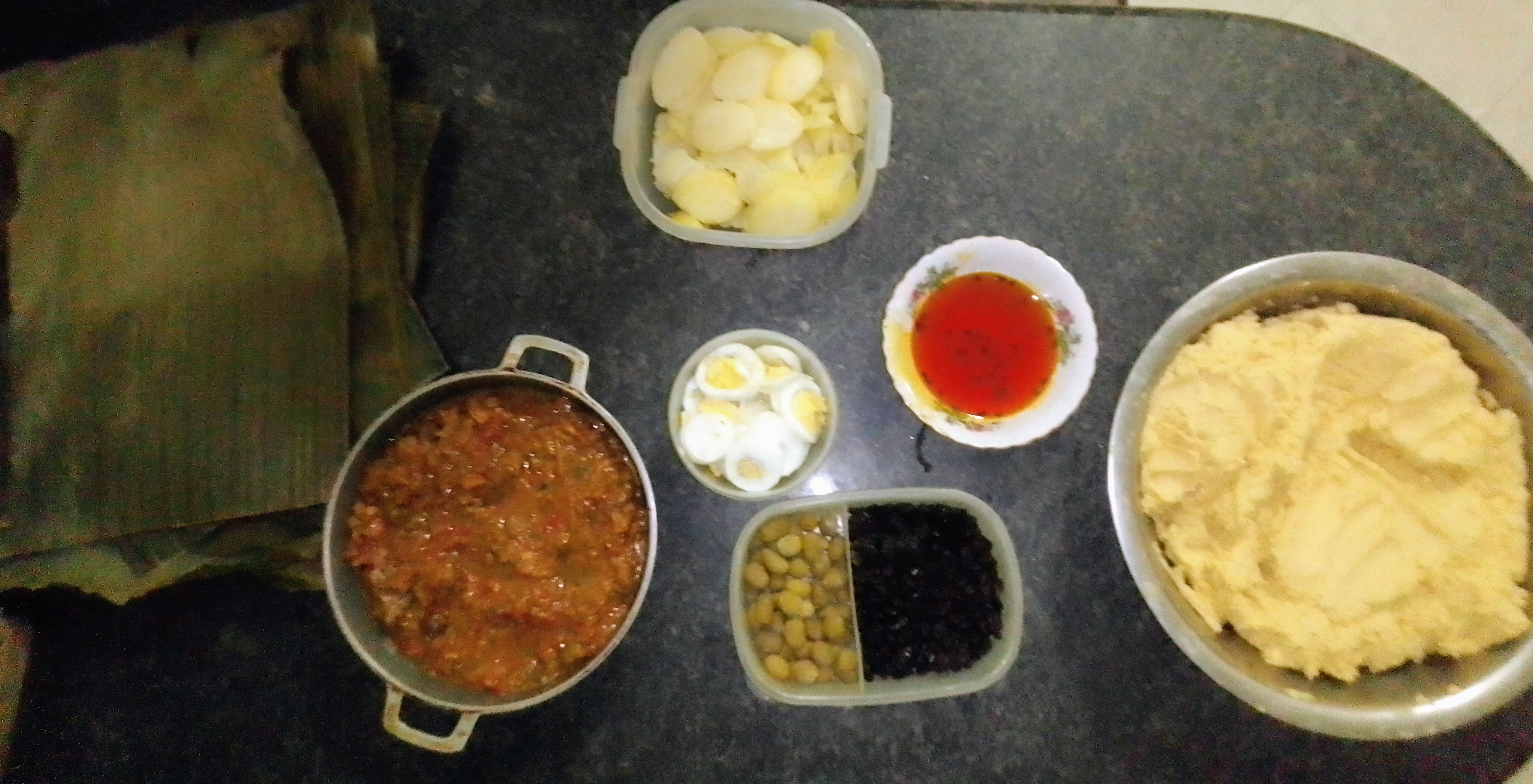 Now we are ready to make the hallacas 🤭 💃.
To start making the hallacas, place the onoto oil on top of the sheet. Then spread a piece of dough over the sheet, until it is very thin.
Ahora si listos para hacer las hallacas 🤭 💃
Para empezar armar las hallacas, se coloca el aceite de onoto encima de la hoja. Luego de extiende un pedazo de masa por la hoja, hasta que quede muy delgado.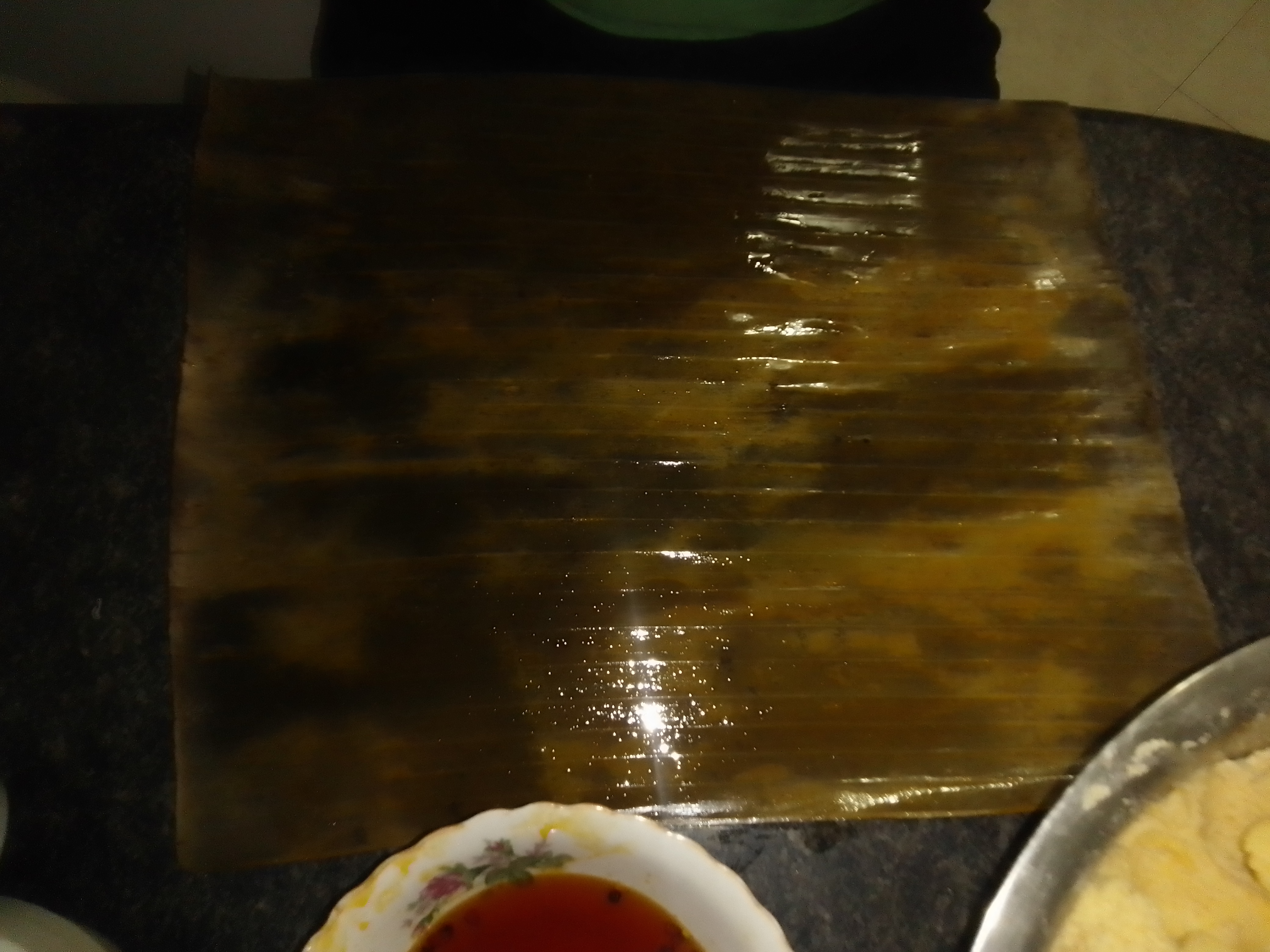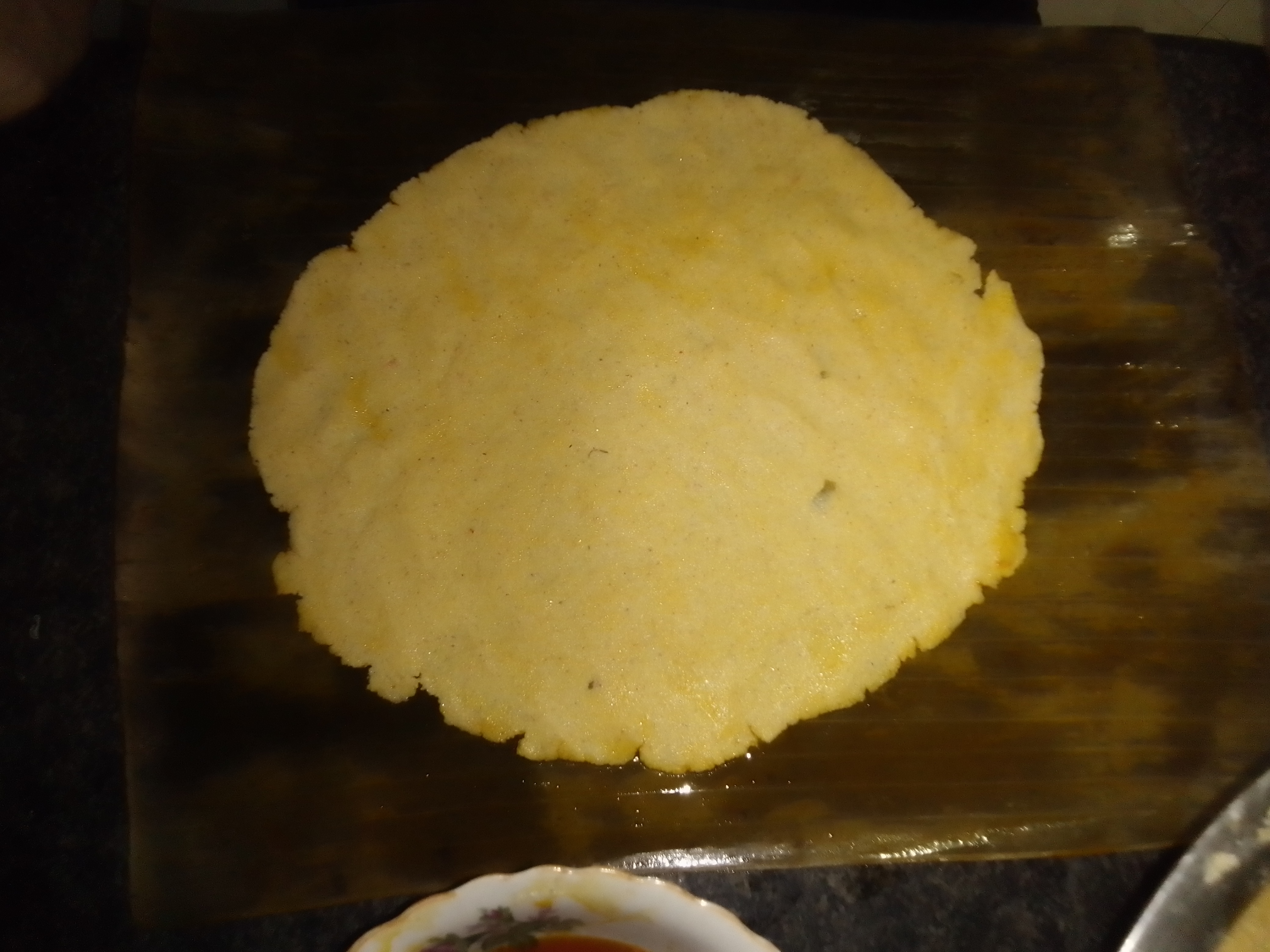 Then add the stew and all the other ingredients such as potatoes, eggs, sultanas and olives.
Luego se le agrega el guiso y todos los demás ingredientes como la papa, huevo, pasas, y aceitunas.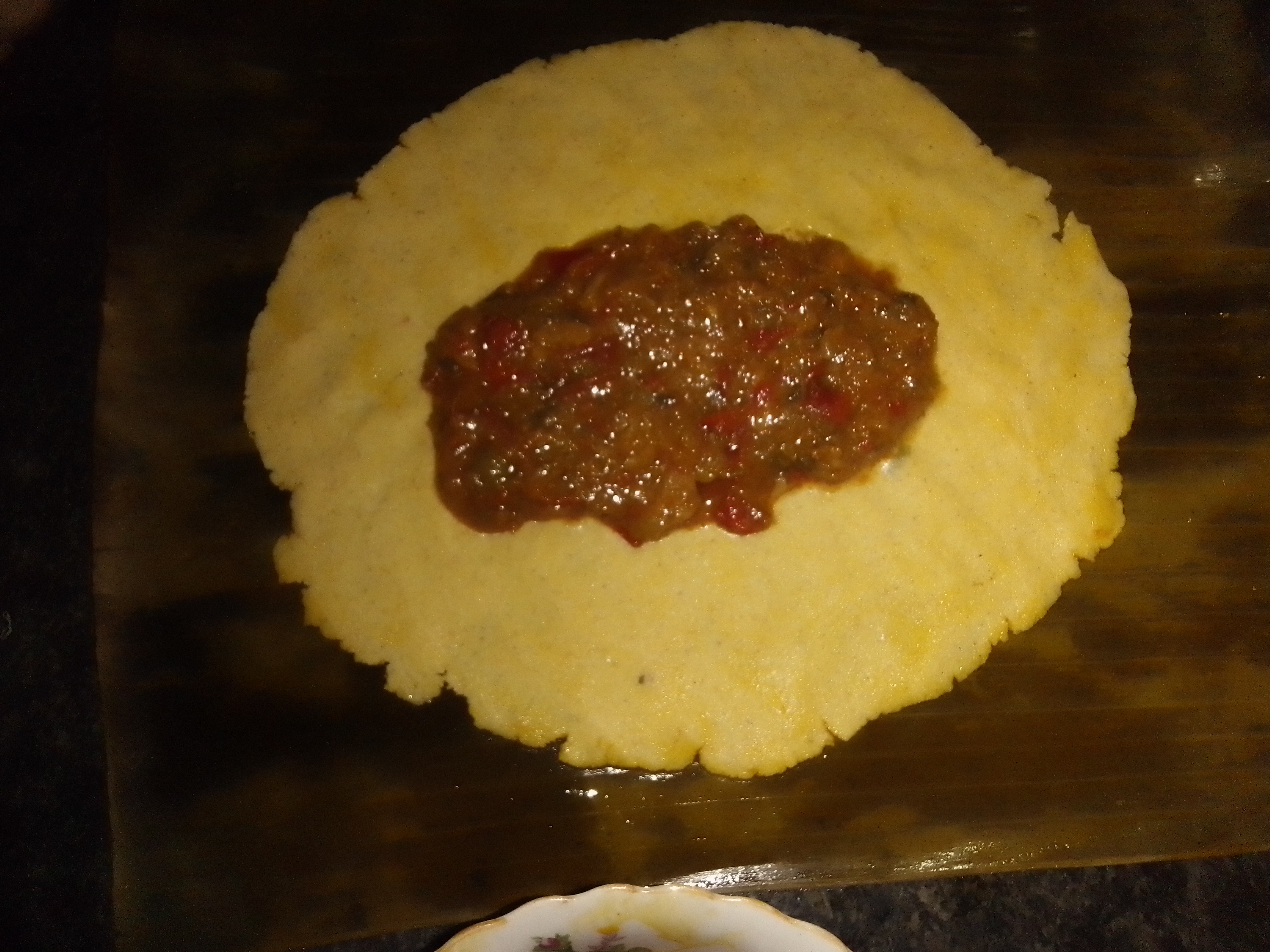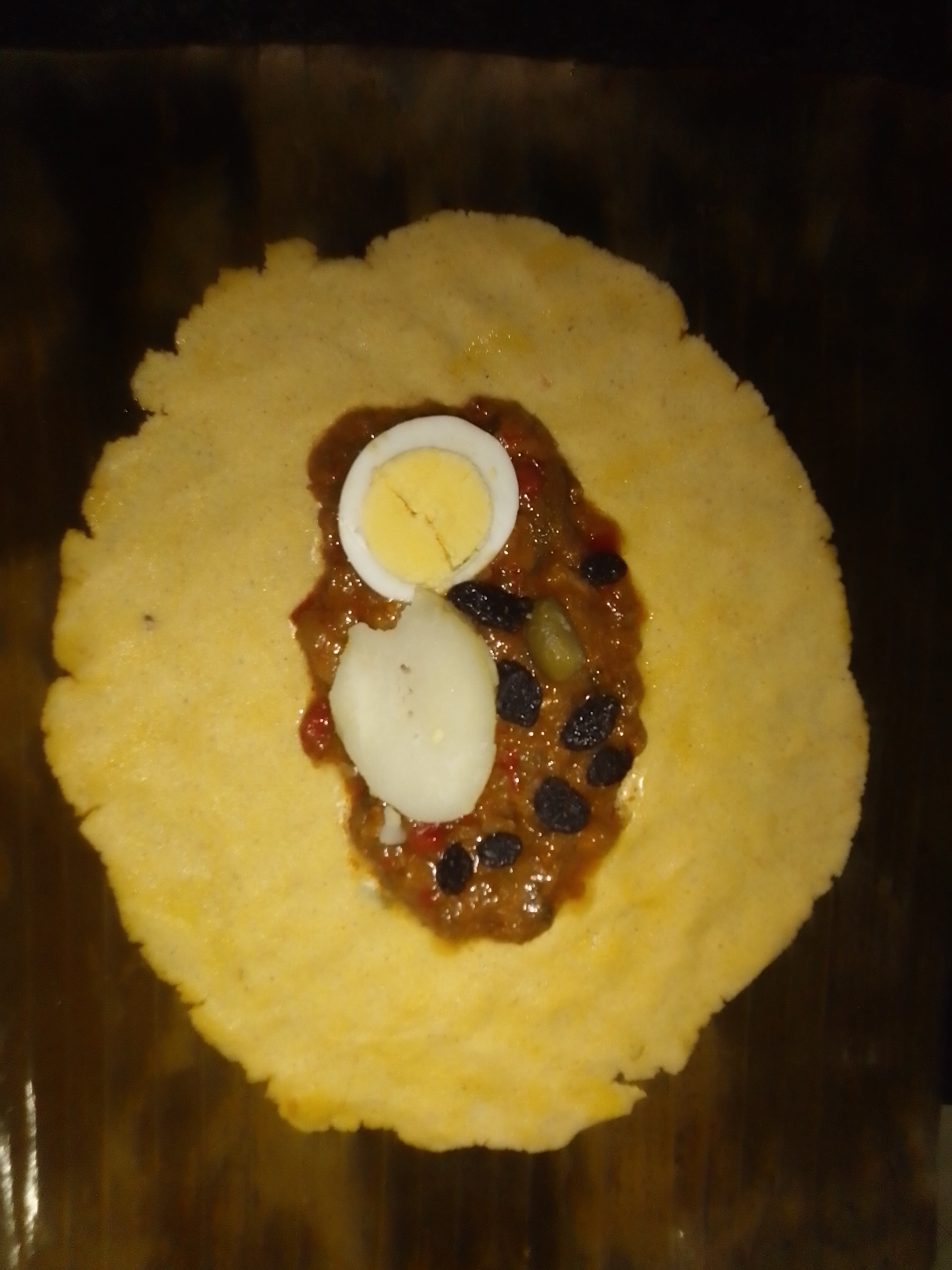 When all the ingredients are in the dough, the sheet is folded, to finally obtain our assembled hallaca 🤩.
Al estar todos los ingredientes en la masa, se dobla la hoja, para así obtener finalmente nuestra hallaca armada 🤩.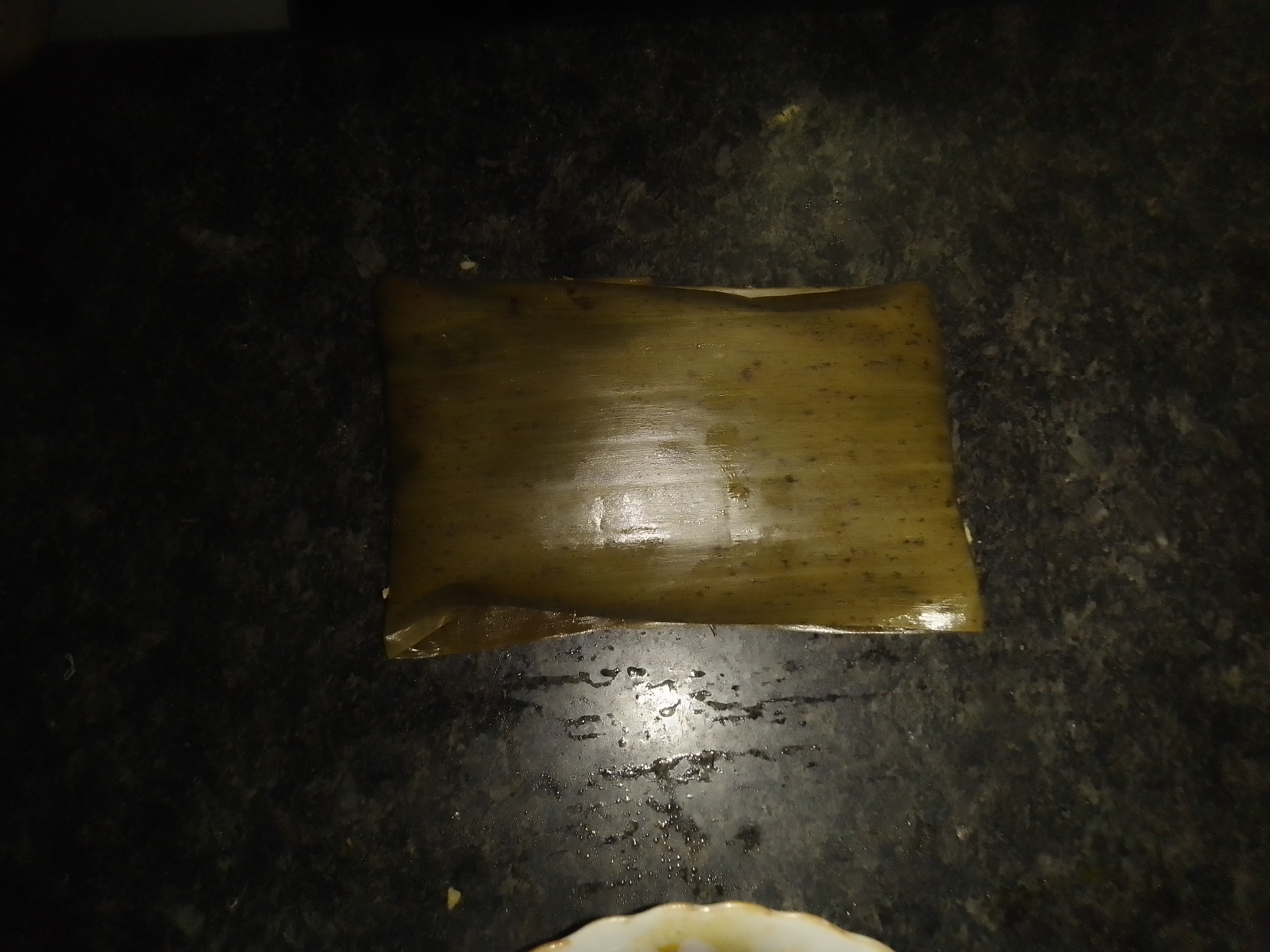 Now before we start cooking our hallaca we need to tie it with thread. This time our kitty Manchitas wanted to help us, but I think he got a bit tangled up with the thread hehehe 🤭.
Ahora antes de poner a cocinar nuestra hallaca necesitamos amarrarlo con hilo. Esta vez nuestro gatito Manchitas quiso ayudarnos, pero creo que se enredó un poco con el hilo jejeje 🤭.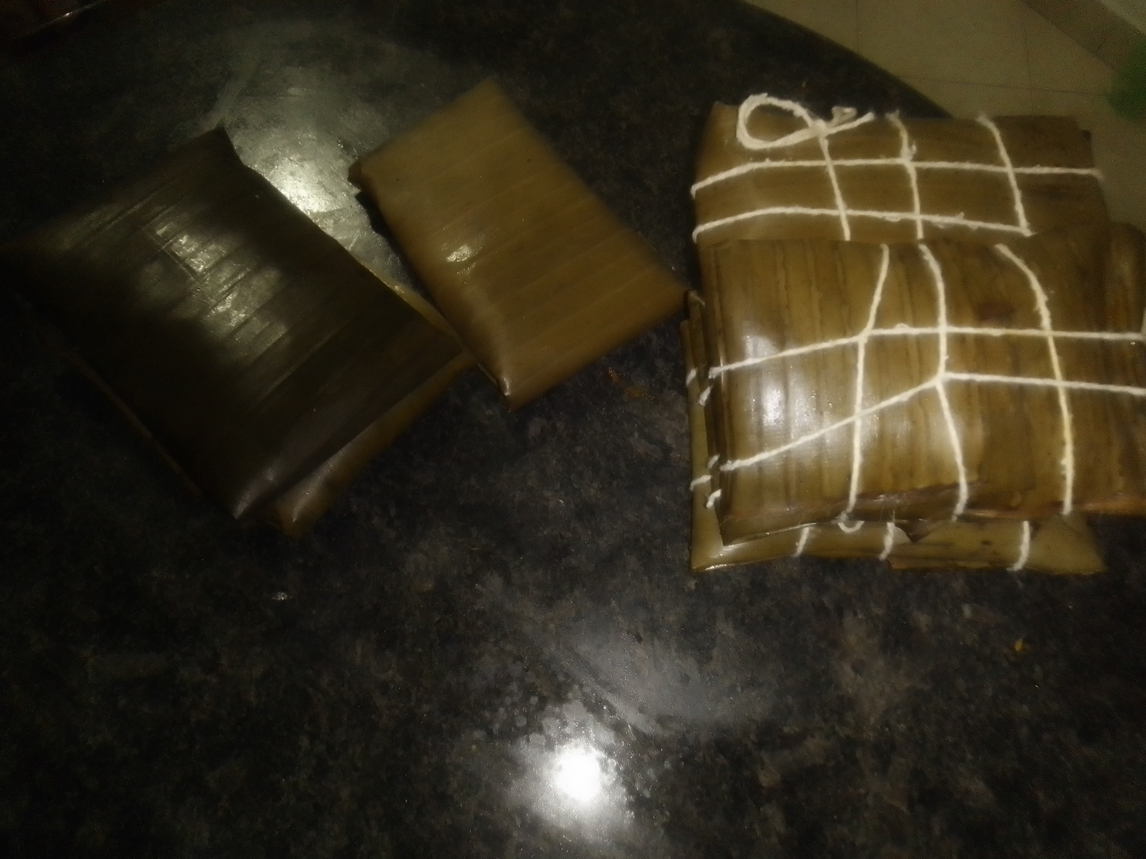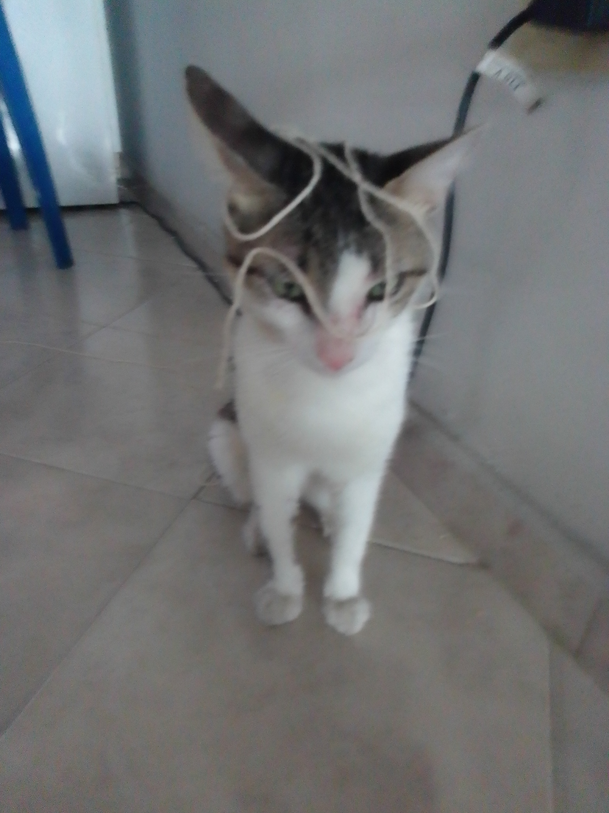 Once all the hallacas are tied, place a large pot full of salted water on the stove. When the water is boiling, place the hallacas that you want to cook, the rest you can freeze.
Al estar amarradas todas las hallacas, colocamos al fuego una olla grande llena de agua con sal. Al estar hirviendo el agua, colocamos las hallacas que queremos cocinar, las demás las podemos congelar.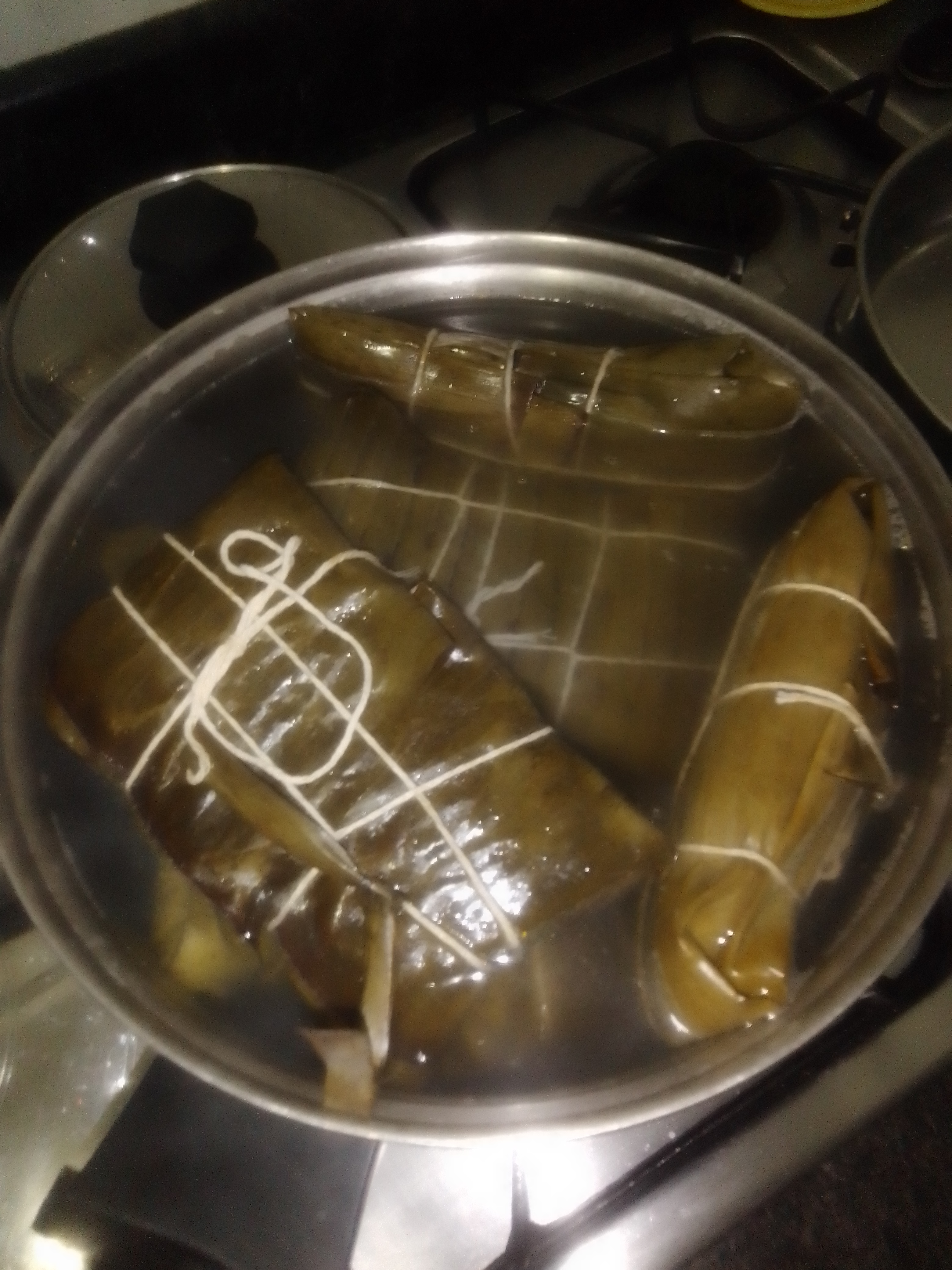 Cook the hallacas for approximately 15 minutes, when they are ready turn down the heat and drain.
And ready 🤩 we can open and eat our delicious hallacas, we can accompany them with ham bread and potato salad 🤭..
Las hallacas las ponemos a cocinar por aproximadamente 15 minutos, al estar lista bajar el fuego y poner a escurrir.
Y listo 🤩 podemos abrir y comer nuestras deliciosas hallacas, podemos acompañarlas con pan de jamón y ensalada de papa 🤭.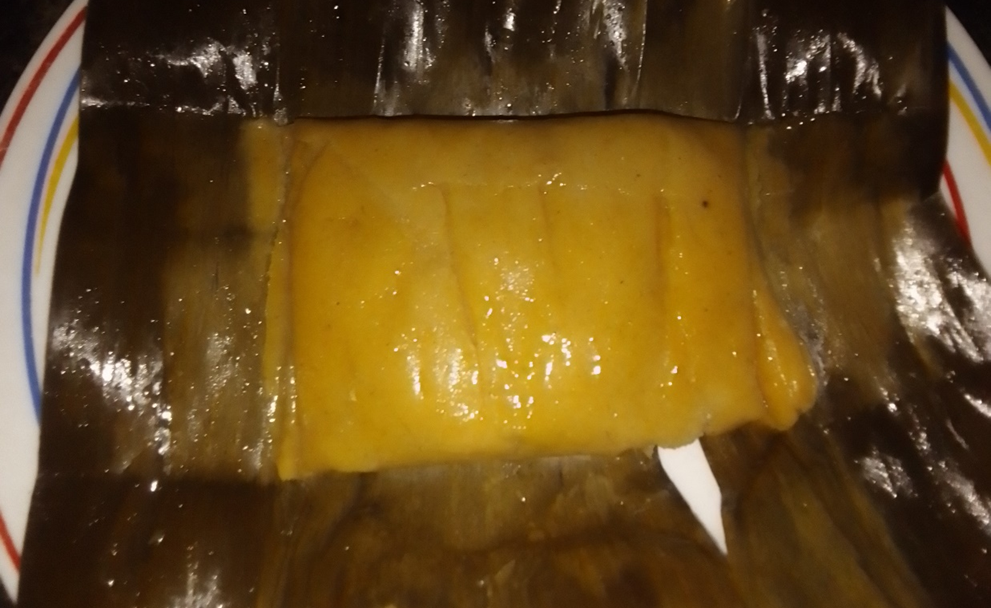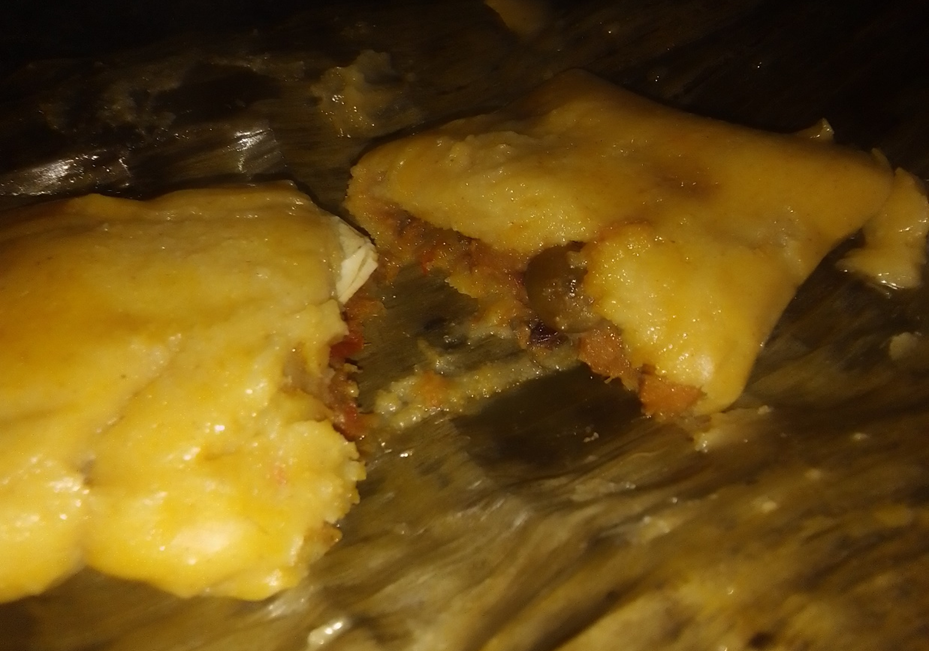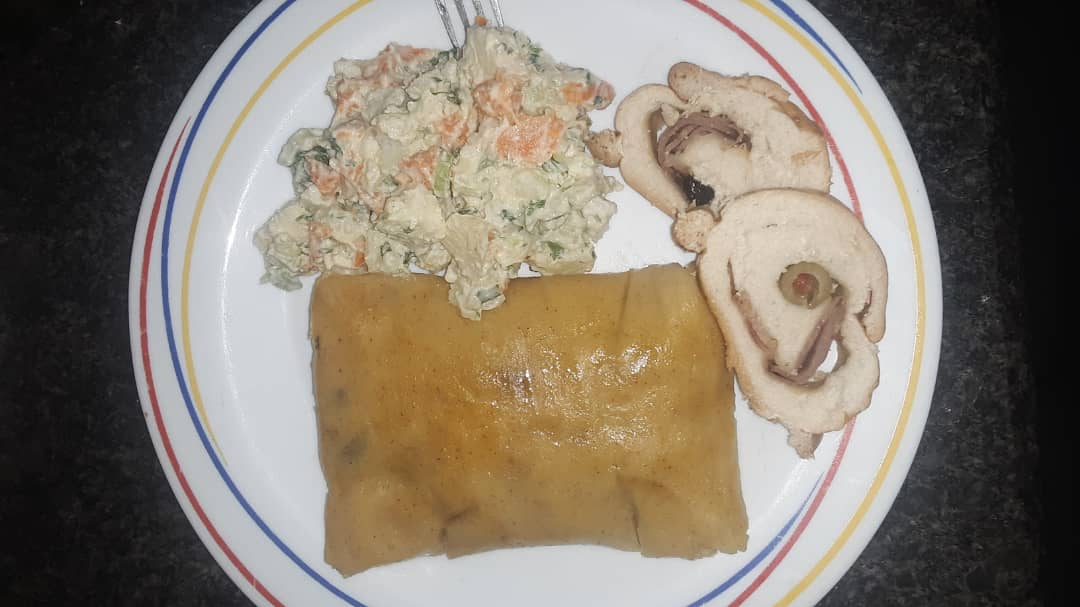 Amigos este es todo mi post por esta ocasión 🤭, gracias por leerme. Nos vemos en una próxima ocasión Feliz año nuevo 🎇 . Byeee 👋
Friends this is all my post for this occasion 🤭, thanks for reading me. See you next time Happy new year 🎇 . Byeee 👋


Author: @ross92/ Autor: @ross92
Devices used / Dispositivos utilizados
LOGIC L61 Smartphone / Telefono inteligente LOGIC L61
Resources used / Recursos utilizados
Canvas app / Aplicación Canvas
Incollage application/ Aplicación Incollage
Powerpoint


---
---