Batalla con la regla "Los extraños salen" [Esp/Eng]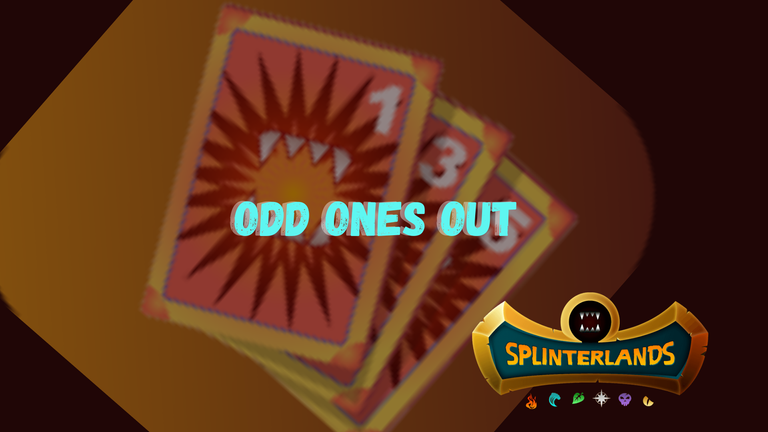 image designed in canva with elements from the #splinterlands game.
Ha llegado el momento de hablar sobre una de las reglas de batalla del juego de Splinterlands y, para esta oportunidad, el turno es de una llamada "Los extraños salen".
Podemos identificar estas reglas por una imagen donde aparecen tres cartas de color rojo con números impares, tal como se muestra al inicio de mi publicación.

Al activarse esta regla, significa que todas las cartas de costo de maná que son "par" van a desaparecer de tus mazos, ya que solo podrás escoger las de costo impar. Es decir, las que cuestan 1, 3, 5, 7, 9 o 11 de maná.
The time has come to talk about one of the battle rules of the Splinterlands game and, for this opportunity, the turn is for one called "The strangers come out".
We can identify these rules by an image where three red cards with odd numbers appear, as shown at the beginning of my post.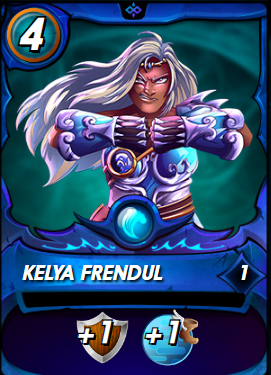 | | |
| --- | --- |
| | |
| --- | --- |
Aunque la regla es muy clara en su descripción cuando indica que ningún monstruo de costo de maná se puede usar, me parece que se les escapan los invocadores, ya que pude utilizar a Kelya Frendul para la batalla que les voy a mostrar. Si pueden ver las imágenes de las cartas que les coloqué, podrán apreciar que, a excepción del invocador, todos los demás monstruos tienen un costo de maná que es impar.
Para esta oportunidad, como les mencioné antes, seleccioné a Kelya Frendul como invocador para otorgar escudo y velocidad a los monstruos aliados. Luego, paso a seleccionar como tanque a Torhilo The Frozen por tener la habilidad "vacío" que permite reducir el daño mágico que puede recibir. Después sigue Wave Runner con la habilidad "alcance", que le permite atacar desde la segunda posición. Luego, para asegurar, elijo a un monstruo de ataque mágico llamado Nerrisa Tridawn, considerando que tiene buen daño y vida. Por último, selecciono a Angelic Mandarin para completar la cantidad de maná que me otorgaron en la batalla.
Although the rule is very clear in its description when it indicates that no mana cost monster can be used, it seems to me that summoners escape them, since I was able to use Kelya Frendul for the battle I am going to show you. If you can see the images of the cards I posted, you can see that, with the exception of the summoner, all the other monsters have an odd mana cost.
For this opportunity, as I mentioned before, I selected Kelya Frendul as summoner to grant shield and speed to the allied monsters. Then, I select Torhilo The Frozen as a tank because he has the "void" ability that allows to reduce the magic damage he can receive. Then follows Wave Runner with the ability "reach", which allows him to attack from the second position. Then, to be safe, I choose a magic attack monster called Nerrisa Tridawn, considering that it has good damage and life. Finally, I select Angelic Mandarin to complete the amount of mana I was granted in the battle.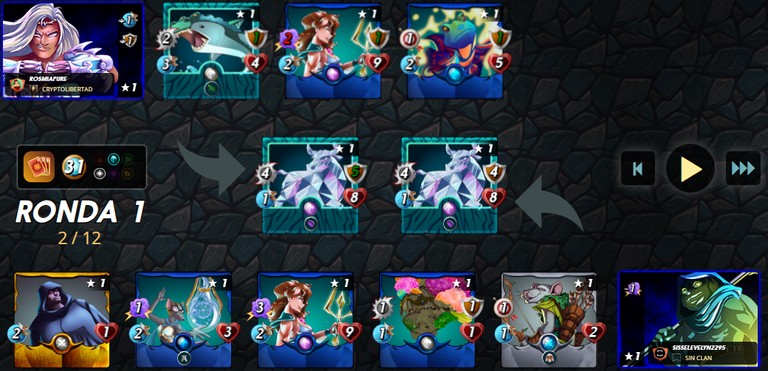 Clic para ver la batalla
Si le dan al enlace para ir a ver la batalla, pueden apreciar cómo la regla "Los extraños salen" no solo me afecta a mí, sino que también afecta a mi contrincante. En ese punto, podría decir que, cuando te sale esa regla, revises qué monstruos viene usando tu enemigo en sus últimas cinco batallas para así darte una idea de cuáles no te vas a encontrar y así poder armar una buena estrategia con lo que tengas a mano. Eso sí, no debes olvidar que los invocadores se ven exentos de esa regla.
En lo personal, debo decir que la regla sí me mortifica un poco porque mi mazo esta compuesto por cartas pares y impares así que para estas rondas existe algo de probabilidad de que pierda si no hago una buena selección y para esta ocasión no logre salvarme debido a que mi contrincante selecciona un invocador que resta 1 punto de daño magico y ademas selecciona de tanque a Torhilo The Frozen que se me hizo dificil de derribar ya que mi carta de magia quedo con solo 2 de daño y alcanzaba solo a restar 1 punto de vida al contrincante.
Me parece que pude haber ganado la batalla si hubiese seleccionado un monstruo con la habilidad oportunidad o con la de escabullir para así ir restando vida a los monstruos que se encontraban detrás del tanque de mi contrincante. Aunque perdí la batalla creo que sirvió para demostrar como la regla "Los extraños salen" nos afecta a ambos, pero solo es cuestión de analizar las ultimas batallas para tratar de prepararte para lo que se viene y creo que eso hizo mi contrincante.
If you click on the link to see the battle, you can see how the rule "Strangers come out" not only affects me, but also affects my opponent. At that point, I could say that, when you get that rule, check which monsters your enemy has been using in his last five battles to get an idea of which ones you are not going to find and thus be able to put together a good strategy with what you have at hand. Of course, don't forget that summoners are exempt from this rule.
Personally, I must say that the rule does mortify me a little because my deck is composed of odd and even cards so for these rounds there is some probability of losing if I do not make a good selection and for this occasion I could not save myself because my opponent selected a summoner that subtracts 1 point of magic damage and also selected Torhilo The Frozen as a tank, which was difficult to take down because my magic card was only 2 damage and I could only subtract 1 point of life to my opponent.
I think I could have won the battle if I had selected a monster with the opportunity or sneak ability to subtract life from the monsters that were behind my opponent's tank. Although I lost the battle I think it served to demonstrate how the rule "Strangers come out" affects us both, but it's just a matter of analyzing the last battles to try to prepare for what's coming and I think that's what my opponent did.

Bueno chicos esto es todo por ahora y nos vemos para el proximo Battle mage secrets donde seguro estaré compartiendo con ustedes como me desenvuelvo con la regla que corresponda al momento.
Por ultimo hago mención de que las imágenes mostradas aquí son tomadas del perfil de juego de #splinterlands
Well guys this is all for now and see you for the next Battle mage secrets where I'll be sure to share with you how I'm doing with the rule that corresponds to the moment.
Lastly I mention that the images shown here are taken from the #splinterlands game profile.

---
---