Did you miss the Axie Infinity Airdrop? Try #1 Crypto Game Splinterlands!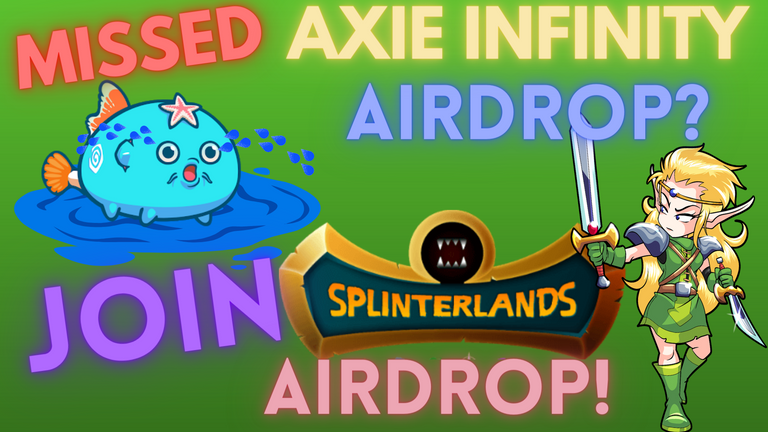 You Can Still Get Valuable Airdrops!
If you've followed the latest crypto buzz, you know the crypto game Axie Infinity recently developed an airdrop which has skyrocketed the game to new monetary levels. The interesting part about this new airdrop within Axie is the airdrop only applies to those players who joined Axie Infinity early on in the beginning months of the game, excluding any new players. Sure, you can purchase the token on the market, but you won't get free airdrops if you didn't jump in at the beginning.
What's fascinating about the recent explosion in prices with Axie Infinity is this game isn't even the #1 Crypto Game!! I thought now would be an excellent time to write about a game that has been listed as the #1 Crypto game, and I think you'll be surprised to hear the benefits for new players as well! You've got PLENTY of opportunity AND you won't miss out on the airdrops, but you'd better join soon, because the airdrops won't last forever.
Airdrops with the #1 Crypto Game: Splinterlands
It's true! You can currently receive airdrop tokens known as SPS FOR FREE based upon the amount of collection power you've received in playing the game. The collection power in this play2earn game includes the token Dark Energy Crystals (DEC), and that aside from the cards you can purchase, the SPT you can earn by sharing more about Splinterlands, the land PLOTS and other areas of the game all count towards the current SPS airdrop. The SPS token is a governance token, so you will have voting power within the Splinterlands community regarding the future of the game!
Airdrop On the Airdrop
Now, what's even MORE amazing is in just a few days you'll be receiving ANOTHER airdrop called a voucher based upon the amount of SPS airdrop you've acquired! You're literally being rewarded at every turn just for playing a game, which in and of itself is an entertainment indeed!
You'll find there's no better time to join Splinterlands; there's still GREAT opportunity to get in early and get a quick return on your investment!
What's Holding You Back?
Splinterlands is a trusted crypto in comparison to others; it's been around for several years, so your risk is minimal when you realize how stable the game economy is. Now, in the world of crypto, anything can happen; however, Splinterlands is a well-established game, and anyone can receive those airdrops, but all good things will come to an end. Same with these SPS airdrops. We're in about 2 months now for a year-long airdrop, and you don't want to miss this moment!!
The value of the SPS airdrop has grown and will continue to climb with the latest requirements for the new cards; they will release in upcoming months and they're called the Chaos Legion card packs. You will need vouchers, which are tokens based upon your SPS airdrops, to get the cards so the SPS token will become a hot commodity!
Please Consider Joining the Game
Your initial investment can be nothing (yes, you CAN play for free), or you can purchase the Splinterlands Spellbook for $10! You can begin enjoying a game for just the price of a Starbucks coffee and muffin on the side, and yet you'll have hours of enjoyment in the game compared to that coffee treat.
You can also find SO many incredible resources in learning how to play. You can read the many blogs, watch YouTube videos, or I'm always here with a smile and ready to cheer you on to be successful! I am a perfect example of a person who knew very little about the crypto world until I ventured into Splinterlands and I've never been more welcomed or encouraged by any group than this wonderful set of people! So if you're interested in the SPS airdrops, join today. You'll find a link to the game here just below.
I truly appreciate you reading this far into my post! Now is the BEST time to join Splinterlands!
If you enjoyed my post and want to try Splinterlands, please use my referral link: https://splinterlands.com?ref=rosiew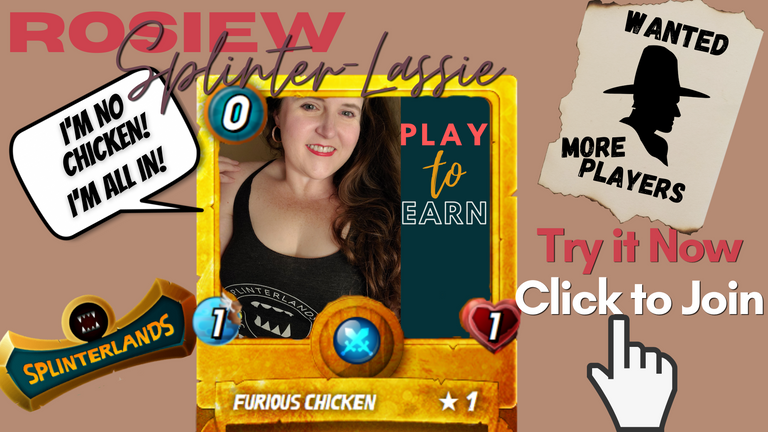 Please remember my post is not meant to be financial advice and is just my opinion.
Follow These Folks:
Splinterlands: https://peakd.com/@splinterlands/
Monster-Curator: https://peakd.com/@monster-curator/
1Up (#OneUp): https://www.1up.zone/
Here are some great links to join as well!
Splinterlands Discord: https://discord.gg/Tw7KjNsQGs
Monster Market Discord (Monster Curator): https://discord.gg/DR3J9rfRFV
PeakD Discord (PeakMonsters as well): https://discord.gg/7mQmzZeugE
NFT Studios Discord (aka 1UP Discord #OneUp): https://discord.gg/4VYBcNuVQd
Posted Using LeoFinance Beta
---
---