My First Impression Learning Skateboarding and Join in Skate Community
Hello Skate Hive Community! 🤗 How is going?
This is my first post on community and i want to share my first impression and experience learning skateboard as newbie 😁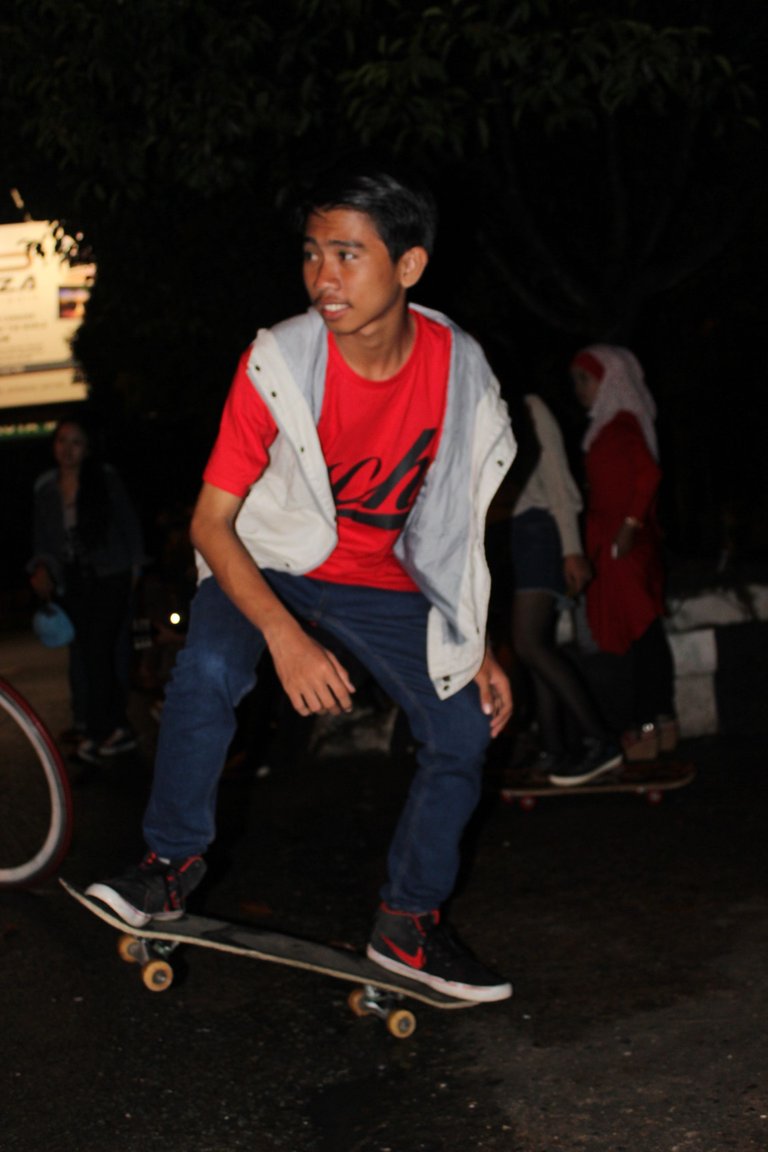 Recently i joined Skate Community in my city where they usually gather every weekend. I am very new to skateboarding and i'm still learning the basics of skateboarding which is mentored by the skateboard community in my city. A month ago i decided to buy a skateboard whose quality might be standard because i wanted to learn new things that i wanted to make as a new hobby so i decided to join a skateboard community in my city called Metro Skateboarding Community.
There are a lot of young people here who are members and today is a gathering event with other communities as well as skateboards, fixie bikes and scooter communities. Because i was new members on community so i just met them and of course i asked about how to learn skateboarding.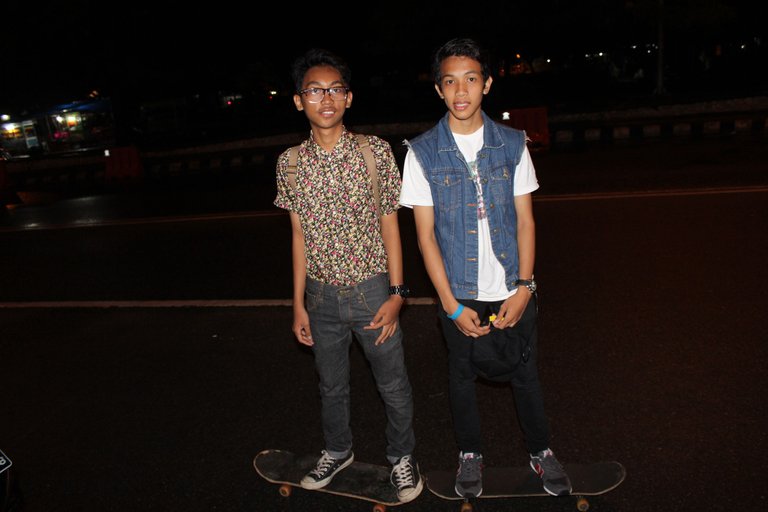 These 2 people named yusuf and huri who taught me the basics of skateboarding, they were very friendly and told me beginner skateboarding techniques such as learning to slide, balancing the body on a skateboard and then teaching other techniques.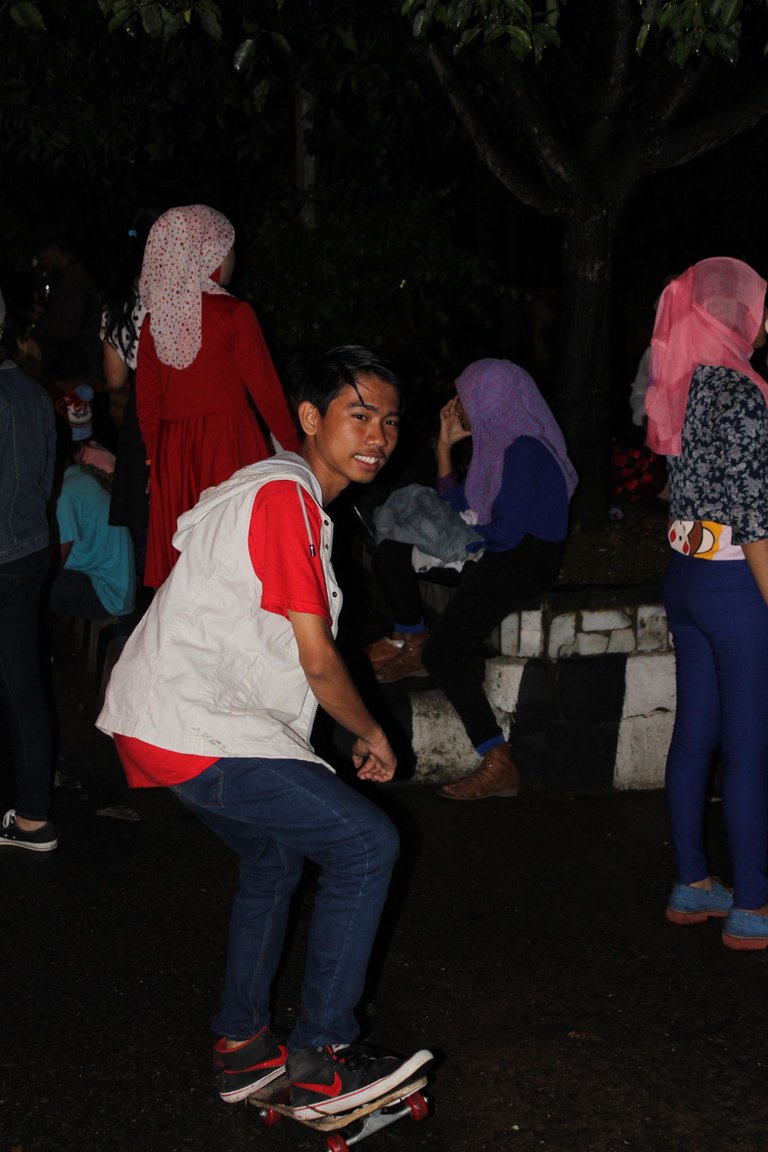 ---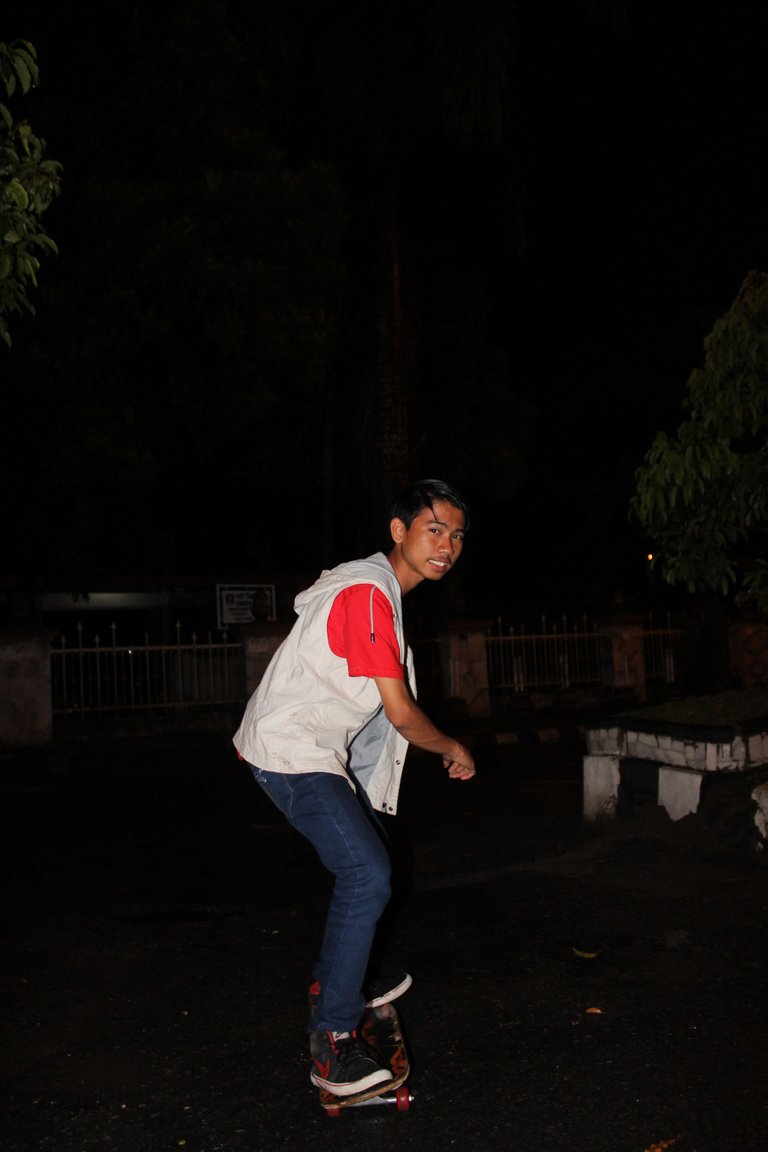 ---
The first time i learned to balance myself on a skateboard while moving forward, before trying it i thought it might be easy to do it but it turned out to be very difficult when practiced even though it was just moving forward. Even i've been slipped and fell several times because of the difficulty to balance myself on the skateboard when sliding.
I think it takes time to learn to balance my body on the board and learn to get used to it considering this is my first experience skateboarding. For your information this is my first gathering with skateboard community but there are another community that normally hangout together with fixie bikes and scooters community, so I've been enjoying the atmosphere with them.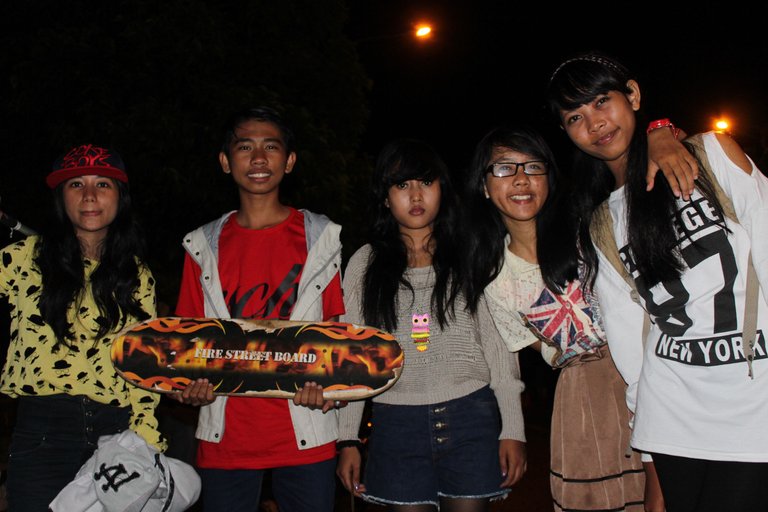 Uniquely in this community there are not only men but there are also women who skateboard although i have not seen them skateboard considering the costumes they wear do not support skateboarding because this is a gathering together not in skateboarding activities as usual.
They were all very kind and friendly when i introduced myself as a new member and as a newbie in the world of skateboarding, they all supported me and congratulated me on joining the community so i felt motivated and comfortable in this great community.
---
SEVERAL PHOTOS THAT I TOOK WHEN GATHERING EVENTS WITH COMMUNITY
---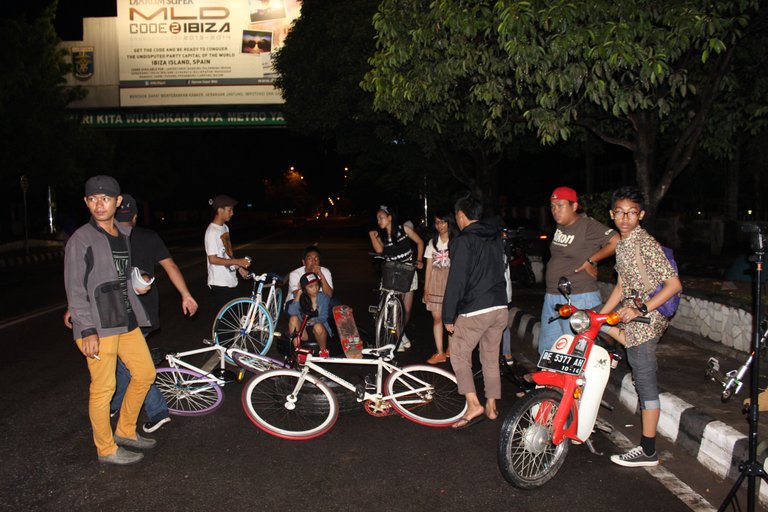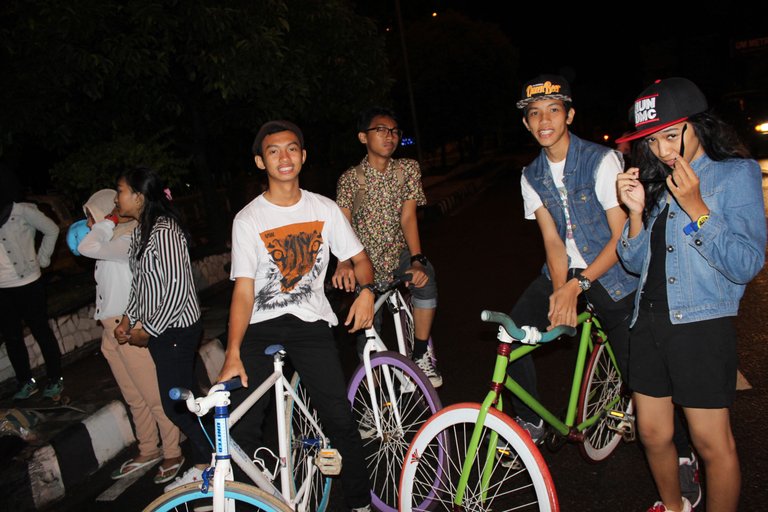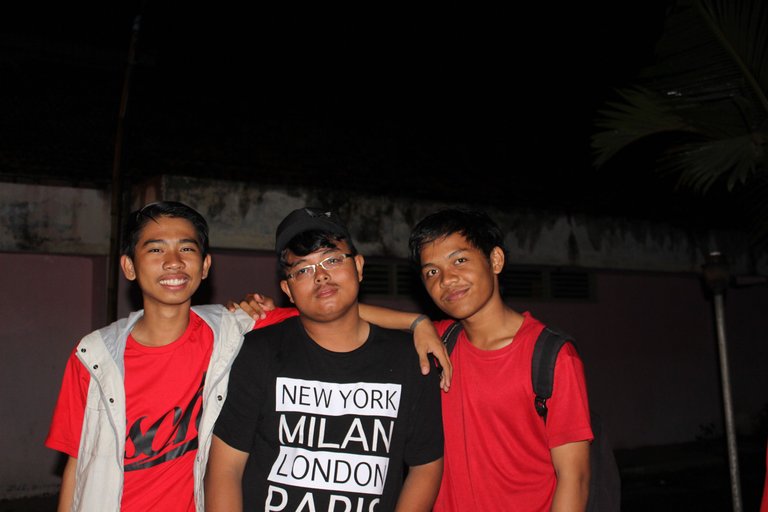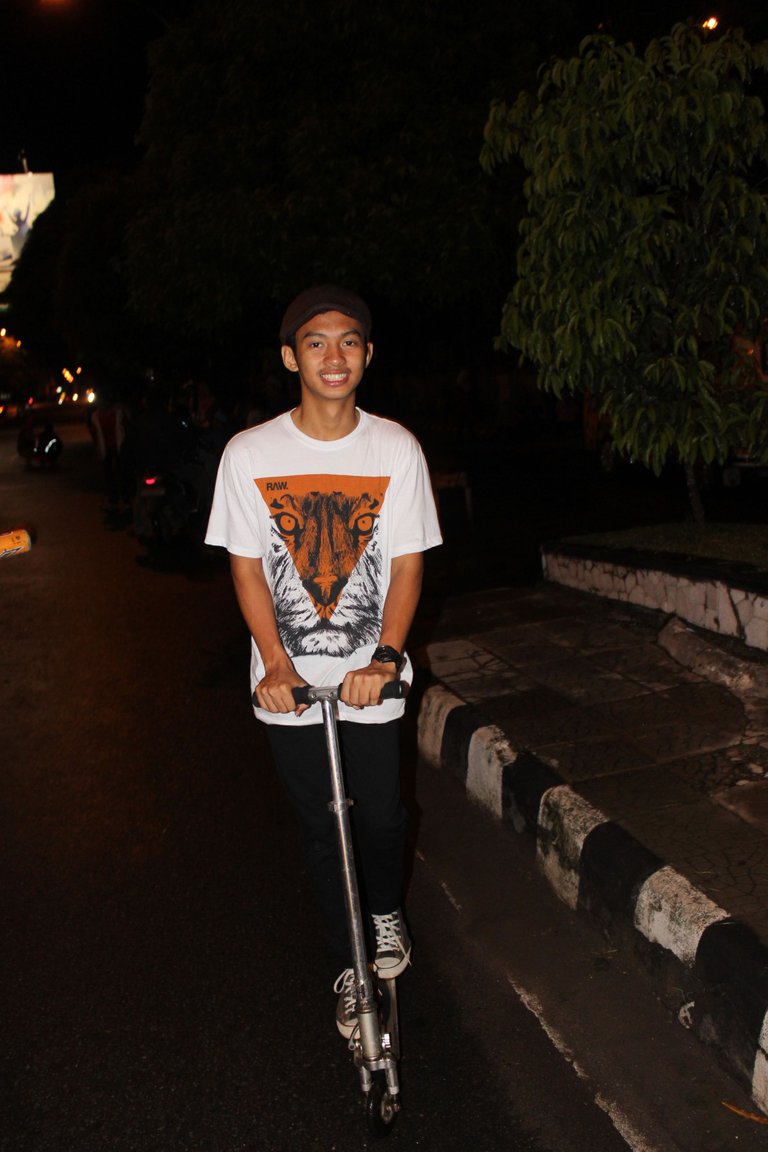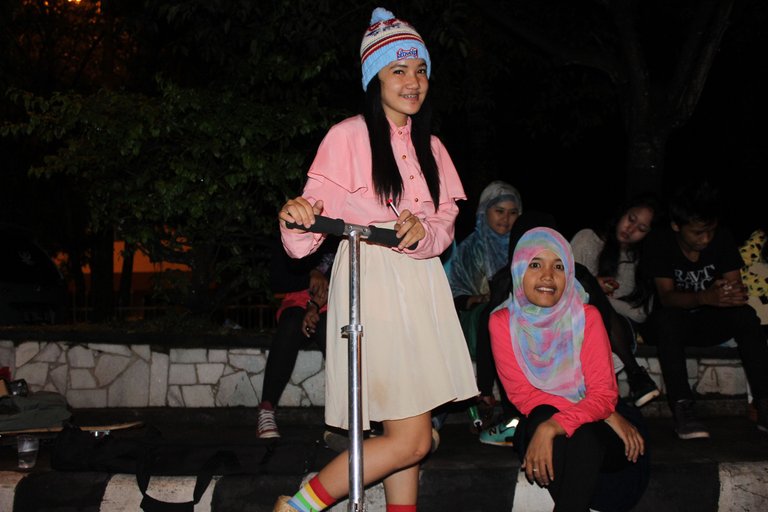 ---
Having a new hobby and joining a community is something that is very useful in honing my skills, of course as a beginner in the skateboarding world i will try to keep practicing so i can master some skateboarding techniques. Don't forget, i also need advice from the family at Skate Hive Fams to give advice and tips on how to skateboard for beginners like me and i really appreciate any feedback from you guys 🤗
Thankyou for visiting/stopping to reading this article, don't forget if you like this article you can upvote, rehive or reblog and let's be friends with follow each others for sharing perspective and thoughts together :)
See you in the next article Skate Hive Community 🤗
---

Who am I?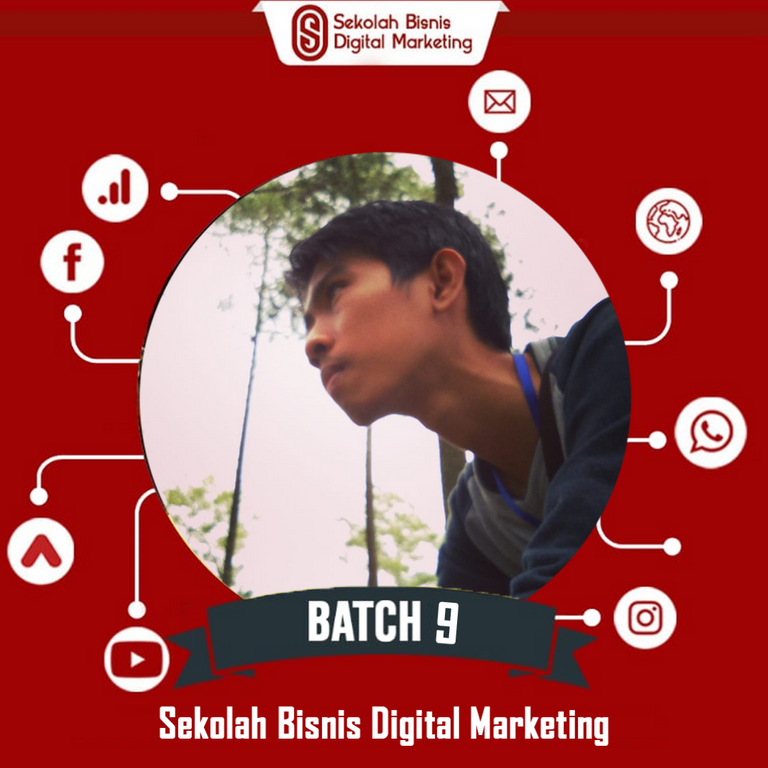 I'm Romi and i'm Crypto Enthusiast, that interesting with Blockchain Ecosystem, i love to be content creator in blockchain social media, sharing my perspective and experience based on my knowledge and hobbies. I Hope that i can develop my knowledge day by day especialy about Cryptocurrencies and making new friends that i can called as my families :)
Contact Info:
Telegram : https://t.me/romirspc
Facebook : https://facebook.com/romi.rezpector.397
Youtube : https://youtube.com/channel/UCatiDINT-LAnphz9c59_YVw
Twitter : https://mobile.twitter.com/romirspc
Noise Cash : https://noise.cash/u/romirspc


---
---