Success from the spiritual side, mirroring from experience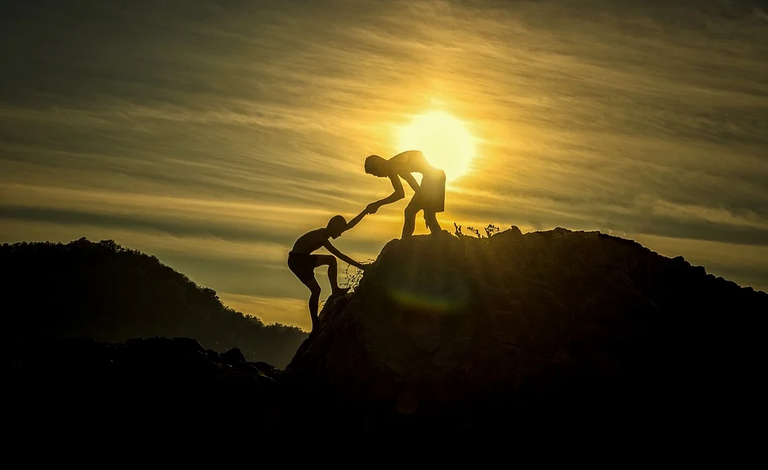 source
Dear all my friends,..
A materialistic life makes many people view success by how much wealth and wealth they get. How many luxury vehicles, houses and furniture you have or success with sending your children to school abroad.
This mindset causes people to try hard and some even do it in various ways regardless of religious or other existing norms. The desire to become the owner of many treasures makes many people forget the essence of success itself.
We cannot deny that one side of success is physical success. However, don't forget that there is a spiritual side that is no less important, or maybe even a very important thing in our lives. This spiritual success will greatly determine our attitude towards the life we ​​live.
For that, we need to understand how important it is to be spiritually successful
Spiritual Success
Success is not measured by how high rank, degree and wealth are abundant. True success is when our lives feel calmer and can enjoy life. We can enjoy everything with joy and love. Of course, happiness is interpreted when our hearts feel at ease.
If our hearts are peaceful then the simple circumstances of life will not prevent people from being happy.
Success can be seen from how much achievement we have inwardly to overcome our greed. Because we know every individual must have a desire. Desire is never limited. If we already have one car, then we want to have the next generation car. This lust will never stop until we die, or stop and control ourselves with gratitude.
I'm sure during the COVID-19 response period, I've experienced bitter times. But, now we can feel a little more relieved even though we can't get out of control and become the cause of its spread.
If we look at events during COVID of course we can see there is success even though we know there are many declines in income. There is a big lesson when we become lovers of COVID. We can avoid death. We must look at all of this with gratitude. All of these forms of success, although small, will be very meaningful.
Reflecting on my experience when managing a tutoring business during COVID 19, it feels right that I have experienced success, even though there has been a sharp decline in income.
At the start of the pandemic we had about 10 students and only made a meager income. This went on for months because everyone was struggling. The fear of going out is experienced by many people. It could be because of fear of catching the virus or even fear of a ban from the authorities when restricting various activities.
I have 3 teachers. Two teachers are single and one teacher has one child. Of course this is very heavy for our expenses. We must remain committed to providing income to them. We only hoped that the pandemic period would end soon, it turned out to be wrong. The long pandemic continues.
Until the fourth month one of the teachers came to see me. He said to stop working because he felt bad when he came to work instead of working. They asked when it was normal for them to go back to work. They realized that our finances were still not strong enough and morally they felt bad.
With a lot of deliberation and calculation, I decided to hire them part time. If so far they have entered 6 days a week, then they have entered 3 days. I also said that while working half of the salary is not given in full, but half of the salary.
I asked them to stay in because if they didn't, it would show that our business was closed. If there are activities, it will be seen that we are running a business even though it is not fully successful.
It's important for us to create an image that we keep working on. I assure you that during the pandemic we may decline greatly but must persist.
God doesn't sleep
A few months working part time, I feel sorry to see stories about family life that has no income apart from them. almost every night I wake up and think about how to make everything go well and get back to normal.
I said in prayer, "Dear God, I'm sure You're not sleeping. You saw what we were doing. We're sure You'll help us."
After that I made the decision to hire them fully again. I don't worry if I can't afford them.
Slowly the number of students increases, even if a little. These additional students also increase income. However, we are still worried that we are not getting enough before the payroll date. So the wife also offers savings to cover if it's not enough.
God's belief does not sleep is real. Every month we were finally able to continue to pay them. Although sometimes we as owners have to put our needs aside first.
In my opinion, the success of overcoming things like this becomes very meaningful in my life. Now we have been able to get through critical times in business. Hopefully this success will continue to grow and make us even more grateful.
Thus all my writing this time may useful for all of us.
Best regard from Indonesia.
@rokhani
Thank you for stopping by and reading my post. I hope you enjoy it. Upvote, comment, reblog and other support are highly appreciated.
---
---