[Esp-Eng] Compartiendo con mi mamá y comprando sus nuevos lentes/ Sharing with my mom and buying her new glasses. ||• @rodolfomandolina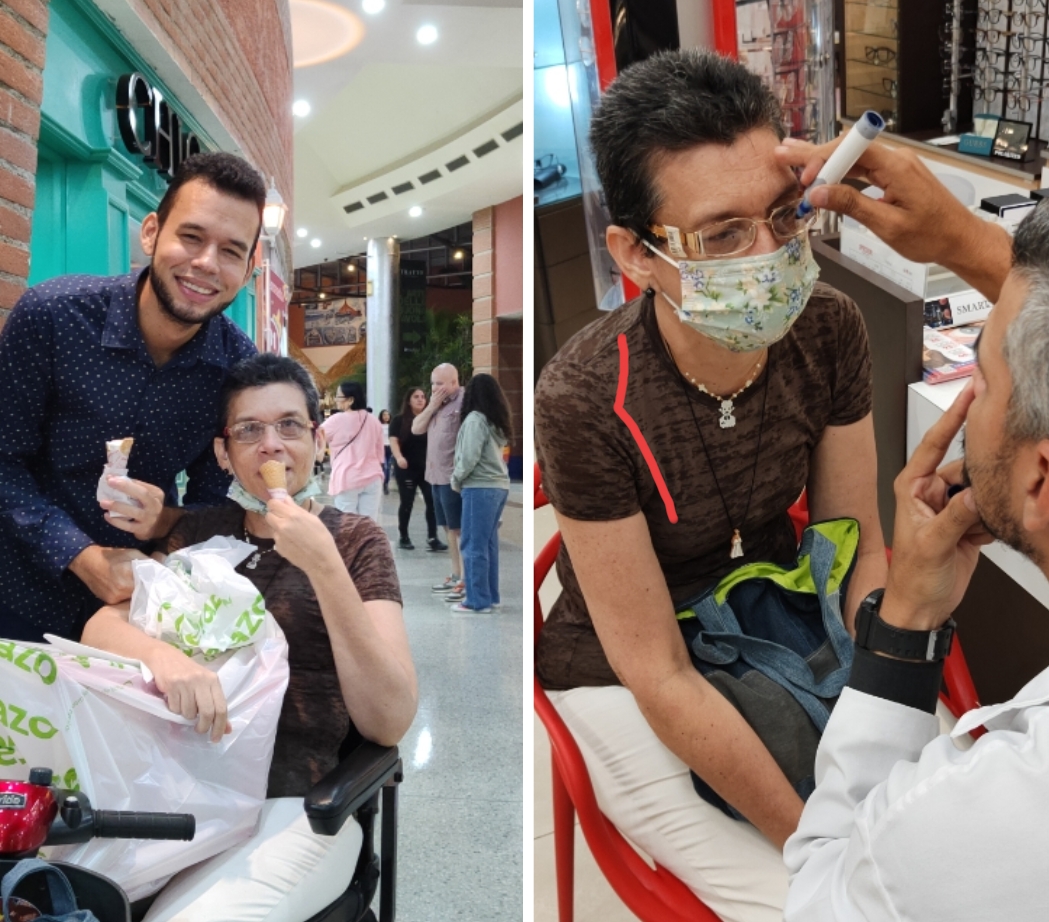 Mi mamá fue operada hace 9 meses de Tumor cerebral, esperamos un tiempo prudente después de su operación para tomar la decisión de ir al oftalmólogo, para que le dijeran la nueva fórmula y mandarle hacer nuevos lentes, ya que ella no ve muy bien, y bueno a raíz de su operación y el tiempo que tiene con lentes viejos, puede haber empeorado su visión.
Cuando la lleve al oftalmólogo, después de una buena revisión nos dijo, que ahora su ojo derecho tiene más dificultad para ver, y antes era todo lo contrario el izquierdo era el peor, en fin, se intercambiaron los papeles, y ahora tiene un poco más de presbicia y astigmatismo.
Así que hoy la ayude a prepararse, ya que ella no puede sola, para así salir a un centro comercial llamado Sambil, allí se encontraba una óptica llamada opticolor en la cual mandaríamos hacer sus nuevos lentes.
My mom was operated 9 months ago for brain tumor, we waited a prudent time after her operation to make the decision to go to the ophthalmologist, to be told the new formula and have new glasses made, because she does not see very well, and well as a result of her operation and the time she has with old glasses, may have worsened her vision.
When I took her to the ophthalmologist, after a good examination she told us that now her right eye has more difficulty to see, and before it was the opposite, the left eye was the worst, in short, the roles were exchanged, and now she has a little more presbyopia and astigmatism.
So today I helped her to get ready, since she can't do it alone, so we went to a shopping mall called Sambil, there was an optician called opticolor where we would have her new glasses made.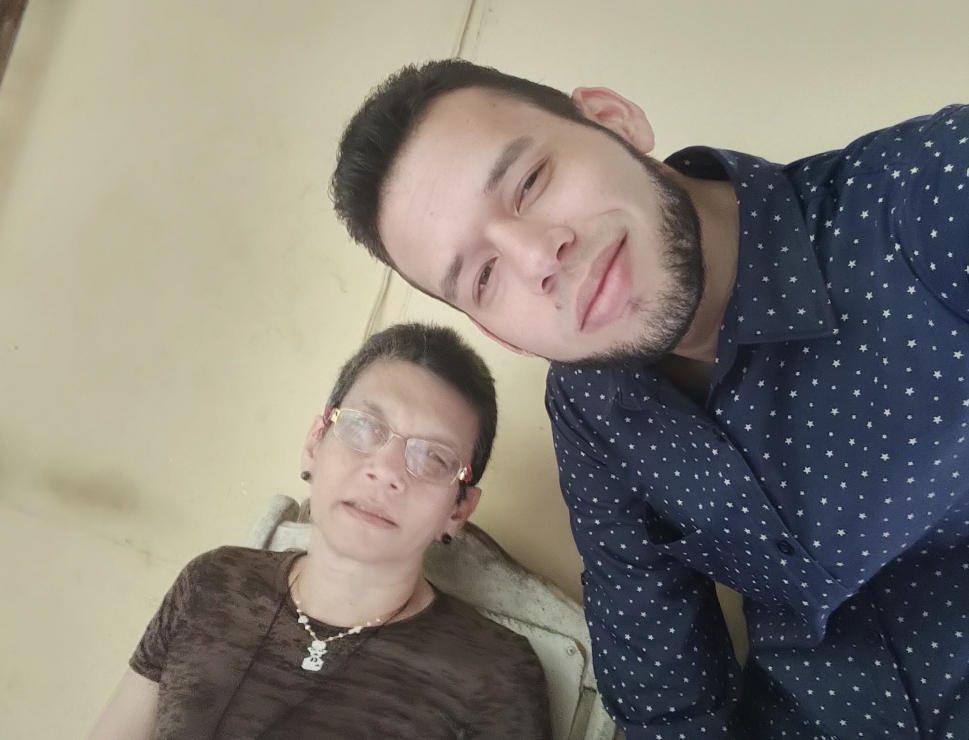 Ya listos para salir a comprar sus nuevos lentes.
Le hable a un amigo que hace transporte privado, ya que ella no puede tomar el transporte público, porque tiene desequilibrio. El nos vino a buscar para llevarnos al centro comercial y me estaba cobran 5 dólares por el transporte.
Yo llevé la andadera para que mi mamá practicará un poco caminando con ella, comúnmente no la utiliza mucho porque se la pasa en la casa, y yo siempre la ayudo a caminar y la aguanto.
I spoke to a friend who does private transportation, since she cannot take public transportation because she is unbalanced. He came to pick us up to take us to the mall and he was charging me 5 dollars for the transportation.
I took the walker so my mom could practice walking with her, she doesn't usually use it much because she spends it at home, and I always help her walk and put up with her.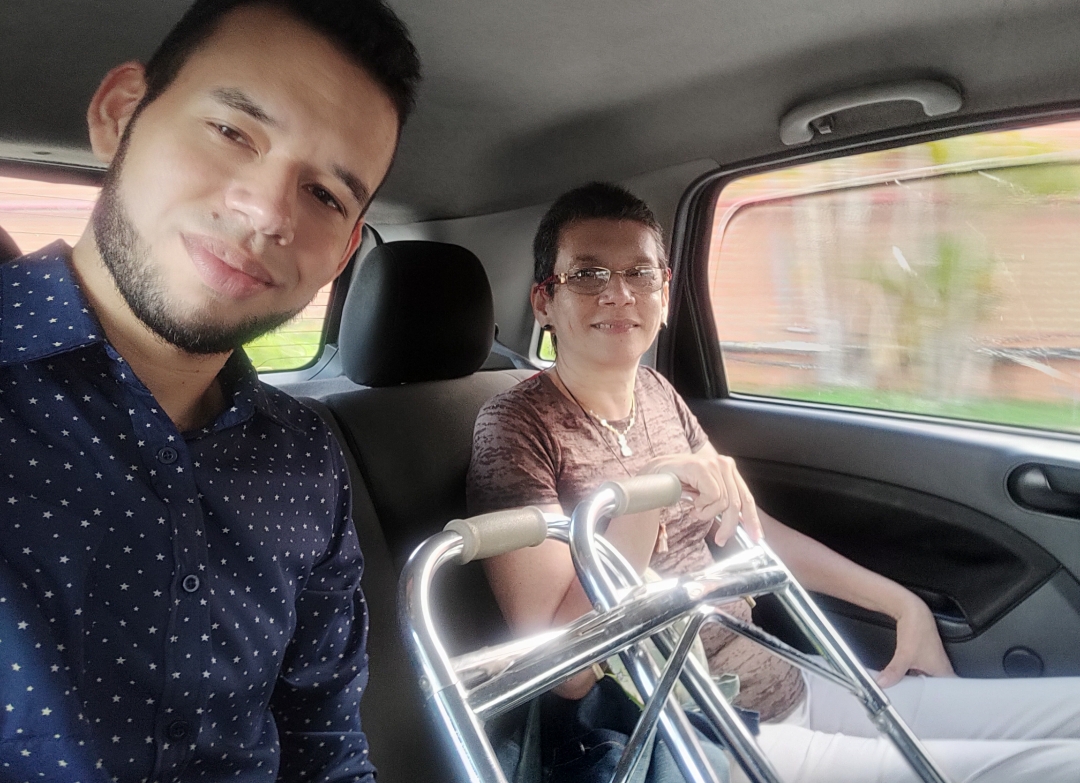 Vía al centro comercial, con su andadera.
Al rato llegamos, menos mal que dentro del centro comercial había aire acondicionado, ya que prácticamente todo el día hizo calor🥵, yo le abrí su andadera y comenzamos a caminar poco a poco.
After a while we arrived, thank goodness there was air conditioning inside the mall, since it was hot🥵 practically all day long, I opened her walker and we started to walk little by little.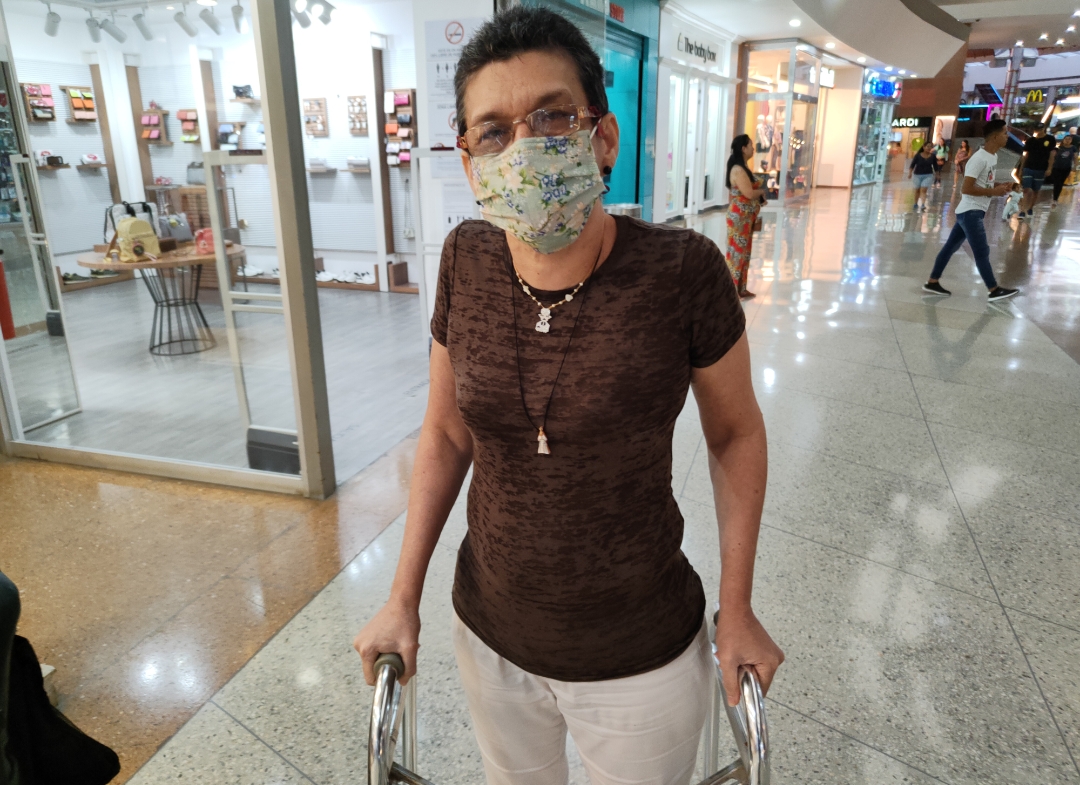 Mi madre caminando con su andadera.
Mientras estaba caminando con mi madre, una chica me llamó, resulta ser que era una amiga que conocía de la universidad y estaba trabajando en el centro comercial en el puesto donde alquilan vehículos pequeños eléctricos, que las personas pueden alquilar, para no caminar.
Generalmente son sumamente costosos, de hecho nunca los he usado, pero mi amiga me dijo que quería prestarme uno para que llevara a mi mamá, totalmente gratis y yo estaba un poco sorprendido, ya que nunca me había pasado algo así, acepte su ayuda.
Le prestó este vehículo eléctrico, yo la senté con cuidado, y tenía que ir al lado de ella pendiente para mover el volante, porque como les decia ella no ve del todo bien, y podía chocar con las personas.
While I was walking with my mother, a girl called me, it turns out she was a friend I knew from college and she was working at the mall at the stand where they rent small electric vehicles, which people can rent, so they don't have to walk.
They are usually extremely expensive, in fact I have never used them, but my friend told me that she wanted to lend me one to take my mom, totally free and I was a little surprised, since something like this had never happened to me, I accepted her help.
She lent her this electric vehicle, I sat her carefully, and I had to go next to her and keep an eye on her to move the steering wheel, because as I said she does not see very well, and could collide with people.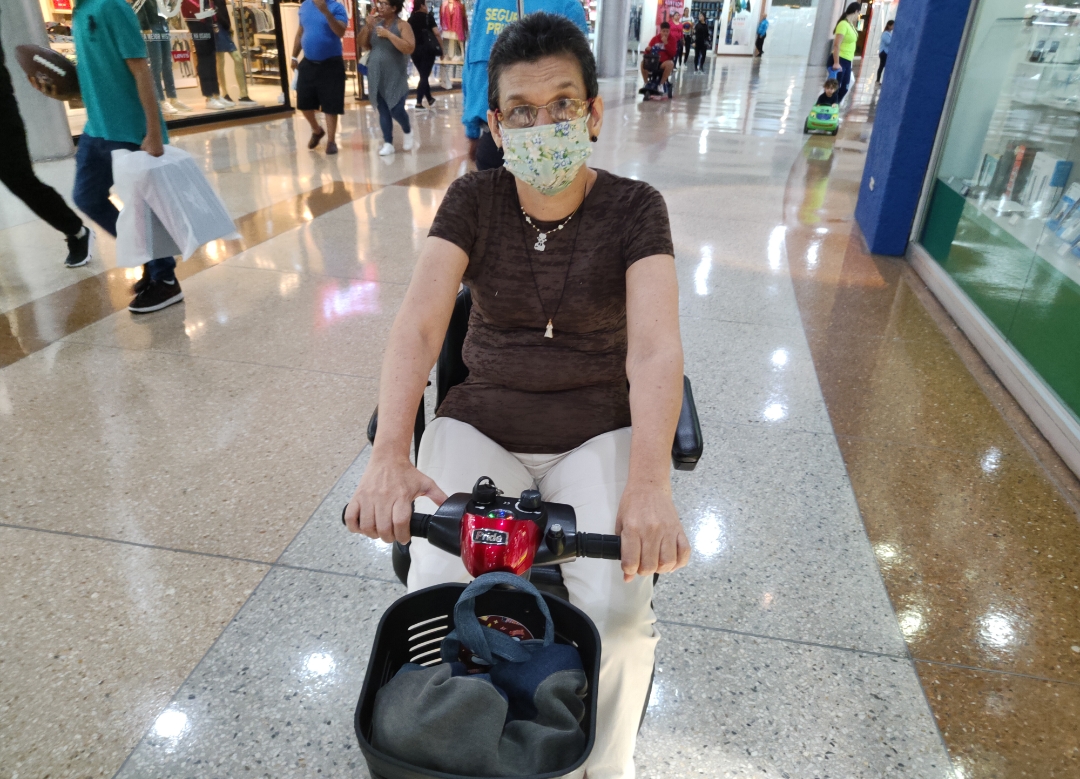 Mi madre montada en el vehículo eléctrico.
Menos mal que llegamos super rápido a la óptica que les dije que se llamaba opticolor. Pasamos, hablamos con los vendedores y el nos empezó a mostrar las monturas de los lentes y además nos iba diciendo el precio de cada uno.
Luckily, we arrived super fast to the optician's shop that I told you was called opticolor. We went in, talked to the salesmen and he started showing us the frames of the lenses and telling us the price of each one.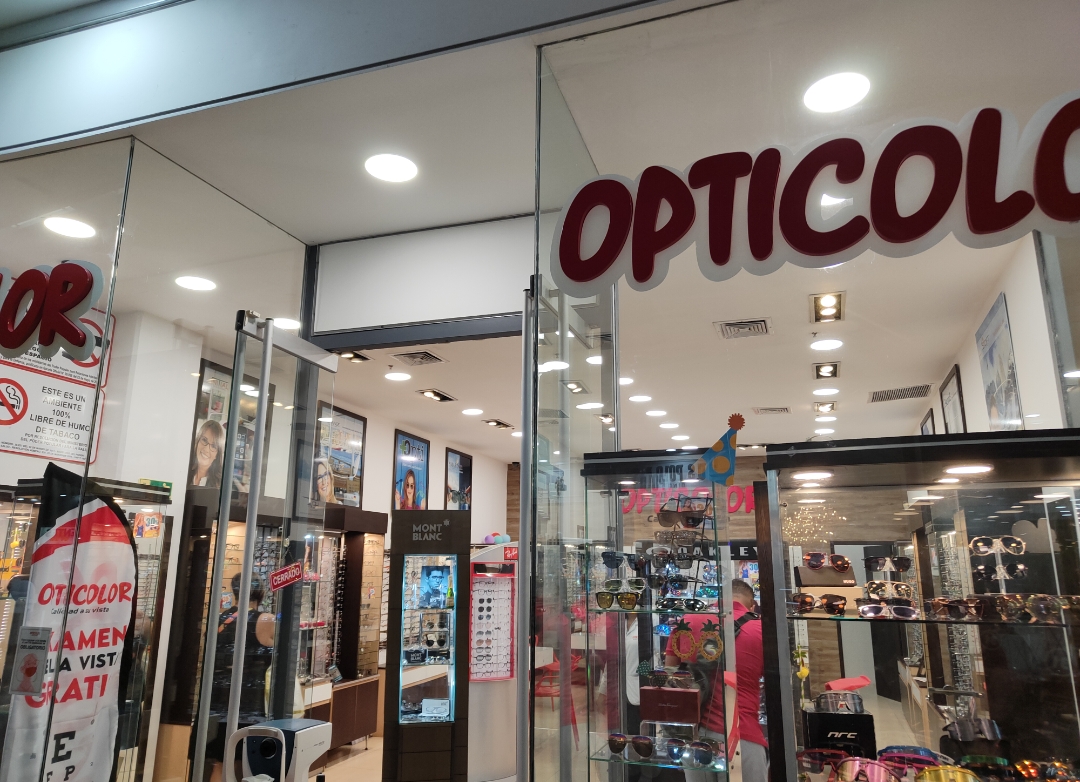 La óptica.
Yo quería que mi mamá eligiera el que le gustará, pero cuando nos iba diciendo los precios sobrepasaba nuestro presupuesto, así que le tuvimos que decir al vendedor que nos mostrará las monturas más baratas.
Al final tuvimos que elegir el primer diseño, que les muestro de estos cuatro, porque era parecido al material de sus viejos lentes, y sons resistentes.
I wanted my mom to choose the one she liked, but when she was telling us the prices it was beyond our budget, so we had to tell the salesman to show us the cheapest frames.
In the end we had to choose the first design, which I show you of these four, because it was similar to the material of her old glasses, and they are resistant.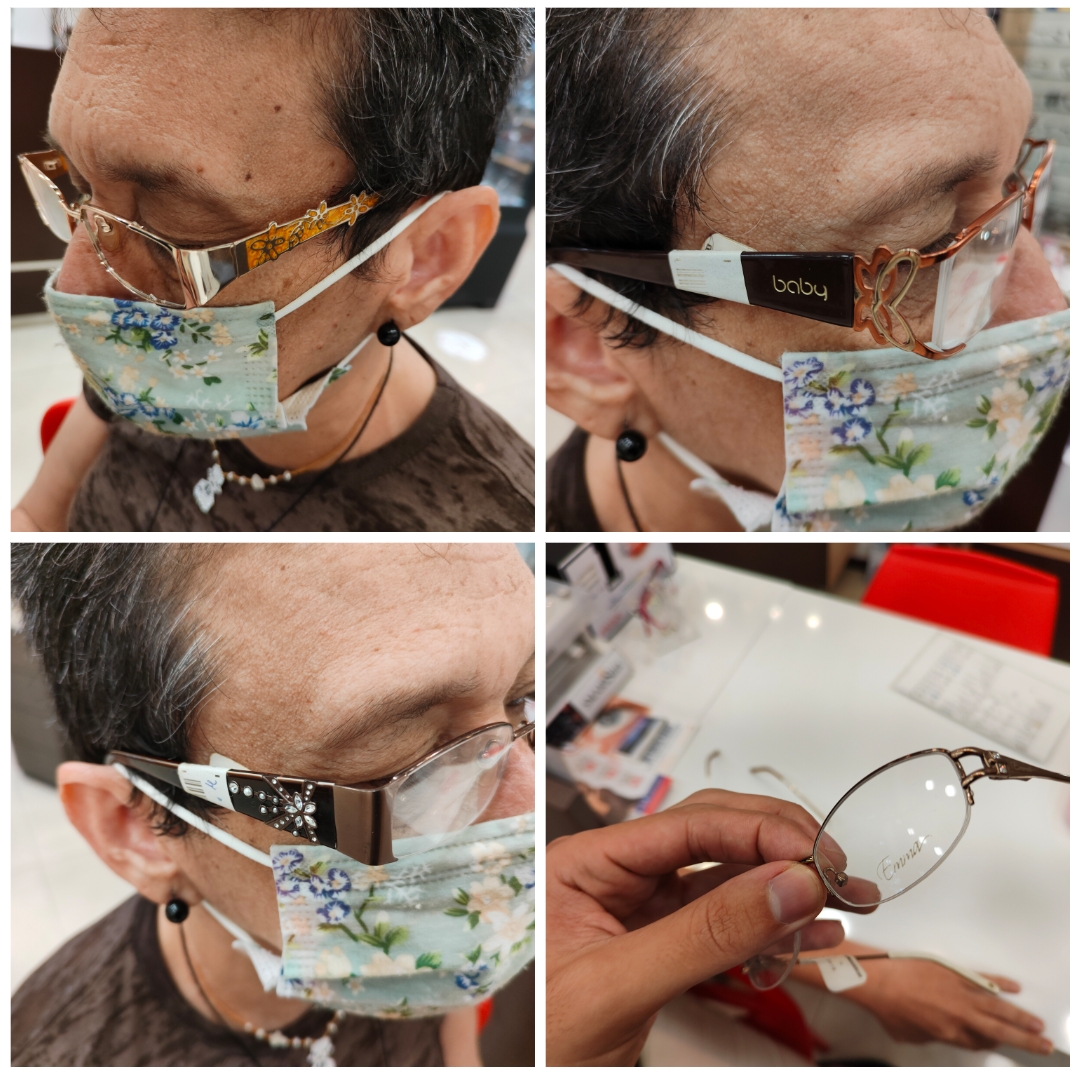 Probandole las monturas a mi mamá.
Luego de eso y de elegir las monturas, el vendedor se acerco a mi mamá, y les señalo algunas cosas que debía hacer para tomar algunas medidas, eso era para que a la hora de montar los cristales queden bien posicionado.
After that and after choosing the frames, the salesman approached my mom, and pointed out some things he had to do to take some measurements, that was so that when it was time to mount the lenses they would be well positioned.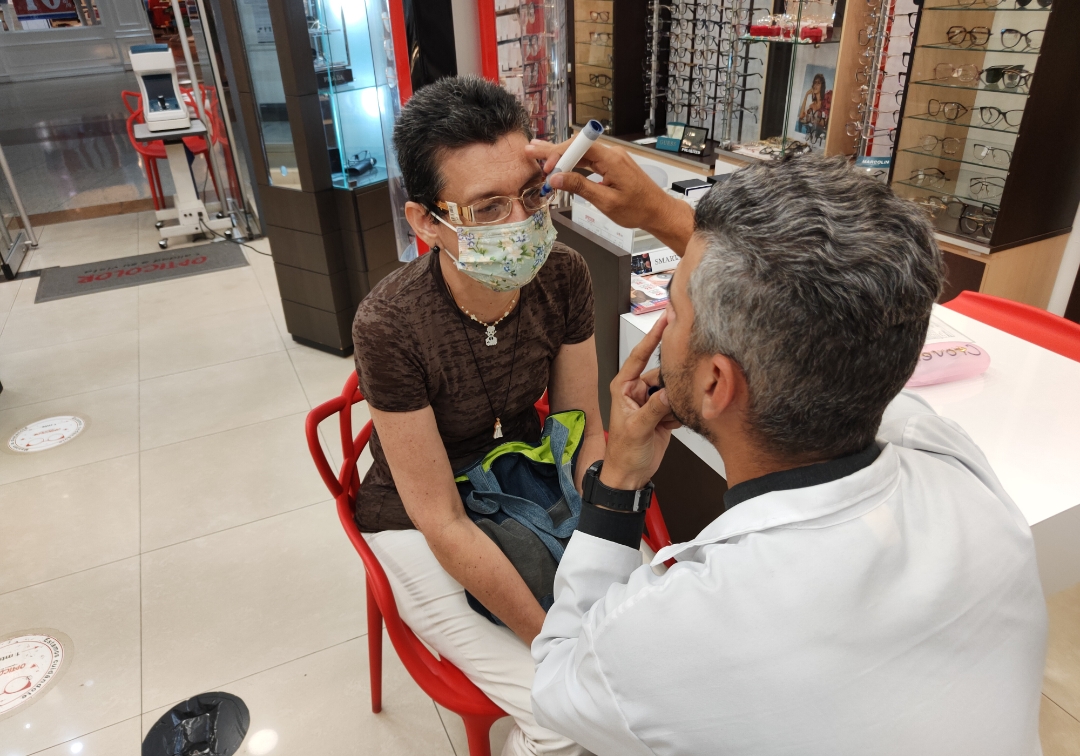 El vendedor de la óptica tomando más medidas.
Después de terminado todo eso, me tocó pagar, en total los lentes con las monturas y cristales costaron 3492 bolívares venezolanos, que son 116,4 dólares o que vendría siendo como unos 334 hive.
After all that was done, I had to pay, in total the glasses with frames and lenses cost 3492 Venezuelan bolivars, which is 116.4 dollars or about 334 hive.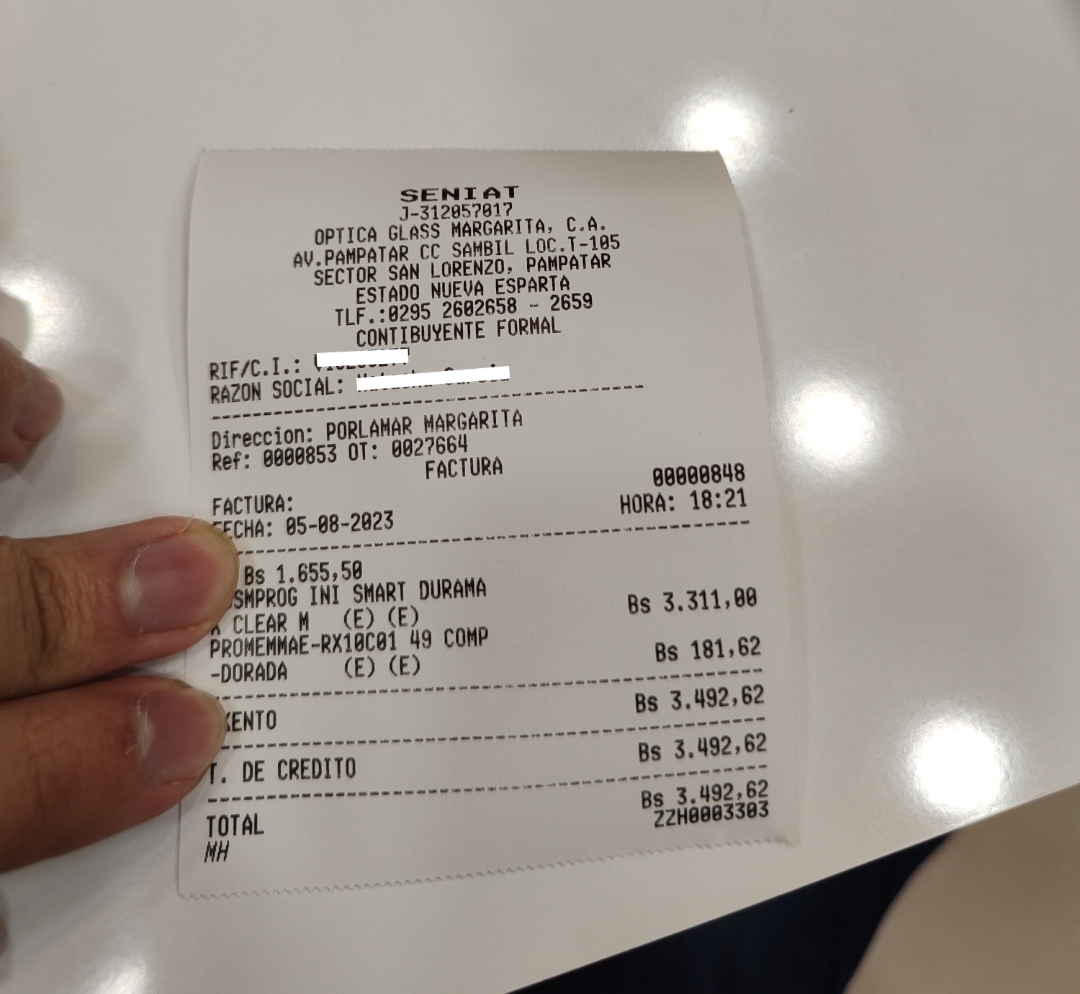 La factura de los lentes comprados
Después de comprar los lentes, habían quedado 4 dólares, así que mi mamá quería ir a una tienda llamada tijerazo, en la cual le habían dicho que vendían unas sillas de plásticos pequeñitas en dos dólares y ella quería comprarle una a su nieta. Así que pasamos por esa tienda y compramos una silla pequeñita rosada, después con los otros dos dólares compramos dos barquillas de vainillas de McDonald's que teníamos años sin probarlas, y estaban muy ricas.
After buying the glasses, there were 4 dollars left, so my mom wanted to go to a store called tijerazo, where she had been told that they sold tiny plastic chairs for two dollars and she wanted to buy one for her granddaughter. So we went to that store and bought a tiny pink chair, then with the other two dollars we bought two McDonald's vanilla wafers that we hadn't tried for years, and they were very tasty.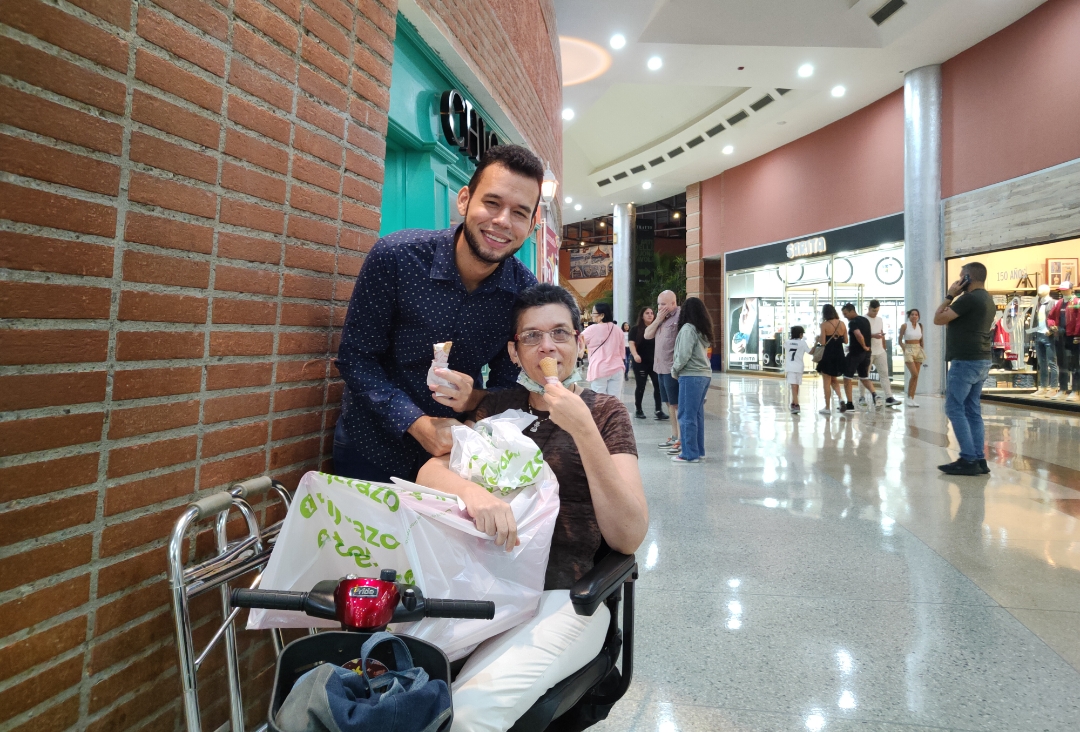 Comiéndome el helado con mi madre.
Luego llamé de nuevo a mi amigo el del transporte para que nos viniera a buscar y nos regresará a casa. Ya mi mamá se había cansado, además que ella siempre tiene síntomas que la hacen sentir algo mal, lo bueno de todo está salida además de comprar sus lentes que esperemos que la ayuden a ver un poco mejor, hicimos algo diferente a nuestra rutina diaria.
Eso sirve para elevar su autoestima, ya que bueno es difícil tener secuelas permanentes después de una operación, y en ocasiones los días son difíciles para los dos, no caer en depresión es un reto, pero no hay nada que nuestro amor no supere.
Then I called my friend from the transport company to come and pick us up and take us back home. My mom was already tired, besides she always has symptoms that make her feel bad, the good thing is that besides buying her glasses that hopefully will help her see a little better, we did something different to our daily routine.
That serves to raise her self-esteem, because it is difficult to have permanent sequels after an operation, and sometimes the days are difficult for both, not to fall into depression is a challenge, but there is nothing that our love does not overcome.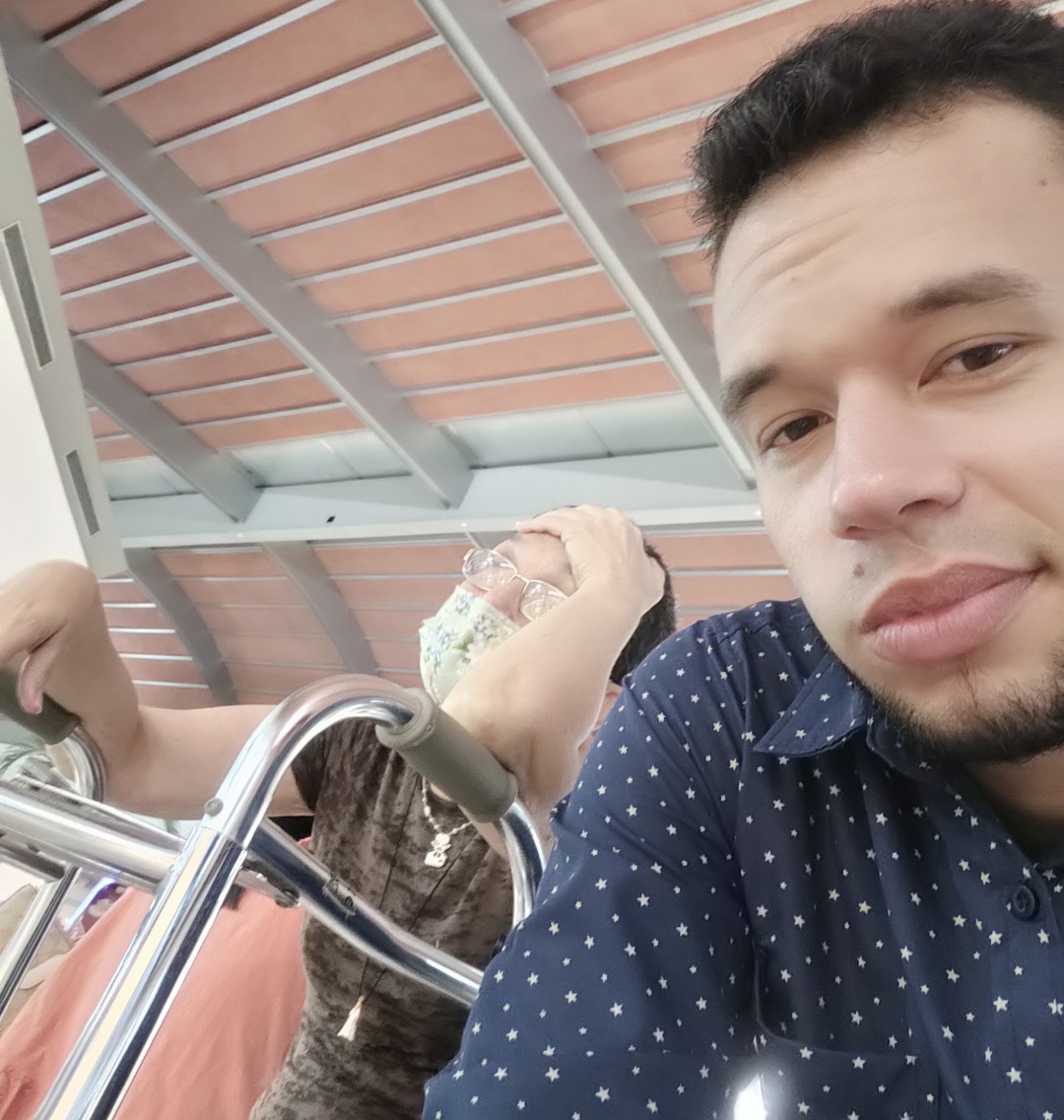 Esperando que nos vengan a buscar.
Y bueno ya prácticamente había terminado nuestro día, lo que quedaba era regresar a casa y descansar. Les agradezco que se hayan tomado un tiempo para leer mi publicación, un abrazo.
And well, our day was practically over, what was left was to go back home and rest. I thank you for taking the time to read my publication, a hug.
---
---