My Favourite Fast Food
I am such a fast food snob. I get my judgey on seeing people queue up for Maccas at lunchtime, feeling self righteous for not partaking in such non food (whilst secretly craving fries - I mean, who doesn't?). I guess I've been lucky, knowing how to cook. When my husband finally crawled out of his shed on the weekend he looked at my noodles enviously, knowing that if he asked me for some whilst I was enjoying my own, he'd likely cop a hot noodle on the snoz.
"How do I make my own?" he says.
"Well, first of all go to the polytunnel and grab the okinawa spinach..."
"Nevermind" he says. "I'll just have baked beans on toast...". An Englishman's fast food, I guess. Don't feel sorry for him. He loves it.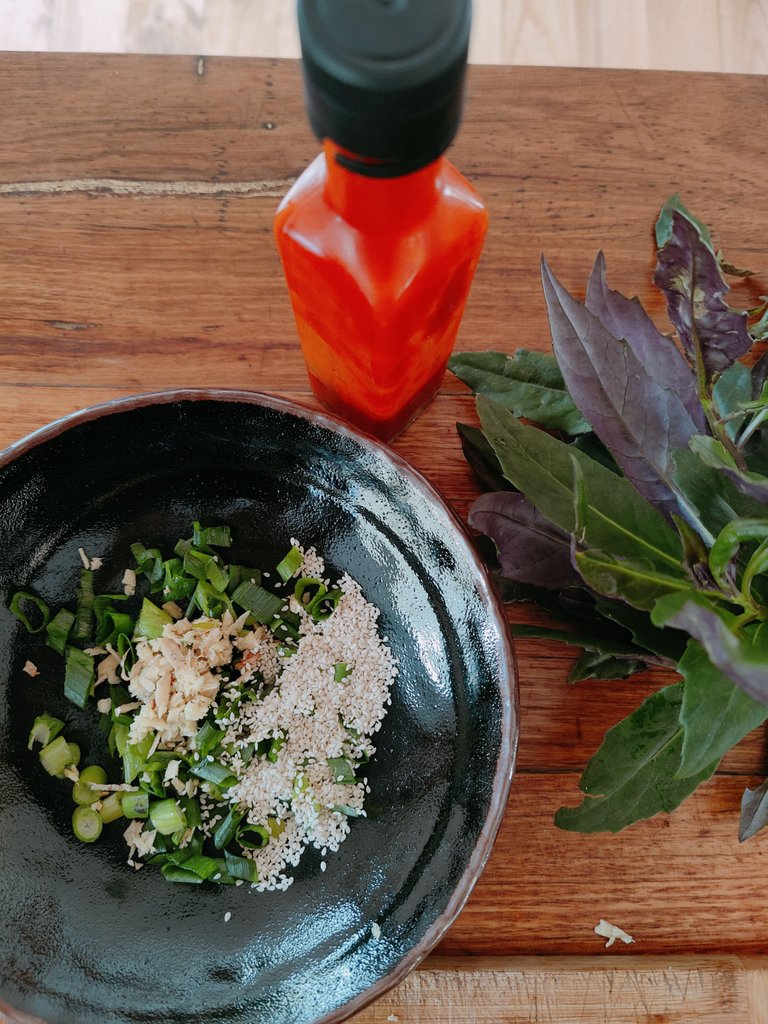 Inspired by a short reel I saw on Instagram, I decided I was going to do these noodles a little differently, prepping the ingredients then adding sizzling hot oil and the noodles. But in the end I got all judgey about the amount of oil they used, and did it the usual way - stir frying in a little bit of oil, adding the cooked noodles and - voila! - a quick lunch. But what is special about these noodles for me is the okinawa spinach! When we were on holiday in Queensland last year, we stayed on an organic farm, and they had heaps of the stuff growing for us to use when we liked. I'd never heard of it, and really liked it - it could be added to salads or stirfries.
Native to SE Asia, it's hardly suited for cold winters in Victoria, but still, it manages to thrive in my greenhouse. Full of protein, iron, pottasium, calcium and vitamin A, I ordered a plant online, desperate to have something that would grow perenially in the polytunnel, and it's grown really well. Don't you love it's purple undersides? It's a very pretty plant.
So, at first I stir fried the sesame seeds, spring onions, grated ginger and garlic in a little bit of sesame oil and vegetable oil - just enough so it wouldn't stick, and only for a minute or two. Then, I added the soysauce - a splash of soy sauce, a splash of rice wine, and a splash of vegan oyster sauce (yes, that's a thing) and a squeeze of lime juice.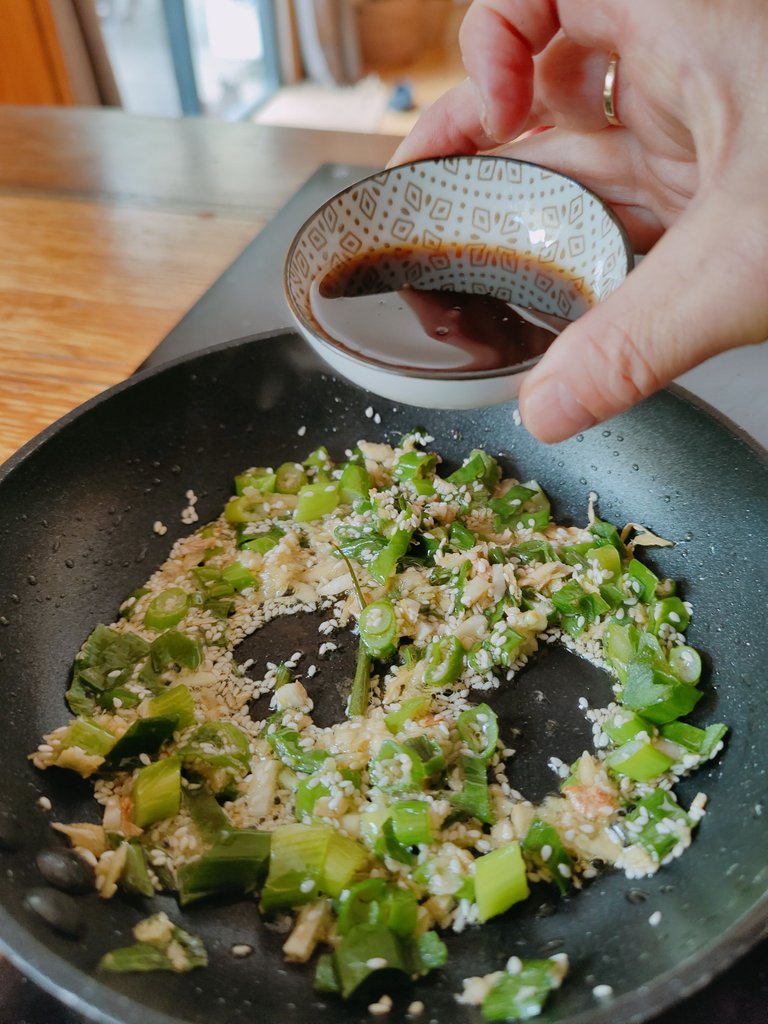 Then, I added the spinach so it just wilted. I've heard it can go slimy if you cook it for longer but in a stir fry the trick is to NEVER cook it for too long. Plus, it's fast food, right? I learnt years ago that a good stirfry needs a hot pan - so it's best to have all the ingredients ready, including the cooked udon noodles, before you start.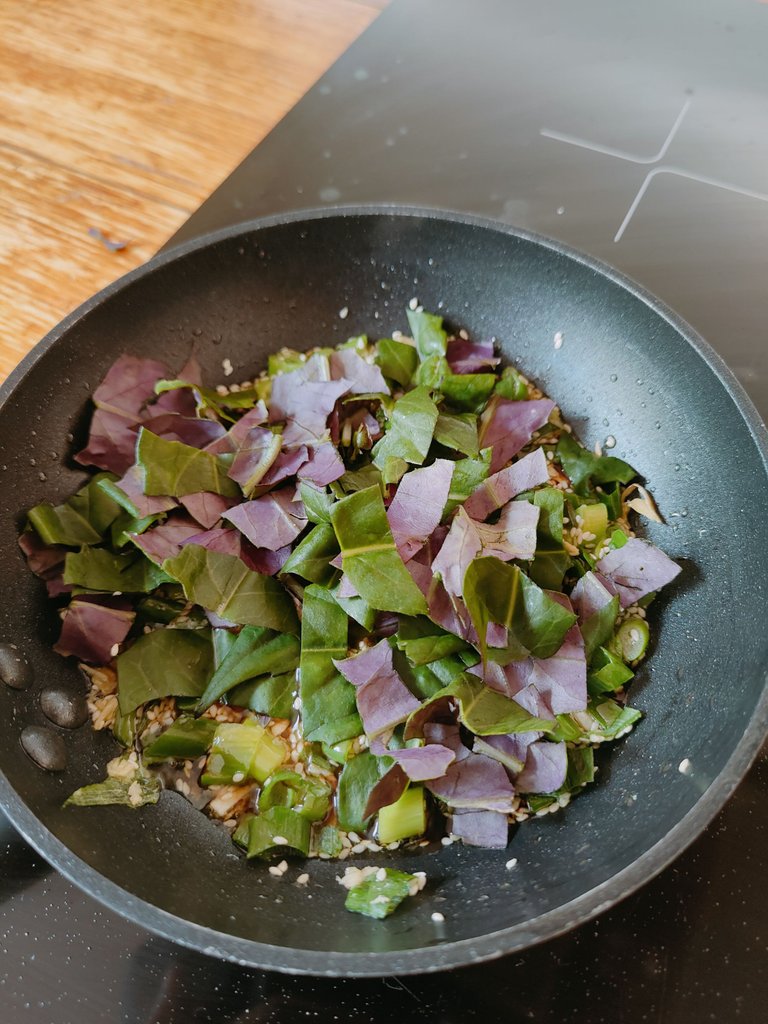 And voila - toss through the noodles, add a bit of sriracha (even better if it's home made, like mine - which is totally kicka ass) and some fried onions (my weakness) and dinner's on the table in less that ten minutes.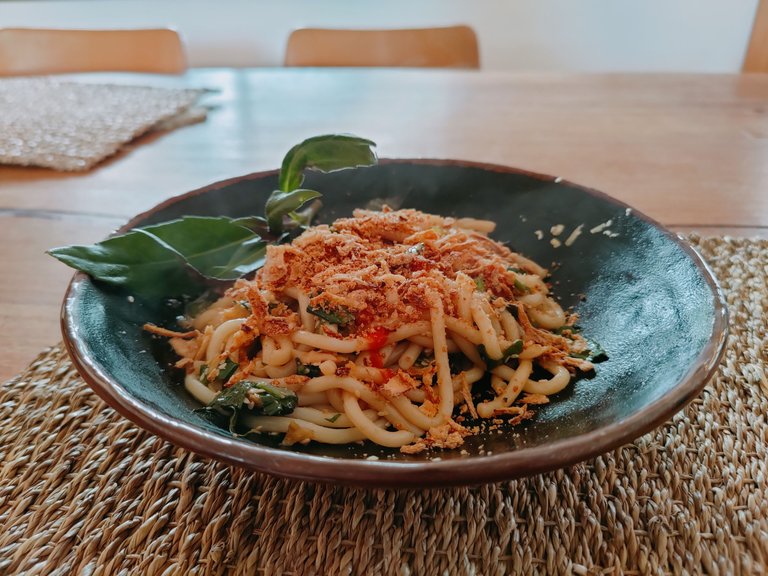 Of course, you could add some tofu or other protein to this - I'm a bit of a fan of smashed smoked almonds at the moment - and other vegetables. I love snowpeas or broccolini in particular. It's one of the easiest meals to make and so satisfying!
What's your favourite fast food?
---
---