If Only I Had a Round the World Ticket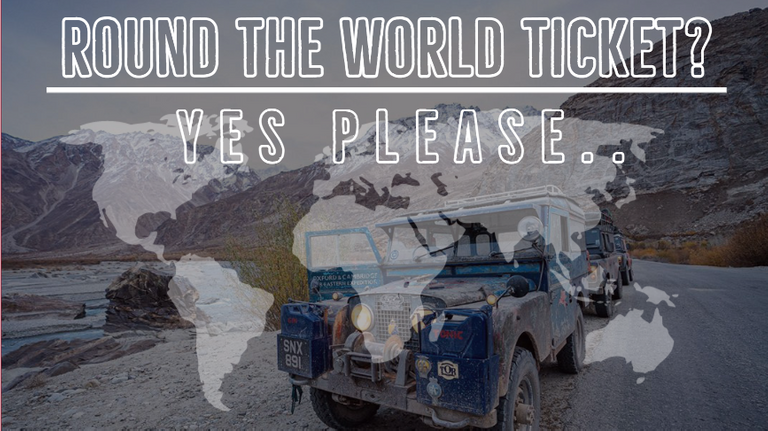 Ah, global travel. There's a huge part of me that doesn't ever want to leave home again. After being caught overseas in early 2020, worrying I'd never make it back to Australia again, a planned Europeon/Africa road trip with a stint in India on the way there and back, only to be stuck in lockdown for three months in the UK and to suffer hotel quarantine, I kinda feel a little traumatised.
But then I'm a feel the fear and do it anyway kinda girl. I refuse to let fear narratives take hold and prevent me living. Whilst the planned Singapore to London drive is out (we can no longer go through Burma or Afghanistan, and I don't want to go through China, given we'd need to pay thousands for a guide), I still have travel lust to satiate. How much money, and time, I have to do this is quite the other story.
The Ladies of Hive question this week asks that if you were given a round trip airline ticket to anywhere in the world, where would you choose to go, and specifically, why? To answer this question I'd need to make sure I have time, and given we're both on the verge of quitting work for a bit, having saved a little buffer to live a little, that would be no problem. Having a round the world ticket changes things a little as well. So I guess this is a 'sky's the limit' question, right?
To be clear, I haven't included the countries I'd go back to again in a heartbeat - Morocco and Myanmar being two.
America and Canada
Okay it's surprising me that I'm putting this one first on my bucket list. To be honest, I'd only do it if I could ship our Defender camper over too. Let's add another condition to the 'round the world ticket' then, shall we, making sure our Defender is included. We'd ship it to one coast and drive with it to the other, up into Canada and Alaska. A road trip including the natural wilds of America and Canada sounds like a dream to me. I guess I'm so interested in the biodiversity in this part of the world, so much that I'd be willing to put up with Americans to explore that. Just kidding - I love many of my American friends on Hive and I'd be sure to pop in and visit them on the way. Hopefully California would not be burning at the time (metta extended their way).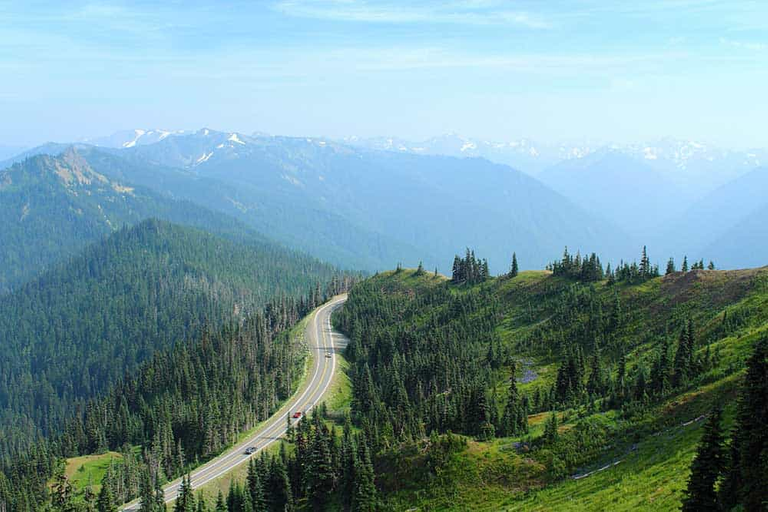 Pacific North West Road Trip itinerary
South Korea
Again, the Defender would be shipped there so we'd travel it by road. I think you get a real sense of a country doing that, and I've heard so much about how beautiful South Korea is that my interest is piqued. It's not touted as a holiday destination from Australia, who tends to SE Asia or the Pacific islands such as Fiji, but from what I have seen the staggering natural beauty of Korea is amazing. Plus, Seoul seems like a really cool place to visit. It'd also be fascinating to look at it's Buddhist temples and history, something I always loved about Myanmar and other predominately Buddhist countries.
Mongolia
One of our plans was to ship the Defender from Melbourne to Vladivostock (and indeed Korea, which is one of the shipping routes) and therefore bypass SE Asia and India and instead drive across this other part of Asia, through Mongolia, Kazakhstan, Russia. But when you look at the map it's an iffy time to do so. Still, the thought of driving across these vast landscapes is really appealing. It's known as the 'land of the blue sky' by Mongolians and to experience that vast, silent beauty would be something indeed. It also greatly appeals to my nomad heart of hearts, given the vastly nomadic culture there. At some point I'd want to leave Jamie with the Defender and spend some time on horse back. I used to have a skewbald pinto pony like the one below. It's been years since I've ridden but Mongolia seems to be the place to experience horse culture from a real nomad's perspective.
Iceland
Okay I bet the whole Hive just put their hands up to visit Iceland. Seriously. For some reason it's gained popularity in the last few years - probably because of it's stunning natural beauty. Now this is one thing that will come true at some point regardless of whether we have this imaginary round the world ticket - we'll definately head there from the UK so expect to see shots with us in our Defender just like the one below (except we will have a 130 or the old Series).
Okay I'm going to stop here as I'm starting to list all the places I want to go, and I'll be here all day. If you haven't followed @thenortherner here and desired to go to the Arctic circle somewhere, you haven't got a travel bug - his photos are incredible, with beautiful stories as well. That'd definitely be on my bucket list. I'd also like to go to the Philippines as I've met so many lovely Phillipinos on Hive. Japan, of course. Greece - so I can have a glass of wine and some olives with @fotostef and @traisto, who always make me want to go to Greece because I've never made it further than Croatia. Namibia, too. A road trip across Africa also sounds fun. Egypt, because I've never. Turkey. Lebanon, Syria, Afghanistan.
And of course, the UK, which is partly 'home' to me, but also because there's so much of it I haven't seen yet, even though it's a small island and I lived there so long. I've been thinking about Kew Gardens a lot in the last week and wanting to revisit there. Even though I've been back to the UK heaps I haven't spent as much time in London as I keep promising myself.
Next time, next time, next time - until there isn't a next time. Life is short. There's a lot to see and do, and a round the world ticket would help me do at least a little of it before I shuffle off.
Oh, and if you wonder why I put this old Series 1 Landrover in the thumbnail (image source is here), it's because this car was the first overland journey from London to Singapore in 1957. They saw things that ended up not existing anymore due to war, beautiful archaeological sites that aren't even on the map and travelled impossible roads. If the sky was truly the limit, I wouldn't only have the round the world ticket for us AND our Landrover, as well as time, I'd have a time machine so I could travel in a more golden era of travel without everyone instagramming the mystery out of everything.
Hmmm, which lady of Hive should I tag for this one? So many of you are great travellers or have adventurous spirits! Since it's @traisto that I want to visit in Greece, I'll pass the baton to you my dear, if you haven't written already! I'd also love to know where @luckylaica would go, if she was lucky enough to land a ticket for her and the family! You can find the challenge here.
With Love,


Are you on HIVE yet? Earn for writing! Referral link for FREE account here




---
---