La programmation neuro-linguistique (PNL)(EN/FR)
It was Richard Bandler who in 1976 baptized "neuro-linguistic programming". Because he was passionate about psychotherapy, the very beginnings of NLP fell into this field. Nevertheless, the following year, several employees extended their experiments in different areas, especially in companies.
In forty years, many authors have given personal, and often partial, definitions of NLP. Among other examples: "NLP is doing hypnosis without hypnosis"; "It is the study of subjective experience" 1; "This is choice therapy2"; "It's the study of communication and change" or it's "taking stock of everything a human can do with their body and mind."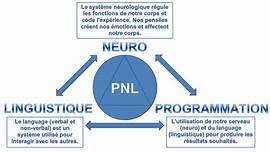 Source photo
C'est Richard Bandler qui, en 1976, a baptisé la « programmation neuro-linguistique ». Parce qu'il était passionné de psychothérapie, les tout débuts de la PNL se sont inscrits dans ce champ. Néanmoins, dès l'année suivante, plusieurs collaborateurs étendent leurs expérimentations dans différents domaines, notamment dans les entreprises.
En quarante ans, de nombreux auteurs ont donné de la PNL des définitions personnelles, et souvent partielles. Entre autres exemples : « La PNL, c'est faire de l'hypnose sans hypnose » ; « C'est l'étude du vécu subjectif »1 ; « C'est la thérapie du choix2 » ; « C'est l'étude de la communication et du changement » ou encore c'est « faire l'inventaire de tout ce qu'un humain peut faire avec son corps et son esprit ».
Definition
Neuro-linguistic programming (NLP) is a pragmatic approach in the field of applied psychology4. Its specificity consists in modeling the know-how and interpersonal skills of talented people in their field in order to pass them on to others who need it. It is characterized by three aspects: first, the modeling process which corresponds to the essence of NLP; then all the models (techniques and practices) already built thanks to this modeling process; finally, a certain way of looking at the world, that is to say a certain philosophy structured around a set of presuppositions. NLP's goal is to offer concrete means to anyone who wants to increase their skills, their self-esteem, their confidence in their abilities, their quality of relationship with those close to them, their ability to think for themselves and their ability to achieve their own goals. Its fields of application are psychotherapy, coaching, management, education, sport, health, but NLP also allows the development of transversal skills common to many professions and useful to agents of change.
Définition

La programmation neuro-linguistique (PNL) est une approche pragmatique dans le domaine de la psychologie appliquée4. Sa spécificité consiste à modéliser les savoir-faire et savoir-être de gens de talent dans leur domaine pour les retransmettre à d'autres qui en auraient besoin. Elle se caractérise par trois aspects : d'abord le processus de modélisation qui correspond à l'essence de la PNL ; ensuite l'ensemble des modèles (techniques et pratiques) déjà construits grâce à ce processus de modélisation ; enfin une certaine façon de regarder le monde, c'est-à-dire une certaine philosophie structurée autour d'un ensemble de présupposés. La PNL se donne pour finalité d'offrir des moyens concrets à quiconque veut augmenter ses compétences, son estime de soi, sa confiance en ses capacités, sa qualité de relation avec ses proches, sa capacité à penser par elle-même et sa capacité à réaliser ses propres objectifs. Ses domaines d'application sont la psychothérapie, le coaching, le management, la pédagogie, le sport, la santé, mais la PNL permet aussi le développement de compétences transversales communes à de nombreux métiers et utiles aux agents du changement.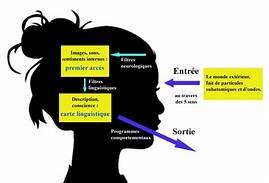 Source photo
Source photo
---
---