Preparing delicious pancitos criollos [ESP/ENG]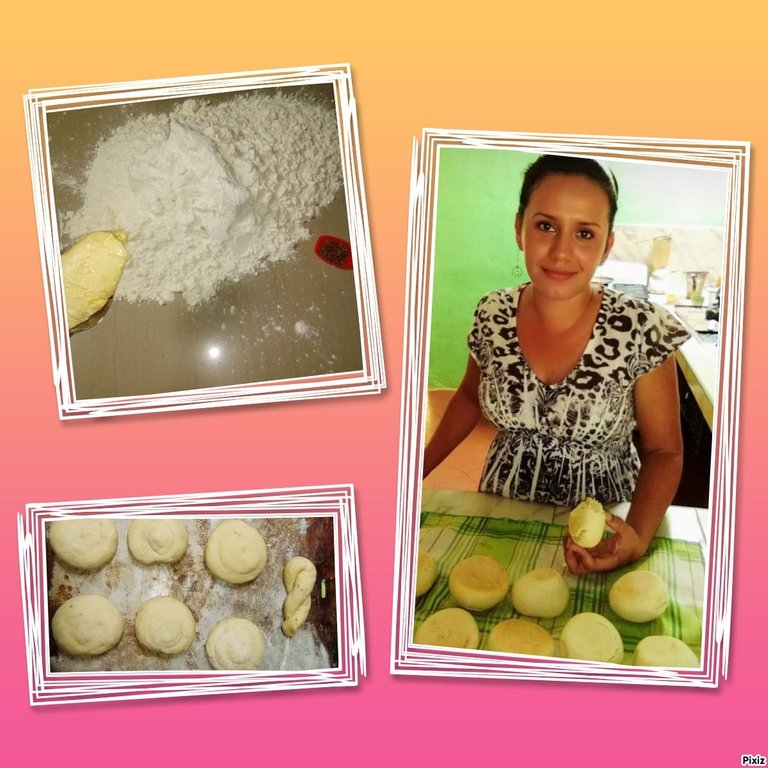 ---
Para mí es un gusto saludar ésta bonita comunidad. Les cuento que he querido hace tiempo aprender hacer pan criollo y llegó el momento pues fuí a casa de mi suegro hacer una diligencia y me encontré que estaba comenzando a preparar pancitos criollos. Así que aproveche está valiosa oportunidad para aprender y por supuesto compartir con todos ustedes está receta, que en mi familia tiene mucho valor sentimental pues mi querida suegra preparaba estos ricos pancitos.
It is a pleasure for me to greet this beautiful community. I have been wanting to learn how to make pan criollo for a long time and the time has come because I went to my father-in-law's house to run an errand and I found that he was starting to prepare pancitos criollos. So I took advantage of this valuable opportunity to learn and of course share with all of you this recipe, which in my family has a lot of sentimental value because my dear mother-in-law used to prepare these delicious pancitos criollos.
Ingredientes:

Ingredients:

1 kilogramo de harina de trigo leudante
1 kilogram of leavening wheat flour
1 cucharada de mantequilla
1 tablespoon butter
1 cucharada de anís
1 tablespoon of aniseed
1 cucharadita de vainilla
1 teaspoon vanilla
Almíbar de azúcar
Sugar syrup
Procedimiento
El primer paso: Se prepara el almíbar de azúcar: en 400ml de agua tibia agregar 400gr de azúcar revolver hasta disolver.
Procedure.
The first step: Prepare the sugar syrup: in 400ml of warm water add 400gr of sugar and stir until dissolved.
---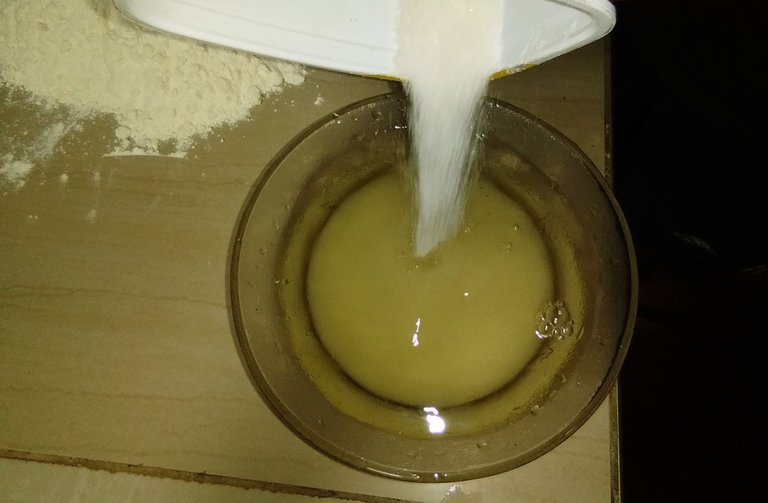 ---
Segundo paso: A la harina de trigo leudante se le agrega la cucharada de anís revolver para dispersar y luego la cucharada de mantequilla.
Second step:To the leavened wheat flour, add the tablespoon of aniseed, stir to disperse and then the tablespoon of butter.
---
| | |
| --- | --- |
| | |
---
El Tercer paso: Se abre un espacio a la porción de harina y se le va agregando el almíbar de azúcar. Se comienza amasar la mezcla y gradualmente ir agregando el almíbar de azúcar e ir espolvoreado el lugar donde se esté amasando.
Third step: Open a space in the flour portion and add the sugar syrup. Start kneading the mixture and gradually add the sugar syrup and sprinkle the place where it is being kneaded.
| | |
| --- | --- |
| | |
---
Cuarto paso: Mientras se esté amasando se golpea la masa cada cierto momento hasta alcanzar suavidad y elasticidad.
Fourth step: While kneading, the dough is beaten every few moments until it is smooth and elastic.
---
| | |
| --- | --- |
| | |
---
Quinto paso: Ya estando lista la masa, se deja reposar en un recipiente espolvoreado con harina aproximadamente 1 hora (tapar). Al cabo de la hora se podrá notar que la masa ha aumentado su tamaño.
Fifth step: Once the dough is ready, let it rest in a bowl sprinkled with flour for about 1 hour (cover). At the end of the hour you will notice that the dough has increased in size.
| | |
| --- | --- |
| | |
---
Sexto paso: Estirar la masa y luego cortarla en trozos de 110gramos cada uno, con el propósito de que los pancitos tengan el mismo tamaño.
Sixth step: Roll out the dough and then cut it into pieces of 110 grams each, so that the loaves have the same size.
| | |
| --- | --- |
| | |
---
Séptimo paso: Estirar la pequeña porción, se humedece un poco con agua antes de enrrollarla como espiral. Y aplastar suavemente con la palma de la mano para sellar.
Seventh step: Stretch the small portion, moisten it a little with water before rolling it as a spiral. And flatten gently with the palm of the hand to seal.
| | |
| --- | --- |
| | |
---
Octavo paso: Luego que estén listas dejar reposar el tiempo que desee eso permitirá que aumente un poco más su tamaño. Después introducir en el horno previamente calentado y colocar 150 grados.
Eighth step: After they are ready, let them rest for as long as you wish, this will allow them to increase their size a little more. Then put them in the oven previously heated and place them at 150 grades.
---
Después de pasar 40 minutos en el horno ya están listas.
After 40 minutes in the oven, they are ready.
¡Buen provecho!
Enjoy your meal!
---
Regresé a mi casa donde me esperaban mi esposo y mi pequeña hija y claro les traje a casa de los pancitos. Ahora los podré hacer con mi hija para que aprenda también.
Muy feliz de compartir mi publicación con esta maravillosa comunidad. Muchas gracias.
I returned home where my husband and my little daughter were waiting for me and of course I brought them home with me. Now I will be able to make them with my daughter so she can learn too.
I am very happy to share my publication with this wonderful community. Thank you very much.
---
Las fotos son de mi propiedad fueron tomadas con mi teléfono Alcatel
La foto de portada fue editada por mi con la aplicación Pixiz.com
The photos are my property were taken with my Alcatel phone.
The cover photo was edited by me with the Pixiz.com application.
---
---