Gitarre mit Audiotracks üben (D/EN)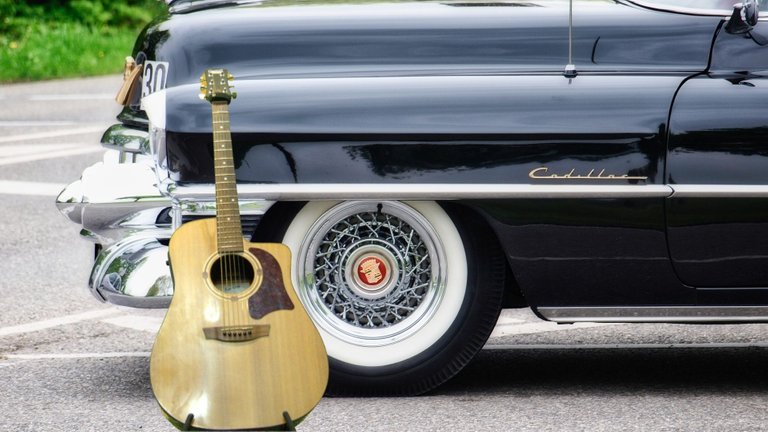 Da habe ich einen Blog für Filmgestaltung vorbereitet. Beiträge über spannende Ausgestaltung von Youtube Videos und Ähnliches. Und jetzt ist der Computer für Filmschnitt in Reparatur. Naja, 7 Jahre sind schon ein respektables Alter für einen Computer. Eine Menge Ideen liegen auf der Festplatte, die schon längst Anregung für Dein Filmschaffen bringen könnten.
Inzwischen ein anderes Thema: Wenn Du Gitarre oder Gesang übst, sind so genannte "Backing Tracks" eine große Hilfe. Aufnahmen, mit denen du wie in einer Band mitspielen kannst.
Während 1979 die Schallfolie bei "Peter Buschs Gitarrenbuch" eine sensationelle Innovation war, sind heute Backing Tracks bei jedem Lehrbuch und bei jeder Gitarrenzeitschrift Standard.
Was sich aber nicht geändert hat über die Jahre: viele Lernende können, so wie ich 1979, damit nicht umgehen. Genauso, wie ich 1979 nicht wusste, wie ich Peter Bursch's Schallfolie zum Lernen richtig einsetze, kommen heute Lernende zu mir. Heute helfe ich Lernenden auf der Gitarre, Backing Tracks gezielt zum Üben einzusetzen.
Als Vorbereitung fürs Spielen in der Band machte ich mir im Laufe der Jahre viele Begleittracks im Studio. Mit denen kannst Du Gesang, ganze Lieder, Rhythmen oder, so wie hier, Gitarrensoli üben.
Du wirst hier in immer wieder Hinweise finden, wie Du mit diesen Lernunterlagen üben kannst und wie sie Dein Gitarrenspiel bereichern können. Viel Spaß mit diesem Carlos Santana Cover! Natürlich habe ich die Backing Tracks selbst eingespielt.
So I prepared a blog for filmmaking. Posts about exciting design of YouTube videos and the like. And now the editing computer is under repair. Well, 7 years is a respectable age for a computer. There are a lot of ideas on the hard drive that could long since provide inspiration for your filmmaking.
Meanwhile, another topic: If you practice guitar or singing, so-called "backing tracks" are a great help. Recordings you can play along with like in a band.
While in 1979 the sound foil was a sensational innovation in "Peter Busch's Guitar Book", today backing tracks are standard in every textbook and every guitar magazine.
But what hasn't changed over the years: many learners, like me in 1979, can't deal with it. Just as I didn't know in 1979 how to properly use Peter Bursch's sound foil for learning, learners come to me today. Today I help learners on the guitar to use backing tracks specifically for practice.
In preparation for playing in the band, I made many backing tracks in the studio over the years. You can use them to practice singing, whole songs, rhythms or, like here, guitar solos.
You will always find tips on how to practice with these learning materials and how they can enrich your guitar playing. Have fun with this Carlos Santana cover! Of course I recorded the backing tracks myself.
---
---