Blues Beards (EN / D)
Harley Davidson Meeting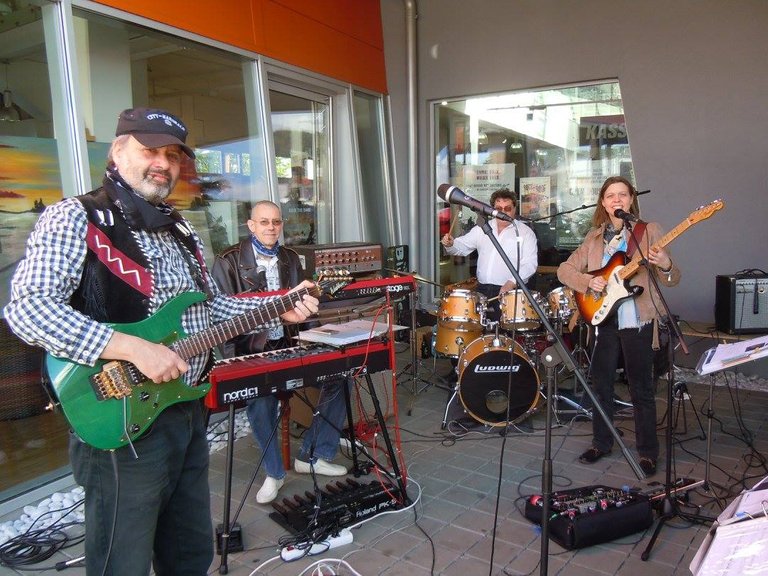 Blues Beards
The beards of the blues: at the very end of the rock band alphabet are ZZ Top. Here you can see the result of my decision: in our band we play at biker meetings. And that's where ZZ Top numbers come in. And so I developed my own solo on "La Grange" a few years ago. At the Harley Davidson Fest in Clocktower Graz we finally played "La Grange" and "Gimmie All Your Lovin'". Plus a few songs by the Stones and Deep Purple. Tracks by Eric Clapton, Steve Ray Vaughan and Jimi Hendrix, of course. We had only finished rehearsing "Bring It On Home" by Led Zeppelin a few days before the performance. Sweaty, will we make it in time! The PA system was powerful enough to compete with the exhaust sound tests of starting Harleys. In plain language: a great atmosphere.
But the first step was my video "Blues Beards", see below.
Blues Beards
Die Bärte des Blues: ganz am Ende des Alphabets der Rockbands stehen ZZ Top. Du siehst hier das Ergebnis meines Entschlusses: in unserer Band spielen wir bei Biker Treffen. Und da gehören ZZ Top Nummern einfach dazu. Und so entwickelte ich vor einigen Jahren mein eigenes Solo zu "La Grange". Beim Harley Davidson Fest im Clocktower Graz spielten wir dann endlich "La Grange" und "Gimmie All Your Lovin'". Dazu einige Nummern der Stones und Deep Purple. Natürlich Nummern von Eric Clapton, Steve Ray Vaughan und Jimi Hendrix. "Bring It On Home" von Led Zeppelin hatten wir erst wenige Tage vor dem Auftritt fertig einstudiert. Schweißtreibend, ob wir es noch rechtzeitig schaffen! Die PA Anlage war stark genug, um mit den Soundtests der Auspüffe startender Harleys konkurrieren zu können. Im Klartext: eine klasse Stimmung.
Der erste Schritt dazu war aber mein Video "Blues Beards", siehe oben.
---
---